An acoustic guitar's top — the soundboard — is prime real estate. The very name "soundboard" signals the important role it plays — of transferring the energy of a guitar's vibrating strings into greater air movement and, ultimately, acoustic sound.
"I always think of the soundboard kind of like the cone of a speaker," says Bob Taylor. "It's the part that's really vibrating. And I think of the back and sides of the guitar as being like a speaker cabinet."
For centuries, spruce has been the predominant tonewood choice for the soundboards of stringed instruments, ranging from violin-family instruments to mandolins to acoustic guitars. Piano soundboards are also made with spruce.
So, what's special about spruce? As a coniferous softwood, spruce is lightweight yet also stiff and strong in the right ways, especially when properly quartersawn (more on that in a bit). Its favorable strength-to-weight ratio, which includes a high degree of elasticity, allows it to hold up to considerable string tension yet also turn the vibrating string energy into a clear, dynamic tonal response.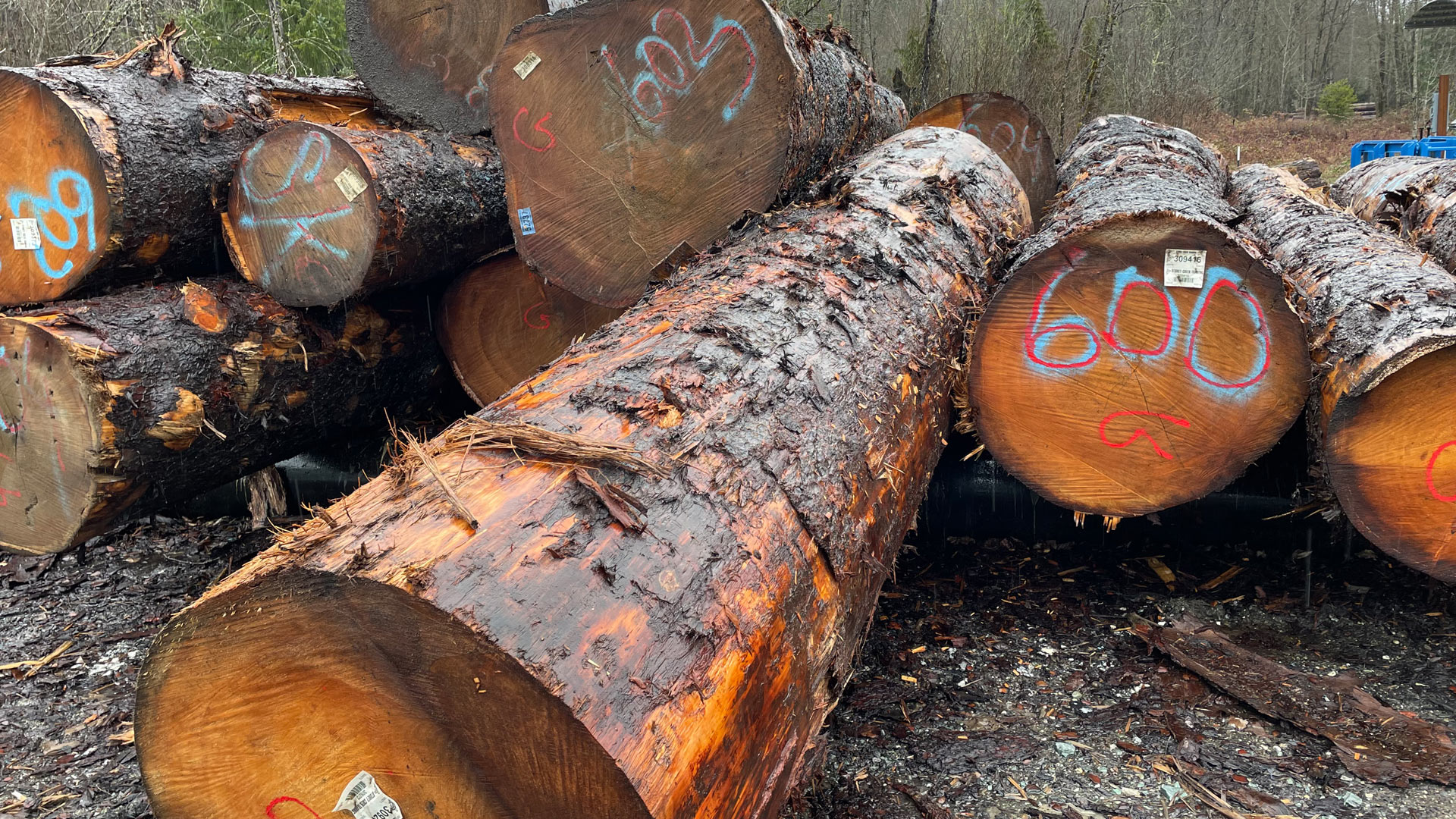 A quality spruce top can be set in motion easily with a lighter playing attack, yet it also tends to respond well to more aggressive playing without losing tonal clarity. It also projects well and produces pleasing sustain. Spruce is also used for a guitar's internal bracing, even when the top is a hardwood like mahogany or koa.
Over the years, curious Taylor owners have asked many questions about the important properties of spruce, the choices we make in our selection process, and how different physical characteristics impact the tonal response.
We've also talked a lot about soundboards in recent years in conjunction with a guitar's internal bracing architecture, particularly as we unveiled our innovative V-Class and C-Class bracing designs. These and other bracing patterns orchestrate the movement of the soundboard in nuanced ways and work in tandem with the back and sides to voice the guitar and give it distinctive tonal character.
Straight to the Source: Pacific Rim Tonewoods
This year, with the release of our new Builder's Edition 814ce, spruce has once again become a topic of conversation due to the model's four-piece top construction rather than a traditional two-piece top. This unique design feature gives us a great opportunity to take a closer look at our use of spruce from two distinct perspectives: First, we wanted to shed more light on exactly what goes into producing a high-quality spruce soundboard; second, we wanted to put more context around the idea of making four-piece tops as we confront the changing realities of commercially available spruce trees. In both cases, we knew exactly who to enlist to share their expert knowledge: our longtime spruce supply partner, Pacific Rim Tonewoods (PRT).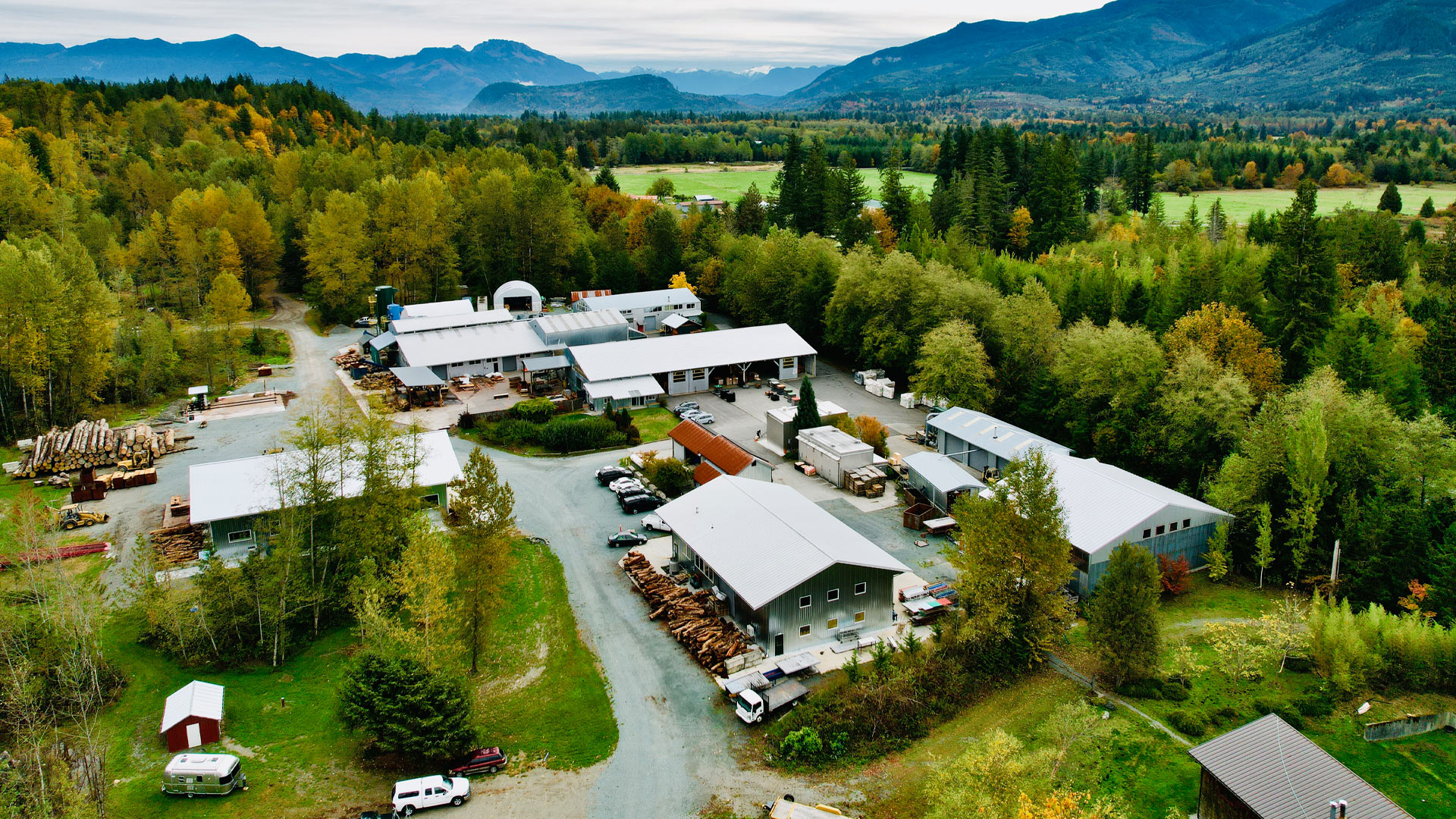 Located in Concrete, Washington, in the Skagit Valley/North Cascades region (about 50 miles southeast of Bellingham), PRT has been a supplier of premium tonewoods for over 35 years. It's hard to overstate their importance in the acoustic guitar industry. They supply the lion's share of Sitka and Lutz spruce tops used on American-made guitars, to the tune of 300,000-400,000 tops per year.
In addition to spruce tops, PRT also supplies sets of figured maple (sourced from their region) and Hawaiian koa for musical instruments. Speaking of koa, PRT is also our partner in the collaborative venture Siglo Tonewoods, a multifaceted forestry initiative that combines native forest restoration in Hawaii with growing instrument-grade Hawaiian koa for future generations of instrument makers.
We wrote about PRT back in our winter 2015 issue (Vol. 81) in the context of the innovative research they were doing with maple — more specifically, how to grow figured maple that would be ideal for musical instruments.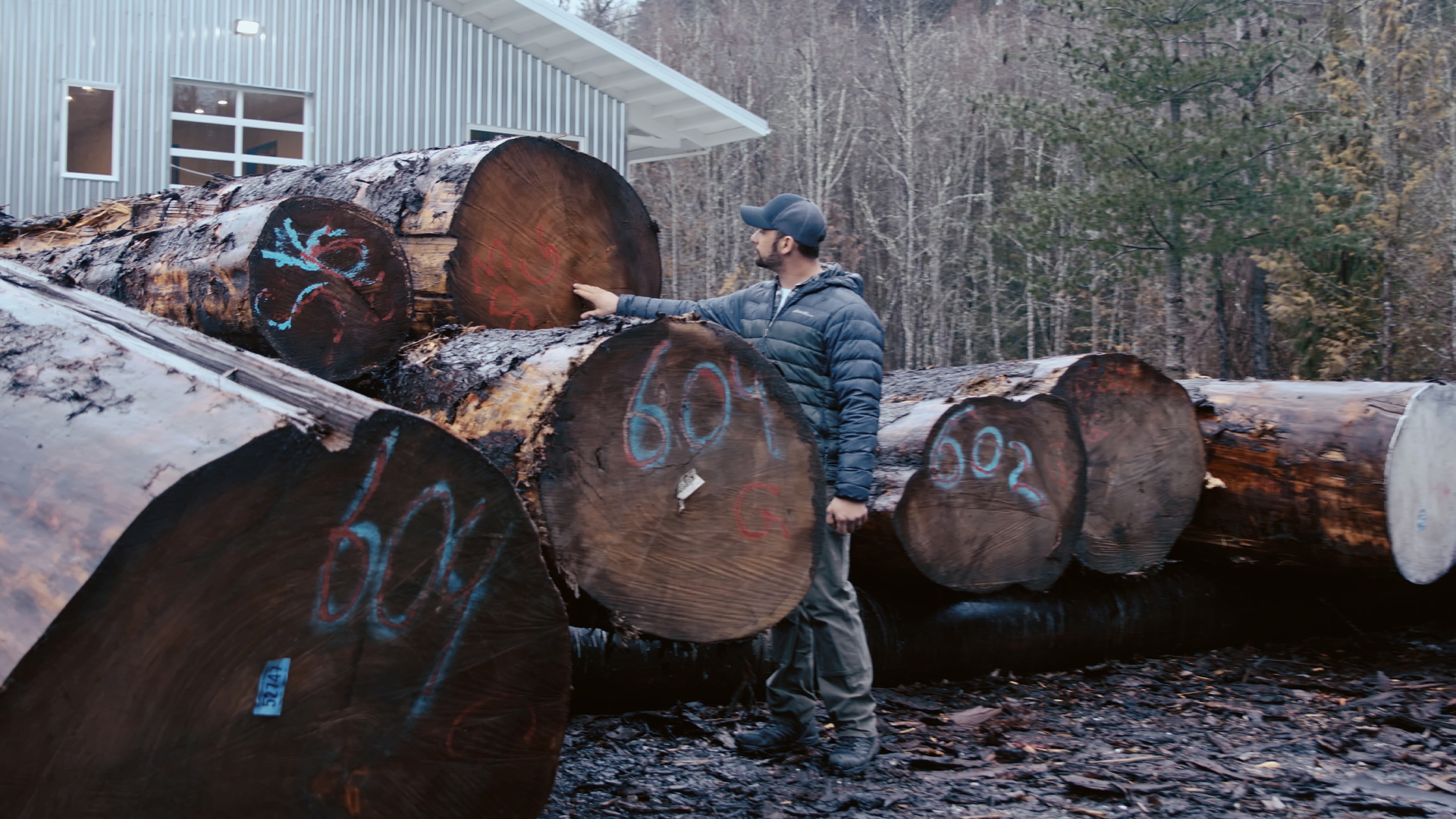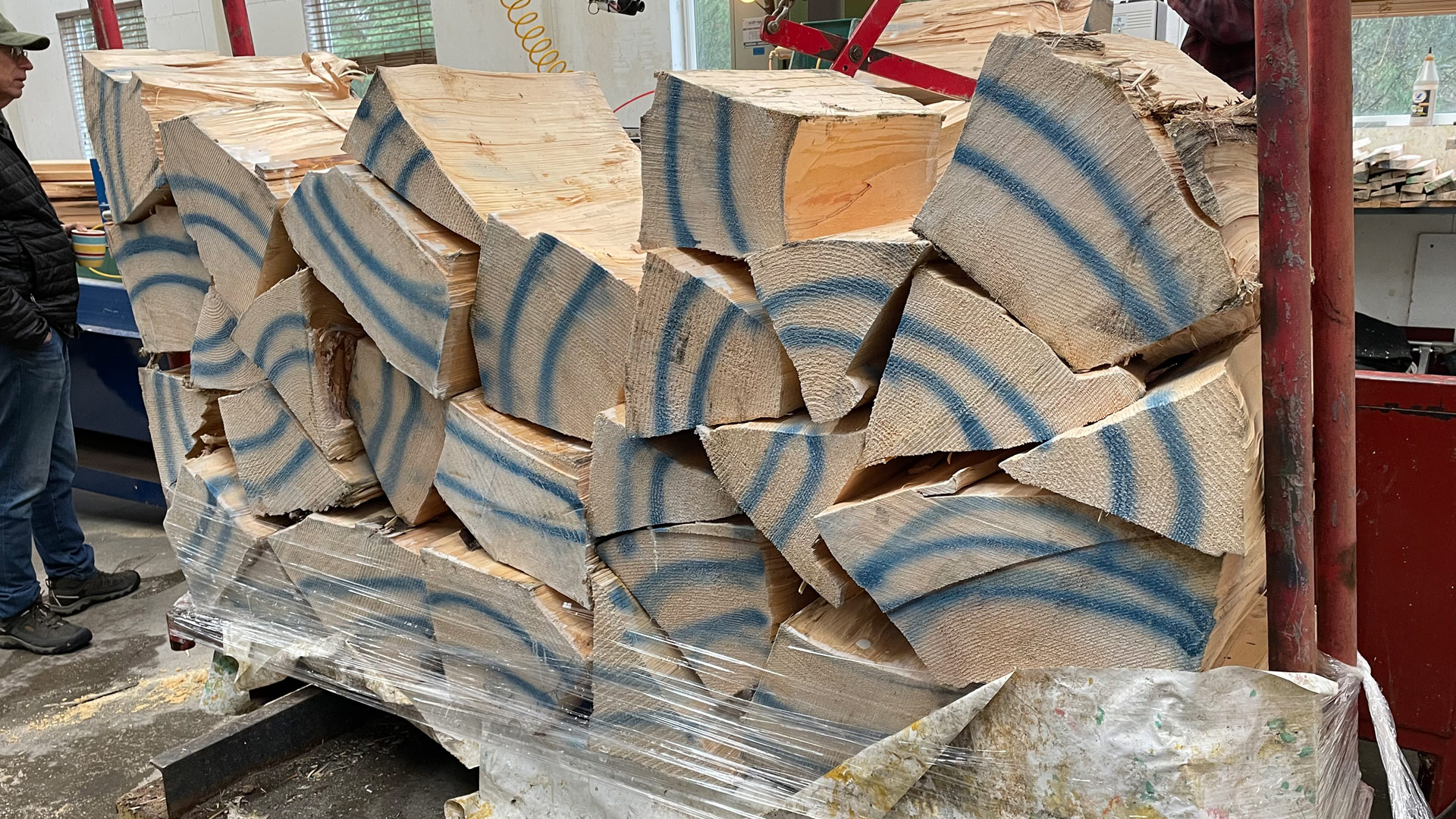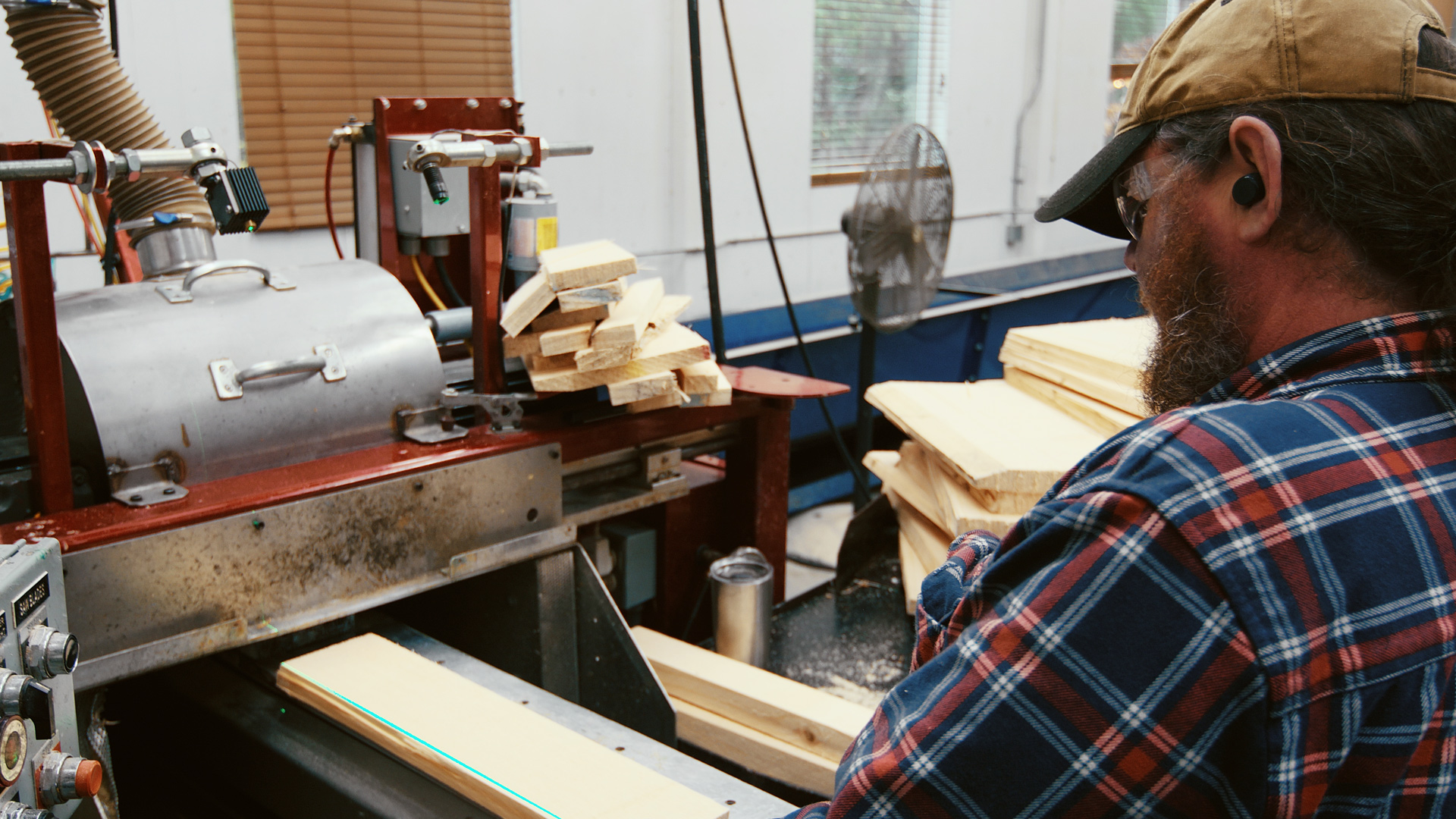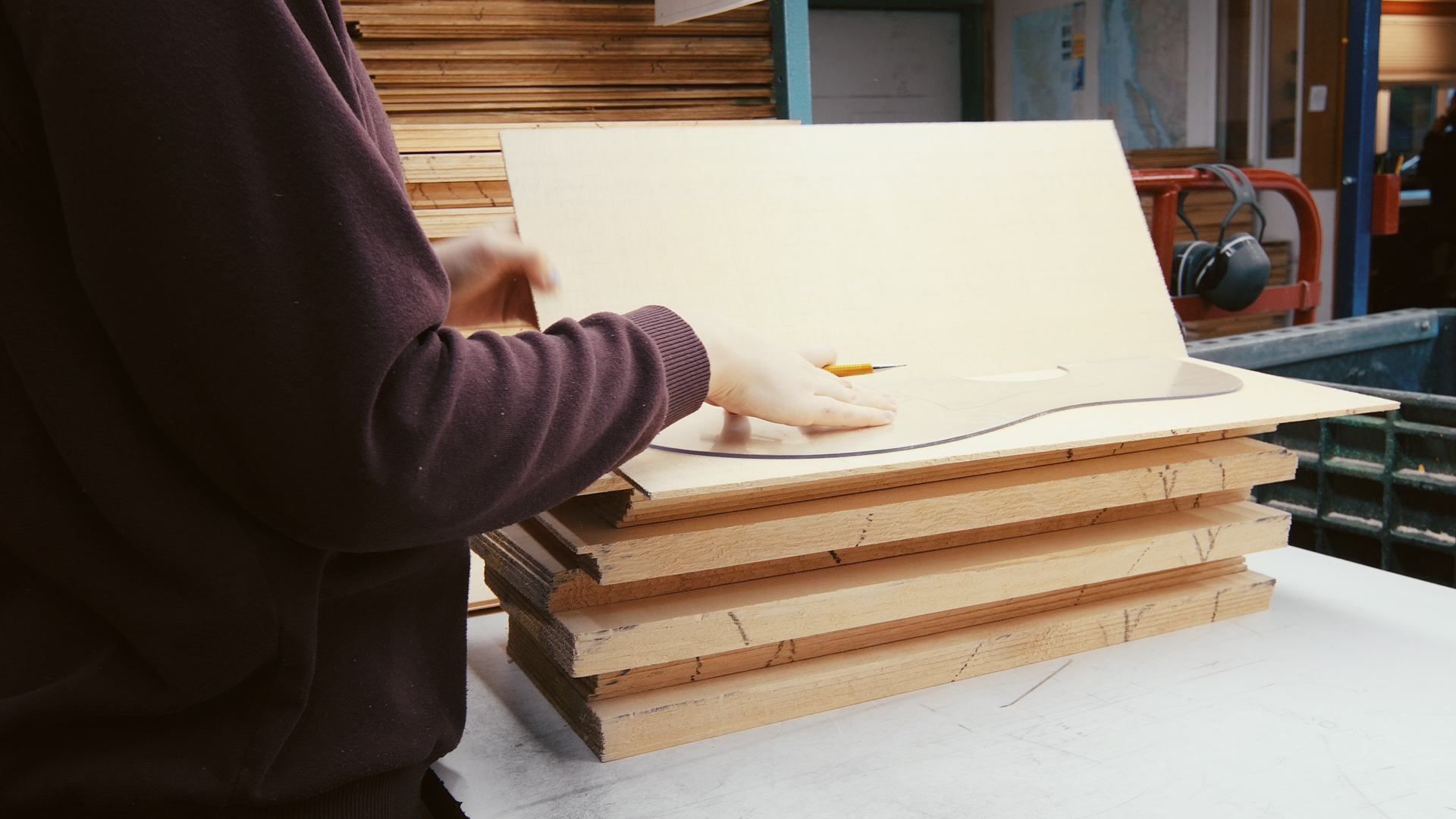 In many respects, PRT founder Steve McMinn and Bob Taylor are kindred spirits: in their natural curiosity and passion for their work; in their desire to make high-quality wood products in innovative ways; and in their commitment to responsible forest stewardship. Through their collaboration over the years, including the Siglo venture, both value taking the long view and are highly motivated to do the work to invest in the future of tonewoods for musical instruments.
Building a Specialty Sawmill for Musical Instruments
As we noted in our 2015 piece, McMinn's father was a forester in the Pacific Northwest, and Steve followed a similar path, working as a logger to put himself through college, and on trail crews for the U.S. Park Service during summers, which deepened his appreciation for environmental stewardship.
McMinn's interest in supplying tonewoods for musical instruments was sparked after building a guitar from a kit he ordered and realizing the quality of the woods he received was inferior to what he could get himself. So he started salvaging storm-downed Sitka spruce from U.S. Forest Service land in Alaska and Washington. In the beginning he'd hike into the forest, split a choice spruce log into blocks, and backpack them out. He also learned which properties luthiers look for in a spruce soundboard, and gradually refined his milling operation accordingly to provide the best possible product.
McMinn first pitched Bob Taylor about buying spruce tops with some sample sets pulled out of the trunk of his car in the late 1980s, as Bob told Steve in a recent conversation at the PRT mill.
"You said, 'If I make a top like this, would you buy them?' and I'm like, 'Oh yeah!'" Bob recalled. "You don't know how close I was to not even being able to get [guitar-grade] spruce — it was getting harder and harder for me to have access to it."
And that was when Taylor was only producing 4-6 guitars a day.
Bob's comment speaks to the particular way spruce needs to be cut to optimize it for the performance demands of a guitar top.
Several decades later, PRT has devoted its operation to supplying premium quality tonewoods to instrument makers, and like Taylor and the rest of the guitar industry, has grown larger and more sophisticated. There are new buildings, machines and processes on their campus, all in the service of transforming hulking logs into refined guitar parts.
The PRT team is also pushing the envelope with pioneering research into the science of how spruce produces acoustic sound, identifying the roles that attributes like stiffness, density and damping play, and quantifying those properties in ways that have allowed them to start grading wood based on predictable sonic performance.
The value-added benefit of sonically graded tops, Steve says, is that they can steer the right wood to the right guitars based on its sonic properties rather than simply cosmetic appearance. Or, as Steve likes to say, "We move people past the tyranny of the eyes."
If you're into guitars, a visit to the PRT campus and seeing firsthand the combination of skill and care that goes into their processes promises to give you another level of appreciation for what it takes to produce wood sets for musical instruments. That's why we wanted to go there and spotlight their work.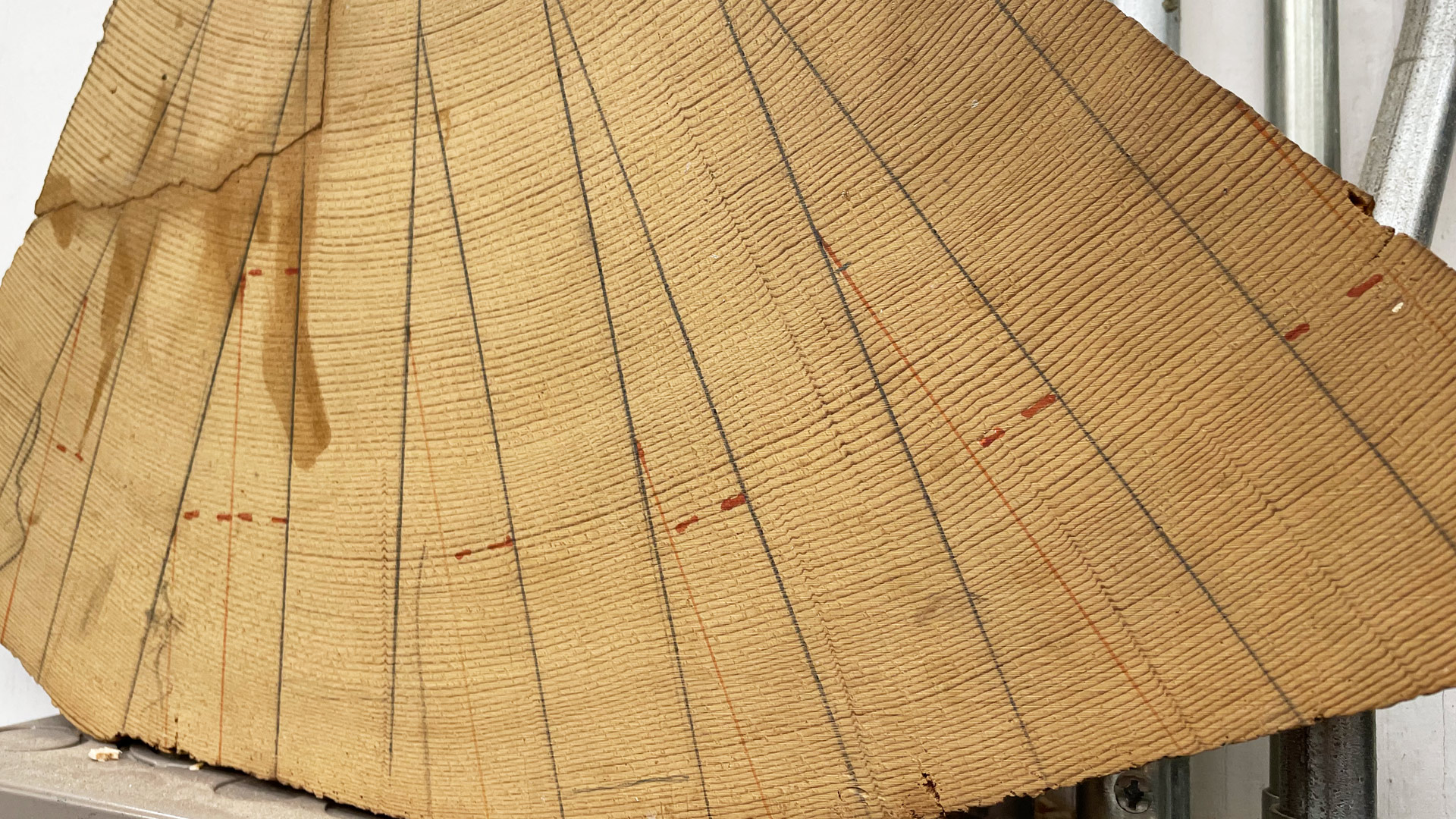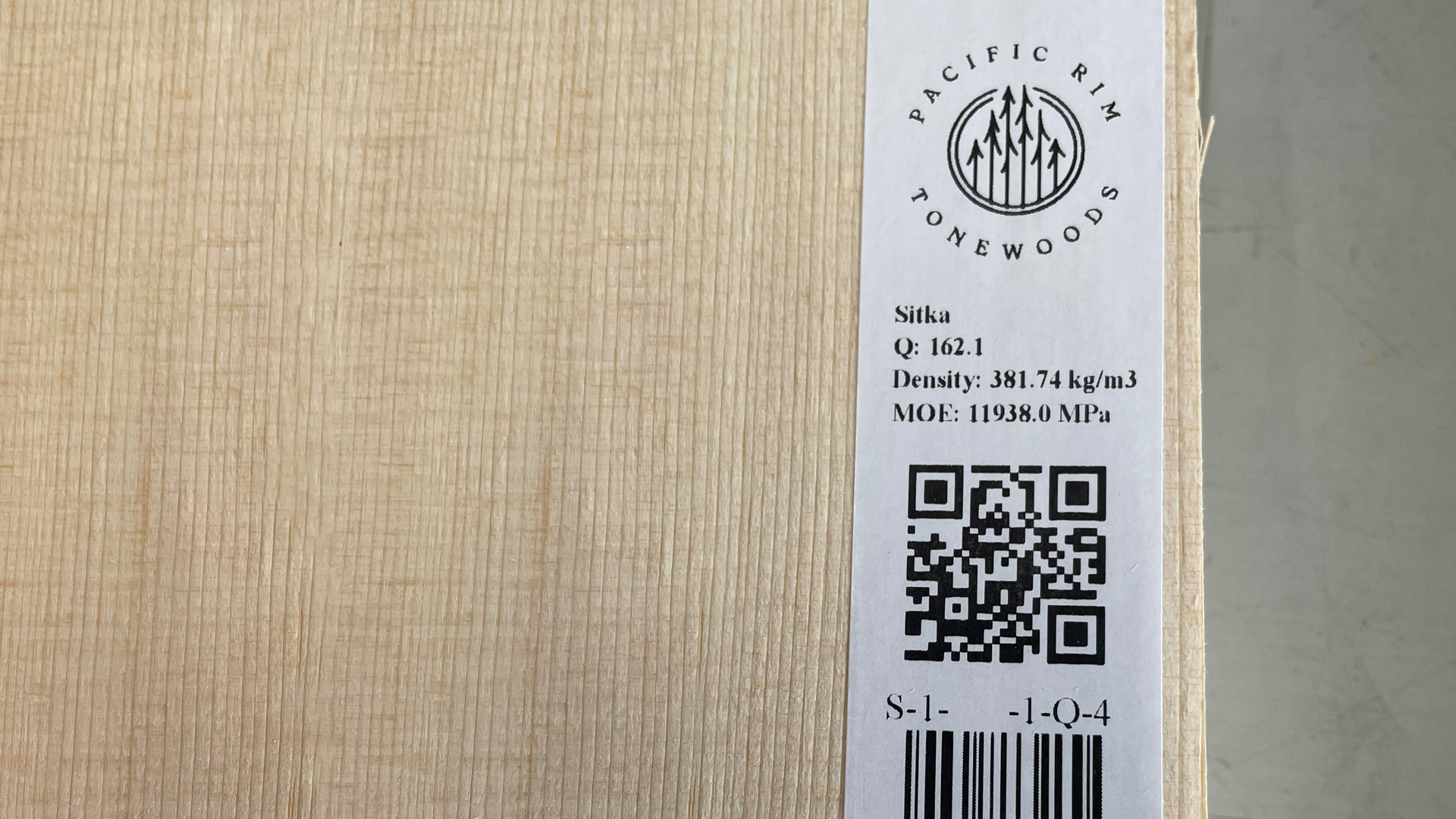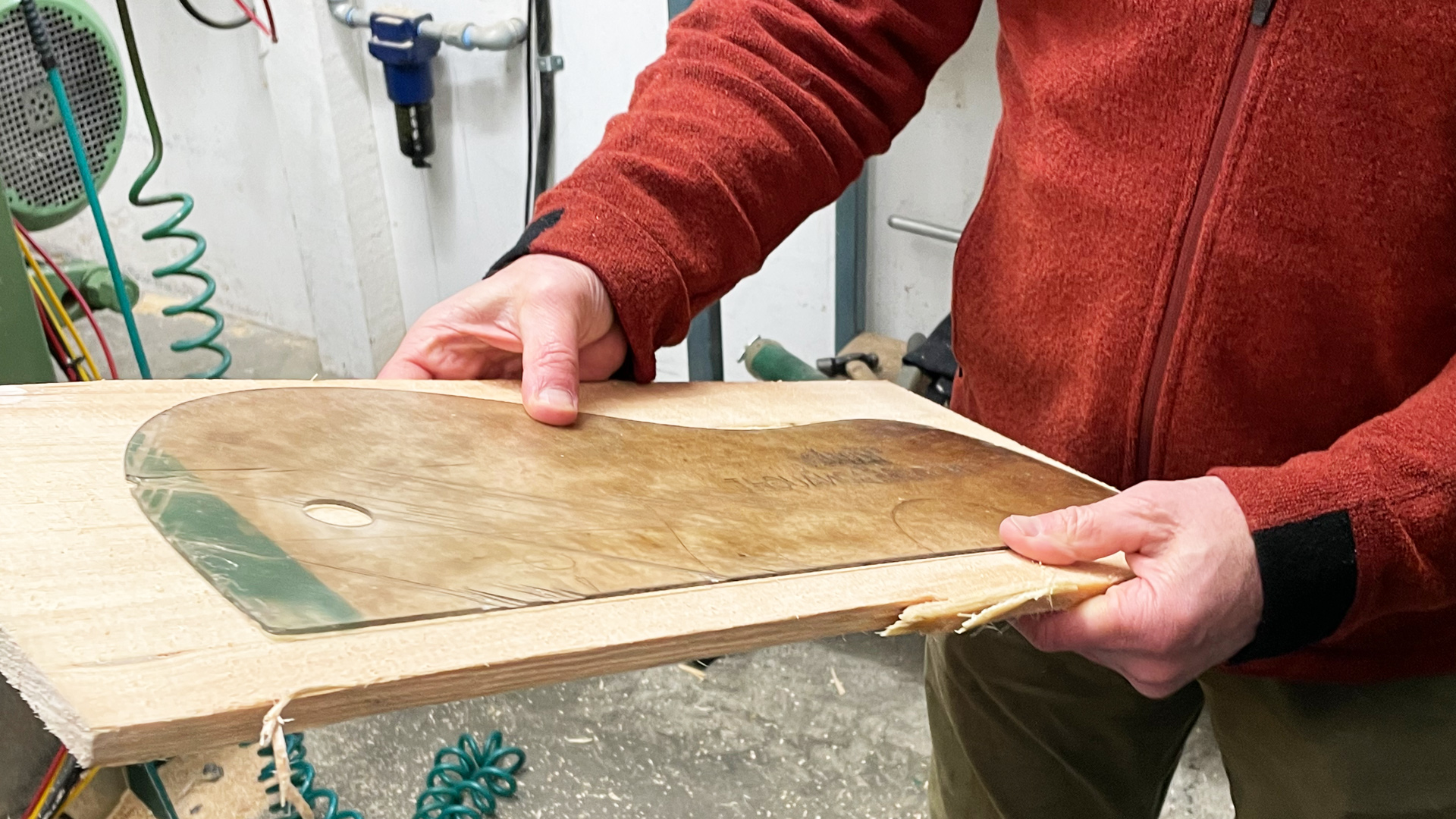 In mid-March, I traveled with Bob Taylor, Scott Paul (our Director of Natural Resource Sustainability) and Taylor Director of Marketing Craig Evans to Concrete for a two-day trip. There, we joined video producer Gabriel O'Brien and another cameraman, Chris Lallier, to document their operation.
Gabriel and Chris spent one day with Steve's righthand man, general manager and partner Eric Warner, who walked them through the process of transforming a spruce log into guitar tops with the help of a couple of experts: log buyer and splitterman Justin El-Smeirat and sawyer Derrick Schmidt. The second day's main agenda was to shoot a roundtable discussion with Bob, Scott, Steve and Eric covering a range of topics around the use of spruce for guitar tops.
Among the discussion points were where and how PRT selects spruce logs, why spruce is so suitable for stringed instrument tops, what characteristics they look for, how to cut tops, the importance of quartersawn pieces, and the specialized skills PRT brings to the process.
Eric Warner and Scott Paul also weighed in as the conversation shifted to the changing availability of Sitka spruce and why cutting four-piece tops will become necessary for guitar makers. Bob, Steve, Scott and Eric talked about the realities of working with younger, smaller trees (80-120 years old) rather than the larger old-growth specimens (250 years or more) that people have relied on for hundreds of years, and the importance of adaptability on both the wood cutting and guitar-making fronts.
The conversation, along with a closer look at the milling process, were then edited together and separated into four sections, which you can watch below.
Part 1: The Hunt for Good Top Wood
Bob Taylor and Steve McMinn talk about the growth of Pacific Rim Tonewoods into an industry-leading spruce supplier for musical instrument makers, the characteristics they look for in spruce logs for guitar tops, and the best way to cut spruce for soundboards. PRT log buyer/splitterman Justin El-Smeirat also explains the process of sourcing and transporting spruce logs, what characteristics they look for, and how they assess and cut a log for maximum value.
Part 2: The Beauty of Spruce
Steve McMinn explains in more detail why spruce is suitable for guitar tops. We meet Justin El-Smeirat at the splitting deck, where he demonstrates how to split a spruce round into blocks to maximize yield. Eric Warner explains how making four-piece tops enables PRT to extract more value from a log. And Eric heads inside the mill to show us how spruce blocks are quartersawn into boards on a headrig, dodging defects within the block. Defects will dictate whether they can cut a larger dreadnought-size two-piece guitar top or a four-piece top. In between top board cuts, they'll cut brace wood.
Part 3: Finding the Best Spruce for Guitars
Steve McMinn and Eric Warner talk about their newest "secret sauce," sonic grading technology, which allows them to measure and sort spruce based on attributes like density, stiffness and damping. This helps predict its sonic performance properties in a way that provides guitar makers with greater predictability and consistency. Steve and Bob Taylor also talk about the value of precisely quartersawn wood and explain their preference for wider-grain spruce. In the mill, Eric shows us how boards are edged for four-piece tops and explains how boards are steered toward either tops or braces as the sawyer works around defects in the wood.
Part 4: A Changing Forest
Bob Taylor, Steve McMinn, Scott Paul and Eric Warner discuss the diminishing commercial availability of large, old-growth spruce and how sourcing smaller-diameter trees is leading to the cutting of more sets of four-piece tops. Despite it being more work both for cutting tops and making guitars, there are also benefits to be had, such as the ability to use more wood from a log and create an even more consistent grain structure with guitar tops. Bob and Steve talk about their willingness to adapt to the available resources in a way that respects the forest and continues to serve musicians without compromise.