Each body's dimensions create a distinctive feel and sound.
How different tonewoods flavor a guitar's sound.
The Taylor Line by Series
A snapshot of our series framework and tonewood pairings.
We love helping people find the right guitar for their needs. Whether you're looking for your first guitar or expanding your acoustic arsenal, it's important to find an instrument that feels comfortable in your hands and sings with a voice that resonates with your soul.
Our Guitar Guide takes you on a tour of the 2021 Taylor guitar line. We start with two core ingredients that help define an acoustic guitar's musical personality: body style, which literally shapes its voice, and tonewoods, which infuse it with additional sonic flavors. From there, we'll walk you through the framework of the Taylor line, organized by series. Each is defined by a combination of tonewood pairings and aesthetic details, presenting an array of options in feel, sound and looks. Whichever way your tastes lean, you can always count on a reliable musical companion that's built to last.
Our website is also a robust resource for information on all of our models, including photos, videos, specifications* and pricing. And if you have specific guitar questions, feel free to contact our Customer Service team; they'll be happy to help you.
*Prices, specifications and availability are subject to change without notice.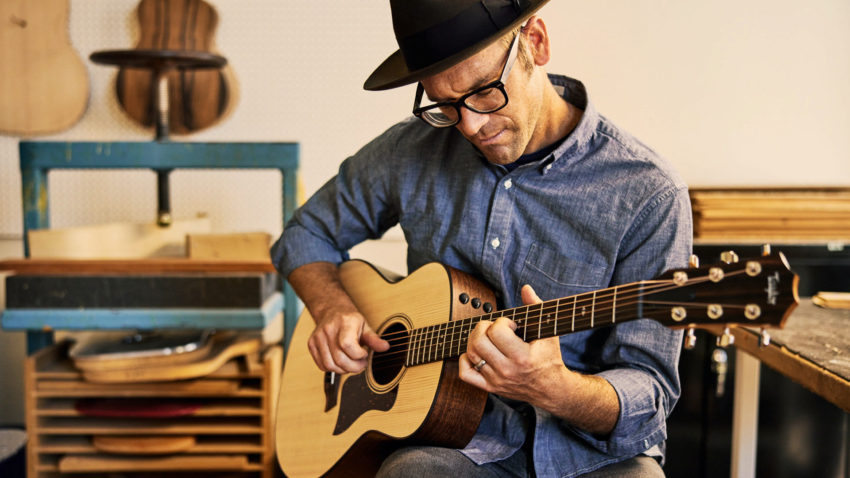 A Guide to Taylor Acoustic Model Numbers
Here's how our model numbering system works.
Learn More
---
The Taylor Difference
5 things that set the Taylor experience apart
Why do people choose to play a Taylor guitar?
We can think of lots of reasons. From our perspective, they all flow from the same wellspring: our underlying passion for improving the guitar-playing experience. That creative drive set a teenage Bob Taylor on a path of innovation 46 years ago, and that push for continuous improvement laid the creative foundation of our culture, guiding our approach to everything we do. For anyone curious about what makes us unique, here are five things that players can count on from us.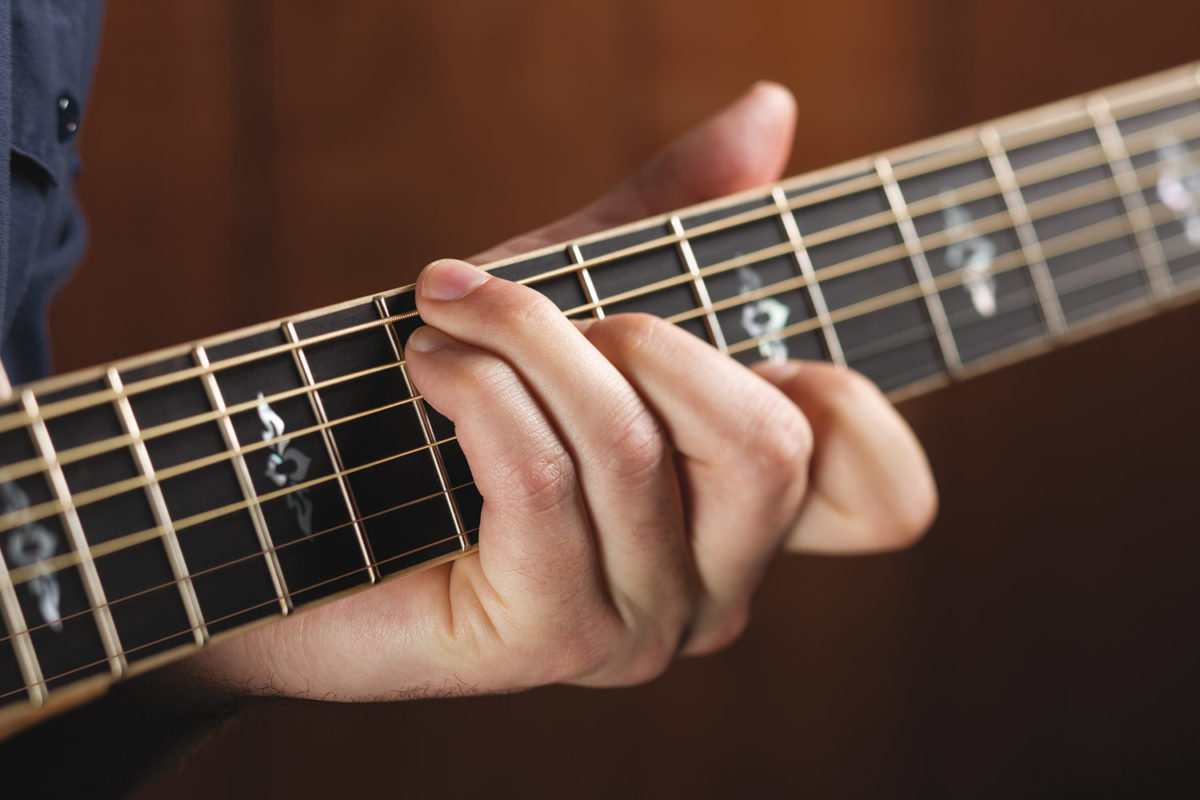 Playing Comfort
Easy-playing necks are a hallmark feature of a Taylor guitar and the gold standard of playability across the acoustic guitar industry. This makes our guitars more accessible to beginners, reducing hand fatigue and accelerating their progress. For seasoned players, the slim profile and comfortable string setup of our necks translates into a fast feel that allows them to express themselves more fluidly.
Our obsession with playability has led to innovative designs like the patented Taylor neck, which improves both stability and adjustability. This allows the geometry of our guitars to be set precisely for optimal performance, with unprecedented micro-adjustability to ensure a lifetime of playability.
We offer a range of other comfort-centric playing features within our guitar line, including different scale lengths, string tension profiles and neck profiles, along with ergonomic refinements to the guitar body, such as armrests and other contouring features.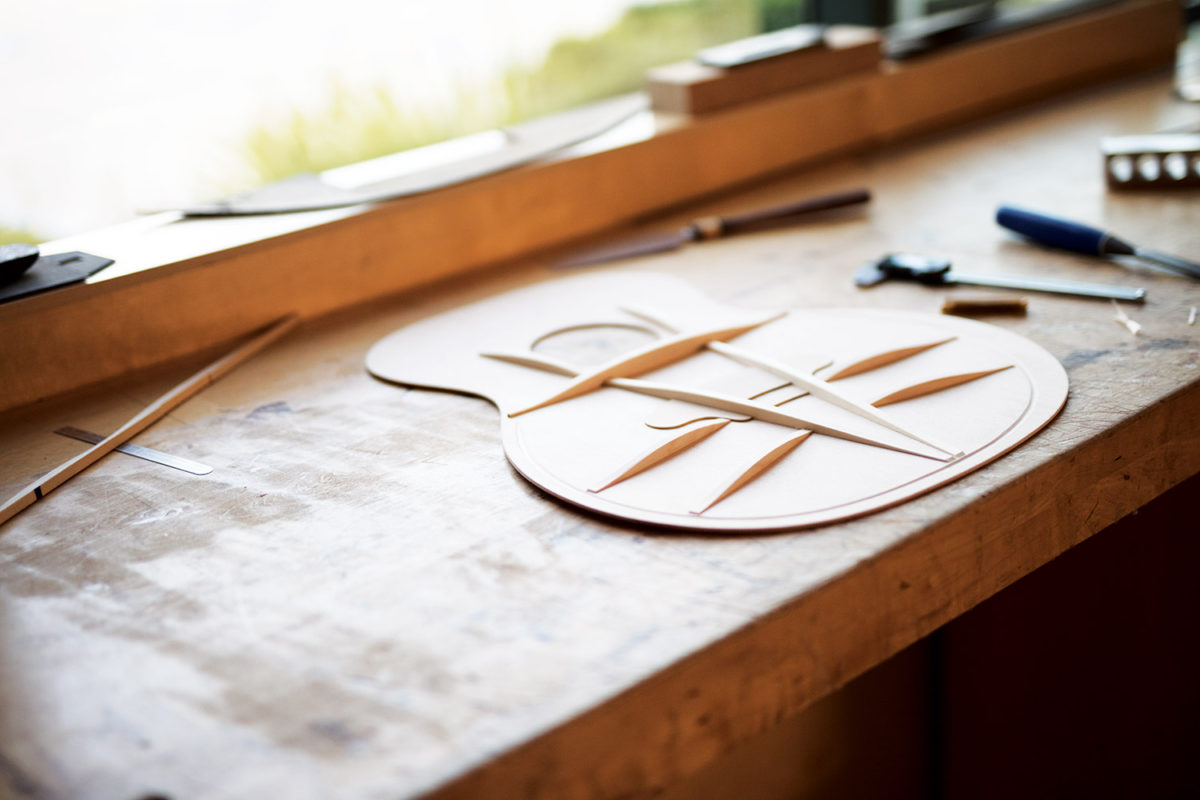 Tone-Enhancing Innovation
Our passion for ear-pleasing musicality has fueled our efforts to voice our guitars to inspire and perform at the highest level. It starts with guitars that stay in tune and readily respond with clear and balanced articulation. With Taylor master designer Andy Powers at the helm, our drive to refine the sound of our guitars has led to a steady stream of tone-enhancing designs, such as our award-winning V-Class® bracing. This powerful tone-shaping platform allows us to create a wide range of musically inspiring acoustic flavors, offering something for every level and style of player. For many pro musicians and recording engineers, having a Taylor means having a reliable tool to get the job done, whether for songwriting, recording or performance.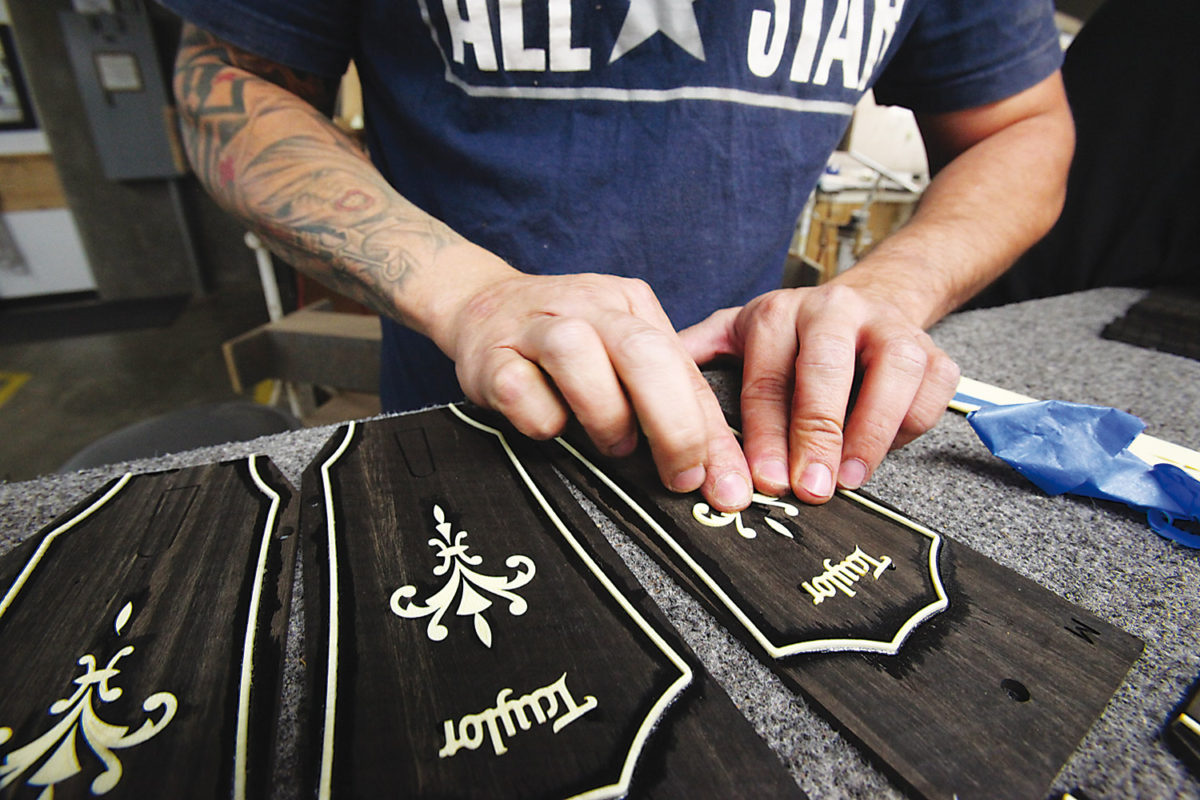 Precision Craftsmanship
A guitar design is only as good as the ability to produce it. One of Bob Taylor's greatest accomplishments as a guitar maker has been his pioneering work to transform guitar making from its old-world heritage into an innovative manufacturing operation that enables us to craft instruments with remarkable precision and consistency. We have an entire tooling and engineering division devoted to making our latest guitar designs production-ready. This includes everything from developing the software programs we use with our sophisticated computer-controlled mills and robots to fabricating our own tools and machines to help our skilled craftspeople produce our guitars. That unique integration of technology, tooling and skilled hand-craftsmanship makes our guitar factory operation truly one of a kind. Not only does this allow us to imbue our guitars with impeccable detail work, but the superb build quality gives players an heirloom-quality instrument.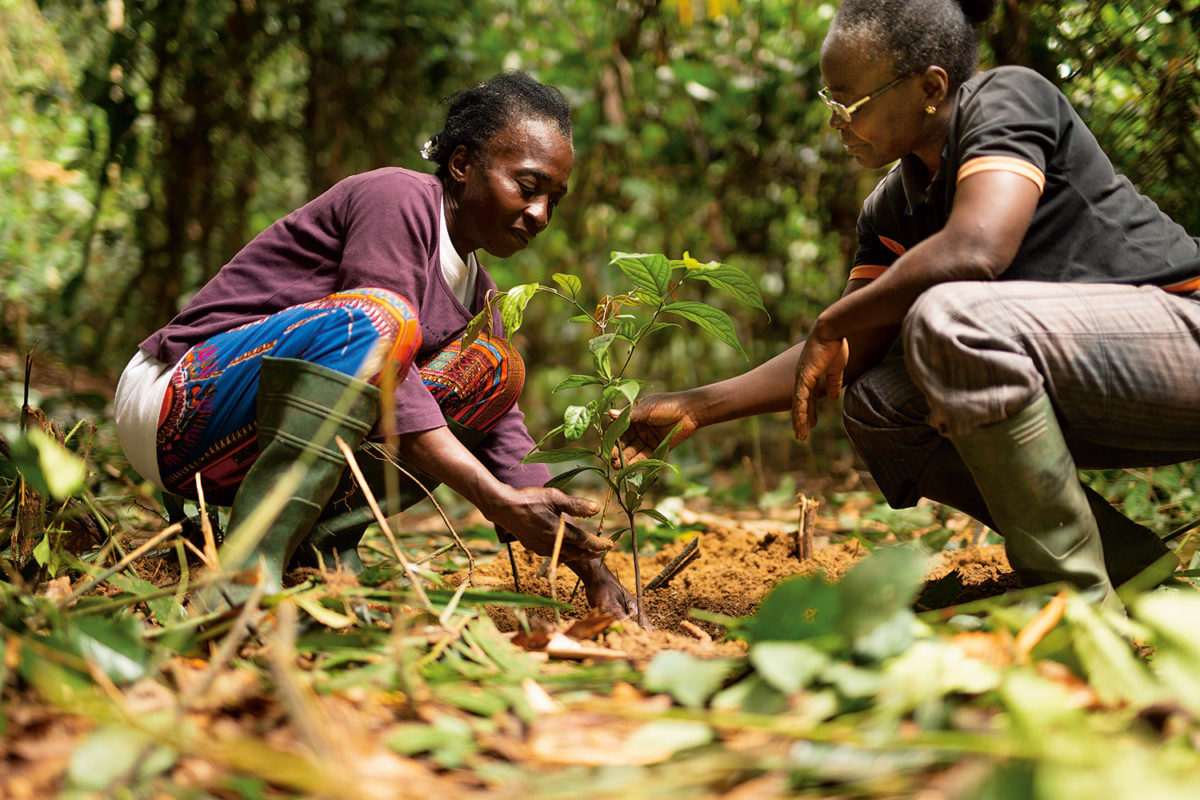 Sustainability Leadership
We are deeply committed to safeguarding the future of the natural resources we use. Beyond our pursuit of ethical, socially responsible sourcing practices, we have pioneered several innovative sustainability initiatives around the world. Flagship programs include the Ebony Project in Cameroon, which funds research about ebony's ecology and has shaped a robust replanting initiative; Paniolo Tonewoods in Hawaii, a collaboration with supply partner Pacific Rim Tonewoods to ensure a healthier future for koa by regenerating native forests; and a new Urban Wood initiative in tandem with an innovative California arborist to create new markets for wood from previously discarded trees that have been removed from municipal areas at the end of their life cycle. Not only does some of this wood, such as Urban Ash, make wonderful guitars, the project aims to support the re-greening of urban areas. Bob Taylor's vision of environmental stewardship at Taylor also led him to hire a forest policy expert to become our Director of Natural Resource Sustainability, a unique position within the guitar industry.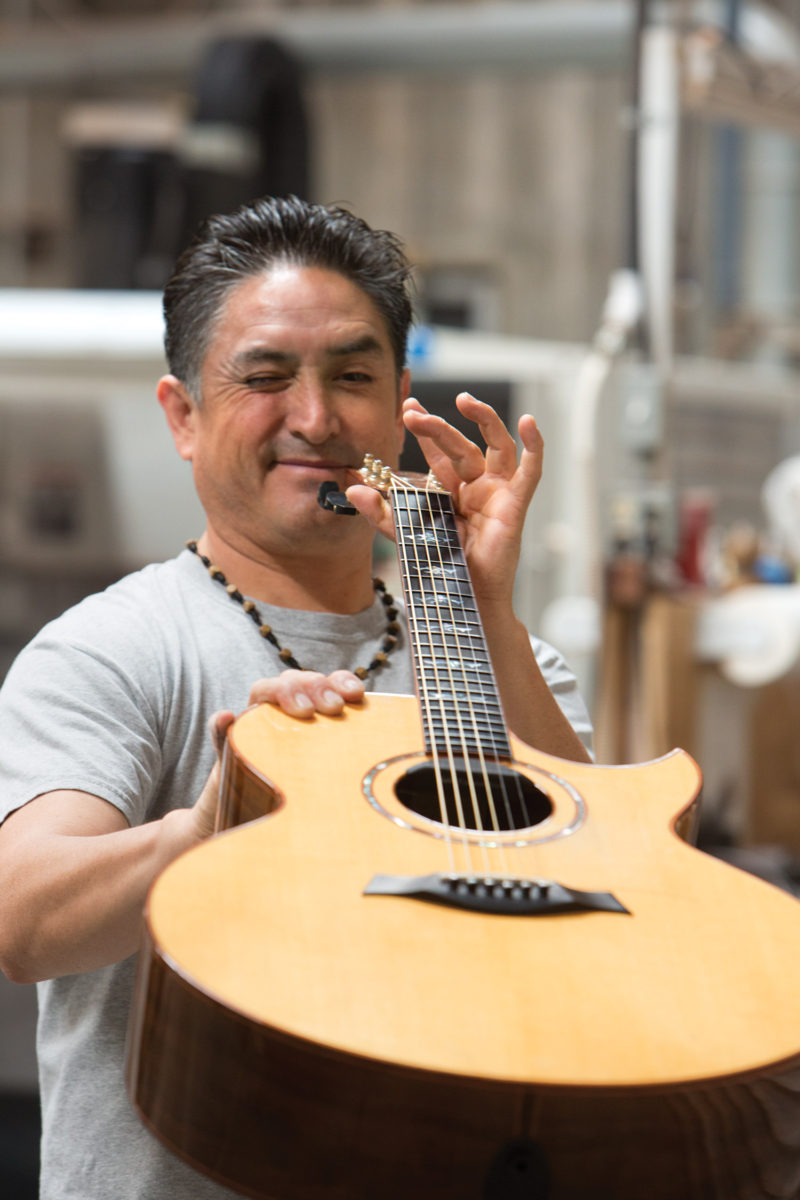 Service & Support
Taylor is more than just a company that makes and sells guitars. We're equally passionate about providing the resources to support your guitar-playing journey, whether you need help choosing the right guitar or taking care of it. One of the best things about a well-made and well-maintained guitar is that it will continue to sound better over time, and we love helping Taylor owners enjoy their instruments to the fullest. From friendly service to expert repair, you can count on a lifetime of attentive Taylor support.
---
Finding Your Fit
At Taylor Guitars, we believe in helping each player choose the guitar that will best inspire their musical interests and ignite a passion for the instrument. Watch the video below and learn how shape, size, features and tonewoods factor in to your decision of which acoustic guitar to buy.
Taylor Guitar Pick Primer
Your choice of guitar pick has a dramatic influence over your guitar's tone, and playing with picks of different shapes, thicknesses and materials, such as our DarkTone picks, will emphasize different parts of the guitar's range. The result is a wider spectrum of tonal colors to add to your musical arsenal. Watch Taylor guitar guru Andy Lund as he runs through how different picks can shape your guitar's sound.
Understanding the ES2 Pickup and Preamp
Many of today's acoustic guitars are sold with built-in electronics, and Taylor is no different. Taylor guitars with model designations including "e" (e.g., 814ce) incorporate acoustic electronics, most often the Expression System® 2, our proprietary behind-the-saddle pickup and preamp. Watch audio engineer and recording expert Gabriel O'Brien as he demonstrates the basic functions of the ES2 and explains how to tweak it to achieve the tone you want for live or other plugged-in situations.
On the Bench: How to Change Guitar Strings
Changing strings is a fundamental skill for any guitar player, whether for changing a broken string on the fly or swapping out a whole set for that fresh new-string sound. Watch Taylor Network Service Manager Rob Magargal as he shows you how to change acoustic guitar strings.
On the Bench: Guitar Tools
Every guitarist needs a few basic tools to maintain their instrument. Watch the video for Rob's rundown of the basic tools you should keep handy in your practice space or guitar case.
On the Bench: Humidity and Acoustic Guitars
Acoustic guitars are dynamic instruments that are always reacting to their environment, and keeping humidity at a safe level is important for keeping your guitar in great condition. Watch the video for Rob's explanation of how humidity affects acoustic guitars.