"Does Taylor plan to make a parlor guitar?"
It's a question Taylor's Customer Service team routinely hears. But Customer Service Manager Glen Wolff says people don't always know what to ask for, so they lean on the closest reference point, like a parlor guitar, or occasionally, a solid-wood GS Mini.
"It's not that customers necessarily want a traditional parlor-style guitar," Wolff says. "People love the comfort of a compact guitar, but they don't want to compromise on sound. And they assume a smaller-body guitar like a parlor or a solid-wood GS Mini will deliver the best of both worlds."
But here's the rub: An all-solid GS Mini doesn't deliver a dramatic improvement in sound. Trust us — Taylor master builder Andy Powers made a few as an experiment. He knew it wouldn't, but he tried pulling out all the stops, using protein glue and other envelope-pushing materials and techniques to max out the tonal response. But in the end, it didn't move the needle in a way that justified producing it.
"The dimensions of the Mini inherently have constraints on what you can coax from the design," Andy says. "It's a great guitar for its size, but you can't make it sound significantly bigger until you make the strings longer."
It's the same truth that Bob Taylor discovered years ago when looking to turbocharge the Baby Taylor, our original travel-size guitar, to infuse it with a bigger, fuller voice.
"Usually we find that within the confines of an existing design, no matter how much we hotrod that, it doesn't change it very much," Bob said in a Wood&Steel story back in 2010 — a story detailing how Bob's initial redesign efforts with the Baby led to the birth of the GS Mini. Bob eventually realized he would need a longer fret scale and a bigger body, and the rest is history. The GS Mini has gone on to become one of the most popular guitars Taylor has ever made.
But Bob also understands the Mini's sonic limitations based on its size.
"If I were to describe the Mini's tone, I would say it's fun, it's legit," Bob says. "But if you play a GS Mini for a long time and then you pick up an Academy 10, which is a bigger guitar, you're like, 'Oh, wow.'"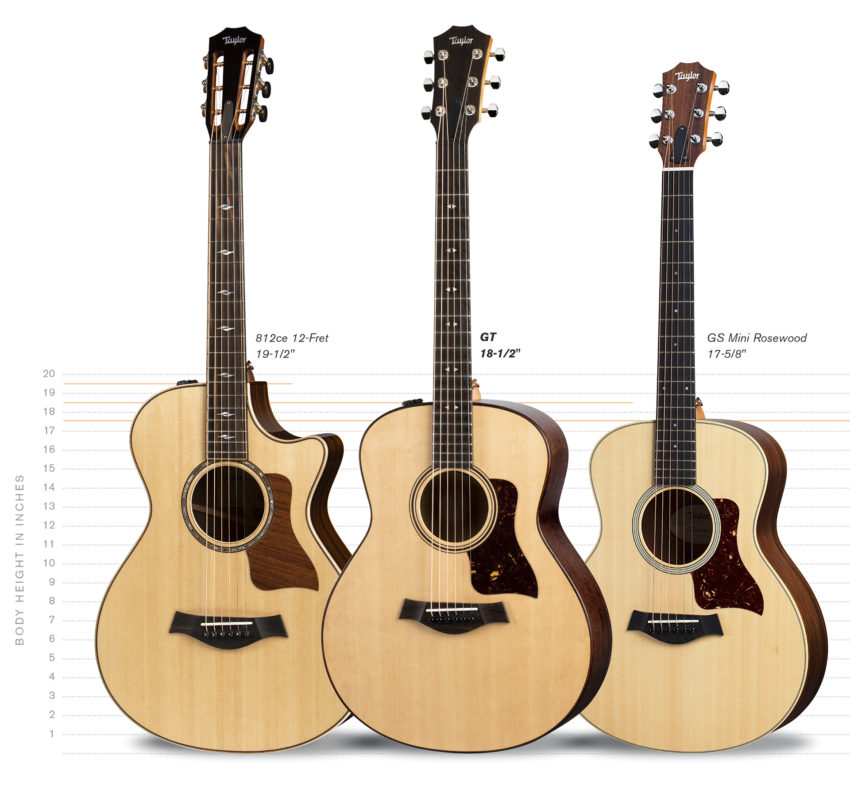 Travel-Size vs. Full-Size
If you think about the classification of steel-string acoustic guitars by overall size, they are generally separated into two basic categories: full-size and travel-size, the latter obviously named for their extra portability. One of the delineating factors is the string length, a.k.a. scale length or fret scale — basically the measure of the string length from the nut to the saddle, which represents the maximum vibrating length of the unfretted open string.
In general, travel guitars have a shorter scale length that ranges up to about 23-1/2 inches, which happens to be the scale length of the GS Mini. Full-size or full-scale guitars usually have a scale length between 24-3/4 and 25-1/2 inches. Taylor's standard full-scale guitars come in two scale lengths: 24-7/8 inches for our Grand Concert models and the redesigned Grand Symphony, and 25-1/2 inches for our other models, which sits at the longer end of the typical scale length range.
If you've paid attention to the guitar designs Andy has introduced since his arrival at Taylor nearly a decade ago, you might have noticed that one area he has explored with successful results has been our hand-friendly 12-fret Grand Concert models. (Our Grand Concert has been our smallest "full-size" body style.) Updated for the modern era, their combination of a small body with shorter 12-fret neck and 24-7/8-inch scale length adds up to a guitar that's easy to hold in your lap, with a lower string tension and a fret span that's slightly reduced, making fretting easier.
Since their release, our 12-fret guitars have become an increasingly popular option among players, especially those looking to reduce the stress on their fretting hand. But those guitars also pump out a lively tonal response, especially in the midrange frequencies, thanks in part to the location of the bridge closer to the center of the lower bout.
Andy has also leveraged the strengths of our 12-fret/Grand Concert design platform to introduce more player-friendly 12-string models, like the 562ce, 362ce and recent Builder's Edition 652ce, which took our already established reputation for making the easiest-playing 12-strings in the industry to another standard of comfort and musical utility.
All along the way, Andy has also been thinking about that middle zone between travel-size and full-size, and the possibilities of a guitar with proportions that sit somewhere between the size and scale of the GS Mini and the Grand Concert.
"I looked at the unexplored areas between conventional travel and long scale lengths, and it seemed obvious that something was missing there," he says. "It felt like a whole other size category was hidden from existence. I wanted to make something that was big enough to sound good, yet small enough to take comfort and playability to a fun new level," he says.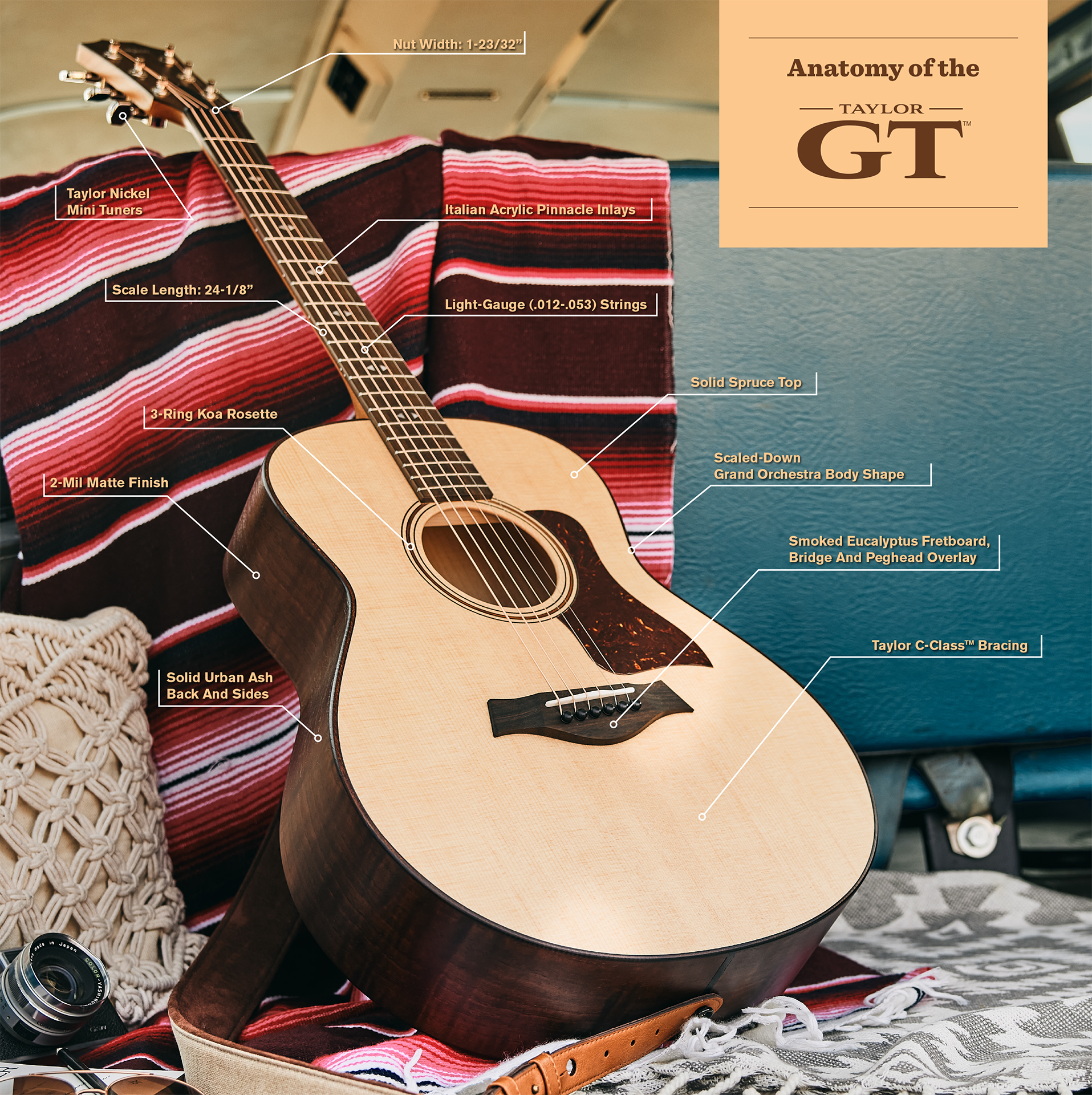 A New Mid-Length Scale
Like a guitar's body proportions, its scale length is a foundational choice for a guitar maker.
"Of the baseline decisions made when a guitar maker sets out to create an instrument, among the very first choices is determining how long the strings should be," Andy says. "That parameter will direct nearly everything the maker does next."
As he began to work out the dimensional framework for this new guitar, Andy arrived at what he calls a mid-length fret scale of 24-1/8 inches, which is the same string length as playing with a capo on the first fret of a guitar with a 25-1/2-inch scale length. "Some players, myself included on occasion, will drop-tune a guitar E-flat through E-flat," he says. "Some musicians prefer it because they can sing in that key more easily, but many simply like the lighter tension — when you slack the strings off a half step, they're slinkier, as if you stepped down a string gauge. While the looser string feel is very appealing, I don't always want to play E-flat through E-flat; I like playing at concert pitch, especially when playing with other musicians. To prove out this scale length, I took a more typical 25-1/2" scale length, drop-tuned it, and put a capo at the first fret."
Shaping a New Body Style
With the guitar's scale length defined, Andy set out to design a new body style with a set of proportions between the GS Mini and Grand Concert. He envisioned a non-cutaway shape and borrowed the curves of Taylor's large Grand Orchestra body, scaling them down appropriately. While the width of the lower bout (15") is the same as the Grand Concert, the body length (18-1/2") is an inch shorter, and the body depth (3-3/4" measured at the soundhole) is shallower than the GC (4-3/8").
The body was named the Grand Theater to align with the "Grand" naming convention shared by our other standard body styles. But around the Taylor campus, calling it the GT seemed to suit the fun, inviting, youthful musical personality associated with the guitar.
New C-Class™ Bracing
To voice the GT, Andy leveraged the same foundational concepts that informed his innovative V-Class bracing architecture, namely the interplay of stiffness parallel to the strings to produce long-sustaining notes, and flexibility to produce pleasing volume. But with the slightly smaller body size, he wanted to manipulate the frequency response more, so he took a different approach, designing an asymmetrical bracing pattern.
"V-Class is intended to be very linear in how it responds over the whole register," he explains. "Every note you play has a remarkably uniform characteristic. Working with this perfectly proportioned smaller body and string length, however, I wanted a more asymmetrical sonic response. With the asymmetrical architecture, I can exaggerate the guitar's lower frequency response. It's typically a challenge to make a small body respond well on the low end of the frequency spectrum — it doesn't have as large a surface area to flex and move the air required. Using this altered bracing pattern, the response belies the overall smaller size, seriously upping the fun factor."
Because the architecture employs a cantilevered design concept to voice the guitar, we named it C-Class bracing.
Debuting with Urban Ash
Both Andy and Bob Taylor saw the launch of this new guitar as another great opportunity to affirm our long-term commitment to using Urban Ash, a tonewood we introduced earlier this year on our Builder's Edition 324ce and on our new Grand Symphony 326ce, which also debuts in this issue. Responsibly sourced from Shamel ash trees scheduled for removal from municipal areas in Southern California, this ash's tonal properties rival those of high-quality Honduran mahogany — dry, woody and clear, with pleasing midrange warmth.
It's a wood Bob Taylor has fondly taken to calling the golden retriever of tonewoods.
"This ash just wants to please you," he says. "It dries easily, cuts easily, bends easily, sands easily, machines easily, and performs really well musically," he says. "Everything about it is perfect."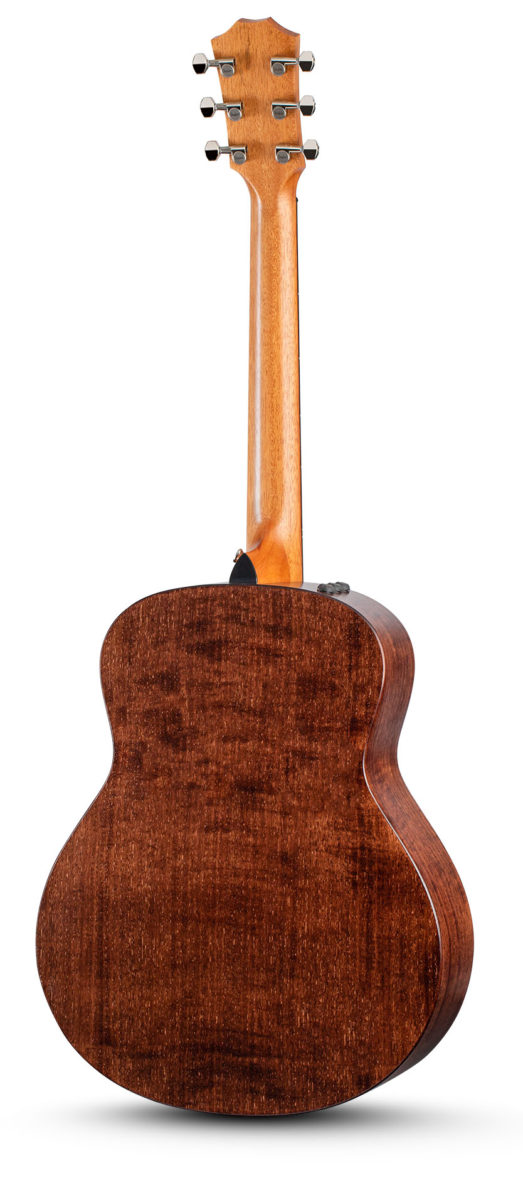 The solid ash back and sides are paired with a solid spruce top. Like our new American Dream guitars, the fretboard, peghead overlay and bridge feature durable and attractive smoked eucalyptus. Astute observers will notice that the size of the bridge has been scaled down to be appropriate for the GT body.
We're launching the new guitar model as the GT Urban Ash, with the option of our onboard ES2 electronics. Also like its American Dream model counterparts, the GT will make its debut at the most accessible price point among our US-made guitars — in the range of our 200 Deluxe Series guitars, which make the GT and American Dream our best-priced all-solid wood, US-made guitars.
Appointments for the GT Urban Ash include Italian acrylic Pinnacle fretboard inlays, a three-ring koa rosette, black top purfling, Urban Sienna stain on the ash back and sides, a super-thin 2-mil matte finish, Taylor nickel mini tuners, and our lightweight but super-durable AeroCase™.
Andy and our product development group see great potential for the GT, with the possibility of releasing models in other series across the Taylor line in the near future.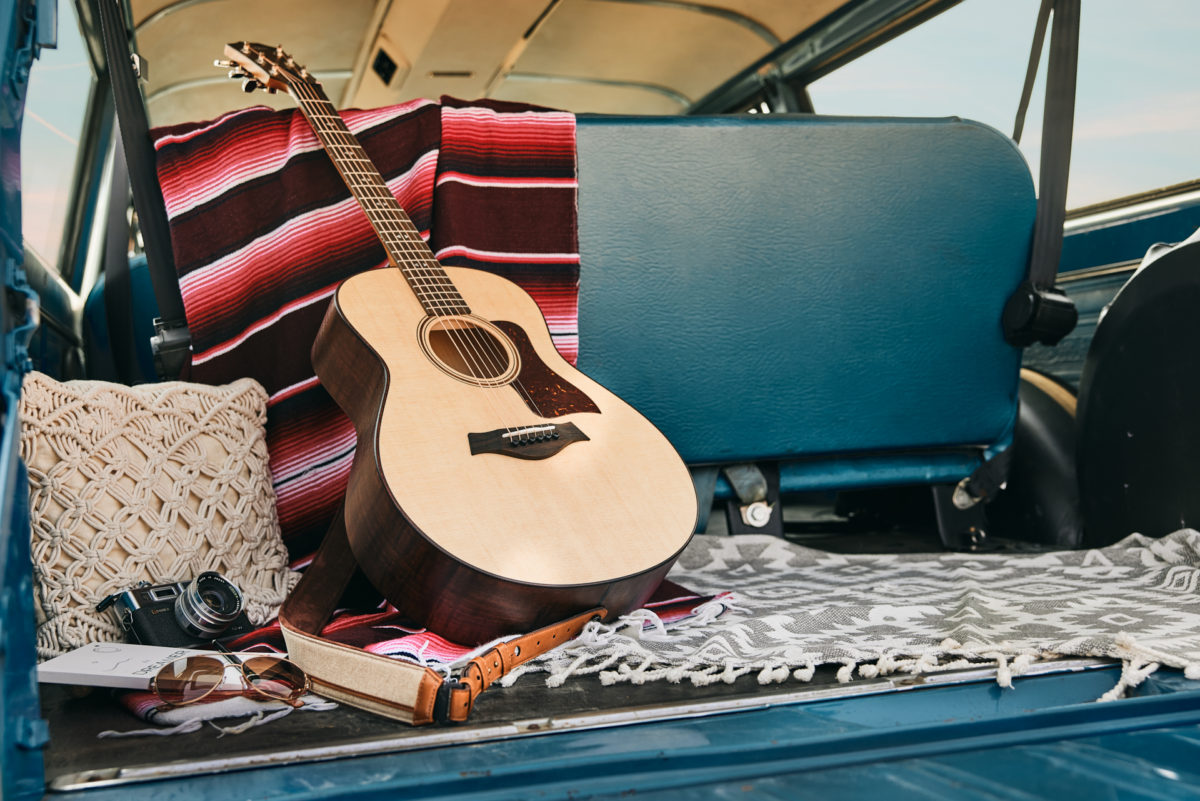 The Feel: "Just Right"
As a guitar that was essentially engineered from the ground up — featuring a new scale length, body shape, neck dimensions and bracing — the magic of the GT is the integration of those elements into a unique harmony of feel and sound. From its design beginnings, Andy's pursuit of another category of guitar that lived in the sweet spot between a travel- and full-scale instrument gave it a certain "just-right" identity around the Taylor campus. In fact, its official code name among the product development group was "Project Goldilocks."
Strung with light-gauge strings (.012-.053), the GT has the same string tension as if you tuned a guitar with a 25-1/2" scale length down a half step (E-flat to E-flat). The reduced tension feels like the guitar is strung with a set of 11s (Custom Light, .011-.052), making every note feel slinkier, yet you still get the power and punch out of a larger string.
The reduced fret spacing of the shorter scale length also makes some of those more complicated chords easier to play.
"When you try to finger a complex chord that spans several frets, you can actually do it on this guitar, where many guitars would make it a struggle," Andy says. "Even for somebody with a long finger reach, this fret spacing is comfortable, just like playing higher on the fingerboard. It's physically easy to press the strings down with the lower string tension, and the closer fret spacing offers better dexterity."
Another unique neck specification compared to other Taylor models is a nut width of 1-23/32 inches — wider than 1-11/16 and narrower than 1-3/4, providing comfortable string spacing. That, together with the compact neck-to-body relationship, naturally brings your hands a little closer together, which makes forming barre chords less stressful on the wrist of your fretting hand.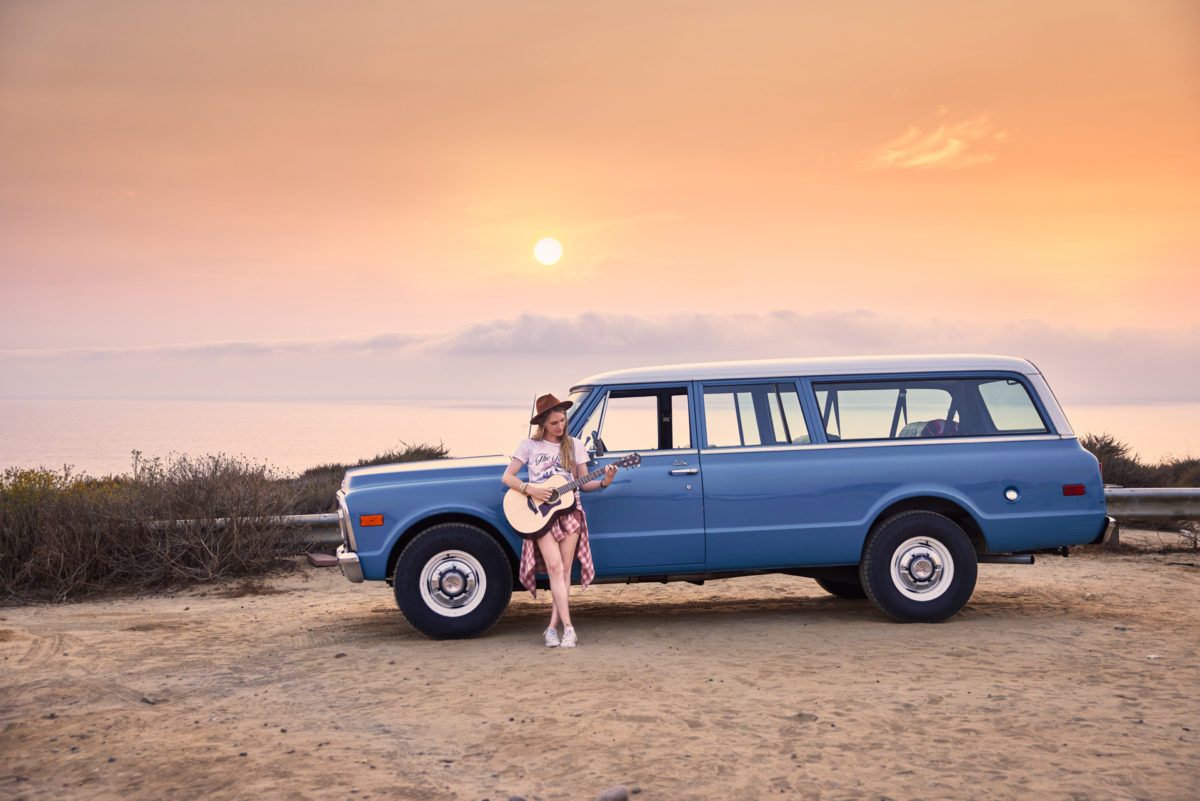 The GT Car – Guitar Connection
The parallels between the musical attributes of the Taylor GT and the identity of the GT as a category of sports car in the automotive world weren't lost on Andy. In the auto industry, the GT designation — short for "grand tourer" (originally gran turismo in Italian) — blended the high-speed performance and nimble handling of a sports car with luxury features that made it comfortable and fun to drive for long periods of time.
"This guitar has similar properties," Andy says. "It delivers a mix of super-nimble handling and a high-performance response, and it's been refined to the degree that it becomes super fun for everyone to play." The guitar's comfortably compact proportions and low string tension, he adds, make the GT the easiest-playing solid-wood guitar in the Taylor line — enabling longer playing sessions without hand fatigue.
As much as Andy enjoys nerding out about the design elements that imbue the GT with its unique musical identity (and appreciates that many Taylor enthusiasts also love getting the inside scoop on the design nuances), he'd much rather hand the guitar to someone and simply encourage them to play it. Like the GS Mini, the GT's comfortable feel gives it an inviting accessibility, while the sounds it makes will give any working musician a tool that inspires them in a new way.
"A player doesn't necessarily need to know how or why this guitar works to enjoy it any more than they need to know all the technical mechanics of a car in order to enjoy driving it someplace," Andy says. "The important thing is to simply pick up the guitar and play it."
Artist Love
Jay Parkin from the Taylor marketing team, who manages our content creation and also co-hosts our From the Factory podcast and our weekly streaming video show Taylor Primetime on Taylor's YouTube channel, has been working with our Director of Artist Relations, Tim Godwin, to get the GT into the hands of artists over the last several months. Across the board, players love the overall feel, the responsiveness, and the tonal output.
"This guitar is so great because I absolutely love the sound of a huge acoustic, but I'm a tiny person," said Los Angeles singer-songwriter Sara Niemietz. "This fits perfectly, it plays fast, and it sounds real."
Lead vocalist/guitarist Chris Conley from the rock band Saves the Day texted Jay: "Why is this thing so perfect? I can't stop playing it. Like, I can't."
Keith Goodwin from the band Good Old War texted this: "OH MY FREAKING GOODNESS. I've never played a guitar like this in my life."
Los Angeles-based guitarist Nicholas Veinoglou, who works as a musical director, songwriter and educator, and tours both nationally and internationally with Jordan Fisher and Atlantic Records recording artist Bazzi, swooned over the guitar after having a chance to play it.
"I don't know that I've ever had a guitar feel so at home in my hands right out of the box," he said. "This reminds me of why I started to play guitar."
Jay formed his own impression after having a chance to record the guitar a few times for some video content.
"This is the perfect guitar for recording," he says. "It sounds so unbelievably big, yet focused at the same time."
Audio engineer and cinematographer Gabriel O'Brien, who penned the piece on recording an acoustic guitar in this issue, has been playing and recording with it.
"It plays so easily," he says. "It delivers all the things people wish for in a premium GS Mini — lighter strings, wider nut, solid wood, slightly longer scale — but that's what makes the GT very much its own thing. I've been mixing it for other videos and it records really well. I've been keeping it by my mixing desk and taking guitar breaks regularly with it. In fact, I love the tone so much I decided to re-record my guitar parts on another project with it."
Look for the new Taylor GT Urban Ash at authorized Taylor dealers starting in October. You can also learn more about the development of the GT in our From the Factory video podcast.