Here's the thing: Describing the tonal properties of different woods is hard. Well, not hard, but insufficient. That's because, for starters, an acoustic guitar is made with different wood species that each contribute to the sound: the back and sides (the same species), the top, the neck, the fretboard, the bridge, the internal bracing. Each is just one ingredient in a complex recipe that requires thoughtful design and skillful craftsmanship.
Woods are to a guitar maker like ingredients are to a chef: They have certain inherent properties that translate into sonic flavors, but it's all about how the guitar maker works with them. So anytime you find yourself hungry to explore acoustic guitar tone, it helps to have an idea of what the guitar "chef" was trying to do in the first place.
That's why, elsewhere in this issue, we talk with Taylor master designer Andy Powers about guitar making. One of the takeaways is that good guitar design is important because it helps harness the best of a wood's natural sonic characteristics to create a musically pleasing guitar. That's why we've been so excited about breakthrough designs like our V-Class and C-Class bracing, along with other techniques that help us continually refine the voicing and musicality of our instruments.
Another important takeaway is that wood sourcing is a fluid endeavor because we're trying to be responsible stewards of the natural resources we rely on, which means embracing new wood species (or grades) to help reduce our reliance on others. It means using woods that might not (yet) have the pedigree of, say, rosewood or mahogany, or the exotic allure of figured Hawaiian koa, but have musical virtues we feel we can showcase through Andy's designs. It also means thinking generations ahead and planting woods like ebony and koa for the future.
Tone Profiles
All that said, we think it's helpful to highlight some of the innate musical characteristics of the different woods we use to help you better understand the basic tonal nuances that distinguish them. Last year, we enlisted Andy to help us create the tone charts shown here. Even though these woods are just one part of a larger musical recipe, Andy identified four tonal properties that guide his design choices, and in turn, inform the sound of a guitar. Here's a recap of how they help flavor a guitar's tone profile.
1. Frequency Range
Think of an EQ curve. We often describe a wood's sonic attributes in terms of its tendencies to resonate in a certain frequency range (i.e., accentuating lows, mids or highs). For example, rosewood tends to favor low and high frequencies. Spruce tends to have a high-frequency preference.
2. Overtone Profile
At one end of this scale is a wood's natural harmonic complexity — its tendency to resonate not only with the source note and string harmonics, but to also allow its own overtone additions to be heard. Think of rosewood's rich voice, with its ringing overtones. At the other end is a wood's tendency to focus more on the fundamental — basically to dampen its own overtone input, allowing only the source note and harmonics generated by the string to be heard. Think of mahogany's dry, focused voice.
3. Reflectivity
This spectrum indicates the degree to which the wood is inclined to take on the character of the player and/or guitar design versus asserting its own sonic character. This relates to the overtone profile mentioned above. As an example, we often describe a wood like maple as being player-reflective, which means it has a certain neutral or transparent quality that allows it to channel the player's style or the design of the instrument more directly. As a result, it can be more of a musical chameleon. Other woods, like rosewood, tend to have more intense character traits that will always flavor the sound, regardless of the player or instrument design.
4. Touch Sensitivity
This suggests how easily and immediately the guitar responds to a player's touch. It can be a reflection of different factors, such as the wood's density, strength and weight. At one end of the scale is a guitar that responds immediately to the lightest touch with an open and airy voice; at the other end is a guitar that responds well to a strong attack, producing dense and equally strong projection.
We often talk about touch sensitivity in the context of the soundboard. As an example, a cedar top is lightweight and has a high degree of touch sensitivity, which is why it often appeals to fingerstyle players with a light touch. A wood like Lutz or Adirondack spruce tends to have less touch sensitivity due to its strength and weight. It often shines in the hands of a player with a livelier attack and packs quite a sonic punch. A hardwood top like mahogany has a lower touch sensitivity, and with its natural compression, helps level out a heavier attack.
---
Solid vs. Layered Woods
One key distinction between the woods we use is whether the tonewood is solid or layered. Solid woods produce the most complex tone, and the sound continues to improve with age. Every model in the Taylor line features a solid-wood soundboard.
Our layered-wood construction (back and sides on our 200 Series and below) consists of a middle core with a thinner layer on each side. Building guitars with layered-wood backs and sides allows us to use our resources efficiently, and we're able to arrange the woods with an alternating grain pattern to increase the guitar's stability and resilience.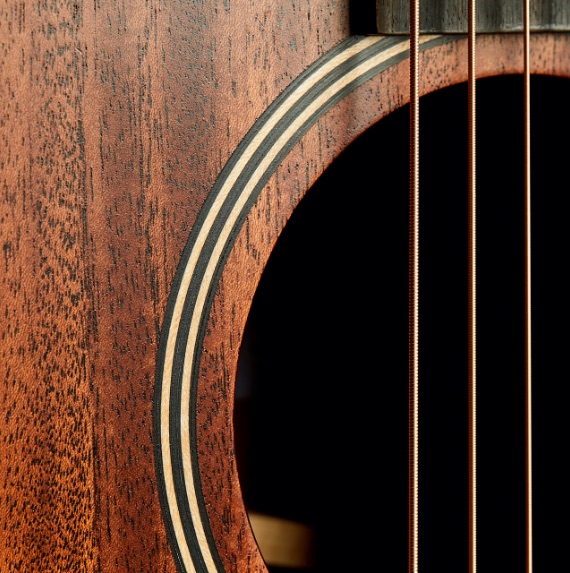 Back & Side Woods
Hardwoods are used exclusively for the backs and sides of guitars. Acting as the supportive framework for the instrument, the back and sides contribute rigidity and stability that help coax greater sustain from the guitar, along with physical traits that emphasize different resonant frequencies. Think of them as natural tone controls for an acoustic guitar, adding bass, midrange and treble along with varying degrees of overtones.
Indian Rosewood
Series
900, 800, 700, 400 Series
Tone Profile
Warm, resonant bass range with sparkling treble tones
Complex overtones with rich sustain
Scooped midrange, ideal for players who also sing
Featured Models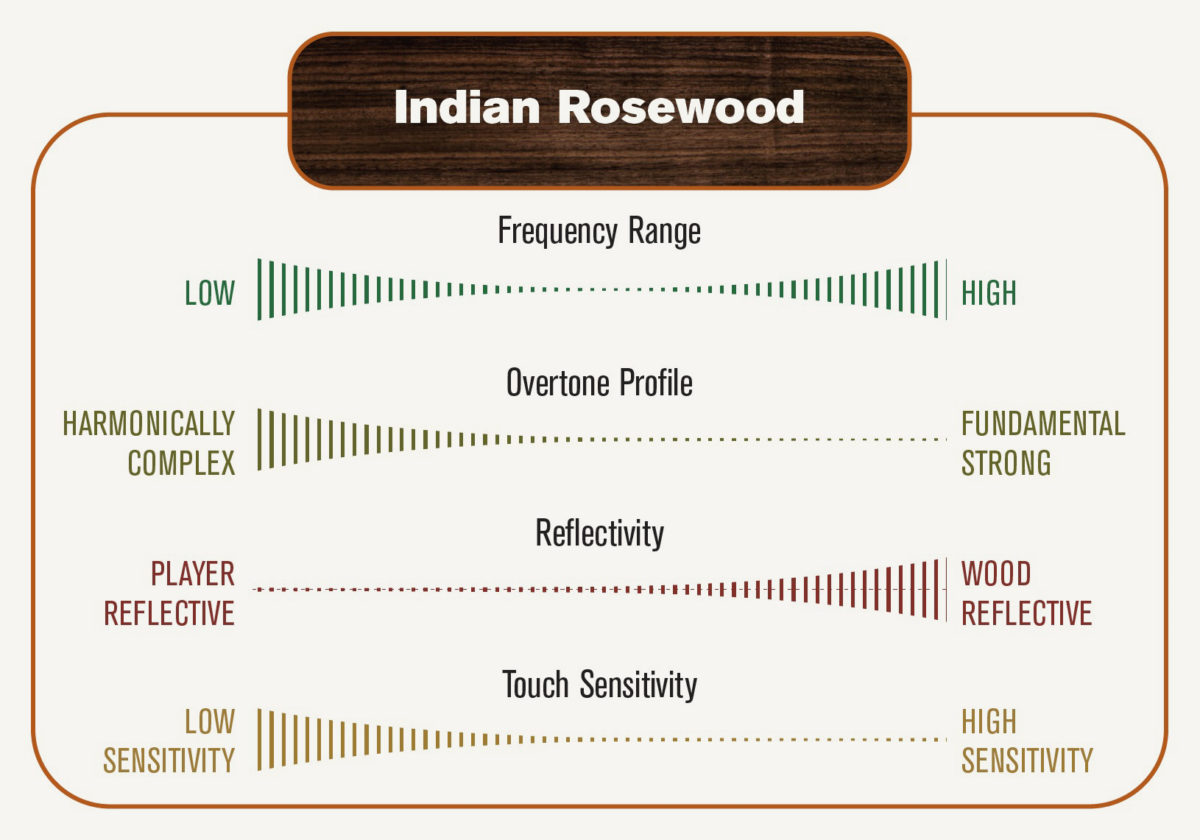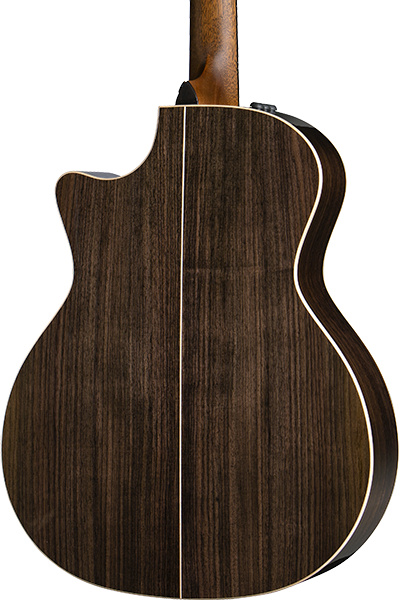 Hawaiian Koa
Series
Koa Series
Tone Profile
Strong midrange presence and an extra splash of top-end brightness
Ages gracefully — the more it's played, the more koa will open and sweeten over time
Gorgeous grain lends a striking visual character
Featured Models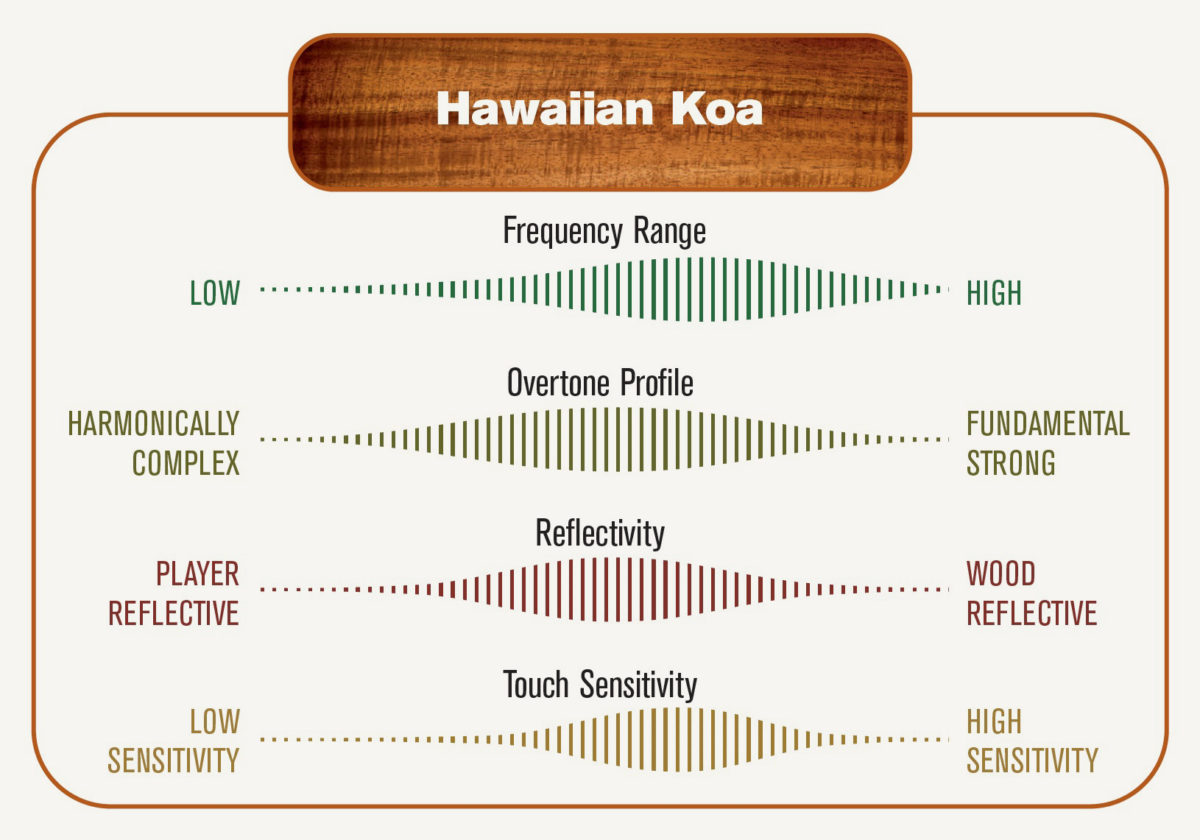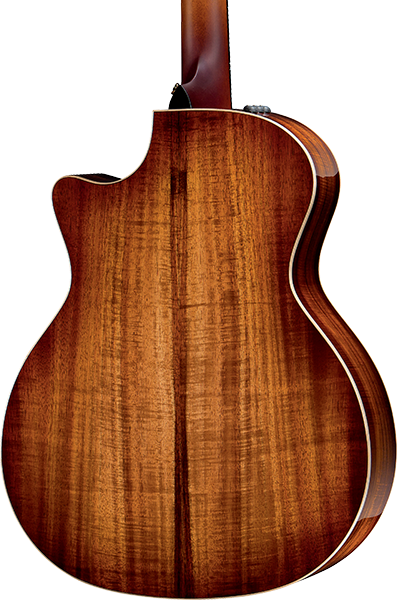 Maple
Series
600 Series
Tone Profile
Popular in the world of bowed instruments thanks to its transparent, linear response
Highly player-reflective; adapts to your unique approach and technique
V-Class adds more warmth, sustain and dynamic range
Featured Models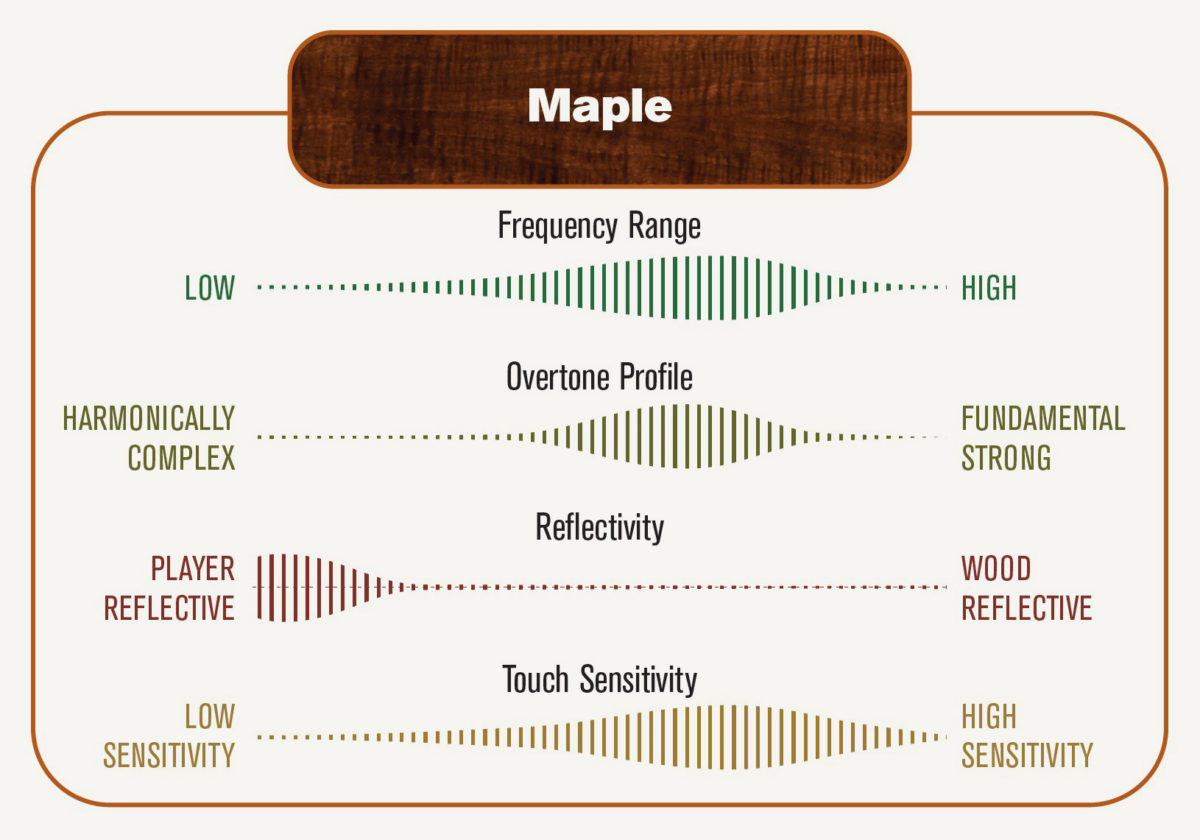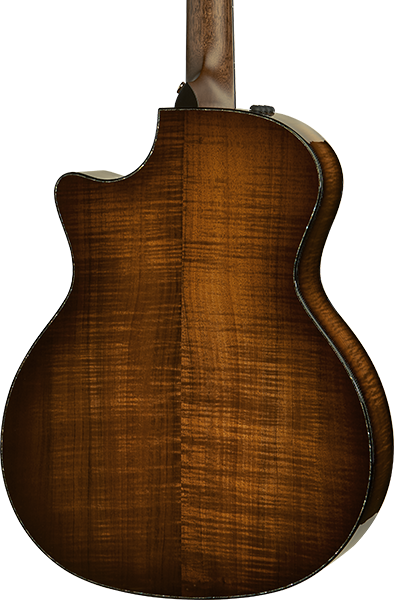 Tropical Mahogany
Series
500 Series
Tone Profile
Fundamental-strong focus without many overtones; the note you play is the note you hear
Dry, woody tone; responds well to a strong attack
Natural compression smooths out sharp volume edges for a more even response
Featured Models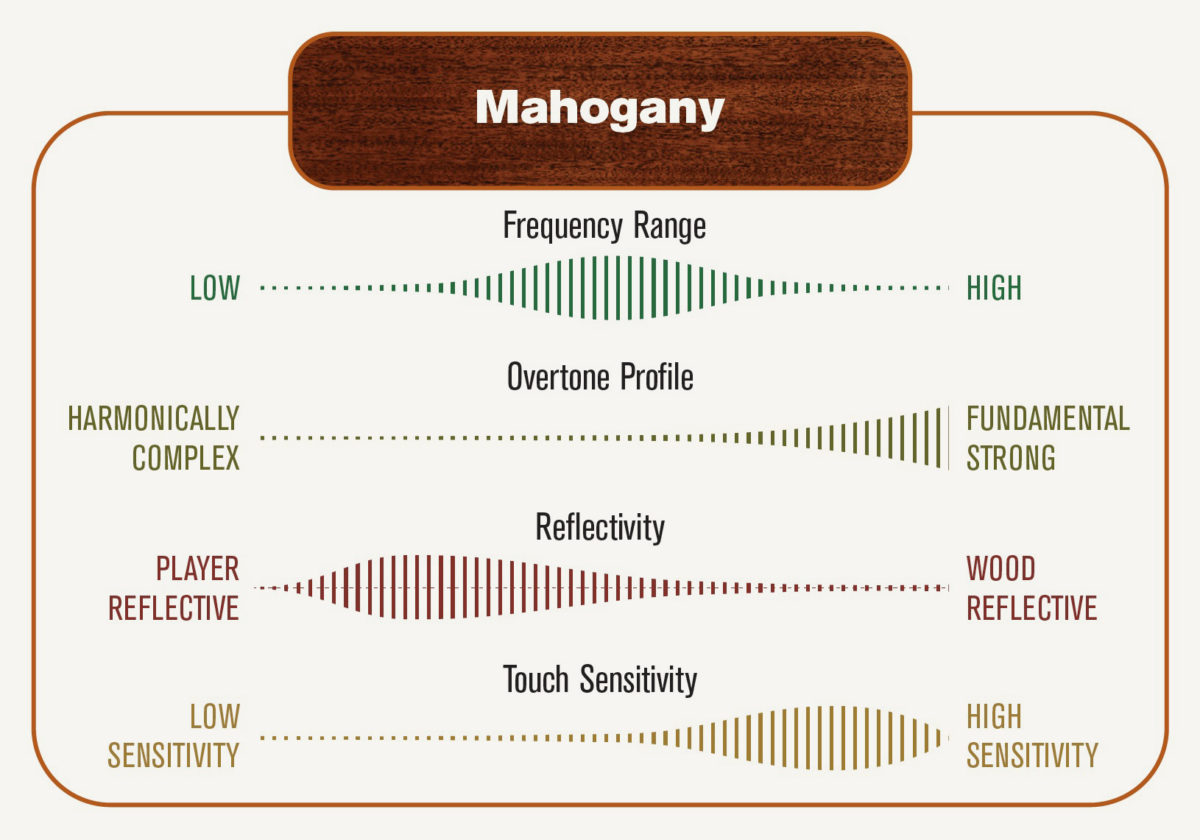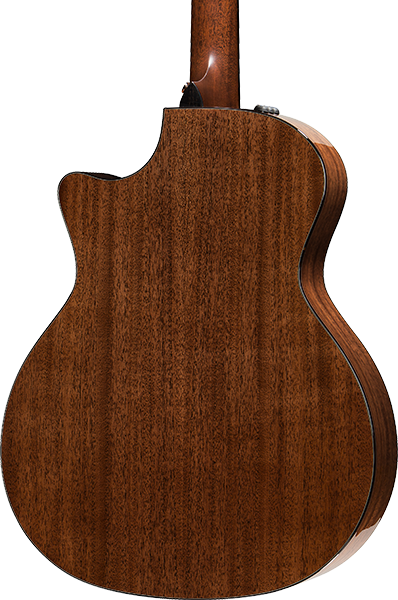 Ovangkol
Series
American Dream Series
Tone Profile
A rosewood-esque African tonewood with a broad, balanced tonal spectrum
Punchy midrange scales up to a shimmery, articulate top end
Pleasing depth and character from a responsive bass range
Featured Models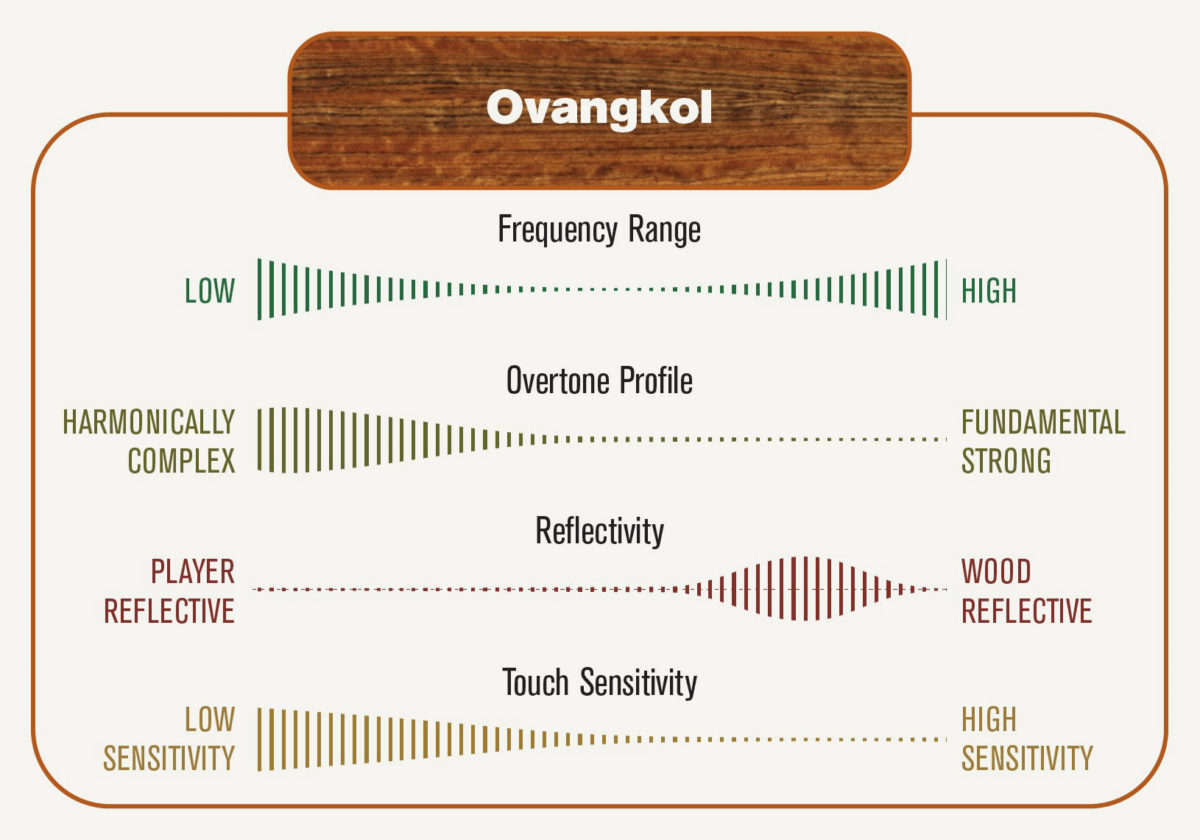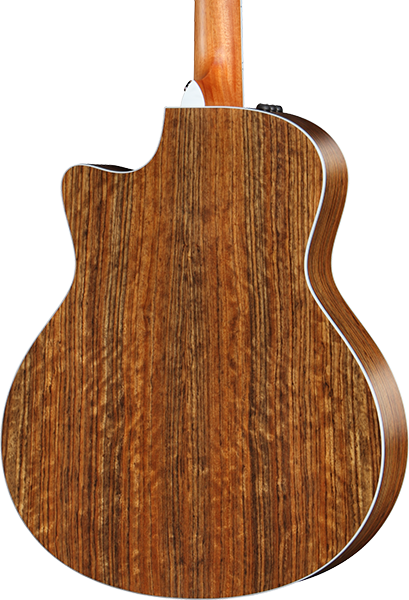 Sapele
Series
300 Series (with spruce tops), American Dream Series (Mahogany tops)
Tone Profile
Similar fundamental focus to mahogany, but with slightly more treble sparkle
Consistent and balanced across the entire tonal spectrum
Slides in beautifully alongside other instruments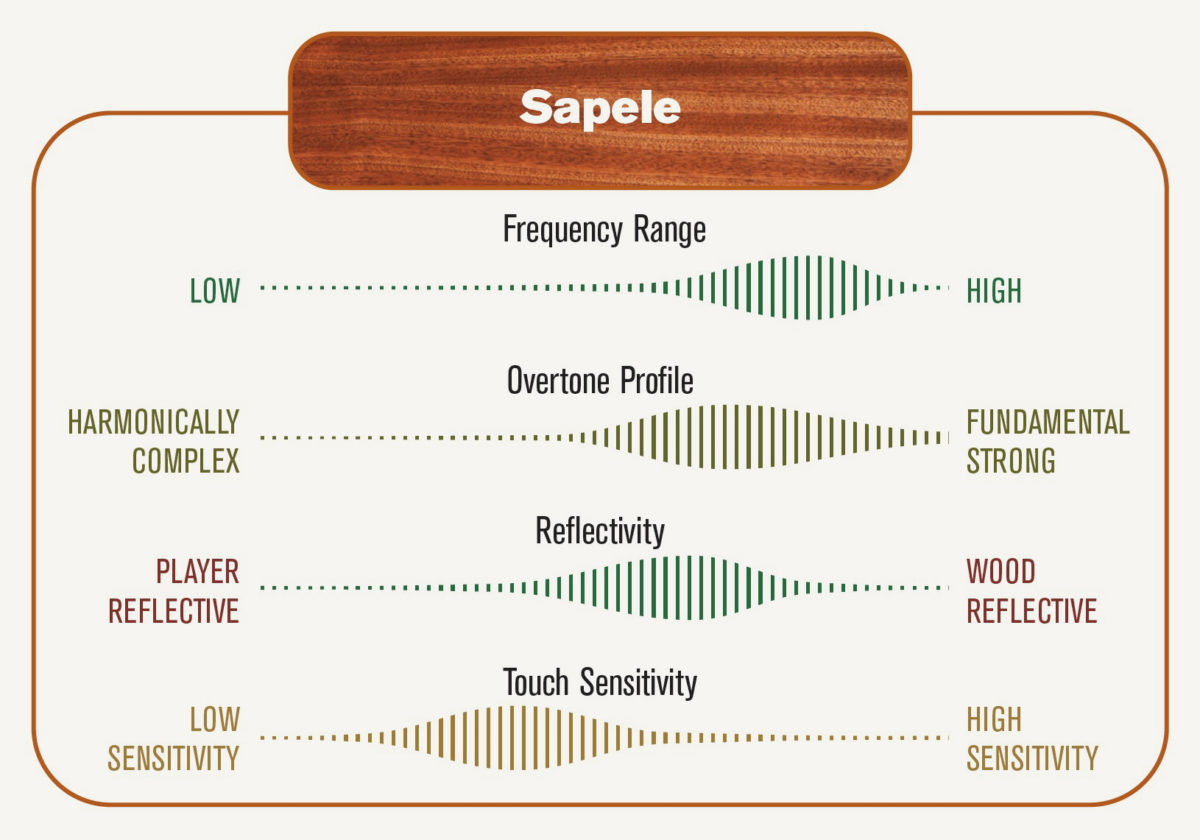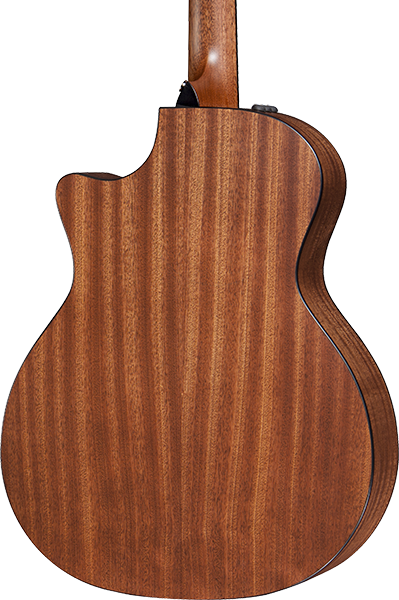 Tasmanian Blackwood
Series
300 Series (with mahogany tops)
Tone Profile
Extra headroom lends volume without having to dig in too hard
Dry, clear sound similar to mahogany, with a stronger low-end response
Versatile and adaptable to a wide range of styles and situations
Featured Models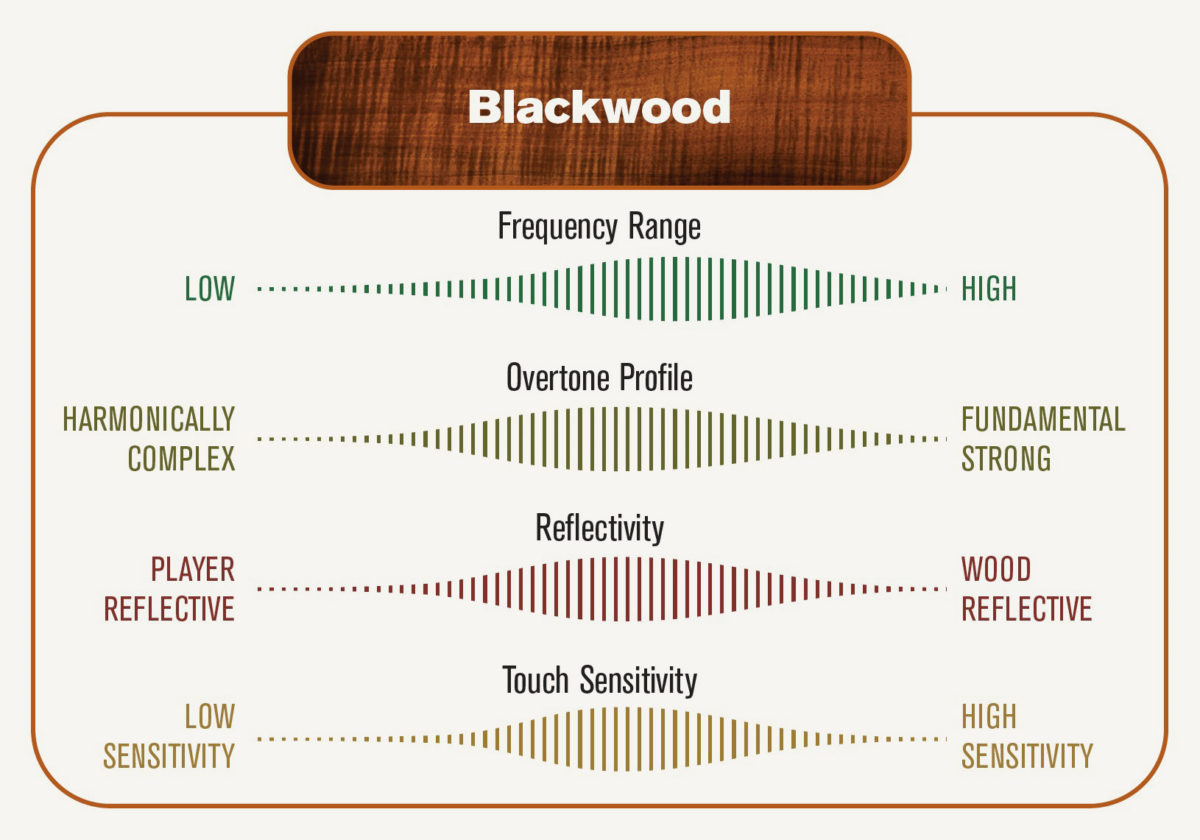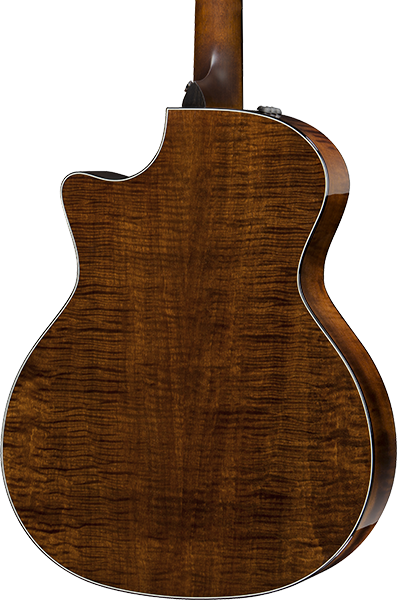 Urban Ash™
Series
300 Series (Builder's Edition 324ce, 326ce), GT/GTe Urban Ash
Tone Profile
Comparable to mahogany
Fundamental-focus with direct, dry tone and some natural compression
Responds well to most playing styles
Featured Models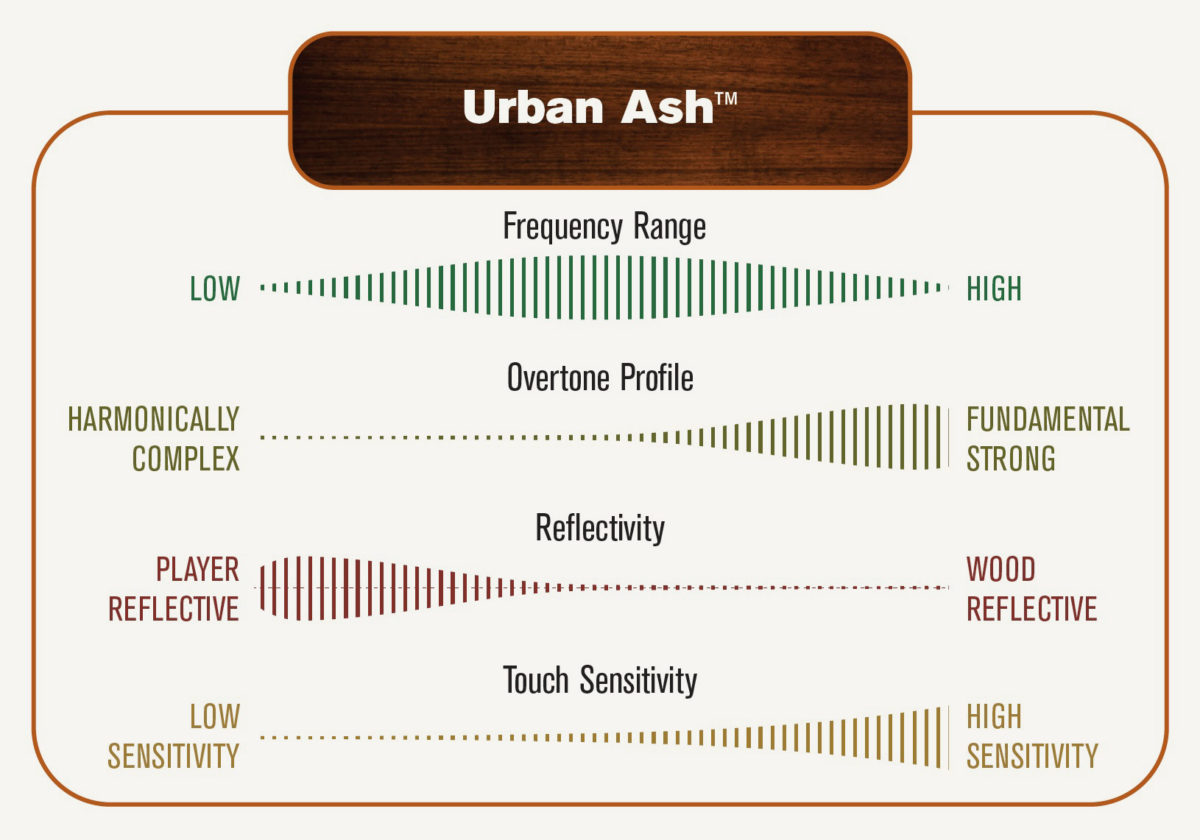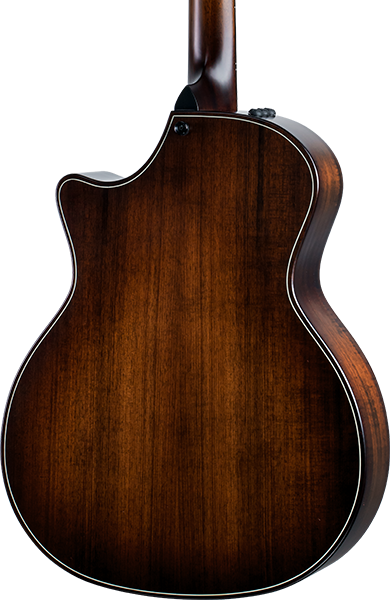 Walnut
Series
Grand Theater
Tone Profile
Pleasing blend of woodiness and clarity
Similar to mahogany, but with more tonal support in the lower register
The low end will continue to fill out after being played in
Featured Models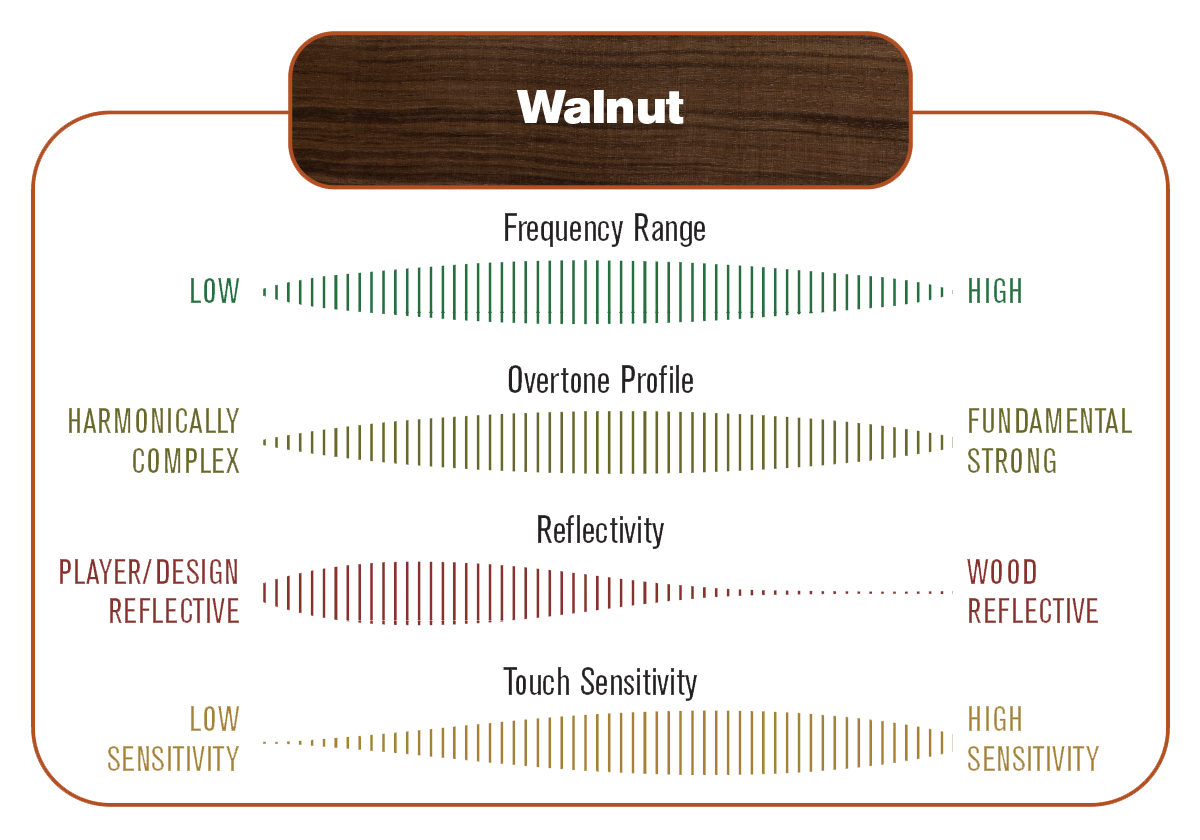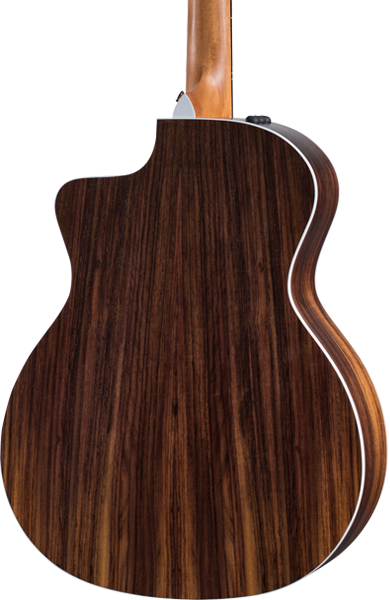 Top Woods
The wood used for a guitar's soundboard plays a key role in defining the overall tone of the instrument. Often, we use "soft" woods, which come from coniferous trees. Spruce and cedar are valued for their combination of being lightweight yet strong, possessing an elastic quality that allows them to be set in motion easily. These woods generally produce a wide dynamic range, and contribute their own unique musical flavor to the mix.
We also use hardwoods such as mahogany and koa as guitar tops. These denser materials require more energy to set in motion, and the vibration tends to move more gradually through them. The result is a kind of natural compression effect that rounds out the guitar's initial attack, producing a focused voice with fewer overtones. Hardwood-top guitars often amplify well.
Lutz Spruce
Tone Profile
Natural hybrid of Sitka and White/Engelmann spruce
Like old-growth Adirondack spruce, generates extra power and headroom
Featured Models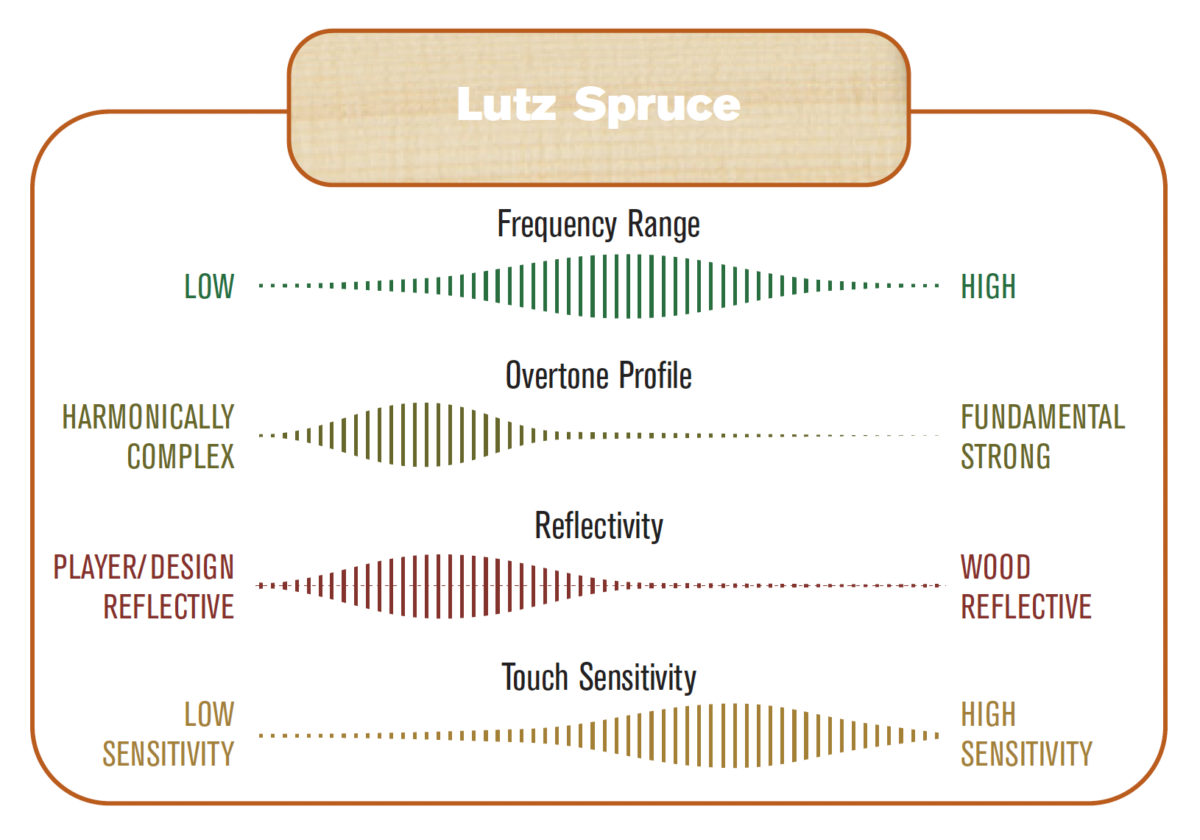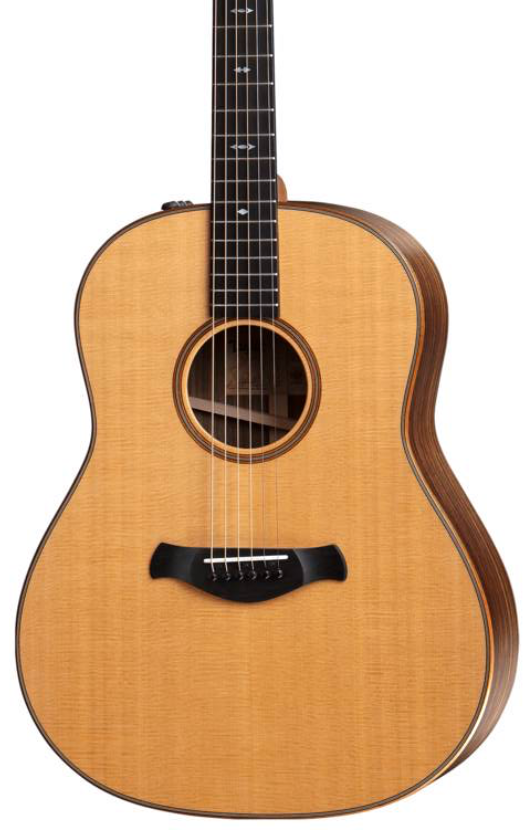 Hawaiian Koa
Tone Profile
Natural compression yields a controlled "roll-in" effect to a note
Even, balanced volume response to a varied strumming or picking technique
Similar to mahogany with a touch more top-end shimmer and chime
Featured Models