Each of us probably has our own clear memory of when the COVID pandemic officially flipped the switch on normal life. At Taylor, we'd been tracking its global progression like a slow-moving weather front, and on March 18, we temporarily suspended guitar production at our California campus, not knowing when we would be able to reopen.
For master builder Andy Powers, the stark, far-reaching reality of the situation hit home from another perspective when he woke up one morning around that time and scrolled through text messages from musician friends from all around the world.
"I realized every single one of my musician friends was now unemployed," he says. "Everyone's tour, everyone's show, their crew, the backline, the bus driver. Even the local restaurant and coffee shop gigs were cancelled. The entire live music world had just changed."
As people everywhere began to reckon with the uncertainties ahead, Andy sensed that despite the massive disruption of life as we knew it, and more specifically, the music industry, playing music would become more important to people than ever. And not just for the working musicians of the world, but for recreational players and anyone in need of an outlet to express themselves, especially in a time of social distancing when people were taking time to evaluate what was important to them in life.
Andy remembers thinking about what people might need — and what Taylor as a company might need to make — one morning when he came to the factory after production had been halted.
"It's bizarre to walk around a factory that's completely shut down," he recalls. "The lights are turned off, there's nobody here, guitars are sitting in racks awaiting our crew to come back."
And when our California production team did return, what types of guitars would they build?
"I thought, these are strangely uncertain days, so we should build guitars for uncertain days by going back to the basics. Let's build what we can. We've got tools here. We've got wood. We've got guitar strings. What kind of guitar will serve the needs of a person sitting with their family, strumming their favorite songs? We want to build that guitar."
During the production hiatus, as the Taylor factory was being modified and new safety protocols put in place, Andy and Bob Taylor spent a lot of time together on campus discussing the way forward for our product development and production strategies in this new reality. Andy shared some ideas for a guitar offering he felt would be appropriate for the times and could be made in our California factory. Something utilitarian, with all the essentials of a great guitar — solid-wood construction, Taylor's V-Class bracing, the kind of performance versatility to cover a range of playing styles — but also something that could be produced in the U.S. and sold more affordably.
"I started putting together these guitars with very spartan appointments; very modest, honest guitars," Andy says. "When Bob and I started talking about these guitars, it was obvious he was in the exact same state of mind."
When it came to wood selection, the two embraced a "cooking with what's in the pantry" approach, taking into account the potential disruption of Taylor's supply chain.
"We started going through our wood inventory and the stocks of wood we had set aside, which had more individualistic character than we'd usually use in our existing series of guitars," Andy says. "We've got great sapele and unique mahogany tops with the kind of character we were looking for. We have lots of mahogany for necks, we have ovangkol, plus some great spruce. All these woods are wonderful to make instruments with, they just weren't being utilized within the exacting criteria for our existing menu of guitars."
Leading with the Grand Pacific
When it came to choosing body styles, Andy wanted to introduce the new guitar using Taylor's Grand Pacific shape, knowing its robust voice and musical versatility could cover a lot of ground and serve as a reliable workhorse.
"There's a broad appeal with the sound that comes from this design," Andy says. "I think of it as a general-purpose acoustic that responds well to a strumming style, to a fingerstyle player, a flatpicker, or someone who wants to play with a vigorous, robust approach. I was picturing a group of family and friends outside around a campfire or in their backyard, strumming songs that everyone can sing along with. The GP makes such a beautiful accompaniment guitar."
The American Dream Series is Born
As we detailed in our lead story from the last issue of Wood&Steel, Taylor's ability to respond to the upheaval of the pandemic was a testament to the grit and determination that have become baked into our company culture.
Co-founders Bob Taylor and Kurt Listug were reminded of the struggles of their early days, and all the obstacles they overcame along the way. So when it came time to name this new guitar series Andy had designed, it seemed appropriate to acknowledge the American Dream Guitar Shop where Bob and Kurt met, and which they eventually bought and turned into Taylor Guitars in 1974. Christened the American Dream Series, these guitars embody the resilience and problem-solving spirit of our company.
Though Andy hadn't even been born when Taylor Guitars was founded, one of the reasons he loves Taylor's culture, as he pointed out last issue, is the way Bob and Kurt have preserved "that scrappy, fearless mentality of an upstart." And that mentality, that passion, that relentlessly innovative drive to inspire people to make music, has only been amplified since Andy's arrival, as anyone familiar with Taylor's many groundbreaking product launches over the past decade can attest.
A Design for the Times
The creative nucleus of the American Dream guitars, particularly the highly distilled, "everything you need, nothing you don't" design sensibility, actually traces back to Andy's early experiments with V-Class bracing and what would eventually become the Grand Pacific body style.
"One of my practices as a guitar builder when I'm working with a radically new design is to distill the form down as far as I can go with the most minimalistic finish, the most primitive trimmings, to see exactly what the design will do on its most fundamental level," he says.
It's an approach that clearly informed the development of Taylor's Academy Series, introduced in 2017 — a guitar design stripped to its purest essentials to create the most rewarding experience for developing players with budget considerations.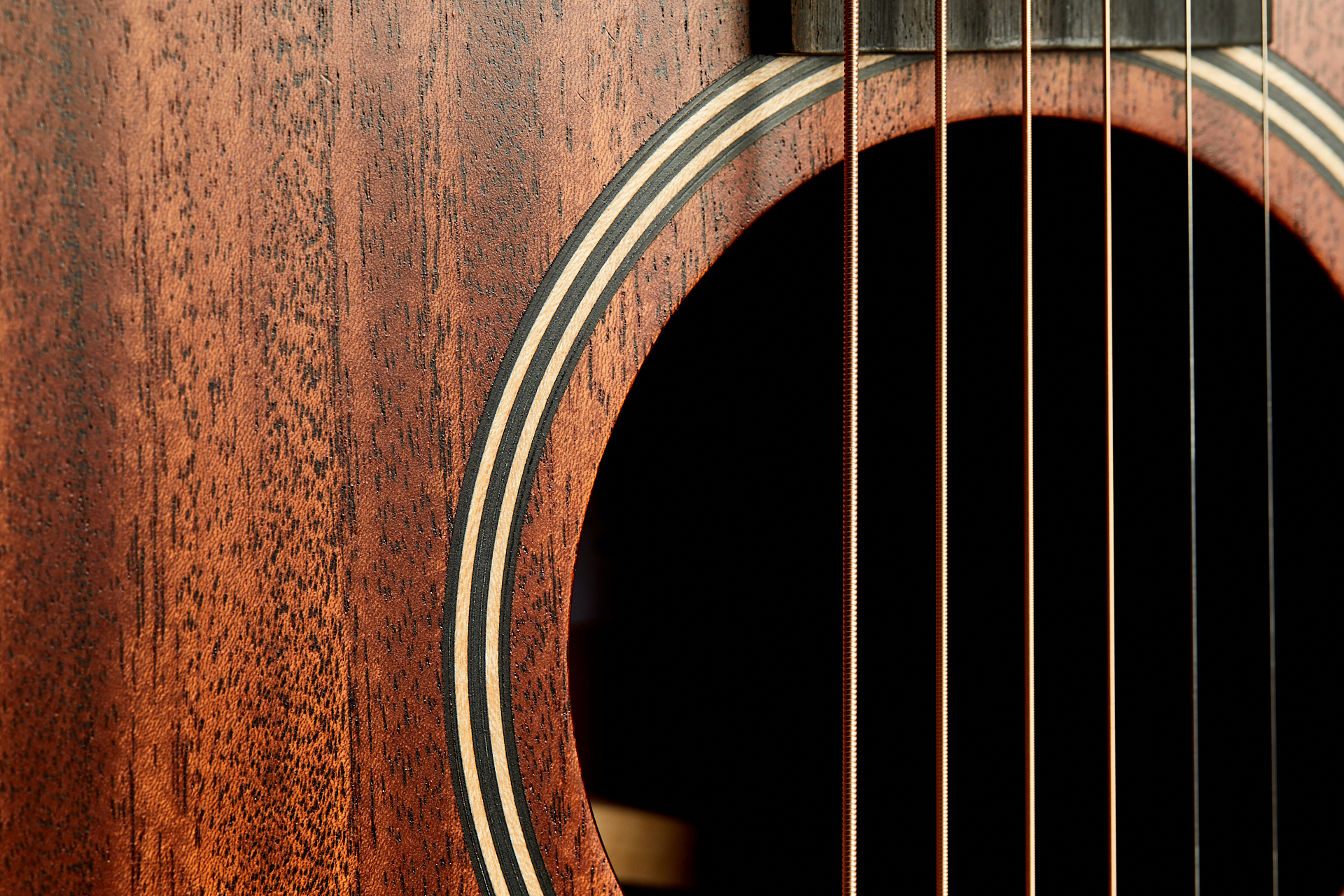 In many respects, the American Dream Series embraces and extends that same ideology with its professional-level performance features: solid-wood construction, V-Class bracing, smoothly chamfered body edges, premium tone and playability, and optional ES2 electronics. It also needed to be a guitar series we could make in our California factory to help rev up our production once we resumed. Keeping the appointments understated would streamline our production process and allow us to pass extra value along to customers, making them the best-priced solid-wood, U.S.-made guitars in the Taylor line, sitting below the 300 Series. (The new Taylor GT guitar, introduced elsewhere in this issue, shares the same price point.)
Thanks to the coordinated efforts between our product development and production teams, we were able to make the American Dream guitars production-ready in short order. Our California complex resumed full-time factory operations on May 18, and even with the time needed to acclimate our craftspeople to new safety procedures, workstation setups, and other modified workflow processes, we were able to begin making the guitars in June.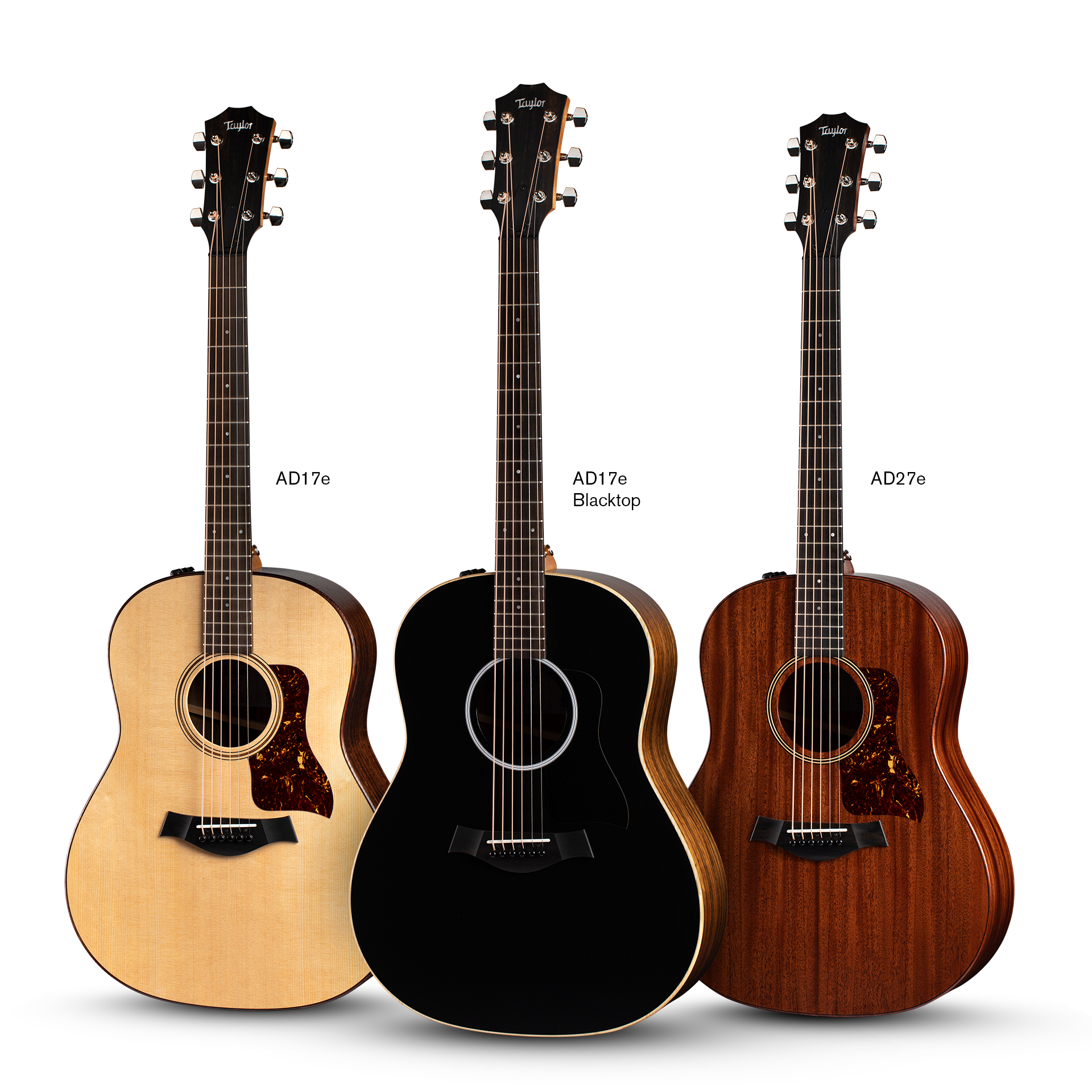 The Models
Based on our wood inventory, we arrived at three core models to launch the American Dream Series: two featuring the tonewood pairing of solid ovangkol back and sides with a solid spruce top, and a mahogany-top offering matched with solid sapele back and sides. One new wood choice featured across the series is smoked eucalyptus for the fretboard and bridge. (We're also using eucalyptus with our new GT models, also featured in this issue.) The species we're using is comparable to rosewood in feel and ebony in its sonic attributes. Its density makes it ultra-durable and ideal for holding frets.
"We've been experimenting with this material for quite some time," Andy says. "It makes really good-sounding fingerboards and bridges, and these seem like appropriate guitars to introduce it on."
AD17 / AD17e
Our first Grand Pacific model to feature an ovangkol/spruce wood pairing is a great match for the V-Class-powered GP body. Ovangkol's rosewood-like tonal range and natural midrange warmth are supercharged here, anchored by clear low-end power and enhanced by the harmonic agreement between notes made possible by the V-Class architecture. The dynamic range underscores the workhorse versatility — the guitar is responsive to light fingerpicking and more than happy to comply with an aggressive flatpicking or strumming attack. One other tone-booster comes from the ultra-thin matte finish that minimizes damping — an extra bonus considering the remarkable sustain made possible by V-Class. On this model, the ovangkol back and sides visually bear a resemblance to rosewood with the application of our dark Urban Sienna stain.
AD17 Blacktop / AD17e Blacktop
This blacktop ovangkol/spruce American Dream model offers a visually striking alternative to its natural-top sibling. Andy's aesthetic choice here was informed in part by the same thinking as wood selection — using materials that were available at the factory. In this case, we had some water-based black paint on hand from another project we had undertaken, so Andy made a prototype with a matte-black top and black pickguard and liked how it turned out.
"It's as straightforward as a black t-shirt." Andy says. "It's very much in the vein of the Henry Ford mentality. A lot of the guitars that I admire, especially those built back in the Depression and during wars or other disruptive events, were finished in materials that happened to be available."
While the chamfered body edges are unbound, the carefully executed edge treatment on the top artfully highlights the spruce's natural color to give the aesthetic appearance of a bound guitar. The aesthetic is complemented by a wood rosette featuring alternating black and maple rings. For these models, the ovangkol back and sides retain their natural color and variegation.
AD27 / AD27e
Boasting a hardwood mahogany top, this American Dream acoustic blends dark, rich-grained- wood hues with a voice that's warm and robust, with consistently meaty notes that blend smoothly across the tonal spectrum. As a soundboard, mahogany's natural compression will level out the rough edges of a player's attack and amplify well with the ES2 pickup. Between the power, responsiveness and sustain of the V-Class/Grand Pacific chassis, the guitar accommodates virtually any playing style. Walking basslines will never sound muddy, the midrange is thick and sweet, and even the treble notes deliver pleasing depth that will coax players into the upper register.
Visually, the natural color blend between the mahogany top and sapele back and sides feels seamless with chamfered edges, and the thin matte finish amplifies the natural woody character of the guitar.
Less Finish, More Character
Beyond the tonal benefits of using a super-thin finish (2 mils, or two-thousandths of an inch) on these guitars, Andy says part of the intent was to further reveal the unique character of the woods selected in a way that can be both seen and felt.
"Every aspect of these designs are geared toward an individualistic ideal," he says. "Even the type of finishing we're doing on these guitars is deliberately restrained, chosen so the very nature of each piece of wood can be revealed in a very obvious way. You'll feel the actual texture of the grain structure because these are very open-pored, thin finishes. You'll feel how smooth a piece of wood wants to become as it gets sanded. You'll feel how wide or narrow the grain of the spruce top is with the way that the finish shrinks into the grain as it ages, becoming part of each individual guitar's identity. Every one of these instruments becomes a very unique individual."
Character-Grade Wood
In a recent episode of Taylor's From the Factory Podcast, Andy joined Cameron Walt and Jay Parkin from our marketing team to talk about the new American Dream guitars, providing more context around the idea of "character-grade" tonewoods selected for these guitars, and how they might differ from the grading approach for woods used to craft other guitars within the Taylor line.
"As woodworkers, the material we use already starts at the margins in the world of timber," he explains. "We're working with the top fraction of a percent of the most exact, pristine cut of any piece of wood available. From that perch, we further grade those materials into groups that are appropriate for every model or design."
A good example of that is Sitka spruce, which we use for multiple series across the Taylor line. We do that in order to make ultra-consistent guitars within a series or for a particular model.
What Andy characterizes as "character-grade" wood sets — selected for our American Dream guitars — still fall within our elite instrument-worthy specifications, but for one reason or another (sometimes cosmetic), are considered outliers.
"We know these woods will make an amazing guitar, but because they aren't within the same defined grading spectrum of what we typically put in a particular guitar model, we'll set it aside and save it for something else," he says. "These American Dream guitars are the perfect opportunity to build with those 'orphaned' pieces of wood — the outliers. They have amazing character. They sound great. We can encourage each one of these guitars to be a deliberately unique individual."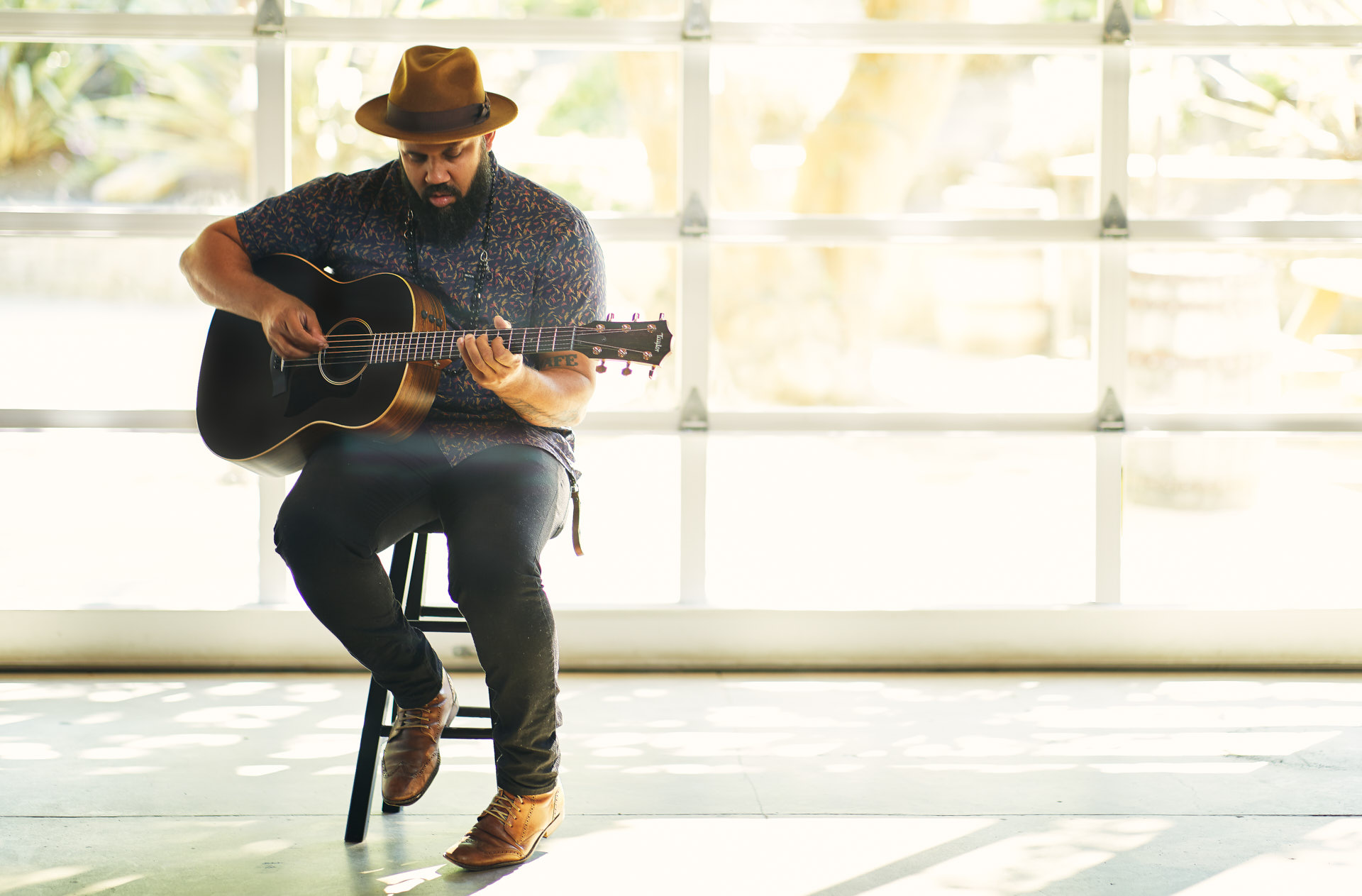 What the Critics Are Saying
This past summer, we sent out some American Dream guitars for review, and the early reactions have been strong.
Art Thompson from Guitar Player reviewed the AD27 for the magazine's October edition and responded to what he deemed the most rewarding aspects of V-Class bracing: "rock-solid intonation all along the neck" and "enhanced sustain, which always makes an acoustic guitar more enjoyable to play."
"The AD27 has a big voice and it rings out clearly and has nice complexity in the midrange and lots of low-end girth," he writes. "And the way this lightweight guitar transfers string vibrations through the body and neck is unreal. It's resonant and dynamic, and the touch responsiveness is something that fingerstyle players will definitely appreciate." The guitar earned the publication's Editors' Pick Award.
Meanwhile, over at Acoustic Guitar magazine, reviewer Emile Menasché spent a few weeks with the AD27 and found it delivered on many fronts. Immediately he picked up on some of the characteristic personality traits of Andy's Grand Pacific design.
"The tone is deeper than almost any acoustic I've played," he writes. "It sounds thick and full — but not dull. Although the treble range sounds clear and articulate, it's accompanied by a rich undertone that gives single notes a stamp of authority."
The guitar also responded with what he considers one of Taylor's signature strengths — "strong sustain, accompanied by a complex decay full of bright overtones."
Menasché also had fun exploring its dynamic range.
"If single notes and arpeggios ring sweetly, strummed chords can sound loud, massive, and robust," he says. "Physically and sonically, the AD27 was able to stand up to my very heavy right hand. It never lost composure or sounded strident — no matter how hard I strummed."
In the end, he found it to be a remarkably versatile workhorse.
"For weeks, I attacked the AD27 with everything in my arsenal: gentle melodies, aggressively bendy blues, jaunty gypsy jazz, Pete Townshend–esque strumming bass-style snaps and pops, and country picking. The Taylor handled it all without complaint. It was also comfortable to play for long periods…. I finished each AD27 session with far less hand fatigue than usual."