Each season brings a change of scenery, and with it comes fresh inspiration. Here at Taylor, we can't resist a good opportunity to spice up our guitar line, whether in the form of a visually striking tonewood pairing, new aesthetic touches, or a distinctive musical voice. In this case, we're excited to riff on a couple of models from our existing lineup and unveil three new offerings as part of a mid-year refresh: a pair of stunning exotic-top T5z Classic models and a seductive 200 Series Grand Auditorium that blends a full-body edgeburst with layered koa backand sides.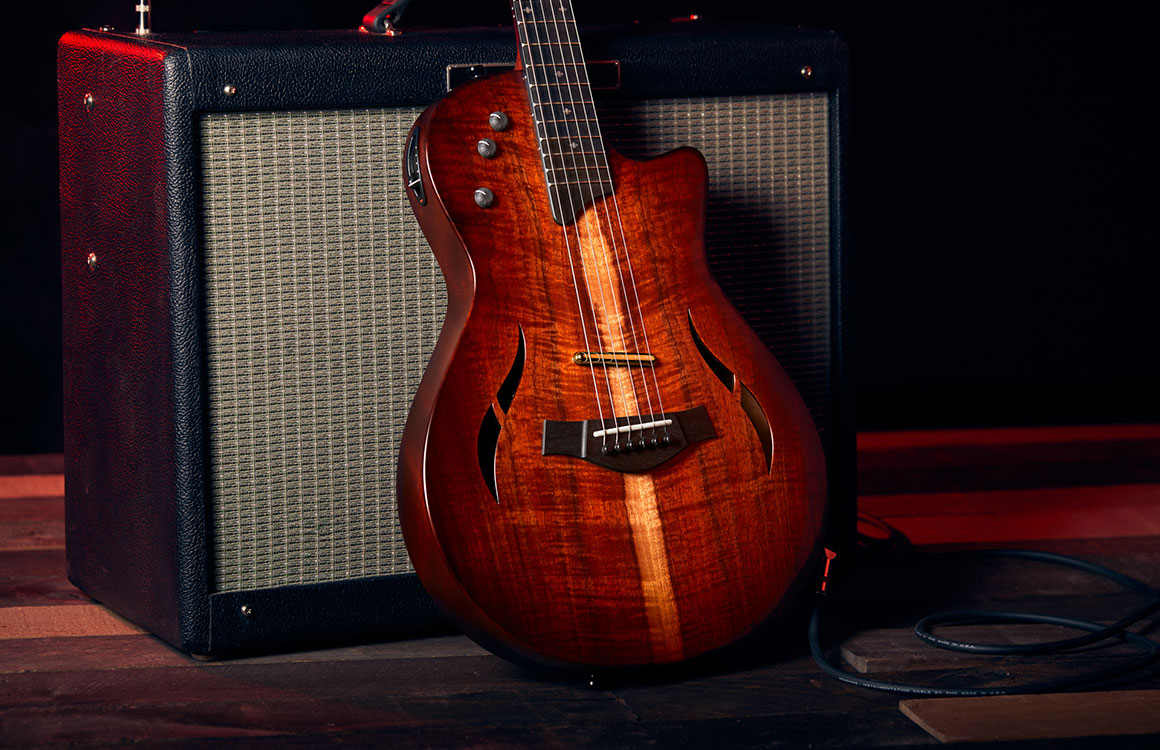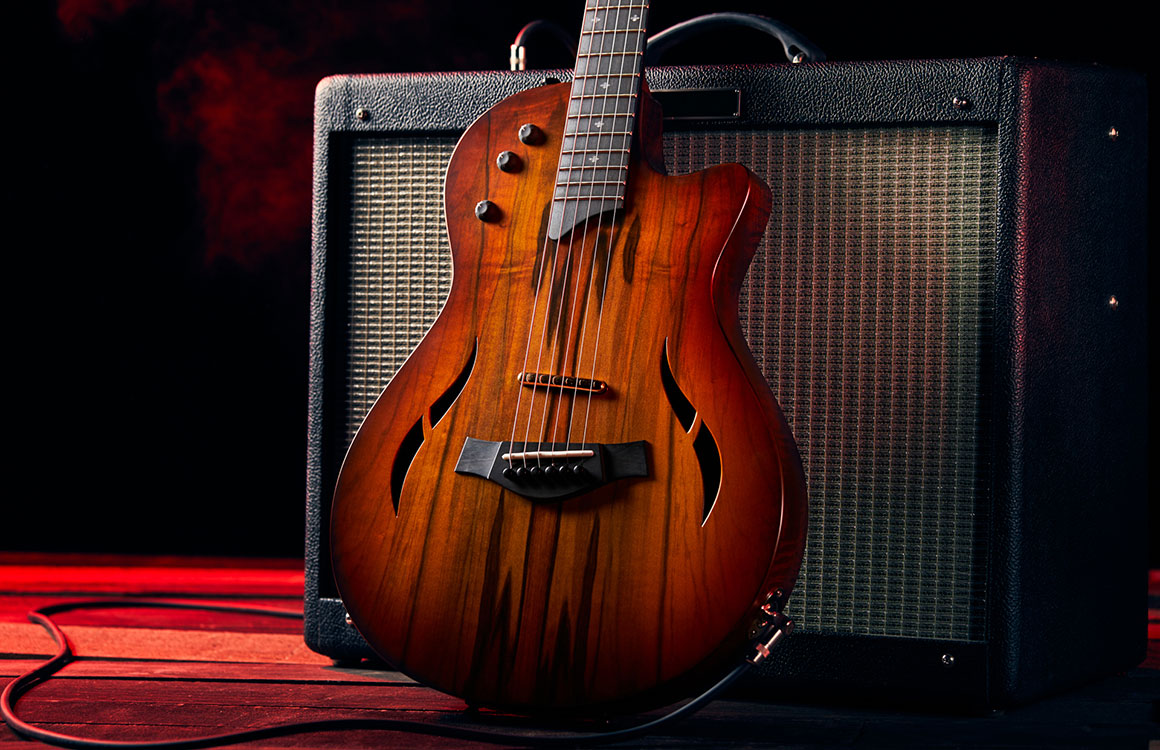 T5z Classic: Koa and Sassafras
The T5z is all about range. Our versatile hollowbody electric-acoustic combines Taylor's proprietary acoustic and electric pickup designs with five-way switching to give players a performance or recording tool that can cover a lot of musical turf, from shimmering acoustic arpeggios to distortion-drenched electric leads. It's a tool that speaks to the needs and preferences of contemporary players, who tend to be more omnivorous in their embrace of both acoustic and electric styles.
Where our original T5 design (introduced in 2005) straddled the amplified acoustic and electric worlds in a way that helped define the hybrid category, its successor, the T5z, leans a little more to the electric side with its smaller body, jumbo frets, and a 12-inch fretboard radius. Within the current model tiering of the T5z family (Custom, Pro, Standard, Classic and Classic Deluxe), models featuring tops with more exotic visual flair — figured koa, cocobolo and figured maple — are typically reserved for the premium Custom and Pro models, while the Classic editions sport a mahogany top and minimal detailing.
This year, we've kicked up the swagger a notch on the Classic with two glorious new top options: luscious Hawaiian koa and richly grained blackheart sassafras. Both models are adorned with a shaded edgeburst top treatment that subtly enhances the natural character of these respective woods. Aesthetically, these models otherwise retain the woody, workmanlike vibe of the T5z Classic family, with a muted satin finish and an unbound body and F-holes, in this case letting the beauty of the top wood take center stage. Italian acrylic Small Diamond fretboard inlays and satin black tuners complete the look. Both models feature our standard T5z electronics and ship in a Taylor deluxe hardshell case.
T5z Pickup Switching
The T5z features a three-pickup configuration: a concealed neck humbucker (located under the fingerboard at the last fret), a visible bridge humbucker, and a magnetic acoustic body sensor located inside the body. Five-way switching puts an array of sounds at your fingertips. Here's what you can get out of each setting.
Position 1: Neck humbucker and body sensor
With the switch turned all the way toward the neck, you'll find the cleanest, most acoustic voice the T5z can produce. If you dig in, the acoustic body sensor will respond with extra snap and sizzle.
Position 2: Neck humbucker
Isolating the neck humbucker will round off your tone and lend it a warmer, darker sonic hue. Make it even jazzier by rolling back off the treble.
Position 3: Bridge humbucker
Here's your most versatile option, a powerful electric pickup that can produce clean, bright, familiar electric tones and high-octane leads with just a bit of tweaking from the player. Switch positions 3-5 all respond well to the addition of your favorite overdrive or distortion pedals if extra horsepower is needed.
Pro Tip: For high-gain sounds, try turning the bass and treble controls completely off. Doing so will push the mid frequencies forward, resulting in a sound that will sit well with the band, or in the mix. From there, you can add bass and treble as needed to further dial in your sound.
Position 4: Neck and bridge humbuckers in parallel
This setting can cover everything from '50s hollowbody big-band tones to edgy surf-rock sounds, especially if you add a touch of reverb or a chorus pedal.
Position 5: Neck and bridge humbuckers in series
Round it out with the fattest selection, a meaty, powerful tone that might conjure images of big stages and stacks of speaker cabinets. Rolling off the volume here also creates a moody, contemplative sound to explore.
200 Series: 214ce-K SB
Body Shape: Cutaway Grand Auditorium
Back/Sides: Layered Hawaiian Koa
Top: Solid Sitka Spruce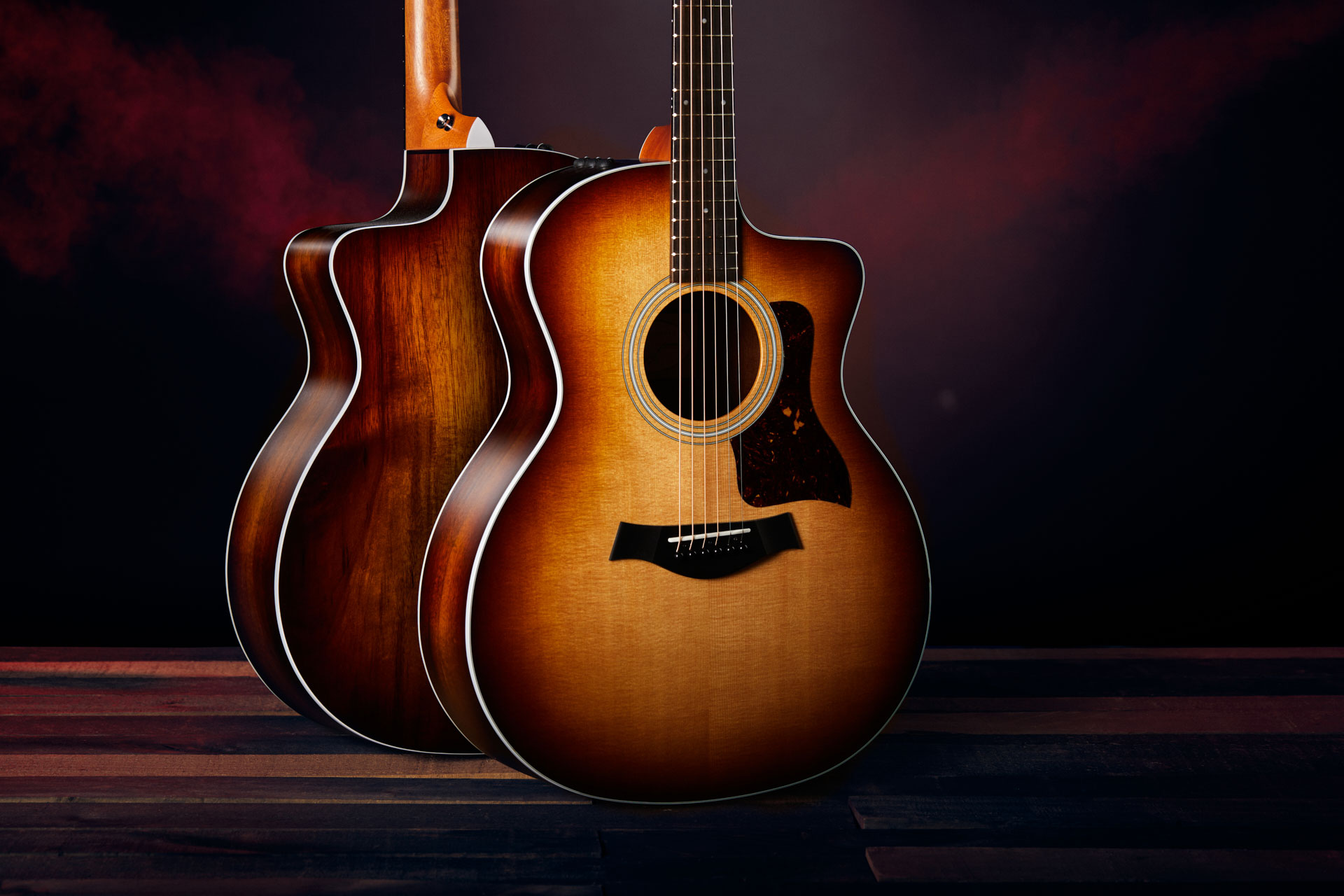 At the acoustic end of the spectrum, we tapped our 200 Series, specifically our 214ce-K, and gave it an aesthetic upgrade with an artfully applied shaded edgeburst that wraps around the top, back and sides. Together with the guitar's matte finish, the burst treatment casts a mellow, rootsy vintage sheen.
Musically, the pairing of solid Sitka spruce and layered Hawaiian koa, together with our versatile Grand Auditorium body, delivers a smooth blend of signature Taylor clarity, power and balance across the tonal spectrum. Players will love how responsive the guitar is to a dynamic touch and how adaptable it is across genres and styles.
Fans of a slender neck will appreciate the combination of our slim profile with a nut width of 1-11/16 inches — comfortable enough for fingerstyle arrangements, chords or flatpicked leads. Other 200 Series appointments include a three-ring rosette, 4mm dot fretboard inlays in Italian acrylic, a faux tortoiseshell pickguard, and crisp white binding that pops against the dark hues of the edgeburst. Onboard ES2 electronics and a sturdy yet lightweight hardshell gig bag seal the deal on what promises to be a reliable gigging partner, with heart, style and utility to spare.