It's a Monday morning in January, yet the usual hive-like bustle of guitars being brought to life is oddly absent from the production floor of Taylor's El Cajon, California campus. That's because across the street, our craftspeople have gathered with fellow employees in the parking lot outside our shipping warehouse for a mandatory all-company virtual announcement.
A 30-foot LED video wall has been set up, and a digital timer on the screen is counting down. Employees are masked and safely distanced from each other under an azure SoCal sky. Elsewhere, Taylor employees working remotely, including those on our European team, have been instructed to watch the video feed via a link that was provided.
The announcement was framed positively, if vaguely, as an important employee celebration, so a mood of curious anticipation hangs in the air as co-workers on-site chat or scroll on their phones as they wait.
At the appointed time, a video begins to play, and the image of a proud 17-year-old Bob Taylor holding the first guitar he ever built, a 12-string dreadnought, fills the screen. The video proceeds to highlight the company's history, as the familiar voices of Bob and co-founder Kurt Listug trade memories over archival photos of their younger selves and the company's gritty early days.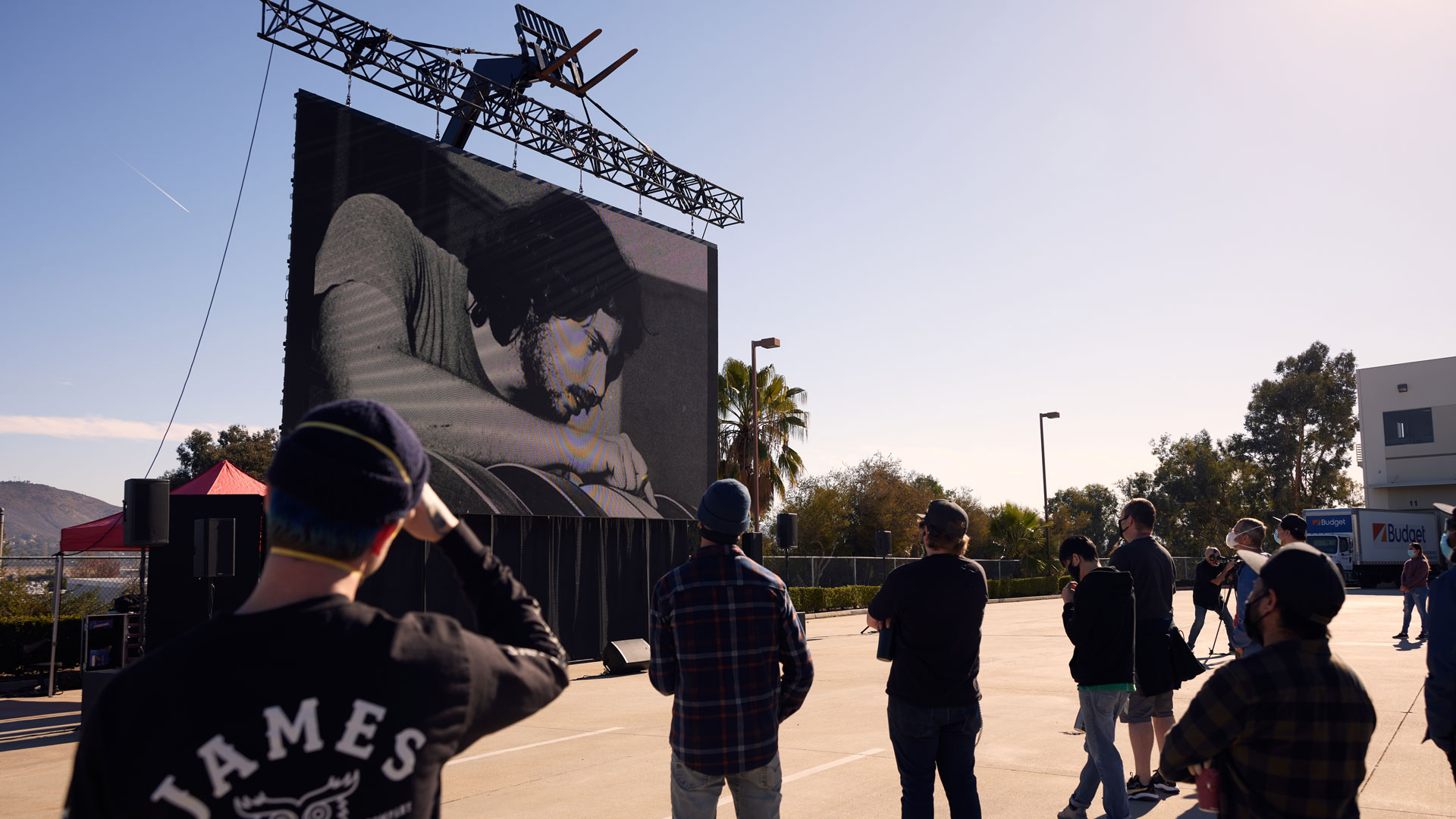 The two recall the shared passion for making guitars that brought them together at the American Dream shop and spurred them to partner up to buy the business for $3,700 and set out on their own at ages 19 and 21, respectively. They recount the hardships they faced and the steely resolve that kept them paddling against the current for 10 years before they finally turned the corner and could actually start to pay themselves on a regular basis.
"Things were hard for a really long time," Kurt says. "We had to learn everything. How to build guitars. How to sell guitars. How to build a business."
The video follows Taylor's evolution to its present-day operation. Bob and Kurt thank employees for the hard work and collaborative spirit that have fueled the company's growth and success and come to define its unique culture. They also acknowledge the turbulence of 2020.
"One test of a company's culture is how well it responds to adversity," Kurt reflects, relating the problem-solving perseverance of his and Bob's early efforts to the way the company responded to the unprecedented challenges of 2020. "We want you all to know how proud we are of how our entire organization rose to the occasion."
Bob echoes the sentiment, recapping the successes of 2020, like the nimble creation and launch of the American Dream Series, the release of our new GT guitar, and the way that production employees adapted to the many new protocols of working safely in the COVID era.
"Despite all the challenges we faced, Kurt and I knew we could get through it as a company and become stronger in the process because we've done it before," he says. "And this time we have some of the most talented and dedicated people working together."
Then the video transitions into a new segment. This time Bob and Kurt are on camera together talking directly to employees.
"It's a huge day in the history of Taylor Guitars," Bob says. "It's a day that Kurt and I have been planning for a really long time."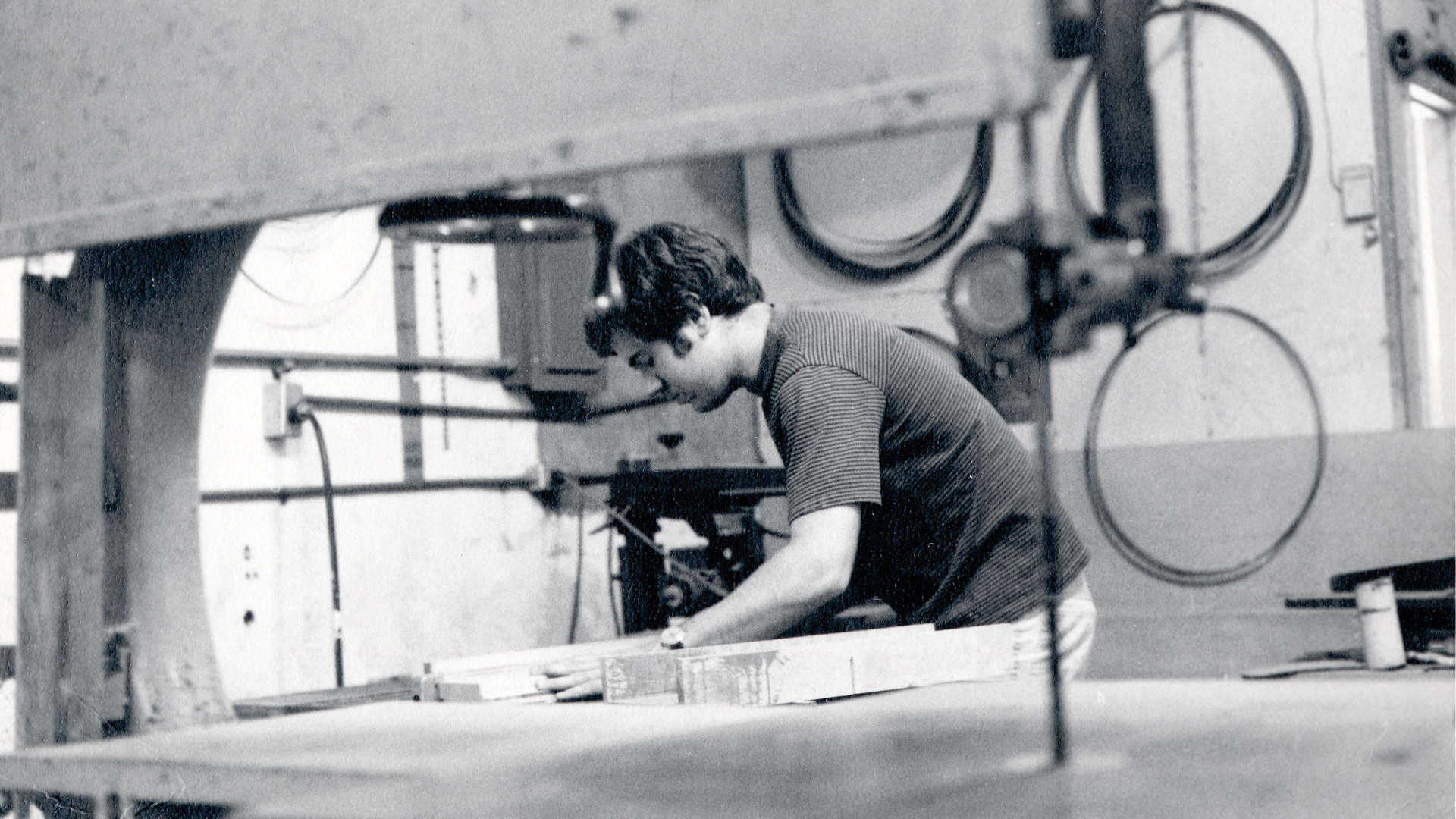 They acknowledge a question they get asked more and more these days, especially now that the two are in their mid-60s: "What will happen to Taylor Guitars when the two of you aren't around?"
"As much as Kurt and I have no plans to retire anytime soon," Bob says, "it is an important question, and today you'll get the answer."
"Every successful company faces the challenge of looking beyond its founders," Kurt says. "Who will own the company? Who will be the best people to guide it forward into the future? Who will keep it true to our values and maintain the culture we love? While Bob and I still have many years left to dedicate to the company, we wanted to make sure we put the company in the best position for future success, to give it the best chance to be around for the next 100 or 200 years."
"For us, the 'good old days' are now and tomorrow."

Bob Taylor
Kurt explains the standard options available to businesses planning an ownership transition and why none felt viable for Bob and him or master guitar designer Andy Powers, who became a third ownership partner in 2019. They could keep it in the family (Kurt doesn't have kids and Bob's daughters were never interested in the business); sell the company to another musical instrument manufacturer (they've had offers but felt no other company would truly understand or safeguard Taylor's culture); sell to a private equity firm (which might compromise the company's financial health or core mission); or go public (Taylor is too small a company for that).
"None of these would preserve the company's values or keep the focus on designing and making the best possible musical instruments, which is the secret of our success," Kurt says. "And we would lose control of the decision-making and goal-setting for the company."
There was really only one option that made sense, Bob tells employees.
"In fact, as Kurt and I sit here today, we are no longer the owners of Taylor Guitars," he says. "Because on December 31, while you were ramping up your holiday celebrations, Kurt and Andy and I were signing the documents to officially transition the ownership of Taylor Guitars to you, our beloved employees. You heard that right — Taylor Guitars is now 100-percent owned by the employees. Congratulations!"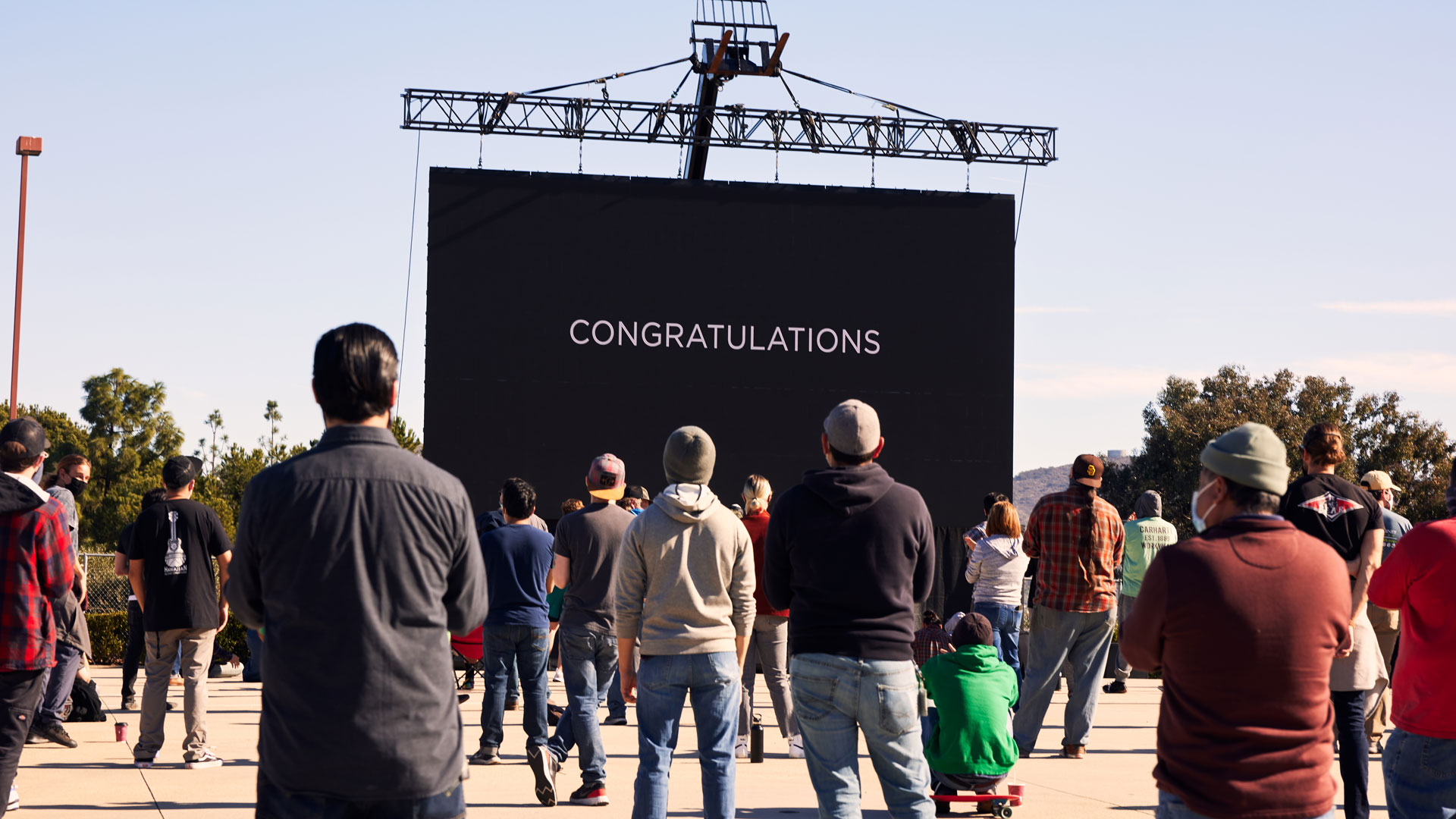 Terry Myers, one of Taylor's longest-tenured employees (32 years), was in the parking lot for the announcement.
"I was blown away," he says. "Honestly, when I first heard about an important company-wide announcement, my first thought was that the company had been sold, and I wondered who the new owner was. There seemed to be a positive vibe around the announcement, which struck me as a little strange. We all know a company being sold is often not a good thing for most employees. Then, when I heard that we were the new owners, I thought, wow — there's the twist I didn't see coming! It was a pretty special moment."
Al Moreno, a staff videographer who was on hand to document the event, also processed what had just transpired on a personal level.
"I felt like a musician who had just joined an incredible supergroup," he says. "I was so proud to be part of this work community."
Transitioning to an ESOP
The mechanism Taylor used to transition to employee ownership is an Employee Stock Ownership Plan (ESOP). Established under U.S. federal law, it functions as a type of retirement plan that gives a company's qualified employees an ownership stake through individual accounts. An ESOP trust holds shares of company stock on behalf of employees. Those shares are then divided and allocated to individual retirement accounts over time. (Employees don't actually buy the shares.) The value of each retirement account is a reflection of the company's performance, so the more the company grows and succeeds over time, the more employees benefit financially. Each year, the company makes a contribution to employees' accounts. When an employee leaves the company or retires, the ESOP will cash them out based on the value of the company and the shares in their account.
"More and more people in the workforce these days are simply left out of the ability to get ahead and build any wealth."

Kurt Listug
"With employee ownership, we can provide for our people in an even more substantive and meaningful way," Kurt says. "It gives everyone a direct financial stake in the success of the company, which will keep the focus on making the best possible musical instruments for generations to come."
The Importance of Planning Ahead
An ESOP is something that Kurt, Bob and Taylor Chief Financial Officer Barbara Wight began to research years ago. In fact, the company has been actively planning this transition for about seven years. Planning for the future, Bob recalls, was a fundamental principle that he and Kurt learned to value early in their partnership.
"Kurt and I were in our 20s, trying to form our company into the entity that would be best for us," he says. "We were talking to an attorney, and at one point he said, 'When you sell your company…,' and I said, 'What do you mean? I have no intention of selling this company.' And he said, 'Bob, you're going to sell the company — either by accident when you die or sometime before that when you have control.' That hit me like a ton of bricks that planning ahead was going to be key for us."
Barbara Wight, who was hired as Taylor's CFO in July of 2009, had learned the hard way why creating an ownership succession plan is important for a company.
"I had the very challenging experience of helping a significant company, a global leader in its field, transition when the founder unexpectedly died and did not have a succession plan in place," she says. "And there are two pieces: the management of the company itself and the entity of the company, which is an organism. And if you don't have a succession plan for the life of that organism after you are no longer part of it, it's going to be very challenging for that organism to live."
"Zildjian was founded in the 1600s, Martin in 1833, so it's not uncommon for companies in the music industry to last."

Barbara Wight
When Barbara interviewed for her position at Taylor, it was an important discussion point with Bob and Kurt.
"I never wanted to go through that again," she says. "I wanted to make sure Bob and Kurt understood that they [should be] thinking the same way, and of course they already were because they think long-term. So, we've been talking about it since I started here."
Andy Powers Makes a Career Commitment
When it comes to planning for the future, one of the most definitive examples of Taylor's continuing commitment to guitar design was Bob's hiring of Andy Powers, who arrived almost exactly 10 years before the ownership transition occurred. Anyone who's followed Taylor's prolific outpouring of guitar innovations over the past decade understands the huge impact Andy has had as our next-generation design architect. It's no secret that Andy was hired to be Bob Taylor's guitar design successor. What some might not know is that Bob explicitly wanted someone who was relatively young and could make a career-long commitment at Taylor. In fact, when Bob wrote out a "wish list" of qualifications he wanted his successor to have, one was that it be someone who was under age 30, yet had 20 years of guitar-making experience, a seemingly impossible ask. Astonishingly, Andy checked that box. (He built his first guitar when he was 9.)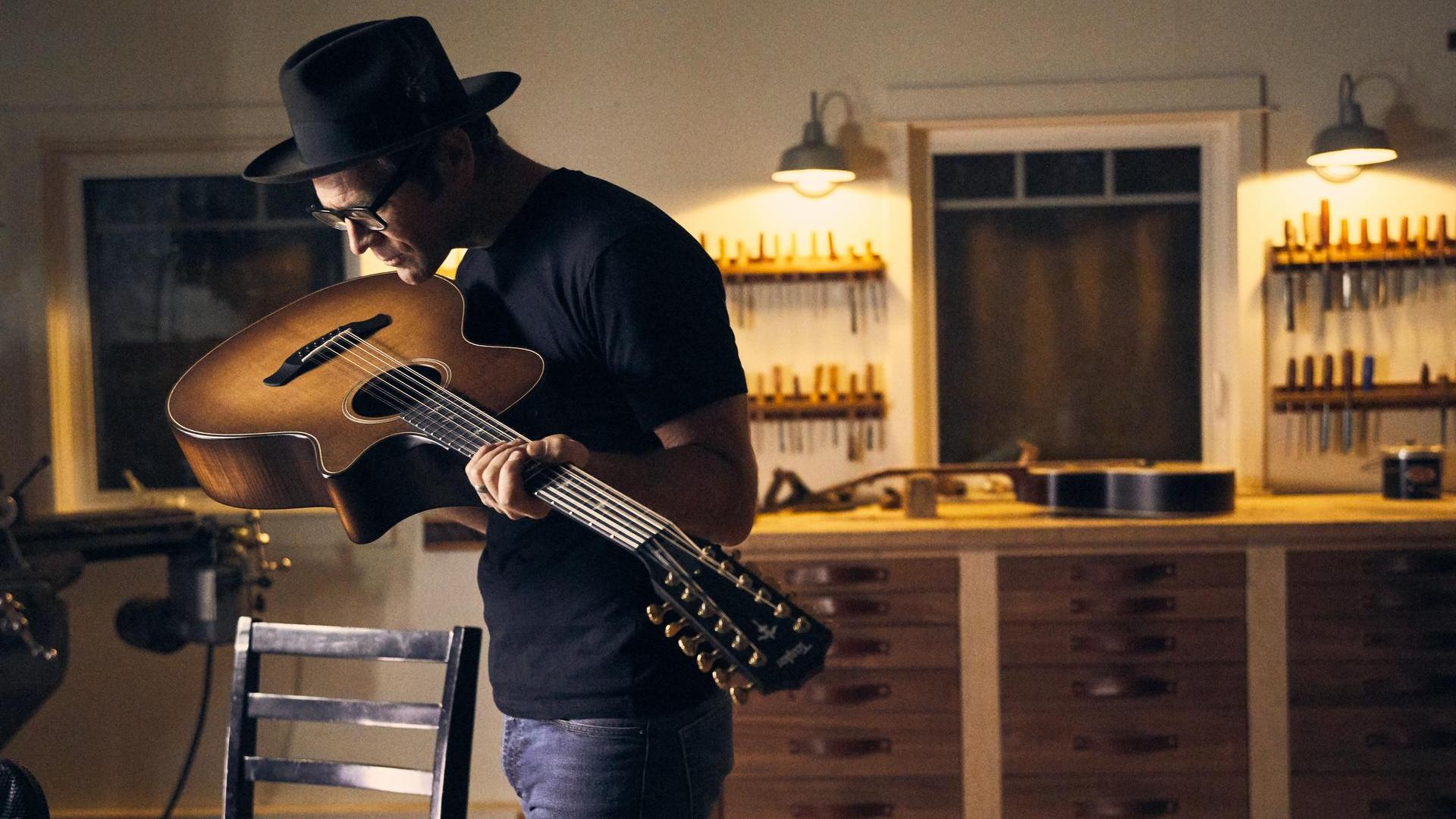 Andy reaffirmed his commitment to Taylor's new employee-owners after Bob and Kurt announced the ownership transition.
"My commitment is to spend my working lifetime here doing this amazing guitar thing that we love so much," he said. "Bob has always said he and Kurt spent a lot of time building a foundation that's solid and a roof that doesn't leak, and we get to spend this next generation building the interior."
Bob considers hiring and working with Andy one of his proudest accomplishments and an example of the company's forward-thinking philosophy.
"Andy is a better guitar maker than me — and I believe one of the best in the world — which is fantastic because it means we can see the future getting better rather than just trying to recreate the past," he says. "For us, the 'good old days' are now and tomorrow."
The Importance of Employees and Culture
As a company, Taylor very well could have established itself as a respected player in the high-end acoustic guitar market and remained boutique-size. But Bob and Kurt always had loftier ambitions.
"I remember back when we first bought the American Dream," Kurt recalls. "We said, 'Someday we'll be as big as Martin.' "It was kind of funny for a couple of kids to say, but we shared that goal."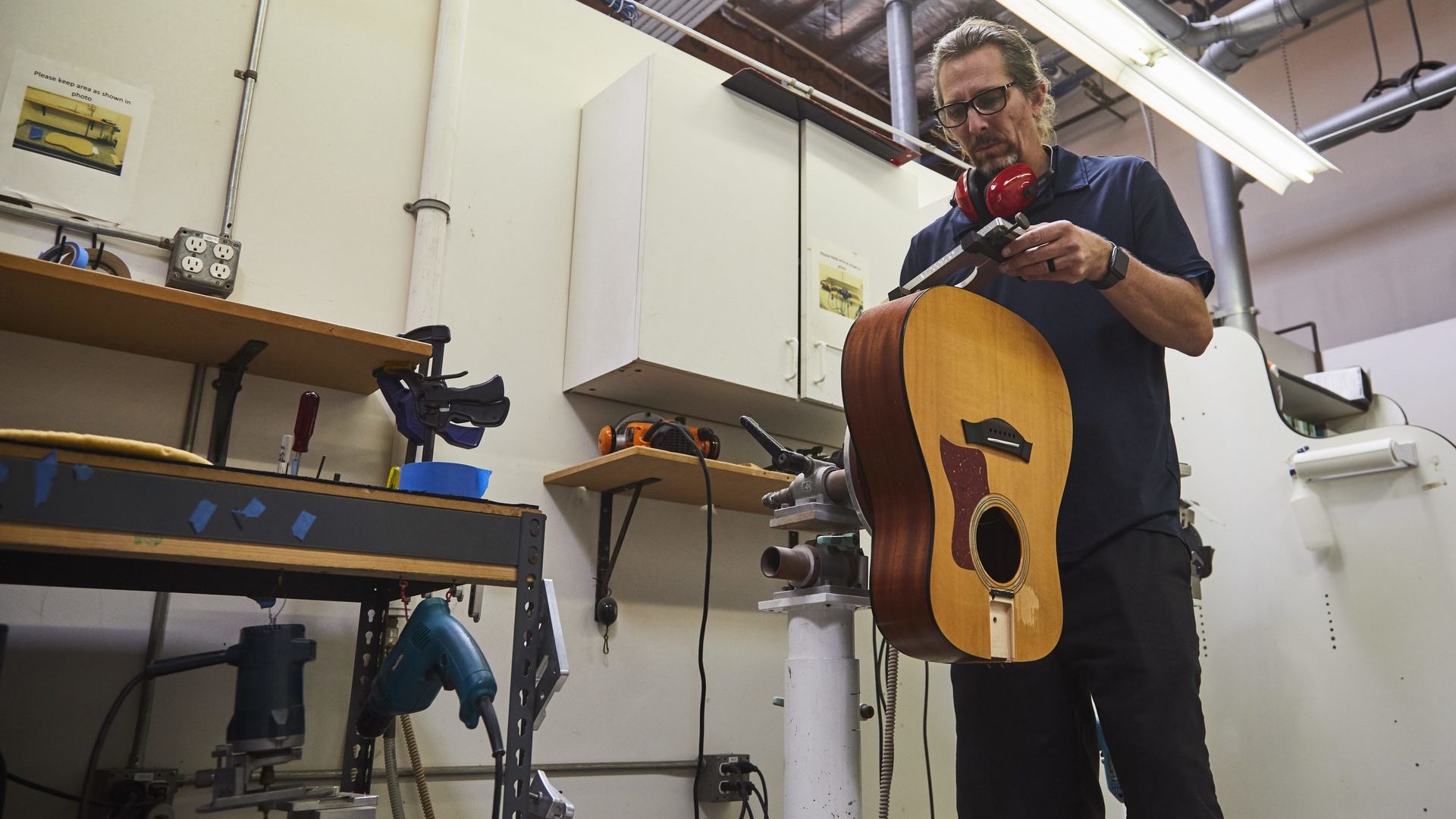 Over time, as they began to bring more people into the fold, Bob and Kurt also came to understand that in order for the company to continue to grow and remain true to its values, they needed to build a strong culture with people who shared their vision and drive.
"Even more than we love making guitars, Kurt and Andy and I love making jobs and careers for people."

Bob Taylor
"You can't just be about the business," Kurt says. "It is a business, but we wanted to attract people who were passionate about their work like Bob and I were. We wanted to create a work environment with an emphasis on problem-solving innovation, collaboration and respect. Where people feel empowered to apply their unique talents and have pride of ownership in their work."
Bob still vividly remembers an epiphany he had as a young builder who aspired to do more than just master his own craft, but to make it an appealing vocation for others.
"When I think back on those early days of struggling, of loving what I did but being poor, I tossed another goal on myself: to make what I did an occupation that others could be proud to do," he says. "Where you could stand in front of any of your friends who has a career and say, 'I have a career too: it's guitar making.'"
Decades later, despite the individual accolades he has earned as a pioneer of modern guitar design and manufacturing, Bob takes special pride in the company Taylor has become, now with more than 1,200 employees.
"Even more than we love making guitars, Kurt and Andy and I love making jobs and careers for people," he says.
Playing the Long Game
While Kurt understands why employee ownership was the best path forward from a business perspective, he is also deeply passionate about providing a means for Taylor's new employee-owners to create a better financial future for themselves and their families, especially in a time of growing wealth inequality around the world.
"More and more people in the workforce these days are simply left out of the ability to get ahead and build any wealth," he says. "Most people won't be able to create any kind of financial abundance in their life unless they keep their expenses very low and have their income high enough in relation so they can save some money. They won't have the ability to control capital or be paid in capital. This ownership arrangement is an opportunity for employees to be able to build capital as the business grows. They'll build wealth in their retirement plan that they would never be able to build otherwise."
Including All Employees
One mandate from Bob, Kurt and Andy as they explored the transition to employee ownership was to find an appropriate framework for all Taylor employees to be able to participate, including those in Mexico, South America, the UK and the EU. After all, our European headquarters in Amsterdam, which provides an operational hub for us to handle our own distribution and sales and include a fully equipped service and repair center, has been vital to our international growth over the past decade.
Similarly, our second factory complex in Tecate, Baja California, Mexico (about an hour away from our U.S. headquarters in El Cajon), where we make the Baby Taylor, GS Mini, Academy Series, 100 and 200 Series, and guitar cases and gig bags, has also played a huge role in our growth.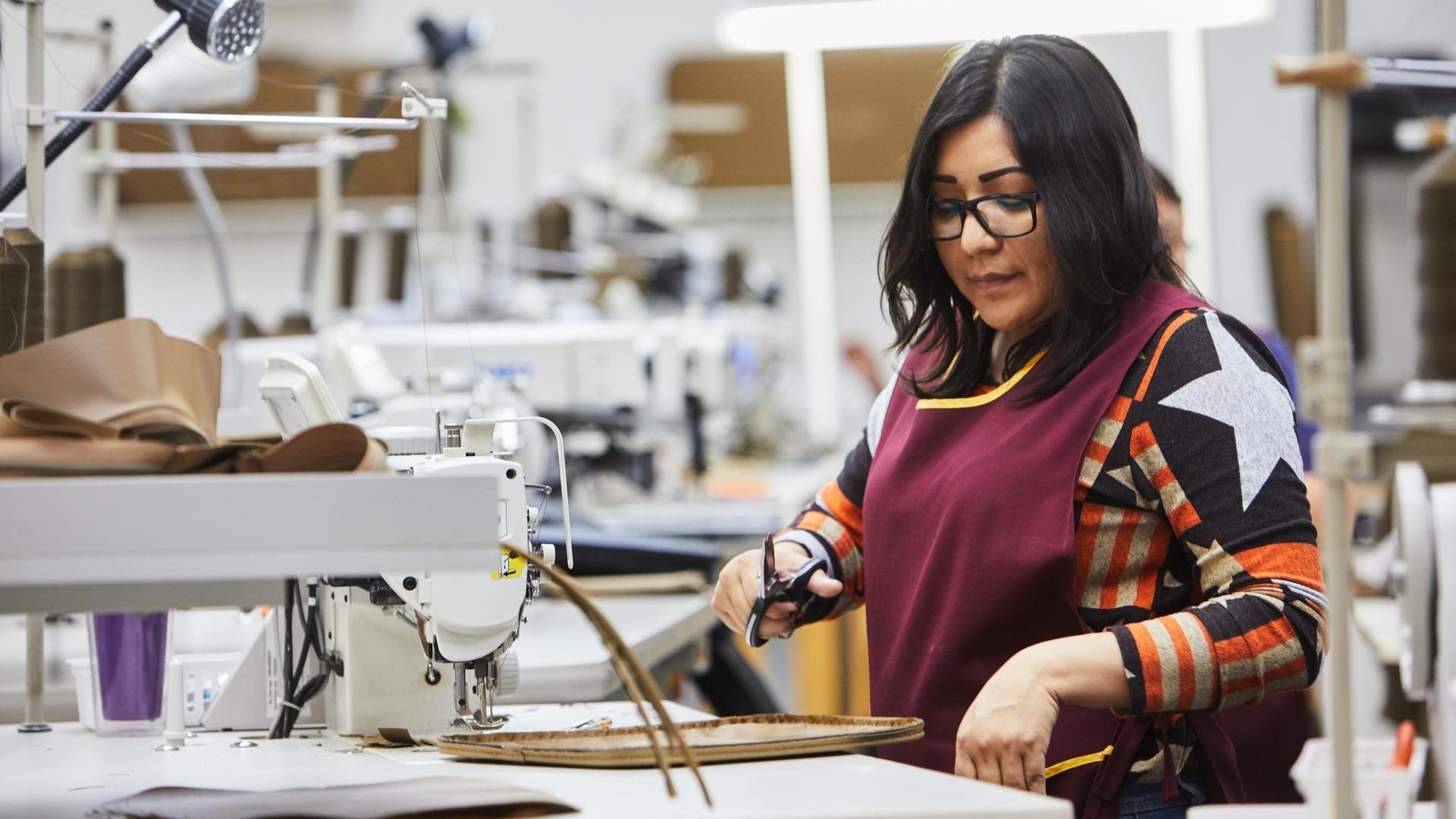 "One of our greatest successes has been the growth of our operation in Tecate," Bob and Kurt said in a message to Taylor employees in Mexico after the ESOP announcement. "We believe it is one of the best guitar factories in the entire world, and you all should be proud of the work you've done to make Taylor an industry-leading company and our guitars so popular around the globe."
Because ESOP regulations were established under U.S. federal law, finding the right mechanism to include employees in multiple countries added considerable complexities to the process, as the laws in other countries are different. CFO Barbara Wight led the charge, working with outside advisors who specialize in helping companies navigate ownership transition through ESOPs. That's one reason why the planning process took several years.
"We had to take into account every single stakeholder, and until we knew that everyone was properly recognized and honored in the transaction, the structure wouldn't have been correct," Barbara says. "That included Bob, Kurt and Andy, and our employees all around the world. It also had to be good for our vendors, our customers, the local community, the business community, and the lenders who are helping us buy the company."
In the years leading up to the transition, the target date had always been December 31, 2020. But no one had planned for a pandemic.
"When the pandemic hit and our factories had to be closed, we actually shelved the plan," Barbara says. "We had to go into survival mode and make sure we took care of everybody. And as the year went on and we began to see that the world was turning to music, that gave us the inspiration to make it happen. So, literally, it was September of last year when we said, 'Let's do it.' And we [compressed] a one-year project into September through December 31 because we thought, what if we could start 2021 for all of our employees and our dealers and our customers on an incredibly positive note?"
Employees at Taylor's production facility in Tecate, Baja California, Mexico, will participate in Taylor's U.S.-based ESOP plan. This arrangement is the first of its kind within the ESOP world, effectively creating a new paradigm that other companies might choose to follow.
"An ESOP is a thrilling option for us because it means our primary focus of building great instruments for musicians can continue into the future."

Andy Powers
Employees in the UK and EU will be participants in a similar plan (a Global Employee Stock Ownership Plan, or GESOP) available under EU regulations.
Nate Shivers, Taylor's Director of Sales for Europe, the Middle East and Africa, who lives and works in Amsterdam, points out that ESOP-type programs are not common in Europe.
"The fact that Taylor went out of its way to apply the same basic principles to our European employees was a huge surprise to them," he says. "It really made a statement about how committed Taylor is to our team over here."
It also provided a sense of relief, Nate says, as some employees had been wondering what the future of Taylor might look like without Bob and Kurt in their ownership roles.
"The thought that we could wake up one day being owned by a competitor or bank was certainly a possibility," he says. "The route Bob, Kurt and Andy chose was really impactful to this group."
Another Side of Sustainability
We've shared many stories in recent years about Taylor's ongoing efforts to become more sustainable. In most cases, our initiatives have focused on responsible stewardship of the natural resources we rely on, investing in the future through projects such as planting ebony or koa trees, upcycling and replanting trees in urban settings, and other practices that reduce waste. The way Bob, Kurt and Andy see it, that same thinking is being applied to investing in our people and company culture through employee ownership. And the two ideas dovetail nicely. Bob often uses the example of mahogany trees that were planted by British missionaries in Fiji a century ago, which have yielded wood Taylor has used to make guitars.
"How cool to think that in a hundred years, Taylor craftspeople could be making guitars with ebony, koa and other wood species that we're planting now," Bob says.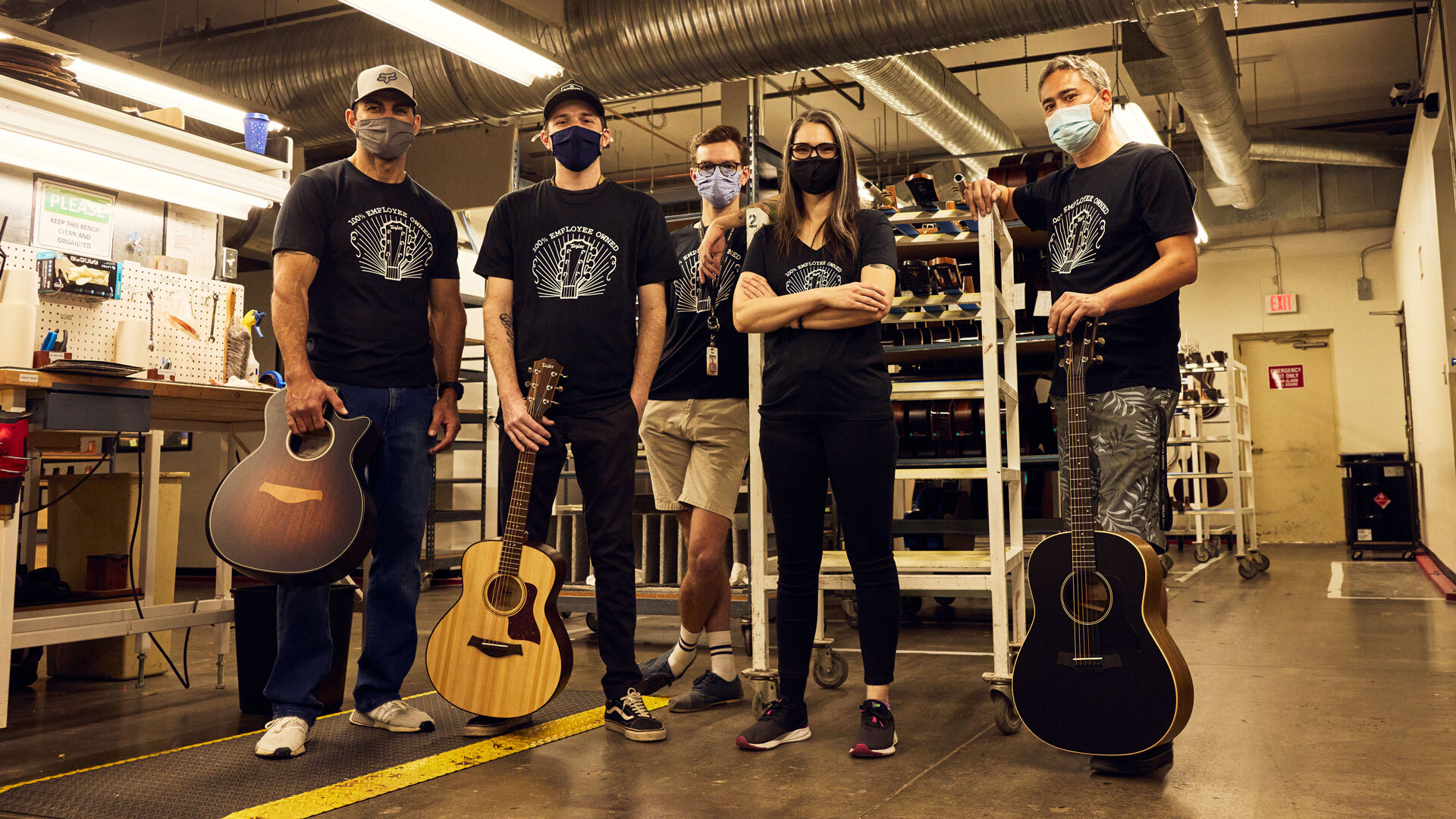 And as Barbara Wight points out, because making music is such an essential, enduring form of human expression, companies that make musical instruments can last for many generations.
"Zildjian was founded in the 1600s, Martin in 1833, so it's not uncommon for companies in the music industry to last," she says. "Those particular companies have done it by being passed down through family members. In our case, we will last for generations because of our employees. That's such an amazing thing."
Why Employee Ownership is Good for Musicians
If you're already a fan of our guitars and our company values — or even just guitars in general — it's easy to feel good about Taylor's plan for the future. But it's also good news for current and future customers.
Taylor Director of Sales Dave Pelletier has worked in the music industry for decades, both on the retail and manufacturing sides, and he understands the win-win nature of Taylor's employee ownership as it relates to customers.
"You can tell a lot about a company by the way it treats both its employees and its customers," he says. "Employee ownership is the ultimate expression of a company 'putting its money where its mouth is.' This resonates with our customers, too, and draws them to our brand. We're already seeing it. It also gives them assurance about the continuity of our culture and how we'll continue to do business well into the future. This translates to an assurance of the quality their hard-earned money will buy. And at a personal level, as individuals here at Taylor, we're thinking more broadly about what we do, asking, 'Will this action benefit everyone — and ultimately our customers?'"
How Employee Ownership Creates Happy Customers
The data for companies with an ESOP structure point toward a great track record of productivity, business success and both employee and customer satisfaction. According to the National Center for Employee Ownership (NCEO), a nonprofit research organization, companies with ESOPs and other broad-based employee ownership plans account for well over half of Fortune Magazine's annual "100 Best Companies to Work for in America" list.
Alex Moss, founder and president of Praxis Consulting Group and a past member of the Board of Directors of NCEO, was a key member of Taylor's ESOP advisory team. We asked him to share his perspective regarding Taylor's ownership transition, especially as it relates to customers.
As someone who has helped a lot of companies transition to employee ownership, what stands out to you about Taylor's efforts?
What really stands out to me is the consistency around the company's values, from the desire to all the little decisions in setting up the ESOP and shared ownership in a way that echoes Bob and Kurt's original vision. It positions the company to continue to — I'm borrowing their words — "bring the joy of music" to the communities they serve. Transferring ownership to an ESOP is a big deal on its own; it's a complex and challenging process. Watching how they have done this in a way that constantly reinforces Taylor's vision is what has been particularly impressive.
Why is employee ownership good for a company's customers?
Customers mainly care about getting their own needs met. They also have their own commitments to the communities they serve — or in the case of artists, making the music they love to share. Employee ownership at Taylor is great for customers on all of these levels. The Taylor employees who have always designed and built amazing guitars are now even more deeply rooted to the company and rewarded for providing incredible instruments and service. It's a direct reinforcement of what the customer wants, and a new and powerful reason for Taylor employee-owners to deliver. At the same time, customers also see that Taylor is doubling down on taking care of its people, and many customers simply admire companies that do these kinds of things. It aligns with the way they want to do business. They are proud to have business partners like Taylor. We can get distracted by the mechanics of stock ownership when what this is really about is doing an even better job of building human connections.
Is there a correlation between employee fulfillment and customer satisfaction?
Employee ownership fits best in a company where how the employees do their work so directly affects the quality of the final product. What Taylor employees do every day isn't easy, or everyone would do it. So anything Taylor does to help employee-owners see and feel connected to their work will directly help them deliver quality and value, and will help keep customers delighted. Of course, the ESOP doesn't create that; Bob and Kurt, and now Andy and everyone who has joined them in building the company deserve the credit for that. Employee ownership protects it, shines a light on it, reinforces it, and it gives us all a way to see how everyone's success is directly connected. It's pretty simple: When employee-owners feel good about their work, they do better work, and that translates into better results for customers.
Preserving Our Passion for Guitar Design
From his perspective as Taylor's chief guitar designer, Andy Powers takes great satisfaction in knowing that employee ownership will keep the organization aligned in its shared purpose of serving players for decades to come. As someone who has immersed himself in the history of musical instrument design and studied the evolution of other companies that have spanned generations and experienced changes in ownership, Andy recognizes the unique opportunity and values Taylor has to offer musicians moving forward.
"When a company changes hands after its founder is gone, there's a risk of the primary purpose shifting from its original focus of offering something great to its customers to simply chasing a profit, often to repay its debts," he says. "Its customers can go from being viewed as the people the company serves to being the people it takes from. When this happens, the shift in outlook erodes the philosophy the company was based on in the first place."
"An ESOP is the most thrilling option for us because it means our primary focus of building great instruments for musicians can continue into the future," he adds. "Taylor can remain committed to serving players, while providing for employees, suppliers and forest resources. One group isn't excluded for the benefit of another. I see it as the best option for a guitar company to continue with the intention of building great instruments."
The reaction from Taylor vendors, dealers and other key partners has been universally positive. It was important for our leadership team to assure everyone that none of our operations, senior management and product mix would change as a result of this ownership transition, and that Bob and Kurt would be continuing with their stewardship. Not only was it a message of seamless continuity, it demystified any speculation about Taylor's future, which provided a sense of reassurance to many.
It also provides an example of how other companies with a creative culture might set themselves up for sustained success after an ownership change.
"You guys are a shining light on how to do things the right way in our industry," said Meng Ru Kuok, co-founder and CEO of BandLab Technologies and the CEO of Swee Lee Music, our channel partner in Singapore, Malaysia and Indonesia, in a congratulatory note to Kurt Listug. "We're so proud to be your partners, and I can only hope that years down the road I'd be able to do the same for my team."