Back in Taylor's early years, customers had two body style options: dreadnought and jumbo. Bob Taylor had adopted and refined both burly shapes from the American Dream shop where he began his career. Each had a well-established heritage that had become a basic blueprint for other guitar makers — the dread, originally a Martin shape named after a mighty British battleship, was boxier with a wider waist, while the jumbo, Gibson's response, had rounder shoulders and a more tapered waist. The unique curves of each translated into a distinctive voice, but both could generate serious acoustic horsepower.
Acoustic guitars didn't start out big like this. The early Stauffer and Martin guitars of the 1800s cut a svelte figure, serving as precursors to the compact parlor guitars that arrived later that century.
Body proportions started growing in the early 20th century, in the wake of important design innovations like X-bracing and steel strings, which worked in concert to pump up the volume in order to compete with banjos, mandolins and orchestras (think drums and horns) in larger venues.
Over time, with the evolution of acoustic amplification, pickups began to be added to acoustic flattop guitars. By the end of the 1960s, Glen Campbell was playing an acoustic-electric Ovation with a piezo pickup on his weekly TV show, and in the years that followed, Takamine was pushing the envelope with its own acoustic pickups while other pickup designers offered aftermarket options to acoustic guitar makers. For some traditionalists, putting a pickup in an acoustic guitar was heresy, but Bob Taylor heeded the calls of performing players and started putting Barcus-Berry pickups in some of his guitars. And even though the amplified acoustic sound produced by most pickups of the day wasn't great compared to today's pickup standards, it meant that, in this modern era, acoustic guitars no longer had to be big to be heard.
"People like smaller guitars," Bob Taylor says. "They're comfortable to play. And during that time, we felt like we could start to focus on the intimacy and the tonal qualities of a smaller guitar, because someone could always plug in if they wanted."
The Grand Concert Is Born
Taylor's first small-body guitar, the Grand Concert, debuted in January of 1984, a decade into Taylor's existence and a decade before the Grand Auditorium. In addition to the arrival of pickups, there were other factors that informed the design of the smaller guitar. One was a desire among electric players for a more compact acoustic body.
"A lot of our earliest customers were primarily electric players," Bob recalls. "They loved our slim necks, but they didn't want a big old guitar. They were used to a small guitar against their body. So they'd say, 'How can we get a small guitar that plays like these guitars you make?'"
Meanwhile, Taylor co-founder Kurt Listug, who'd become the company's traveling salesman, had been returning from long road trips after visiting dealers and reporting that they were asking for a smaller-body guitar. (Kurt reflects on this period in his column this issue.)
Fingerstyle Fever
Around that same time, a new breed of envelope-pushing instrumental fingerstyle acoustic players had emerged. Many were drawing from diverse musical influences — blues, folk, classical, jazz, pop, Celtic, ambient, you name it — and synthesizing them in exciting new ways. Many were exploring alternate tunings, percussive tapping techniques, and other forms of melodic and harmonic musical expression. Between their original compositions and inventive fingerstyle arrangements of popular songs, they were expanding the sonic palette of the acoustic guitar, and many were actively seeking new types of instruments capable of optimizing their expressive range.
One talented fingerstyle guitarist was Chris Proctor, the 1982 National Fingerpicking Champion at the annual Walnut Valley Festival, held in Winfield, Kansas. For years, Proctor had been on a quest to find a guitar builder to craft his dream fingerstyle instrument.
"I had been frustrated with the lack of appropriate choices in the marketplace for instrumental fingerstyle players," he wrote in an essay in Wood&Steel in 2006. "I had begun to imagine a smaller-bodied guitar that spoke with clarity and balance between bass and treble, that offered a cutaway and wider neck options, that stayed stable during multiple re-tunings, and that 'played like a Taylor.'"
A lot of our earliest customers were primarily electric players. They loved our slim necks, but they didn't want a big old guitar.

Bob Taylor
At the time, Taylor's 6-string dreadnought and jumbo guitars featured a 1-11/16-inch nut width, which, at the time, was common among acoustic guitars but was narrow for the types of fretwork an instrumental fingerstyle player was doing. And the bulky body size wasn't conducive to playing in a seated position, which fingerstyle players, like classical players, tended to do.
Proctor met with Bob and Kurt at the 1983 Summer NAMM Show, at which point Bob was already tinkering with ideas for a small-body guitar. More conversations ensued, and Bob built a custom guitar for Proctor, which would turn out to be the first Grand Concert. It had koa back and sides, a Sitka spruce top, a sharp Florentine cutaway, and an extra-wide 1-7/8-inch neck to accommodate Proctor's spidery fingers and fretwork. Taylor officially launched the new shape at the Winter NAMM Show in 1984 with two models: a mahogany/spruce 512 and a rosewood/spruce 812, both with a 1-3/4-inch nut width.
More wood pairings followed, including the cutaway maple/spruce 612ce, which caught the attention of Nashville session players and recording engineers. As Proctor observed: "It was a great instrument for adding shimmering additional rhythm tracks to country and Americana recording sessions. The clarity of voice of the Grand Concert made it ideal for adding to the complexity and sparkle of these songs, without muddying up the vocals or getting in the way of the lead lines or other guitar parts. Soon, the 612ce became more or less standard Nashville session equipment."
Bob Taylor remembers getting similar feedback from engineers about the Grand Concert's sonic virtues for recording compared to bigger-bodied acoustics.
"Engineers told us they normally had to spend all their time trying to take sound out of a mix because there were too many overtones, too much boominess, too much woofiness," he says. "They'd tell us, 'But with this little guitar, we don't have to do that. We can put a mic in front of it and record. We get our job done and have a track that sounds good.'"
The smaller body was also more responsive to a lighter touch because the top could be set in motion more easily. And not having to put as much energy into the guitar made it easier to play for more extended stretches with less hand fatigue.
12-Fret Grand Concerts
Over the years, Taylor has continued to refine the Grand Concert in interesting ways. In 2006, the standard scale length was modified from 25-1/2 inches to 24-7/8 inches. In terms of handfeel, the shorter scale length reduces the string tension, creating a slinkier feel, and results in slightly condensed fret spacing for easier fretting, especially with more sophisticated chord forms that span several frets.
Since his arrival in 2011, master builder Andy Powers has embraced the Grand Concert body as a framework for other unique designs and playing experiences, including an array of 12-fret and 12-string models. Our 12-fret models feature a slotted peghead and a slightly shorter neck than our 14-fret editions. The neck-to-body orientation also shifts the position of the bridge farther from the soundhole and closer to the center of the lower bout. This placement changes the movement of the top in a way that generates more sonic power, more tonal warmth and sweetness, and a vibrant midrange.
Despite its compact size, the 12-fret Grand Concert can produce a surprisingly husky voice, with great dynamic range.

Andy Powers
"Despite its compact size, the 12-fret Grand Concert can produce a surprisingly husky voice with great dynamic range," Andy says.
And ever since our Grand Concerts were revoiced with Andy's V-Class bracing architecture in 2019, our 12-fret models have become even more versatile, producing a beautifully clear low end and articulating the tonal characteristics of each particular wood pairing more distinctly than ever. (For more on our V-Class Grand Concerts, see our story in the winter 2019 [Vol. 19] edition of Wood&Steel.)
12-Strings Too
Andy also leveraged the intimate dimensions and ultra-playability of our 12-fret Grand Concerts to design new 12-string models — traditionally built with larger body frames — making the 12-string playing experience much more physically accessible. As he explains, the smaller body tends to be a naturally stronger, more efficient design, so as a 12-string, the guitar didn't have to be braced as heavily.
"The Grand concert body is optimal for the smaller individual strings of a 12-string set," he says. "A player can set it in motion easily. In addition, the smaller resonant cavity wants to accentuate the kinds of frequencies that the smaller strings and octave courses are making."
And sonically, especially for recording applications, the smaller body delivers just the right amount of 12-string shimmer and chime — tone that stays in its lane without overwhelming a mix.
Our latest Grand Concert 12-strings boast other unique features that enhance their performance: V-Class bracing for beautifully accurate intonation; our double-mounted string anchoring system, in which each string pairing shares a bridge pin, giving all the strings a consistent break angle over the saddle; and a dual-compensated saddle, which aligns the fundamental and octave strings in the same plane for a smoother strumming experience.
The ultimate player-friendly 12-string Grand Concert might be Andy's Builder's Edition 652ce, released in 2020. It features a maple body and torrefied spruce top; a beveled armrest and beveled cutaway to heighten the playing comfort; and a reverse-strung setup that emphasizes the fundamental note and produces a cleaner 12-string voice.
More Small-Body Taylor Models
The Baby Taylor
The guitar that helped establish the travel guitar as its own category, the Baby Taylor, was originally supposed to be a ukulele. It was the mid-'90s, and a respected Taylor dealer at a trade show had made a strong case to Bob that there was a growing revival in interest in ukes and that Taylor would benefit by adding them to its instrument line.
Bob went home and started working on a design, but he had an epiphany along the way.
"When I design something, at the exact same time, I'm thinking about how I can make it," he explains, "because if I can't make it, I'm not going to design it. And I thought, am I really going to make all these tools to be dedicated to a ukulele? If I put the same effort into tooling to make a little guitar, I think we'll sell more."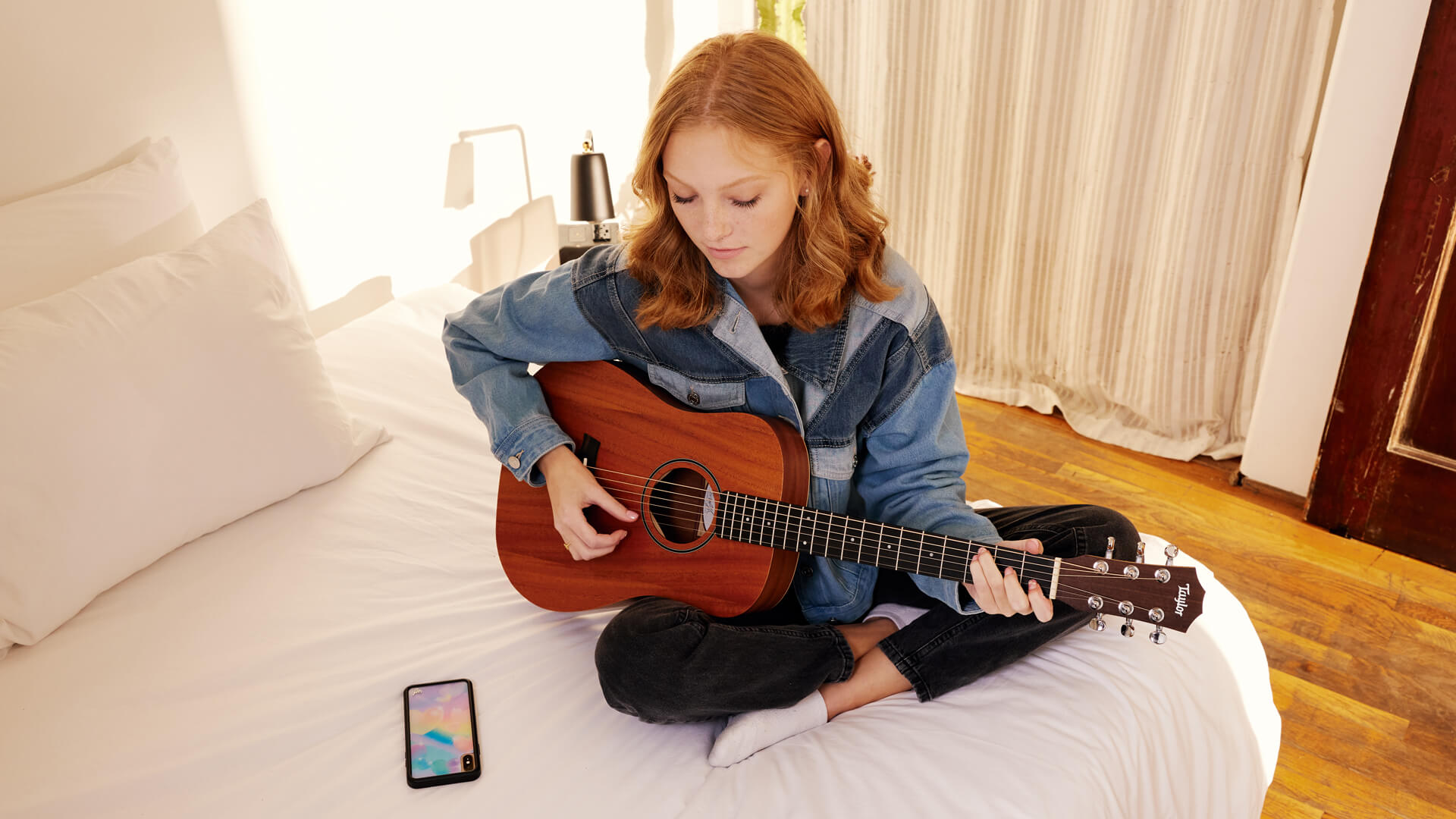 Bob also had been thinking about a new approach to making guitar necks, and the Baby project gave him a vehicle to test it — along with some other new production ideas.
"Any time we decide to make a new model based on a fresh idea that needs new tooling, we take advantage of that situation," he says. "It gives us an opportunity to try a new method of building that we can't easily introduce into our existing run rate of other guitars. This is one of the ways we can continue to innovate, to incorporate dynamic design in our factory. We use that new guitar and new tooling as a way to test these things out and see if they can be built into the way we do things in the future. For example, we might decide to make a contoured cutaway for a Builder's Edition guitar, and if it ends up being incredible and we can do it on other models, great. But if it only works on this, it's still worth it.'"
With the Baby, Bob decided to invest in his first laser to cut out the tops and backs and etch the rosette. We now cut all our guitar tops and backs with a laser. And the neck construction ideas Bob explored with the Baby? They directly led to the design of the patented Taylor neck joint we currently use on all our guitars.
As for the Baby Taylor itself? After its introduction in 1996, the three-quarter-size mini-dreadnought became the most popular travel/kids' guitar of all time (although one could argue that distinction now belongs to the GS Mini). And while the Baby's voice clearly isn't as big or deep as a full-size guitar, pro musicians have recognized its legitimacy as a musical instrument and embraced its unique voice in interesting ways, like high-stringing it for recording to add a splash of octave chime to a mix, or capo-ing it to get mandolin sounds. In the Latin music world, we've even seen people convert the Baby into a Cuban-style tres guitar.
GS Mini
Another resounding testament to the appeal of small-body guitars is the GS Mini, hands-down the most popular guitar design Taylor has ever offered. Released in 2010, the Mini started as a redesign of the Baby. After nearly 15 years, Bob wanted to upgrade the Baby's sound, so he and Taylor design partner Larry Breedlove tried everything to supercharge it, but nothing moved the needle enough, at least working with its original proportions. (In 2000, Taylor had introduced the Big Baby, which had also become a popular offering, but it was nearly a full-size dreadnought — 15/16 scale — with a 25-1/2-inch scale length, although its shallower four-inch body depth did create a more intimate feel against a player's body.)
Bob and Larry realized they'd need to make the body bigger and deeper, and the scale length longer (the Baby's was 22-3/4 inches), but they wanted to retain the inviting, accessible feel that a compact, portable guitar offered. So they borrowed and scaled down the curves of Taylor's Grand Symphony body, which had been introduced in 2006, chose a longer scale length of 23-1/2 inches, and incorporated Taylor's patented neck design, which would ensure precise neck angle geometry, including a full heel for extra stability.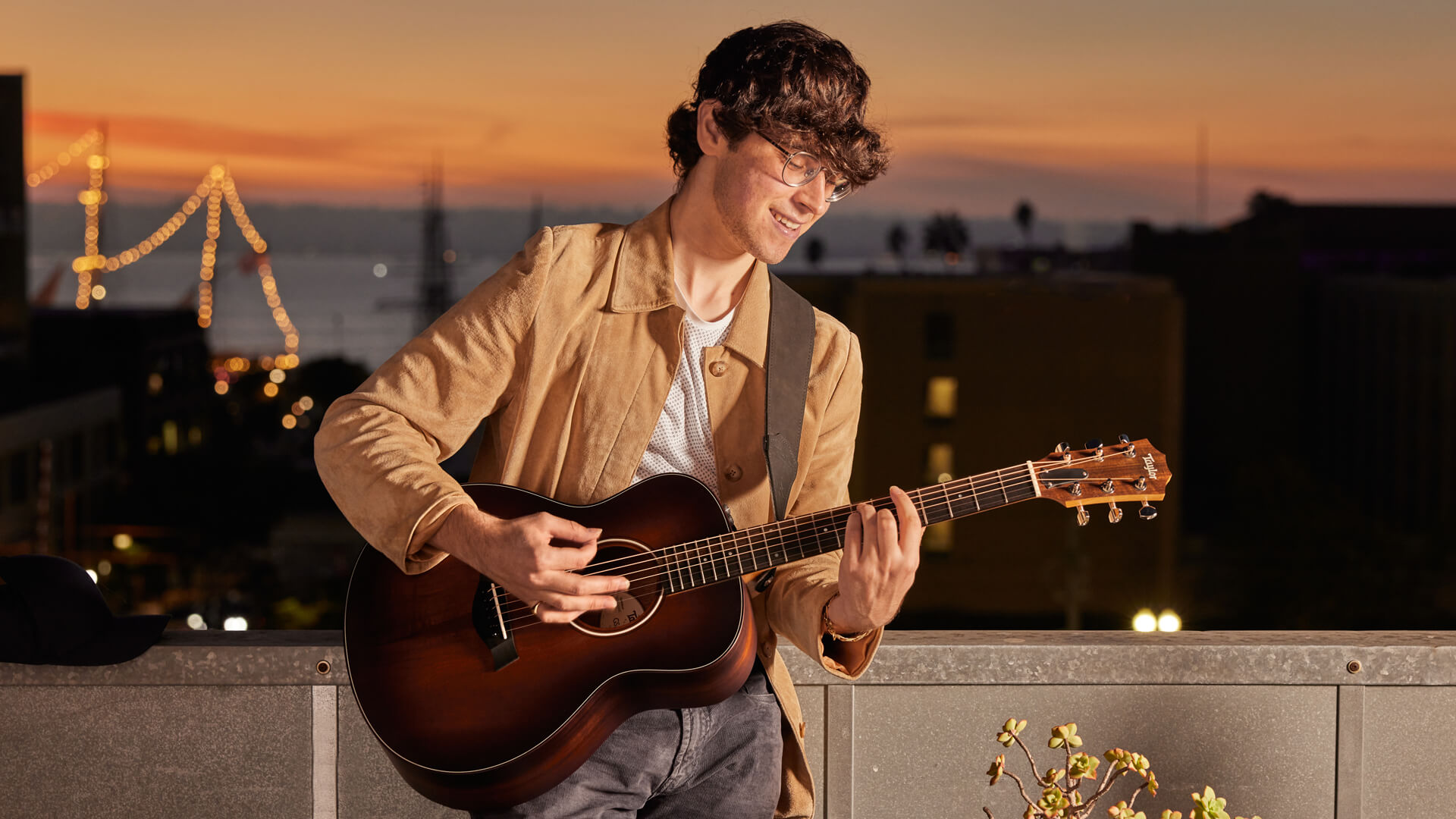 "It was a guitar I felt I could be proud of," Bob says. "It felt better, it was a little bigger, you could still get it in the overhead [compartment on a plane], and it came in a gig bag," he says. "Little did I know it would become 'the people's guitar.' It really has established its own unique identity and I think in some ways might be our best accomplishment — a guitar that's not so precious, that everybody loves, that's known around the world, and that a beginner, a grandmother and a pro all want to have."
The GS Mini has also been expanded as a series to offer a range of wood options and aesthetic treatments, including the gorgeous GS Mini-e Koa Plus, featuring a koa top and shaded edgeburst. And Andy Powers added his own design imprint on the series with the design of the GS Mini Bass, which managed to translate the normally longer scale length of a bass guitar into the GS Mini proportions, giving players an easy-playing, great-sounding acoustic bass that has become an inspiring musical tool for all types of players, including kids.
Academy 12 / Academy 12-N
That same spirit of making guitars physically comfortable to play and not too precious also informed the design of our Academy Series. This time around, Andy Powers was at the design helm, and he wanted to distill a great guitar into its essential elements to make it more affordable (a theme that we recently revisited with our American Dream guitars). Two of the three models feature Grand Concert bodies: the steel-string Academy 12 and the nylon-string Academy 12-N (both also available with electronics).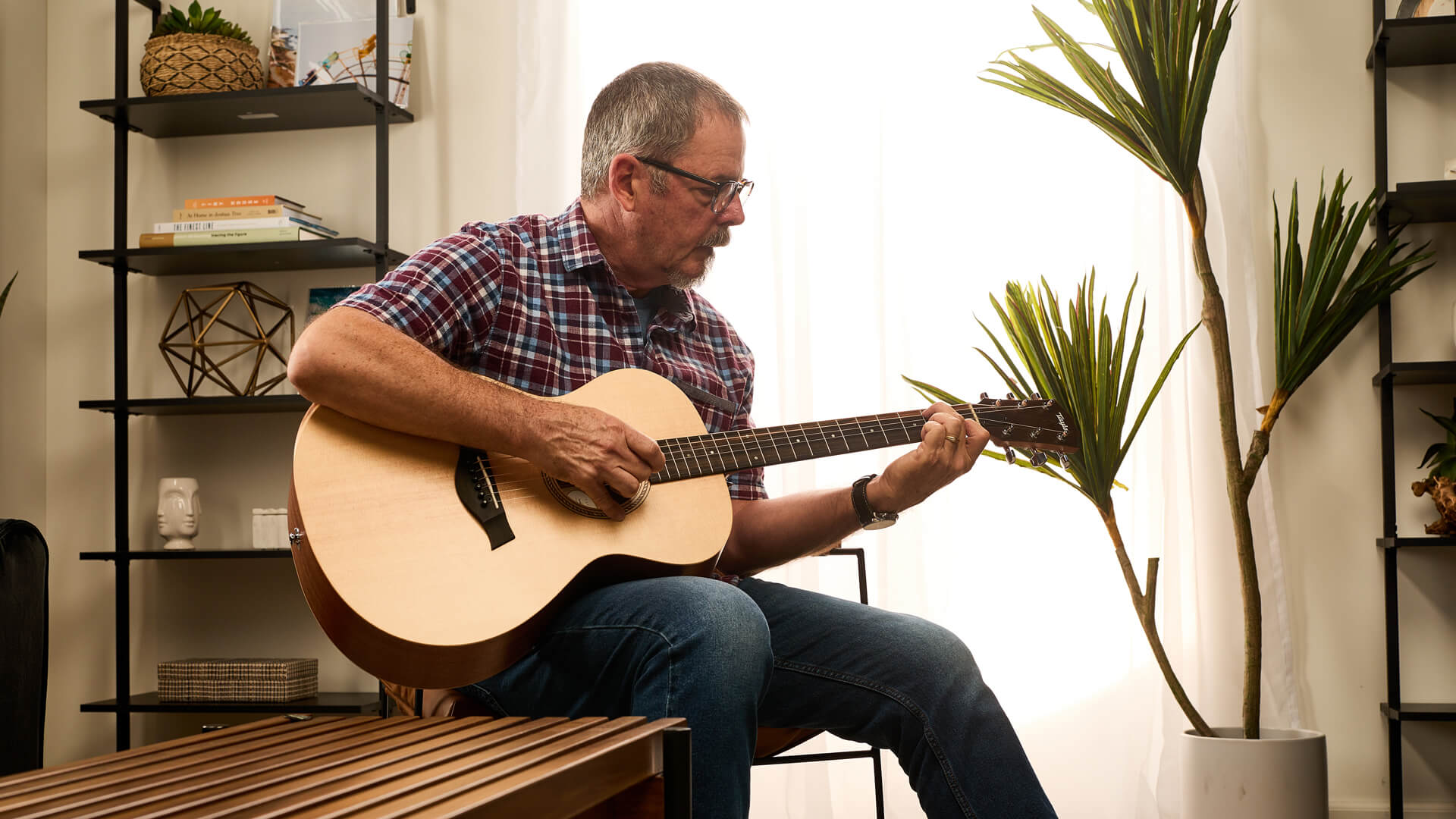 Both models feature a solid spruce top, a layered sapele body, and a simple armrest to enhance the playing comfort. The steel-string version has a nut width of 1-11/16 inches and a 24-7/8-inch scale length, and also makes a great full-size starter or utility guitar; the nylon-string has a 12-fret neck, a nut width of 1-7/8 inches (to accommodate the slightly thicker diameter of the nylon strings), a 25-1/2-inch scale length, and offers an incredible feel and sound. Given the popularity of nylon-string guitars in other cultures around the world, it's a great model for international markets, and for steel-string players looking to add some nylon flavor to their music, it's arguably the best guitar you'll find at that price point. (We also produce nylon-string Grand Concert models within other series in our line.)
The GT
The most recent addition to the Taylor line, our new GT guitars continue our efforts to blend playing comfort and great tone into a compact form. In the same way that a desire to improve the sound of the Baby led to the GS Mini, a desire to improve the sound of the GS Mini led to the GT. The challenge, once again, was to preserve the compact proportions that make an acoustic guitar feel physically inviting and accessible, while pushing the dimensions enough to produce a pro-level, full-size acoustic voice. And to retain the fun, approachable vibe that makes smaller guitars great couch companions.
Andy's design dimensions add up to a guitar that lives in that sweet spot: a scaled-down Grand Orchestra body with a body length that sits between the GS Mini and the Grand Concert; a "mid-length" 24-1/8-inch scale length, which sits between that of the Mini (23-1/2) and the Grand Concert (24-7/8); and a nut width (1-23/32 inches) that provides comfortable string spacing, sitting between our narrowest nut width (1-11/16) and the 1-3/4-inch width that is standard on most 6-string, steel-string models. And with all-solid-wood construction.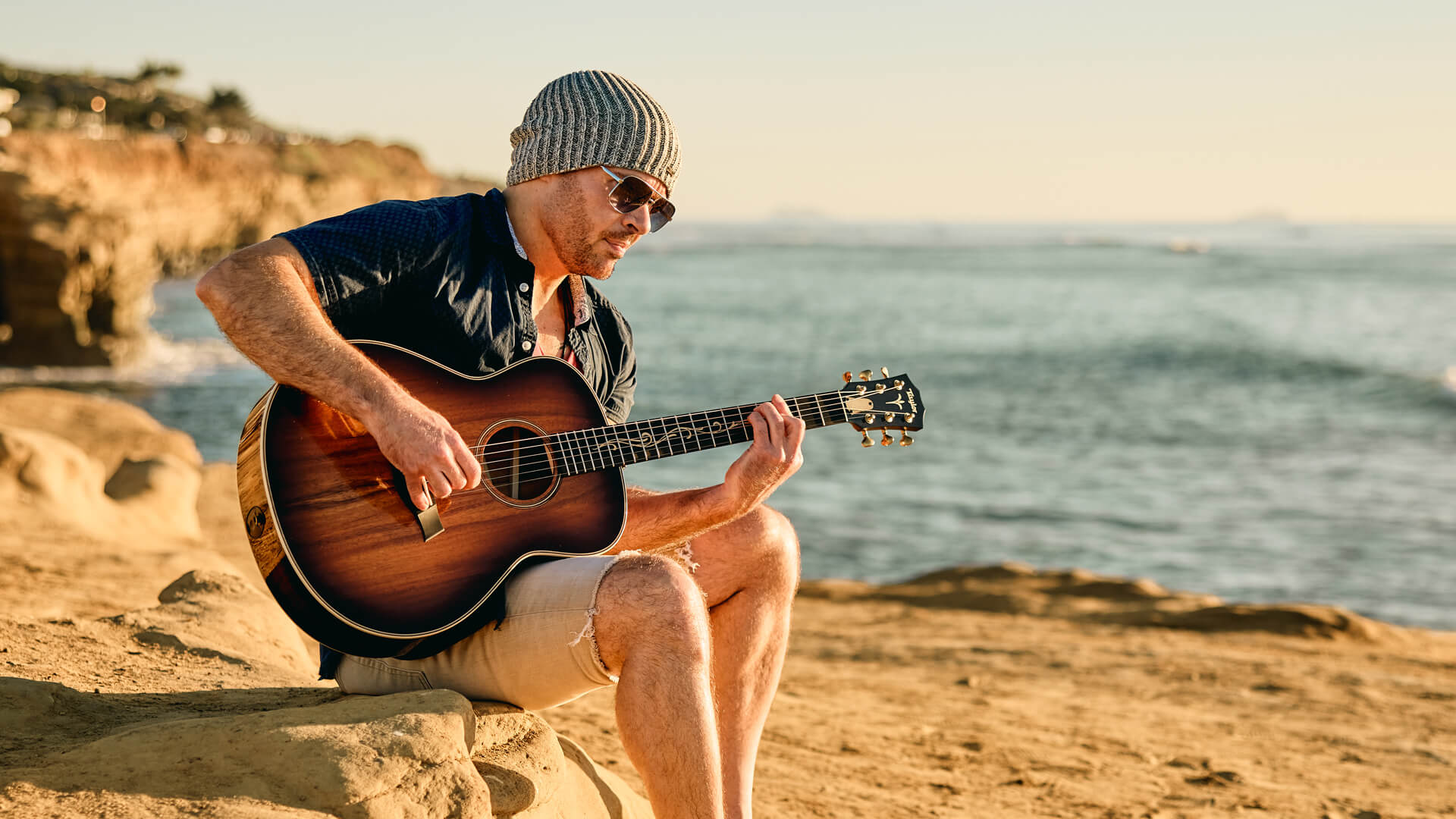 The string feel — a combination of light-gauge strings and the mid-length string scale — has the slinkiness of a guitar with a 25-1/2-inch scale length that's been tuned down a half step, yet still with a pleasantly focused, punchy response. Sonically, Andy designed our new C-Class™ bracing architecture (borrowing from his V-Class ideas) to tackle one of the biggest challenges of a smaller-bodied guitar: to give it enough lower-frequency response to produce ample fullness and depth.
To further underscore our desire to offer players another accessible small-body guitar option, the first GT model released, the GT Urban Ash, was priced at the entry threshold for our all-solid acoustics. That model was soon followed by the rosewood/spruce GT 811e and the all-koa GT K21e.
Though the GT has only been out in the world for a short time, it has quickly carved out its own place among Taylor's compact guitar offerings in both feel and sound. "Intimate," "nimble," "sweet," "focused" and "fun to play" are among the refrains we hear from players and reviewers after they have a chance to play it.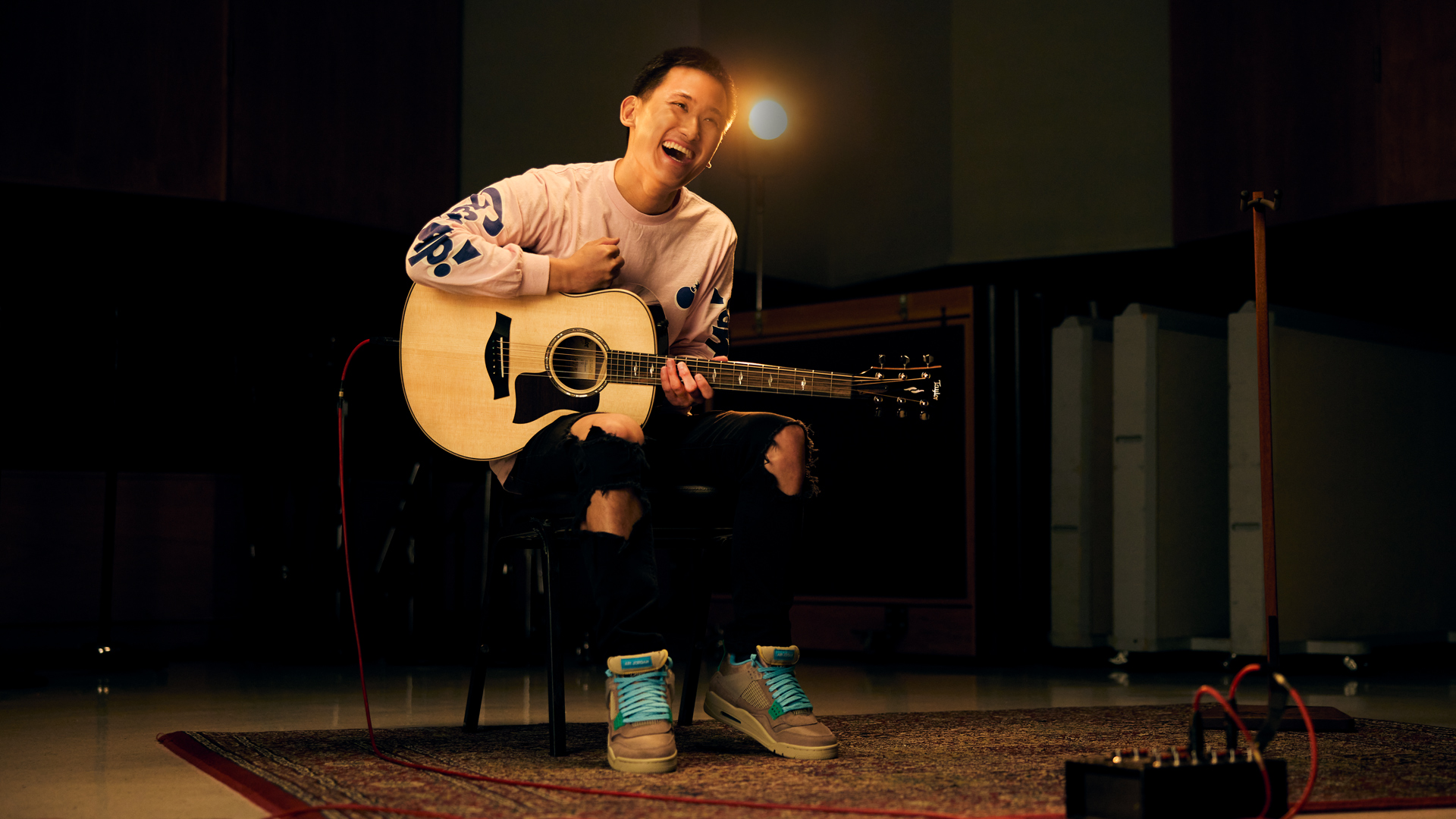 Small for All
More than 35 years after Bob Taylor built his first Grand Concert, our small-body guitars have evolved into a diverse and nuanced family of instruments and expanded the range of what a compact guitar can do. Whatever your physical makeup, skill level, playing style or musical applications may be, these guitars will invite you in, make you feel comfortable, and respond to your playing in a big way.