Sharing the Joy
My father recently purchased a Taylor guitar [a T5z Classic Koa LTD] that he absolutely loved. The day it arrived, he was like a child on Christmas morning. He played it every chance he got. I remember him skipping work (we worked together) just to play his guitar all day!
I'm an amateur photographer, so he asked if I would take photos of his new, beloved guitar so he could submit them to you, and of course I said yes! My only stipulation was that he had to be playing the guitar. Unfortunately, his illness prevented us from being able to make this happen. Knowing his plans for the photos, when he passed, I decided to take the photos he originally wanted to honor his request.
My father was amazing in so many ways. Anytime his kids or grandkids took up a new hobby, he always told us we were the best at it (in reality, we weren't).
Thank you so much for providing an amazing product that brought my father so much joy.
Jess Goins
In memory of Bill Goins | 12/08/50 – 11/08/21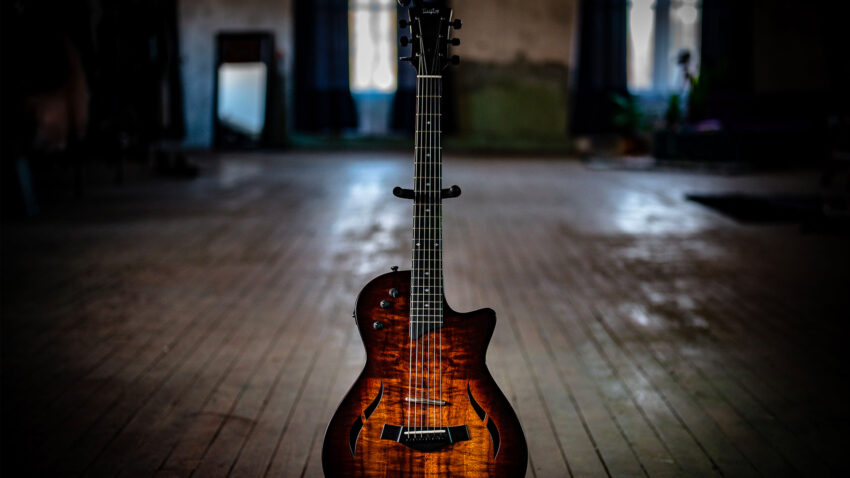 Lifetime Love
I saw the custom walnut/sinker redwood Grand Auditorium featured in the last issue of Wood&Steel [back cover] and, on a whim, looked on the Internet to see if one was available. Sure enough, Mojo's Music in Southern Illinois had one for sale, so I called them and arranged the purchase with the owner of the store, Thomas Pullen, who couldn't have been nicer or more professional. I knew it was meant to be when just two hours after the purchase, a refund check from my health insurance company arrived for almost the exact amount of the purchase price! I guess once in a great while, things work out. At any rate, I've been playing this beautiful work of art pretty much non-stop since it arrived. Every aspect of this instrument demonstrates astounding quality and craftsmanship, even the case! The sound is rich and warm with a broad, expansive range. I have a beautiful 314, a koa [GS] Mini and a treasured old Nagoya made of pre-ban Brazilian rosewood. I have to say that my new GA is the pick of them all and surpasses anything in my electric collection as far as fit and finish are concerned. This is the purchase of a lifetime, and I'd like to pass along to all the good folks at Taylor my sincerest appreciation and congratulations for a job exceptionally well done. I'll enjoy this wonderful instrument for the rest of my life.
Charlie Levy
Suffolk, Virginia
The Big Short
I just wanted to let you know how stoked I am with my new Taylor 326ce. I LOVE that it is a shorter-scale, large-bodied strummer that takes light strings. As someone with small hands who is traditionally a short-scale player (Gibson slope-shoulders), the 326ce is the style of guitar I've been wishing Taylor would make for years. If you ever make a large-bodied strummer with a 24.75-inch scale that takes light strings, I promise I will be the FIRST in line to buy one.
Thank you for the awesome guitar!
Emily Barracano
A Lasting Legacy
I was touched by Andy Powers' recent column in Wood&Steel ["Lasting Value," Vol. 101 / Issue 3].
Andy, you spoke about many ideas, but the one that really bore down was about old guitars. The appreciation for something that gets better as it ages, that does not depend on a "new, better technology…so you better throw your old one away and get on board for the latest…whatever."
Like you, I also made a living with my hands. I rebuilt mouths, chewing machines that had collapsed over time. I had always worked with my hands as a kid — model airplanes, finding wood discarded from a nearby cabinet shop in the dumpster in the alley and recycling those discarded pieces of solid wood on my workbench into toys. What fun, building my own things. Later on, I became a dentist and continued the projects, creating beauty with people's smiles.
Along the way, I discovered music, bought my first guitar at McCabe's and began lessons. That was 50 years ago. The guitar became my friend after a stressful day's work, and though I am only an intermediate [player], I kept learning to play better. I also accumulated many instruments, and found Taylor guitars. I own four: a 314, 614, 814 and a T5. I guess the GA just fits me right.
It would be impossible to relate to you how much I enjoy playing those guitars at this stage of my life. I play with several different guys, learning new songs all the time, creating solos, chord melodies and so forth.
My own aging (80 years) matches the aging of the wood. The sound, the timbre, the grain, the feel of picking up a beautiful instrument and knowing I can make something beautiful come from that guitar bring endless pleasure to my life and those around me. Both of my daughters, my son and several of my granddaughters are musicians, and I know that hearing live music around them as they grew up was influential in their aspirations to do the work that musicianship asks of us. When you spoke of something "lasting," I think of the legacy that we leave others who are moved by creating music and bring that to their lives. Long after I am no longer here, the music will live on.
Mike Lerner