Elsewhere on our website, you'll find our annual Holiday Buying Guide, which spotlights some of our top-selling guitars across several price categories. For Wood&Steel readers, we wanted to offer another perspective, so we surveyed a group of discerning Taylor staffers here at our factory headquarters to find out which models they've taken a shine to lately.
We don't take for granted that many of us on the sales, marketing and customer service teams are in the enviable position of getting to preview and compare soon-to-be-released models as they progress through product development into production. And since we all share a floor on the Taylor campus in El Cajon, suffice it to say there's often a fun assortment of guitars floating around for frequent sampling, shootouts and jam sessions — especially with the array of new models we've introduced recently.
We asked some folks to pick one or two models that have especially captivated them lately and briefly explain why. It turns out the responses stretched across the Taylor line, from our Builder's Edition collection to a few guitars from our Tecate factory. While many of these are newer releases, you'll also see some other established models that still resonate (both literally and figuratively) with our crew.
Since a couple of models were cited by more than one person, we'll group those employee comments together where appropriate.
One other note: We plan to do this on a recurring basis with others in the Taylor community, including Taylor artists, so stay tuned for more.  
517e
Back/Sides: Urban Ironbark
Top: Torrefied Sitka Spruce
Aaron Dablow, Sales Manager, Americas: "The sound of Urban Ironbark is loud and punchy. Pair that with the Grand Pacific body shape and you have a big sound that fills up a room. Plus, the cool light-amber hue of that subtle shaded edgeburst on the body and neck really invites you to pick it up and make music with it!"
Erik Sakimoto, District Sales Manager: "I like the torrefied top matched with the Urban Ironbark. The Ironbark has surprisingly pleasant fundamental bass notes that are more present than what I would have expected from a Taylor guitar. I know it has to do with the increased stiffness compared to rosewood or mahogany. When I first played the new 500 Series, the Ironbark did not strike me as a replacement for mahogany but as an upgrade to the 500 Series, producing more bass response and volume. The torrefied top gives a heavy strummer a more played-in feel in terms of the response and projection. These are all benefits, in my mind, with the Grand Pacific body. This model and the rosewood/spruce 417e have been great additions to our GP lineup."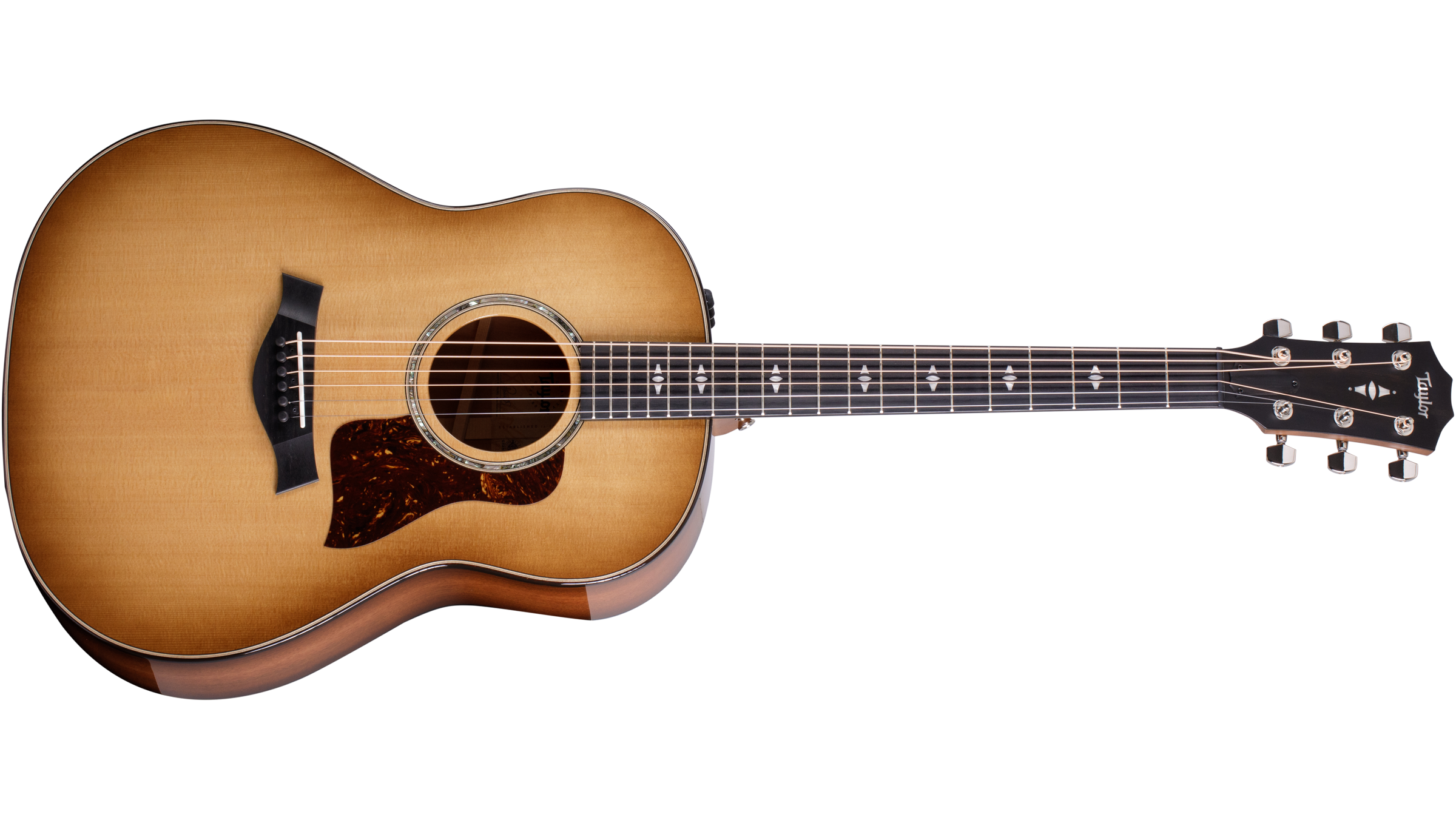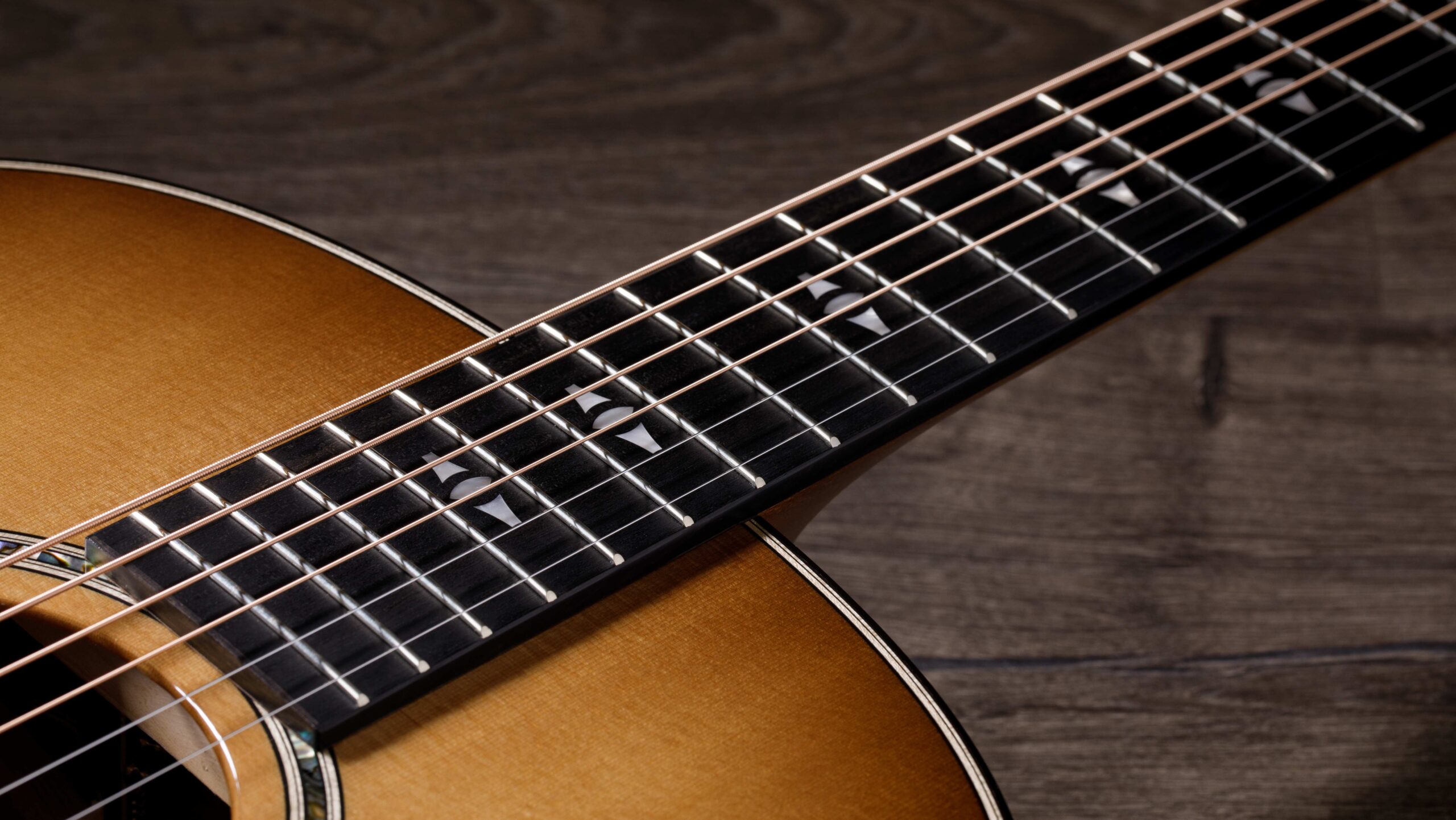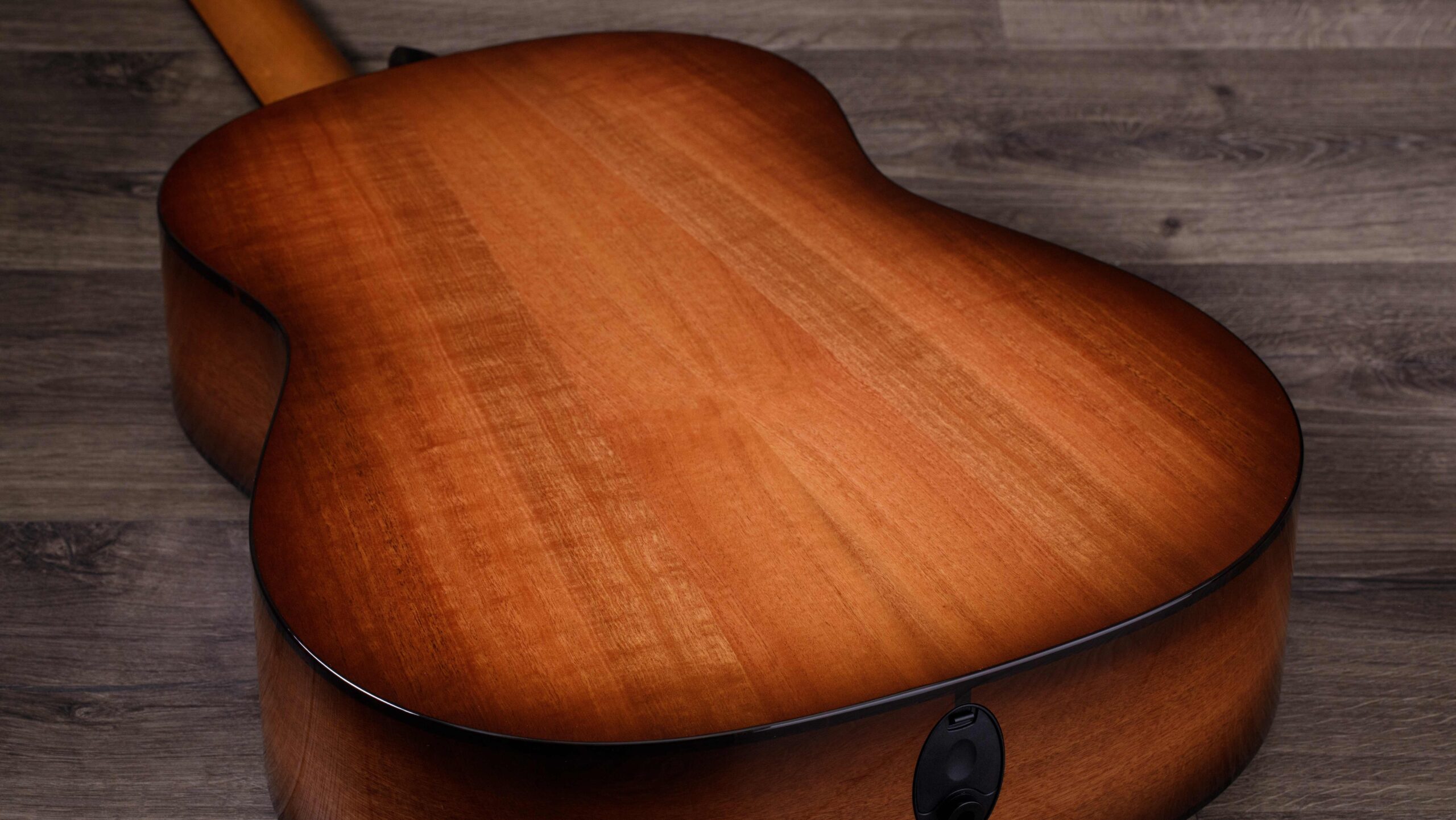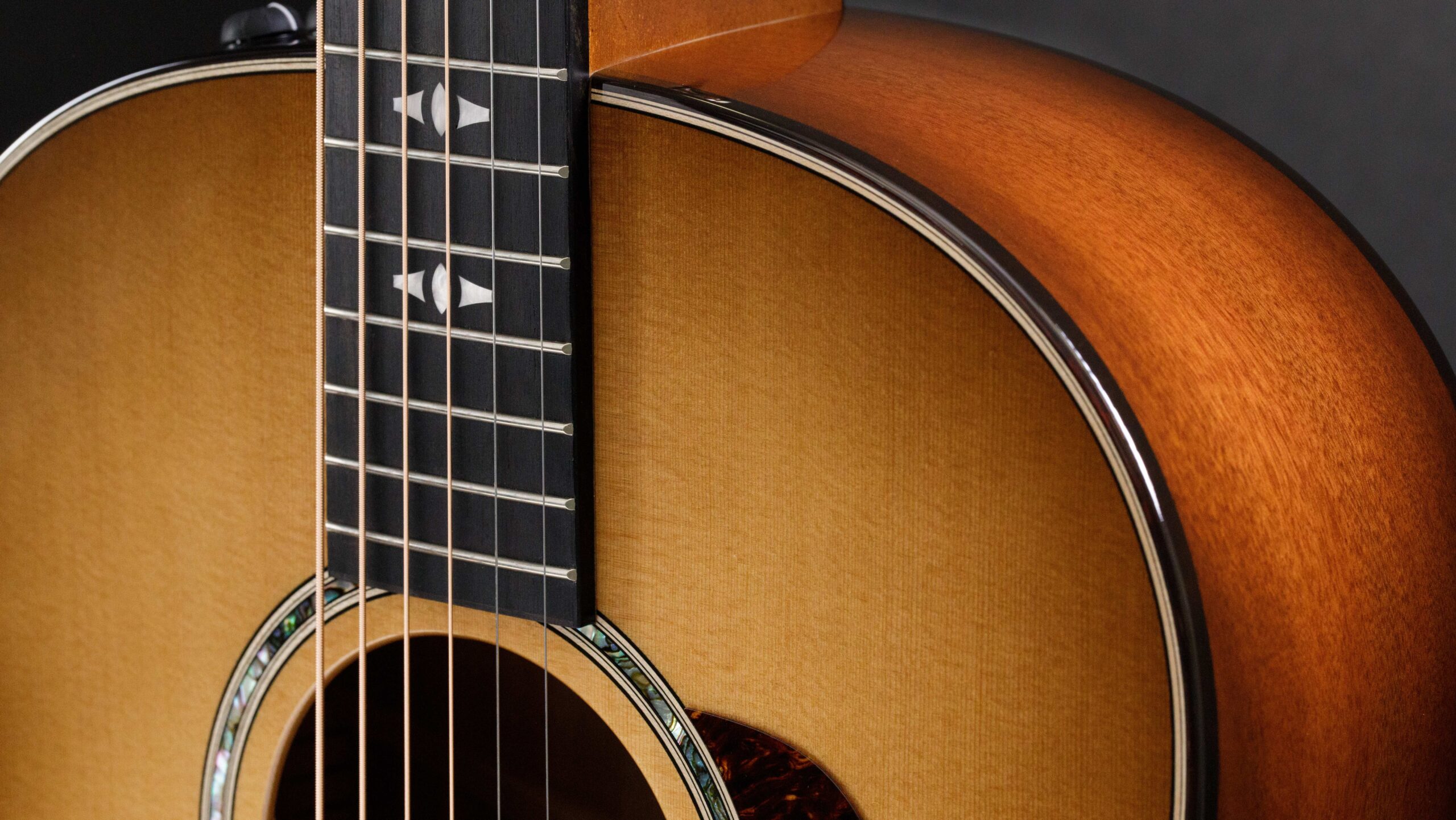 ---
Builder's Edition 517e WHB
Back/Sides: Tropical Mahogany
Top: Torrefied Sitka Spruce
Dylan Van Vleet, Retail Marketing Manager: "If you want a warmer tone with more bottom end out of your Taylor, this guitar is a perfect choice. A roasted Sitka spruce top is paired with mahogany back and sides, a recipe for warmth if I've ever heard one! I especially love strumming on this model. It has a nice, natural compression to it, so harder strums don't get any nasties, and it sits beautifully in a mix without having to carve out any frequencies both in studio and live applications. Try it, you'll be amazed."
---
Builder's Edition 814ce
Back/Sides: Indian Rosewood
Top: Adirondack Spruce
Billy Gill, Export Sales Manager: "Beyond the comfort, this guitar has otherworldly volume, sonic girth and an incredible sweetness when you back off. I've never played an acoustic guitar that had so much going on. It adapts to anything I play instantly and effortlessly. I've loved a lot of guitars in my time, but this one is a cut above them all. I'm extra amazed at the resulting acoustic sound when played with a capo!"
Ryan McMullen, District Sales Manager, Canada/Pacific Northwest: "I love the Builder's Edition 814ce and feel it might be one of the best guitars we offer. It is supremely easy to play, has a rich bold voice, feels great in your lap, and looks spectacular. I'd recommend this guitar to anyone looking for a well-rounded guitar that is fun to play or perform with."
Dylan Van Vleet: "The Builder's Edition version of our flagship model has a design language and craftsmanship that together blend premium functionality with beautiful artistic expression. It's a true Swiss Army knife, built to handle any and all playing styles. This would be my "desert island" guitar.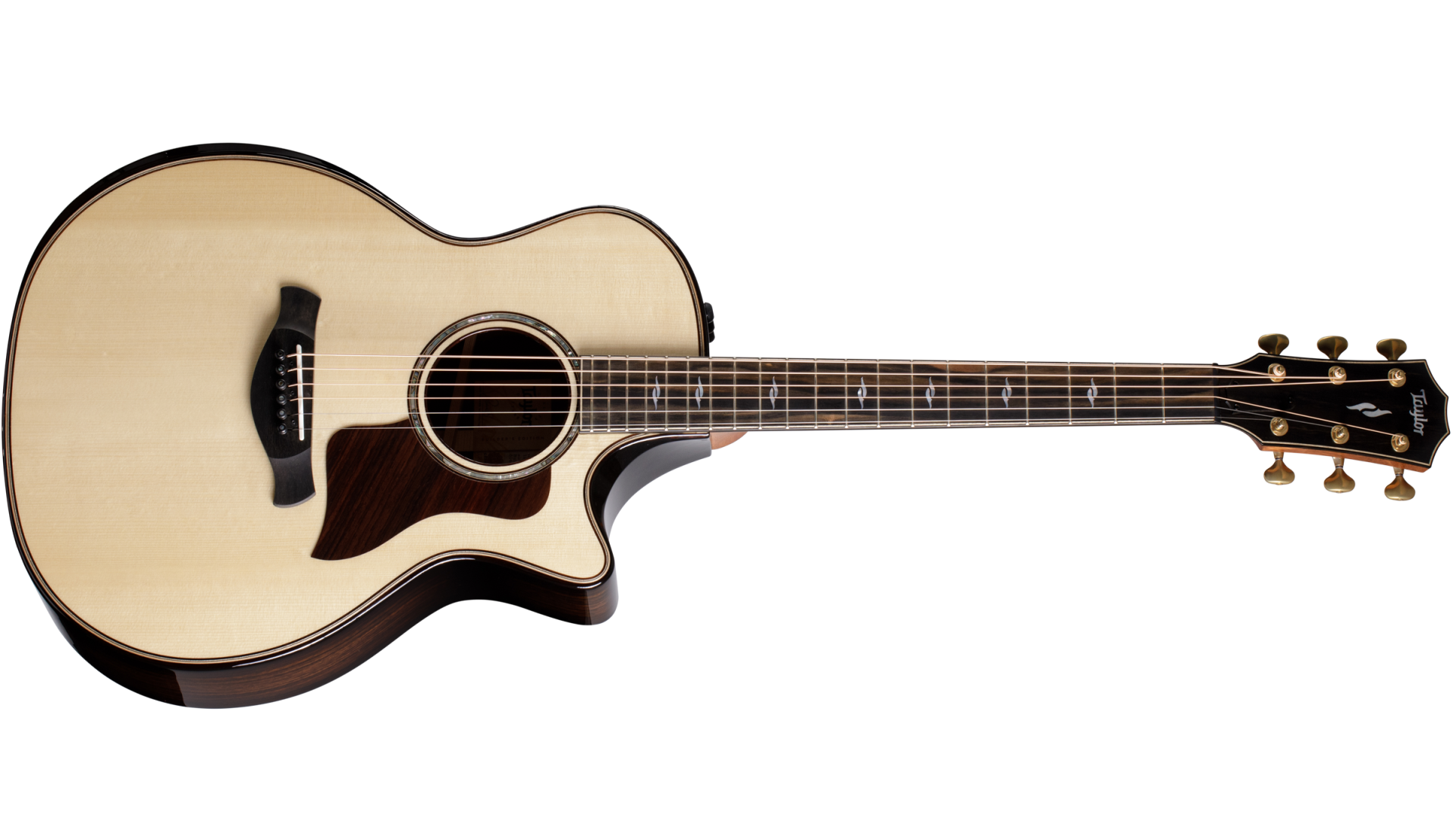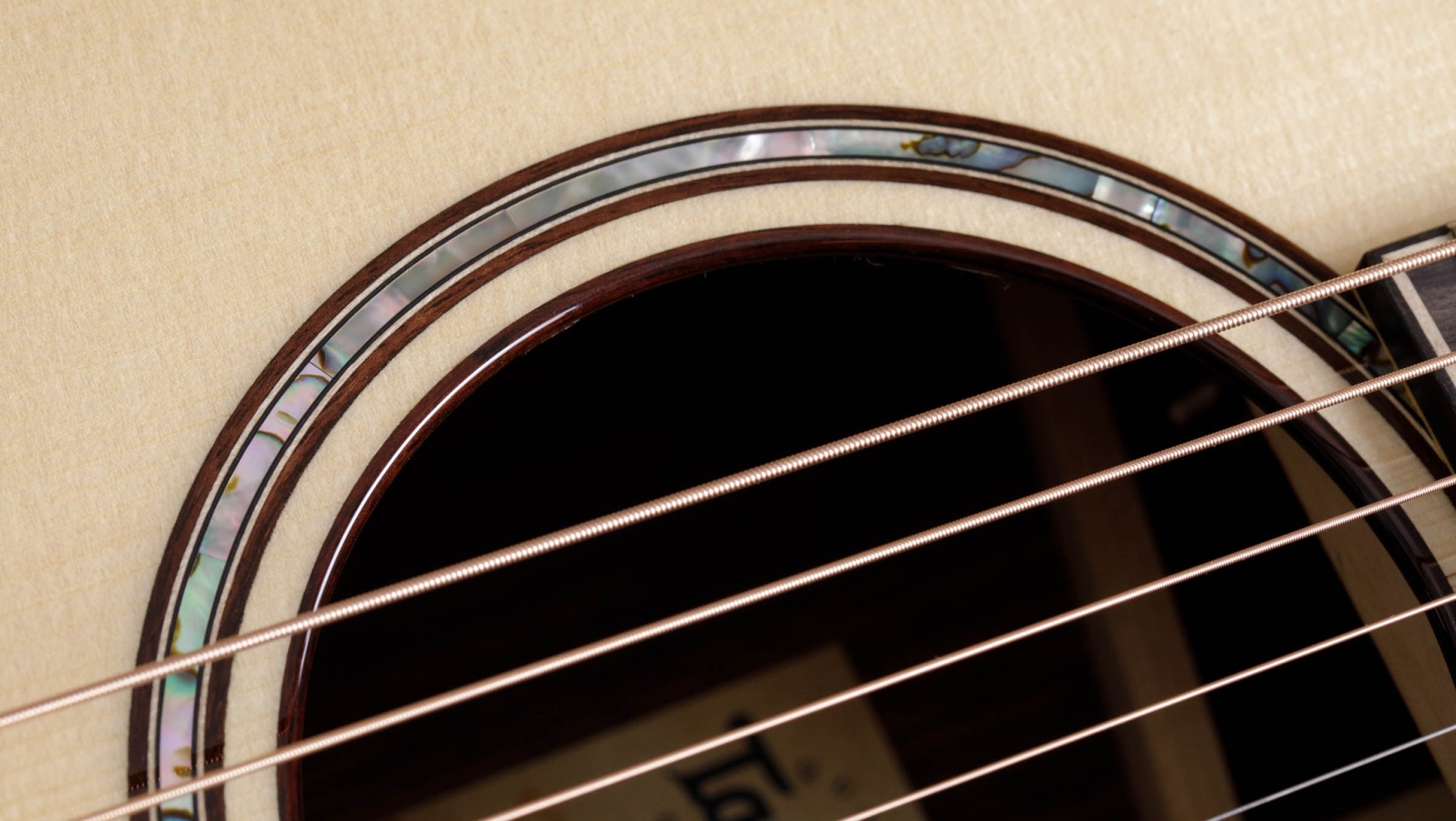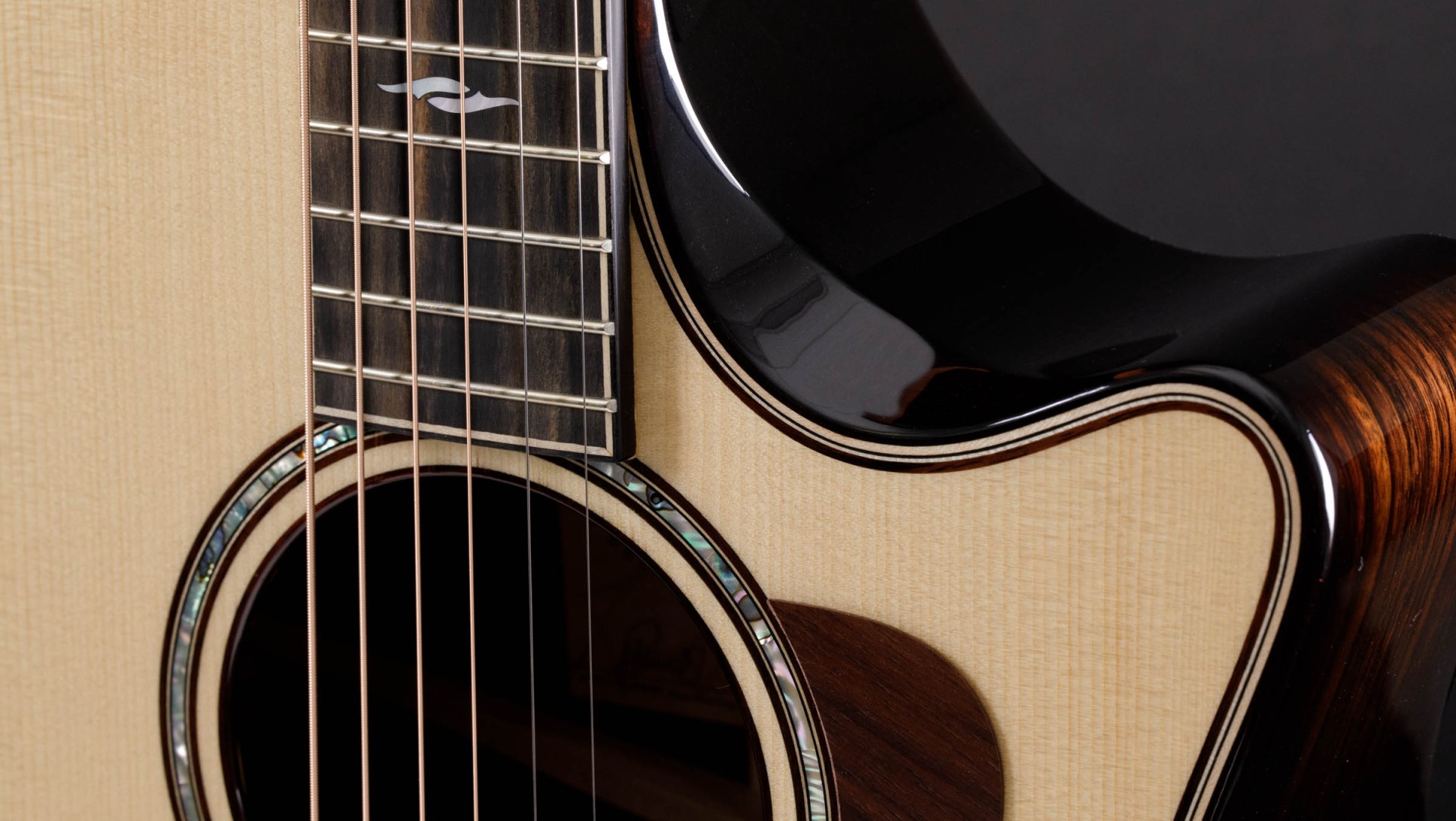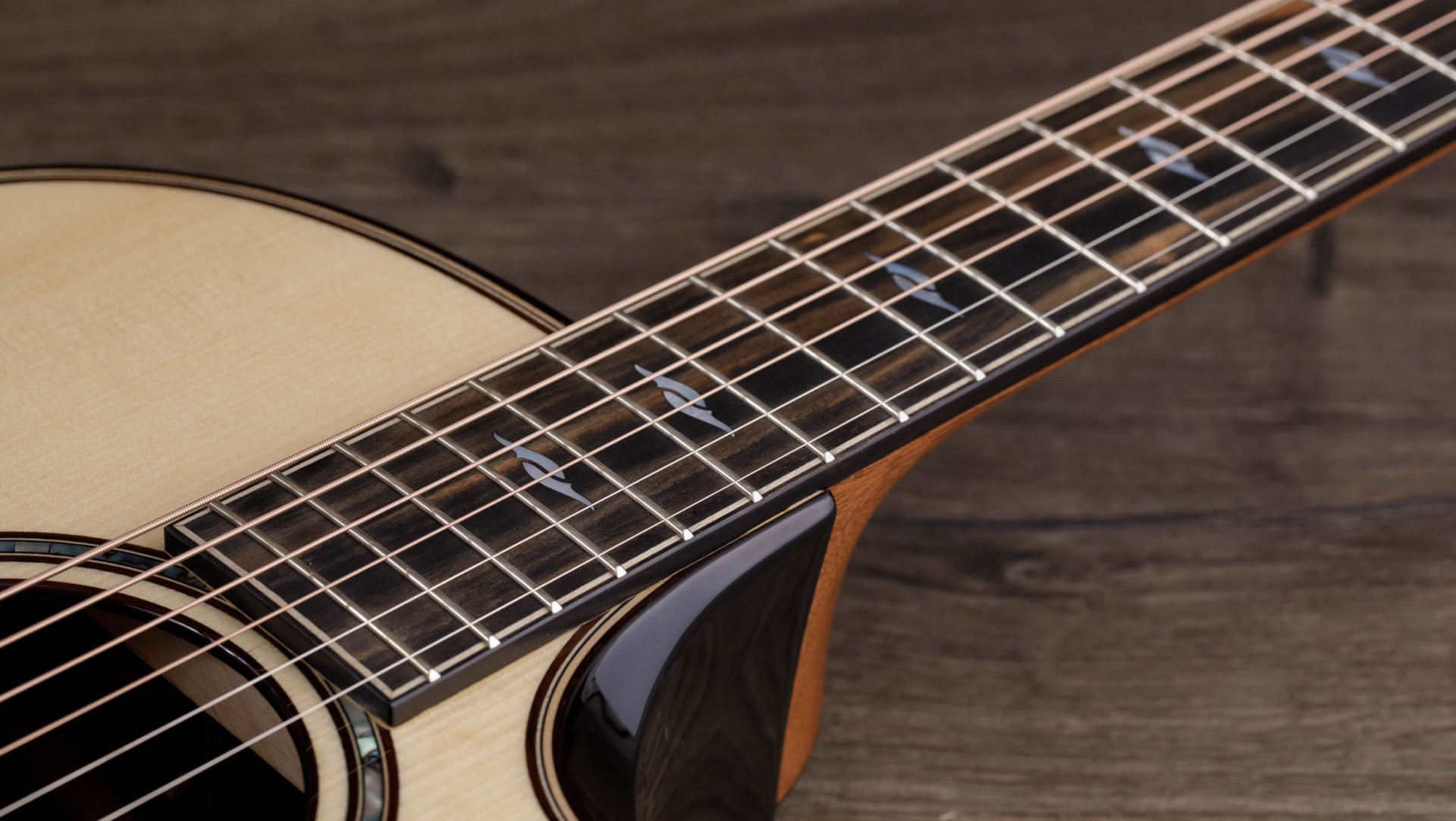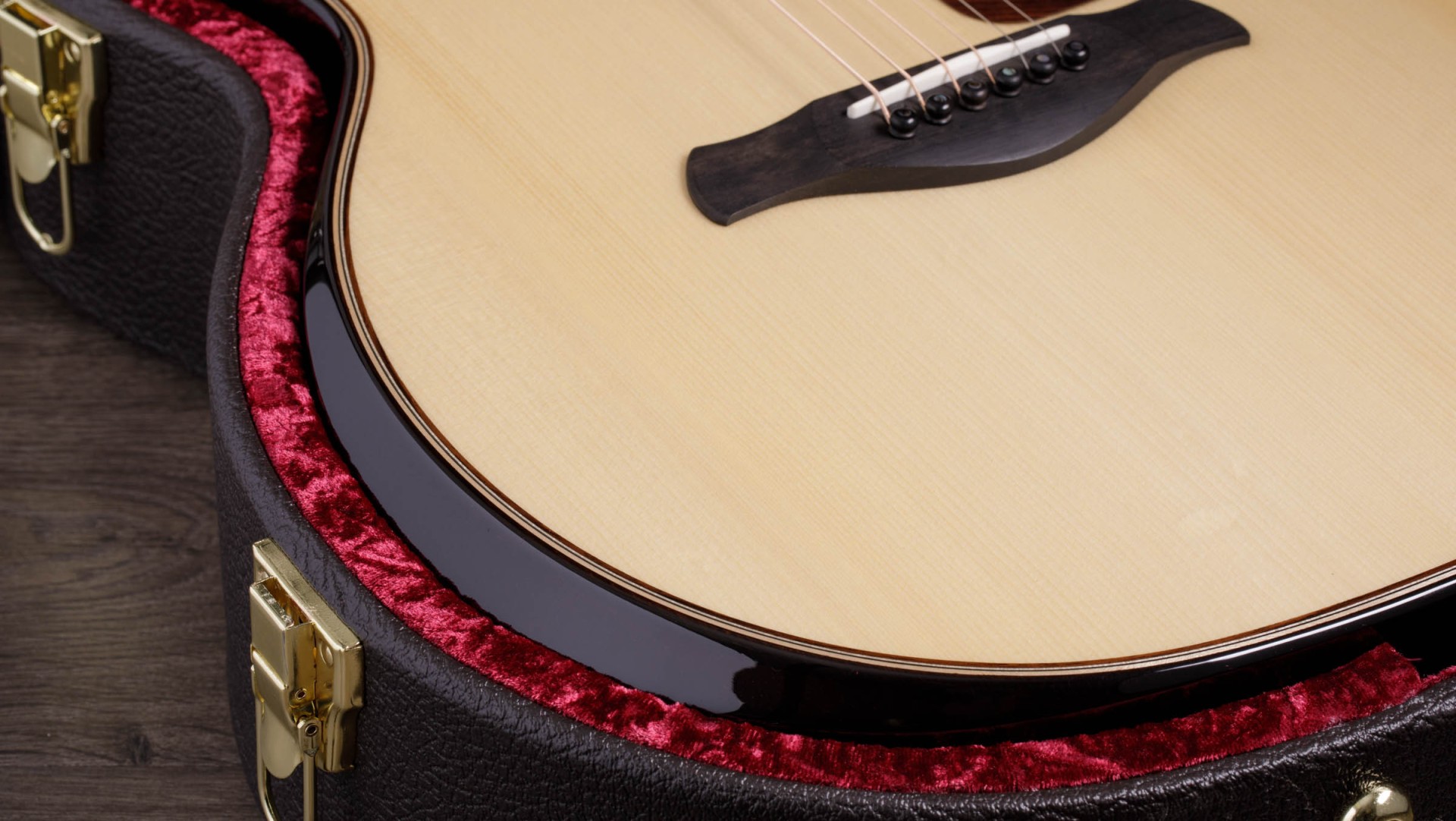 ---
AD11e-SB / AD12e-SB
Back/Sides: Walnut
Top: Sitka Spruce
Dave Pelletier, Director of Sales: "The AD12e-SB has so much character! It's super comfortable… you can pull it in close. The 24-7/8-inch scale plus the Grand Concert shape just do it for me. It has a gorgeous tone; the body and wood set speak beautifully. It's not too precious; it's a great couch guitar, but I really want to put a mic in front of it and capture all of its walnut-y, woody goodness. It's exactly how I'd want a guitar of this size to sound. And the glow of that sunburst just draws me to it!"
Zach Arntz, National Accounts Manager (Sam Ash/AMS): "The AD12e-SB is a guitar that many folks appreciate and others might not yet know about (the mahogany-top AD22e is cool too). It's a simple, understated guitar that's super comfortable with the smaller body, and the 24-7/8-inch scale length makes it a dream to play and adds a touch of warmth. Rootsy sound with minimal overtones. It may not be the first Taylor you think of, but it should be considered as the guitar has a unique voice, nice feel and works great in many situations."
Ryan Hanser, Digital & Graphics Designer: "I like both the AD11e and AD12e sunburst models. They look great and make nice high-quality, compact travel guitars. The shorter scale length is slinky and feels really nice, especially the Grand Theater. The American Dream Series in general is super comfortable with the rounded body edges. They also aren't too fancy to travel with. And the guitars come with our AeroCase, which I love for traveling.
Erik Sakimoto: "I love the AD11e-SB — and AD11e Blacktop model that's also in the American Dream Series. Honestly, I think our GT body style is still a bit unsung within the line, and I hope more players give it a try. The rosewood/spruce GT model, the 811e, is also a great guitar."
---
326ce
Back/Sides: Tropical Mahogany
Top: Tropical Mahogany
Mike Tobin, Sales Administration Lead: "I love mahogany guitars for their warm midrange tones. From the player's position, mahogany guitars really satisfy, as the sound comes out in all directions — front, sides and back. With the 326ce, the soundport adds another dimension to the experience. Overall, the sound is warm, yet it has precision, definition and clarity. The satin black hardware also ties in nicely with the shaded edgeburst, black binding and ebony soundport. I hadn't experienced this guitar until recently, and I'm blown away."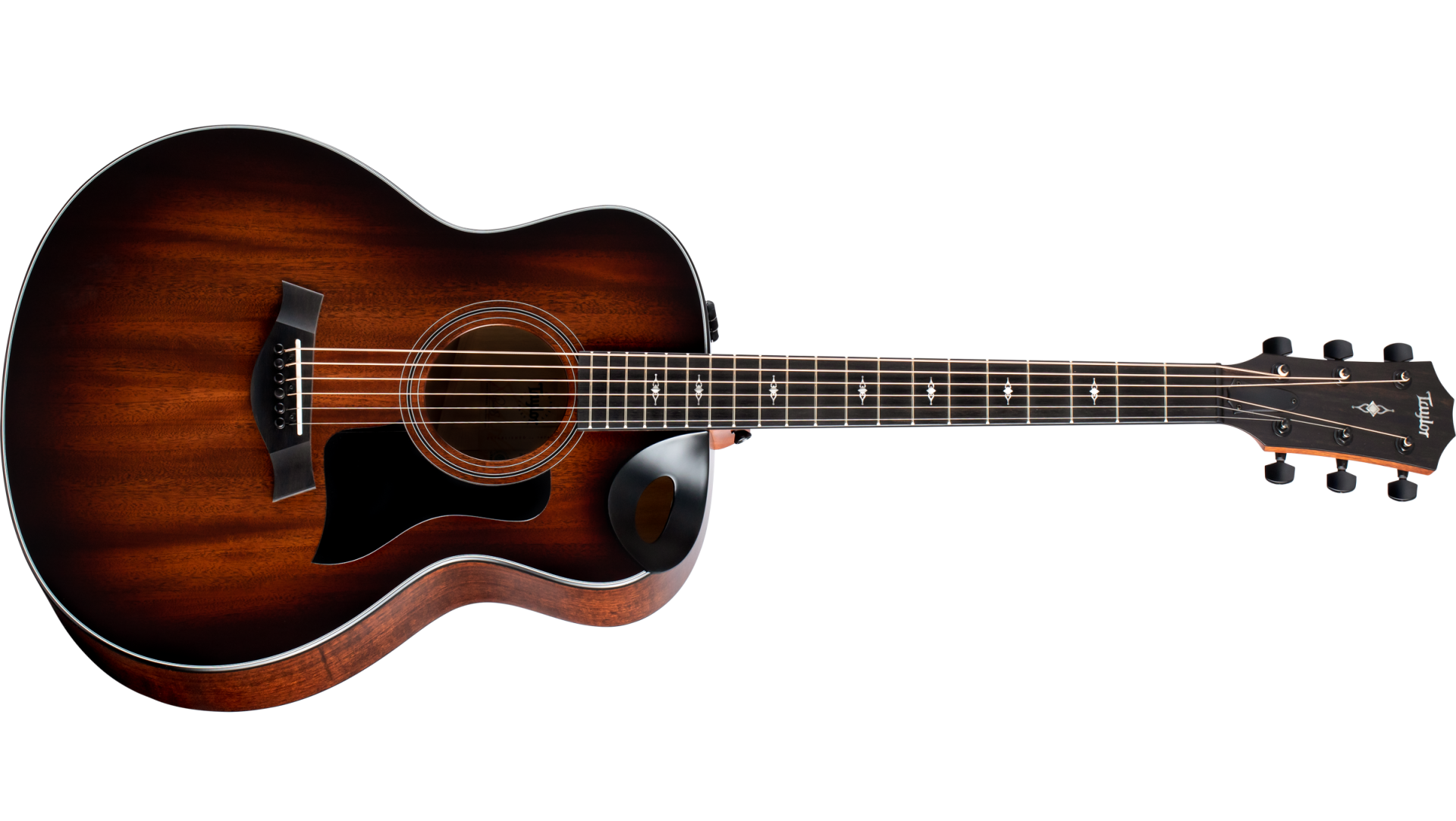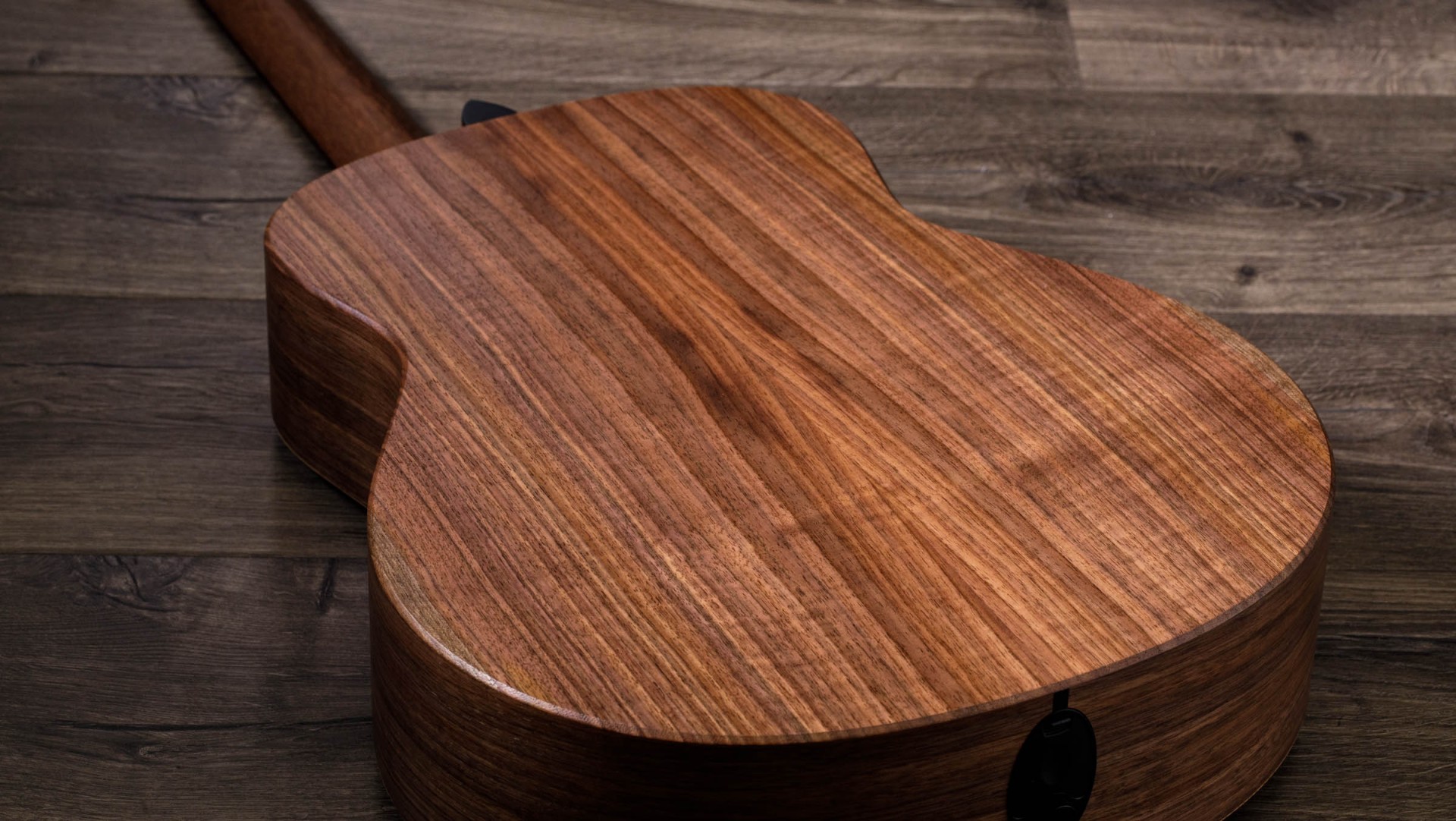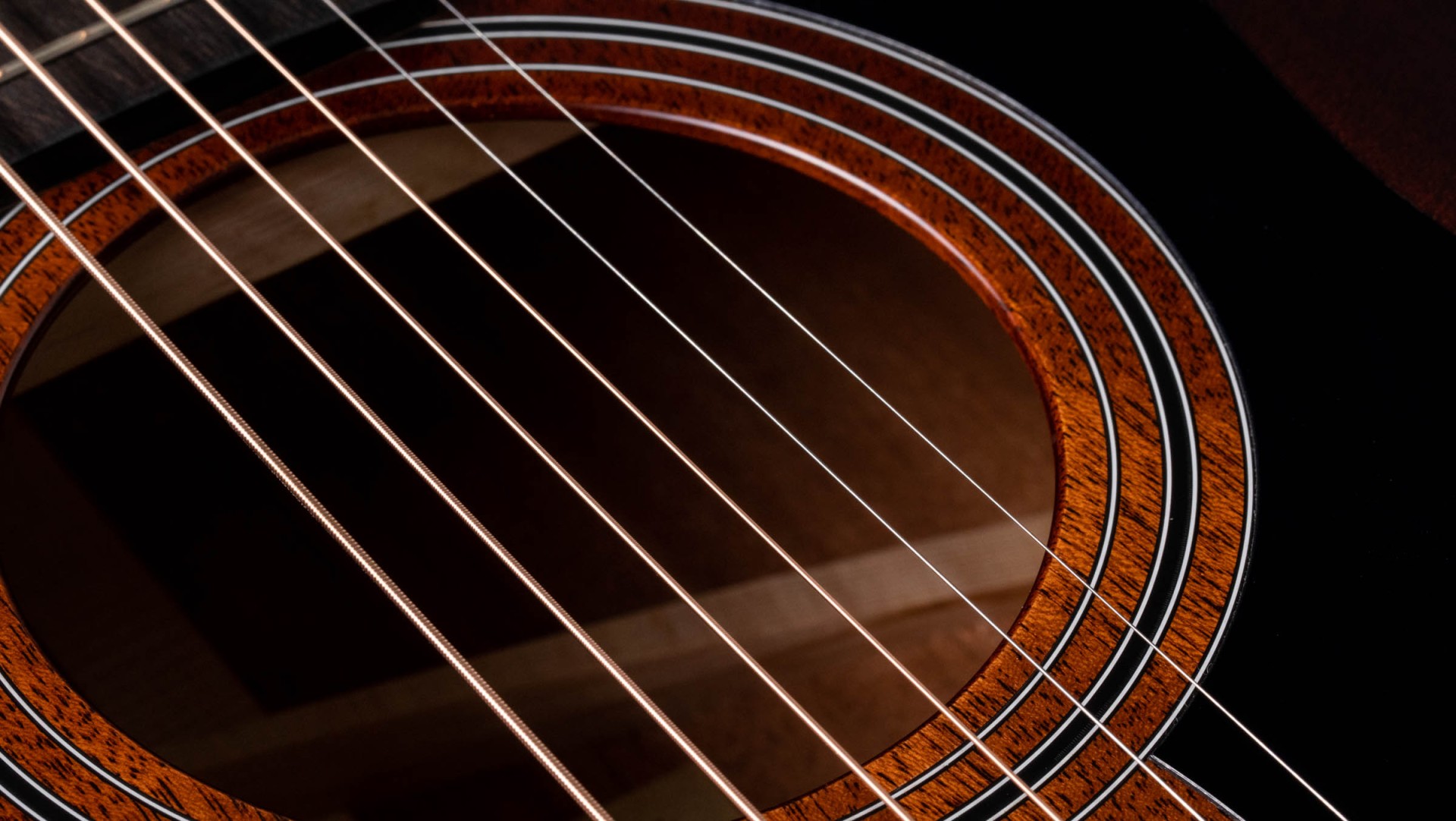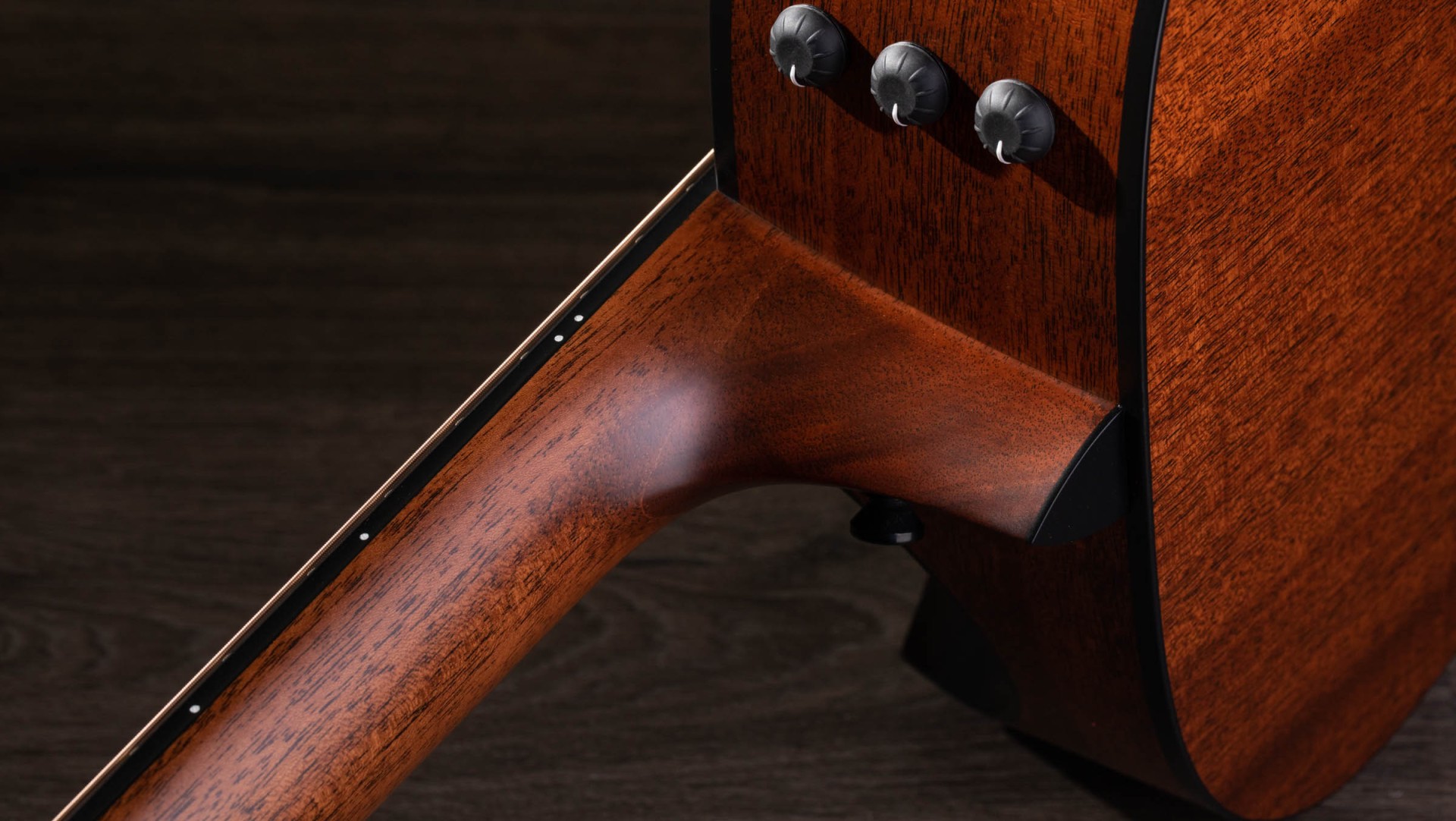 ---
Builder's Edition 816ce
Back/Sides: Indian Rosewood
Top: Lutz Spruce
[Ed. Note: It's actually impossible for Taylor master designer Andy Powers to pick a favorite model because he appreciates the merits of each and is such a multifaceted player that it comes down to what the particular playing scenario calls for. But we thought his comments about the Grand Symphony's unique musical personality, with its soundport cutaway, were worth sharing with players — especially since he's the architect of that innovative design.]
Andy Powers: "To me, the Grand Symphony is possibly the most personally expressive guitar design we make. And maybe the most personally gratifying to play. The sense a musician has as they play it is totally enriching, as the sound is so three-dimensional for the player. Its complexity can make it somewhat more difficult to capture with a pickup on stage, so I might select a different guitar for that usage, although musicians like Andy Hull from Manchester Orchestra have made the Builder's Edition 816ce part of their music."
---
Builder's Edition K14ce
Back/Sides: Hawaiian Koa
Top: Torrefied Sitka Spruce

Zach Arntz: "To me, the ultimate Taylor. Yes, the [koa-top] Builder's Edition K24ce is prettier, but sonically, the roasted spruce top combined with the koa back and sides really appeals to me. Massive sonic range, clear high end, strong mids and rich warmth that comes with koa. From a sound standpoint, in my opinion, you can't beat the versatility of the roasted spruce top. Then add in all the Builder's Edition features — beveled armrest, contoured cutaway, chamfered edge body treatment, Gotoh tuners, strap pin moved to the back of the guitar instead of on the heel, silent satin finish — and the guitar is just one of the finest guitars ever. When you're ready, the Builder's Edition K14ce could be the destination in your lifelong guitar journey."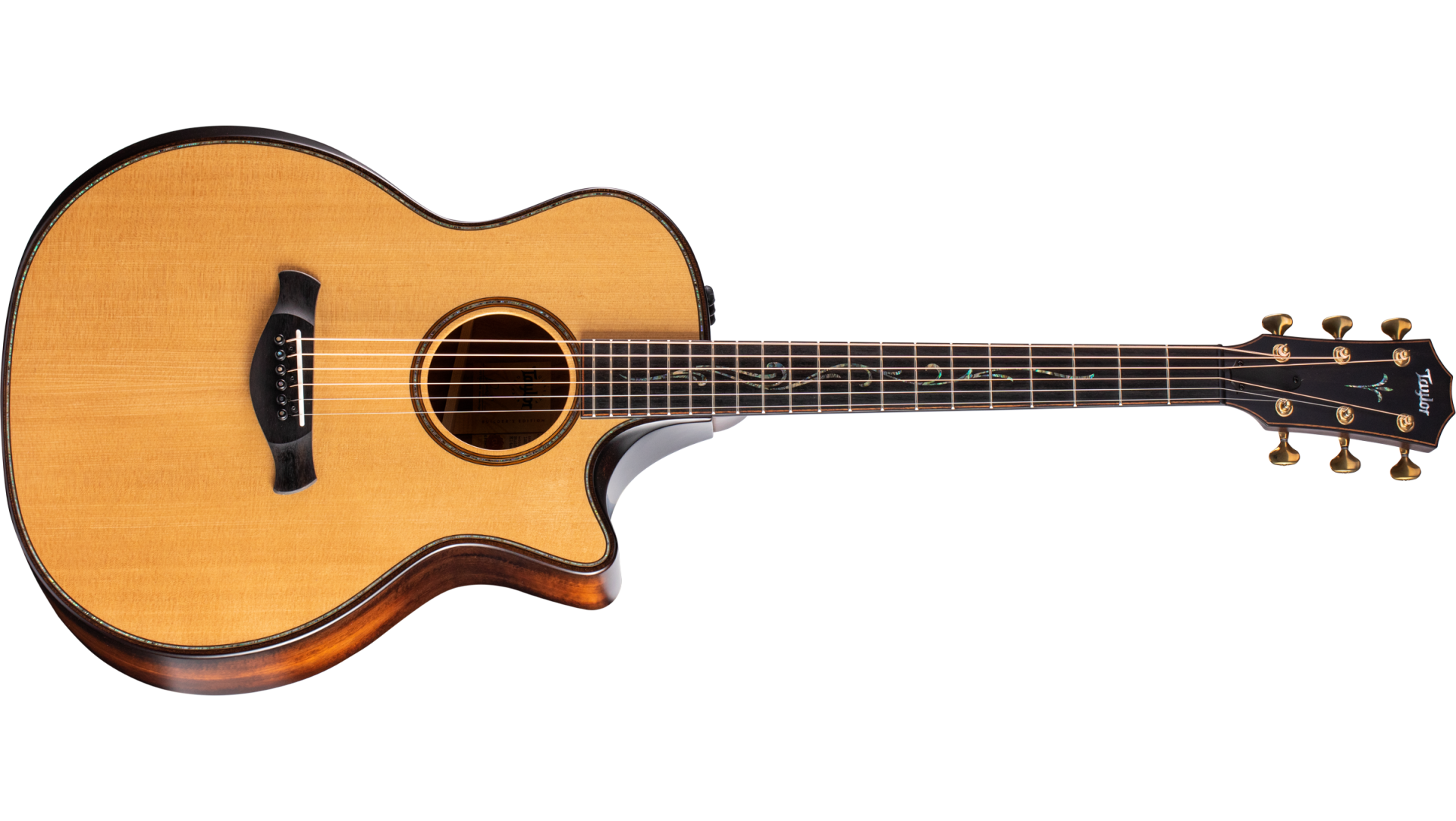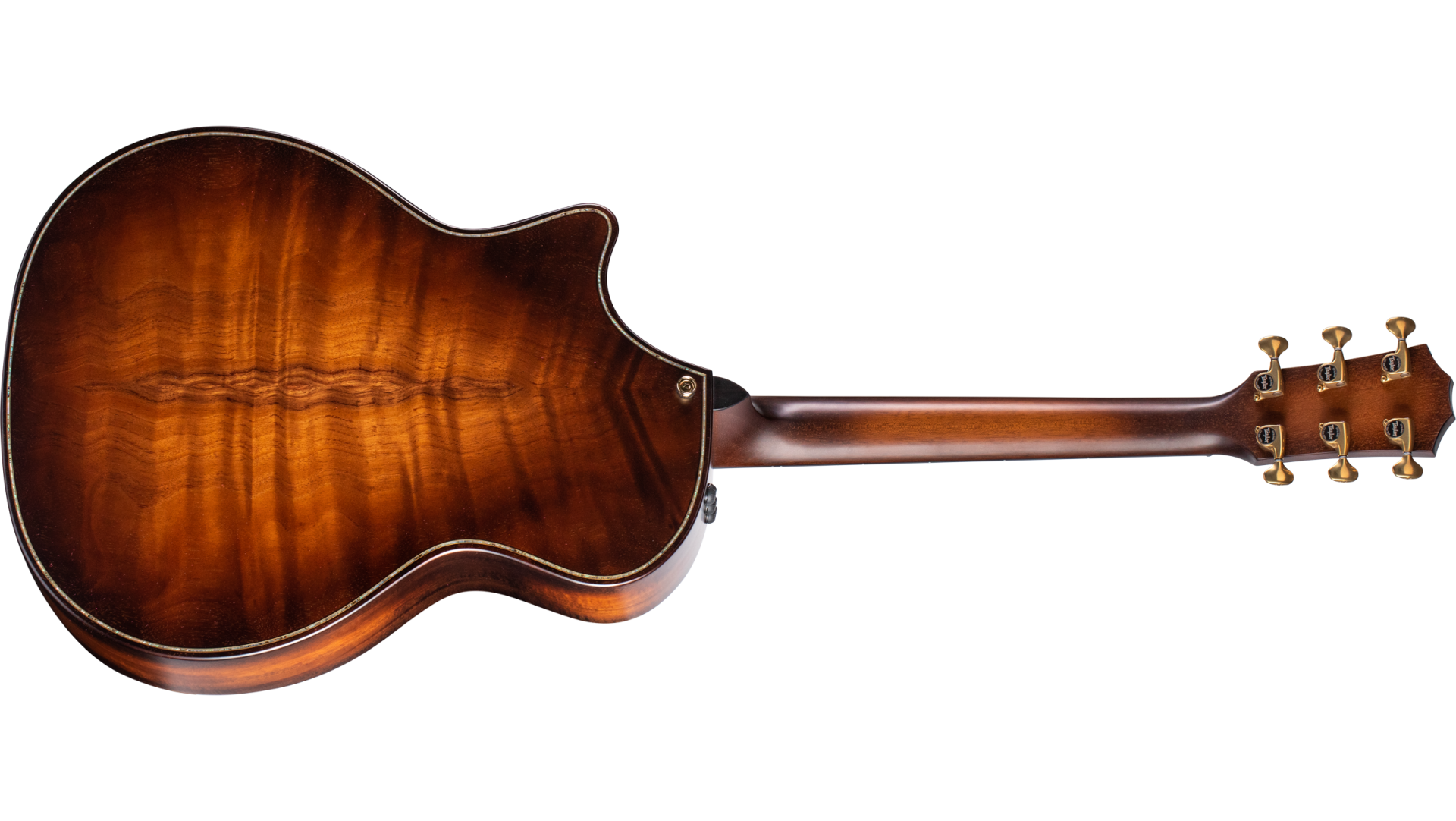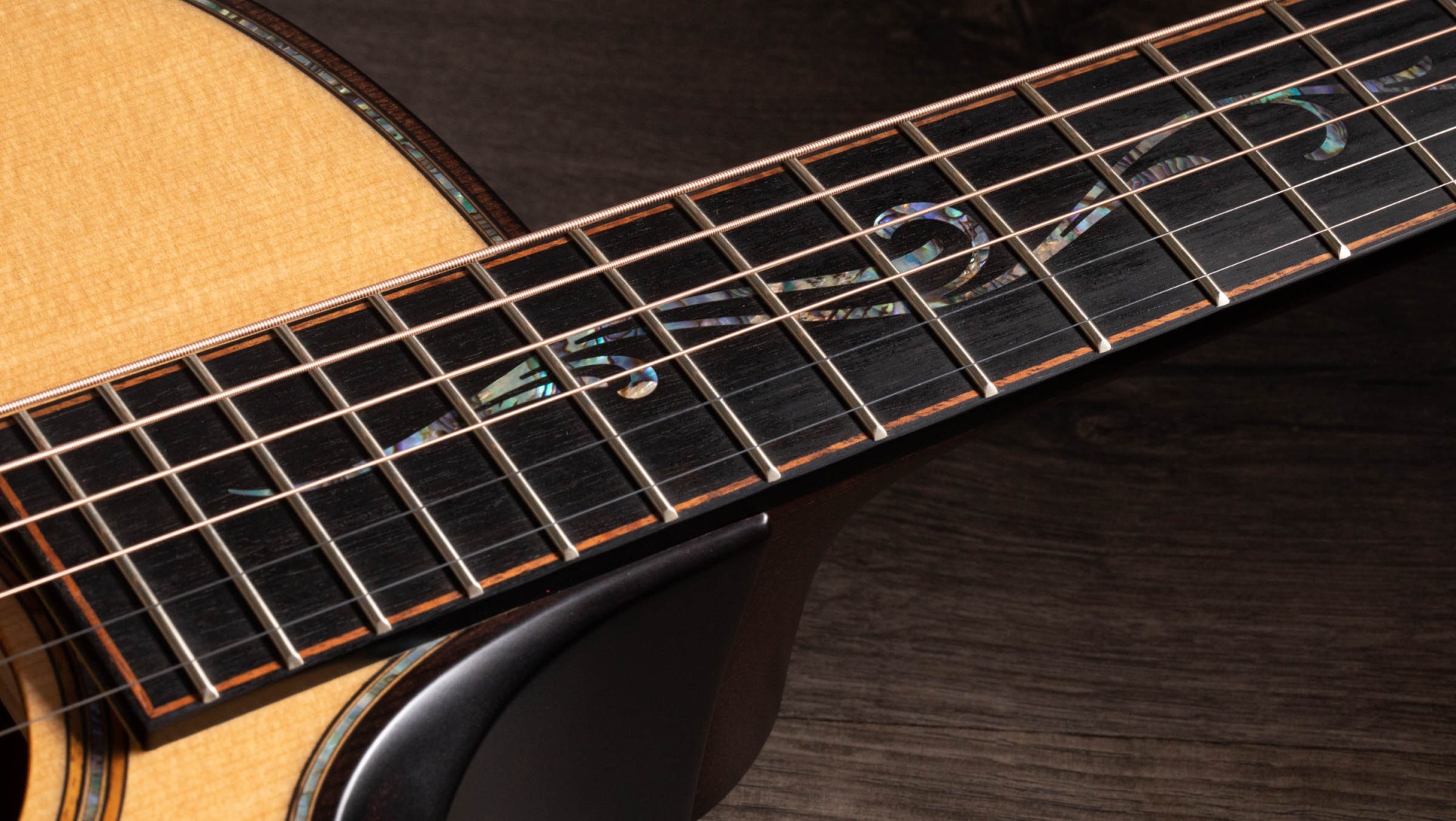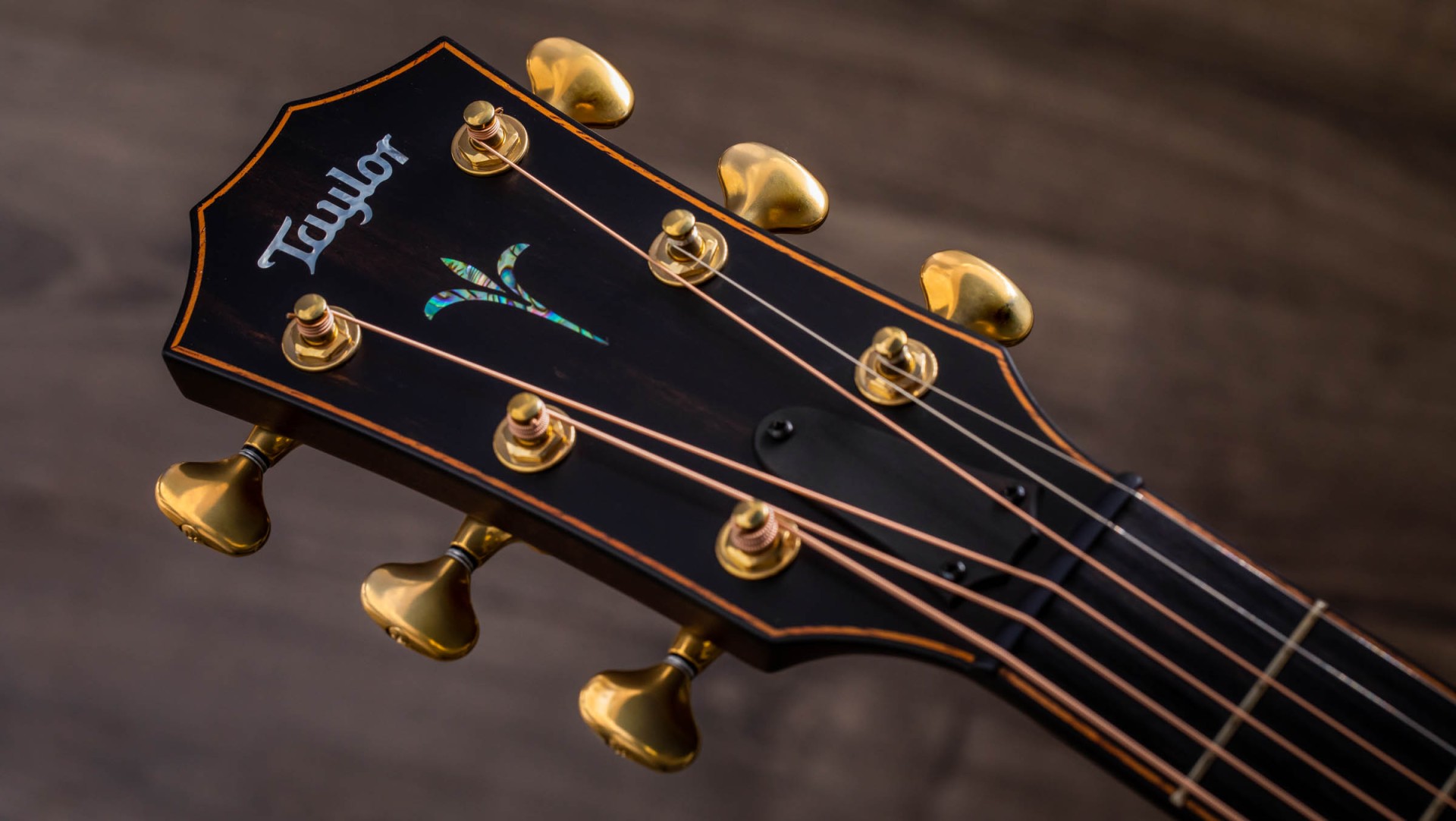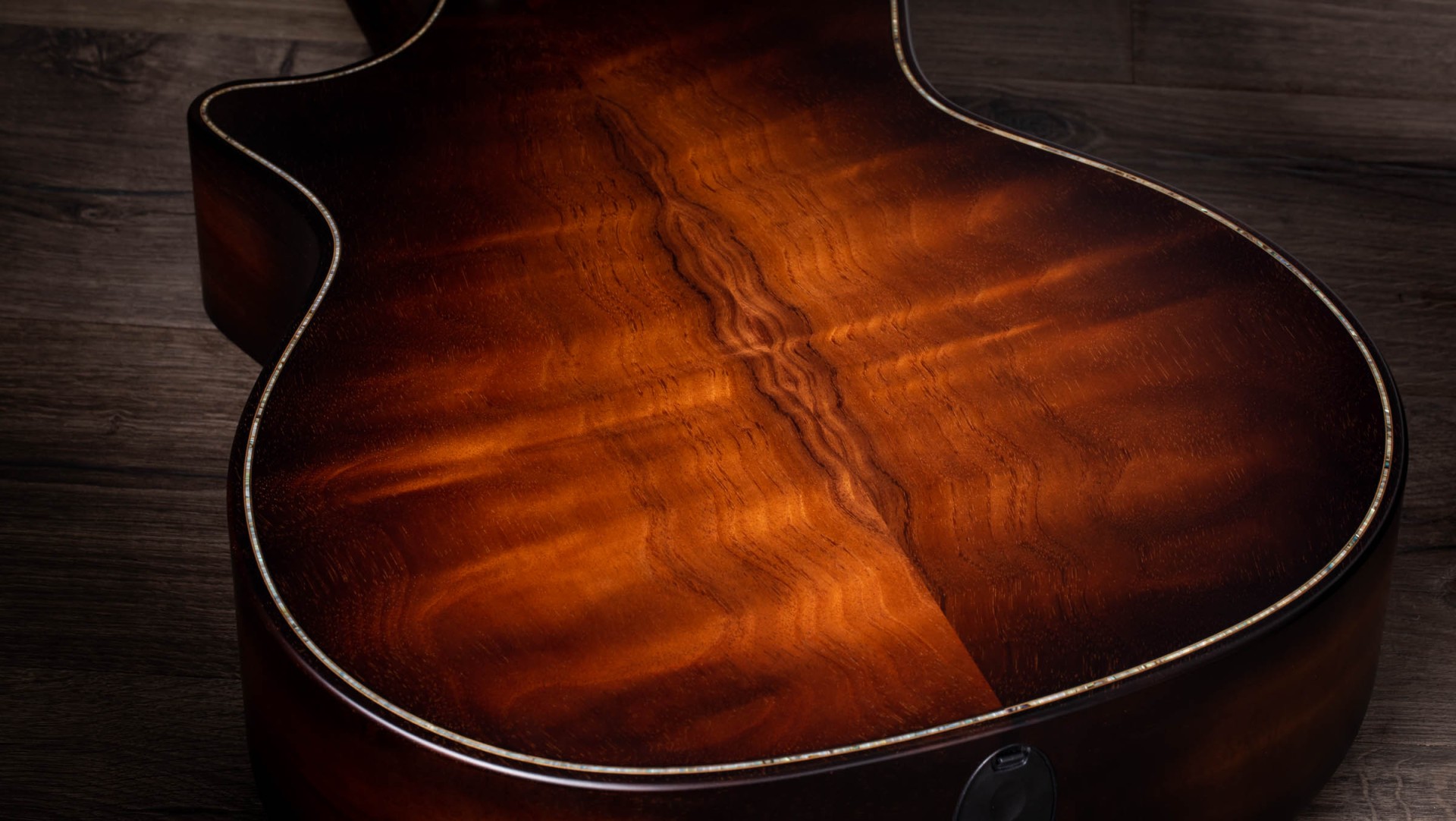 ---
414ce
Back/Sides: Indian Rosewood
Top: Sitka Spruce

Dylan Van Vleet: "If you're looking for a guitar that shines in any application, check out the 414ce. It features the timeless tonewood pairing of Sitka spruce with rosewood back and sides. I consider this guitar a jack-of-all-trades instrument — great for strumming, fingerstyle, anything you can throw at it!"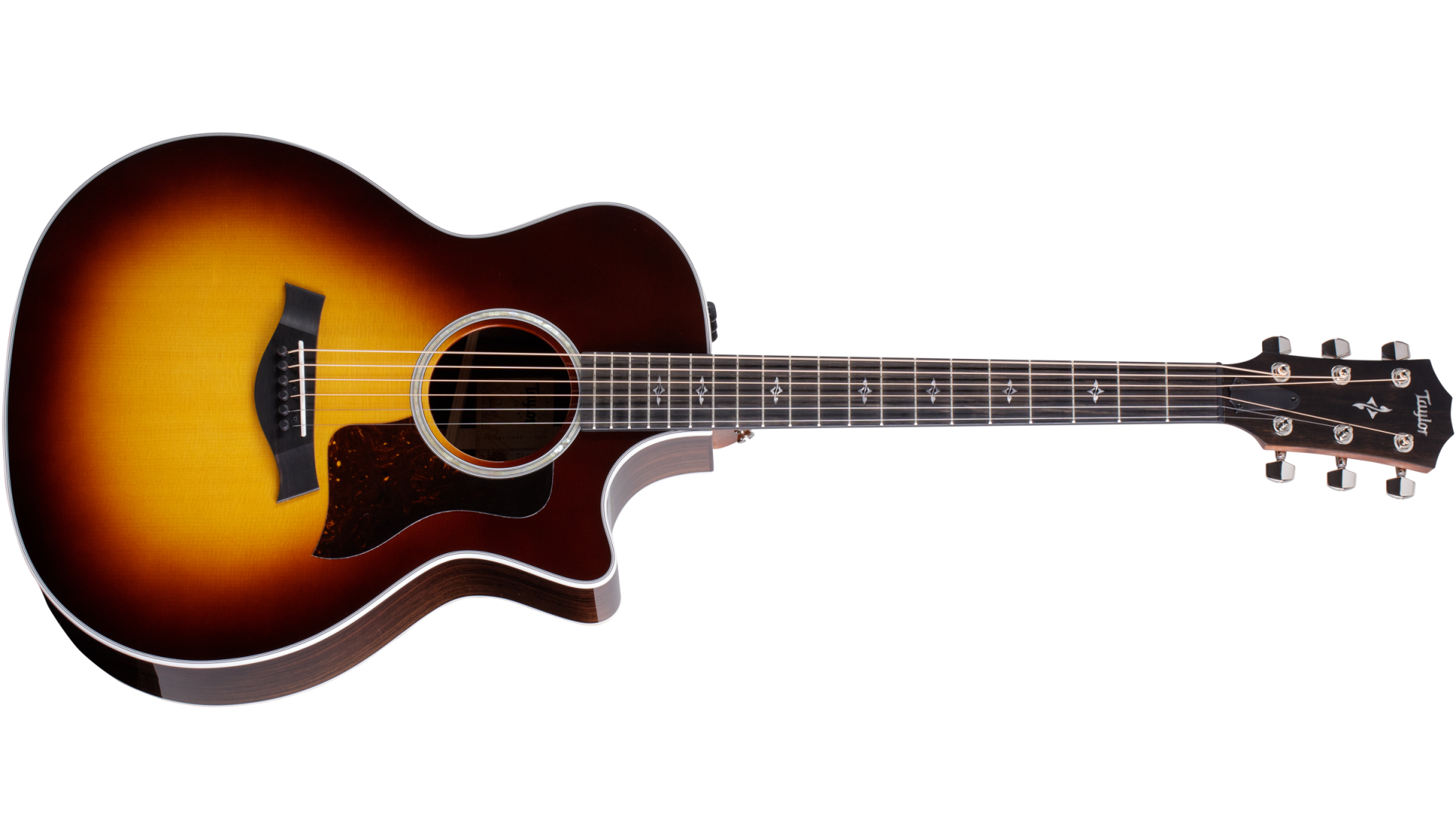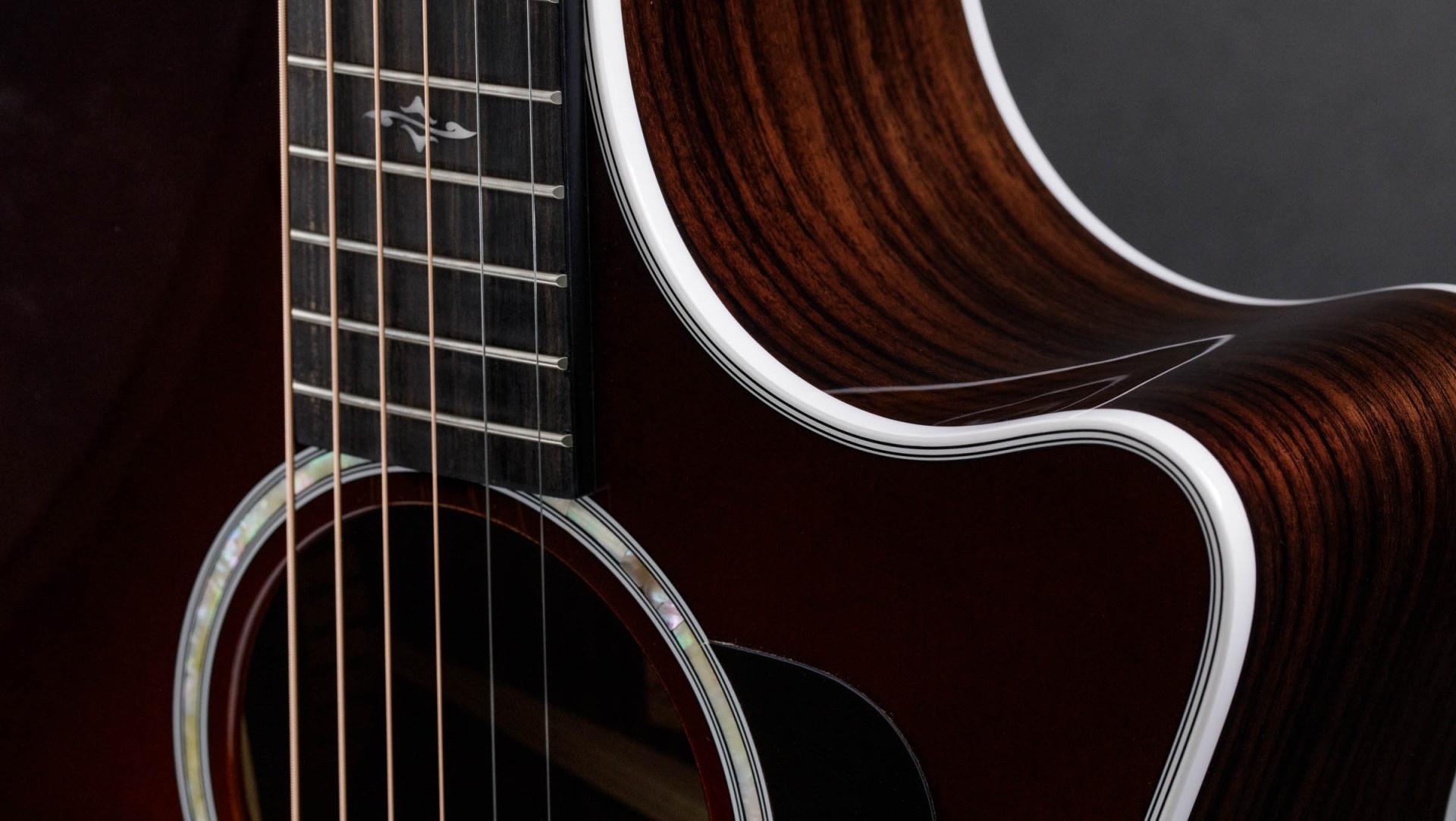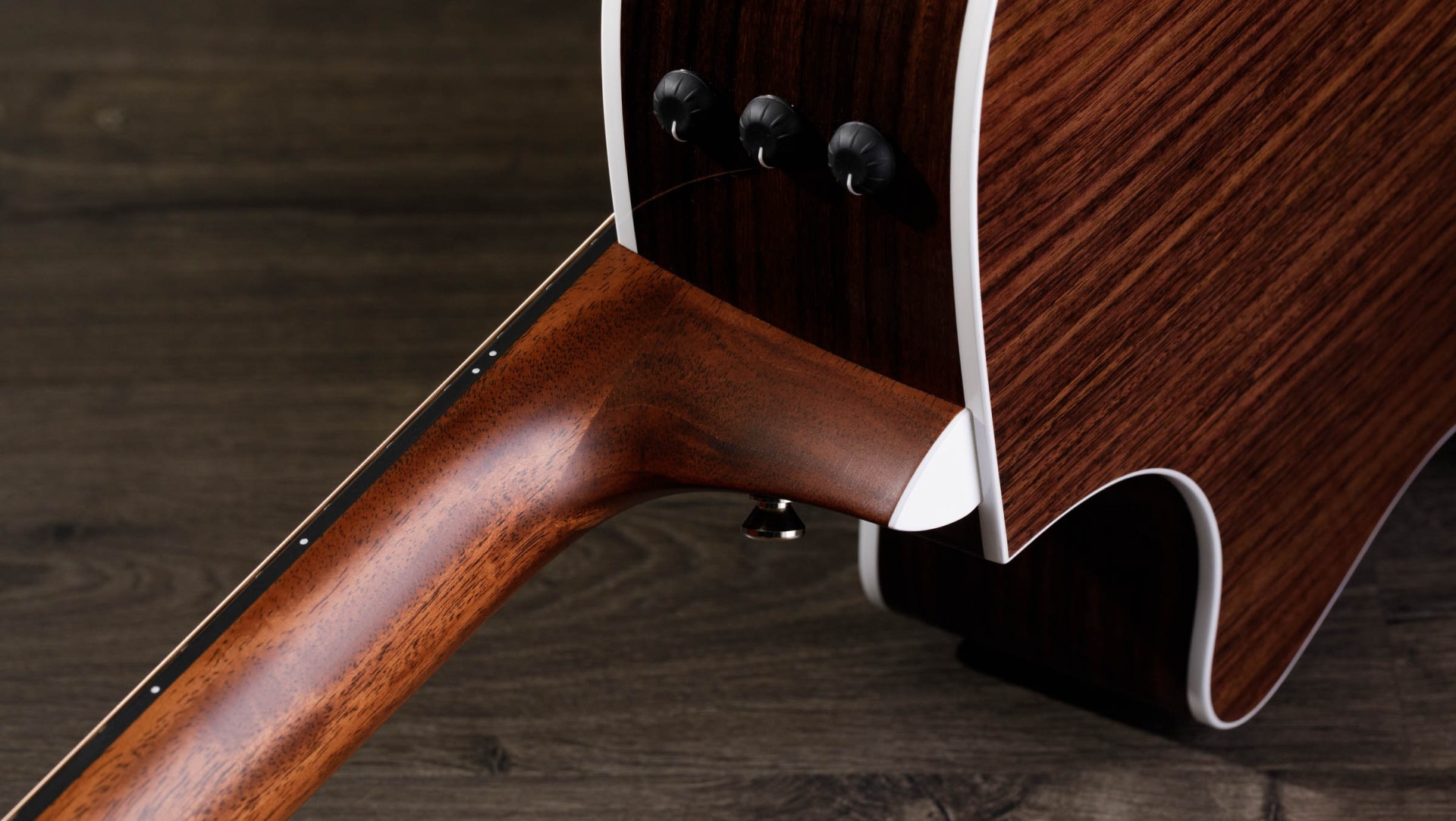 ---
612ce 12-Fret
Back/Sides: Figured Big Leaf Maple
Top: Torrefied Sitka Spruce

Mark Vargas, Direct-to-Consumer Sales Manager: "In our Visitor Center, I find myself playing the 612ce 12-Fret more than any other guitar at the moment. While smaller guitars generally sound "smaller" than their larger-bodied siblings, the 612ce 12-Fret minimizes this gap. It sounds fuller and produces more volume than other Grand Concerts to my ears. And the 12-fret neck brings my fretting hand a little closer to my body, giving me more hand strength and dexterity."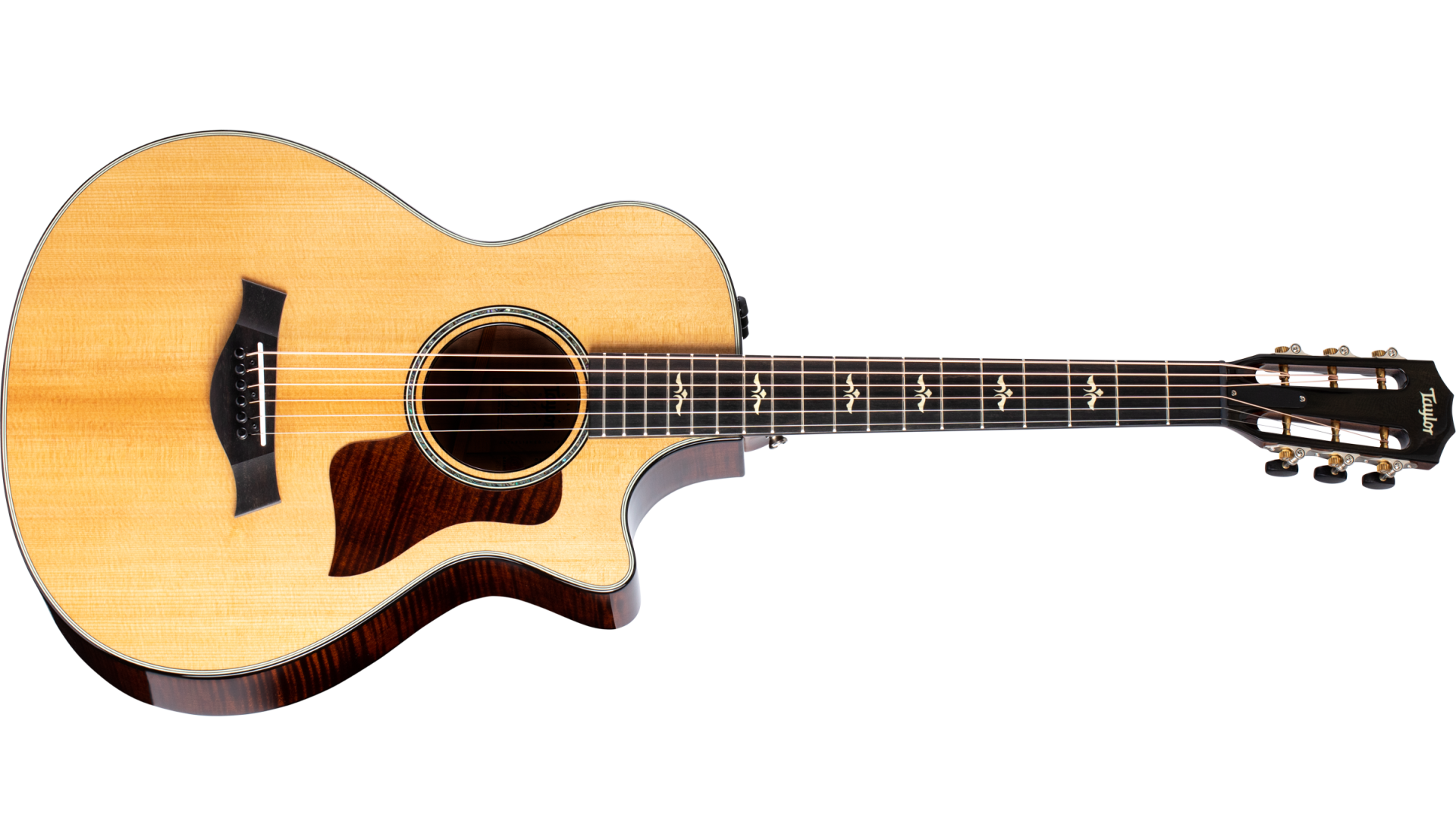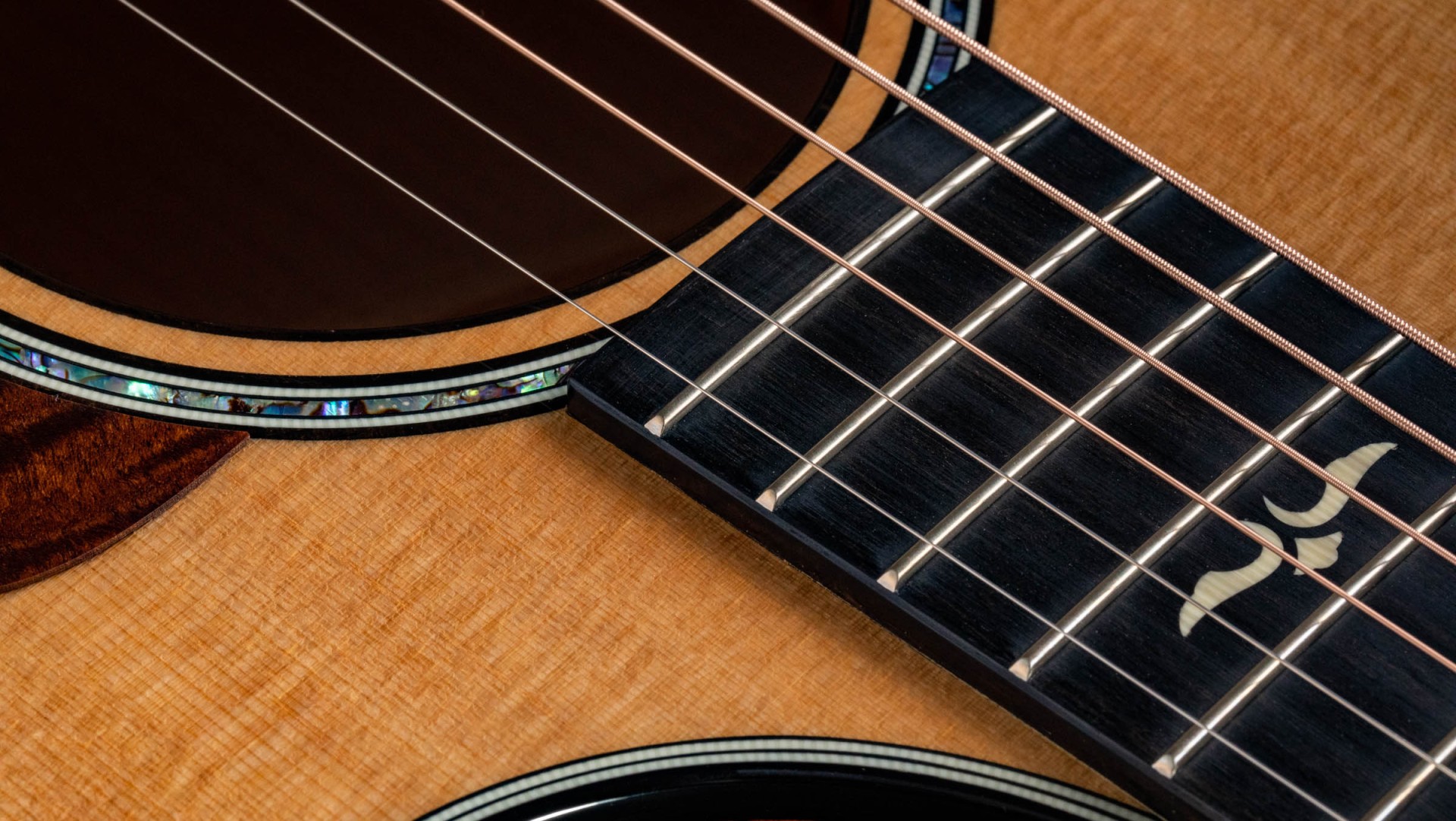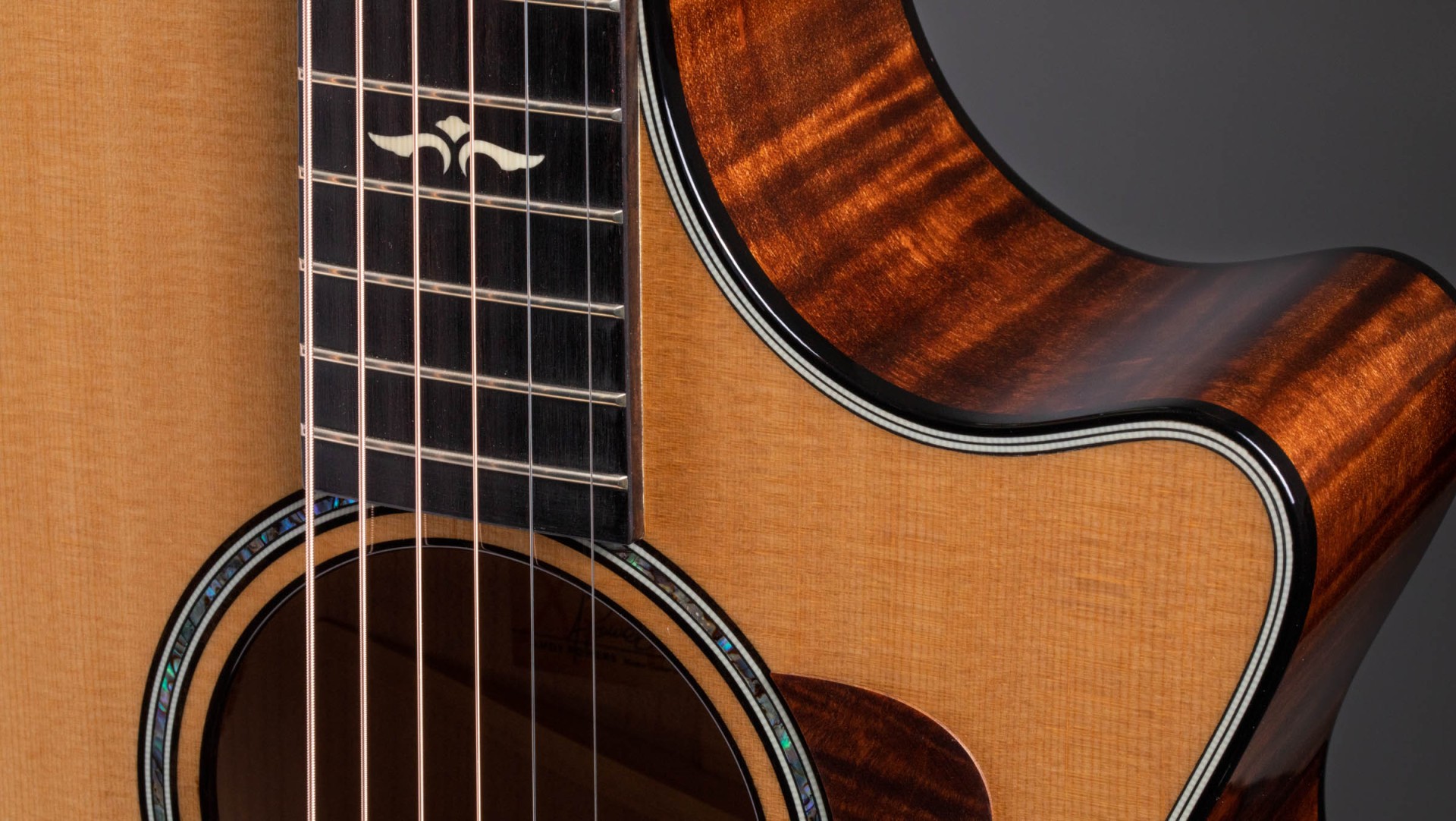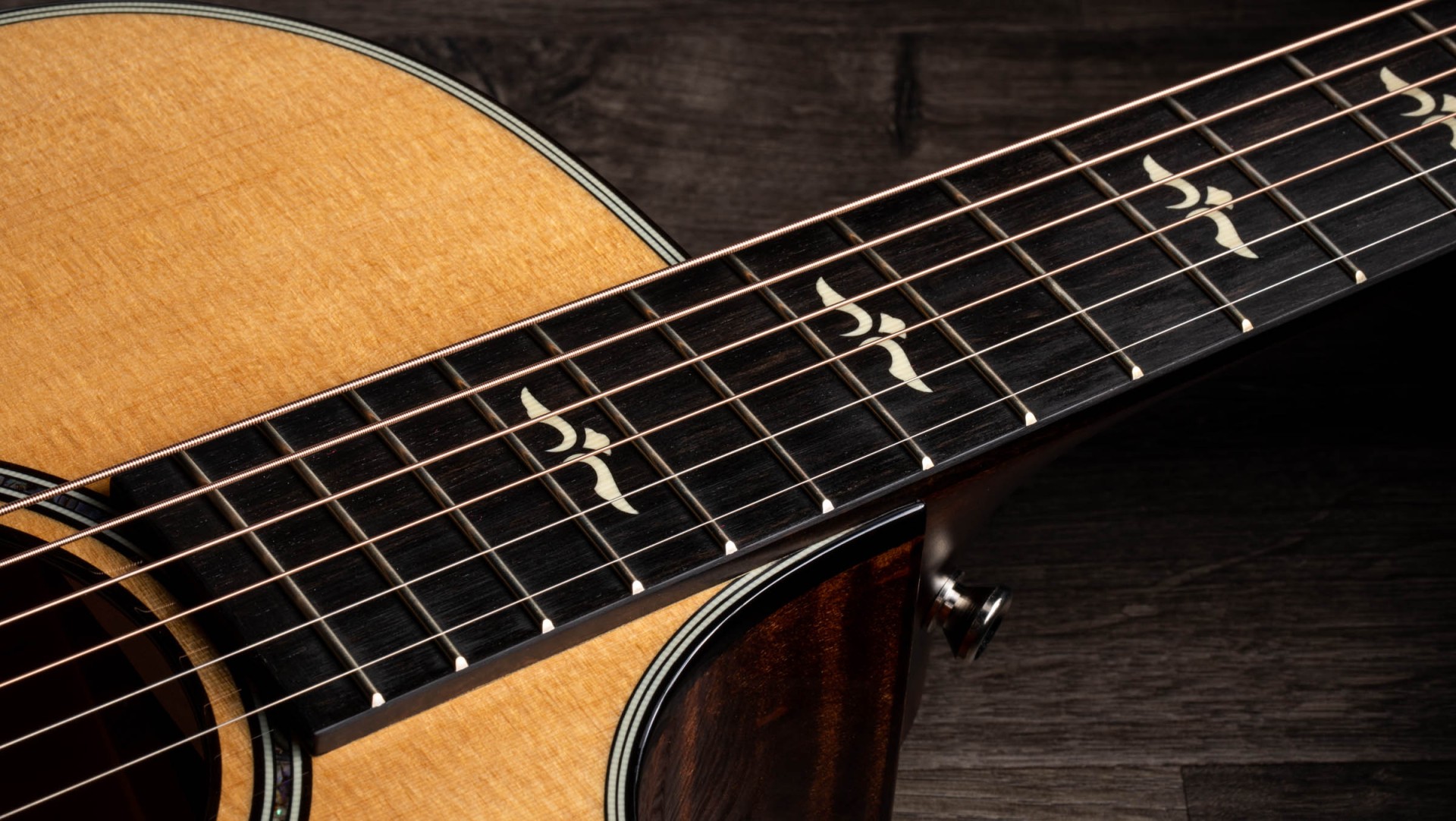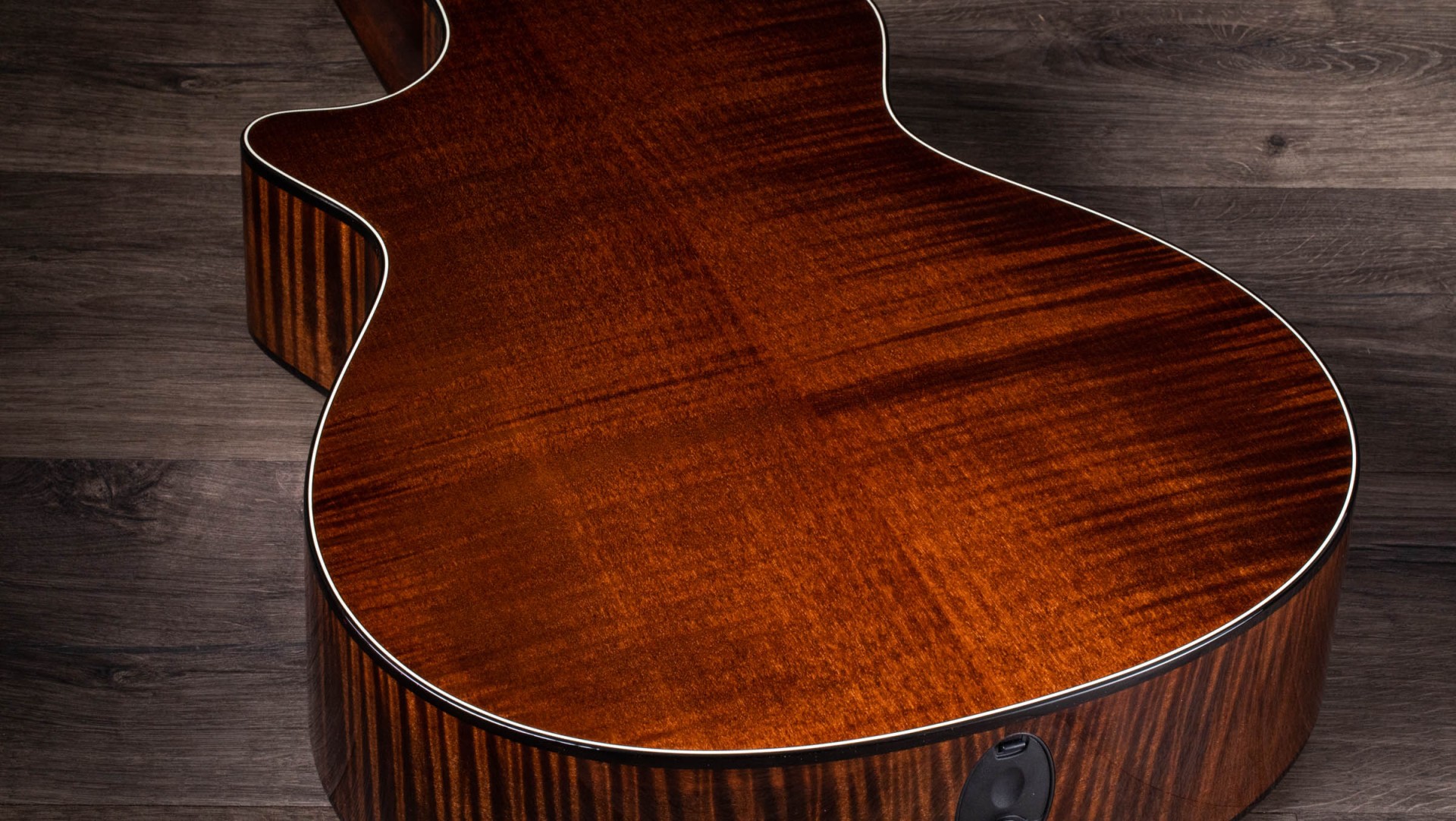 ---
114ce
Back/Sides: Layered Walnut
Top: Sitka Spruce

Mark Vargas: "I'm always awestruck by how much volume and bass this guitar produces. This is a cannon. If acoustic power is called for, this is a great solution — and at an affordable price."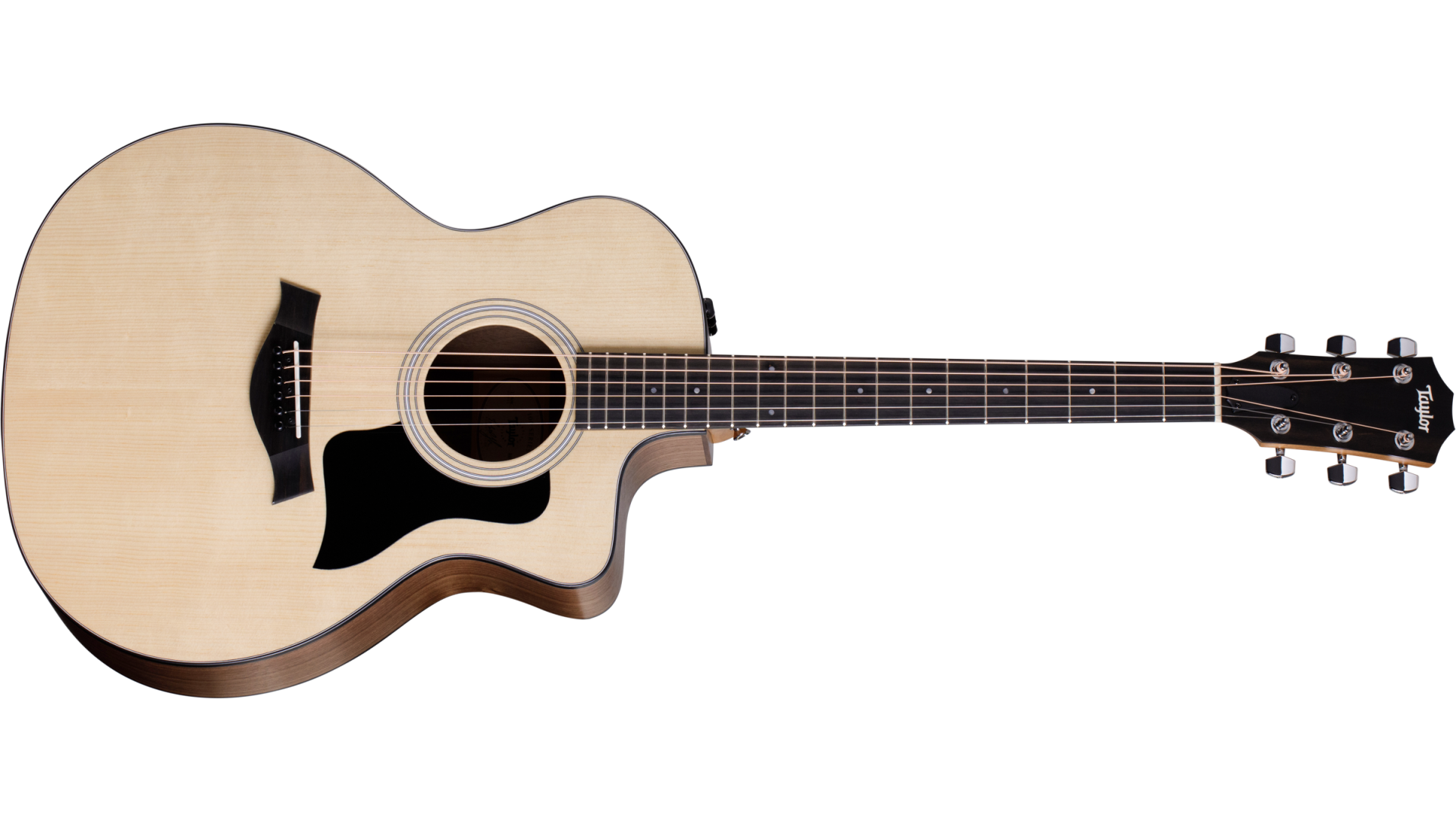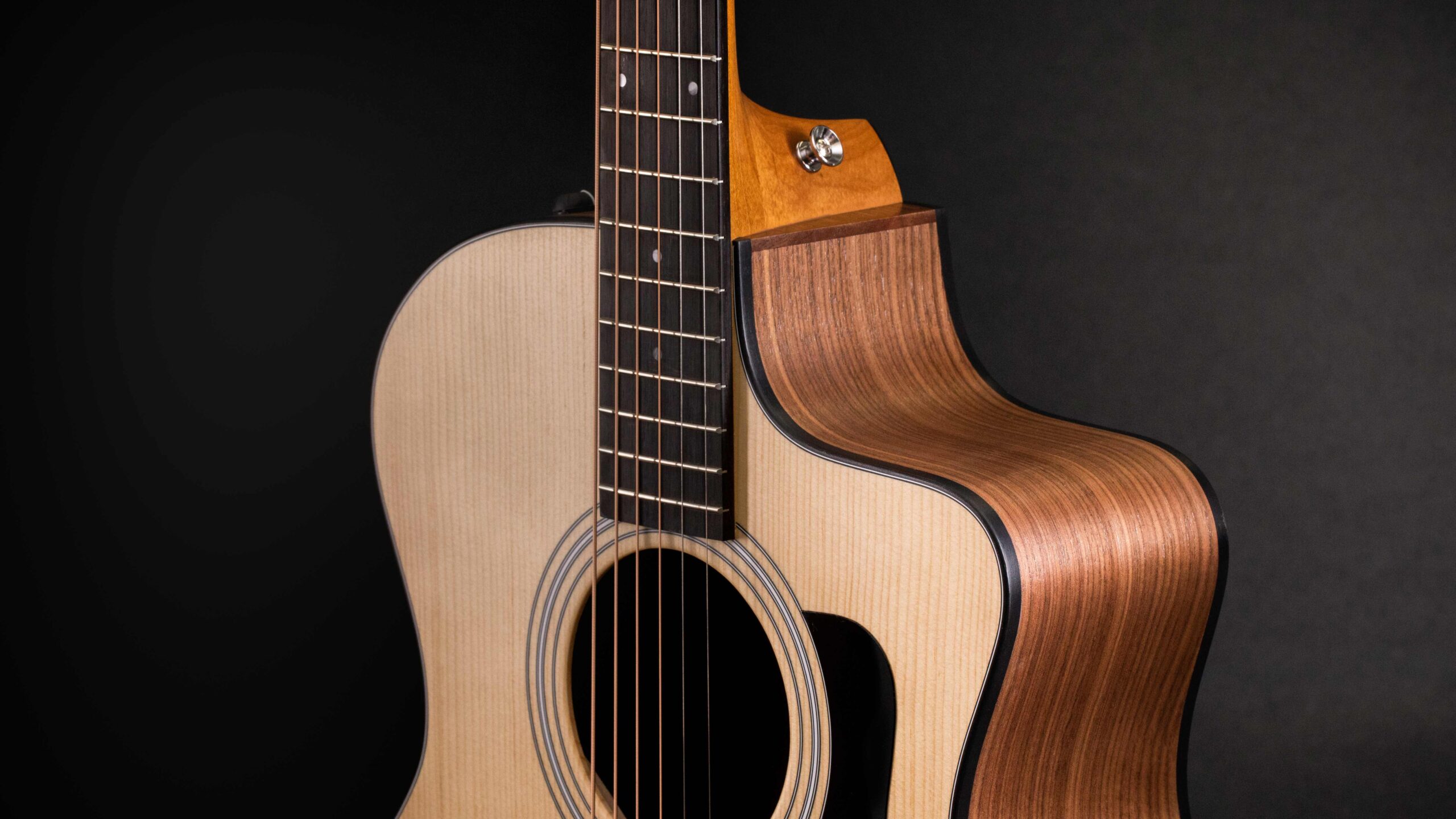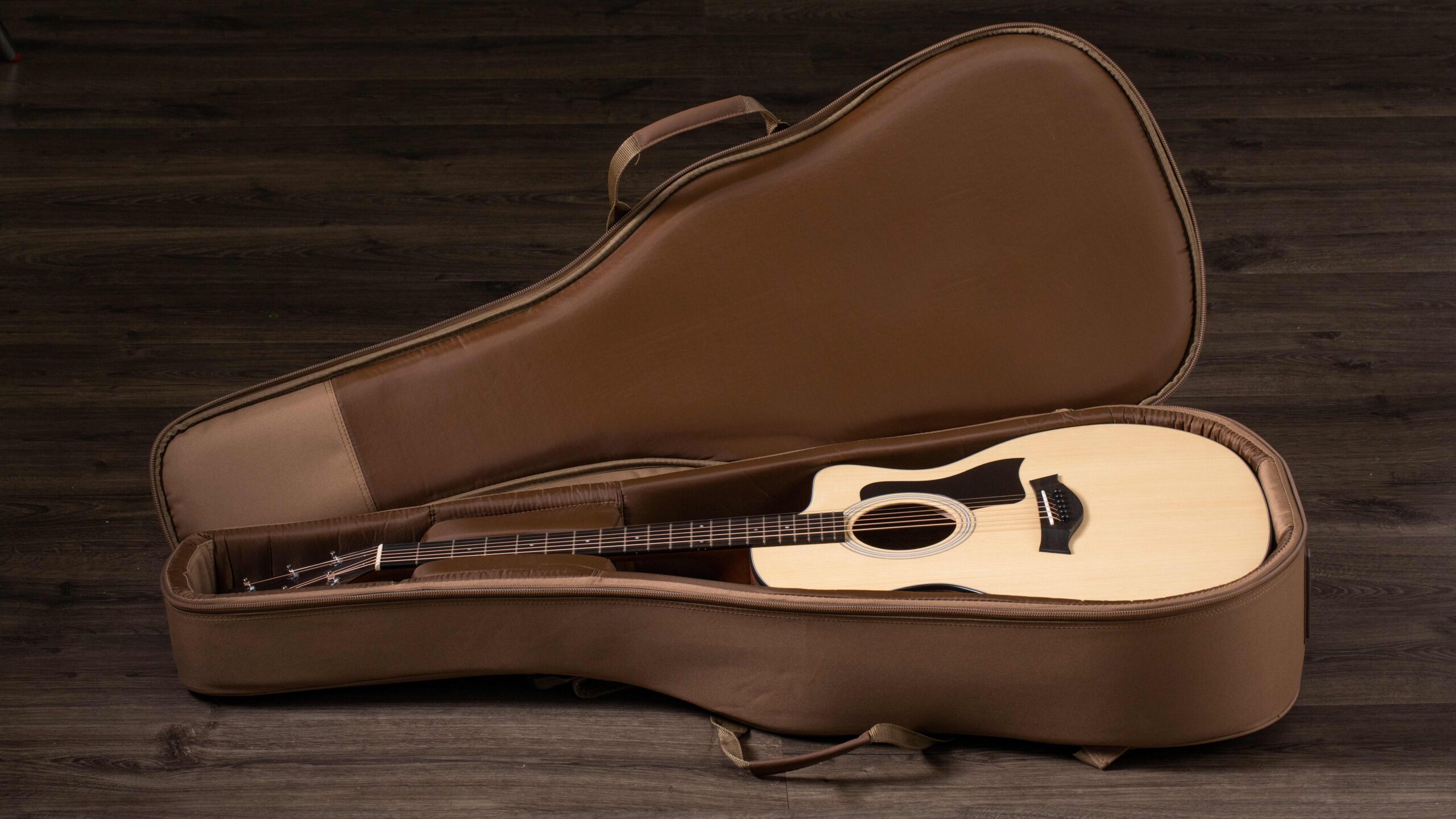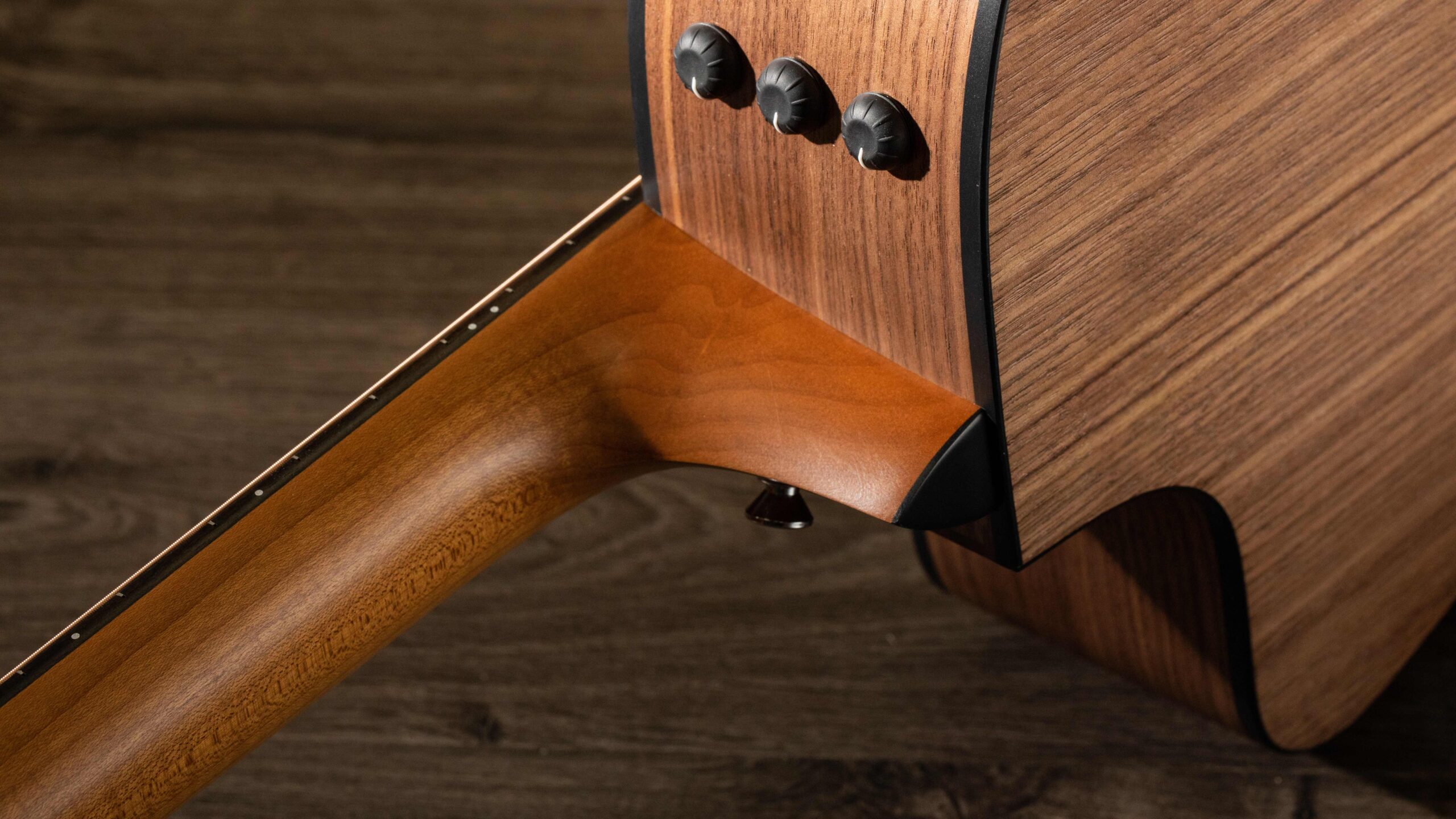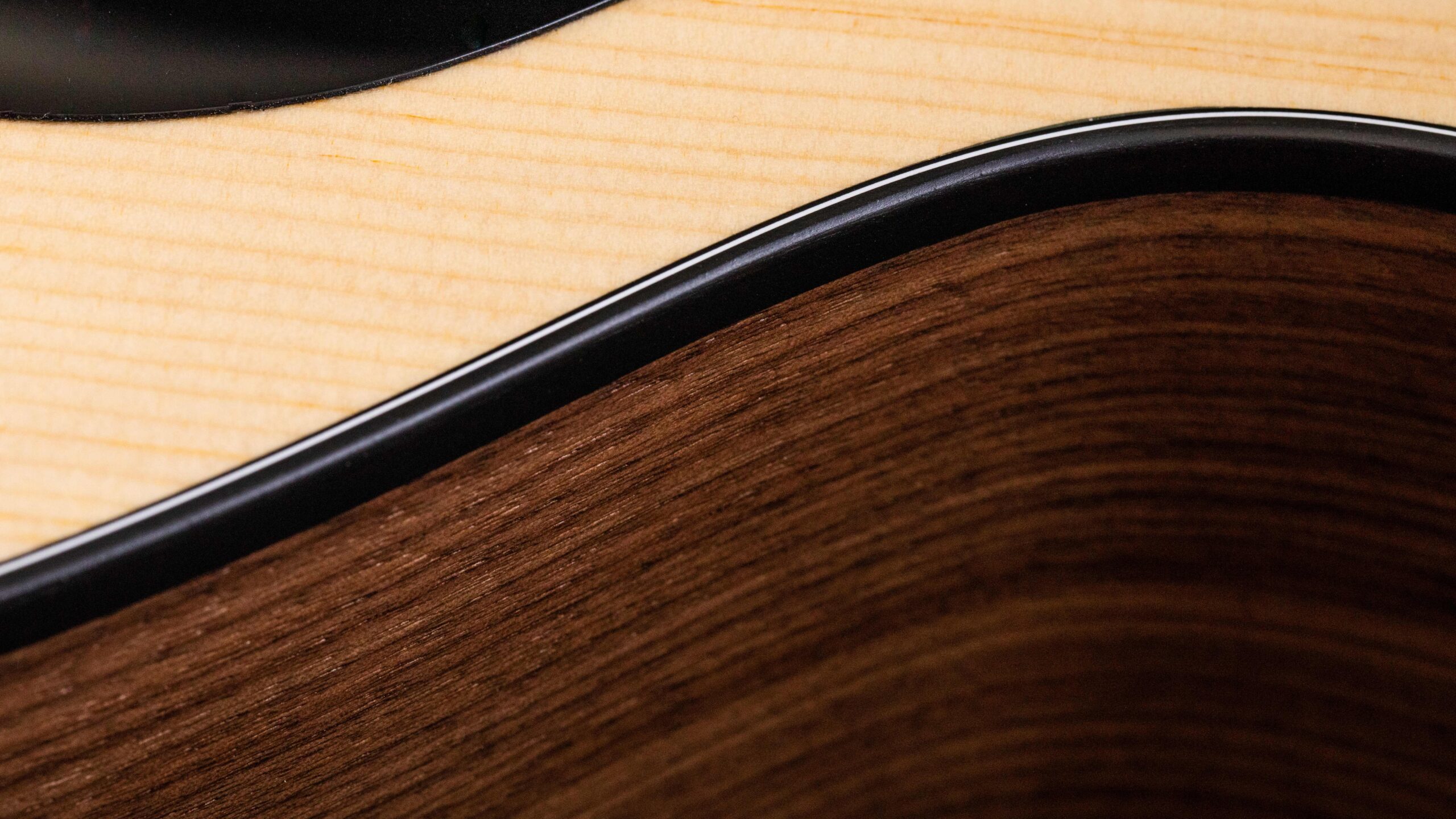 ---
914ce
Back/Sides: Indian Rosewood
Top: Sitka Spruce

Dave Pelletier: "I recently spent time with our 914ce and had a chance to truly appreciate the depth of this guitar's design and our team's craftsmanship. It's such a thoughtful, artful blend of wood and shell adornments. It's stunning. The mitered corners of the body and neck purfling (made of Hawaiian koa) are precise, and the ebony radius armrest is perfectly sculpted into the body. And it has a bound soundhole. Some of the details may be subtle, but when you really look closely, they add up to a work of art that's a joy to play."
---
AD17e-SB
Back/Sides: Walnut
Top: Sitka Spruce

Rich Casciato, District Sales Manager: "I'll start by pointing out that one of my personal guitars is an AD17 with ovangkol back and sides and a natural spruce top. I love that guitar; it's the one I use alongside my custom Grand Auditorium (mahogany/cedar) on my acoustic gigs. Playing the new AD17e-SB has become another favorite. The guitar is simply amazing and has a very distinctive voice with the solid walnut back and sides — it has character and fullness that I wasn't expecting. I'm growing very fond of the Grand Pacific-size guitar – one that I normally would not have looked at, but the playing comfort and the extremely balanced tone (it sounds studio EQ'd!) make them really great instruments to play and perform with."
---
618e
Back/Sides: Figured Big Leaf Maple
Top: Sitka Spruce

Mike Tobin: "It's big, there's no getting around that. It's not always comfortable to play a big guitar like this for very long when you're sitting down. But this guitar sounds big and full across the frequency spectrum. That deep bass is there, and it's well defined. It gives you back whatever you put into it, which is surprising for a guitar this big. It's also one of the coolest-looking guitars in our catalog. I didn't think I'd latch onto this one, but I keep going back to it."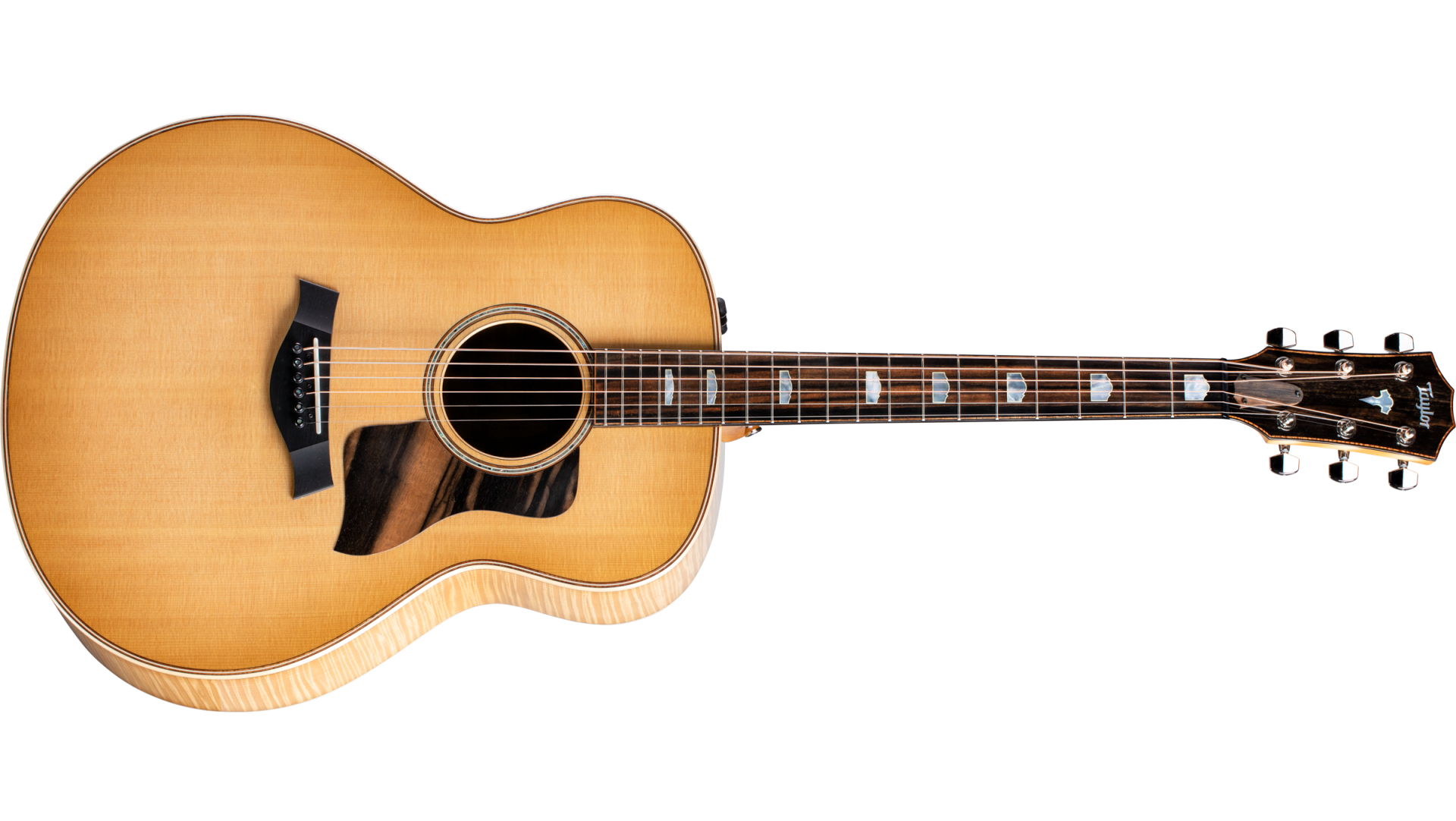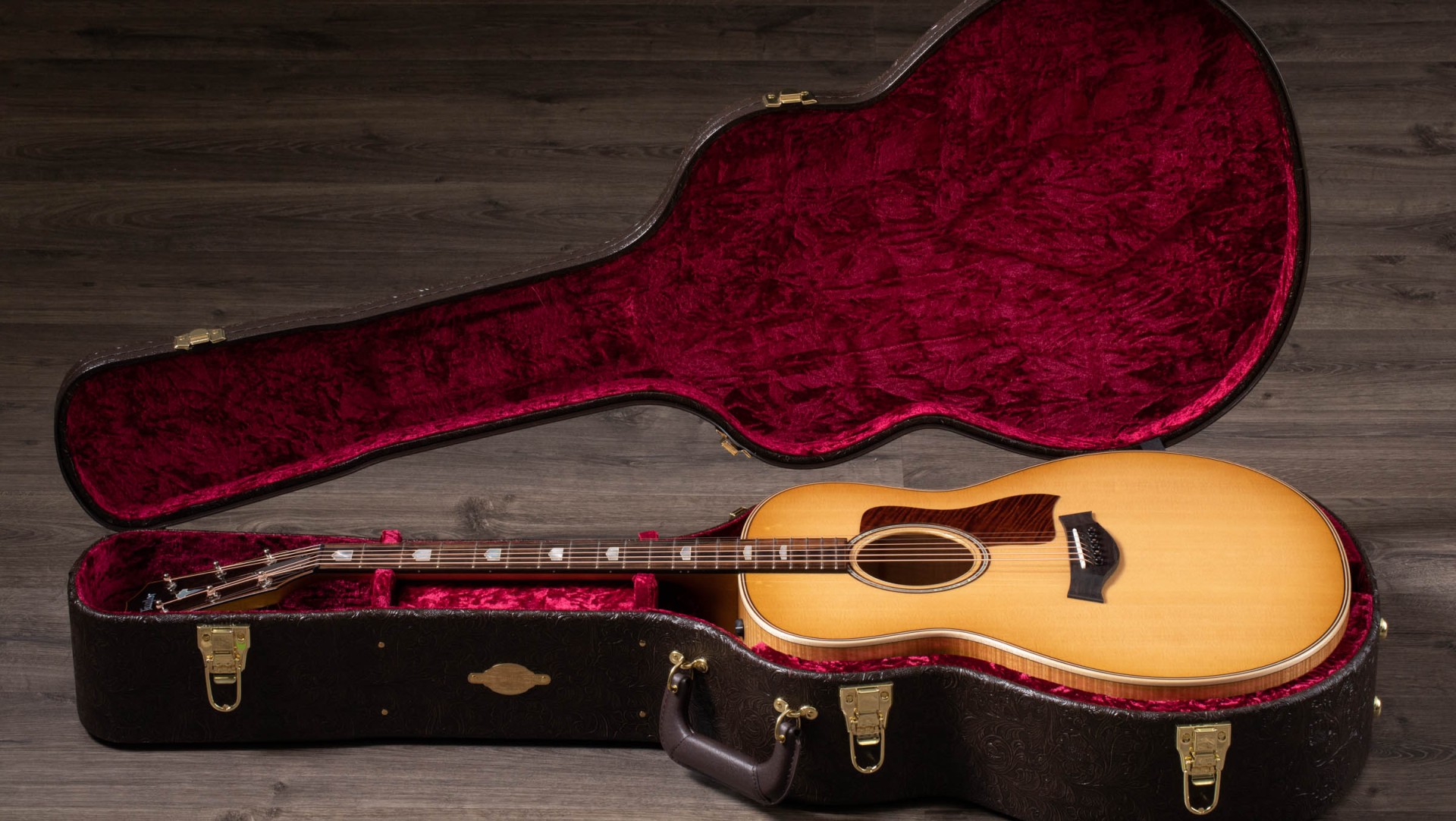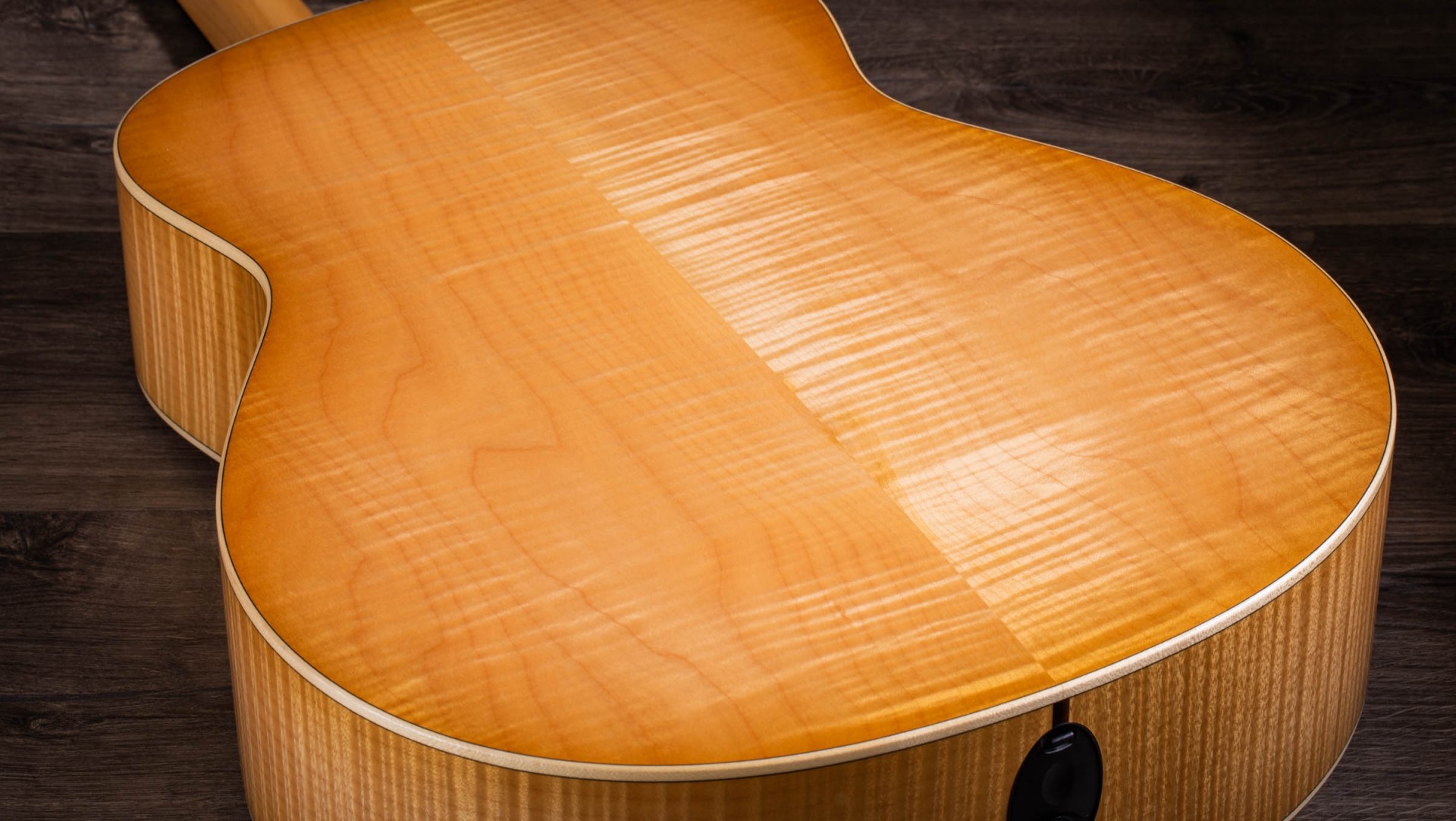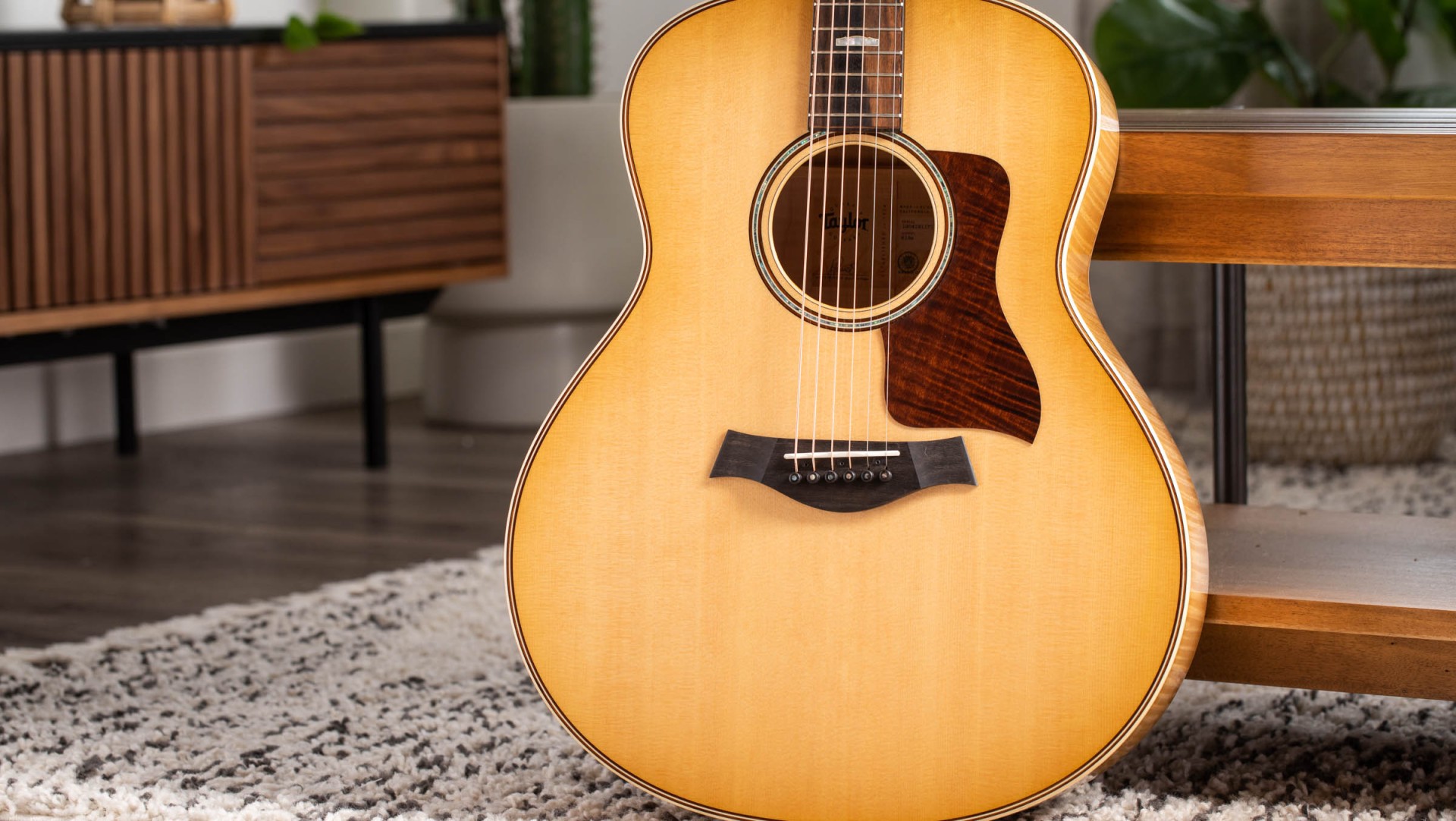 ---
222ce-K DLX
Back/Sides: Layered Hawaiian Koa
Top: Hawaiian Koa

212ce
Back/Sides: Layered Indian Rosewood
Top: Sitka Spruce
Rich Casciato: "I am continually blown away by the quality coming out of our Tecate (Mexico) factory, and the new Grand Concert 222ce-K DLX and 212ce are two recent examples of a great execution and extension of the 200 Series. Both guitars sound and play remarkably well — very inspiring instruments!"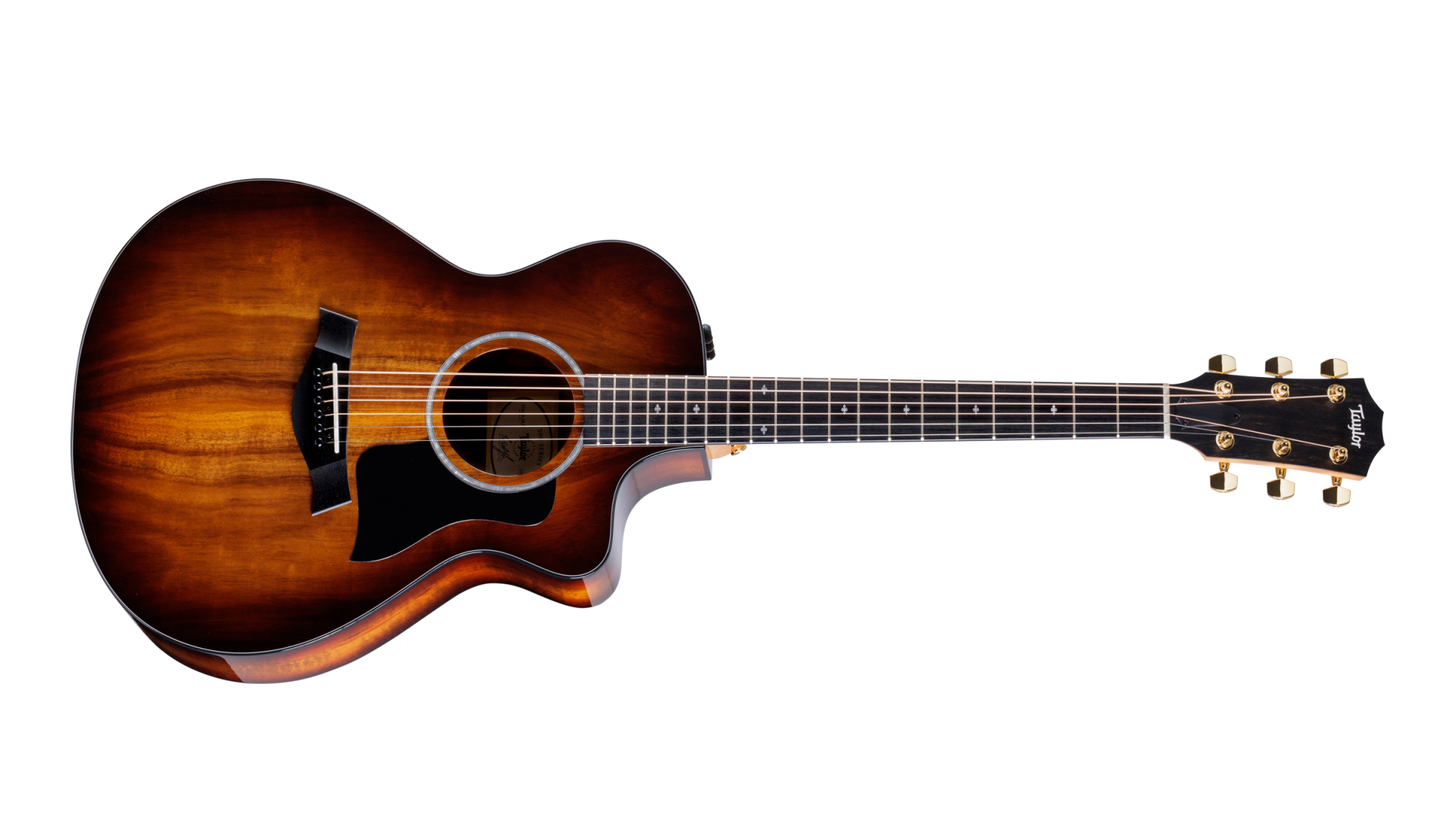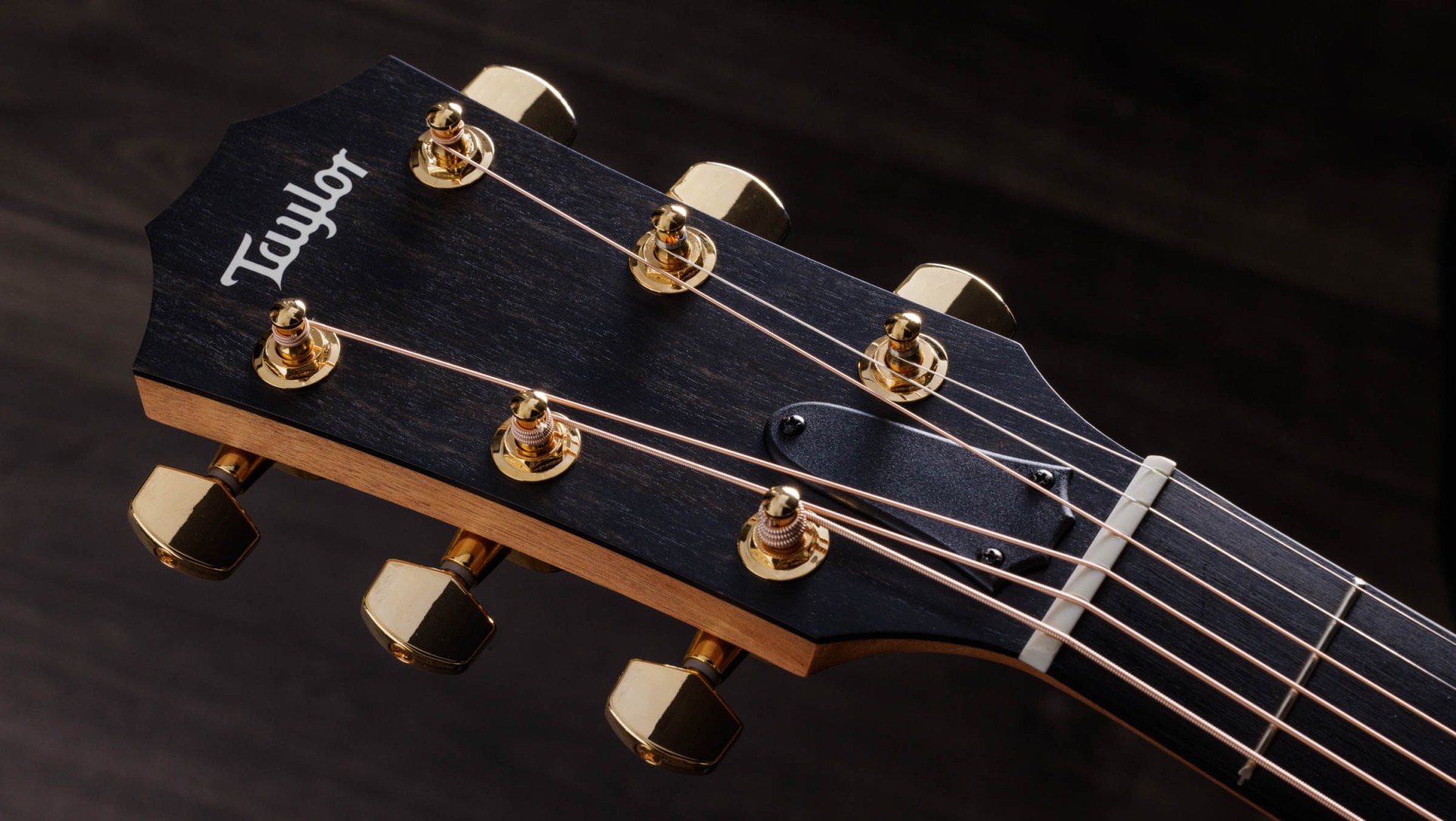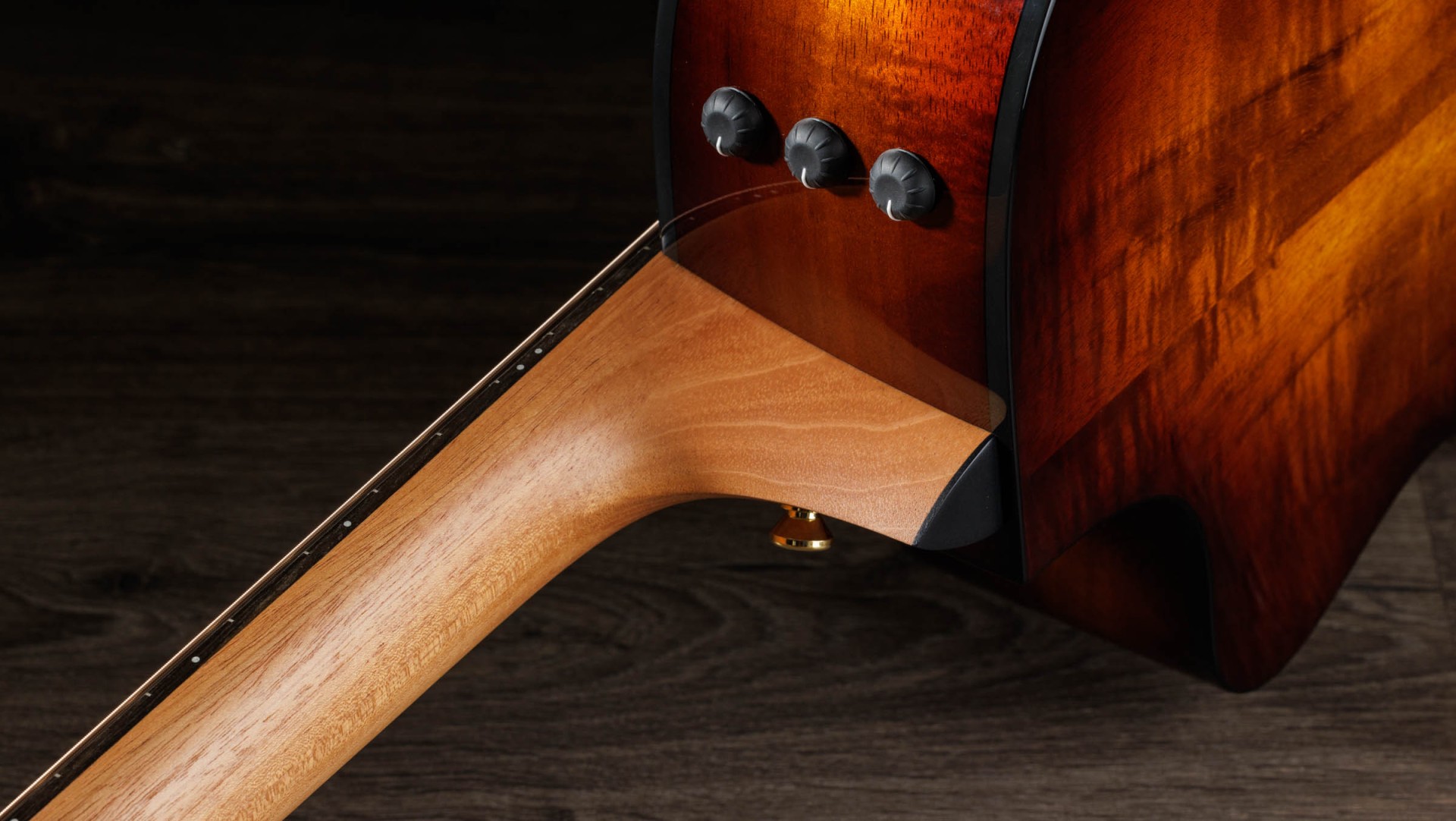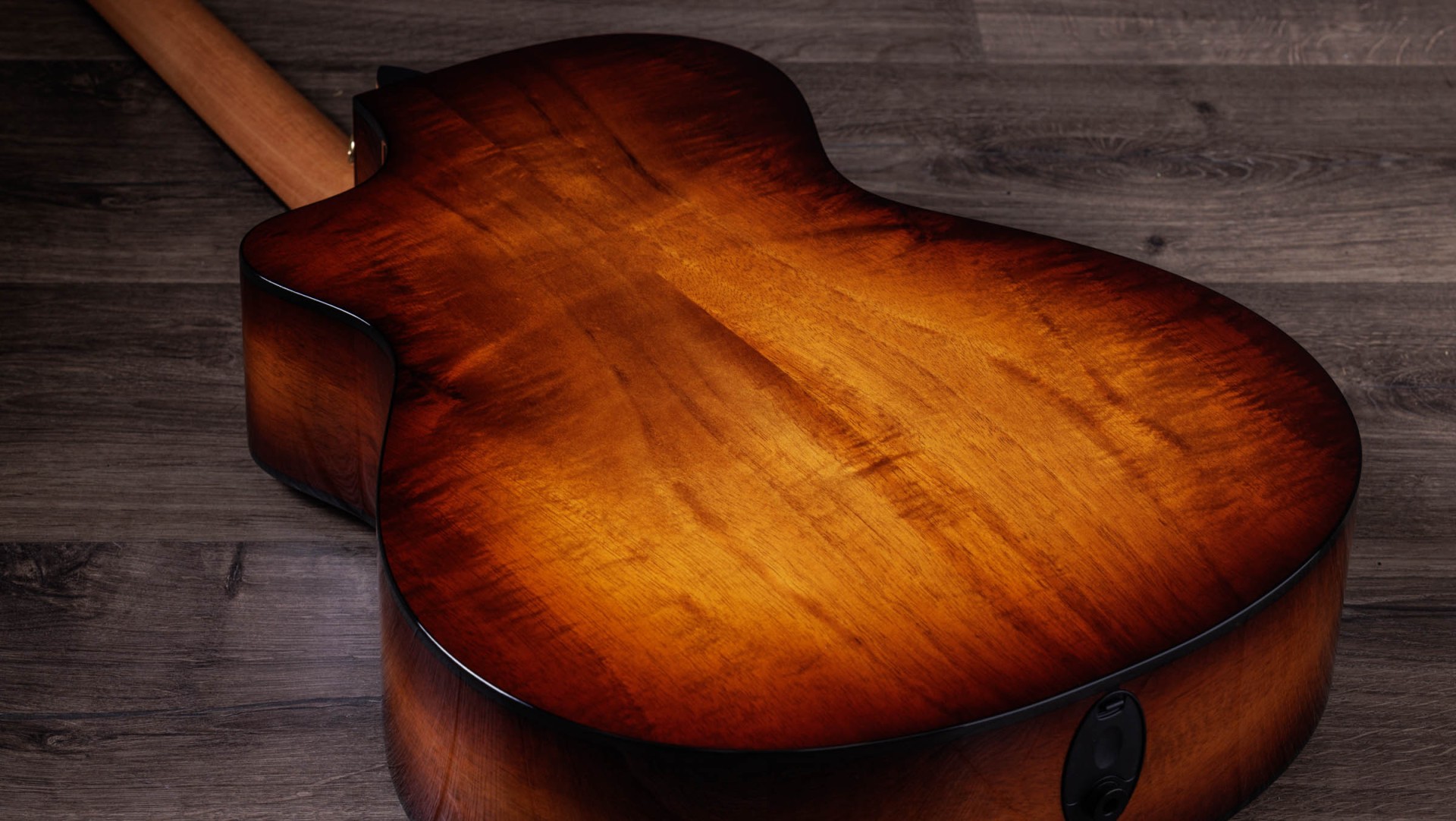 ---
417e
Back/Sides: Indian Rosewood
Top: Sitka Spruce

Ryan McMullen: "I am a huge fan of the voice, projection and feel of the 417e. The Grand Pacific body size mixed with the rosewood and spruce tonewood pairing provides a lot of volume and projection. The shape also creates a uniquely vintage voice that blends notes together and is different from your father's Taylor guitar."
Lindsay Love-Bivens, Artist & Community Relations Manager: "The Grand Pacific is one of my favorite shapes. The shape brought a new sound to Taylor, and with each new model within that shape, it keeps evolving. This rosewood/spruce edition has an even rounder, deeper sound, and with the burst and gloss finish, it's just beautiful."
---
Builder's Edition 652ce WHB
Back/Sides: Figured Big Leaf Maple
Top: Torrefied Sitka Spruce

Rich Casciato: "This Builder's Edition 12-string continues to amaze me with its balanced tone and playability. I don't know how it's possible to get a 12-string to play so easily and sound so great, but bring it on! It's so comfortable and inspiring. Having the ability to play up and down the neck on a 12-string makes you want to try things you wouldn't normally want to try on a 12 string — and the outcome is extremely pleasing!"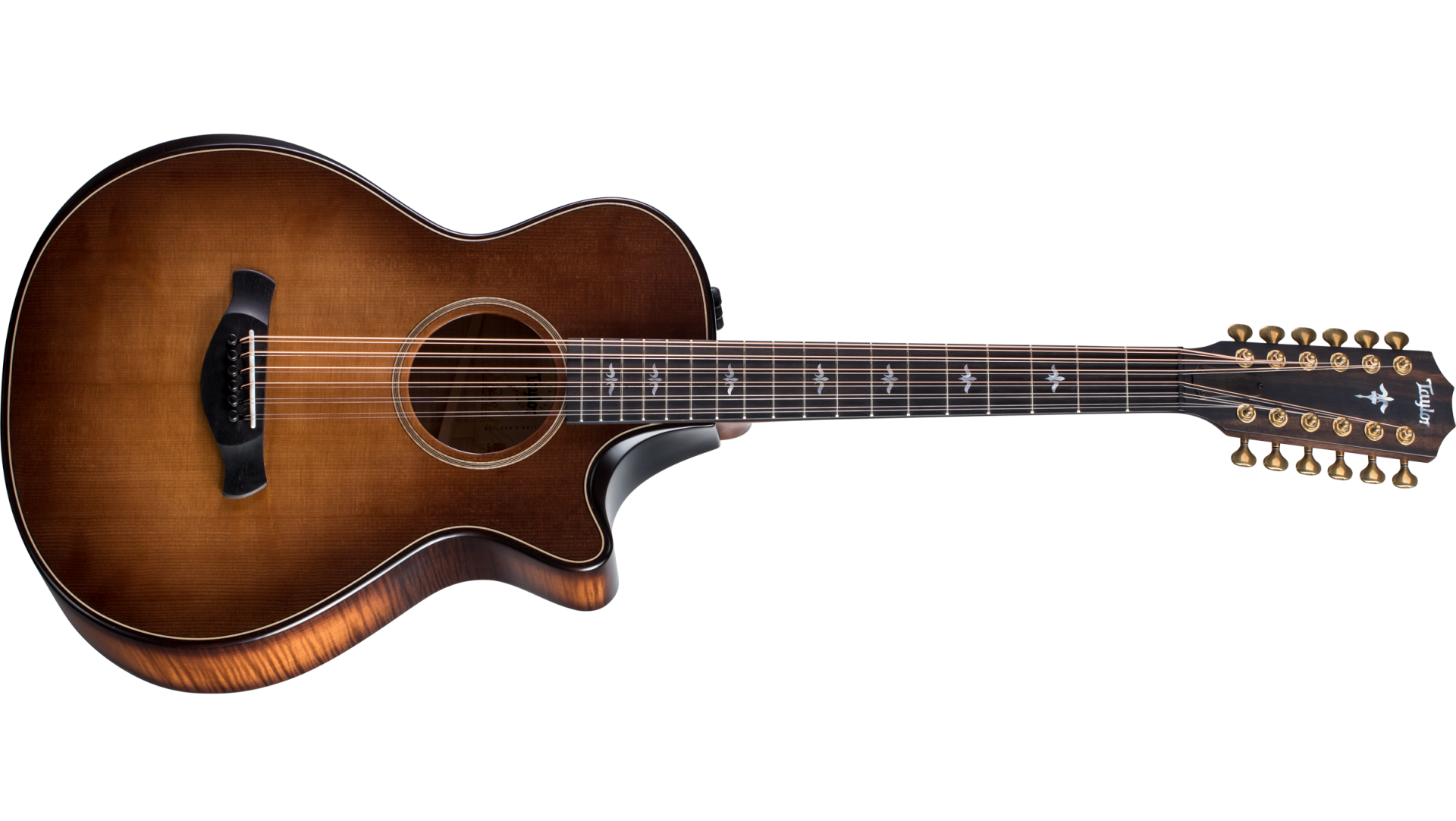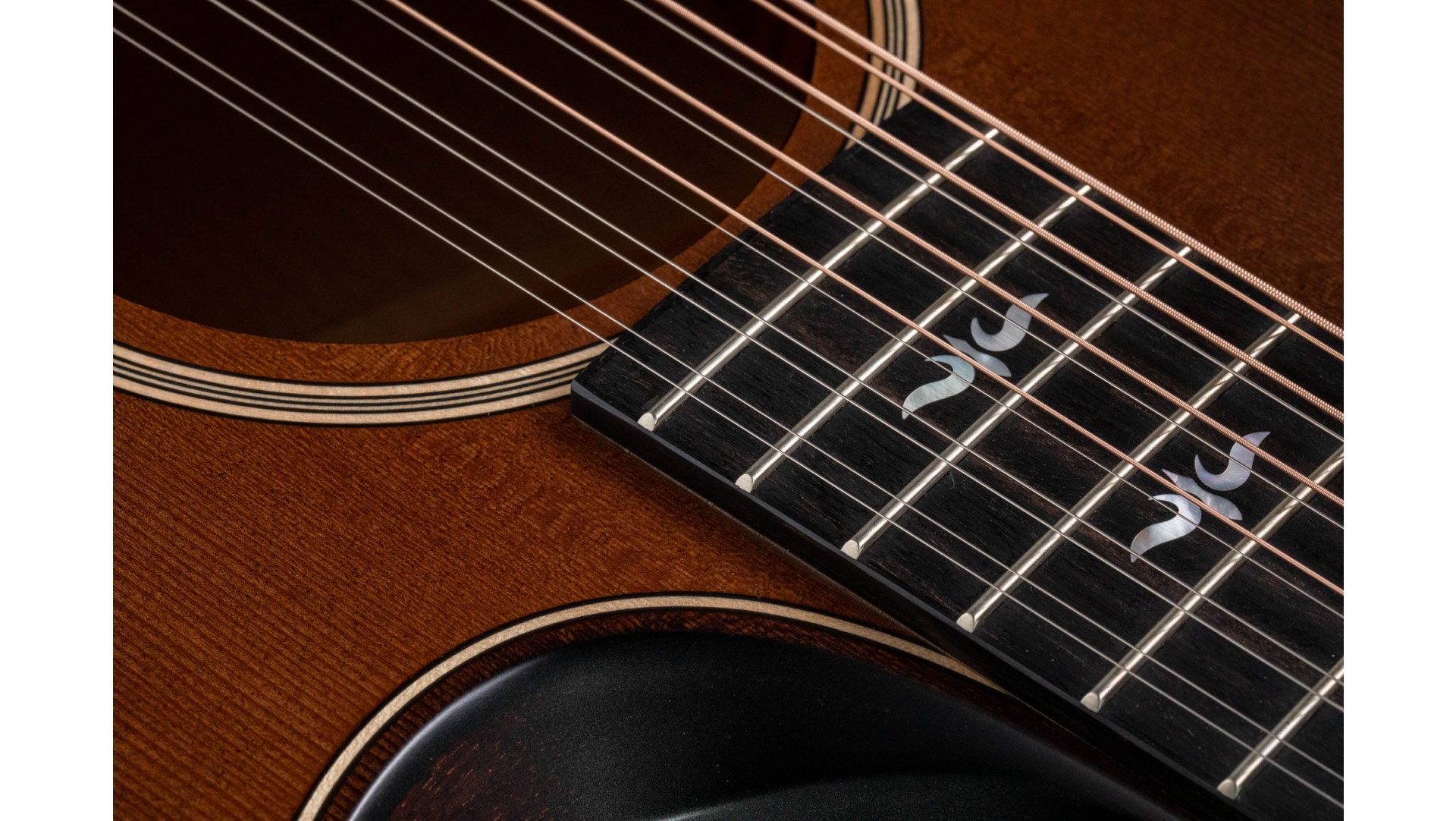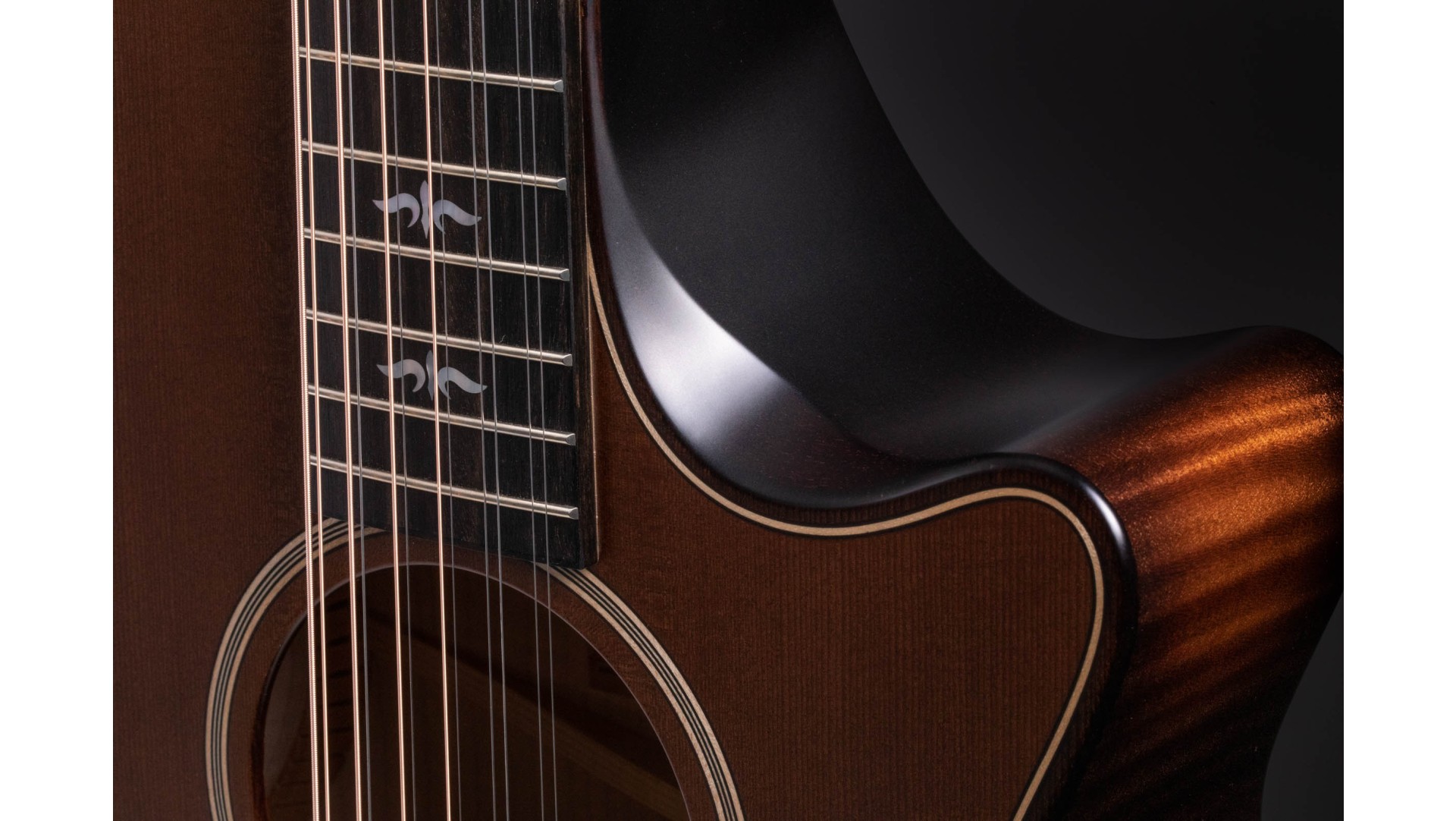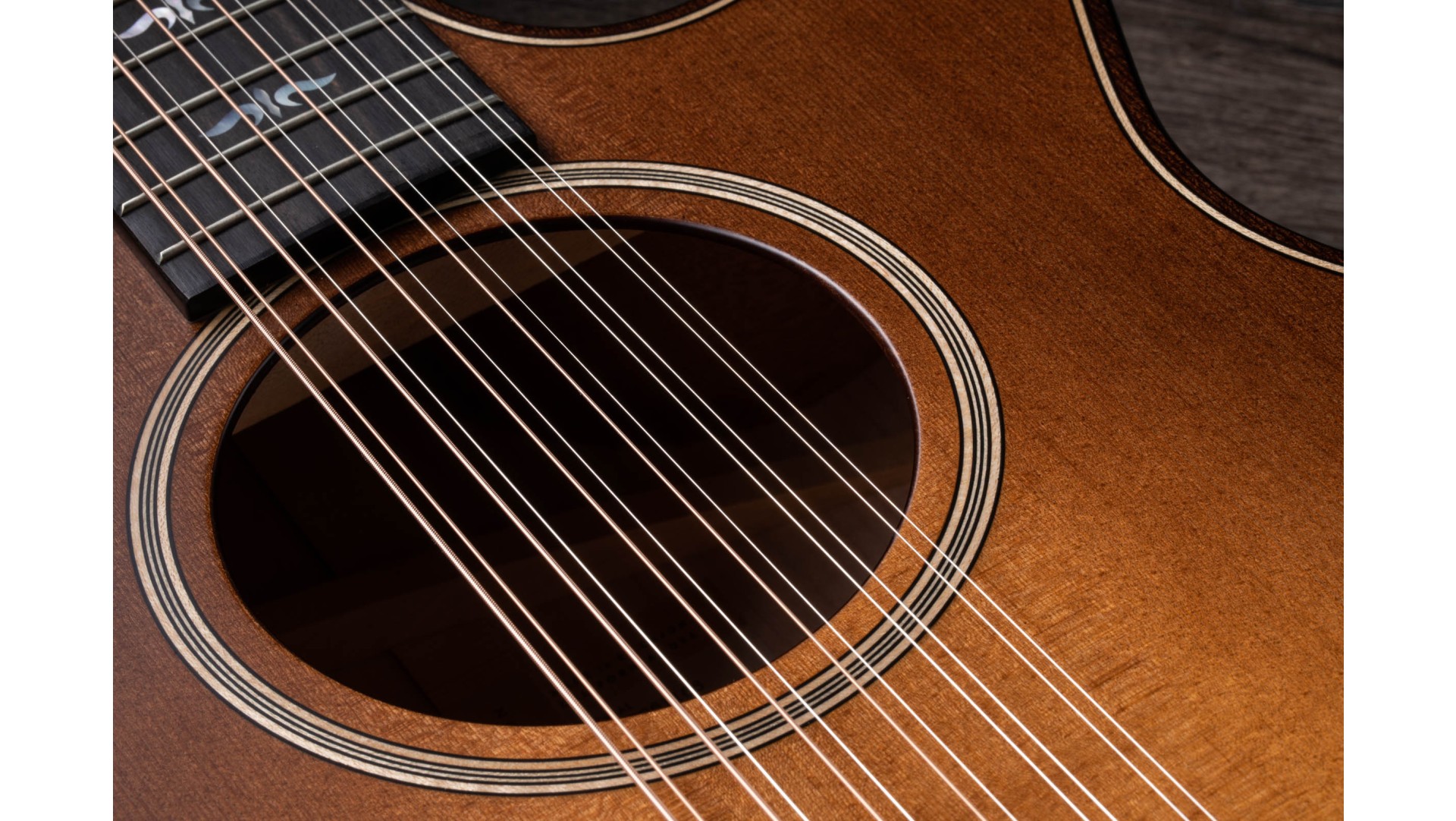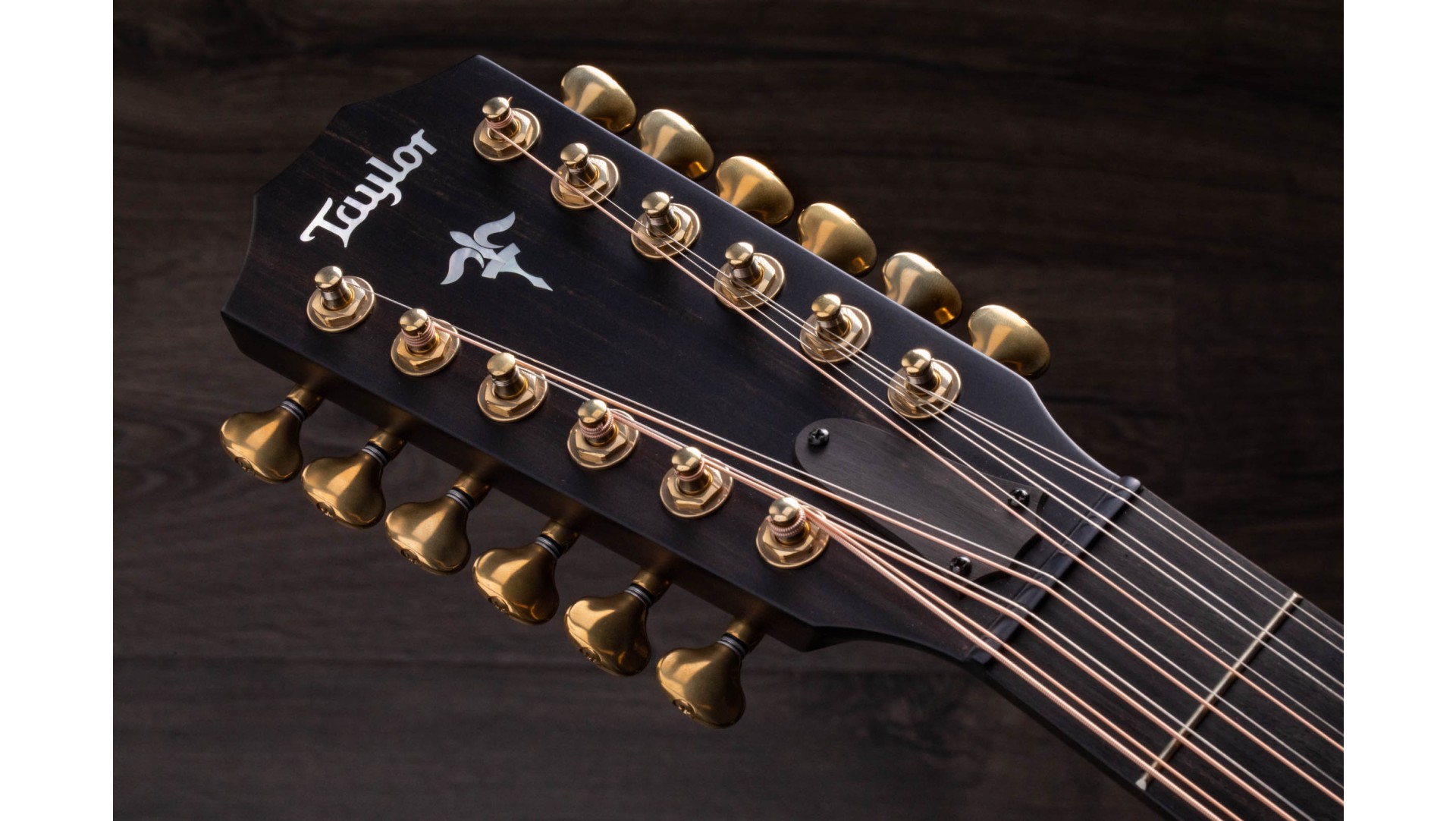 ---
512ce 12-Fret
Back/Sides: Urban Ironbark
Top: Torrefied Sitka Spruce

Argel Valdez, Content Production Coordinator: "The 512ce 12-fret has really resonated (pun intended) with me since its introduction. I was a big fan of the mahogany 500 Series, and I found that the transition to Ironbark back and sides introduced a bit more clarity and definition without sacrificing the woody midrange. The torrefied top gives you that sought-after played-in tone right out of the box, which, paired with the 12-fret construction, results in a very balanced instrument capable of full, rich lows. It's a great option for fingerstyle players and strummers alike."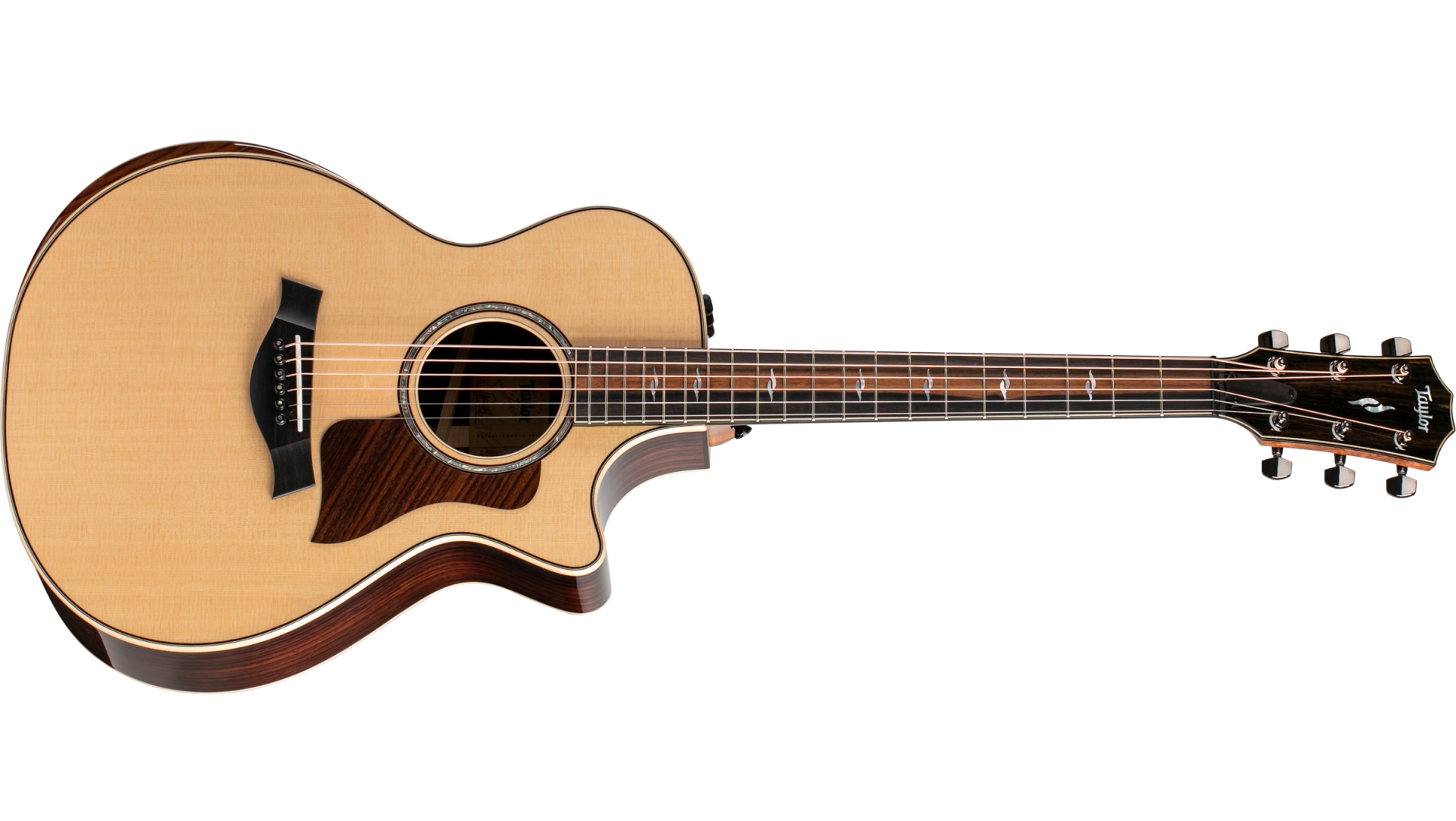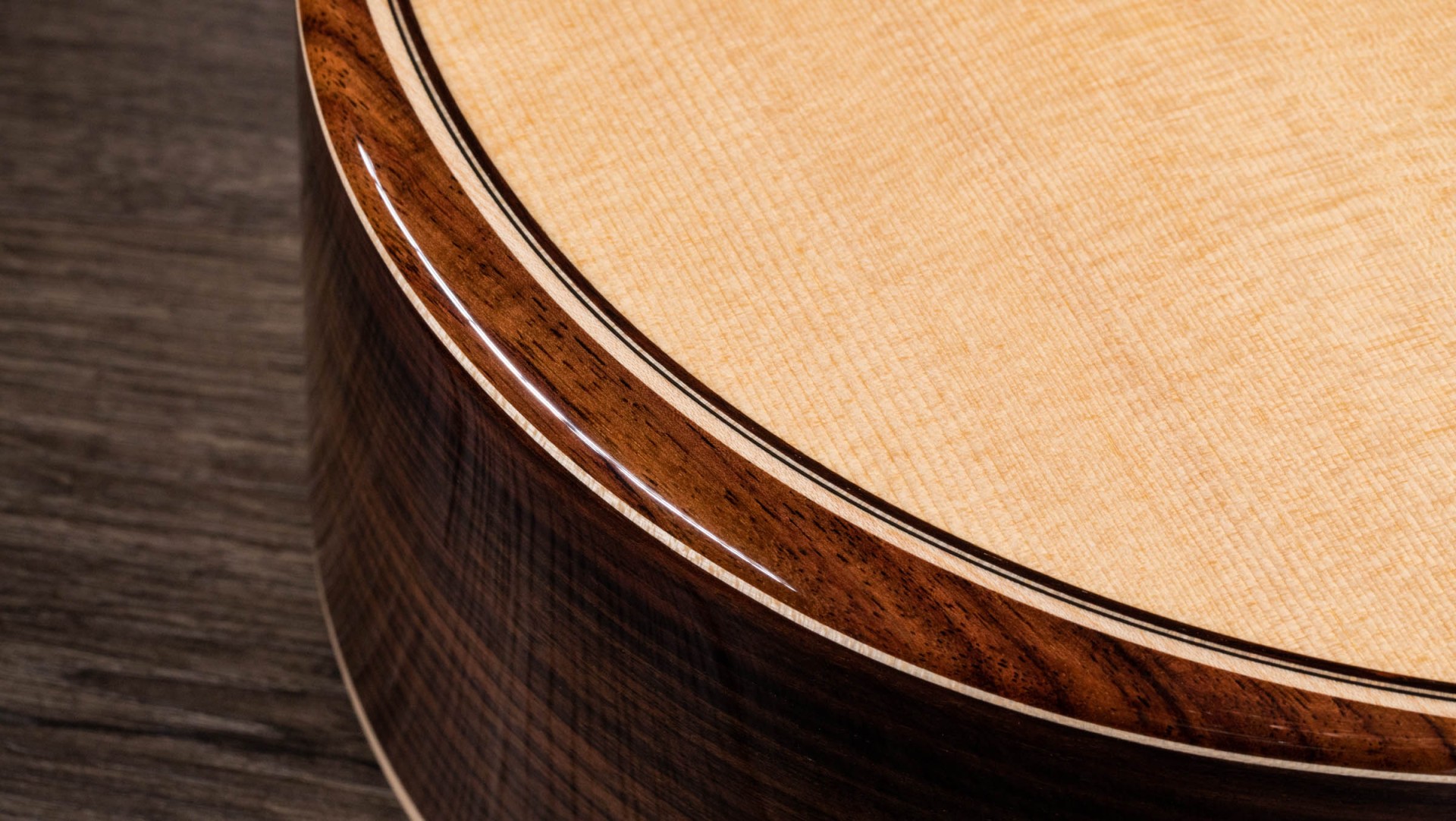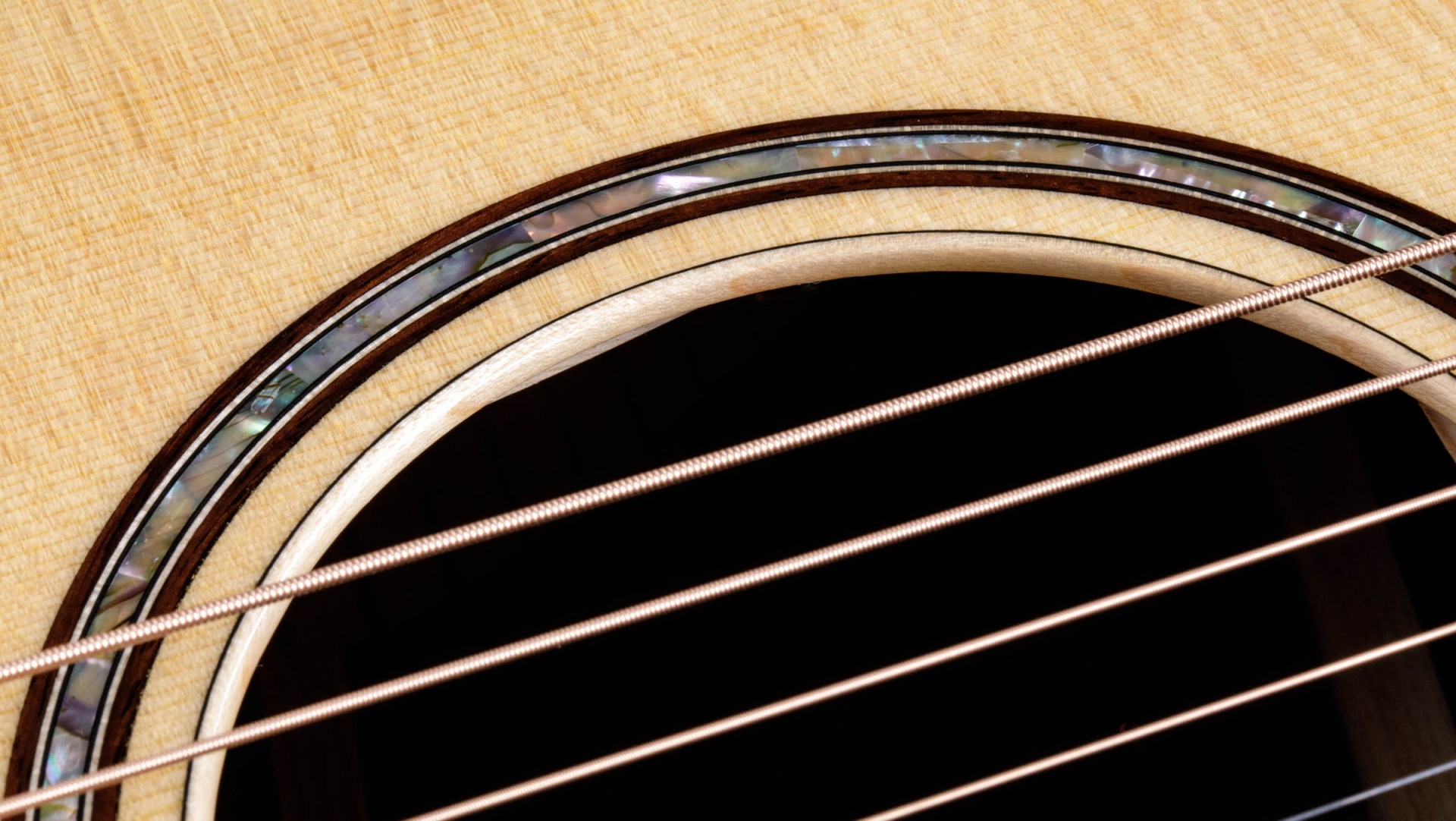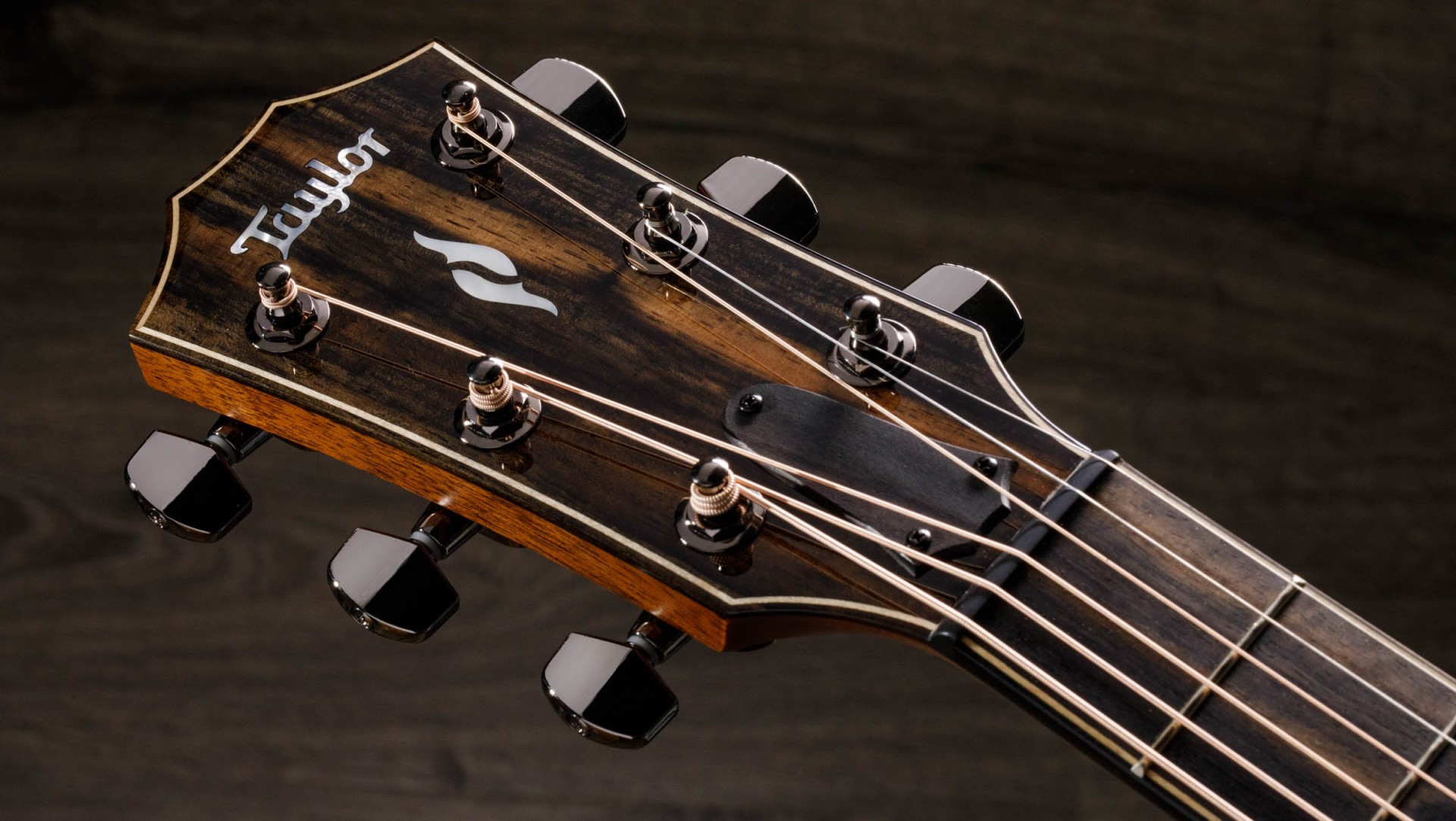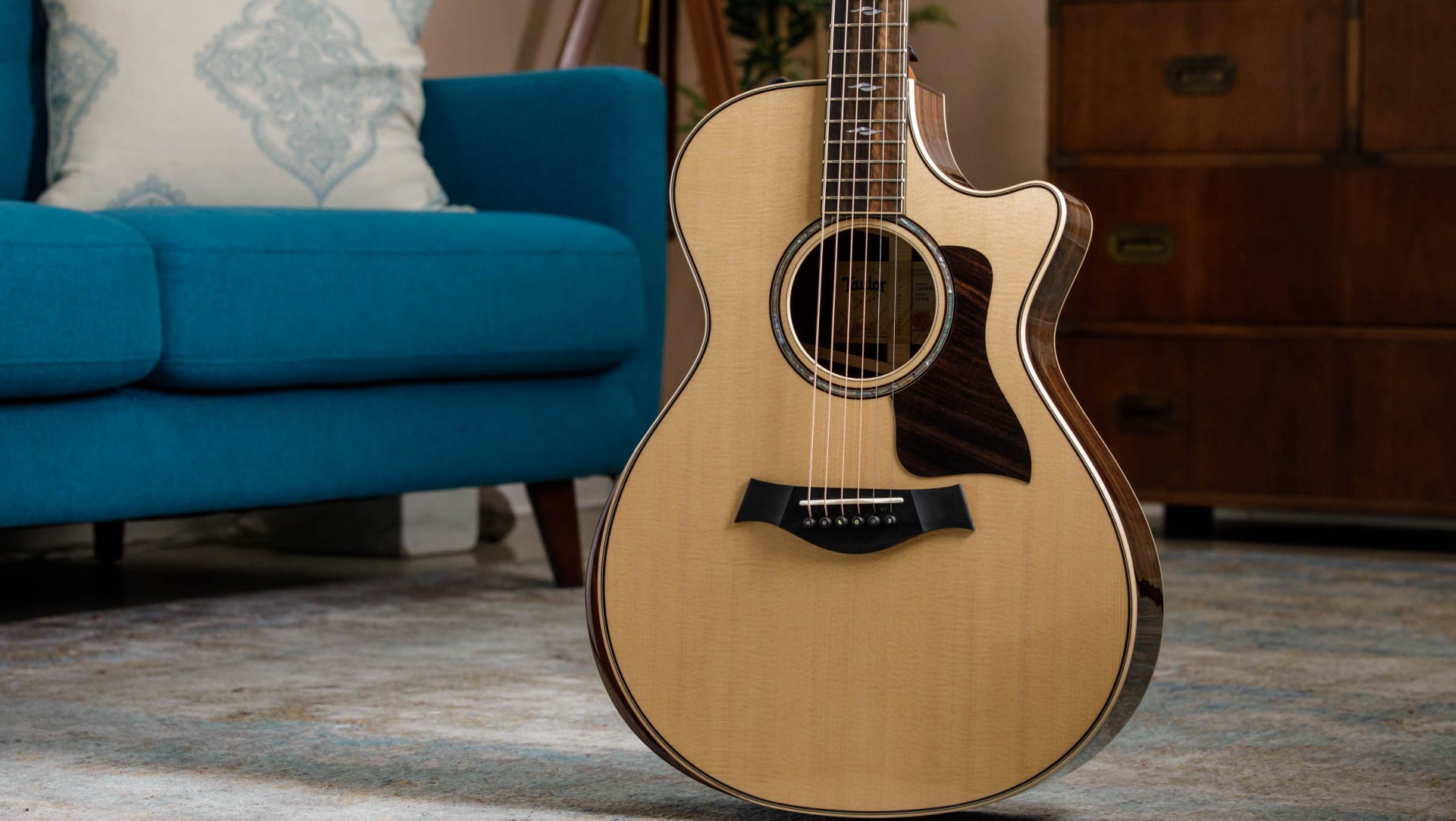 ---
812ce
Back/Sides: Indian Rosewood
Top: Sitka Spruce

Lindsay Love-Bivens: "The Grand Concert is my favorite shape. I like that it's a smaller full-size guitar, so it's incredibly comfortable to play. The classic combo of rosewood and spruce, combined with that body shape, makes a beautiful sound. I love the articulation that comes out of that guitar."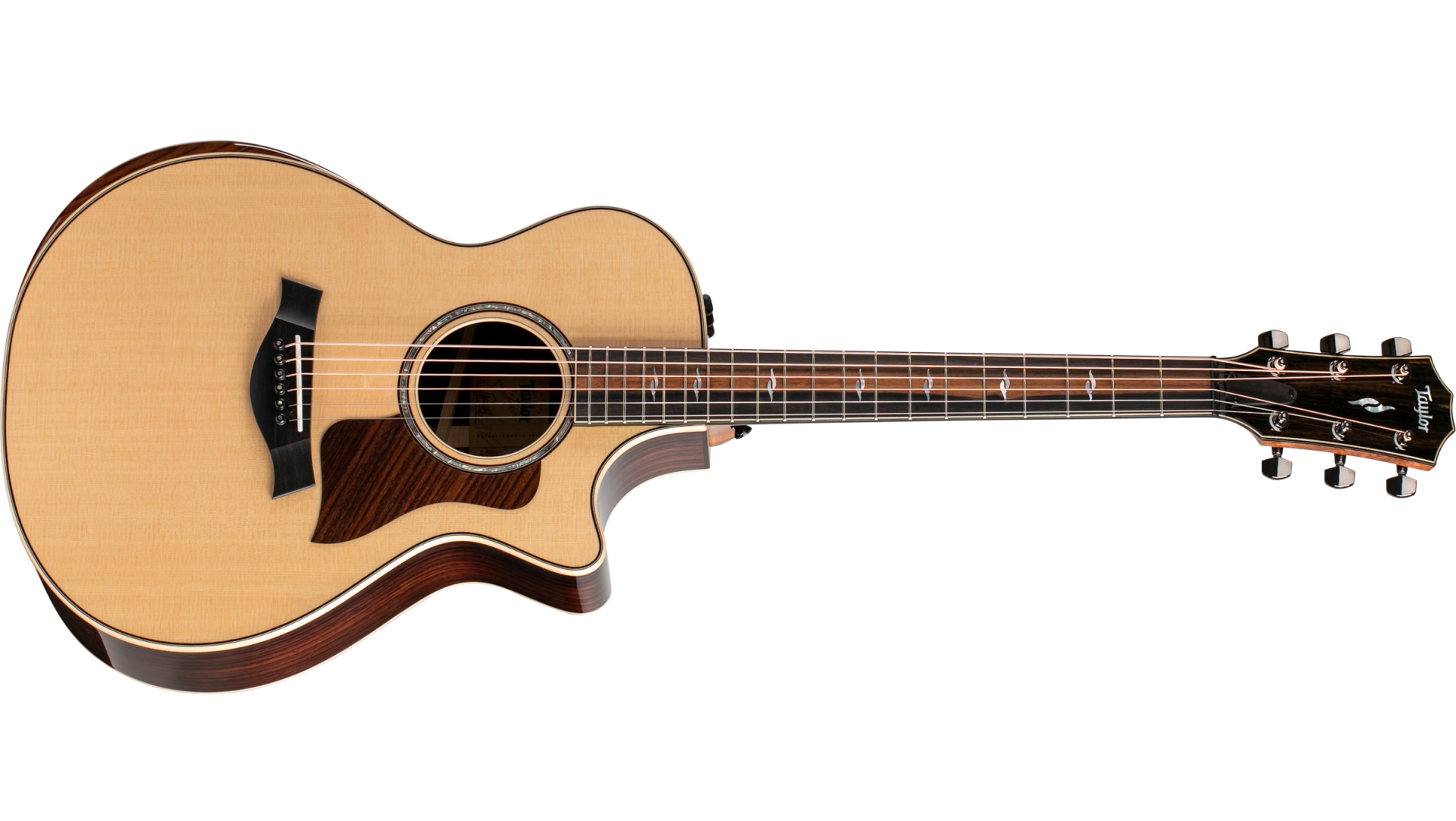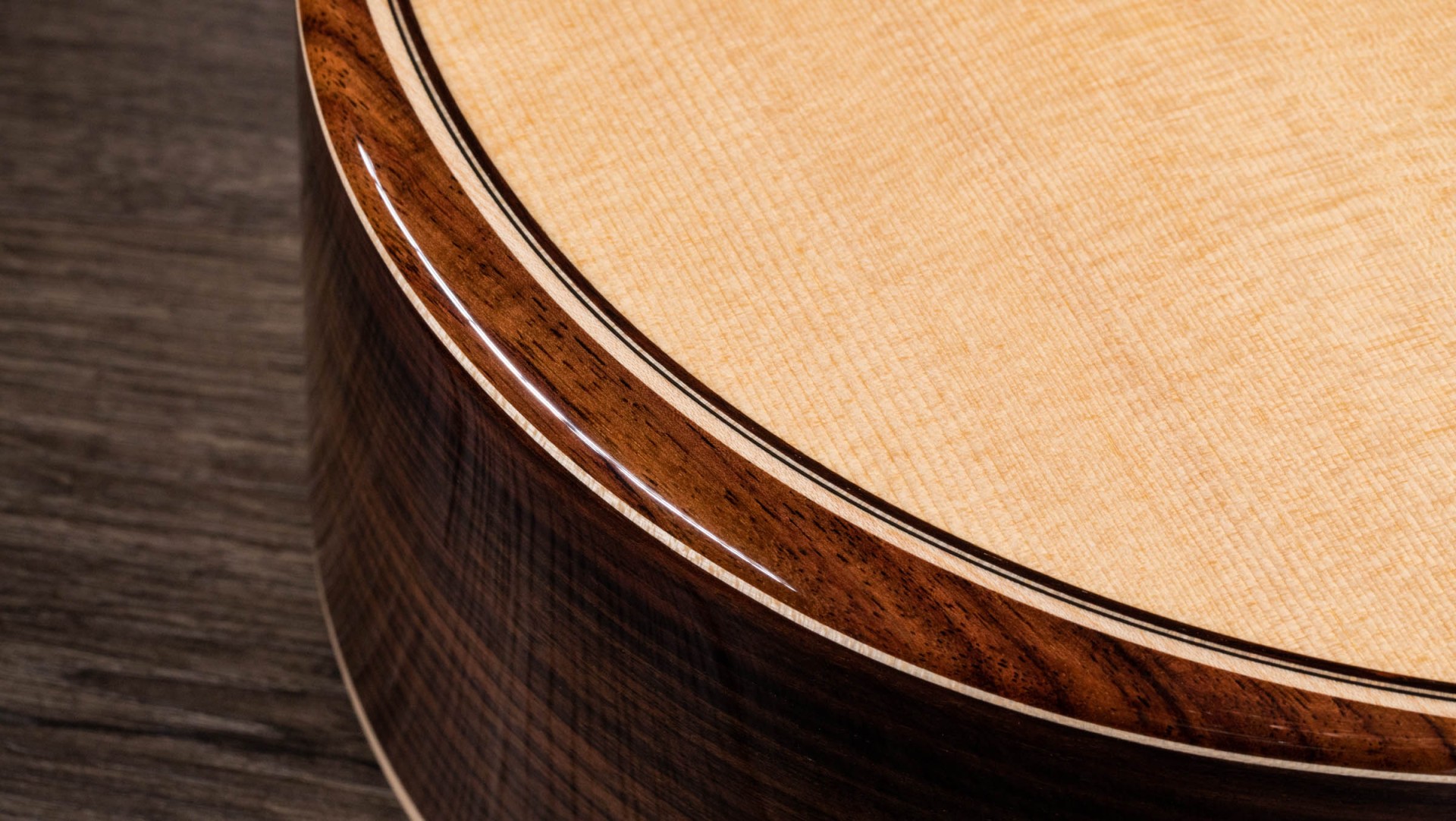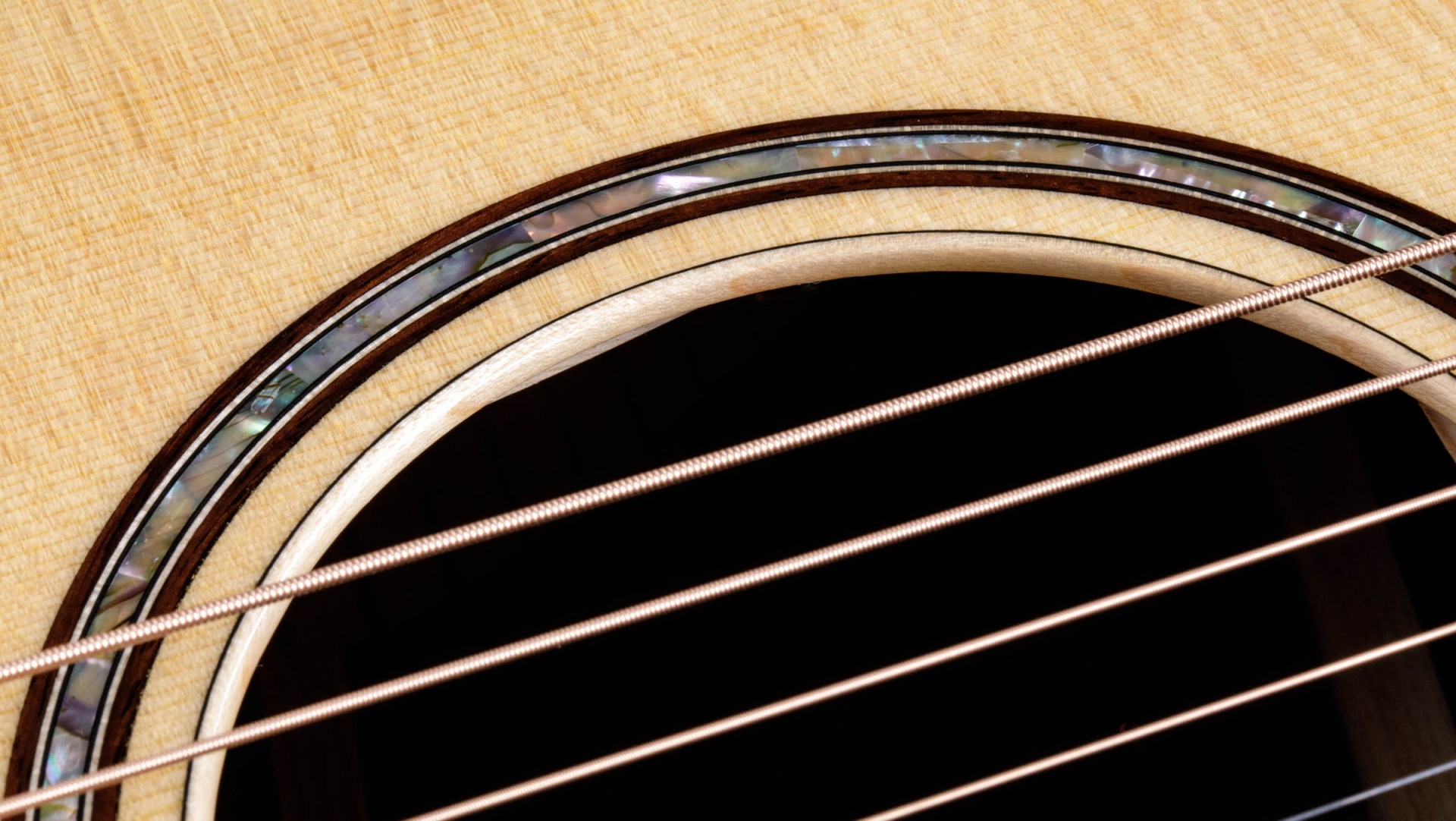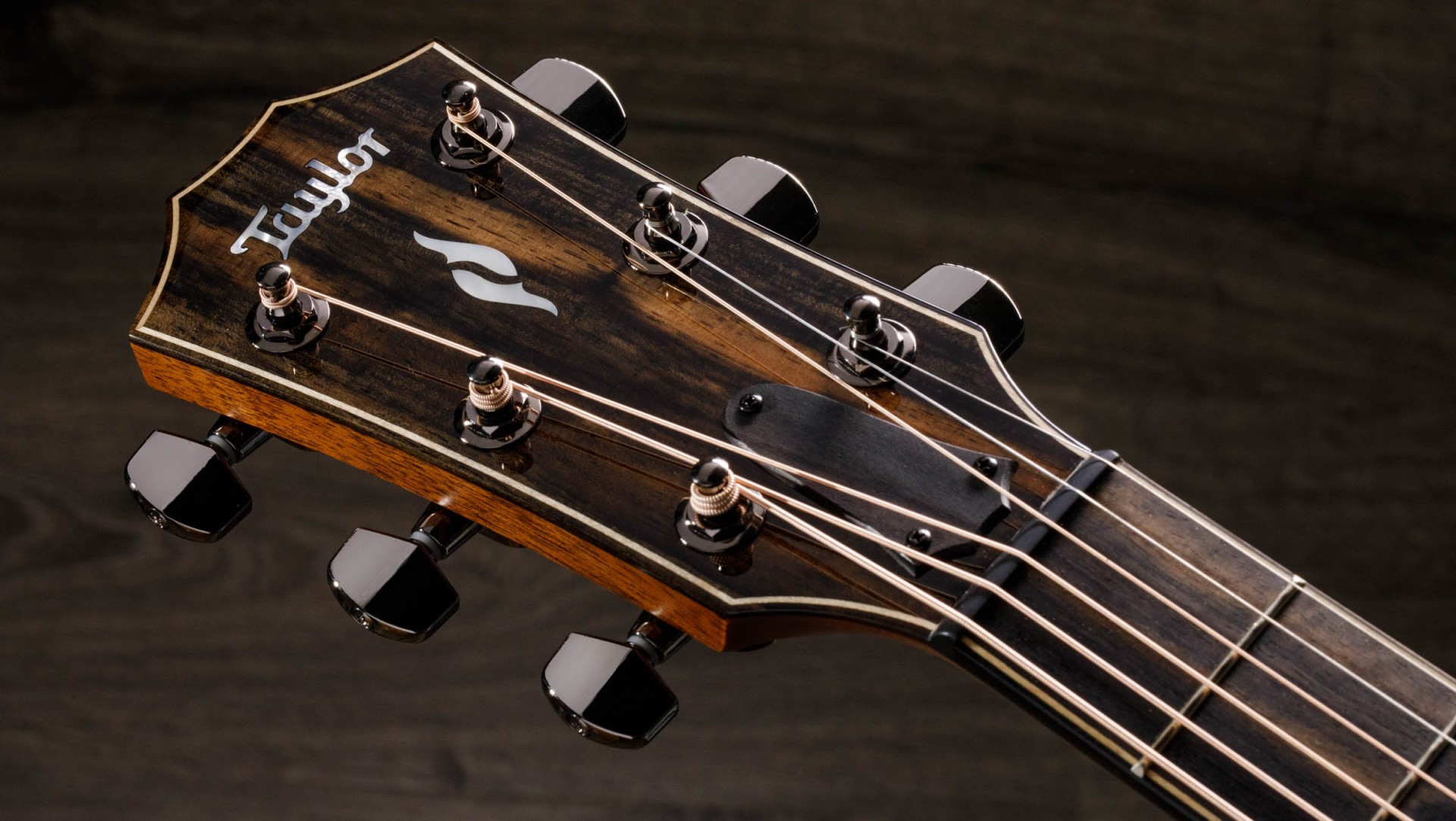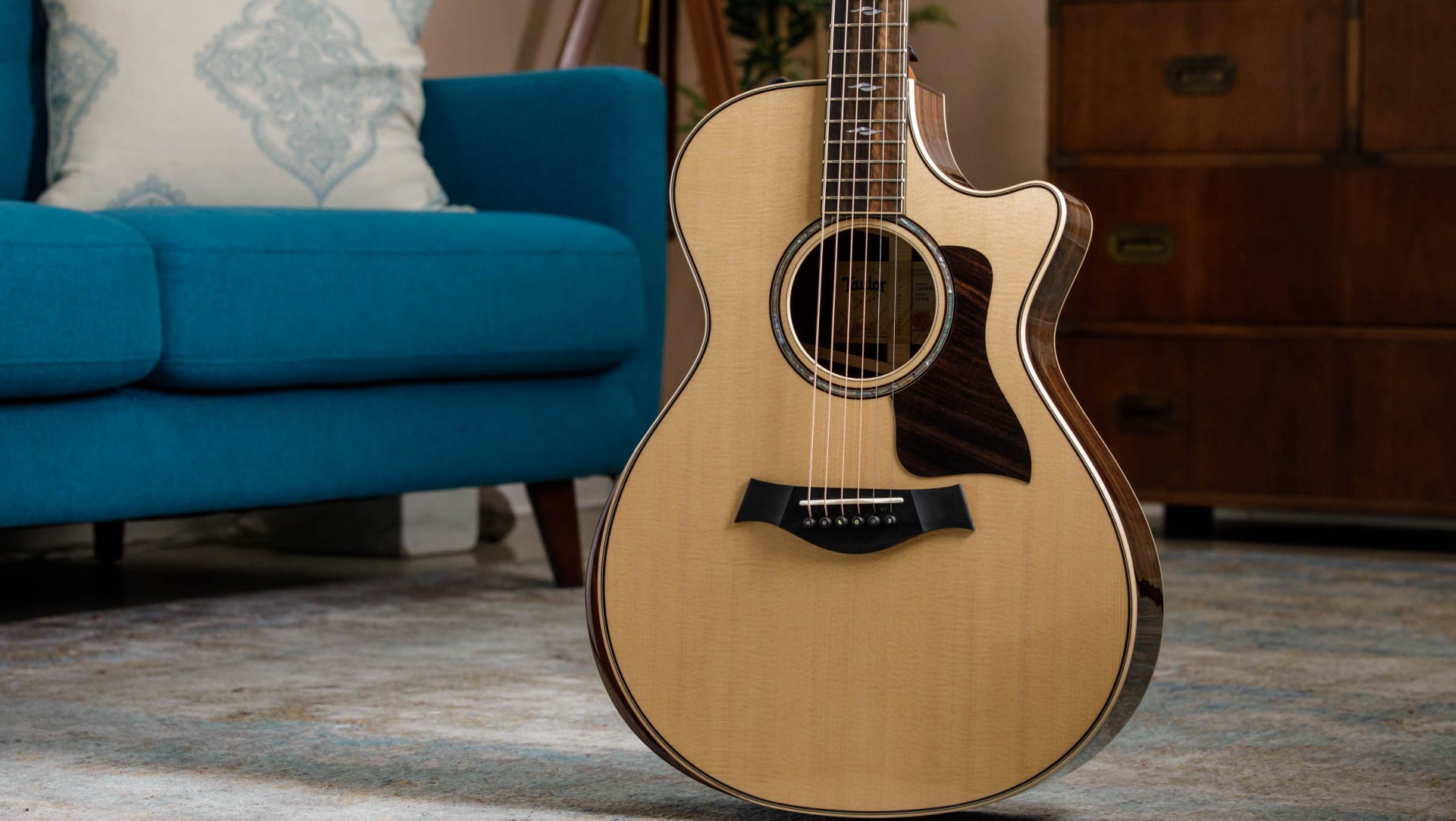 ---
Continue Your Holiday Buying Guide Journey
Part 1
How to Buy a Guitar: The Holiday Shopping Primer
Part 2
Acoustic Guitar Buying Tips:
A Deeper Dive