If you were to ask a group of guitar players how they got their first good guitar, chances are at least a few would tell you it was a gift from a parent, partner or other loved one. Many of us were lucky to have people in our lives who wanted to support our musical dreams, and guitar players will be the first to tell you how life-changing a quality musical instrument can be.
With the holidays around the corner, folks are hitting music shops and browsing online catalogs hoping to find the perfect bit of inspiration for a lucky person in their lives — or, in many cases, themselves. But buying a guitar can be a challenge, especially for shoppers who have never played or who don't know much about the instrument. For starters, there are lots of brands and price points out there. Also, guitars come in different shapes, styles and musical flavors. There's a whole host of factors that can affect how a guitar "fits" or appeals to an individual, from the player's physical size to their age, aesthetic and musical tastes, learning goals, and more. We get it. And we're here to help.
A Good Guitar Matters
At Taylor, our design philosophy is guided by a couple of key ideas. First, a quality guitar — one that's easy to play, stays in tune and makes pleasing musical sounds — really makes a difference. That's why every model we make delivers those fundamental qualities that invite and support an enjoyable playing experience. Second, we've diversified our guitar line to serve virtually every type of player. So, this holiday season, we hope to make it easier to pick a guitar that matches its musical partner — whether that's you or someone else.
We've got a little something for almost everyone here, from the first-time player to the parent buying for a young learner to the intermediate player looking to upgrade to a higher-quality guitar. Or maybe you bought an entry-level guitar during the pandemic and you're ready to level up your gear.
We'll also provide some guidance for common playing applications like recording and live performance, as well as recommendations based on your playing style. We've even included some staff picks. You can use the links below to navigate to the section that fits you best.
Looking for easy gift recommendations by budget? Use the Taylor Guitars Holiday Shopping Guide
First Thing's First: Why Taylor?
You might already know that Taylor is a reputable guitar company but find yourself wondering what sets our guitars apart from others on the market. Here are a few good reasons to consider a Taylor.
Playing Comfort
Playing comfort is essential, and for good reason: If a guitar isn't comfortable and accommodating to play, you're not going to play it. A hard-to-play guitar is the number-one hurdle new players face — there's nothing worse than having to fight your instrument while you're also trying to learn notes, chords and techniques.
The playability of a Taylor has been the gold standard of the acoustic guitar industry for half a century, and an essential guiding principle behind how we design and build our guitars. We believe the guitar that sounds best starts with one that feels the best. That comes from a range of factors, such as the shape of the neck, the contours of the body and the height of the strings over the fretboard (which we call "action"). Our guitars are designed first and foremost to be comfortable and easy to play.
Here's how we do it.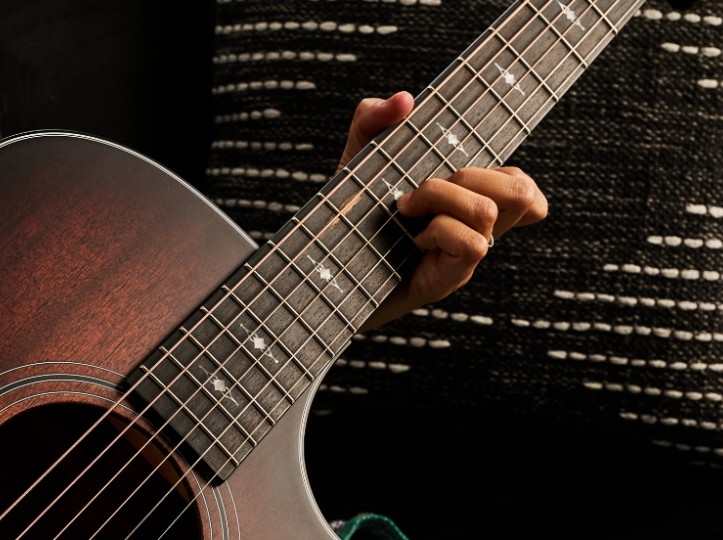 Our necks are slender, responsive and accommodating for hands of all sizes.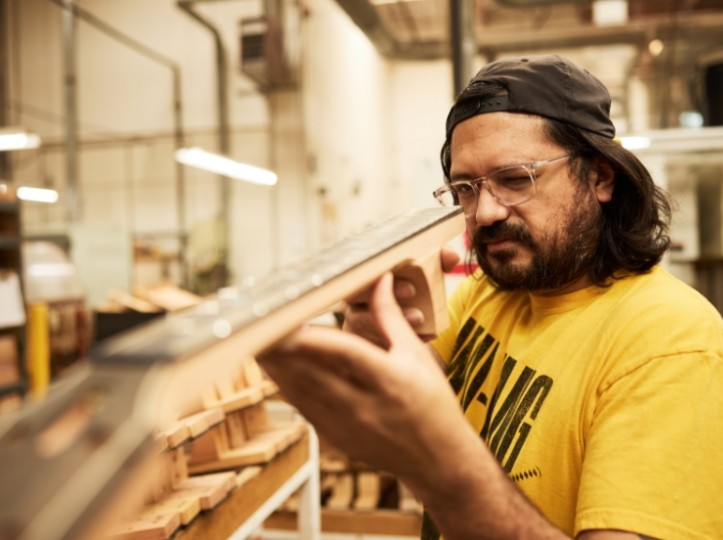 Thanks in part to our patented neck joint design, every Taylor guitar is precisely factory-set with low action, meaning it's easy to press the strings to the fretboard all the way up the neck.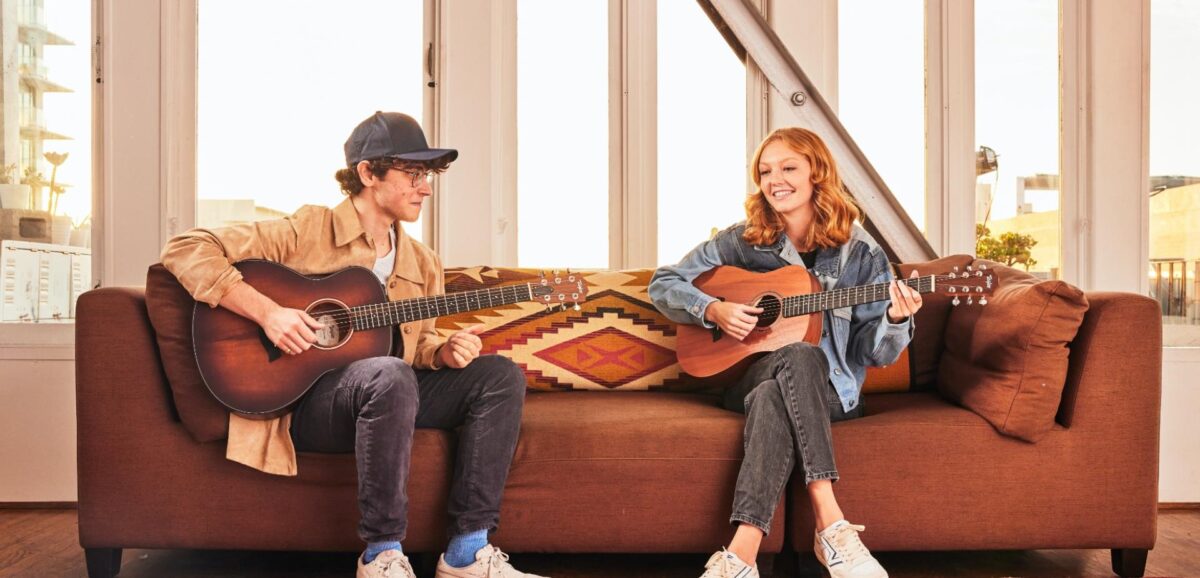 Our lower-priced guitars (Baby Series, the GS Mini, the Academy, 100 and 200 Series) feature a slightly narrower neck width that's especially useful for beginners.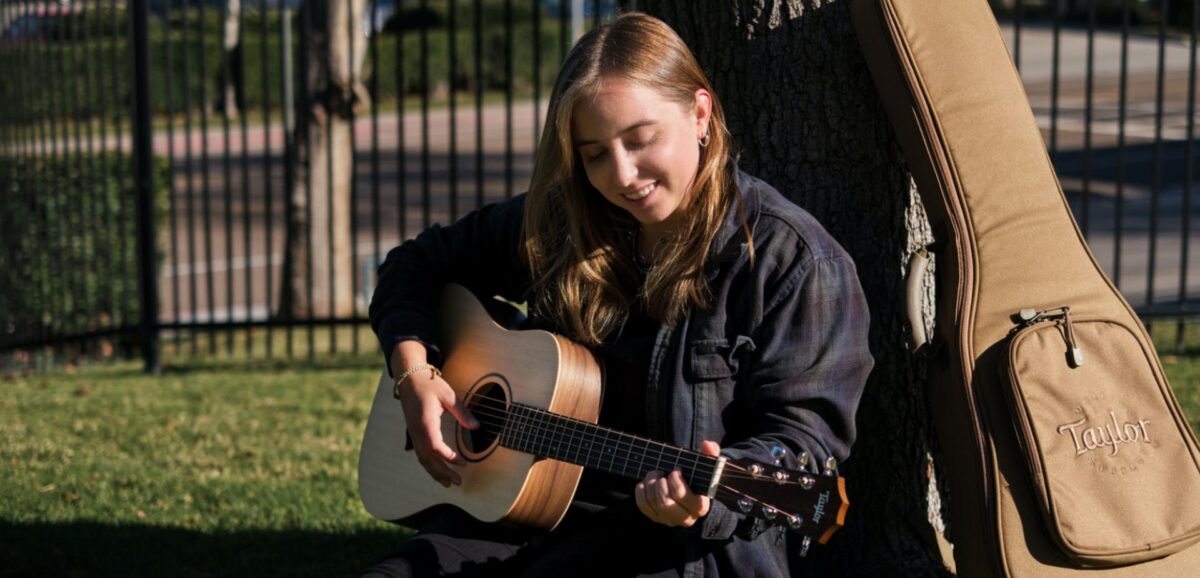 We offer a variety of guitar sizes and shapes, from the kid-friendly Baby Taylor to the compact GS Mini; from the all-purpose Grand Auditorium to the jumbo-style Grand Orchestra. (You can learn more about body shapes ahead).
Build Quality and Craftsmanship
Every Taylor guitar, from the Baby Series through our ultra-premium Presentation Series, is built with an unparalleled degree of precision, attention to detail and consistency. For the player, that means your guitar is going to sound fantastic right out of the box — and decades down the road.
Player-Focused Innovation
We're also proud of our history of player-centric innovation — of constantly striving to make acoustic guitars better in feel and sound. This has led to some of our most influential developments, including our neck design along with tone-enhancing voicing features like our award-winning V-Class internal bracing.
Customer Service & Support
We stand behind our guitars, and our support team sets a high bar for friendly expertise and quality of service. When you buy a Taylor, there's a team here to help you at every step, from picking the right guitar to maintaining it throughout its lifetime if you need adjustments or repairs. Our factory-certified experts will always be around to make sure our guitars deliver years of creative inspiration and musical fulfillment.
Buying a Guitar: 5 Things to Consider
Let's get into the process of buying a guitar and what you need to consider when you shop. If you're already knowledgeable about guitars and you're just looking for recommendations by budget, head over to our holiday shopping guide.
1 – Body Shapes
We offer a range of body shapes, each with their own feel and musical characteristics. Here's how they stack up, from smallest to largest.
›

Baby: A three-quarter-size guitar ideal for travel or young learners.


›

GS Mini: A scaled-down body that blends travel-friendly portability and comfort with pro-quality sound.


›

Grand Theater (GT): Slightly larger than the GS Mini, the GT approaches a full-size feel while remaining comfortably compact, accommodating and couch-friendly.


›

Grand Concert: Our smallest full-size guitar features a compact frame that sits easily in your lap. It's offered both in 14-fret and slightly shorter 12-fret versions — the 12-fret has a more compact neck-to-body relationship, which makes it feel more intimate and responsive.


›

Grand Auditorium: Our most popular shape, beloved for its appealing medium-size contours and broad musical versatility.


›

Grand Pacific: A round-shoulder dreadnought shape, similar to the Grand Auditorium but with a slightly wider waist. Also a very versatile body style.


›

Grand Symphony: This shape has a larger overall footprint than the Grand Auditorium and may feel a bit big for kids or players of shorter stature. It also has a partial cutaway (closed in the back) with a soundport built into the front of the upper bout.


›

Grand Orchestra: Our largest (and deepest) body shape, with a bold, commanding sound to match its size. It's likely to be a bit uncomfortable for new players who play sitting down because of its big dimensions.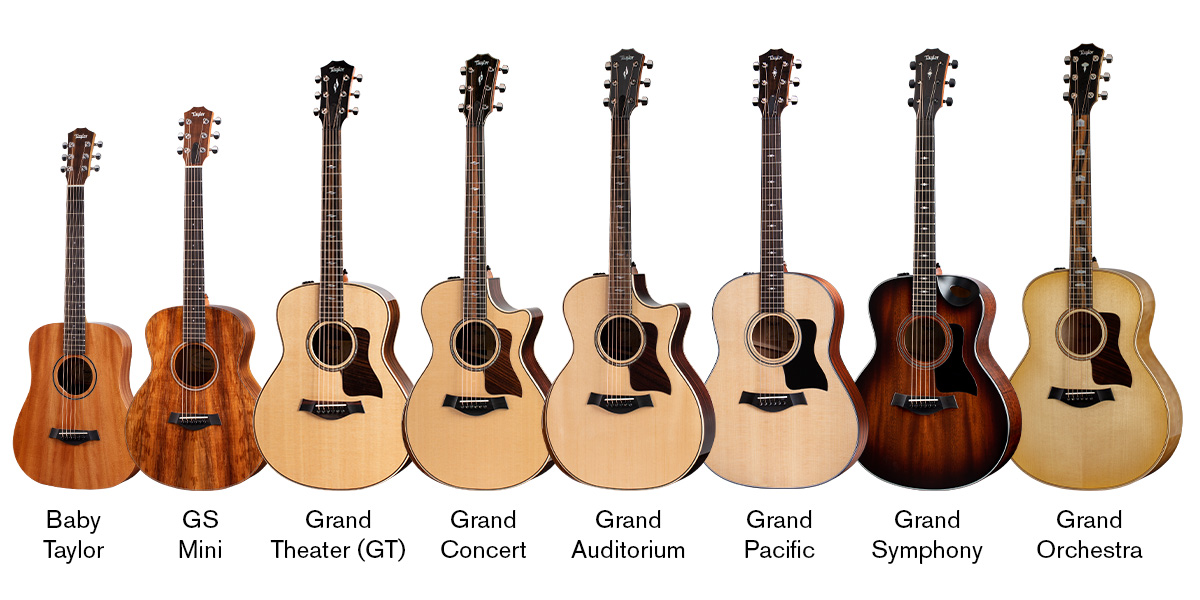 If you don't know what your gift recipient is looking for musically, start by thinking about body shape. Common sense applies here: Smaller guitars usually feel more comfortable to smaller individuals.
Want to learn more about our body styles? Check out this guide to Taylor body shapes.
2 – Sound
Tone is one of the most subjective parts of the guitar-buying process — everyone's ear is a bit different, and every player has a unique experience of a guitar's sound. This can make it difficult to use tonal nuances as criteria for buying a guitar for someone else, or for yourself if you're not an experienced player. But know this: Taylor has a well-established reputation — backed up by pro musicians and recording engineers — for making guitars that produce clear, nicely balanced, stage- and studio-worthy sound. So, you can rest assured that whatever you choose, sonically, the guitar will deliver.
Solid Wood vs. Layered Wood
All Taylor guitars feature a solid-wood top. U.S.-made guitars (American Dream Series and up) also feature solid-wood back and sides, while our Mexico-made guitars (crafted in our state-of-the-art factory in nearby Tecate, Mexico) are constructed with layered-wood back and sides. But what does "solid" mean, and how does it differ from its alternative, "layered?"
"Solid" means that the wood component consists of a single piece through its thickness. Our models made with layered wood (back and sides) incorporate a composite of three layers of wood — a thicker core panel with a layer of wood veneer on either side for stability and appearance. This construction approach allows us to use some beautiful wood veneers that greatly enhance the aesthetic appeal of these guitars.
The important thing to know is this: Solid woods typically yield a slightly more complex or sophisticated sound. Layered-wood guitars can be made more cost-effectively, which is why you'll find them in our lower-priced guitars.
As we've stated, one major advantage of buying a Taylor guitar is that you're guaranteed a solid-wood top. The top is the part of the guitar with the greatest influence over its sound, and a solid top ensures clear projection and balanced tone. Within the Taylor line, all-solid-wood construction and layered/solid-wood-construction is delineated as follows: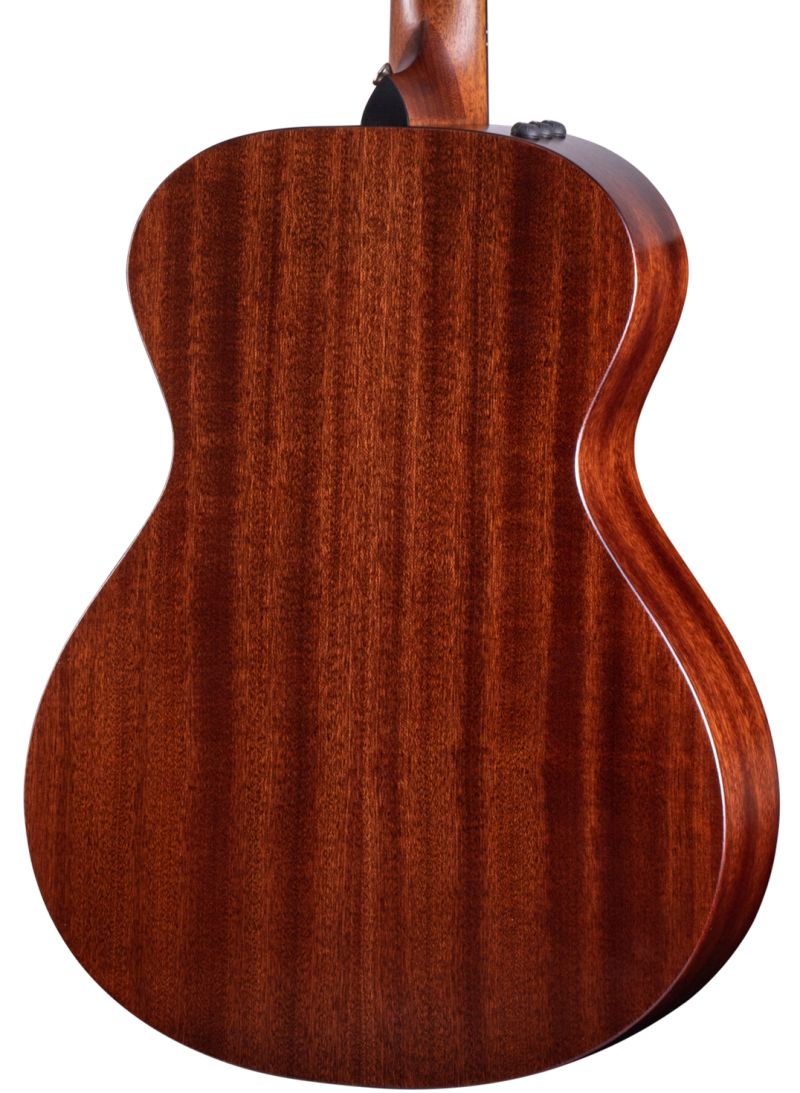 Solid wood back, sides and top:
› American Dream Series and above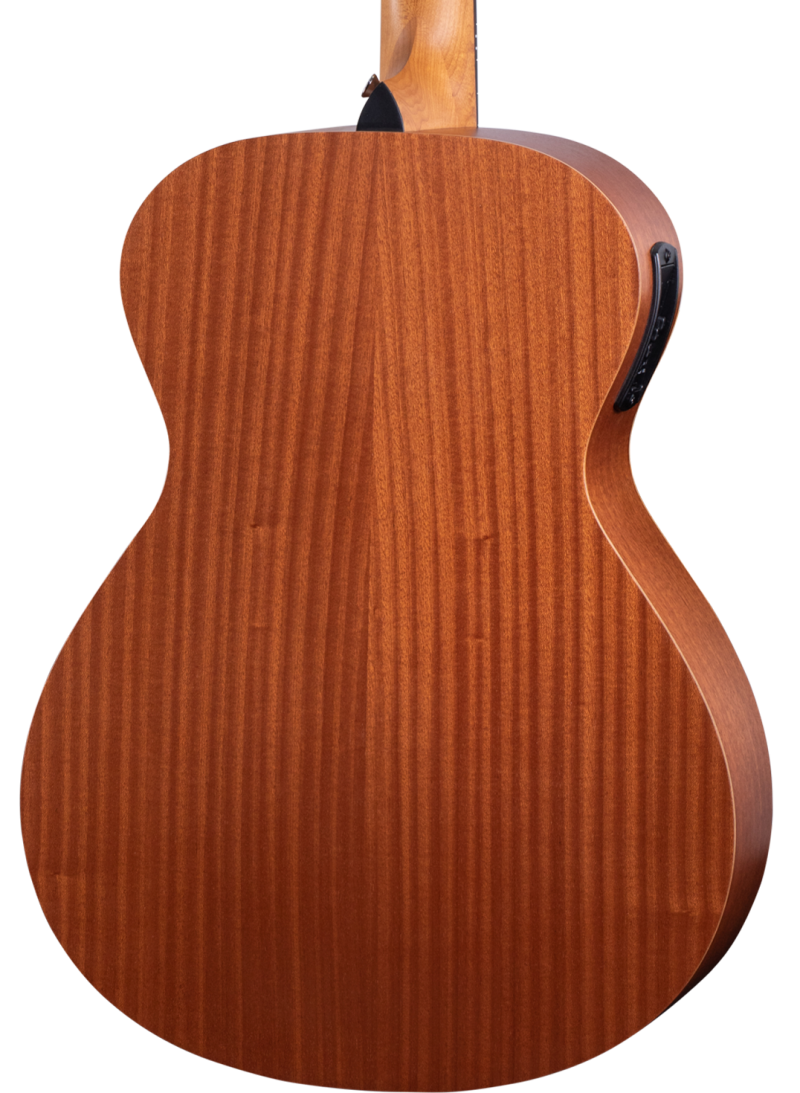 Layered wood back and sides, solid top:
› Baby Series
› GS Mini Series
› Academy Series
› 100 Series
› 200 Series
Tonewood Pairings
Want to learn more about the different tonewoods offered in the Taylor line? Check out our guide to tonewoods.
3 – Price
A guitar is an investment in both money and time. And quality guitars rightfully cost more because they're easier to play, sound better and perform consistently well over time. We understand that everyone has a budget they'll want to stick to this holiday season. That said, our guitar line covers a wide pricing spectrum, and our entry-level instruments are a fantastic investment because they're built to last. Before you make your decision, think about what comes with the money you're spending. Here's what comes with various price tiers in the Taylor guitar lineup.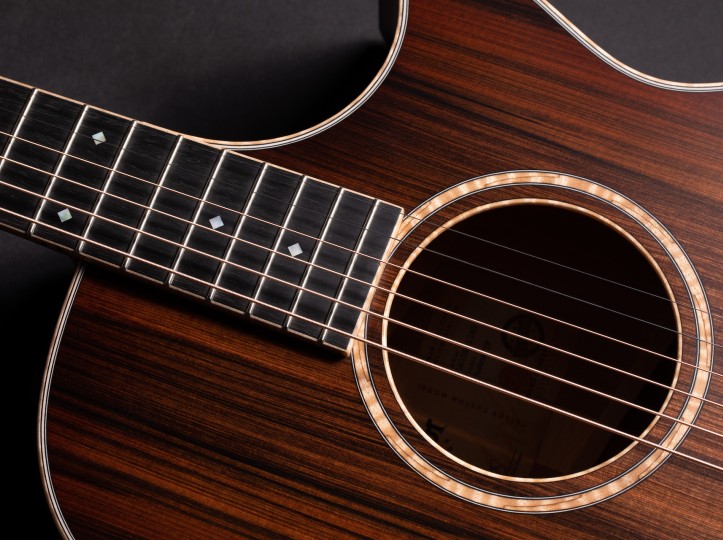 All Taylor guitars every price:
› A solid-wood top that produces rich, clear tone
› A comfortable, easy-playing neck
› A gig bag or case
› Fast, reliable customer service
› Warranty coverage with registration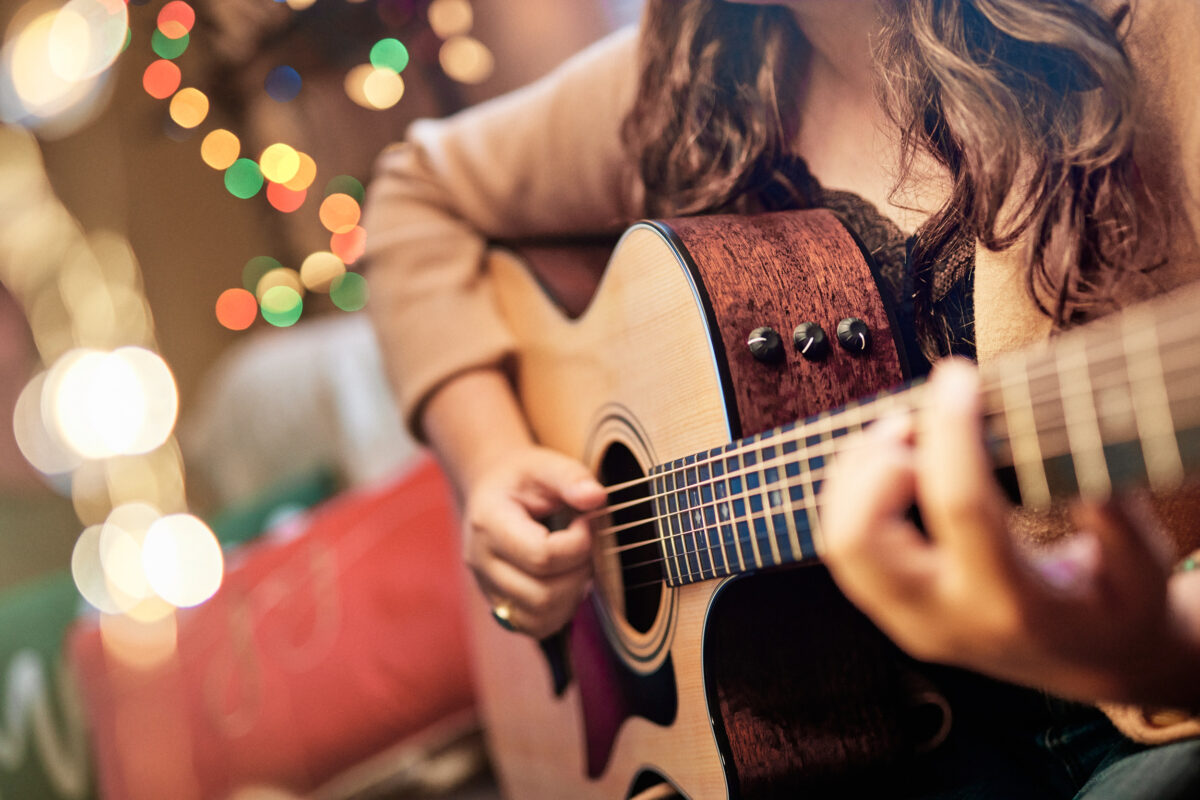 Under $799
› A solid-wood top that produces rich, clear tone
› A comfortable, easy-playing neck
› A gig bag or case
› Fast, reliable customer service
› Warranty coverage with registration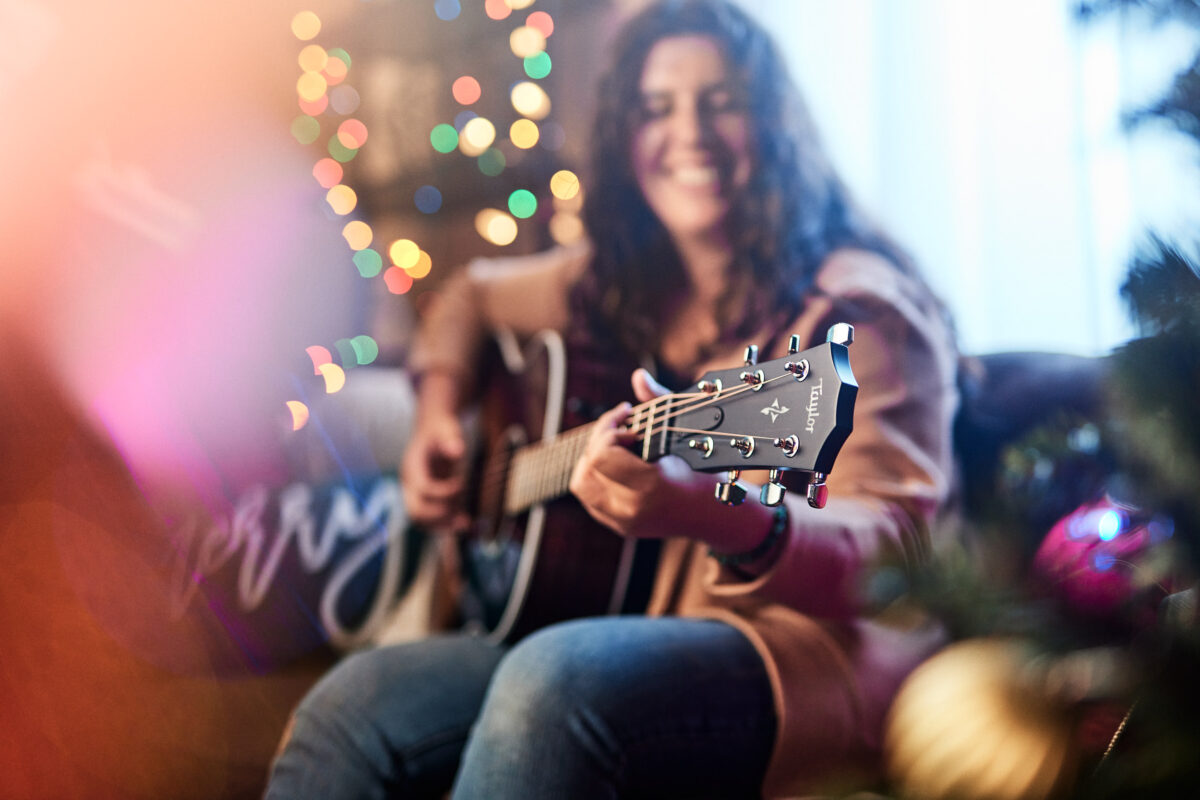 $800 – $1,999
› Upgraded aesthetic appointments
› American Dream and 300 Series Guitars: All-solid-wood construction for the richest, most sophisticated sound
› Some models include an AeroCase or deluxe hardshell case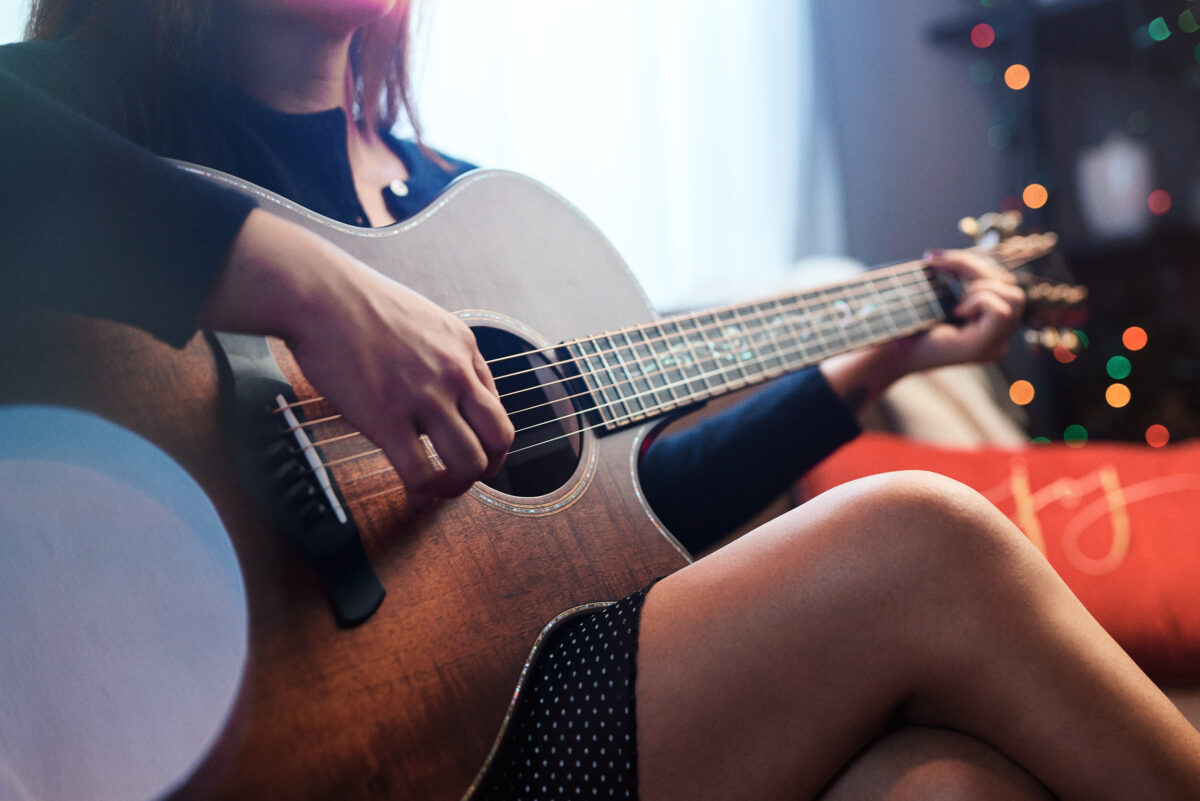 $2,000 and above
› All-solid-wood construction
› Tone-enhancing interior bracing
› Artful visual details such as fretboard inlays and glossy finishes
› Some models feature comfort-enhancing designs such as the armrest and beveled cutaway
› Most models include a deluxe hardshell case
4 – Guitar Cases
When you buy a guitar, you definitely want some kind of guitar case — there's too much risk of damage from physical impacts, temperature and humidity without one. Keep in mind that not all guitar companies include a gig bag or case with their guitars. However, every Taylor guitar comes either with a protective soft bag (which includes backpack straps) or a hardshell case (which we produce in-house). It's included in the price you see on the tag or website. Cases can be pricey, so getting a guitar that includes one eliminates an extra expense.
Also, from a practical standpoint, consider that many players start out by taking lessons, and a case makes it easier to transport the guitar between home and wherever you take lessons. The same applies if the player plans to travel with their guitar, maybe to take it to school, a friend's house, on a trip or to a gig.
5 – Accessories
If you're buying for a first-time player — yourself or someone else — there are a few more things you'll want to pick up in order to complete the perfect gift. Consider adding these items with your new guitar.

Picks
A set of medium-thickness picks is usually a good place to start. Or, pick up a variety pack and try out several styles to help find a pick that works for you. (Different pick materials and thicknesses will impact the tonal response.)
---
Extra Strings
Even pro players break strings, and there's nothing worse than finding yourself unable to play because you don't have any extras on hand. We string most Taylor steel-string guitars with D'Addario XS Coated Phosphor Bronze strings, in either a light or medium gauge (check the guitar's specifications for gauges used on individual models).
---
Tuner
A handy clip-on tuner will ensure your guitar is always in tune and sounding great.
---
Humidification
Acoustic guitars are responsive to climate factors, especially humidity. A simple case humidification system will help keep your guitar at the right relative humidity to avoid issues like warping, cracking and fret buzz. Alternatively, ask your salesperson about TaylorSense, our smart guitar sensor unit that sends real-time climate information to your iOS or Android phone
---
Guitar Strap
If you're buying for a new player, chances are they'll mostly be playing while seated. However, it's always nice to have a good strap on hand. Taylor offers a range of guitar straps in different materials and styles, and you'll find them in our online store as well as at many music shops.
---
Guitar cleaner/polish/cloth
Regular guitar care will keep a guitar looking great. We offers a variety of cleaning and polishing products for routine maintenance.
Happy Shopping
This guide should be enough to get you started on buying the right guitar this holiday season. If you want specific Taylor guitar recommendations sorted by price, head to our Holiday Shopping Guide.
---
Continue Your Holiday Buying Guide Journey
Part 2
Acoustic Guitar Buying Tips:
A Deeper Dive
Part 3
Players' Choice: Gift Picks
from the Taylor Team