Fast Company Names Taylor One of World's Most Innovative Manufacturers
We're honored to share that in March, Fast Company magazine named Taylor as one of the world's "Top 10 Most Innovative Companies" in the manufacturing sector. The awards recognize companies and enterprises that are pushing boundaries in their field. Taylor came in at no. 9 in their manufacturing category.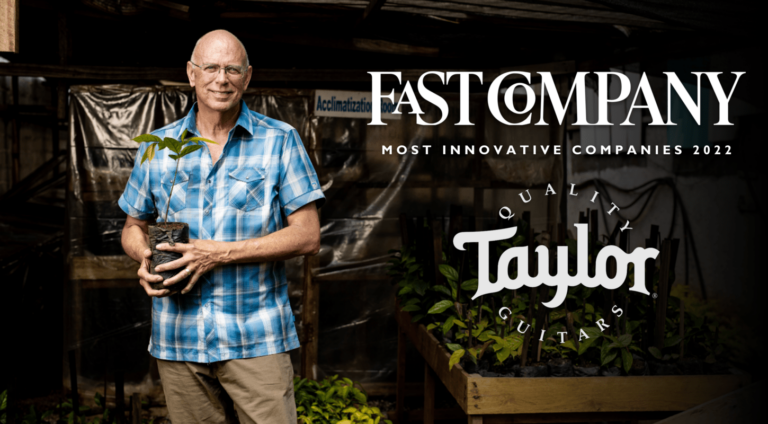 The award focused on Taylor's global sustainability initiatives, notably our work with The Ebony Project, a venture to create a more socially responsible value chain for the supply of ebony instrument components and a replenish the supply of ebony through a groundbreaking planting program; and our Urban Wood initiative, a wood sourcing partnership with West Coast Arborists that gives select trees in need of removal from California cities a second life as high-value instruments.
---
Amplifying the Urban Forest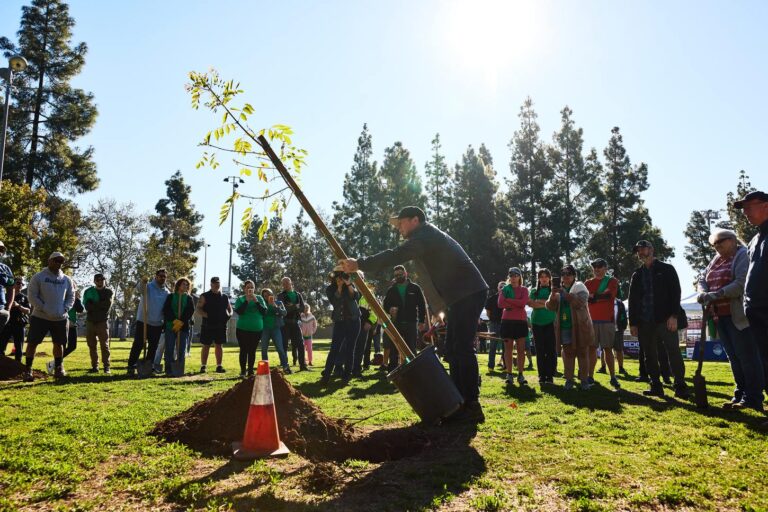 One of the aspirations of our urban wood partnership with West Coast Arborists (WCA) is not only to create value from end-of-life urban trees but to serve as a demonstration project that can help municipalities create a circular economy and in turn support the regreening of their urban areas.
Already the partnership has begun to attract interest and support from other organizations. In fact, back in 2020, Taylor and WCA were awarded a grant from the California Department of Forestry and Fire Protection (CAL FIRE) to plant more than 2,000 trees in urban areas across the state of California in a single day. However, the pandemic put the planting day on hold until March 12, 2022. On this sunny Saturday across the state, the one-day planting event was supported by 28 California municipalities, local officials and volunteers. The event — dubbed "AMPlifying the Urban Forest," was held not only to help regreen urban landscapes but to encourage people to plant trees with an "end-of-life" use in mind.
A group of Taylor employees participated in two of the planting events — one near the Taylor factory in El Cajon, California, and another in the neighboring city of Santee. Taylor VP of Product Development Ed Granero spoke at both events, along with the mayors and other elected officials from each city.
Taylor also offered a GT Urban Ash guitar as a sweepstakes prize for those who volunteered to help plant trees. And at another planting event a few hours north in Ventura, Taylor arranged the attendance of one of our environmentally active artist partners, Beatie Wolfe, who spoke and helped plant trees.
You can read more about the planting events in our blog.
---
Refreshing the Taylor Line: Mid-Year Updates
We're always refining our acoustic guitar lineup to better suit the needs of players, and we're excited to share a few important spec changes that will become standard for these models going forward. In addition to the debut of our new koa 700 Series guitars, here are a few updates elsewhere in the line.
First, we're updating the 300 Series with a back-and-side wood change for guitars in the series featuring mahogany tops (model numbers with a "2" in the second digit). Those models will change from blackwood back and sides to solid mahogany back and sides, as will the Grand Symphony 326ce, which previously used Urban Ash. Don't worry — there are plenty of Urban Ash models remaining in the lineup, including the Builder's Edition 324ce (the standard 324ce will shift to all-mahogany), and we're planning to offer more guitars featuring urban woods in the near future.
Next, guitars from the American Dream Series built with spruce tops will feature solid walnut backs and sides going forward. We've also added a striking "firestripe" pickguard to those models for a bit of visual flair.
Finally, we're updating our ES-B pickup and preamp unit, which appears in acoustic-electric guitars from the Baby Series, Big Baby Series, Academy Series, and some GS Mini models. The pickup itself includes our Expression System 2 piezo design elements, and you'll notice a new active three-band EQ control in place of the old volume and tone sliders. The updated ES-B is powered by a 9-volt alkaline battery instead of the smaller CR2023 used in the previous design. The result is a longer battery life of up to 500 hours when using the preamp and 50 when using the tuner.
Read up on how to use the ES-B pickup here.