Taylor Goes For Gold
It's always a thrill to see Taylor guitars in the great outdoors, especially when they make it to places even we wouldn't have predicted. That was the case during this year's Winter Olympics in Beijing, where Justin Schoenfeld and four teammates from Team USA's Freestyle Ski team posed with their Taylor GS Mini guitars, which they brought along to play during downtime between heats, practice runs and the main event. We'd like to think the guitars helped — the trio of Schoenfeld, Ashley Caldwell and Chris Lillis went on to capture the first-ever gold medals at the inaugural mixed team aerial ski event. It marked the United States' first medal in aerials since 2010 and the first gold medal in an aerial event since 1998.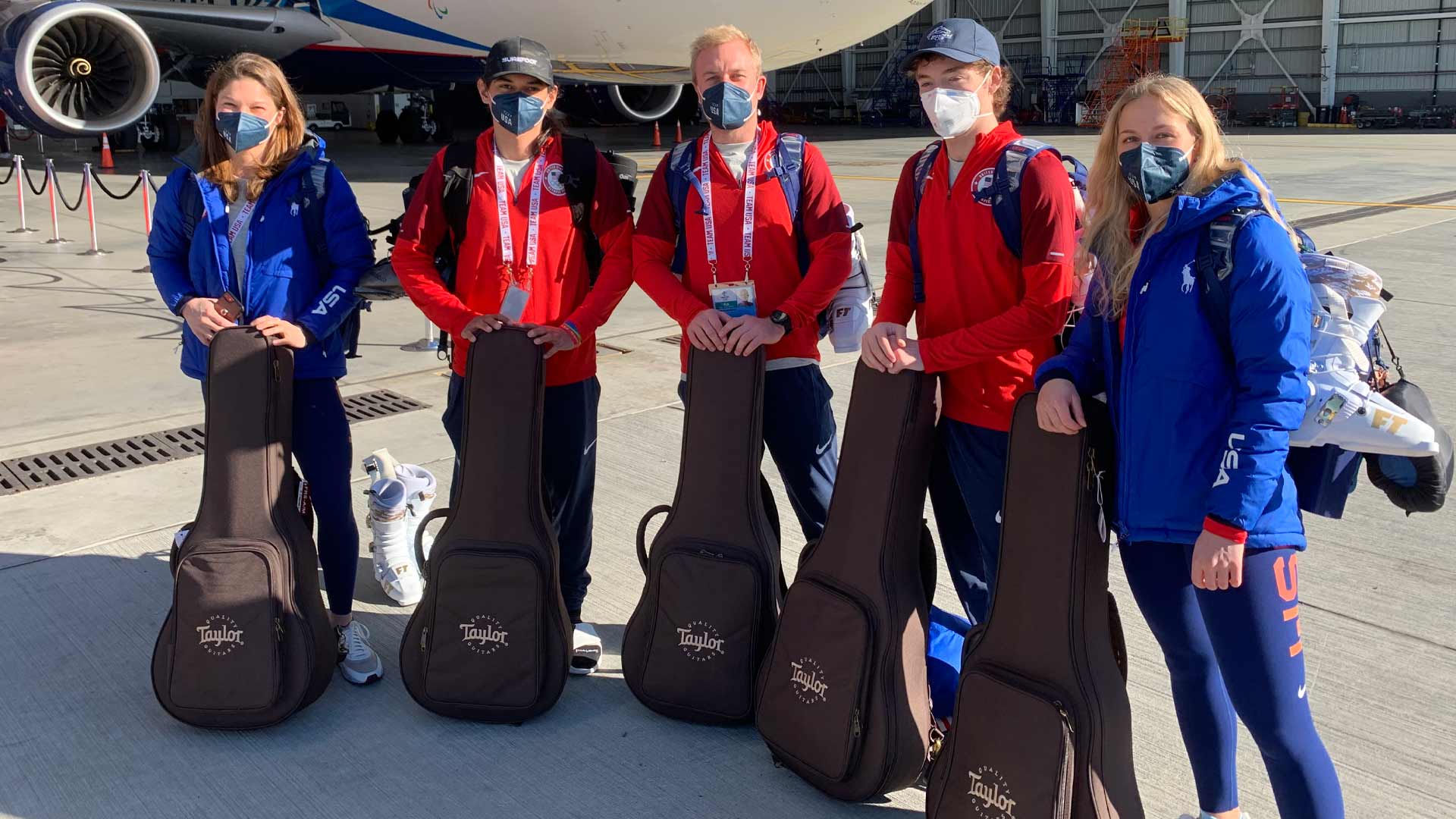 In related news, following the Olympics, in March, decorated skier Mikaela Shiffrin was crowned as the overall champion of the Alpine Skiing World Cup's 2021/2022 season. To commemorate her win, Oakley presented her with a very cool custom Baby Taylor.
Original Grain Meets Urban Ash
If you've been following along with Taylor, you may know about our partnership with the watchmakers at Original Grain, another great business from our hometown of San Diego. Original Grain crafts beautiful wristwatches that incorporate a variety of visually stunning woods, including several supplied by Taylor. Previous offerings have included watches featuring West African ebony from our Crelicam mill in Cameroon, as well as models featuring Hawaiian koa and sapele. Now, we're teaming up with our friends for another sustainability-themed offering, a beautiful new watch made with Urban Ash, the tonewood we source responsibly from trees removed from city areas that would otherwise have gone to landfills.
You can learn more about the Original Grain x Taylor collection at the Original Grain store.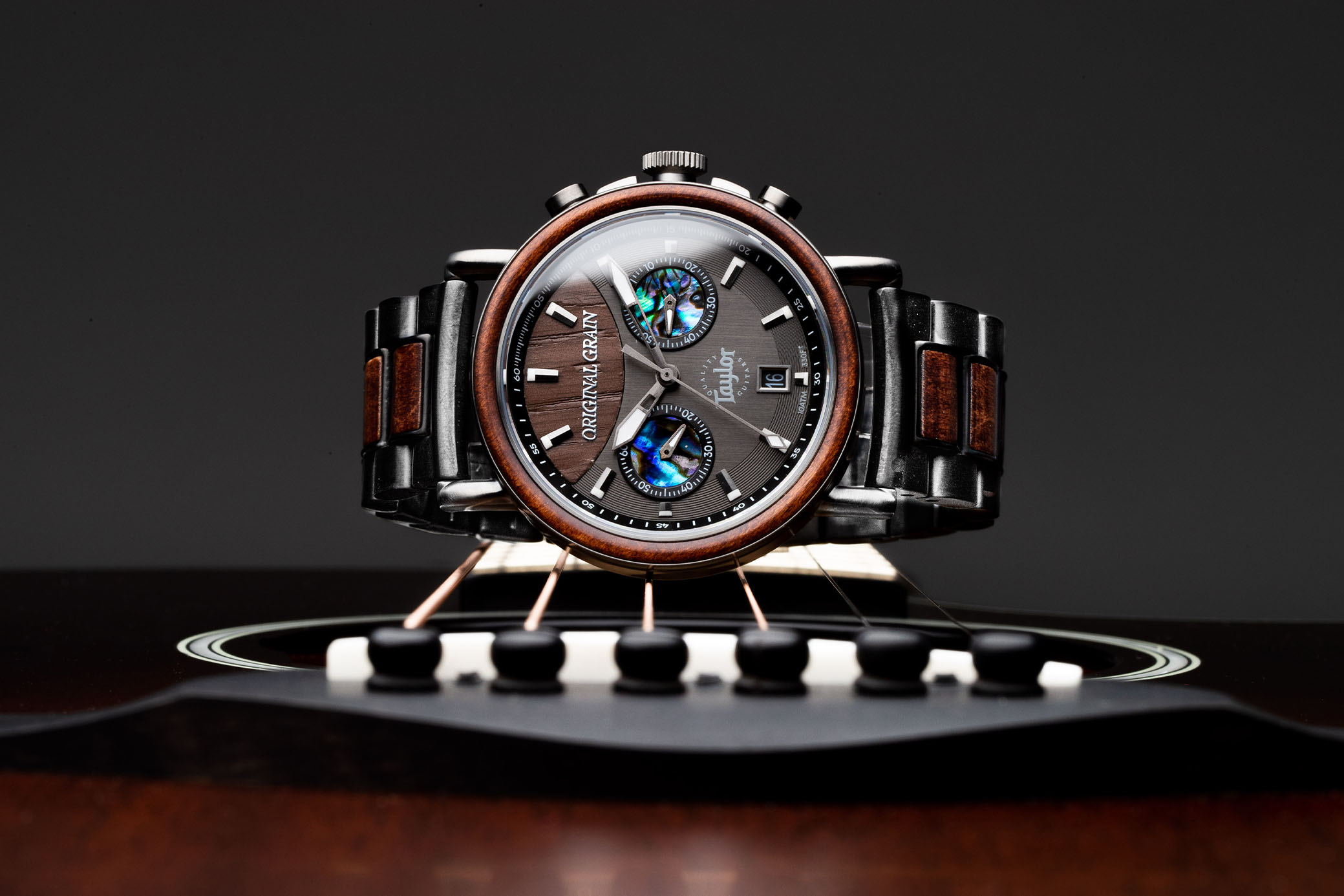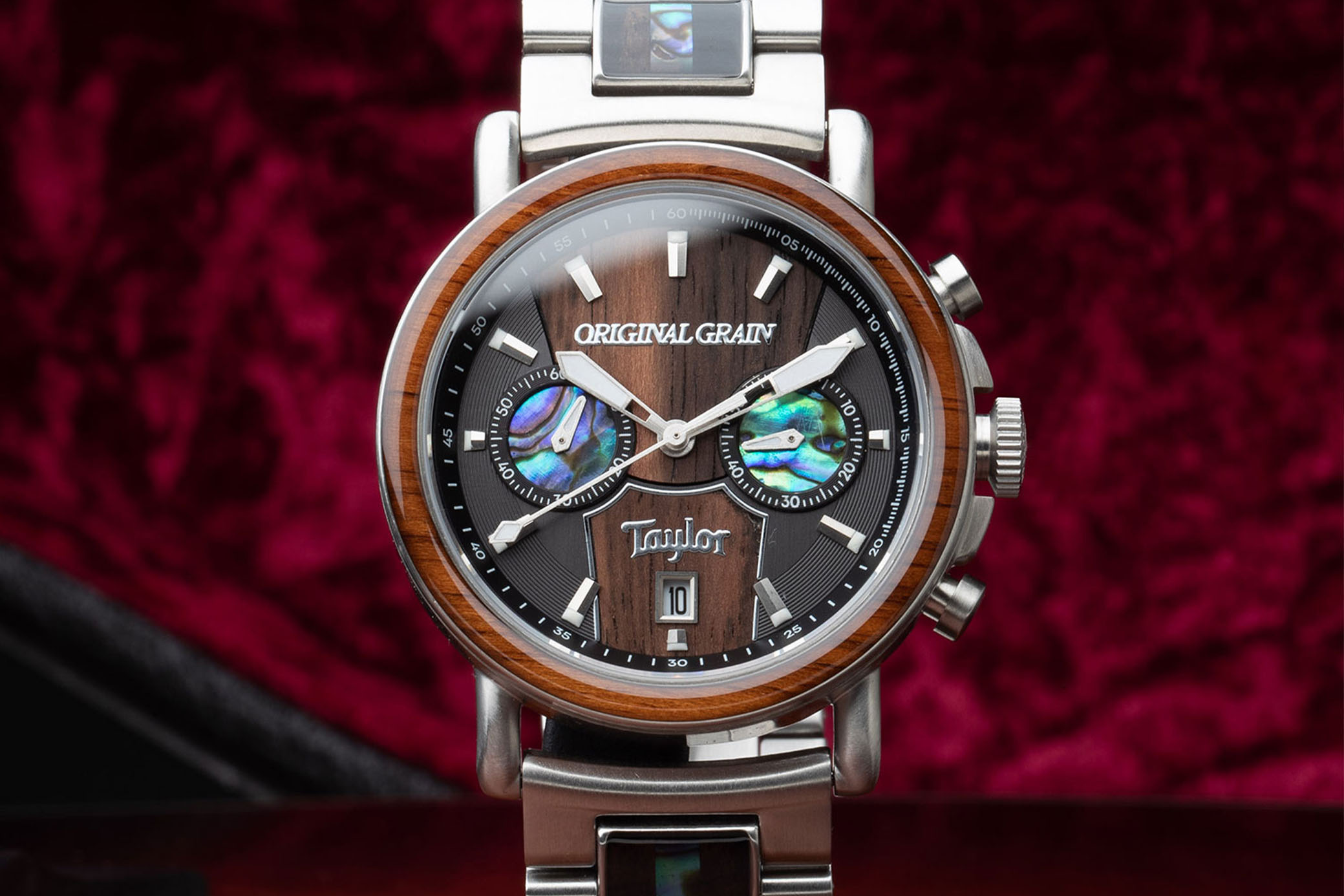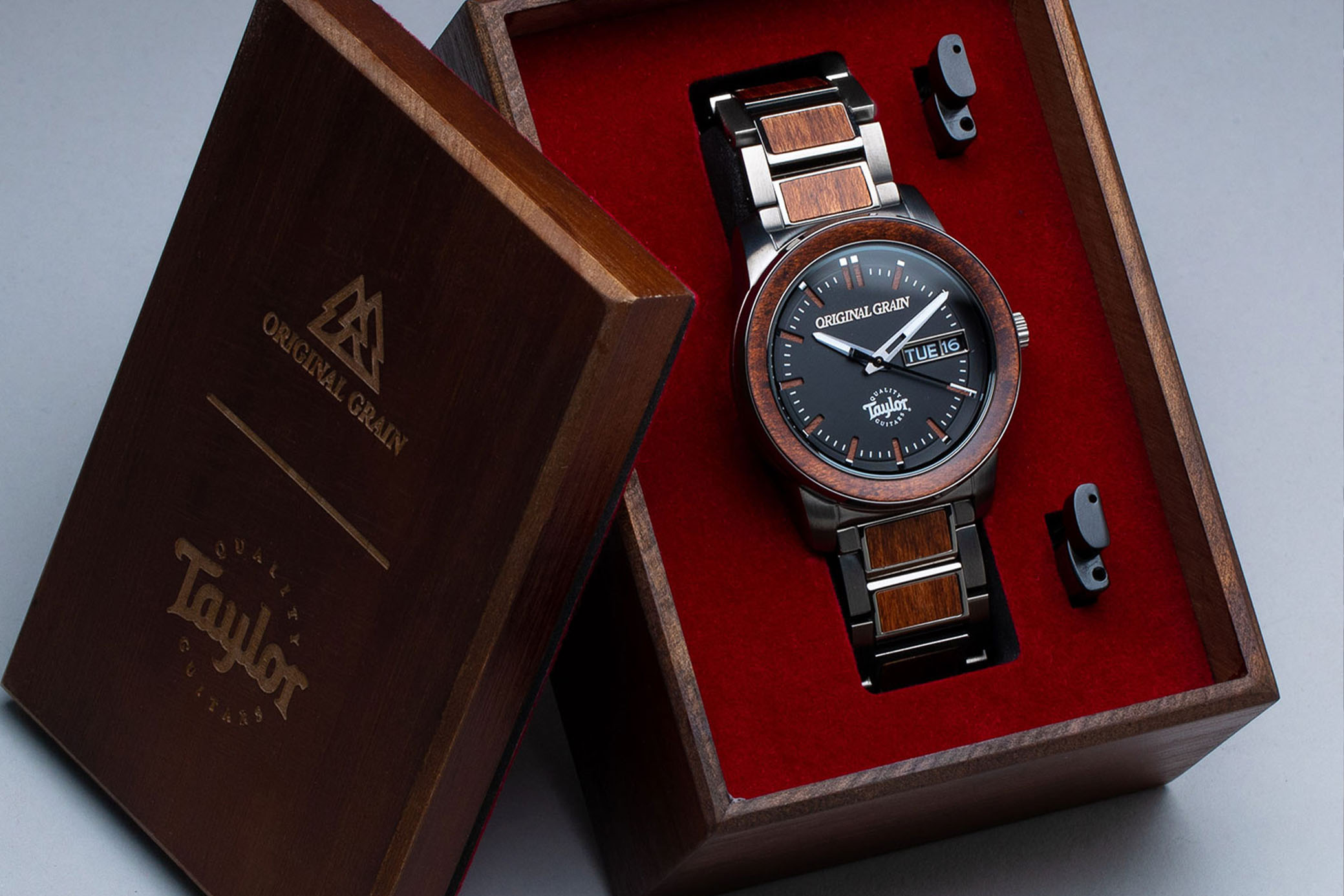 Happy Family
Billie Eilish and her brother FINNEAS are currently out on their 2022 world tour in support of Eilish's latest release, Happier Than Ever. In late March, the siblings took home an Oscar at this year's Academy Awards after winning in the Best Original Song category for "No Time to Die," their composition for the recent James Bond film of the same name. The award makes Eilish the youngest person to win three major awards for the same song (she also took home Golden Globe and GRAMMY awards this year), and it marks the first time an Oscar has gone to someone born after 2000. The two performed the song at the GRAMMY Awards in April, with FINNEAS on his 514ce. Following the award trifecta, Taylor sent our congratulations in the form of a custom-appointed AD17 Blacktop. The guitar features a specially designed truss rod cover with an Oscar statuette inlay and a custom pickguard with the logo from the Bond film. FINNEAS's main Taylor on the tour has been his 514ce, while Billie has been strumming her GTe Blacktop.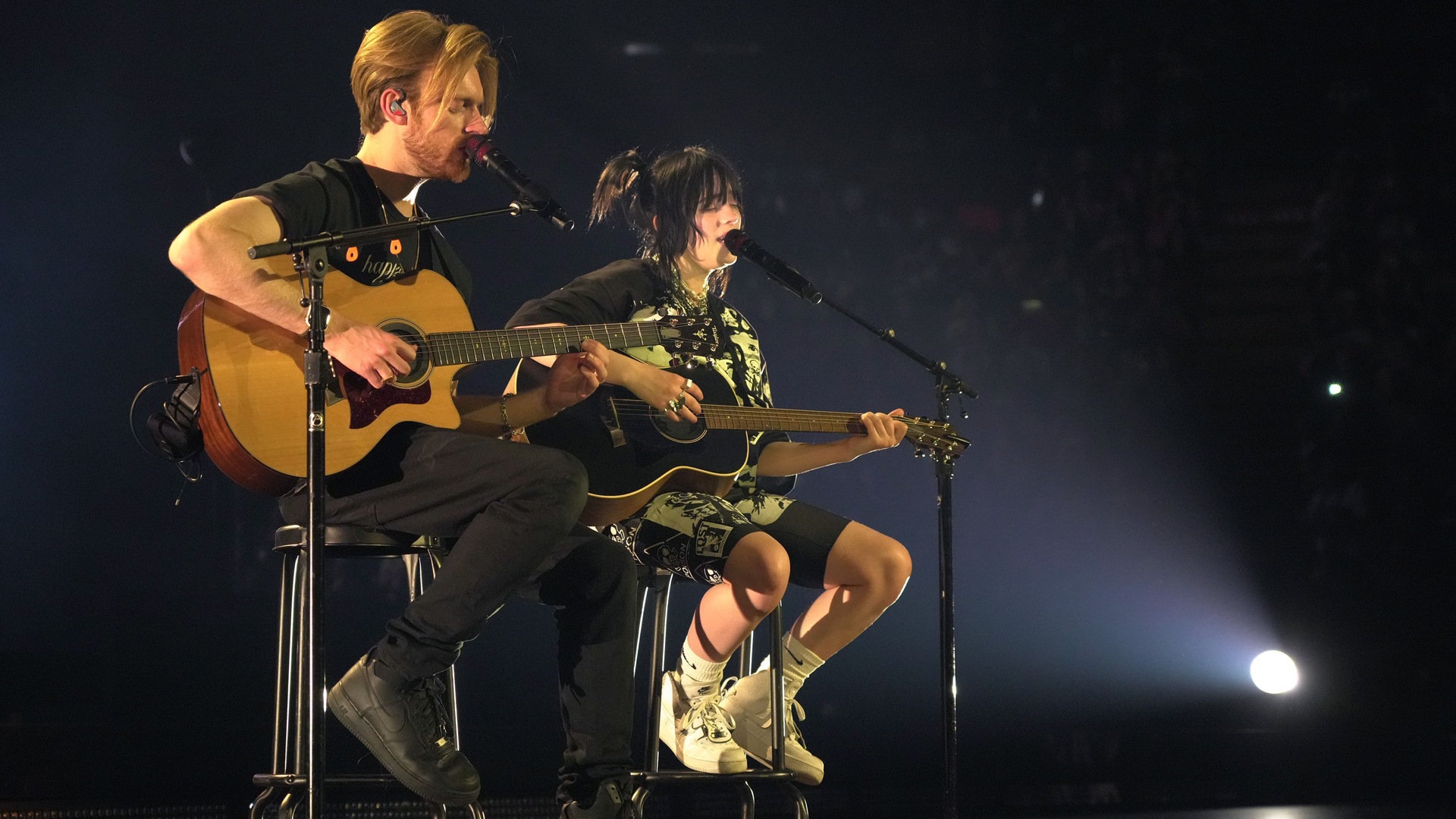 Stardust & Satellites & Smokey Joe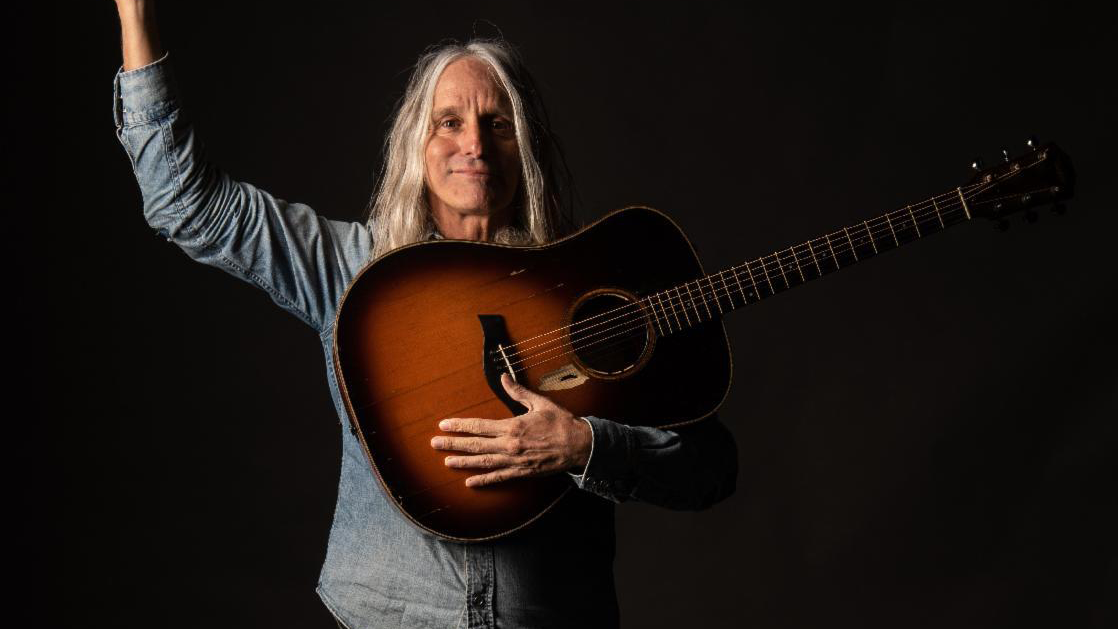 Prolific and delightfully eccentric singer-songwriter Steve Poltz, a San Diego music scene legend and current resident of Nashville, released his 14th studio album in February, titled Stardust & Satellites. Country music outlet Holler gave the album a score of 8/10, calling it "A wonderfully energized, often joyful and wryly provocative release." Americana Highways responded with similar enthusiasm, reporting that the album "takes just one song to remind you why [Poltz] is still one of the wittiest songwriters in the folk/Americana world right now."
For a taste of Poltz's singular (and hilarious) storytelling chops, check out his account of acquiring one of his oldest and most gig-seasoned Taylor guitars, nicknamed "Smokey Joe," in our Taylor Stories video series below.
"Flawless" Jewel
Former Poltz songwriting collaborator and award-winning singer-songwriter Jewel released her latest album, Freewheelin' Woman, her 13th, in April. In interviews, Jewel has said she wanted to record an album that represented "exactly who and where I [am] now." Critics have appreciated the intimacy and immediacy of the new album — American Songwriter called it "her most stylistically diverse album, encompassing folk, pop, and R&B." Spin also sang its praises, highlighting Jewel's "irresistible melodies and a voice that's never been more flawless — or more powerful."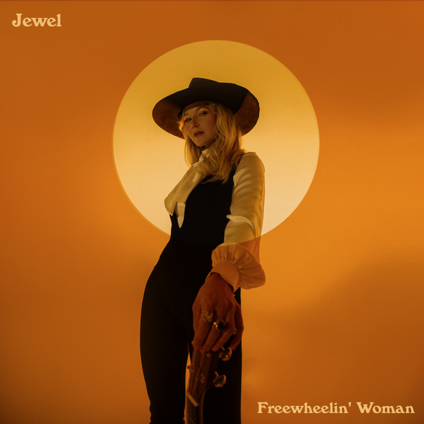 Wood and Led
Folk singer-songwriter James Lee Stanley returned this year with another collection of acoustic covers of classic rock favorites. Recorded with Dan Navarro, the album, All Wood and Led, features covers of songs by — you guessed it — Led Zeppelin. Stanley has previously covered bands like the Rolling Stones and the Doors in other collections. The San Diego Troubadour describes this record as a "Byrds and Buffalo Springfield interpretation [of] the Zep crew." With mellower, fully reimagined takes on classics like "Rock and Roll," "Stairway to Heaven," "Whole Lotta Love," "Dazed and Confused" and more, Stanley and Navarro's arrangements and sweet vocal harmonies put their own unique spin on one of rock's most legendary acts.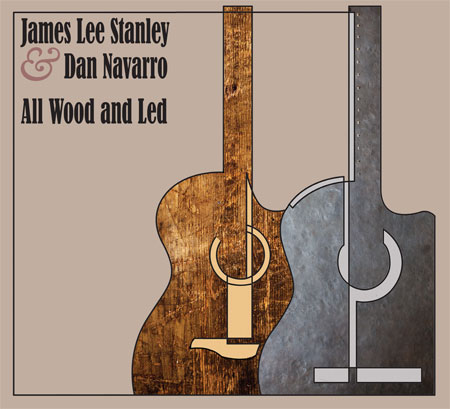 Taylorspotting
Puerto Rican guitarist and singer-songwriter Yett recently signed with Warner Music, and he's charging out of the gate with a fresh single, "Dicen que nada es para siempre" (They say nothing is forever), along with a new music video. Yett plays a GS Mini Koa throughout the video.
In other artist news: Trace Adkins is starring in the new Fox TV show Monarch this fall and will be playing his Taylor guitar. Taylor player Joy Clark was seen playing her 714ce on Jimmy Kimmel Live with Allison Russell. Barenaked Ladies and KT Tunstall were on tour together in the U.K., where they played a sold-out show at the Royal Albert Hall in London. Isaiah Sharkey is out on tour with John Mayer playing his 912ce. Miami-born, Nashville-based duo Kat & Alex are bringing their unique flavor of Latin-inflected country to the Taylor artist roster. New Taylor player Jaco Caraco is an in-demand Los Angeles session player and the bandleader on the Kelly Clarkson Show, where he recently played a Taylor baritone guitar for with Clarkson's rendition of Don McLean's "Vincent." Taylor artist Danny Rader is out on tour with Kenny Chesney playing his Builder's Edition 717. Jonah Prill has been playing his Builder's Edition 517 on NBC's The American Song Contest. Rae Lynn will be playing a 317 for her summer dates opening for Kane Brown. Dayseeker is on tour and playing intimate VIP acoustic sets before each show with their AD17e Blacktop, GT 811e and GS Mini-e Maple Bass. New Taylor artist Emily Rosenfield is on tour with Japanese-British singer-songwriter Rina Sawayama, and played Coachella this summer with a GT 811e. New Taylor artist Susana Vasquez plays with Karol G and also had a major appearance at Coachella, where she rocked a requinto-style 250ce-BLK DLX.
The Taylor artist family has also been active around the world. U.K. guitarist Remi Lauw has been playing for Dutch artist Glenis Grace and recently Oscar and the Wolf. Chilean Taylor artist Mon Laferte has already won four Latin GRAMMYs and in June started a tour that will take her to more than 20 countries worldwide. Here she is playing "Good Boy" with one of her Taylors. Hailing from Columbia, Santiago Torres is the leading guitar player for Columbian superstar Maluma, who has more than 61.9M followers on Instagram alone. U.K. artist John Conneran was a featured artist on the Disney Spotify playlist with his version of "When She Loved Me," which recently hit 1 million streams. Mexico-based artist Carla Morrison is touring and playing her Taylor guitar with Coldplay. Finally, U.K. musical virtuoso Jacob Collier is on a world tour playing a custom 5-string Taylor guitar designed by Andy Powers.
Tuning Up on Taylor Soundcheck
The video team at Taylor has been on fire lately, producing high-fidelity performances from some of today's hottest up-and-coming stars and established artists. Recent episodes have featured players like London's Holocene, folk trio Wildwood Kin, At the Drive-In and Sparta co-founder Jim Ward, and recently, a special performance from Brit-pop trio New Rules. The group played two of their songs, "Emily" and "Cheers," and shared insight into their songwriting process. Watch the video below and head to Taylor's YouTube channel for all the Soundcheck performances.
Take a Listen to the Most Recent Playlist