Hawaiian koa's illustrious heritage is deeply entwined with the history of the Hawaiian Islands themselves. Exclusive to Hawaii, the native species (Acacia koa) has been revered within Hawaiian culture for centuries. Koa holds symbolic meaning ("koa" translates into "warrior" in Hawaiian) due to its importance as a vital resource to make everything from weapons, bowls, canoes, surfboards and paddles to ukuleles and the Hawaiian steel guitars popularized by Hawaiian musical pioneer Joseph Kekuku in the late 1800s.
In fact, it was koa's use as a tonewood for musical instruments that would help introduce it to others beyond the Islands. The alluring, beautifully slurred Hawaiian melodies played on those steel guitars would eventually migrate to the U.S. mainland in the early 20th century as Hawaiian musicians toured the country as cultural ambassadors, sparking an infatuation with Hawaiian music and mingling with other popular American musical genres of the day like ragtime, country and blues in the American South. Koa stringed instruments became popular in the U.S. in the 1920s as guitar companies like Weissenborn and Martin began producing koa instruments during this time. But as the Hawaiian music craze faded in the 1930s, the use of koa for instruments also tapered off as guitar makers returned to traditional woods like rosewood and mahogany.
The mid-1970s saw the beginning of a koa revival in the acoustic guitar world as a new wave of young luthiers began working with it. Bob Taylor built his first koa guitar in 1980 and formally introduced a Koa Series within the Taylor line in 1983. As Taylor grew as a company and Martin reintroduced koa to its tonewood portfolio, koa regained its bona fides within the acoustic guitar market. Now, more than four decades since Bob built his first koa guitar, Taylor is perhaps more closely associated with koa than any other guitar company.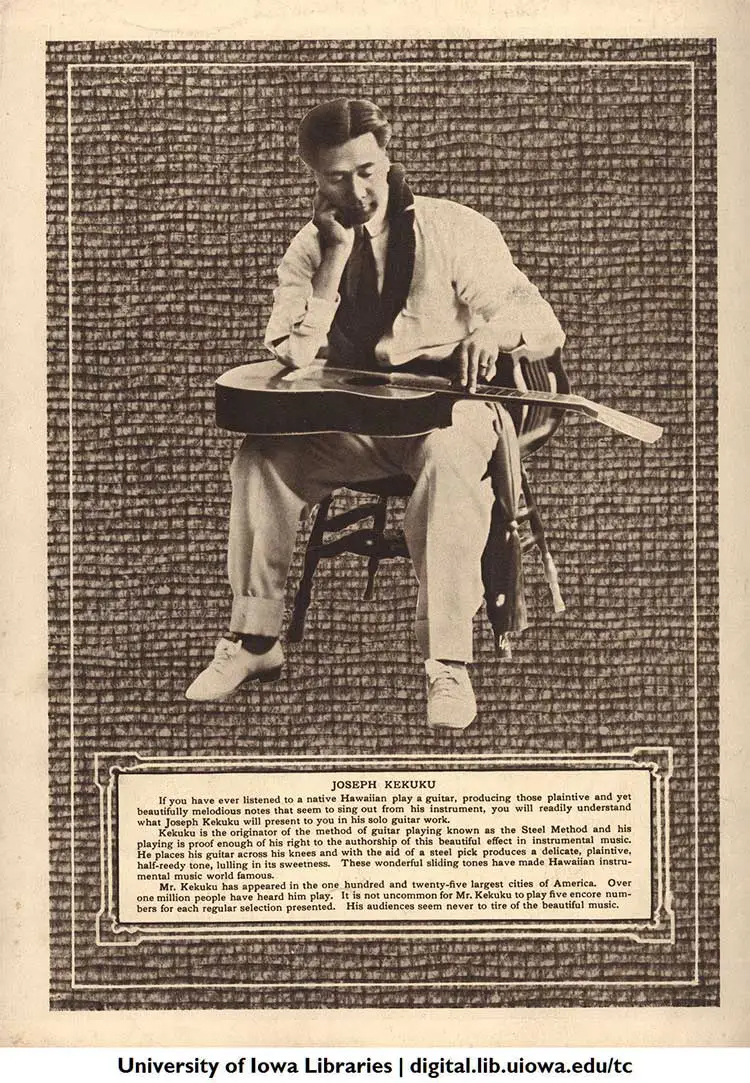 Over the years, our use of koa has ebbed and flowed in response to a variety of factors including availability, cost and our ability to source our preferred grades of wood to maintain a consistent aesthetic standard. The truth is that the breathtaking figuring people love in the koa used for our premium Koa Series is, genetically speaking, a minority, found in only a small percentage of koa trees.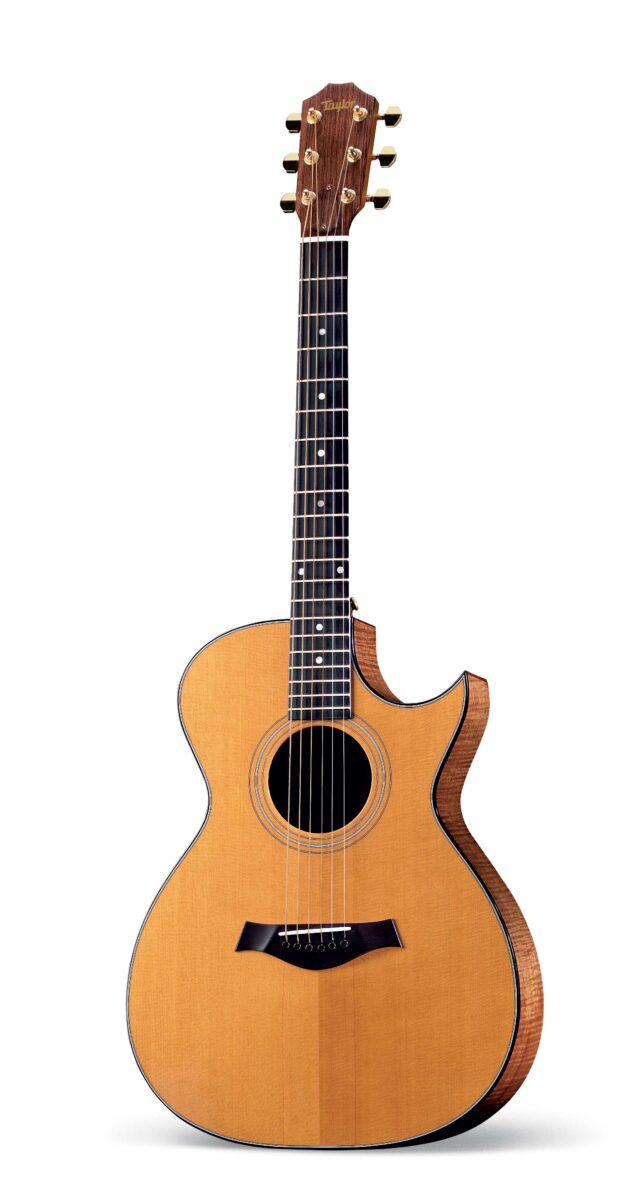 Taylor's growth into a large manufacturer has presented both challenges and opportunities when it comes to sourcing woods like koa. On one hand, our supply needs are greater than those of boutique-size guitar makers, which at times has made it more difficult for us to procure a consistent supply of premium-grade wood used for Koa Series models. In fact, for stretches in the mid-1990s and again in the early 2000s, we made the decision to pause our production of Koa Series guitars and use the wood more sparingly, and more strategically, depending on what was available. It was a time when Taylor offered more small-batch runs of limited-edition koa models (sometimes highly figured, other times more modest in appearance and offered at a more accessible price point) and, after the introduction of our hollowbody electric/acoustic T5, saved our best sets of koa for T5 Custom tops along with custom guitar orders.
Our Koa Series eventually returned to the Taylor line in 2007, and as the line has continued to grow and evolve, the expanded framework has given us a more diverse guitar ecosystem to work with koa — not only in terms of wood grades but with sizes of the guitar sets that can be cut. Think about the koa GS Mini and Baby Taylor models we currently offer. Those smaller guitars provide the perfect use for cuts of wood that aren't large enough for other full-size models, allowing us to use more of what a koa tree has to offer.
Additionally, we use koa veneer for some of our layered-wood guitars. So in addition to cutting veneer for those GS Mini and Baby models (paired with solid koa tops), highly figured koa can be sliced into beautiful back and side veneer used for our koa 200 Deluxe Series guitars. Doing so gives guitar enthusiasts (and koa lovers) yet another access point to a beautiful koa guitar within our line.
Making the Grade
A single koa log can contain a diverse range of wood grades within it. In many respects, cutting open a log is the moment of truth that reveals how the wood will be cut, graded and utilized. Our goal is to be as responsible as possible in our use — to maximize yield from a tree to make guitars, and to minimize waste by using other smaller pieces of wood for other guitar components like binding, purfling, rosette elements and more. We also use koa for some of our guitar wall hangers and TaylorWare pick tin covers, and Bob Taylor recently decided to produce a limited-edition run of koa serving paddles for Stella Falone, the wood kitchenware company he launched in 2018 to create additional value from ebony that can't be used for musical instruments.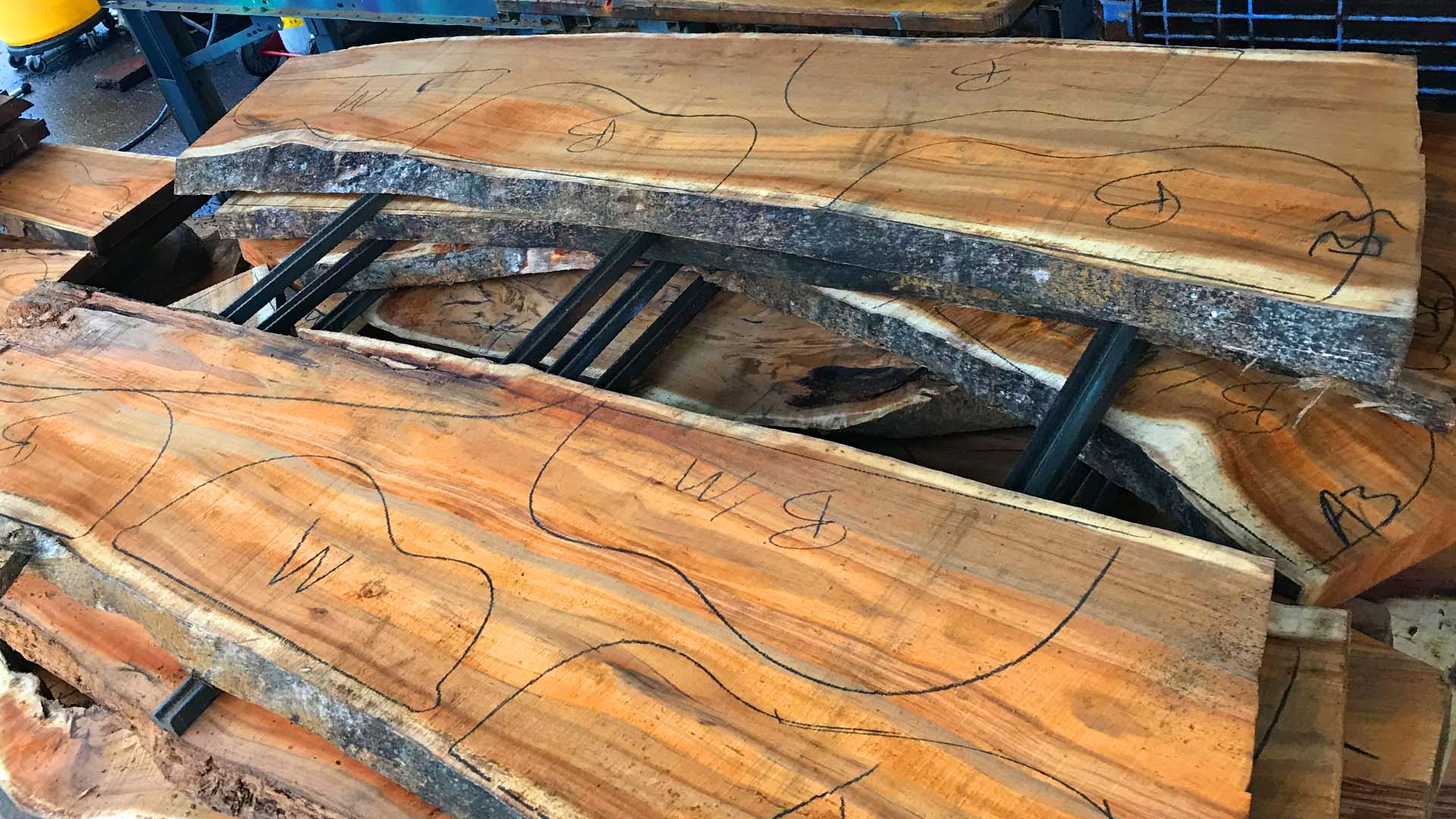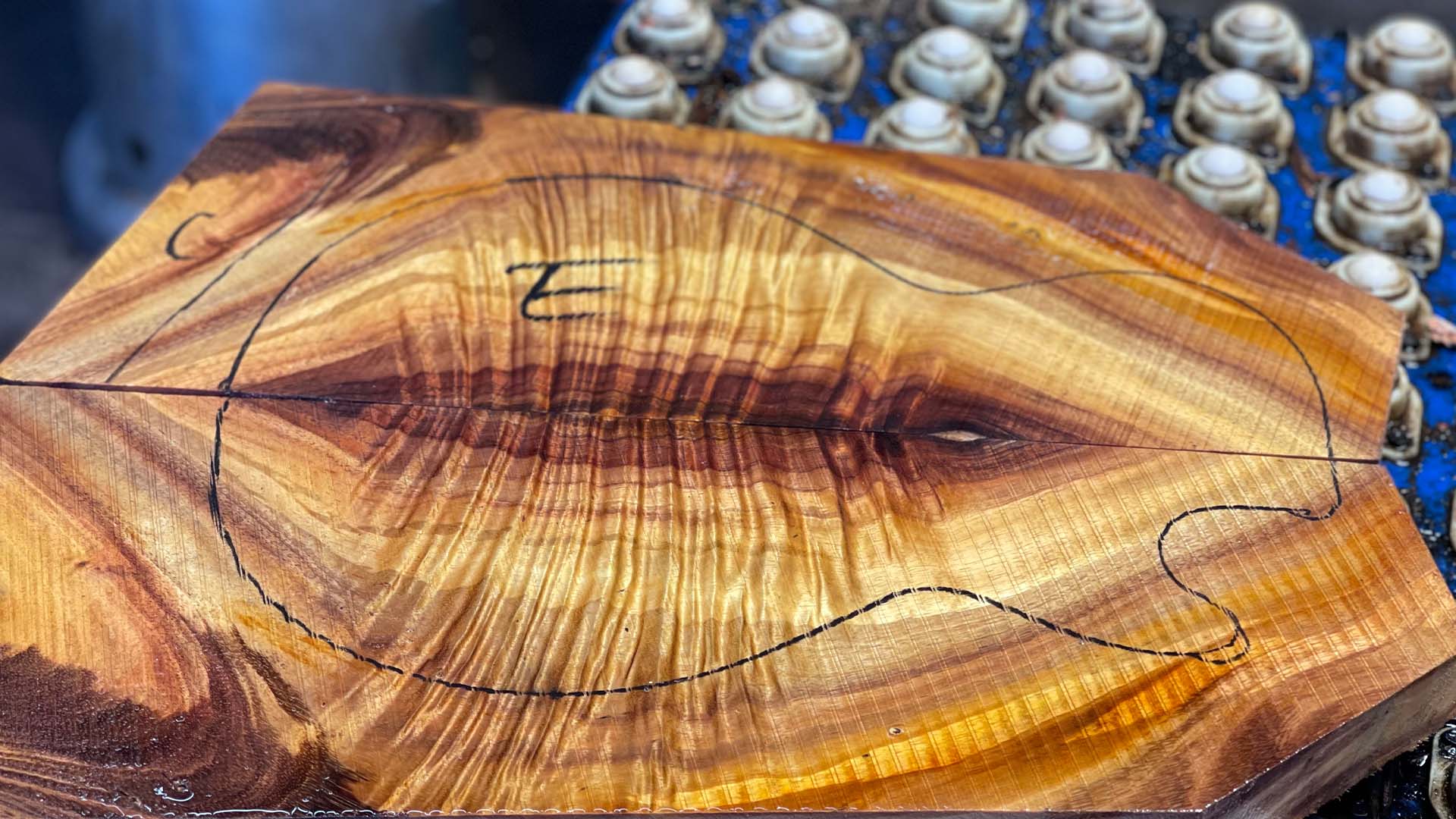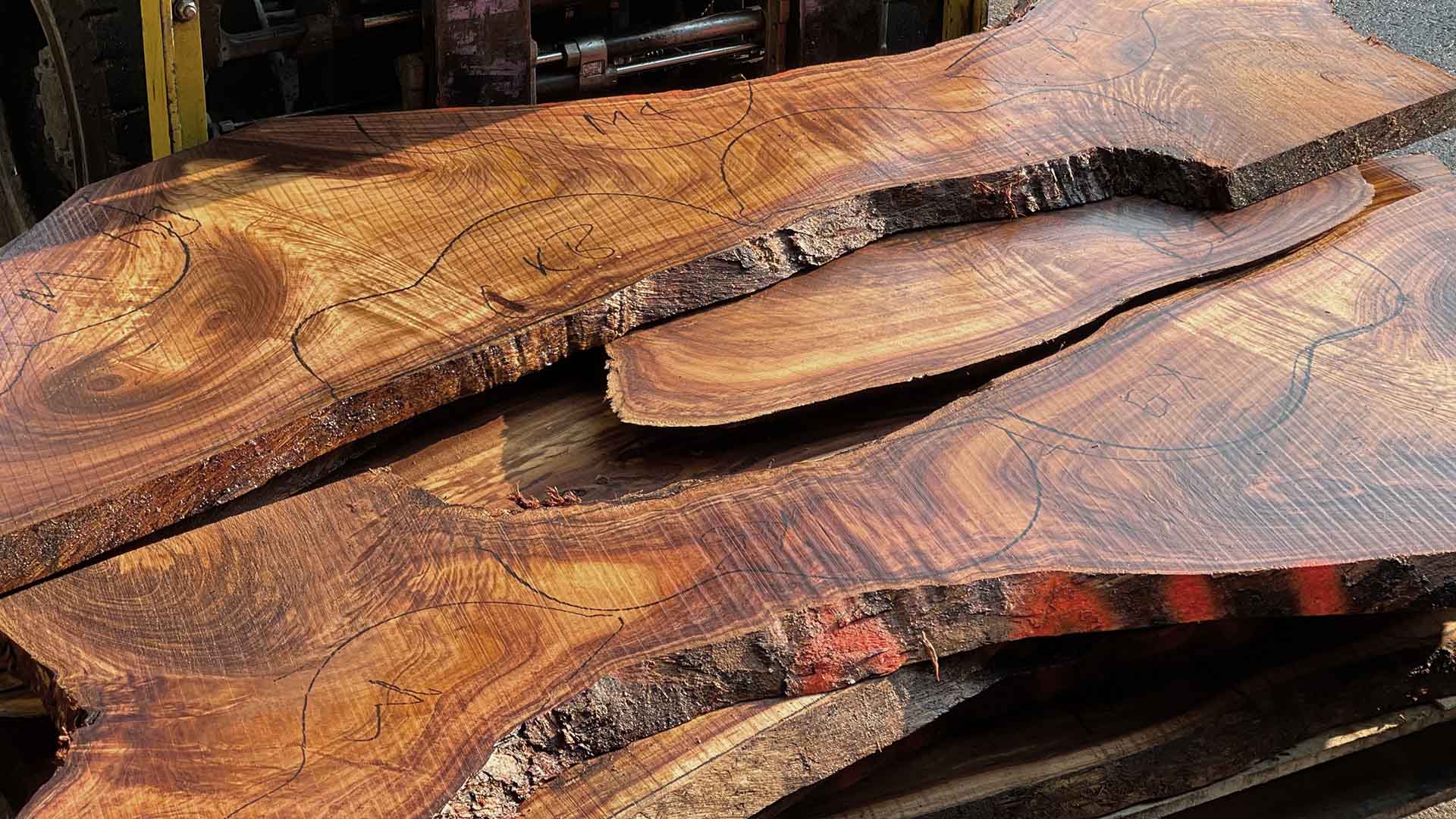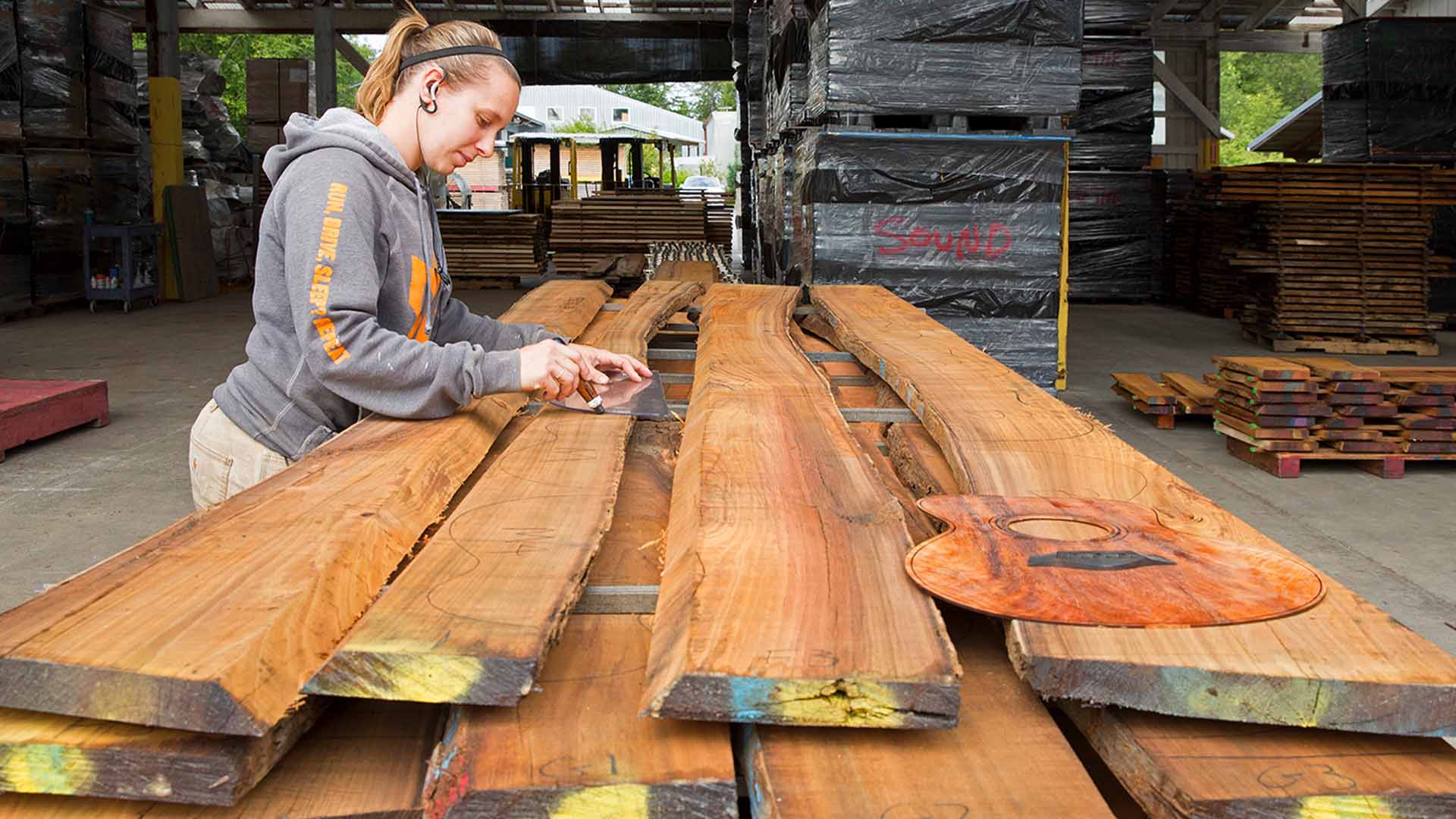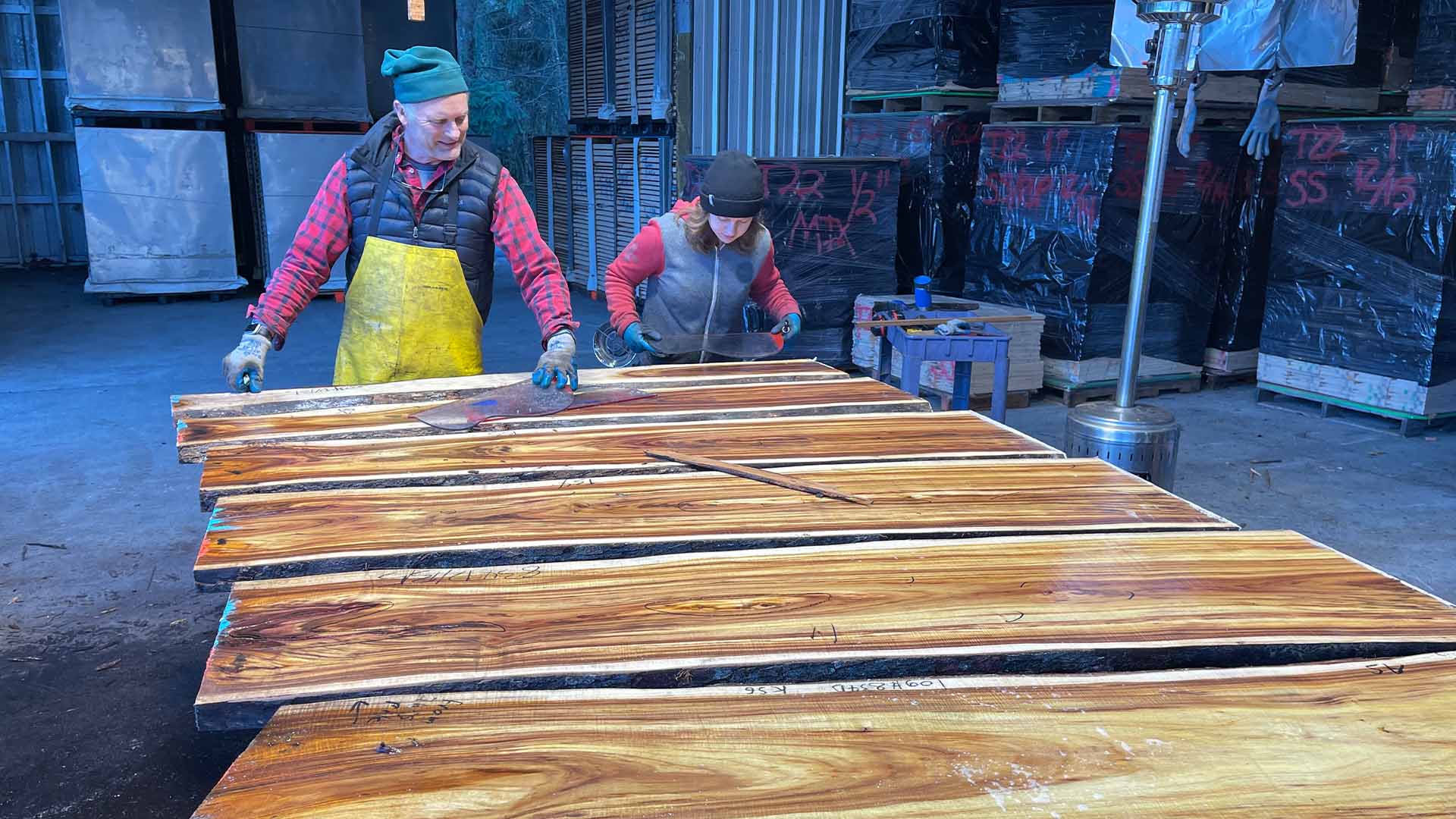 Discovering Koa's True Colors
In recent years, Taylor Guitars and our longtime supply partner, Pacific Rim Tonewoods, who cuts our koa for us, have worked closely together to invest in the future of sourcing koa. In 2015, we formed an innovative partnership (originally called Paniolo Tonewoods, recently renamed Siglo Tonewoods) with the goal of restoring native Hawaiian forests and growing koa in Hawaii. (Read our story about that collaboration here.)
As part of the project-based stewardship agreements made with private landowners in Hawaii, Siglo is permitted to cut a select number of designated koa trees, and in exchange, we invest dollar for dollar in a host of forest improvement projects. Through that direct arrangement, we've been able to cut into more koa logs ourselves — and in the process, discover far more varieties of koa wood, showcasing a richer palette of colors and visual character than we'd previously encountered in dealing with suppliers. Taylor master builder Andy Powers was especially excited by the new opportunities this presented.
"Seeing all of these beautiful hues felt as exciting as the first time we realized ebony could have variegated color."
"The scenario reminds me of the way a person who grew up in a jungle can see so many different of shades of green, while a person who grew up in an urban environment sees far fewer," he says. "In the past, we were familiar with the wood sawyers offered us, but we didn't get to see all that a Hawaiian forest could provide. We would typically see the extreme end of the koa wood spectrum — the outrageous, highly figured koa that is difficult to work with since that is the timber many sawyers would target for guitars, while most other koa trees were directed toward other uses. Once we began working closer to each log and could see all of these beautiful hues, it felt as exciting as the first time we realized ebony could have variegated color. The reality is that a lot of fantastic-sounding koa wood comes from trees that don't have deeply figured grain. The fibers in many koa trees grow straighter, similar to the genetic variable that makes some hair curly, some wavy and some straight."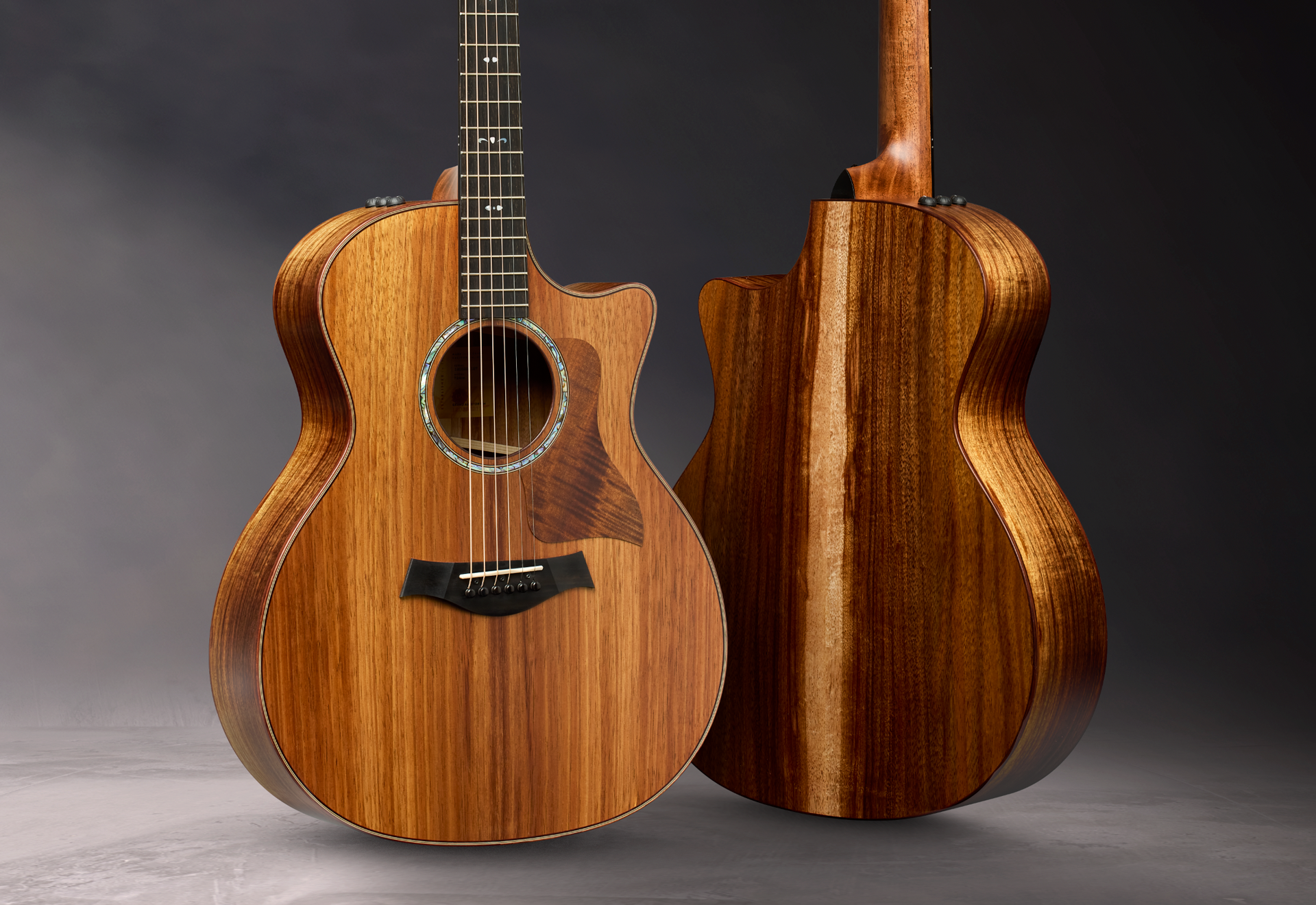 A New Grade, a New Series
As we surveyed the beautifully striped variegation in some of the wood that was being cut, Andy was inspired to treat this koa in a different way and design an all-solid-wood koa guitar with a distinctive musical personality than our existing Koa Series.
The figured koa sets we use for our Koa Series inform a more refined, luxurious aesthetic treatment. Visual elements like a shaded edgeburst and gloss-finish body elevate the beauty of the wood, while a maple Spring Vine inlay and maple top and fretboard/peghead purfling add elegant accents. (Builder's Edition models take things a step further with a beveled armrest and sparkling abalone inlay and top edge trim.)
Sonically, Andy says, the Koa Series is voiced to produce an equivalent sound to match the elevated aesthetic.
"Our Koa Series guitars were voiced to reflect this ultra-refined, polished, smooth aesthetic," he says. "They're rich and sweet."
"When you touch the body, you can feel the actual wood texture, the grain structure, the pores."
By contrast, for this new striped koa — which we're classifying as Select grade — Andy wanted to create a more organic aesthetic and coax a more direct, dynamic response from the wood.
"I was thinking about this guitar from the outside in," he says. "I wanted to start by focusing on a tactile connection to the wood to emphasize the directness of the response — when you touch the body, you can feel the actual wood texture, the grain structure, the pores. There's less between the player and the wood, to such a degree that the player feels the warmth of the wood surface."
So rather than a gloss finish, Andy opted for an ultra-thin, open-pore matte finish. Beyond the tactile benefits, the thin finish plays an important role in voicing the guitar. (For more on the impact of finish on a guitar's sound, see our sidebar.) He coupled this with a slight variation on the back bracing associated with our V-Class architecture. Together, the sound is a little livelier, a little less filtered, than the sound of our Koa Series guitars.
"These guitars retain the unique sweetness we associate with a guitar made from koa — especially that beautiful midrange — but with a more direct, punchy attack and natural response," Andy says. "The thinness of this finish doesn't contribute as much damping or compression. You'll hear more of the tactile elements of your playing — more of your fingertips, a pick touching the strings, the subtle nuance of a guitarist's natural sound. I think of this as a player-reflective version of a koa guitar — you get more control over what you sound like."
How Finish Contributes to Sound
At Taylor, we use different types and thicknesses of finish on a guitar body with various models across the line. Visual appearance aside, the thickness (and density) of the finish (together with other factors like bracing and the tonewood species) is an important ingredient in a luthier's overall voicing recipe for a guitar.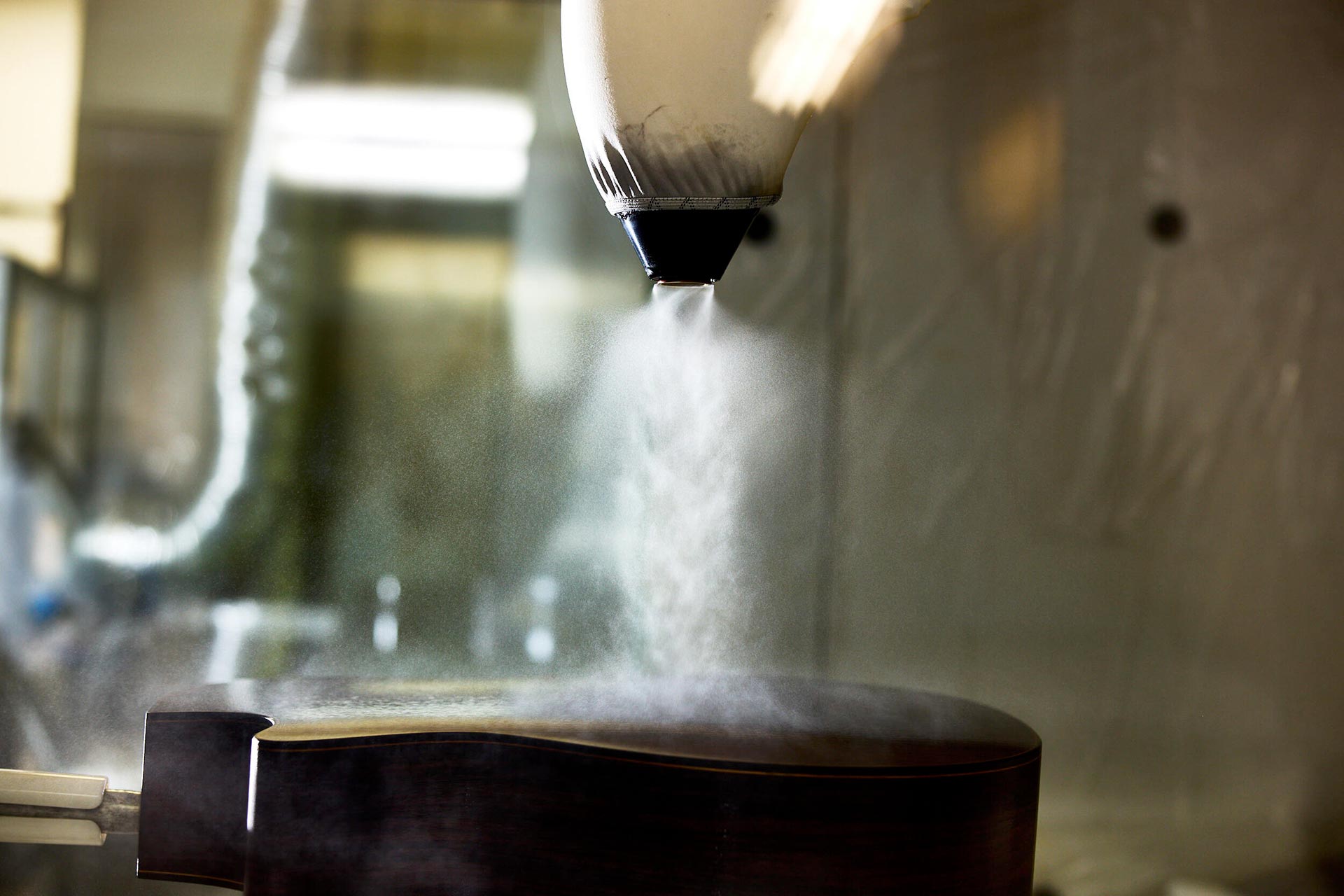 Applying finish to the wood creates a damping effect on the guitar. This is a helpful way to calibrate a guitar's voice — as long as the thickness sits within a certain range, as Andy explains.
"Whenever you set something in motion, you've got a mix of the parts of your sound that you want there — the musical part, the regular vibration pattern — and the noisy parts you don't want," he says. "This noise element of vibration is like a mechanical distortion. We hear that sound as noise; it tends to be ultra-high-frequency, weak and irregular vibrations that can make a guitar sound strident or brash, almost metallic in some cases. Putting the right amount of finish on the surface helps mute that noise while allowing the stronger musical vibration aspect to set the structure into motion."
Apply too much finish, Andy says, and you can lose some of the musicality because of the pleasing harmonic content that gets filtered out. At the other end of the spectrum, a completely raw, unfinished acoustic guitar will not sound good.
"An acoustic guitar in a raw wood state won't usually have enough damping to block out those harsh-sounding vibrations," he explains. "It's an effect that often accompanies artificial or synthetic materials. When a material's damping factor is outside a musically pleasing range, it'll sound aggravating and rough because the material won't favor the musical vibration over the non-musical vibration. It may be moving a lot, but with a mix of good and bad sound, the overall result is less satisfying to hear."
Sitting in his workshop noodling on one of the new all-koa models he designed, Andy turns to a coffee analogy to describe the different sound compared to our Koa Series.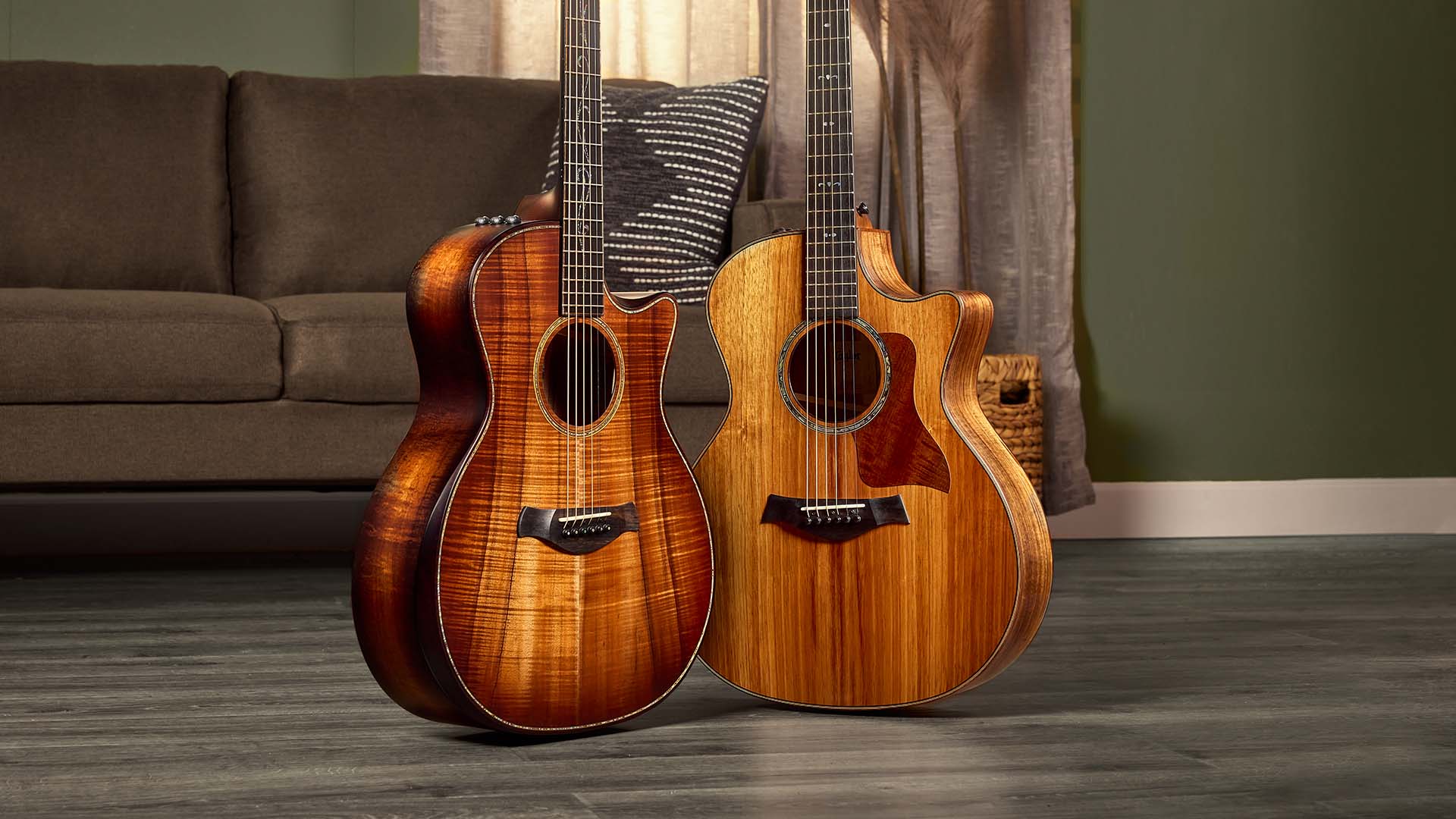 "A Koa Series guitar is like the a perfectly prepared cappuccino — so smooth, delicious, beautiful," he says. "At the same time, it is inherently a mix of all the ingredients. These new koa guitars would be like your pour-over coffee — with amazing beans, well roasted and presented in the most direct way possible, for the purest koa experience. You get all the flavor, with minimal filtering. Together with the tactile sensation that's so warm and inviting, you end up with an instrument that offers unique musical inspiration."
Aesthetically, Andy wanted the guitar's appointments to reflect the guitar's musical personality.
"I wanted to retain traditional appointments, but with a focus on natural materials, so we selected rosewood binding and real shell for the inlay," he says. "At the same time, I wanted the inlay to be unobtrusive and not too heavy in its ornamentation."
The inlay design, christened Fountain, features mother-of-pearl in an elegant yet understated pattern. Other decorative details include Indian rosewood binding (with a bound soundhole), a paua shell rosette accented with rosewood and maple, rosewood and maple top edge trim, a dark-stained maple pickguard, and Taylor polished bronze tuners that visually harmonize with the color tones of the koa body.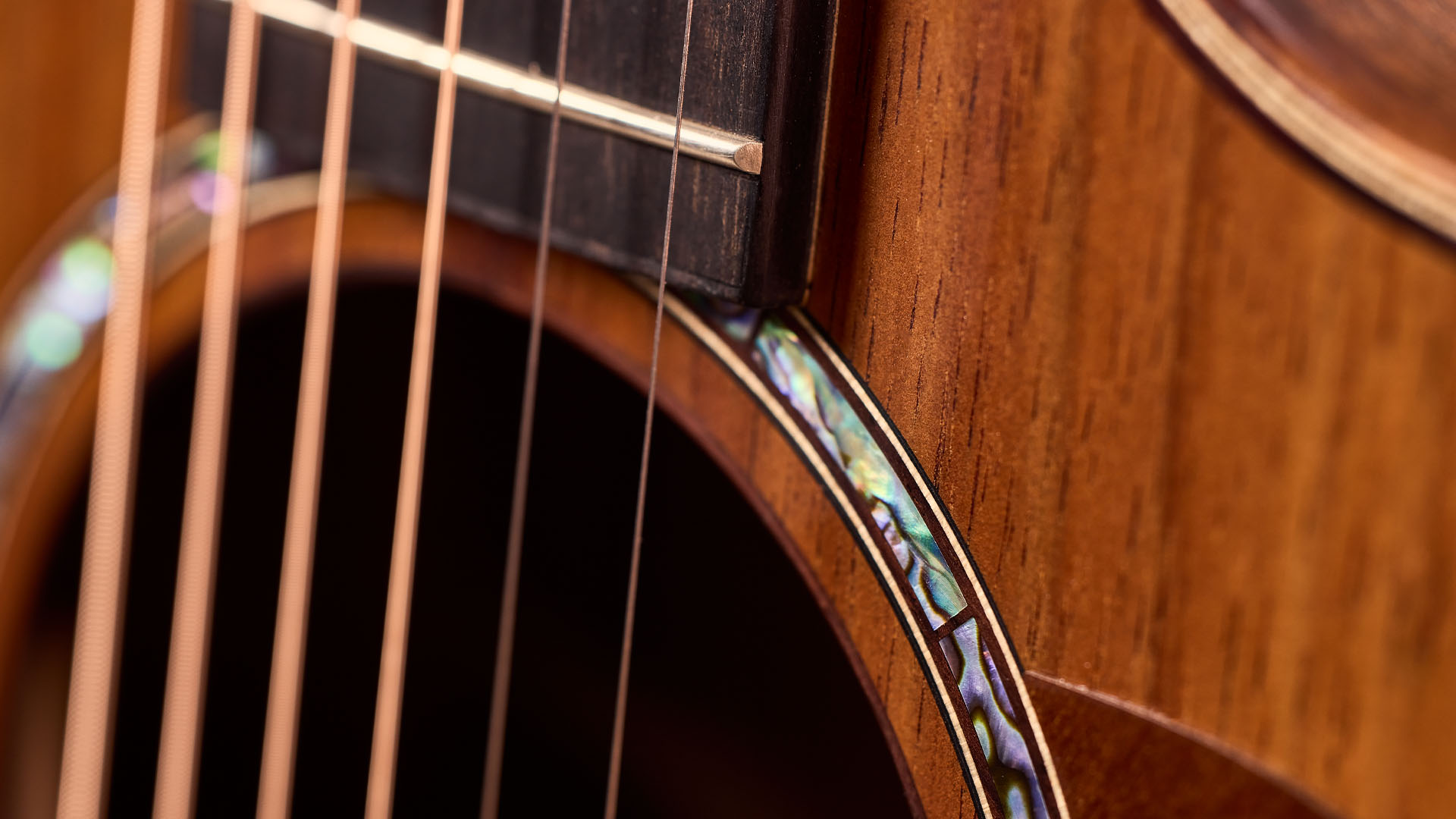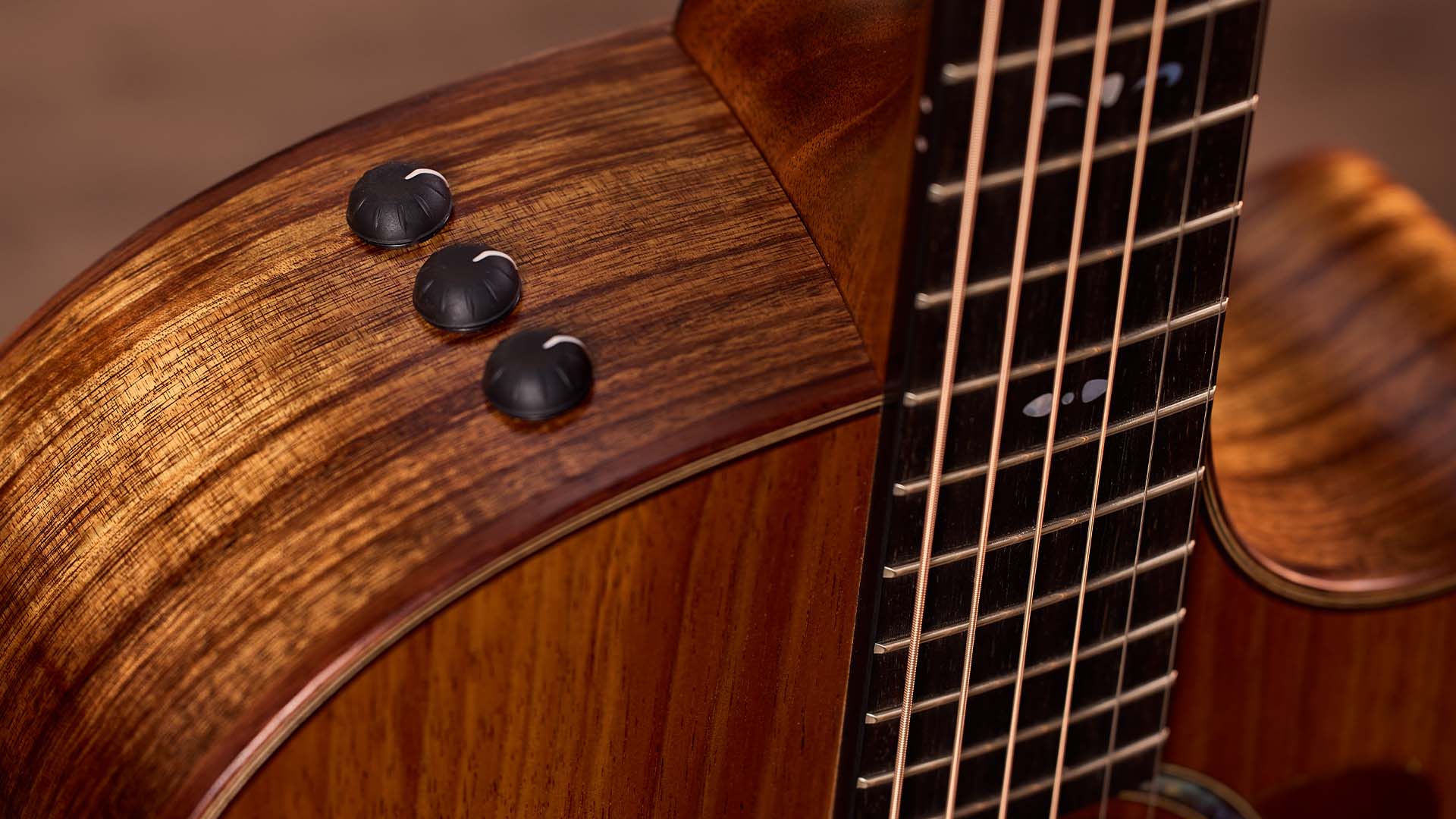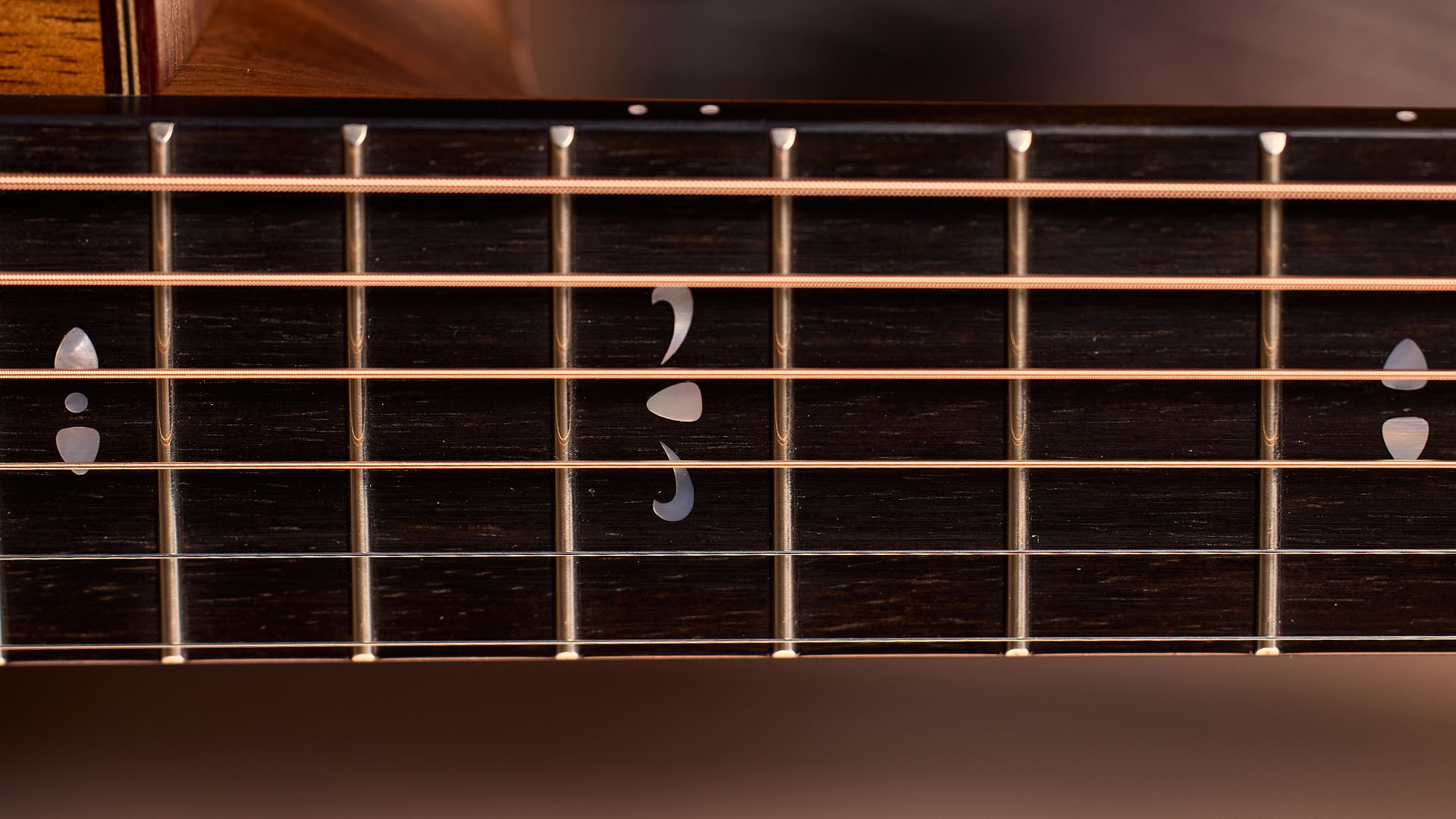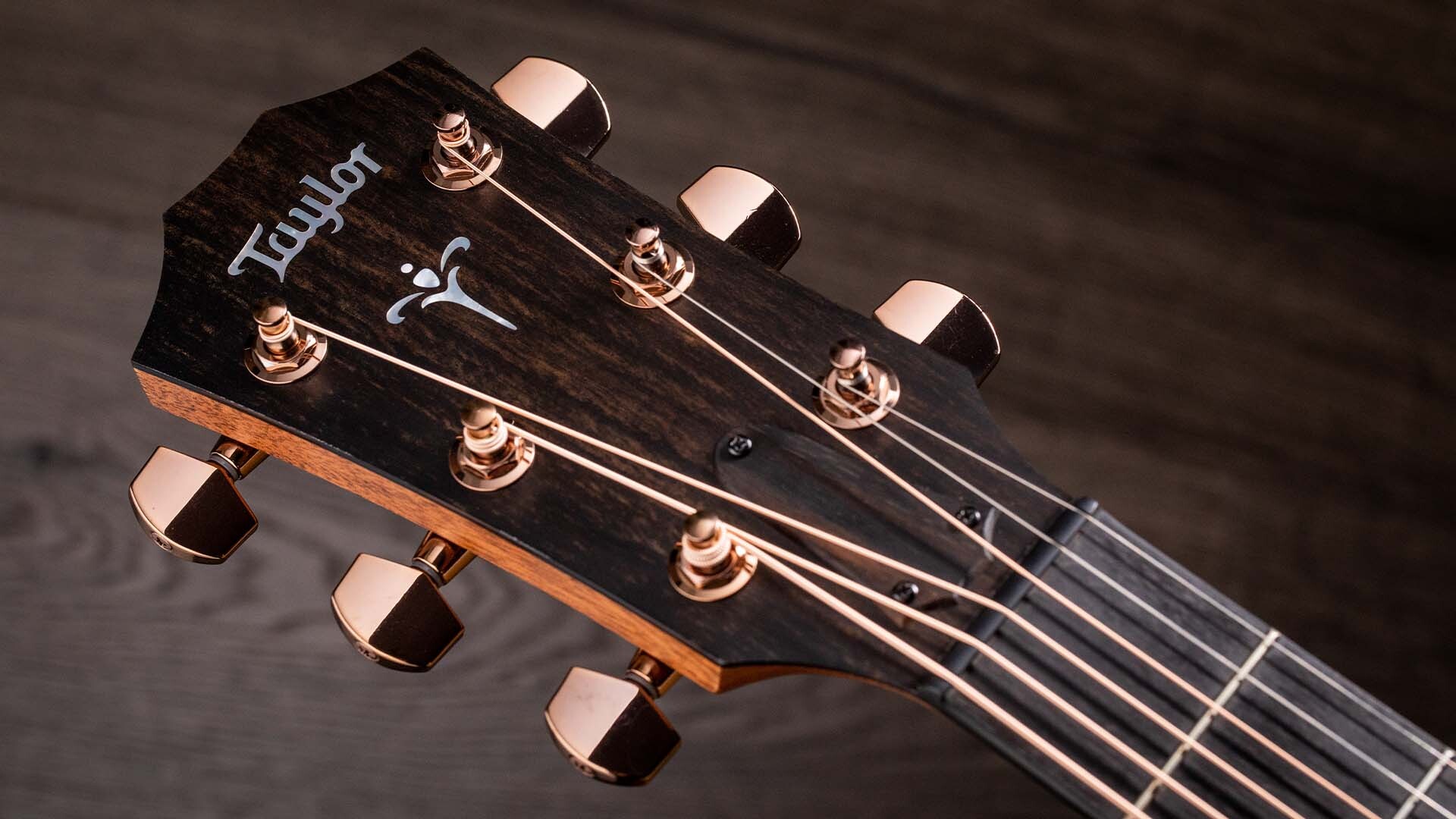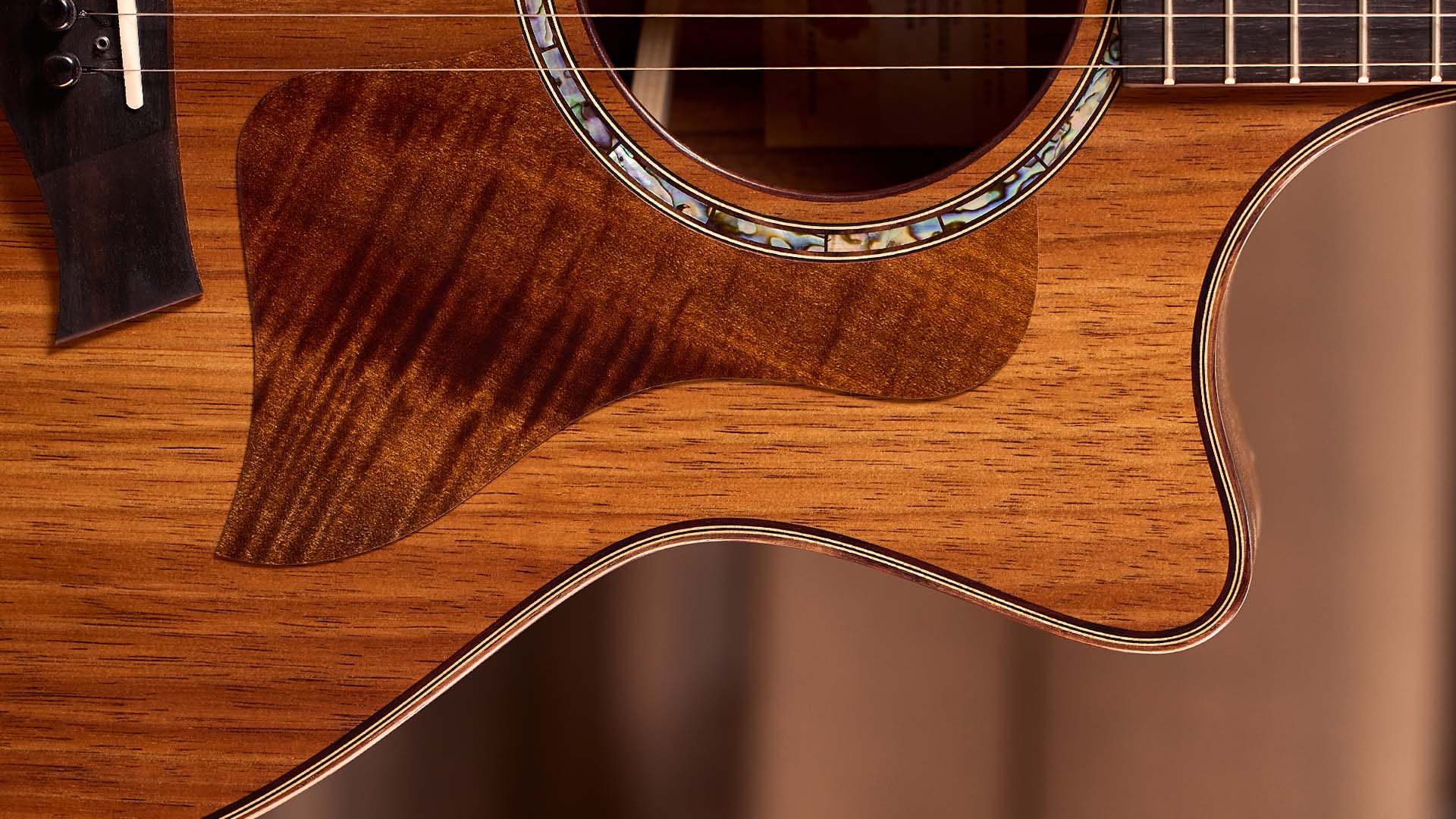 The new guitars officially join the Taylor line at our 700 Series level, replacing our rosewood/spruce 700 Series models — with the exception of our Builder's Edition 717e, which will retain its wood pairing of rosewood and torrefied spruce and other specifications. Initially, the new koa guitars will be offered in two body styles, both all-koa: the Grand Auditorium 724ce and Grand Concert 722ce. Andy felt it was the right positioning for another solid-wood koa collection within the line, and the change still leaves three other dedicated series featuring solid Indian rosewood (400, 800 and 900). Look for the new koa 700s online and in stores now.
Meet the Rest of the Taylor Koa Guitar Family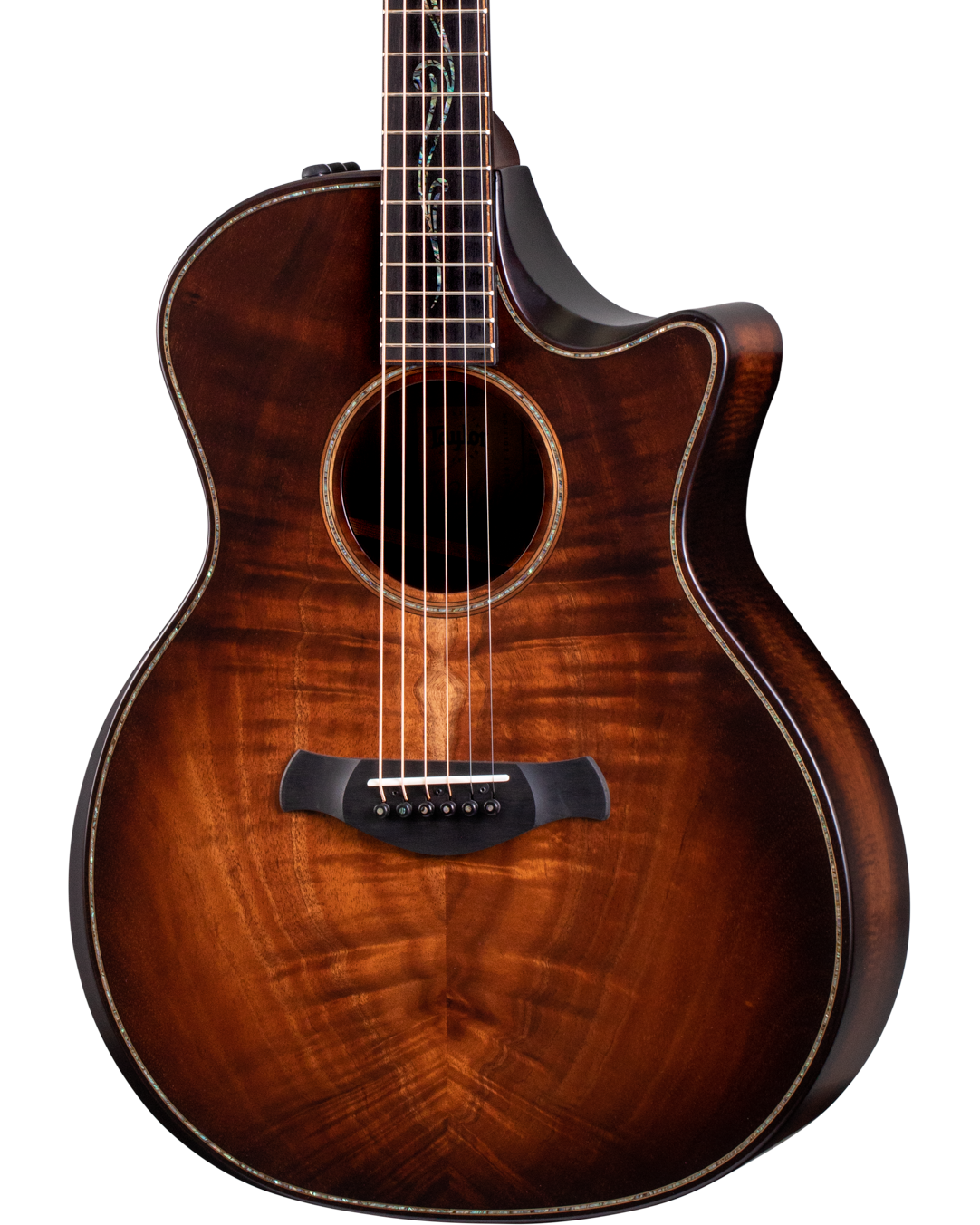 ---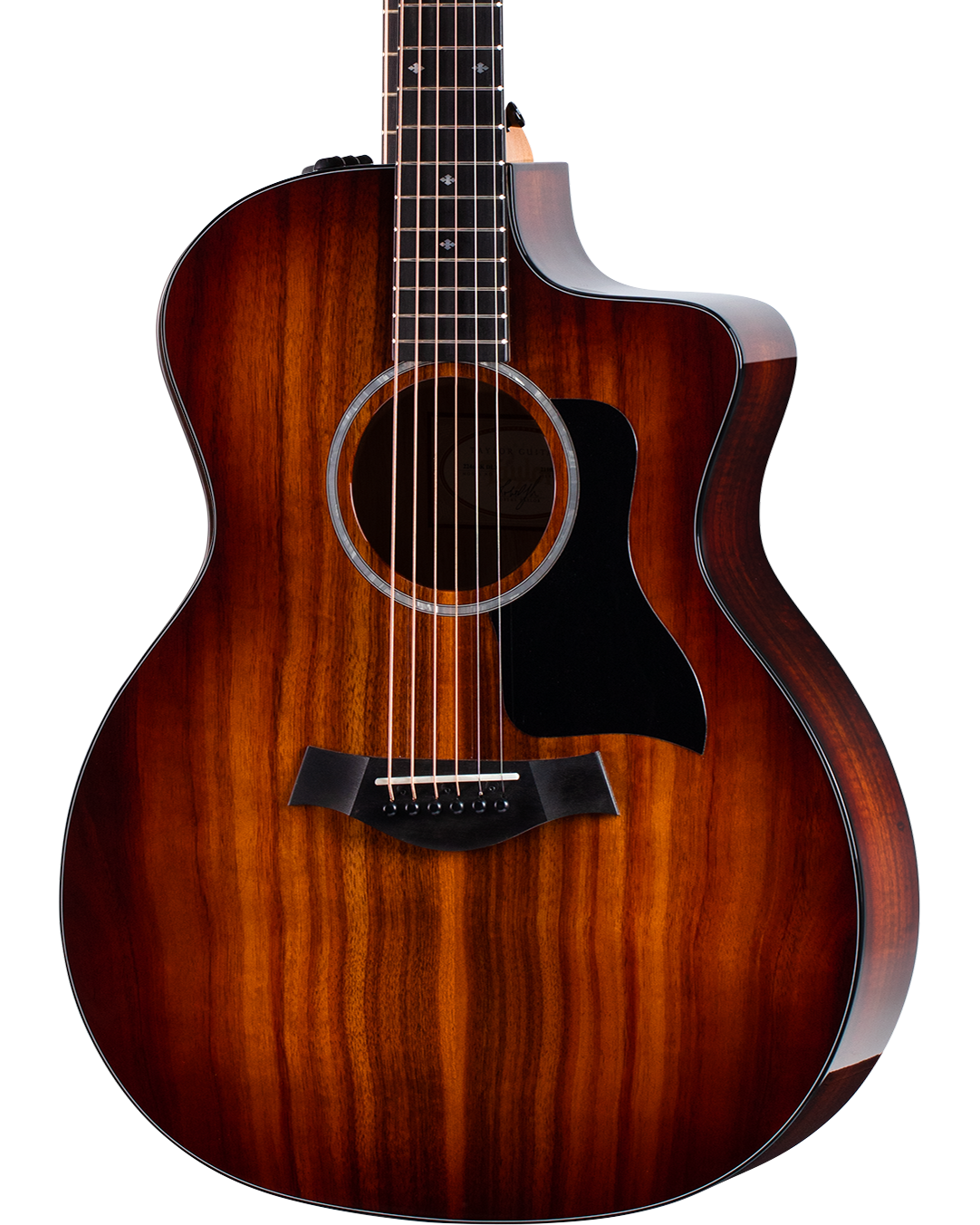 200 DLX Series
Choose between a spruce top and a koa top on these Deluxe models, which feature beautiful layered koa back and sides, a gloss-finish body and a hardshell case.
---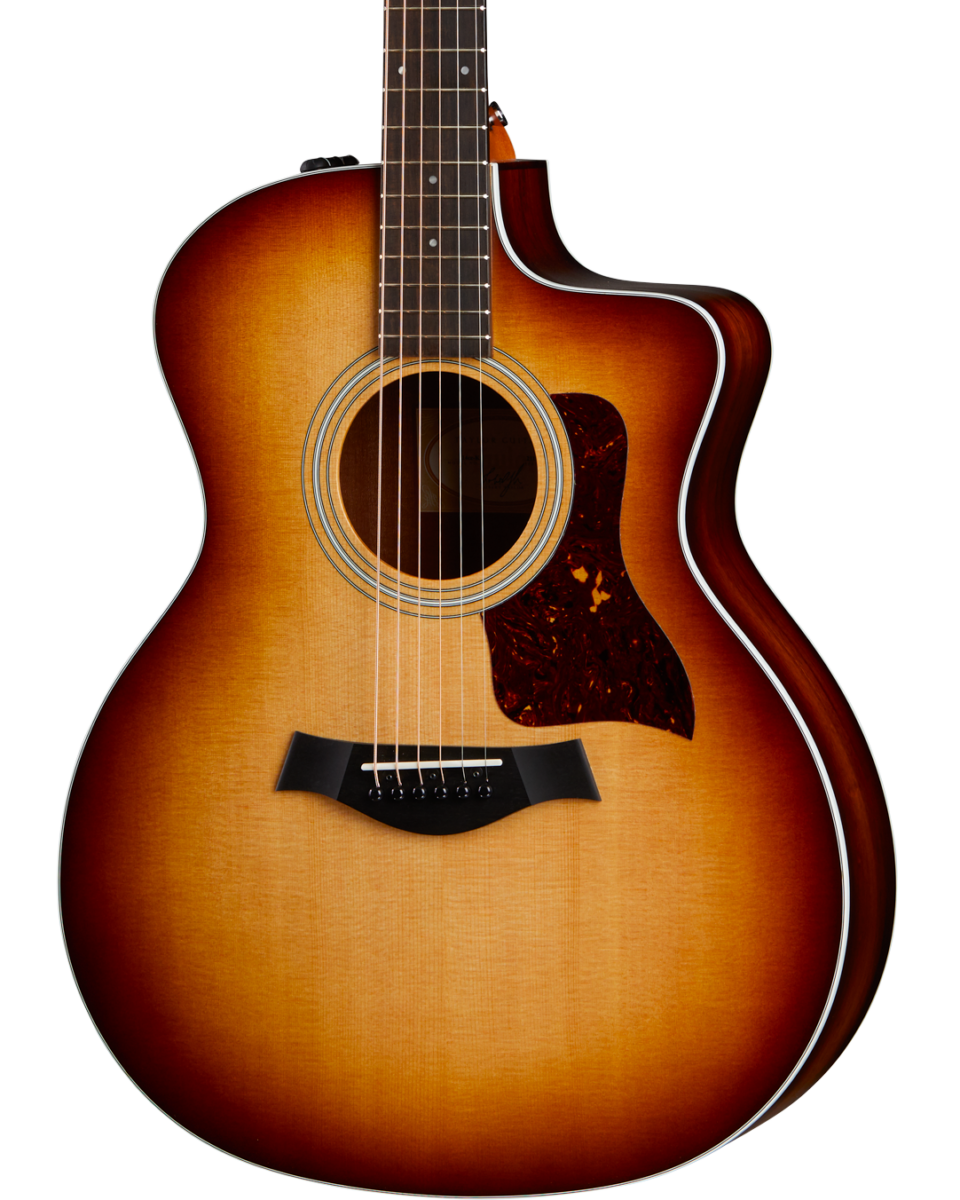 200 Series
Layered koa back and sides are paired with a spruce top featuring either a finish or a gorgeous shaded edgeburst around the entire body.
---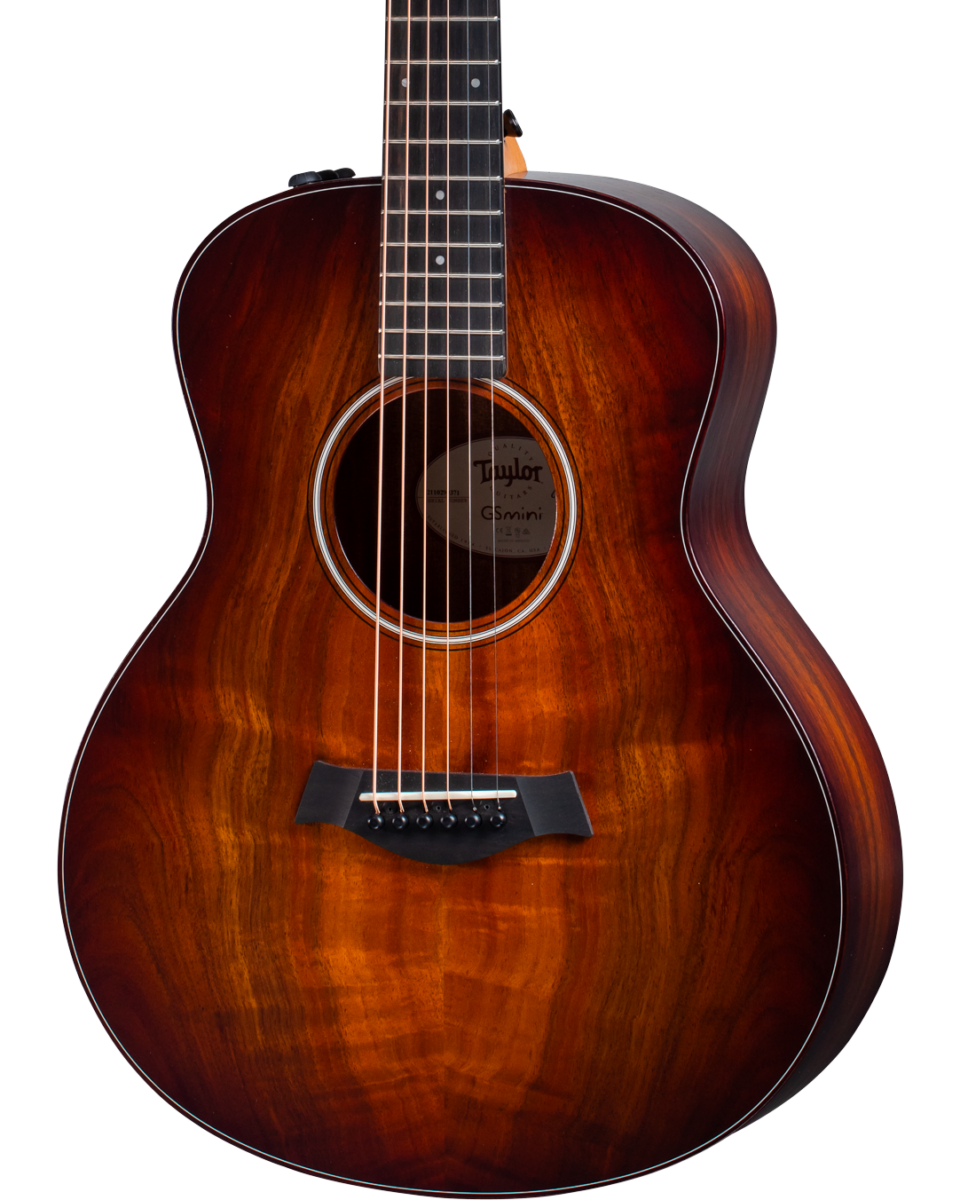 GS Mini
GS Mini-e Koa, GS Mini-e Koa Plus, GS Mini-e Koa Bass
Three koa models live within our popular GS Mini family, all sporting solid koa tops and layered koa back and sides. Our Plus models feature a shaded edgeburst body and our durable AeroCase, while the easy-to-play bass looks, feels and sounds amazing.
---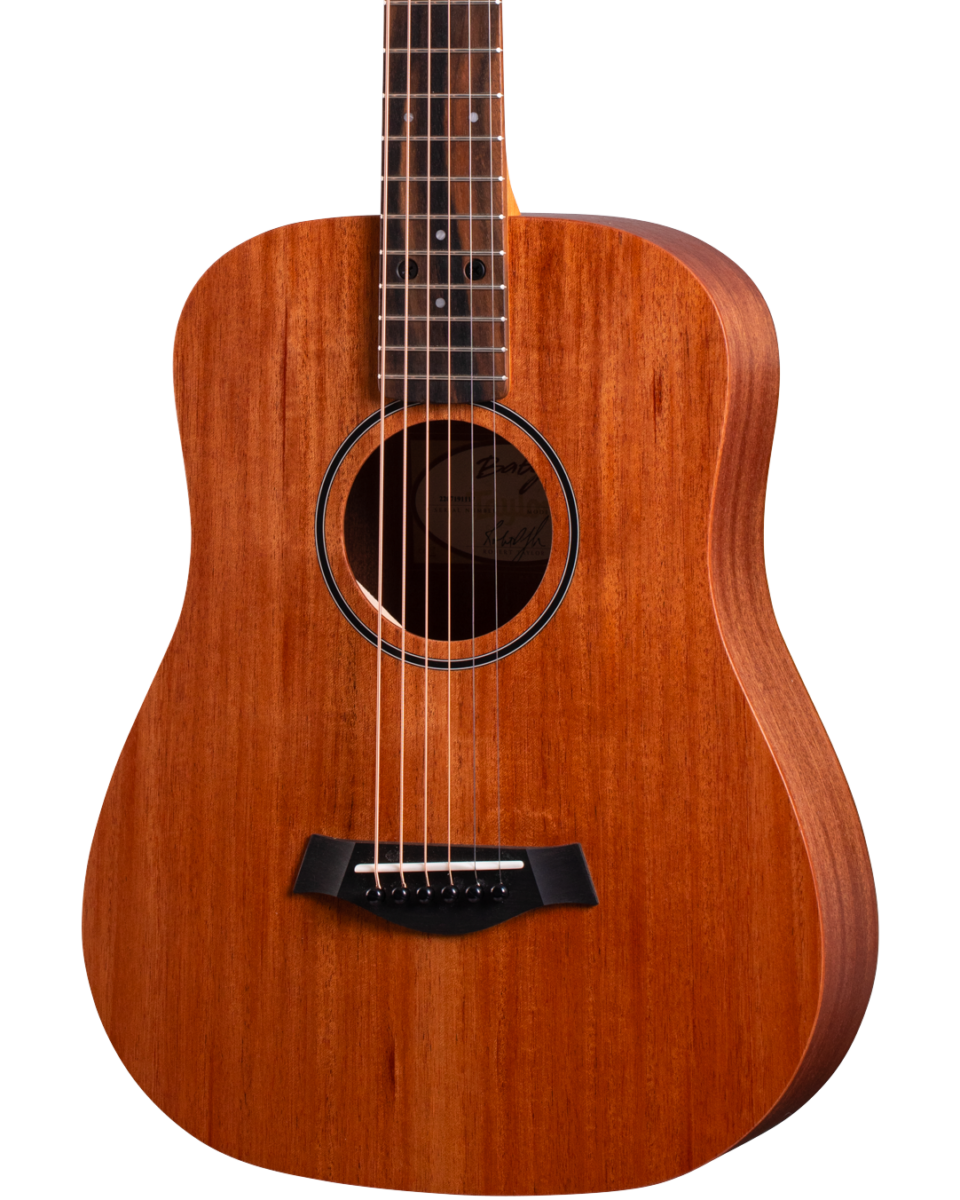 Baby Series
Super-portable and fun to play, our most compact koa guitar promises to make a visual statement wherever you go.