We had to order Andy Powers some new business cards. On May 31, we announced that Andy had been named Taylor's President and CEO. If you know Andy, you know he's not fussy about titles — only that he'd list his guitar designer role first to underscore Taylor's continued focus on making instruments that delight and inspire players.
Co-founders Bob Taylor and Kurt Listug — now former President and CEO respectively — proudly delivered the news to Taylor's employee-owners in a pre-recorded video with Andy that was released a day before the public announcement. Bob and Kurt also shared that they are continuing their involvement with the company as senior advisors and co-chairmen of the Taylor Guitars board, which was established as part of the company's transition to 100-percent employee ownership.
The announcement came just days before the NAMM Show in Anaheim, California — a newsworthy event of its own after finally returning after a COVID-induced hiatus.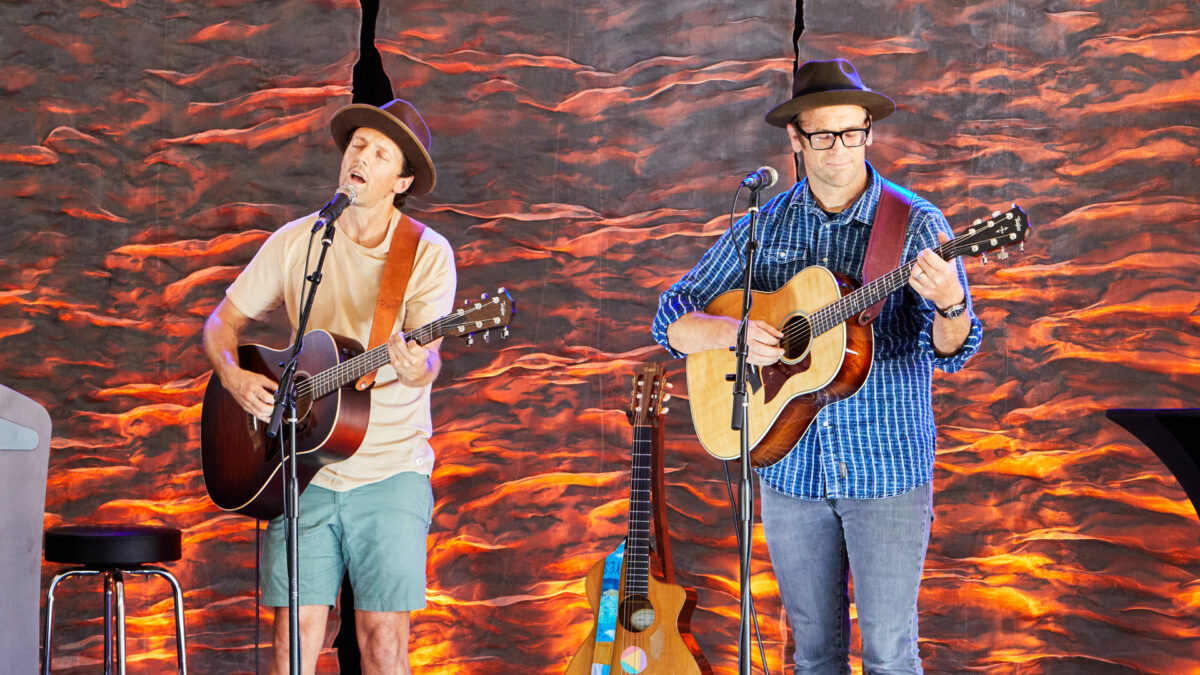 The following week, back on the Taylor campus in El Cajon, we held our mid-year all-hands ESOP event, where Andy had the opportunity to talk to employee-owners in person about his new role and our path forward as a guitar company. But not before kicking things off with a few songs.
And with that, Jason Mraz, a longtime friend of Andy's, took the stage to play a few songs, with Andy joining him on guitar.
It was a full-circle moment, considering that Mraz's performance on the Taylor stage at NAMM back in 2010, with Andy as his sideman, had brought Andy and Bob Taylor together. Conversations ensued. Bob made his pitch. Andy joined the company in January of 2011, and the rest is history — history that continues to unfold with Andy now formally at the helm.
A Smooth Transition
Given the progression of events at Taylor over the last several years, Andy's elevated role didn't come as a huge surprise to many of us here at the company. Rather, it seemed a logical continuation of the succession plan that Bob and Kurt had set in motion. In 2019, Andy became an ownership partner, a testament to Bob and Kurt's confidence in him along with their desire to keep guitar design as a central focus at Taylor for the long-term future.
"Andy has the vision and the talent to continue to take guitar making forward at Taylor. He's vital to the company's future."

Bob Taylor
That commitment was reinforced when the company announced its transition to 100-percent employee ownership in 2021, a move that Bob, Kurt and Andy all felt was the best arrangement to preserve the culture of creativity and guitar innovation that has fueled Taylor's growth and success. Andy's creative vision, player-centric guitar designs and thoughtful leadership at Taylor, together with his career commitment to the company, were important factors in that decision, giving Bob and Kurt the reassurance to choose that path.
"Andy has the vision and the talent to continue to take guitar-making forward at Taylor," Bob says. "He's vital to the company's future."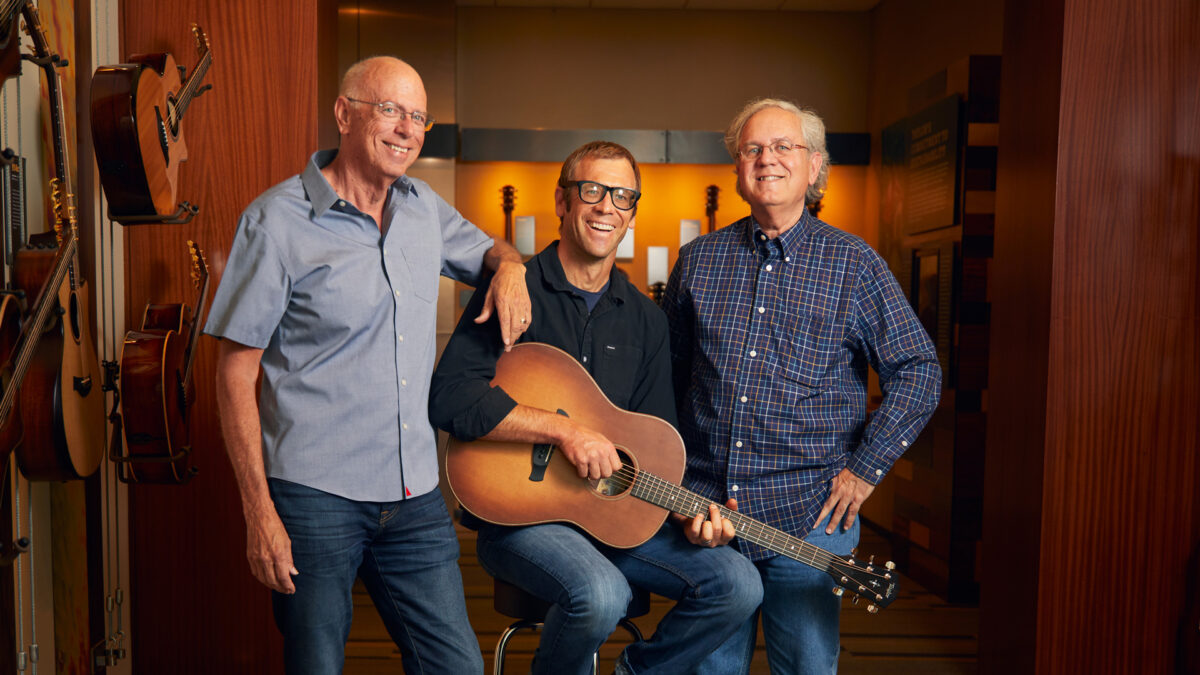 Learning From Kurt
While the passing of the torch from Bob to Andy was evident from the start, filling Kurt's role wasn't part of the original plan for Andy. But Kurt says that right away, Andy showed both the interest and aptitude for the business side of Taylor's operation, and understood how all the pieces need to fit together holistically to maintain a healthy company.
"Andy has worked closely with sales, marketing, finance, human resources — all the departments under my leadership — since he joined us in 2011, and he understands their functions deeply," Kurt said during the announcement to Taylor's employee-owners.
Over the past several years, Kurt has spent a lot of time mentoring Andy, discussing financial budgeting, reviewing financial statements and talking about the business management philosophy that has guided the decisions he has made over the years. He says he realized that Andy was the right person to also wear the CEO hat during a period in 2020 when they were laying the groundwork to prepare for the transition to an ESOP structure.
Kurt also points out that it's more feasible for one person to oversee both the guitar-making and business sides of the company now because Taylor is well established and has a strong and experienced executive team with many decades of Taylor experience to support him.
"It would have been impossible for either Bob or me alone to create and establish the company," he reflects. "Bob was 19 and I was 21 when we started. We didn't have any experience. It took each of us focusing on the things we were interested in and becoming good at them the more we worked on them. The company is much different now."
And Andy has been the beneficiary of what each of them has learned. "It's been fun to work with Kurt and look at things from one direction, and work on it from the other direction with Bob," he says. "I'm hugely fortunate to get to work with both of them and appreciate their perspectives."
Staying the Same: Embracing Change
As part of the public reveal of Andy's new role, we recorded a special edition of our streaming video show Taylor Primetime, hosted by Taylor content producer Jay Parkin. Bob, Kurt and Andy were the special guests and shared their thoughts on why this is good for the company and its stakeholders moving forward. One question Jay posed to Andy was how he envisions his role changing.
"I'm so fortunate because we have amazing people that I get to work with all the time."

Andy Powers
"Honestly, my role doesn't change much," he says. "In a lot of ways, it's business as usual…. Frankly, it's because we have such an amazing team of people working here that allows me to spend most of my time working on guitars. The groundwork that Bob laid with our production and product development teams, our building and machine maintenance teams, and with wood sourcing, and the work Kurt's done building our sales, marketing, finance and human resources teams — I'm so fortunate because we have amazing people that I get to work with all the time. We have industry veterans, we have people who are at the top of their game in their field, and that makes what you might call the more typical parts of operating a business really easy. Don't get me wrong — it's a huge amount of work every day. But the folks we get to work with are such professionals, and they're so good at what they do, it makes it a joy."
While Andy's role may not change in dramatic ways, Bob, Kurt and Andy agree that in true Taylor fashion, our guitars will, and must, continue to evolve. Bob shares with Andy a nugget of wisdom he learned over the years.
"Anytime I've done anything to a guitar, people go, 'Is that going to change it?' And what they're really trying to say is, 'Will that make it worse?' This has happened to me a million times…. So feel free to change things, Andy. Make them better."
Andy understands that it's now part of his broader responsibility to lead the company in ways that make the overall business better as well. The bigger question, he says, is better for whom?
"In our case, we can make it better for the musicians we serve, the suppliers we buy material from, the people who sell our guitars, and our employees. So when we make a change for the better, that's who benefits."