Taylor Guitars first introduced urban wood into its product line at NAMM 2020 with the release of the Builder's Edition 324ce, featuring Urban Ash (better known as Shamel ash, Fraxinus uhdei) back and sides. This particular species of ash, as far as we know, had never been used as a tonewood before, at least not on a dedicated model. The tree, native to Mexico and parts of Central America, had been planted prolifically across Southern California's expanding urban infrastructure following World War II. Considered a great shade tree, it is still commonly planted today.
We source our Urban Ash from West Coast Arborists, Inc. (WCA), who, in addition to planting and caring for trees across the state, removes trees when requested to do so by the municipalities it services. WCA happens to be our local arborist here in El Cajon, where the Taylor factory is, but they also serve communities across the Golden State and even in parts of Arizona.
When we released the Builder's Edition 324ce, the "former street tree" backstory struck a chord with many players, but, irrespective of where the wood came from, Urban Ash was critically acclaimed as a tonewood. In fact, Bob Taylor has called Urban Ash "the mahogany of Southern California," and Andy Powers referred to it as the golden retriever of tonewoods because "whether you're cutting it, sanding it, bending it, gluing it or staining it, it just wants to please you." Andy likes it so much that we have since incorporated Urban Ash onto several different dedicated models. It's a great wood and comes from a responsible source.
To coincide with our original release of the Builder's Edition 324ce, I wrote a column, "Seeing the Urban Forest for the Trees" (W&S Vol. 96), in an attempt to describe Taylor's interest in urban wood, the broader need to create an economy for urban wood, and ultimately the importance of maintaining and expanding urban tree cover in cities around the world. In that article, I referenced the day I took Bob, Andy and a small team from Taylor to visit a WCA wood sort yard where the arborist takes trees it has removed from greater San Bernardino and Riverside Counties.
Pat Mahoney had founded WCA back in 1972, and some 45 years later, his son, "Big John" Mahoney, a larger-than-life figure who happens to be a competitive beard grower and chainsaw sculptor, convinced his dad to have the company buy a portable sawmill. Big John and another WCA employee, Jason Rose (John's friend since first grade), pitched the company to elevate their existing wood recycling program, which had included milling reusable logs to make wood benches from recycled street trees in addition to its firewood program. The expanded efforts would further reduce disposal costs by turning former street trees, whenever possible, into usable raw lumber or live-edge slabs for sale to the public. They rebranded their endeavor Street Tree Revival and started sorting incoming wood into various categories — for firewood, as had long been done, but now for lumber and slab tables. Occasionally, as the spirit moved him, Big John set aside a particular tree to satisfy his chainsaw art passion.
By the time Bob and Andy were standing in one of WCA's log sort yards for the first time, Street Tree Revival was separating large logs with promising wood by species and sealing their ends to prevent cracking. They had a portable Wood-Mizer and a collection of chainsaws. Bob and Andy immediately gravitated toward certain log piles and quickly identified several theoretically promising species for guitar parts.
A few days later, samples were cut and brought to Andy's shop for further evaluation. Shamel ash, the "golden retriever," was the first species that found its way onto a dedicated line of Taylor guitars, but now we're pleased to introduce another. After much analysis, Andy has selected red ironbark (Eucalyptus sideroxylon), a species of eucalyptus we're calling Urban Ironbark, as the back and side tonewood for Taylor's newly redesigned 500 Series.
Elsewhere in this edition, Jim Kirlin talks with Andy about the sonic virtues of Urban Ironbark and the multiple reasons, from a builder's perspective, why Andy loves this wood. I, on the other hand, want to take the opportunity to update you on Taylor's expanding use of urban wood, to again underscore the importance of maintaining and expanding our urban tree canopy, but primarily to talk about eucalyptus.
All About Eucalyptus
There are over 700 species of eucalyptus in the world, most native to Australia, but a few native to the neighboring islands of New Guinea and Indonesia. Today, Eucalyptus is the most widely planted tree in the world, with some 30 to 40 species being grown in a commercial forestry setting in over 100 countries. The trees are fast-growing and produce quality timber and pulp. Certain species are also used for colored dyes that chemically bond well to materials such as silk and wool. Further, the distinctive oval-shaped leaves of some species, after being dried, crushed and distilled, produce an oil used in fuels, fragrances and insect repellant.
Eucalyptus is the most widely planted tree species in the world.

Being the most widely planted tree species worldwide, however, has not come without some controversy. The 1990s, for example, saw a major escalation in the establishment of large plantations of improved varieties of eucalyptus, principally in the tropics. The controversy stemmed from large plantations needing large amounts of land, and thus large swaths of native forest and grasslands were converted, disrupting ecosystems and raising concerns about biodiversity loss. Complicating matters further, there is a long history of such projects being used as a vehicle to gain wealth and territorial influence by separating local and indigenous peoples from their traditional lands.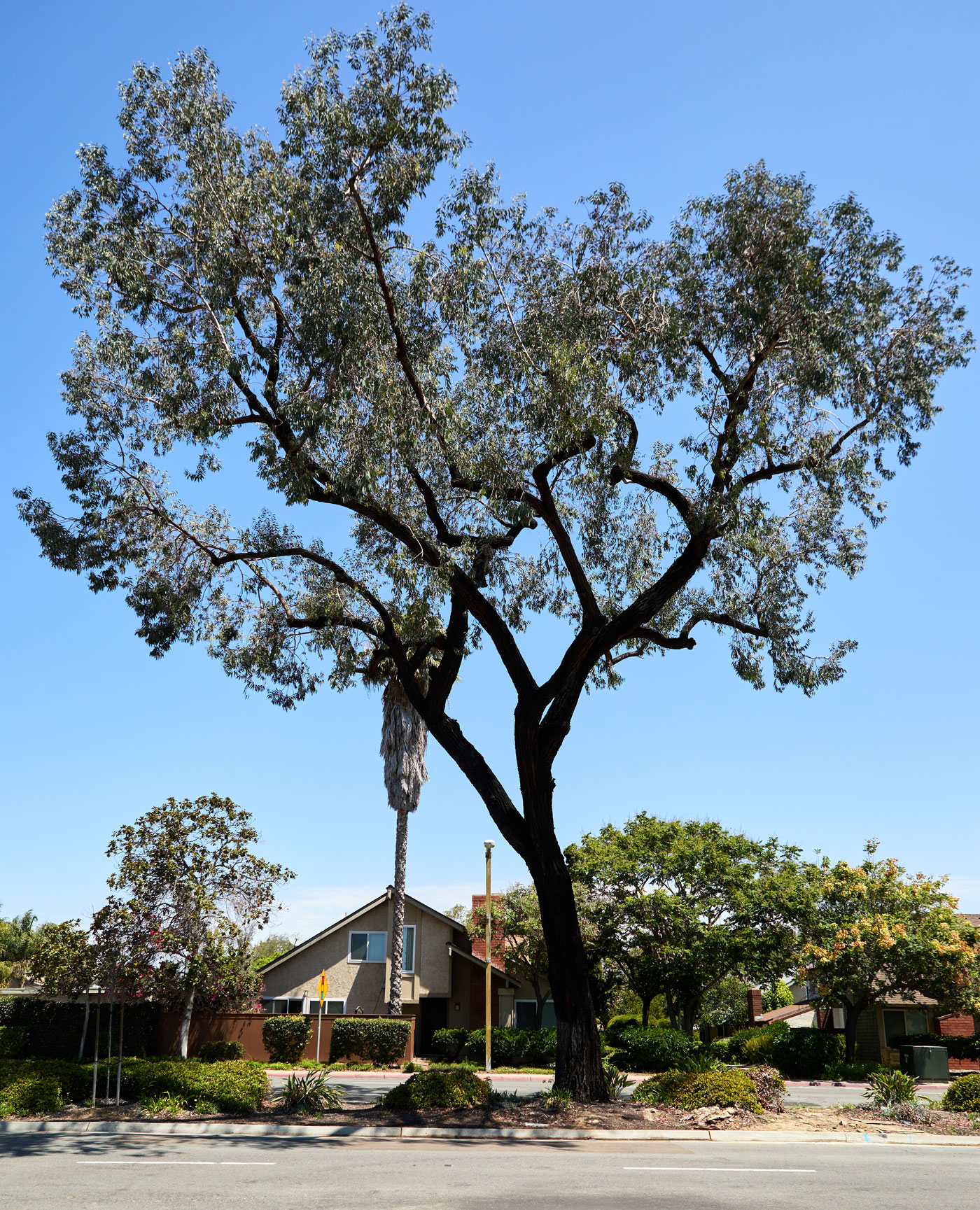 Taylor Guitars is sourcing its red ironbark eucalyptus from Southern California through our partners at West Coast Arborists. The tree is native to the dry desert interior of eastern Australia, and even by eucalyptus standards, it is considered particularly well adapted to stressful conditions. At maturity, the tree can range in height from 30 to 80 feet. Its distinctive bark is tough and thick and can either be gray, brown or black, one of a scant few eucalyptus species that does not shed its bark. The tree also produces flowers that can be creamy yellow, pink or red. Cumulatively, these traits have made red ironbark a favorite for developers and city planners alike.
Eucalyptus is now so prolific in California that it has become as iconic to the landscape as the palm tree, another largely non-native tree.

Eucalyptus was first introduced to California as a cash crop during the gold rush of the 1850s when the American West was projecting a timber deficiency. Farmers were encouraged to plant eucalyptus with the promise of significant profit in as little as 30 years. By the dawn of the 1900s, however, the dream of a California eucalyptus market had faded as Americans, accustomed to old-growth Douglas fir and redwood, were unimpressed with the wood derived from the relatively young Australian imports. As a result, thousands of acres went unharvested. Left abandoned, the trees thrived in coastal California with its Mediterranean climate of winter rainfall and summer drought similar to Australia. Today, there are roughly 250 different species of eucalyptus found in California, no longer planted for commercial reasons but instead as windbreaks along highways and farmland, and as shade and ornamental trees in cities and gardens. Between the naturalized remnants of earlier plantings and ongoing urban planting efforts, eucalyptus is now so prolific that it has become as iconic to the California landscape as the palm tree, another largely non-native tree.
Urban Trees and Urban Wood
Stepping back from eucalyptus specifically, looking at the urban tree canopy more broadly, its importance cannot be understated. And there's a growing body of evidence that proves it, ranging from the amount of carbon dioxide trees absorb to their role in cooling air temperature through both shade and evaporation, thus quantifiably lowering energy use. The urban forest canopy also significantly improves water quality by mitigating rainfall runoff and flooding, and it blocks strong winds and lowers noise impact. Trees filter air pollution and provide important habitat for songbirds and other wildlife. In addition to these environmental and economic benefits, there is also mounting evidence that city trees provide a plethora of social benefits, including improved mental health and community cohesion.
We all know that we need to expand and diversify the urban canopy, but, of course, trees are living things, and all living things die. And for countless reasons, city trees are removed — damage from disease, invasive pests or storms, public safety and construction and development, to name a few. So, while expanding the urban tree canopy is imperative, more trees ultimately mean greater throughput and more trees that will reach end of life in the future. It's simple math. As a result, increasingly, people all around the world are looking for ways to turn end-of-life urban trees into high-value products that can support the regreening of our urban infrastructure and ease the pressure on forests elsewhere.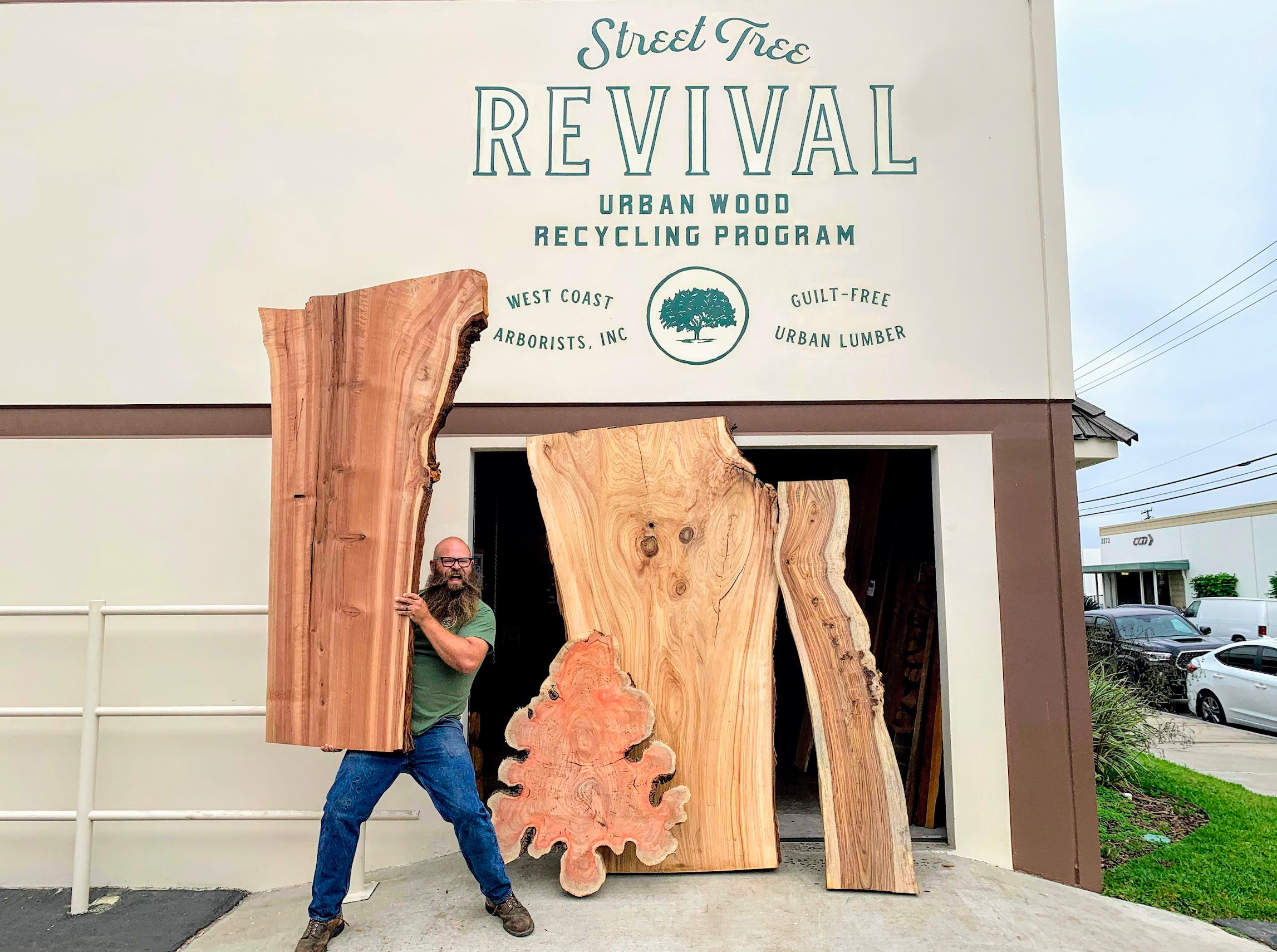 To see another great example of a nationally branded company mainstreaming urban wood, check out Room & Board's Urban Wood Project, which makes beautiful furniture from urban wood sourced from Baltimore, Minneapolis, Detroit and Sacramento. The company is currently exploring additional opportunities across the United States with the intent to expand its urban wood collection in the future.
Our partnership with West Coast Arborists has opened a new and promising supply of quality tonewood to build guitars into the future. And while the urban wood backstory is interesting and I would argue environmentally and socially responsible, we wouldn't be investing in it if it didn't make long-term sense for our business. We're not interested in producing a one-off novelty series of "eco" guitars to greenwash our company. Wood is wood, regardless of where it comes from, and we need quality, quantity and predictability to make it work. Trust me, knowing what he knows now, Andy would want to be building guitars out of Urban Ash and Urban Ironbark regardless of its origin, as long as it's responsibly sourced.
One final thought: It's still more expensive to purchase urban wood from California than wood from existing, well-established supply chains, even from across the world, but WCA is building a bridge from their side, and Taylor is building from ours. And as Bob Taylor likes to say: "In 10 years we'll be glad we did it."
---
In the video segment above — part of a longer discussion about sourcing urban wood — Taylor content producer Jay Parkin talks with Taylor Director of Natural of Natural Resource Sustainability Scott Paul, chief guitar designer Andy Powers, and master arborist Mike Palat from West Coast Arborists. The four discuss what an urban forest is, the factors that make sourcing urban wood harder and more expensive than one might think, and what prompted West Coast Arborists to begin to create the infrastructure to support this new sourcing model.