Our award-winning Grand Auditorium 814ce has been a player favorite for decades, so the launch of an ultra-premium Builder's Edition version of the model is sure to pique the interest of Taylor enthusiasts.
After all, we're talking about taking the flagship guitar in the Taylor line — a versatile, modern-day rosewood/spruce workhorse, a perennial industry best-seller in its price category (MI Salestrak), a reliable performance tool for the likes of Lindsey Buckingham, Hall and Oates and Johnny Rzeznik, a studio staple for recording engineers far and wide — and elevating the feel, sound and aesthetic appeal even more.
This Builder's Edition release marks the tenth unique model to join our elite guitar family, which has grown into a remarkably diverse collection of advanced-performance instruments in the five years since the debut of the Builder's Edition design concept.
Depending on your perspective as a Taylor fan, you might find yourself wondering either: Why mess with a classic? Or: What took us so long?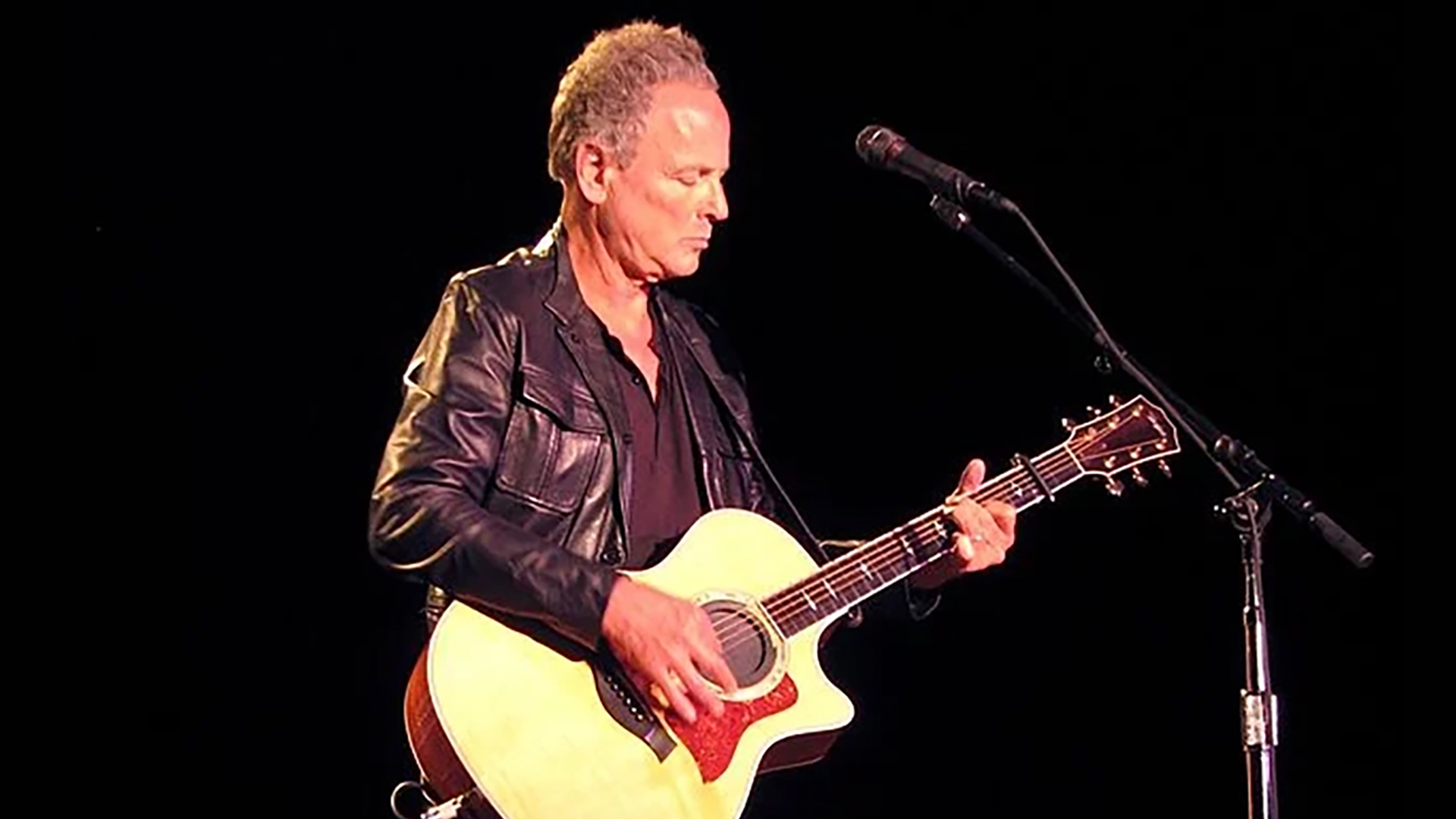 "I've actually played with the idea for quite a while," shares Taylor master designer and Builder's Edition architect Andy Powers. "One reason we haven't until now is that I still really like the redesign we did in 2014 — the inlay pattern, the purfling, the way the guitar looks and feels. And we've made other updates to the 800 Series in the years since then."
In fact, that evolution of the 800s over the last decade is worth revisiting, starting with the guitar that Andy inherited from Bob Taylor. With his original rosewood and spruce Grand Auditorium, Bob had introduced a more versatile alternative to a traditional rosewood dreadnought. The refined body geometry of the Grand Auditorium combined sonic horsepower with balance, clarity and responsiveness, giving the 814ce greater musical range — capable of handling fingerstyle, strumming and flatpicking — and bringing more functional utility for recording and live performance. For fans of rosewood guitars, it brought more fidelity and expressiveness to a player's toolkit.
For his part, Andy's aforementioned 2014 redesign was noteworthy because it propelled him along an innovative design path toward his eventual V-Class bracing and Builder's Edition concepts.
Rewind to early 2013. Andy was two years into his gig at Taylor and had just reimagined Taylor's Jumbo body style as the Grand Orchestra. He'd also been exploring an array of design refinements he wanted to deploy across the Taylor line to help musically diversify our guitar ecosystem.
In Andy's conversations with Bob Taylor, it became clear that Taylor's approaching 40th anniversary in 2014 offered an opportunity to introduce something special — something that pushed the envelope in a big way.
And thanks to Bob, Taylor already had an established a track record of using milestone anniversaries not to celebrate the company's past, but to illuminate its path forward, often with a special guitar offering that introduced a bold innovation. (Both our iconic Grand Auditorium body shape and our revolutionary Taylor neck design made their respective debuts with Taylor anniversary models.)
With Andy's emergence as Taylor's next-generation luthier, it made sense to design a next-generation guitar to commemorate the 40th anniversary, and our venerable rosewood/spruce 800 Series seemed the perfect place to celebrate the passing of the torch — with Bob entrusting the series to Andy to demonstrate where Taylor's guitar-making was headed.
The result was a rebooted 800 Series that delivered the most comprehensive and nuanced suite of refinements Taylor had ever brought to a series. In his pursuit of better sound, enhanced playability and heightened aesthetic appeal, Andy tinkered with virtually every material component of the guitars.
With his overhaul, Andy introduced a slew of tone-enhancing refinements that also gave each body shape a more distinctive tonal personality. He developed new, Advanced Performance bracing (this was pre-V-Class) and customized the pattern for each body style to accentuate its particular musical strengths. He optimized each body style's wood thicknesses to suit its musical function. He used protein glues and worked with our product development team to formulate an ultra-thin gloss finish application to reduce damping and heighten the tonal response. He shifted to a custom-formulated string-gauge set. Even the amplified sound was improved — the series marked the debut of our patented ES2 electronics, developed by Taylor guitar designer and pickup developer David Hosler.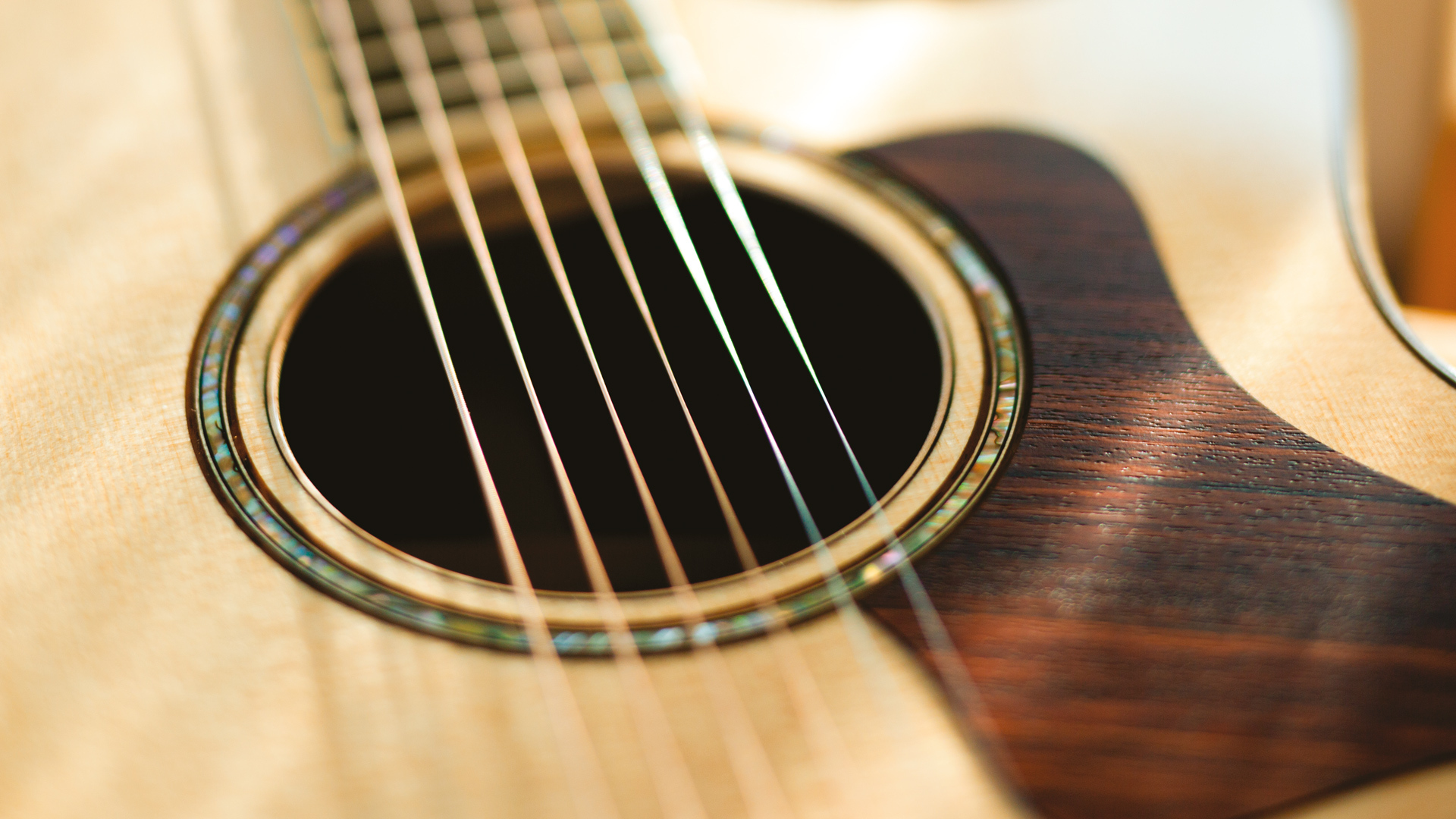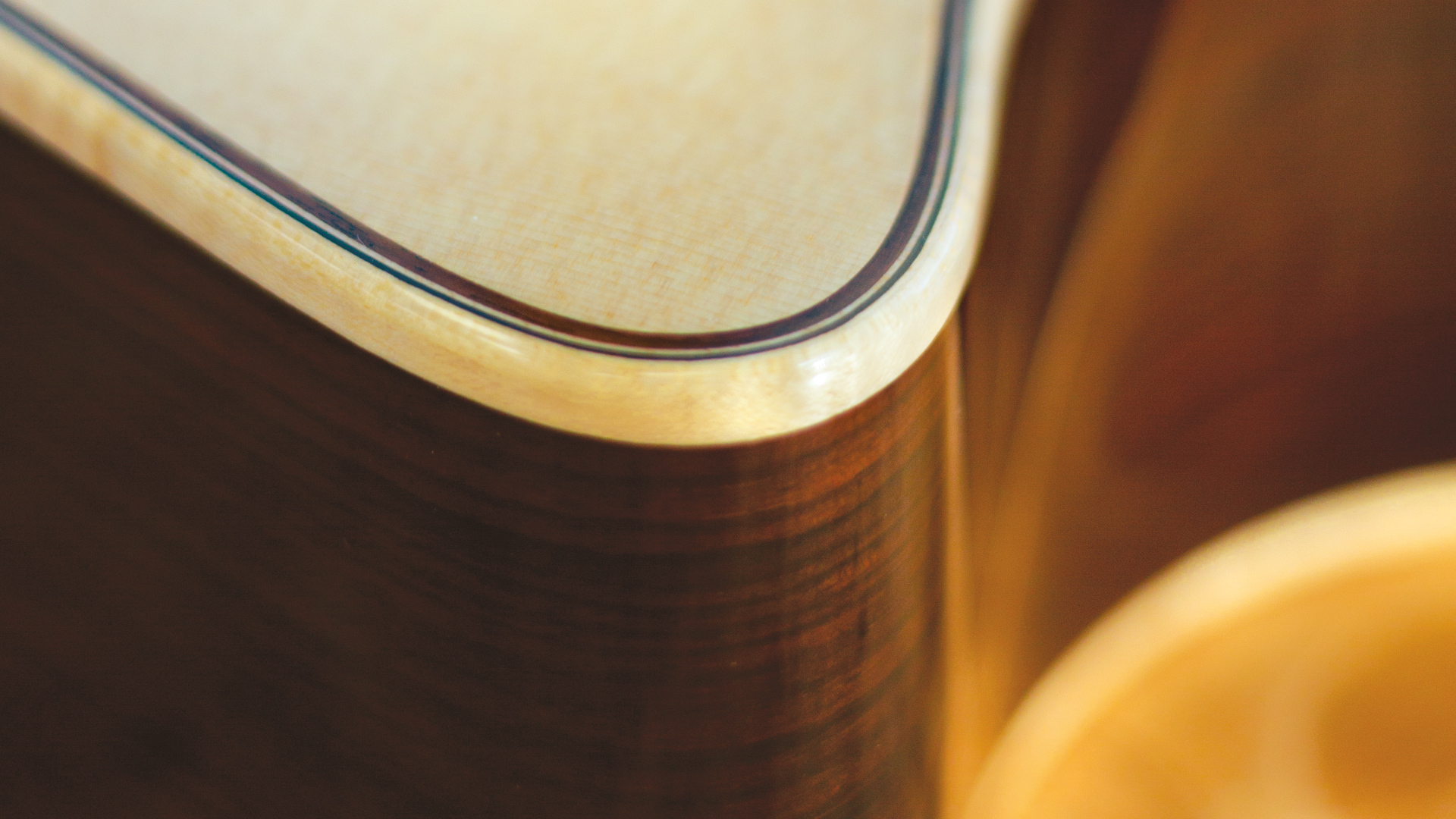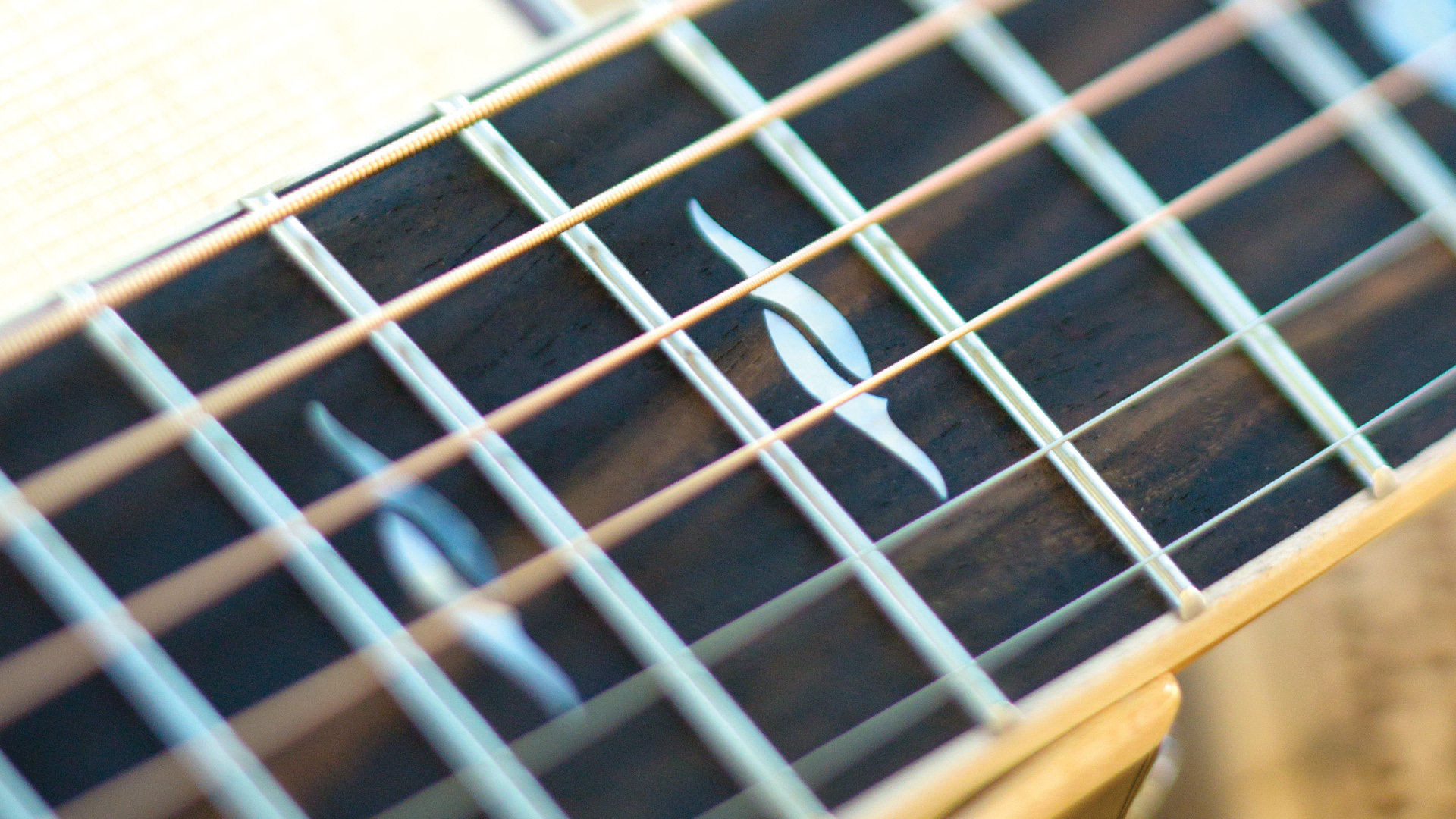 The aesthetic refresh of the 800 Series also leveled up the decorative details while still honoring its classic heritage. Maple binding, rosewood edge trim and a rosewood pickguard brought an elegant design harmony to the guitars. Another breakthrough aesthetic detail was the introduction of "smoky" ebony fretboards as a standard specification — a bold statement that we would use formerly undervalued variegated ebony and showcase it on a prominent series to demonstrate our commitment to environmental responsibility.
Then Came The 800 Deluxe Series
After applying some similar refinements to other series within the Taylor line, in 2017, Andy returned to the 800s and added an upgraded spinoff, the 800 Deluxe Series. These guitars marked the introduction of our radius armrest, featuring rounded contouring for enhanced playing comfort. Other upgrades included Adirondack spruce bracing and Gotoh tuners.
Andy has talked about coming out of the redesign of the 800 Series and wondering what more could be done after pulling out all the stops and pushing the guitar's material components to their performance-enhancing limits. The last frontier seemed to be a more radical change to the internal voicing architecture. This, of course, led him to pivot from traditional X-bracing patterns and develop a different voicing framework, his patented V-Class bracing. In 2018, Andy introduced it on select models, and by mid-year, the 814ce was sporting it.
The voicing improvements of V-Class had the effect of equalizing some of the previous sonic advantages of the 800 Deluxe models, so in 2020 we decided to phase out the 800 Deluxe Series and adopt the radius armrest as a standard feature on most 800 Series models.
Reimagining the 814ce for Builder's Edition
The last new Builder's Edition models were introduced in early 2020, so the time felt right to bring a new iteration of the 814ce to life. Because Andy was already happy with the existing identity of the standard 814ce, he decided to stay fairly close to many of the core aesthetic details as he designed the Builder's Edition version.
"I thought, let's push the design we love toward the even more complex woodworking we're doing with some of the other Builder's Edition guitars," he says.
Comfort-enhancing design features include chamfered body edges, a beveled mahogany armrest (an upgrade from the radius armrest on the standard 814ce) and a beautiful beveled cutaway. The cutaway is actually a remarkably complex display of woodworking craftsmanship because, for starters, the cutaway is already the most challenging portion of the guitar to work with, given its tight, hairpin-turn shape.
Being able to produce the beveled cutaway demanded some of the most complicated tooling work that Taylor's product development team has undertaken.
Crafting the beveled cutaway actually requires two additional contouring processes. The cutaway itself is reshaped in a way that eliminates the corner of the body between the end of the cutaway and the neck heel. This requires a compound curve that flows more cleanly into the heel, improving the feel of the player's fretting hand in that area.
The other element is a separate finger bevel sculpted into the guitar top. (Think of it as the equivalent of an armrest for the player's pinky finger when playing around the uppermost frets.) Andy talked about the benefits of this in 2018 when the beveled cutaway was introduced as a feature of the Builder's Edition K14ce, the first model from that collection.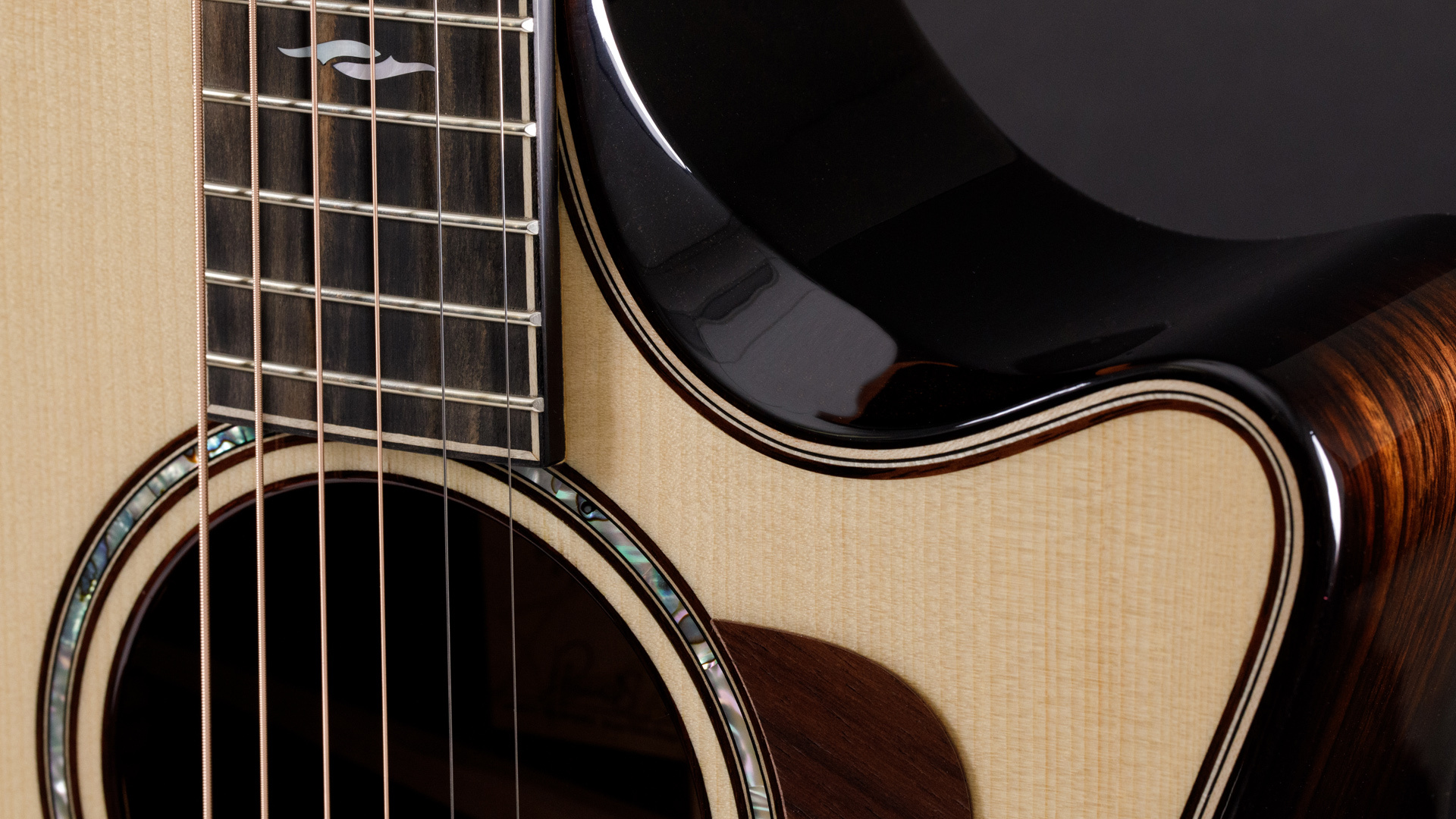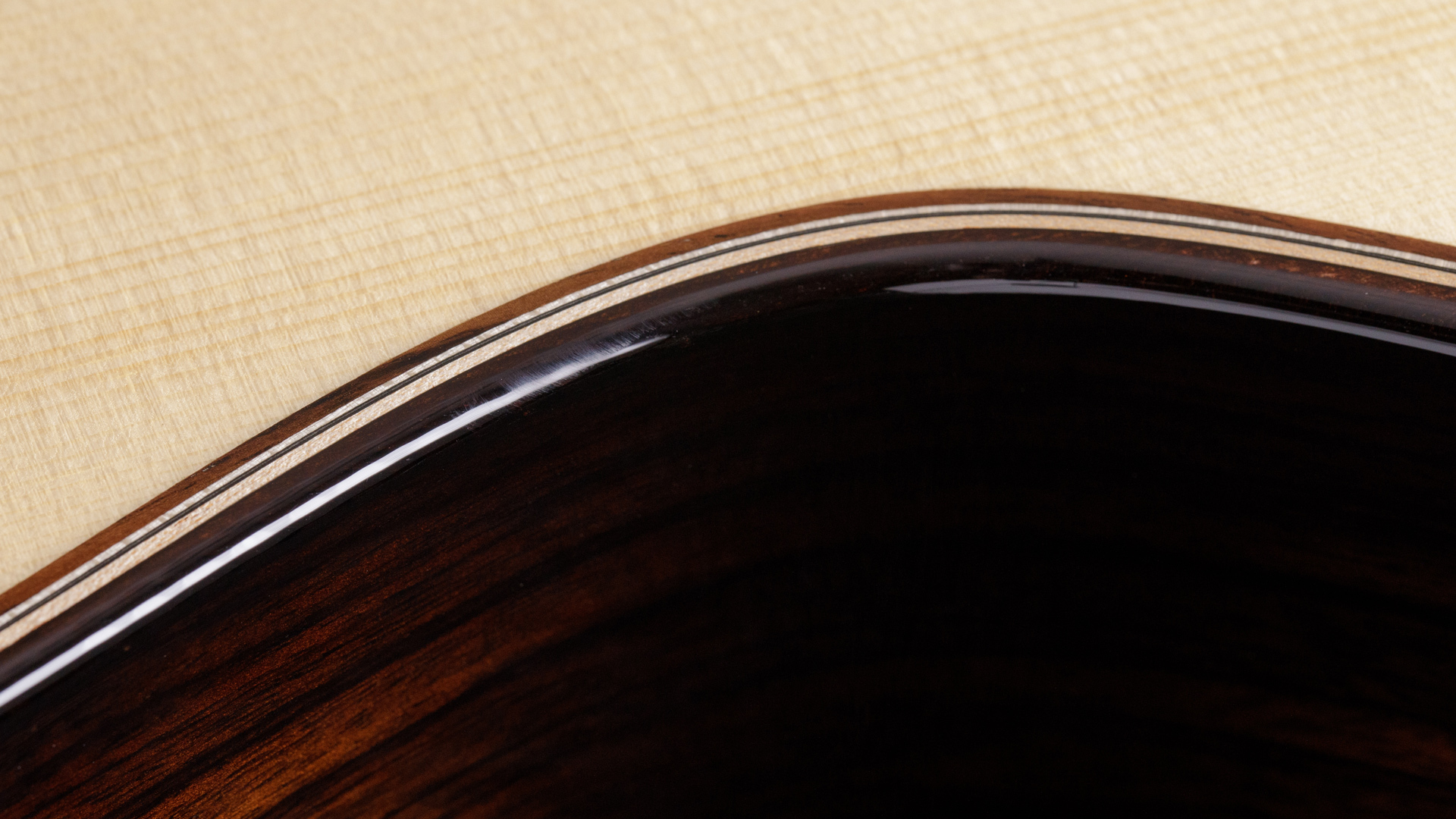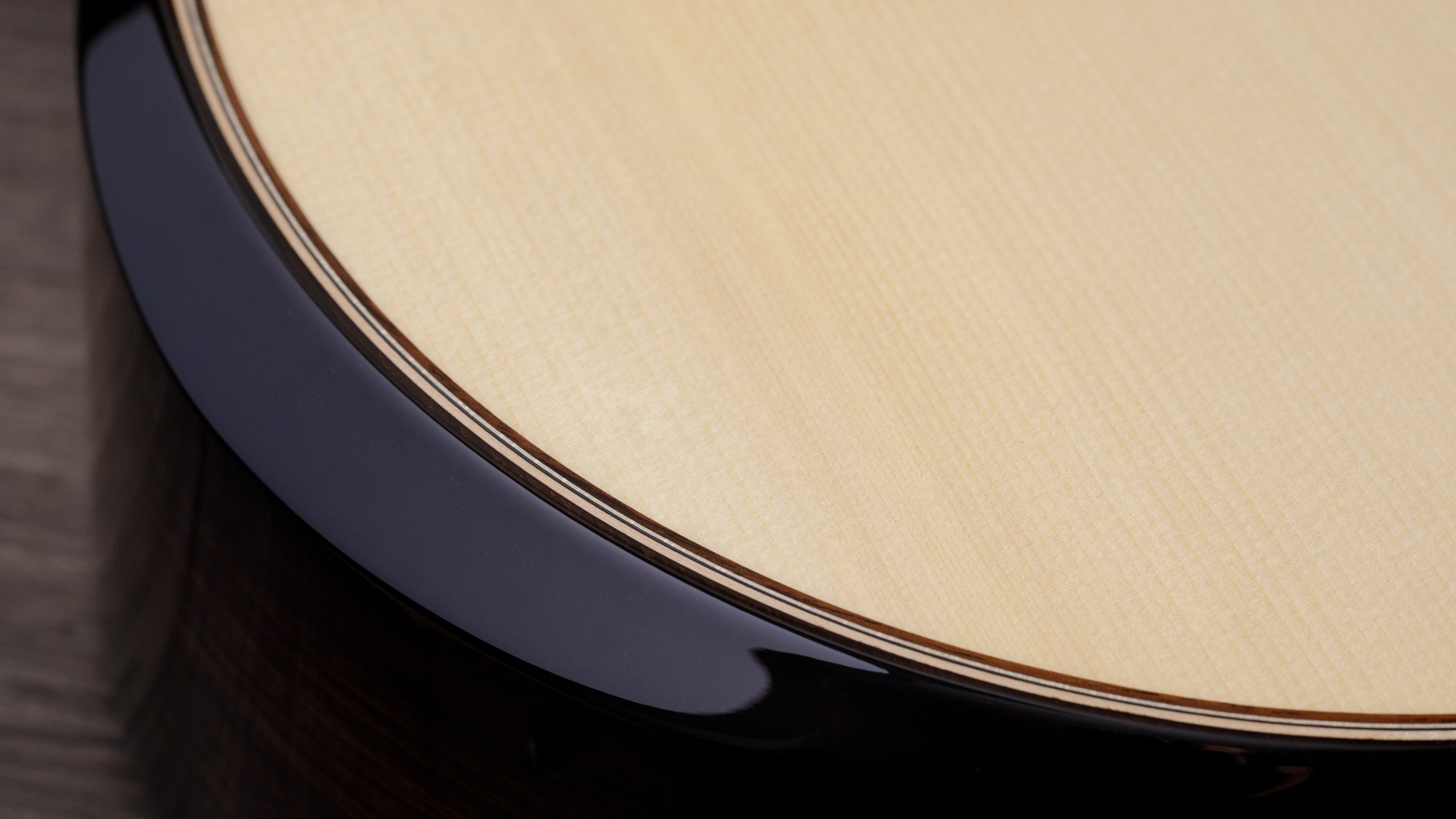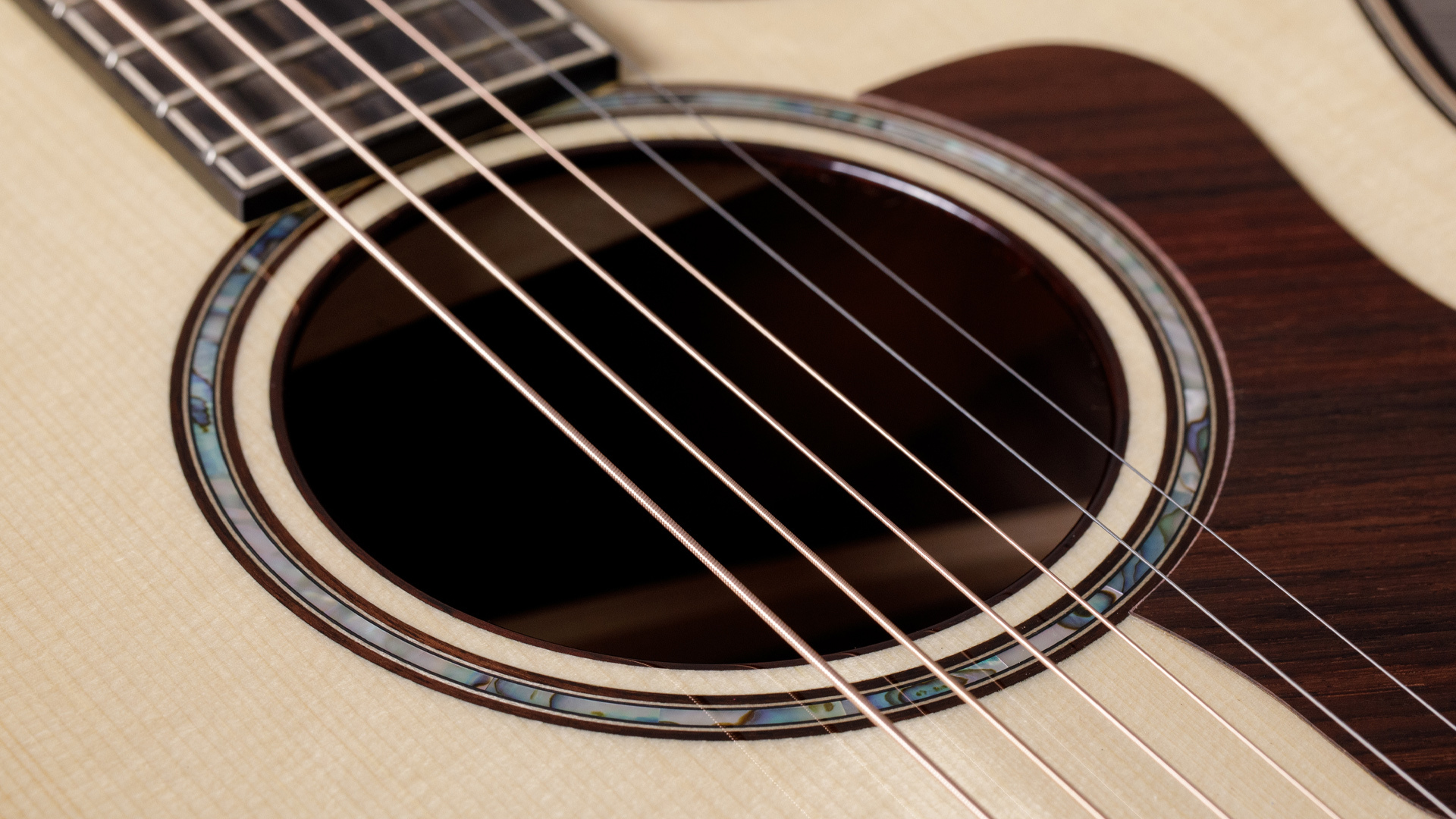 "For most of our playing, our opposable thumb is either on the back side of the neck or wrapped around it to help our fingers press strings to the frets — until we play high notes and our hand runs into the guitar body," he explained. "Then we have to move our thumb off the neck and reach up and around the body. Without our thumb on the neck, we use our whole arm to help our fingers press the strings down, which limits our dexterity."
The pairing of the finger bevel with the contoured cutaway, he says, means a player no longer has to labor to manage that transition — they can get all the way to the end of the fretboard and keep their thumb on the neck.
Between the cutaway and the armrest, the entire guitar body is more comfortable to hold and play, and both a player's picking and fretting hands will be more relaxed.
Because the cutaway design involves multiple curving compound surfaces that all have to line up perfectly, Andy says, being able to produce it demanded some of the most complicated tooling work that Taylor's product development team has undertaken.
"When my woodworker friends saw it, they said, "Wow, there is some woodworking sorcery in there to make it happen,'" he says.
To visually highlight the beautifully sculpted body contouring of the guitar, Andy chose to incorporate a gloss finish on the body — making it the first Builder's Edition model to feature gloss.
"While I love the feel and response of our silent satin finish, it was a treat to use a polished gloss finish to reveal the contours of the body, especially over the gleaming deep colors of rosewood," he explains. "It's a challenge to execute with all the sculpture going on in that cutaway, but I'm thrilled with the result."
"These guitars have a characteristically bold, vibrant sound, further emphasized by the Adirondack spruce top."

Andy Powers
A Four-Piece Adirondack Spruce Top
Another key refinement is the choice of an Adirondack spruce top, which is notable on several levels. First, Adirondack's superior stiffness (especially in tandem with our V-Class bracing) helps produce enhanced sonic characteristics that include an expansive dynamic range, with lots of detail and rich overtones across the tonal spectrum. (As a side note, Adirondack spruce was the premier top wood for American steel-string acoustic guitars prior to World War II, before overconsumption by other industries led the guitar industry to shift to Sitka spruce from the Pacific Northwest.)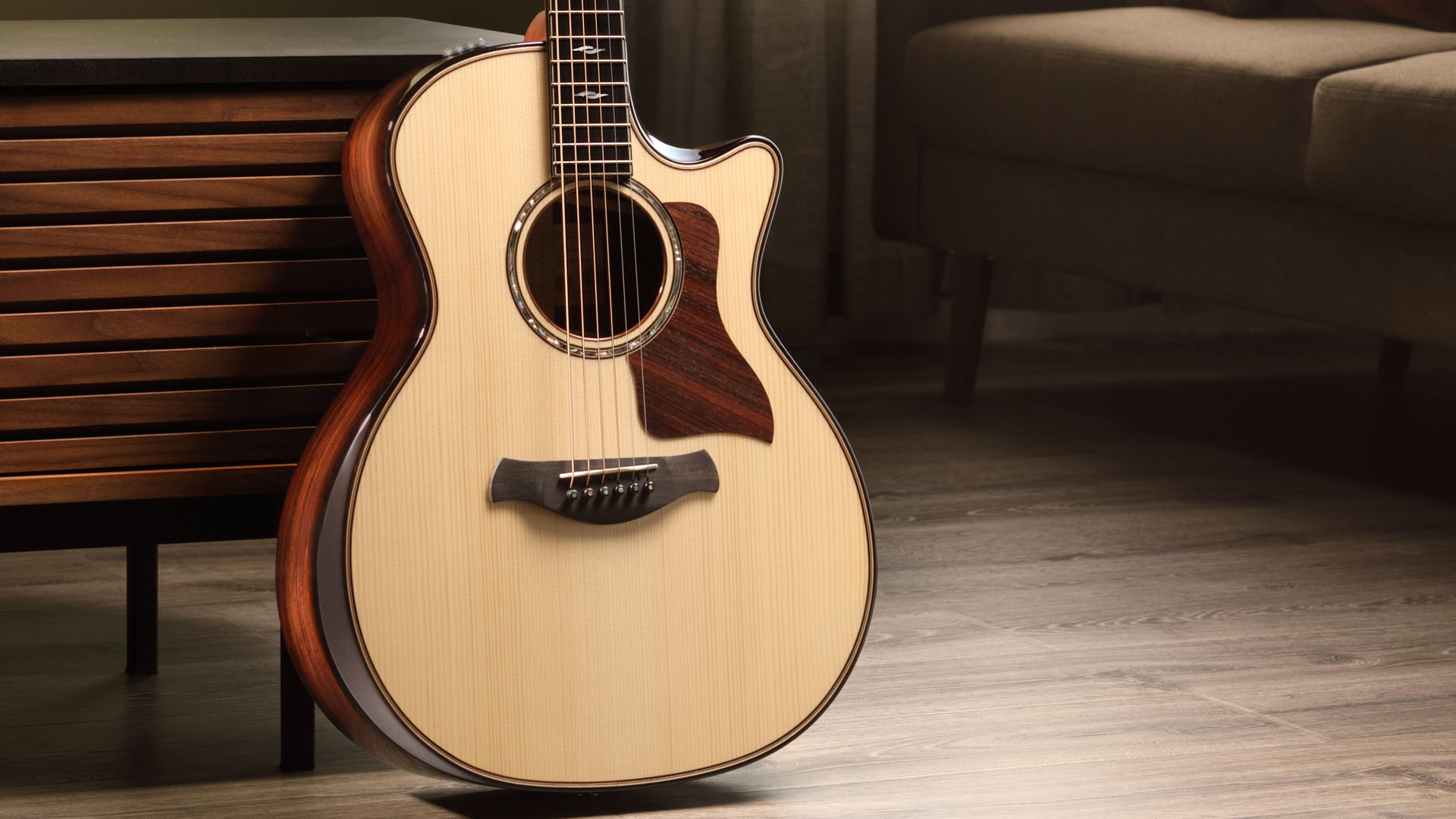 Additionally, in keeping with the guitar's theme of advanced craftsmanship, the top features carefully matched four-piece construction that requires skilled woodworking joinery. The four-piece design, rather than the traditional set of two bookmatched pieces, reflects the smaller-diameter nature of Adirondack spruce available today.
From a design perspective, Andy considered this guitar model a modern-day proof of concept for four-piece tops, which have been made at various points in guitar-making history by guitar makers during the 20th century. We've also been making four-piece koa tops on certain Taylor models for years.
In this case, the idea was to use the Builder's Edition platform to demonstrate the importance of skilled craftsmanship heading into the future, as fewer old-growth/large-diameter Sitka spruce trees will be commercially available, meaning that guitar makers will increasingly need to adapt and refine their methods accordingly, just as they always have.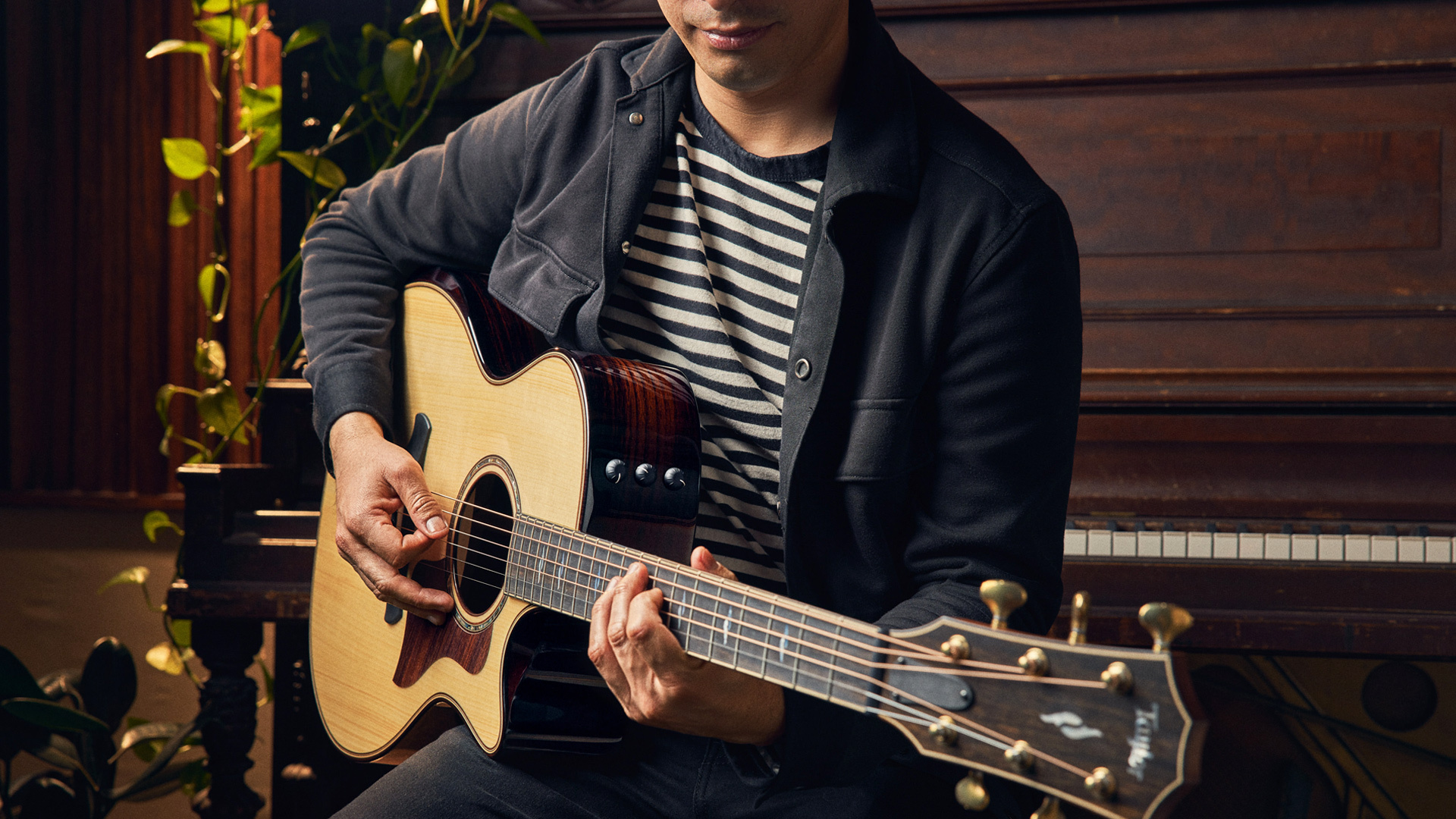 "We understand that the future of the wood coming from world's forests is always evolving," Andy says. "We anticipate that a great soundboard will require more careful woodworking joinery to utilize smaller sizes of the high-grade timber preferred for an heirloom instrument, much like piano makers have done for generations."
When executed well, he adds, the artful craftsmanship yields a high-quality soundboard that can deliver structural and sonic advantages and display a symmetrical grain structure.
For more on cutting spruce for tops and the reasons behind a four-piece top, see our companion story, in which we take you to our spruce supplier, Pacific Rim Tonewoods, for a closer look at what goes into creating soundboards for acoustic guitars.
Other Unique Design Details
Other body construction nuances for the Builder's Edition 814ce include a subtly different body geometry compared to the standard 814ce due in part to the beveled armrest and cutaway. The tapering of the body is also very slightly modified, which changes the relationship between the back plane and top plane.
"The body is also a touch slimmer near the neck compared to a standard Grand Auditorium body style," Andy says. The back braces (part of a V-Class recipe) are also subtly altered to fit the design.
The guitar's sonic attributes are also influenced by the Adirondack top and the gloss finish, which slightly changes the damping characteristic of the top.
"These guitars have a characteristically bold, vibrant sound, further emphasized by the Adirondack spruce top," Andy says. "Together, the V-Class architecture coupled with the gorgeously ergonomic contouring of this Grand Auditorium body now rendered in spruce and rosewood make for a rewarding take on a modern acoustic guitar."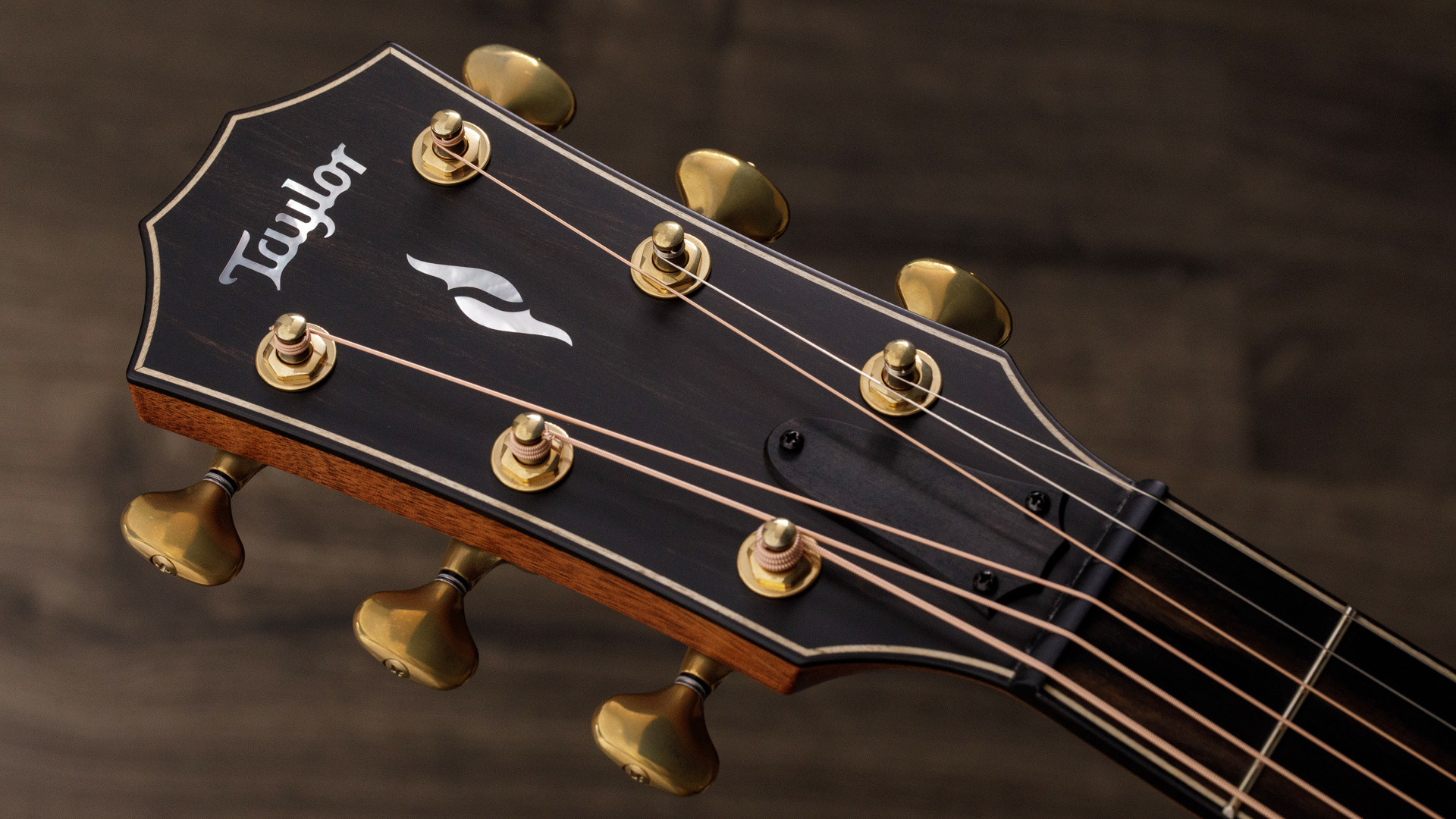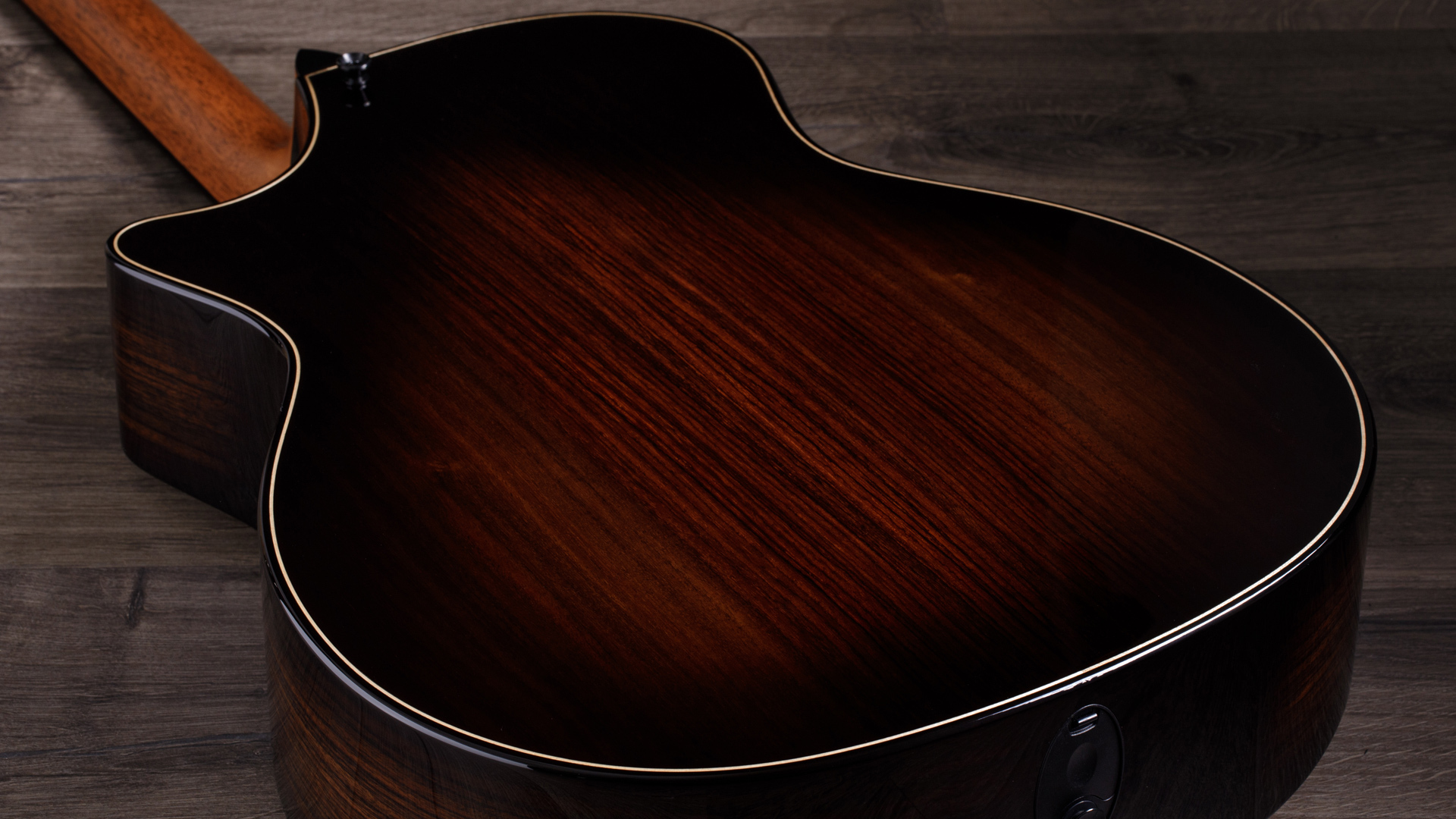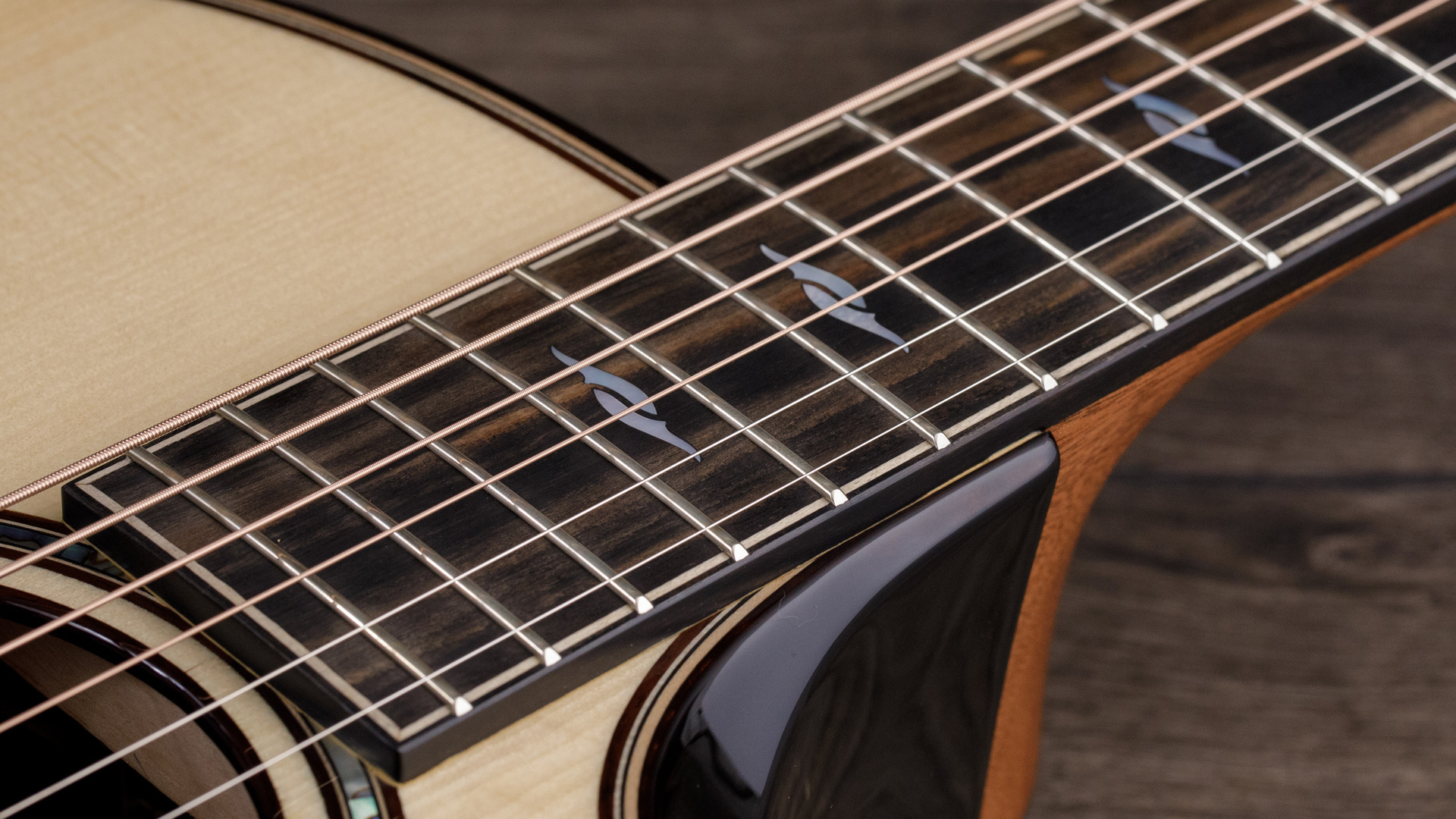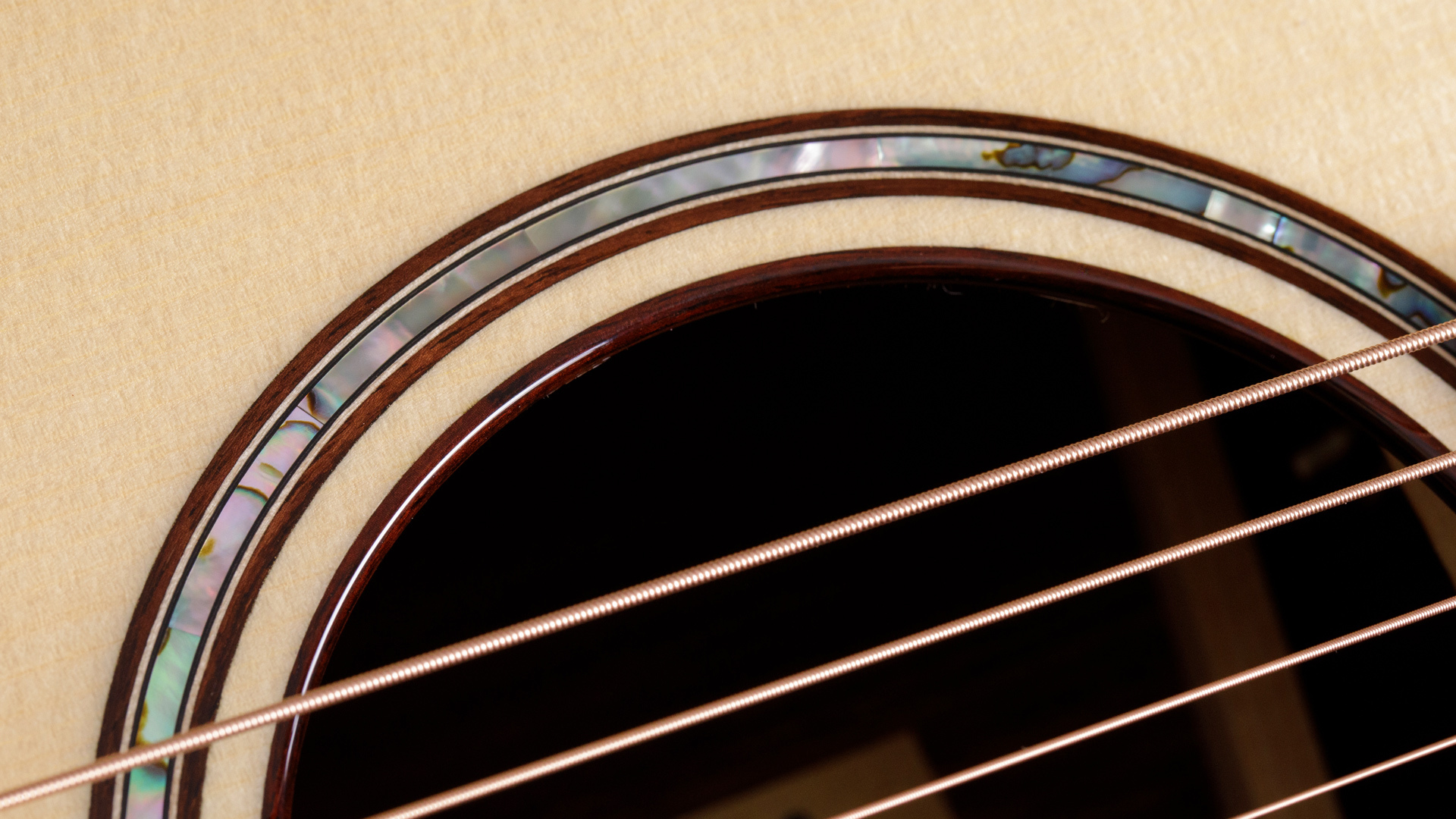 In terms of hardware and aesthetic details, the guitar incorporates Gotoh 510 tuners in antique gold (featuring a precise 21:1 tuning ratio) and the sculpted Curve Wing bridge used exclusively on Builder's Edition models. Aside from the gloss finish, Andy made minor modifications to enhance the elegant visual appeal of the added body contours. The body's chamfered edges are accented with a refined top purfling scheme that combines black and maple with rosewood edge trim. The Indian rosewood back and sides sport a Kona edgeburst with contrasting maple purfling. Other appointments include maple purfling lines along the fretboard and peghead, mother-of-pearl Element inlays, and a green abalone rosette with rosewood, maple and black trim.
Early Reactions
Among the first wave of musical adopters was Grammy-nominated songwriter, recording engineer and producer Will Yip, whose standard-issue 814ce has long been his go-to acoustic for tracking on rock records.
"Ninety-five percent of the acoustics on my records are 814s," he says. "I always say this: 'This [guitar] sounds expensive.'"
With Yip's intimate working knowledge of the guitar's sonic characteristics for recording, he made a discerning candidate to explore the Builder's Edition version in a studio environment.
"How do you make a great guitar greater?" he wondered after having some time to record the guitar. "I get more presence, more bottom end, more of that low-mid stuff, but I'm not getting any harsh frequencies. Everything just sounds pure and musical to my ears — even more than the other 814."
We also sent the Builder's Edition model to Los Angeles-session guitarist extraordinaire Tim Pierce, who's also a prolific guitar instructor and YouTuber. Pierce owns a 612e 12-Fret but wanted a cutaway acoustic guitar, and our own Tim Godwin from Artist Relations thought Pierce might enjoy this model.
"I am overwhelmed by the guitar you sent," he texted Godwin after some time with it. "It is an incredible, beautiful guitar. The first impression sounds just right and plays like a dream. I know it sounds like a lot of hype, but it's not!"
Media Coverage
Over at Guitar World, Tech Editor Paul Riario presented a video review in which he lavished praise on the guitar.
"It's a premium acoustic that will last a lifetime as a workhorse instrument and as an absolute heirloom masterpiece that does it all and so much more," he says. "With expansively rich and immersive acoustic tones and player-centric enhancements, I find the Builder's Edition 814ce to be an exceptional and expressive instrument that will appeal to any player."
And at the most recent NAMM Show this past April, the guitar was honored with Music Inc. magazine's Editor's Choice Award.
Be sure to check out the new Builder's Edition 814ce at a Taylor dealer near you.