It's been a few years since Andy Powers put his name on a guitar peghead.
When he joined Taylor Guitars back in 2011, Andy officially shuttered his business as a thriving custom builder whose instrument-making repertoire included flattop acoustics, archtop guitars, mandolins, ukuleles and electric guitars. That diverse instrument range speaks to his omnivorous love of — and expertise for — crafting an array of music-making tools.
Since his arrival, Andy's focus at Taylor has been on advancing Taylor's acoustic guitar designs, which have produced a raft of tone-enhancing innovations like his V-Class bracing, along with many award-winning models. But what Taylor fans may not know is how deeply Andy's life has been rooted in the world of electric guitars.
That's about to change.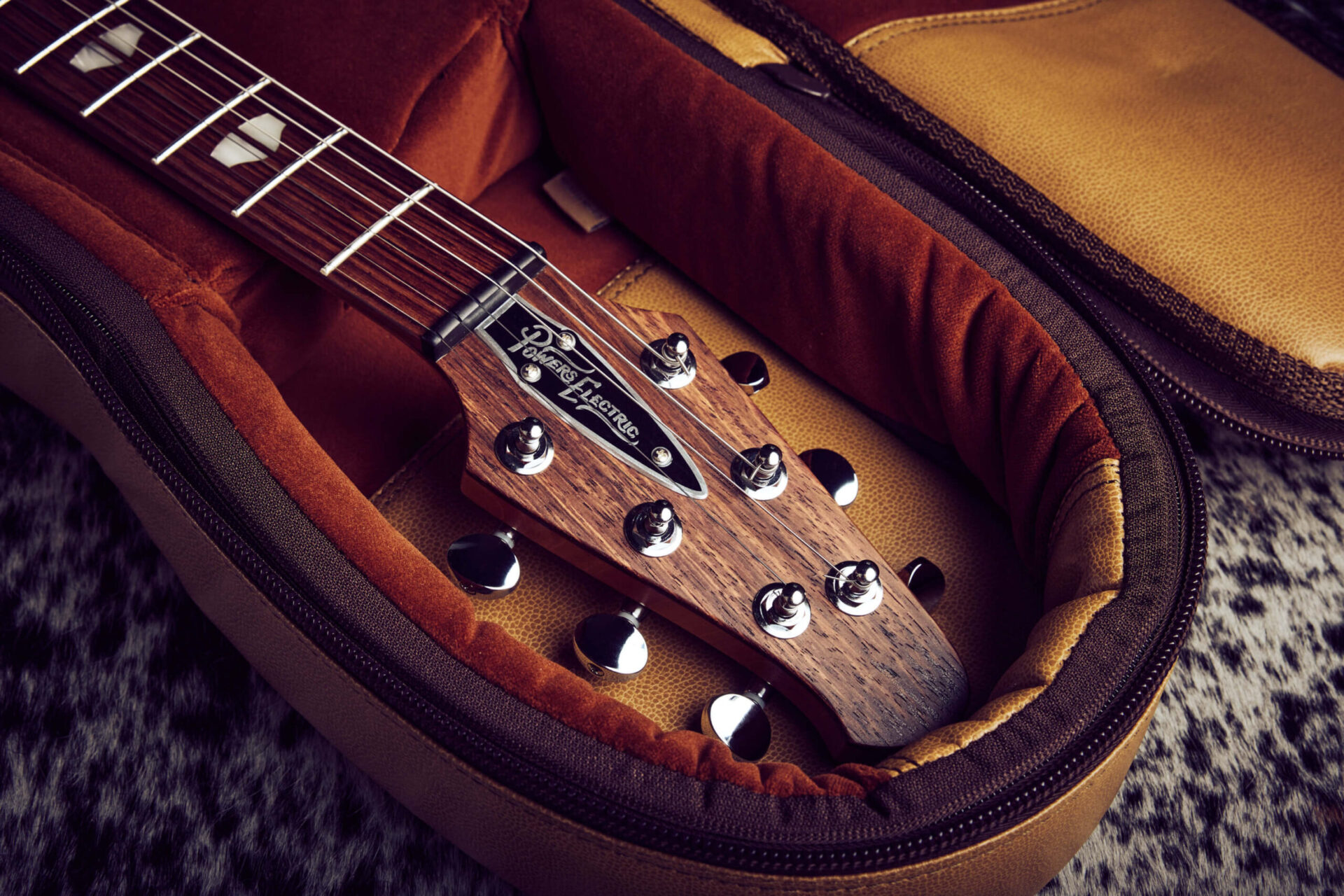 On Andy's behalf, we wanted to share the fruits of his exciting new solo project: a line of electric guitars called Powers Electric.
First, a few disclaimers. This is not a Taylor guitar. It's a pure electric, a guitar with a design and musical identity all its own, a guitar that currently can only be made by Andy and a few select craftspeople, and in very small numbers. Andy fondly calls it his workshop guitar because of how personal a design it is — his dream electric guitar.
Taylor co-founders Bob Taylor and Kurt Listug encouraged Andy to pursue the project. And they agreed that, in order for it to be the best possible expression of his vision, Andy needed the creative freedom to build it outside the established design language of the Taylor brand.
Of course, we're excited to share what he came up with. Andy believes there's room in the electric guitar category for something unique, and we believe he's created something special.
Before we reveal more about the guitar, it might help to shed more light on how Andy's background informed his design approach.
An Early Love of Electrics
As a kid, Andy's first exposure to a guitar was an acoustic that sat at the ready in his family's house. Between a dad who was a skilled carpenter and a mom who was an artist, there was plenty of encouragement (and surplus wood) to make things, which spurred the precocious kid to attempt to build his first acoustic guitar before he'd even turned 10. In hindsight, he muses that the crude result could at best be referred to as a "guitar-shaped object." But he was hooked on the idea of making an instrument.
As a player, the first guitar Andy actually bought (with help from his parents) was a used Strat.
"Wow, did I ever have fun with that guitar," he recalls. "Early on, I was obsessed with early '60s instrumental surf rock like the Ventures and absorbed that before I moved on to the later rockers and the earlier rockabilly, blues and jazz players. I supposed I never really grew out of that."
He remembers the powerful spell electric guitars cast on him as a teenager — and still do to this day — between their bold colors, cool contours and the endless range of amped-up sonic flavors and moods they could conjure with the flick of a switch or the click of a pedal.
"Their shapes, sounds and expressions felt like they had their own gravity, pulling attention toward themselves," he reminisces.
A Golden State of Mind
The area where Andy grew up also nurtured his creative sensibility in a big way. That would be Southern California's northern San Diego County. Living near the Pacific Ocean, Andy fell in love with surfing at a young age, and it remains a passion to this day.
Southern California's vibrant ethos invited self-expression and envelope-pushing experimentation.
The Southern California lifestyle was richly flavored by the region's culture and the offbeat characters that helped shape it. Surfing, skateboarding, hot rodding and classic cars, music, art, architecture, industrial design and other cross-pollinating creative influences formed a vibrant ethos that invited self-expression and envelope-pushing experimentation.
Bob Taylor can testify to this unique regional sensibility from his own experience as a San Diego acoustic guitar builder. In fact, when he began thinking about a guitar-making successor years ago (eventually Andy), one of his essential criteria was that the person also be from the San Diego area and be self-taught.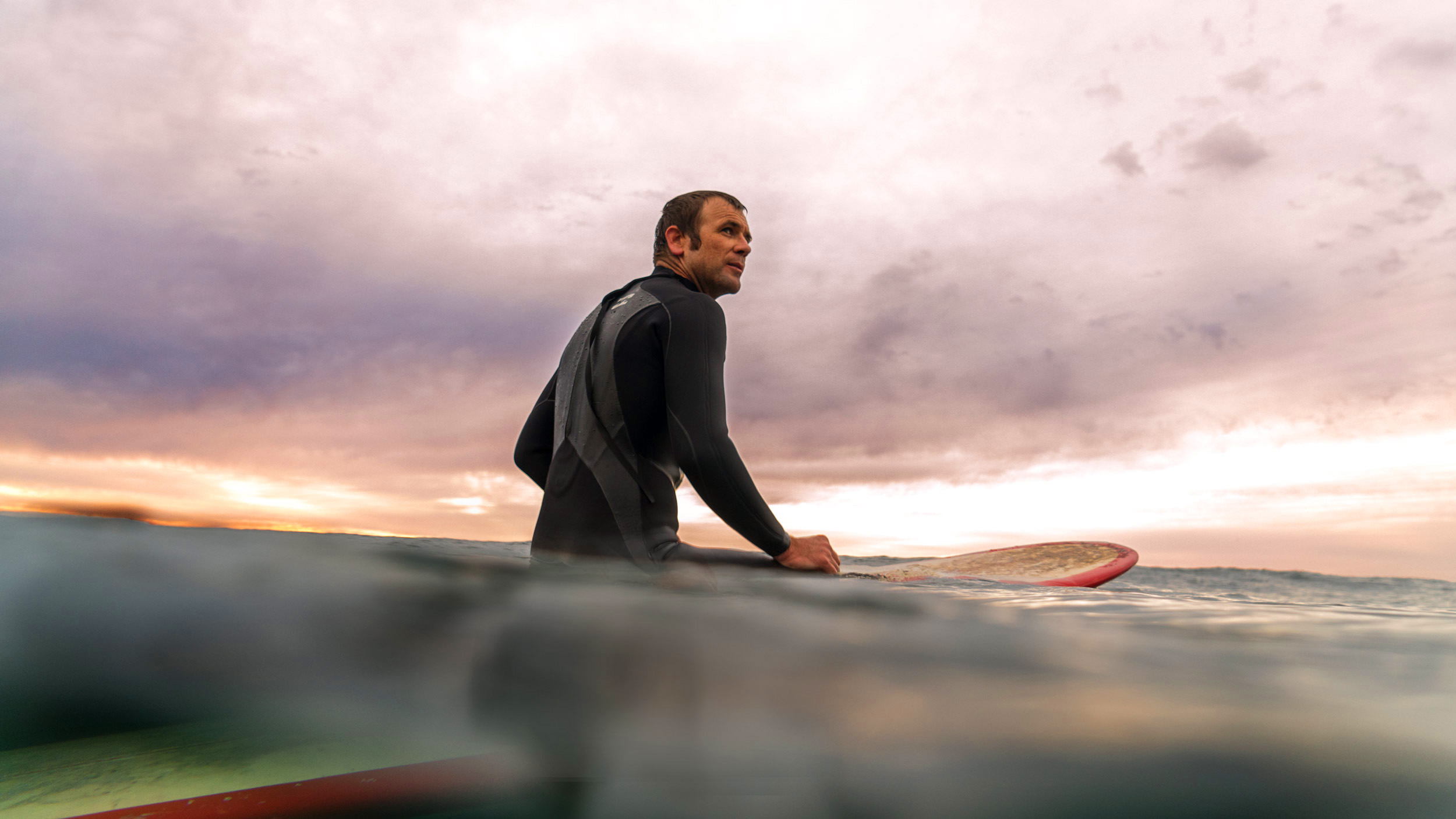 "In my lifetime of guitar building, I realized through experience that it was easier and more acceptable to show our guitars here in California than in the East, where there was already a rich history of guitar makers," Bob says. "I also started to notice the creative differences in guitar builders from here rather than elsewhere. We were willing to break tradition."
When it came to electric guitar design, Southern California was ground zero for many early innovations. Only about an hour north of where Andy lived, guitar-making pioneers Les Paul, Leo Fender and Paul Bigsby had hung out and talked shop at Les's place on their way to making musical history with their groundbreaking designs.
And in the surfing world, during the transition from traditional longboards to shorter, more maneuverable boards in the late '60s and early '70s, Southern California became an epicenter of surfboard design innovation. As a surfer, Andy was drawn to the aesthetics of surfboard curves and the aesthetic of the act of surfing itself. Over time, he would find a natural connection between surfing and making music — how one might similarly use different boards or guitars for different scenarios, and how both riding a wave and playing guitar are deeply expressive acts. With the right piece of gear, people could express themselves in a fluid, melodic way.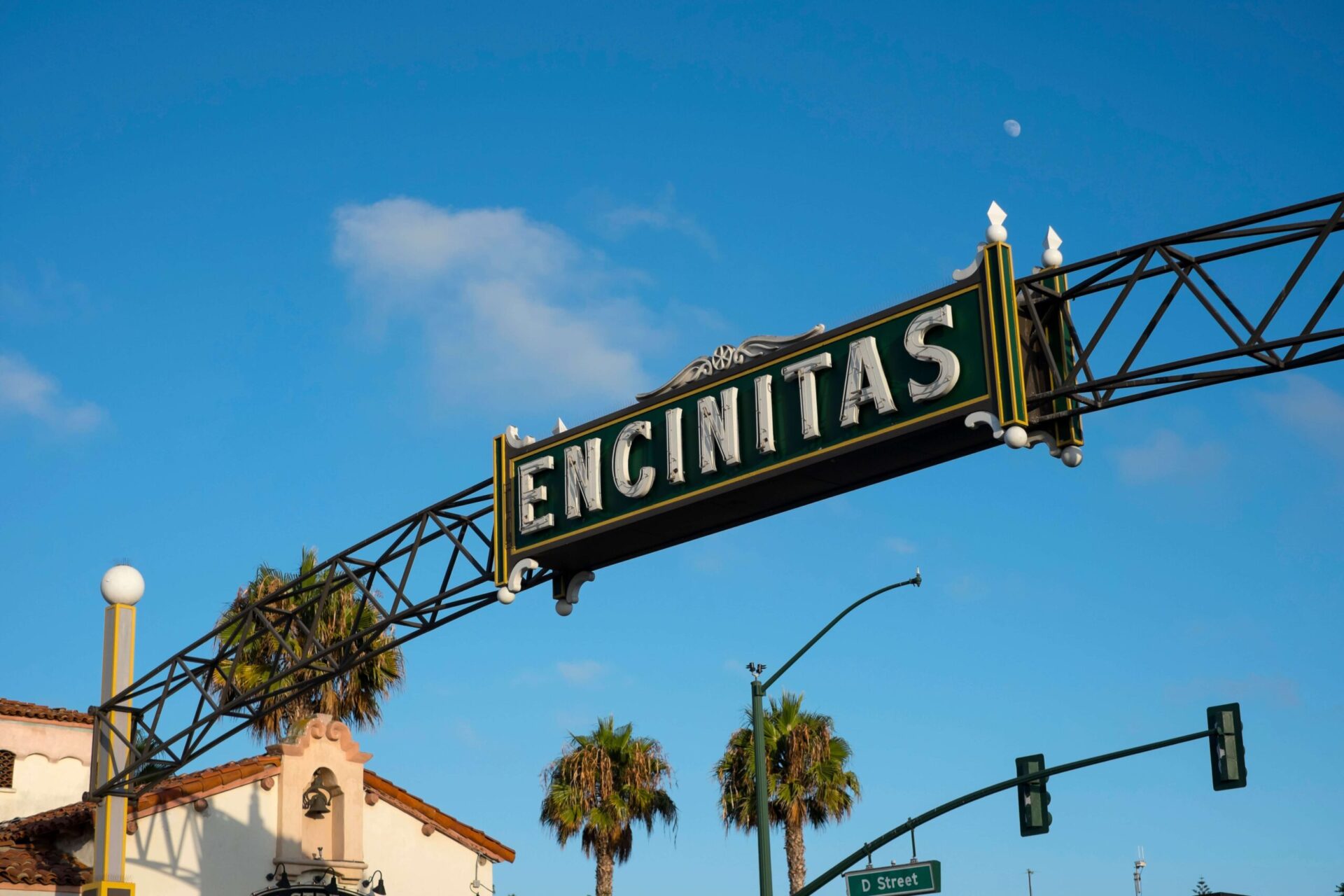 Finding His Musical Path
By the time he was a teenager, Andy had found a groove fixing and making instruments. Before he even had his driver's license, he was already known around town as a skilled instrument repair person, working with local music shops and private customers when he wasn't surfing or playing music in bands with friends.
He refined his playing chops in college at the University of California, San Diego (fortuitously located near one of his favorite surf spots), where he studied music with an emphasis on guitar performance. He'd sometimes sit in on live jazz gigs with some of his music professors, while continuing to repair and build guitars — often with them as clients.
A Student of Guitar-Making History
As part of his immersion into instrument restoration and building, Andy soaked up the history and evolution of instrument design. Some of the important books he consumed in his self-education were the reference guides written by George Gruhn, founder of Gruhn Guitars in Nashville, who is widely regarded as one of the foremost experts on American vintage guitar design. Andy developed a relationship with Gruhn over the years, and especially in the years since Andy became the lead design architect at Taylor, Gruhn can testify to Andy's range and depth of knowledge, and more specifically, his ability to contextualize the history of guitar design.
"If you study the progression of electric guitar design, you learn what was done and what wasn't, and why things changed."

Andy Powers
"Andy is one of the most knowledgeable people I have ever encountered in the musical instrument business," Gruhn says. "He understands design. He also understands tradition — the pathology of instruments: what doesn't work. When he designs a new guitar, he can look at the evolutionary systems that preceded it."
Gruhn's comments place a helpful frame of reference around Andy's approach to designing a new electric guitar (in addition to acoustic guitars). As someone who has either played, worked on or studied many of the great electrics of the past 70-plus years, he has an almost savant-like knowledge of electric guitar design history.
"If you study the progression of it, you learn what was done and what wasn't, and why things changed," Andy says. "The cool part is you can study that a lot faster than you could participate in it in real time. I didn't have to wait until the next model year for somebody to make their refinement."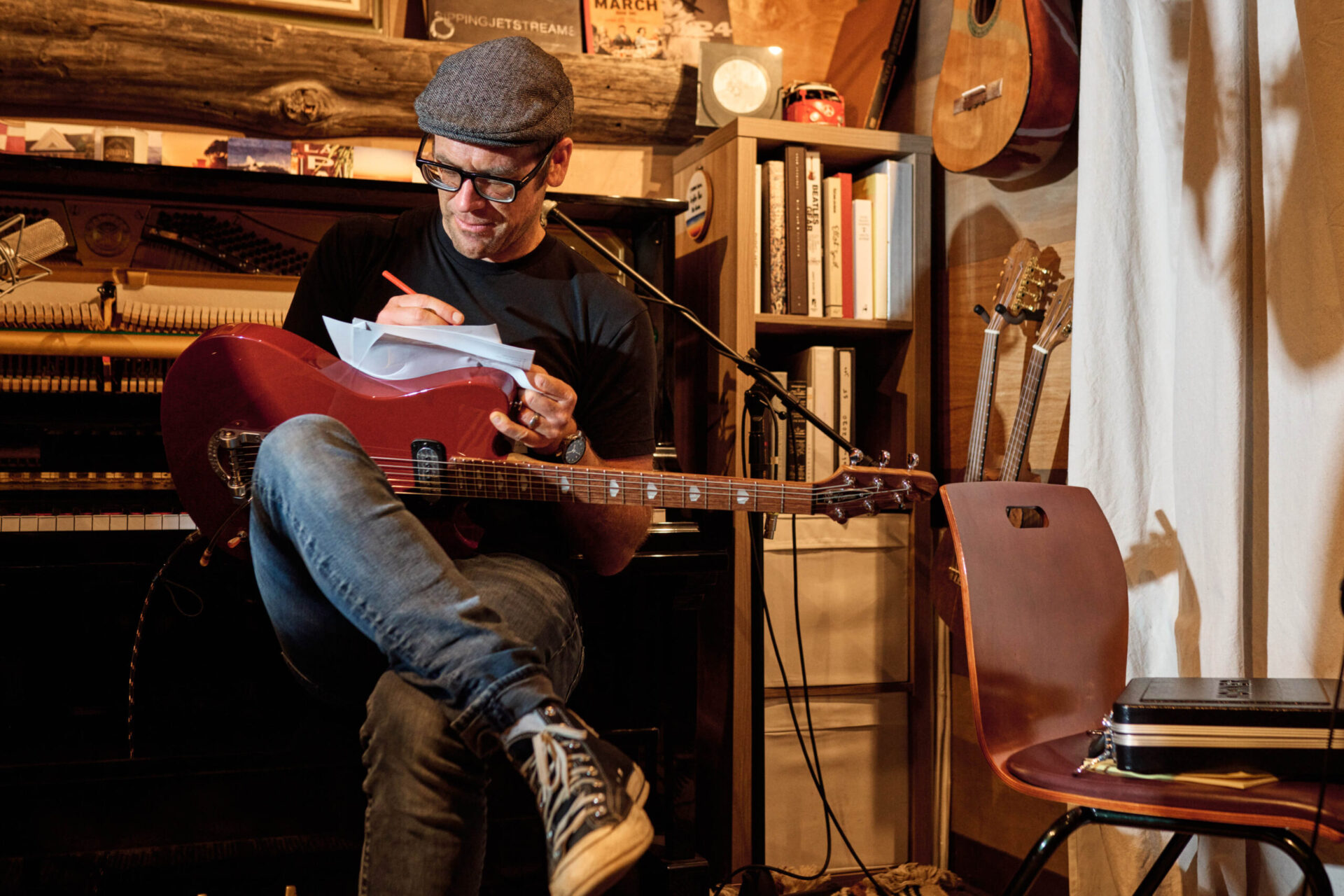 In conversation, Andy can easily slip down a rabbit hole of electric guitar design history, detailing, for example, the year-by-year iterations of a Les Paul Standard from 1952 to 1953 and onward, noting what changes were made and why. Chatting from a workbench in his design studio, he casually sifts through Fender's early electric guitar development almost as though he had been there, from their seminal transition from lap steels to a Spanish-style guitar with a round neck, to Leo Fender's modular approach to design in order to make his guitars easy to service, to the reasons for Leo's preference for single coil pickups.
Andy delights in nerding out about this stuff, not to strut his knowledge, but because he genuinely loves absorbing and talking about the thinking and the creative problem-solving and trial-and-error approach that have gone into electric guitar design. Or classic cars. Or surfboards.
Defining What His Electric Should and Shouldn't Be
Technically, you could say that Andy has been thinking about this new electric guitar for most of his life. His urge to design a new type of electric guitar ultimately came from a simple, practical truth: Though he has played, owned and repaired plenty of great electric guitars — and loved various attributes of many — the guitar he wanted, one that checked all his boxes, didn't exist.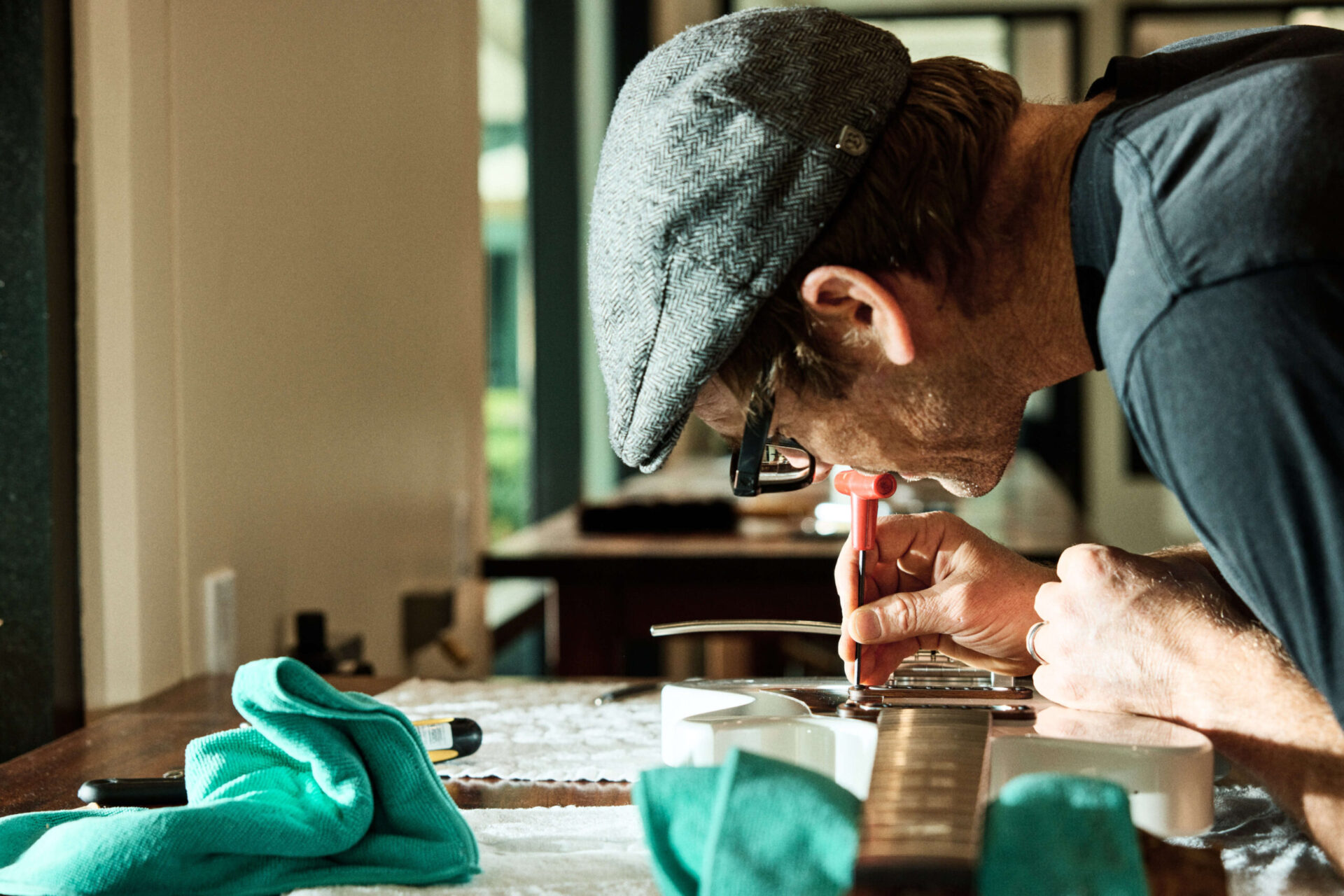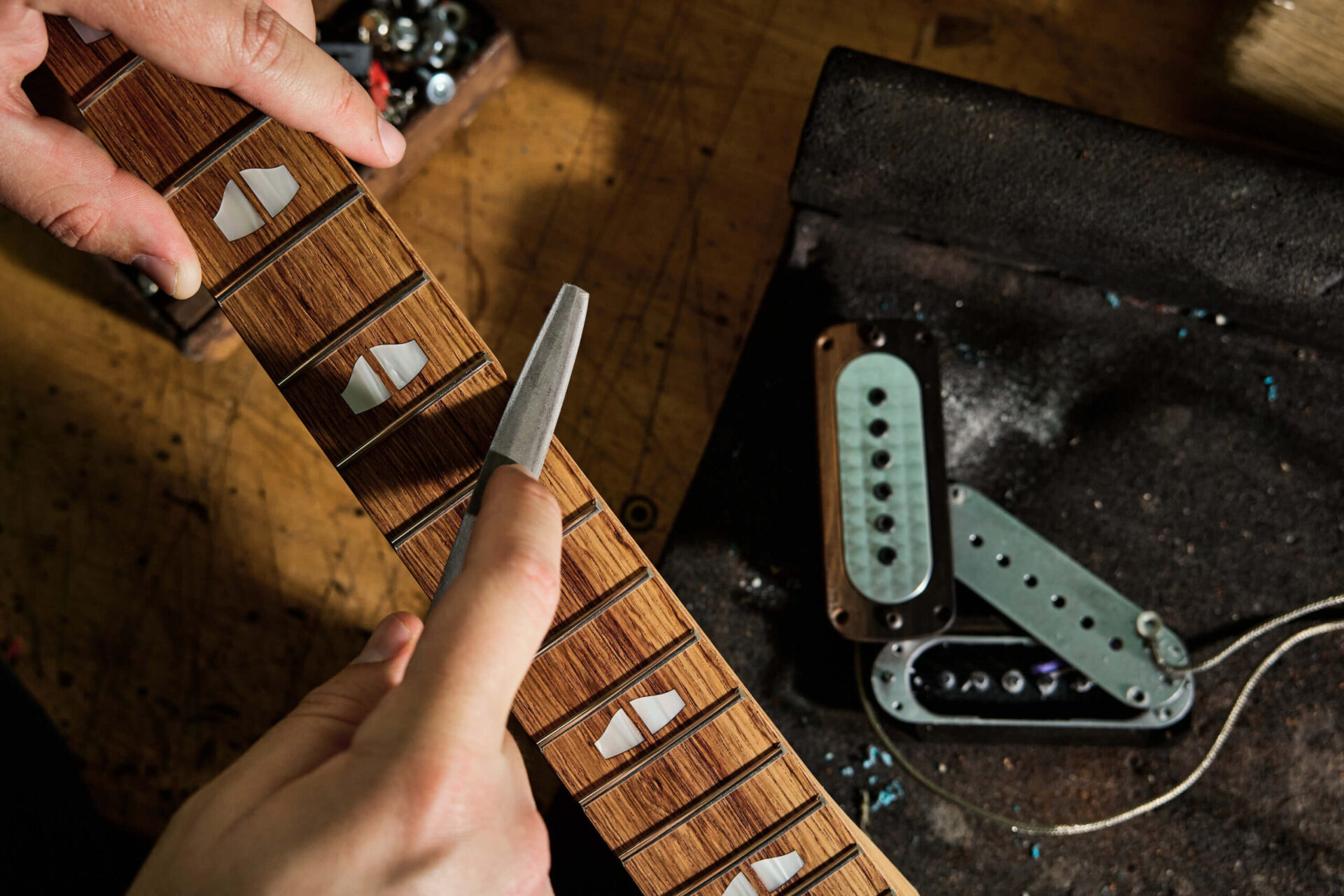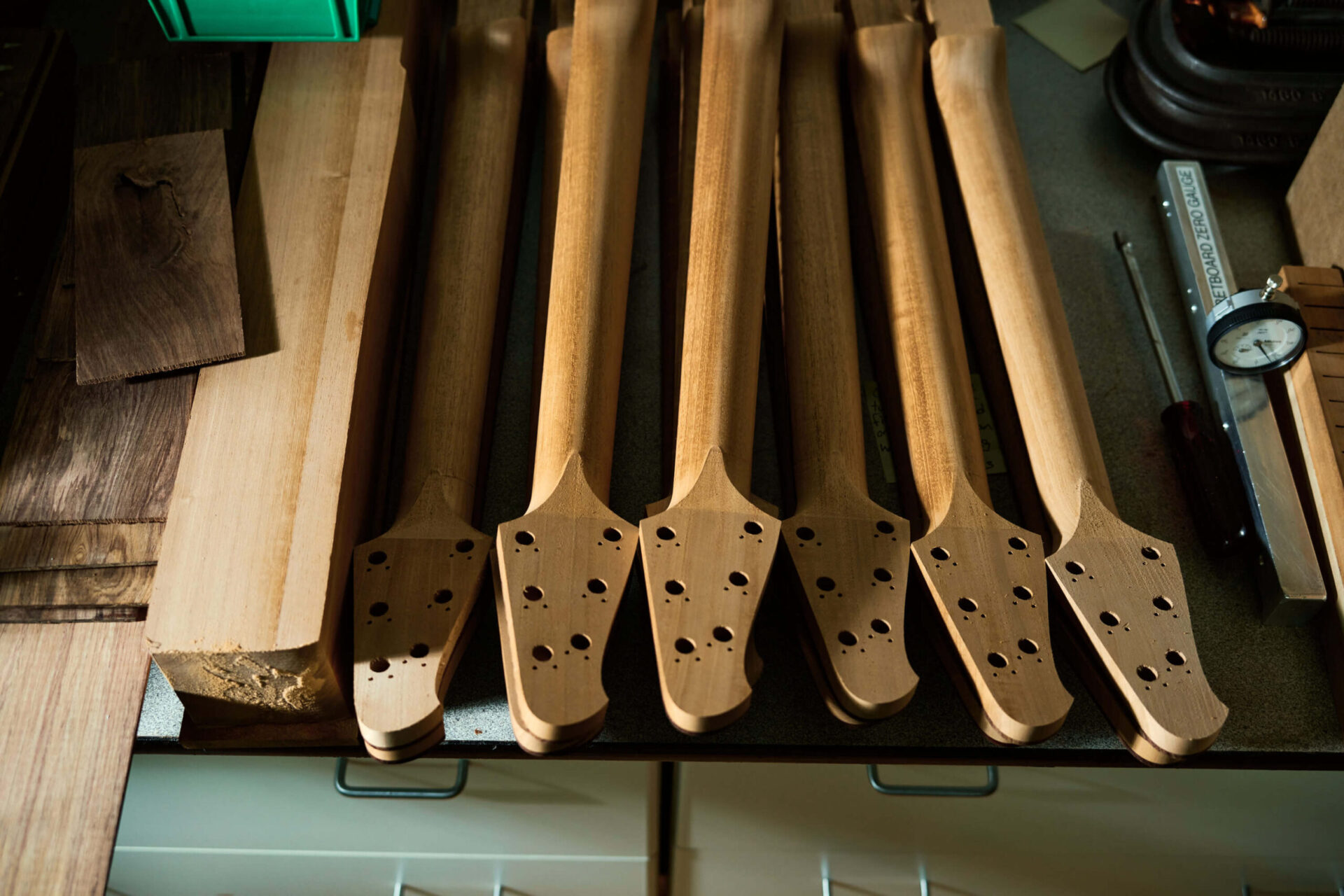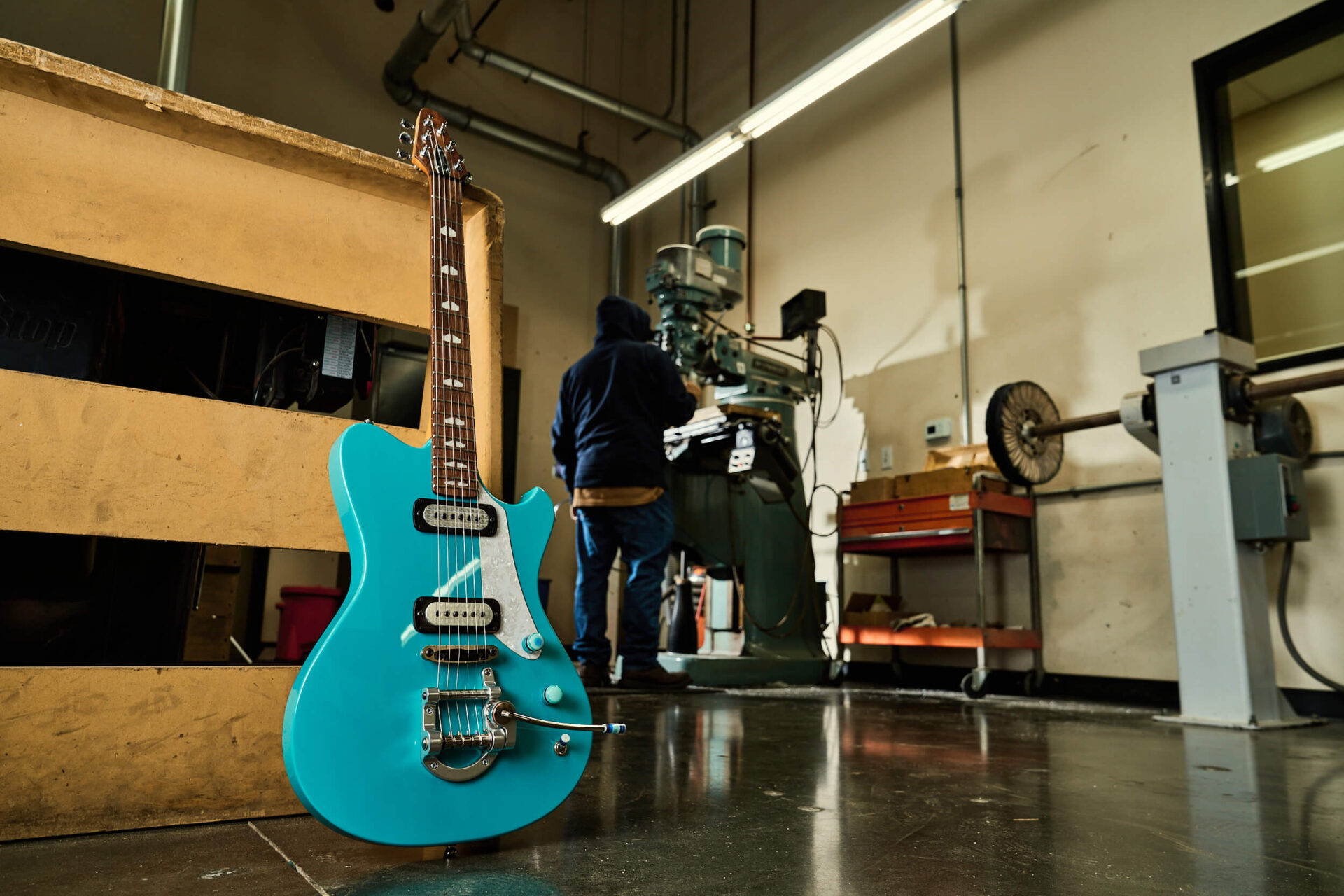 "I wanted a sound and a feel I didn't have," he says. "I wanted something that shared in the inspirations of past makers but was created for a more modern context. For me, it meant creating a fresh design from the ground up based on decades of work and study."
He was keenly aware of the design features that defined other guitars and intentionally challenged himself to embrace a different approach.
"There are elements that already exist on other guitars for good reason — they suit those unique guitars." he says. "This guitar was meant to be a fresh creation, so at one level, there was an exercise of deliberately excluding the things you know already work in search of a fresh direction."
"I wanted something that shared in the inspirations of past makers but was created for a more modern context."

Andy Powers
In some cases, he was able to draw from the pioneering ideas of early electric pickup design that were limited by the materials of the day and now, decades later, reapply them in a more modern context based on new materials or technologies.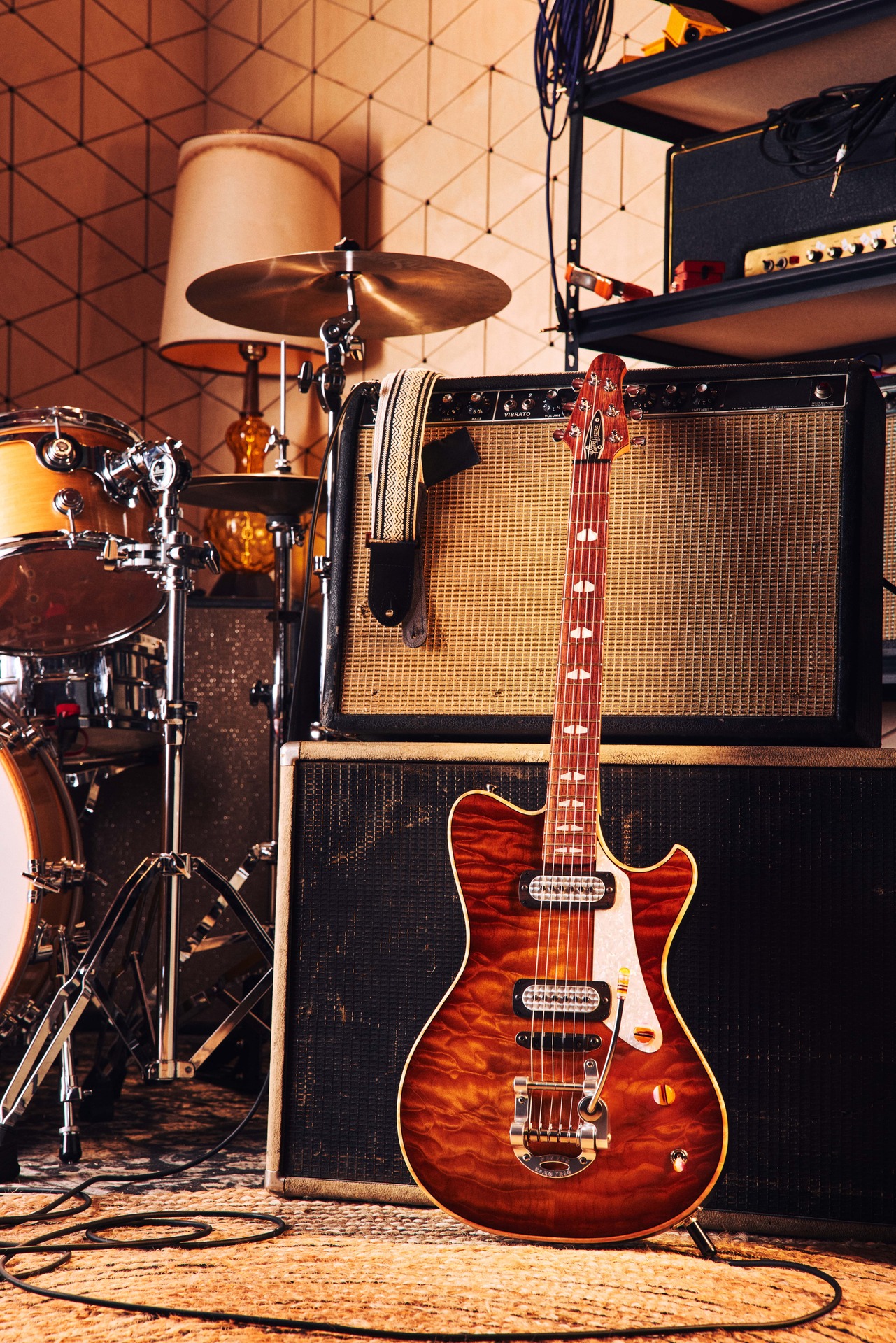 Not a Taylor Design
One constraint that would prove to be liberating was how his guitar might — or might not — relate to the Taylor design identity, particularly the T5z. After all, Andy is Taylor's chief guitar architect. And he already had been working on migrating Taylor's T5z design toward a more electric aesthetic and personality. So initially, he began to conceive of this new guitar within a related stylistic framework. He made some early prototypes that boasted innovative pickup designs and other features, trying to make it somewhat compatible with the Taylor brand identity. But his efforts to preserve some family connection seemed to limit the guitar's potential, as Kurt Listug explains in his column this issue.
"I told Andy I thought the guitar was well designed, well made and aesthetically pleasing but it was just plain wrong," Kurt says. "I suggested he build the electric guitar he really wanted for himself."
In his column, Kurt also recalls the lessons learned from Taylor's solidbody electric line, launched in 2008 (preceding Andy's arrival), which found a devoted segment of fans but never achieved widespread success. (After several years, it was discontinued.) In hindsight, Kurt says, the guitars didn't fit the brand.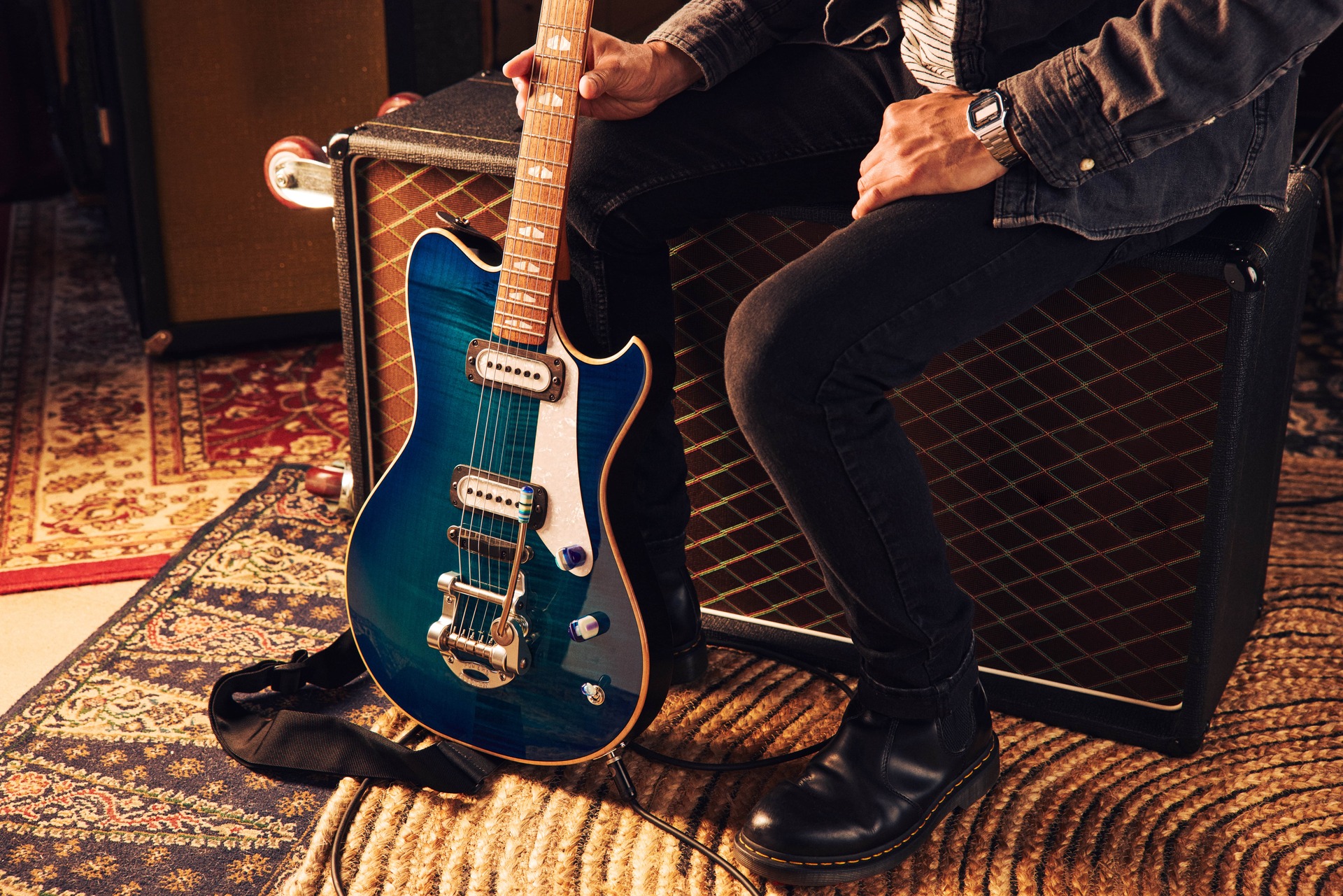 "Acoustic guitar culture and electric guitar culture are very different," he says. That kind of electric guitar needs its own brand, its own styling and its own trade dress."
Andy's ideas for his ideal electric guitar were the equivalent of being in a band and coming up with great new song ideas that simply weren't right for the band — they were better suited for a separate solo project.
"Like a surfboard or roadster, every line was considered both for its looks and its handling."

Andy Powers
It turned out that the arrival of the pandemic became a catalyst for bringing the project to life, giving Andy additional time to refocus on designing the guitar in his home studio. With a newfound sense of creative freedom, he was able to bring all of his ideas together holistically in form and function.
Flicking the Switch on Powers Electric
After decades of studying and experimenting, Andy is ready to unveil the electric guitar he's always wanted to make, offering something new (including some patented designs) while retaining elements of familiarity that electric players will appreciate. Aside from the tuners, strings, frets and a few other sundries, virtually everything about it was designed, engineered and built from scratch in-house. It's richly infused with Andy's Southern California aesthetic sensibility, drawing inspiration from the innovative, DIY spirit of the surfing and hot-rodding communities.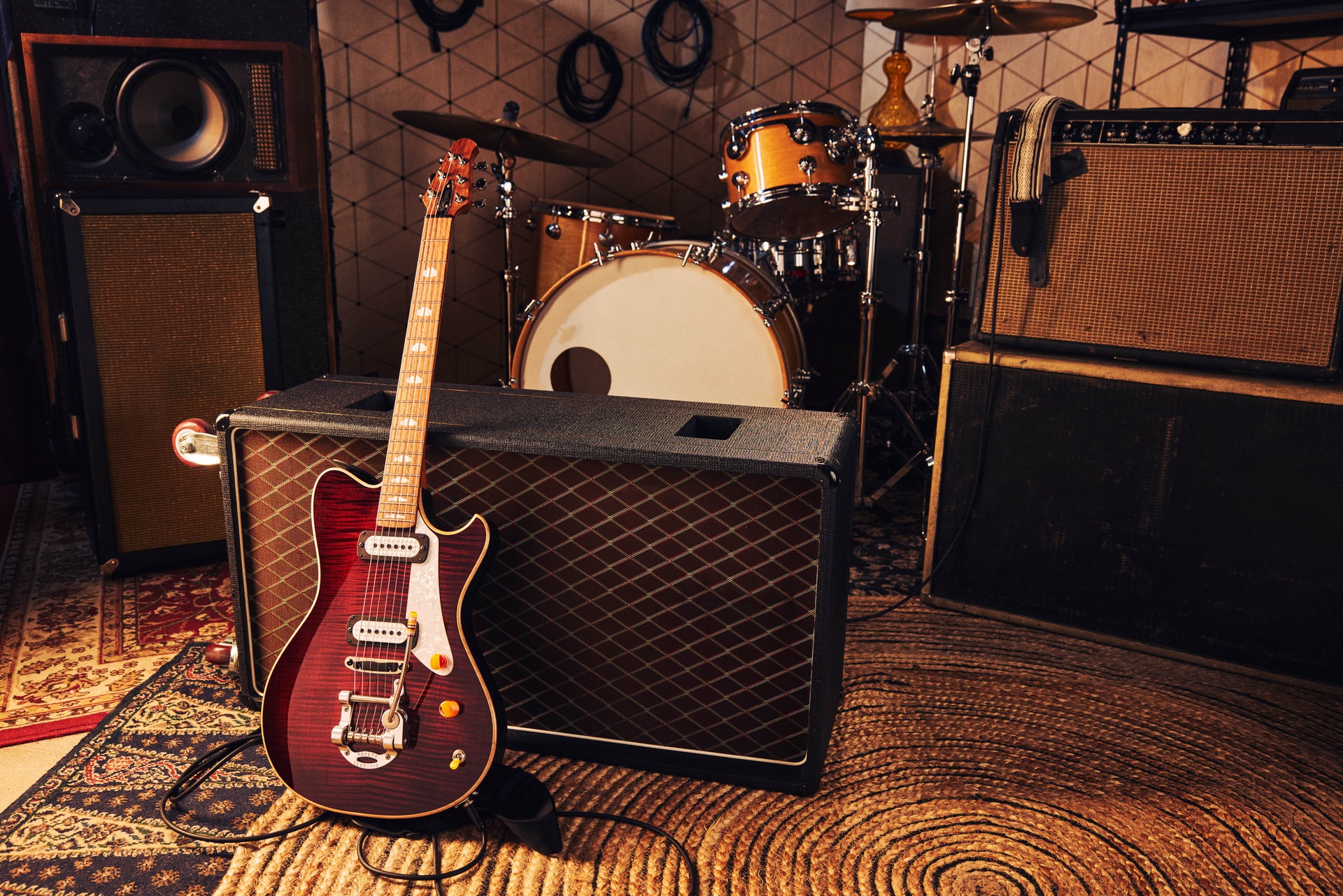 "I wanted the body to look good from every viewing angle," Andy says. "I wanted an asymmetrical shape without sacrificing visual balance. I wanted timeless styling with modern embellishments. Like a surfboard or roadster, every line was considered both for its looks and its handling."
The fully enclosed, slim hollowbody design features unique internal trussing that maximizes resonance and sustain and suppresses feedback.
The vibrant palette of colors for the bodies is largely inspired by memorable paint colors used on classic cars. Other proprietary design features include the two different pickup options, a specially engineered trem/vibrato system with a "camshaft tailpiece" that allows players to maintain closer relative pitch between notes when using the vibrato and bend strings without pitch droop, a uniquely asymmetrical fretboard radius, and colorful control knobs (crafted in house) made from layers of surfboard resin — inspired by art pieces created by Andy's friend, surfboard shaper Josh Martin. Even the case is a unique design, beautifully crafted with the same upholstery materials found in classic Porsche cars.
We'd prefer to give Andy his own space to fully showcase his new guitar brand, so we encourage you to make your way to Powerselectricguitars.com or Instagram (@powerselectricguitars), where you can see the guitar line's stunning design aesthetic, learn about all the unique performance features, and watch Andy and others play and talk about the guitar.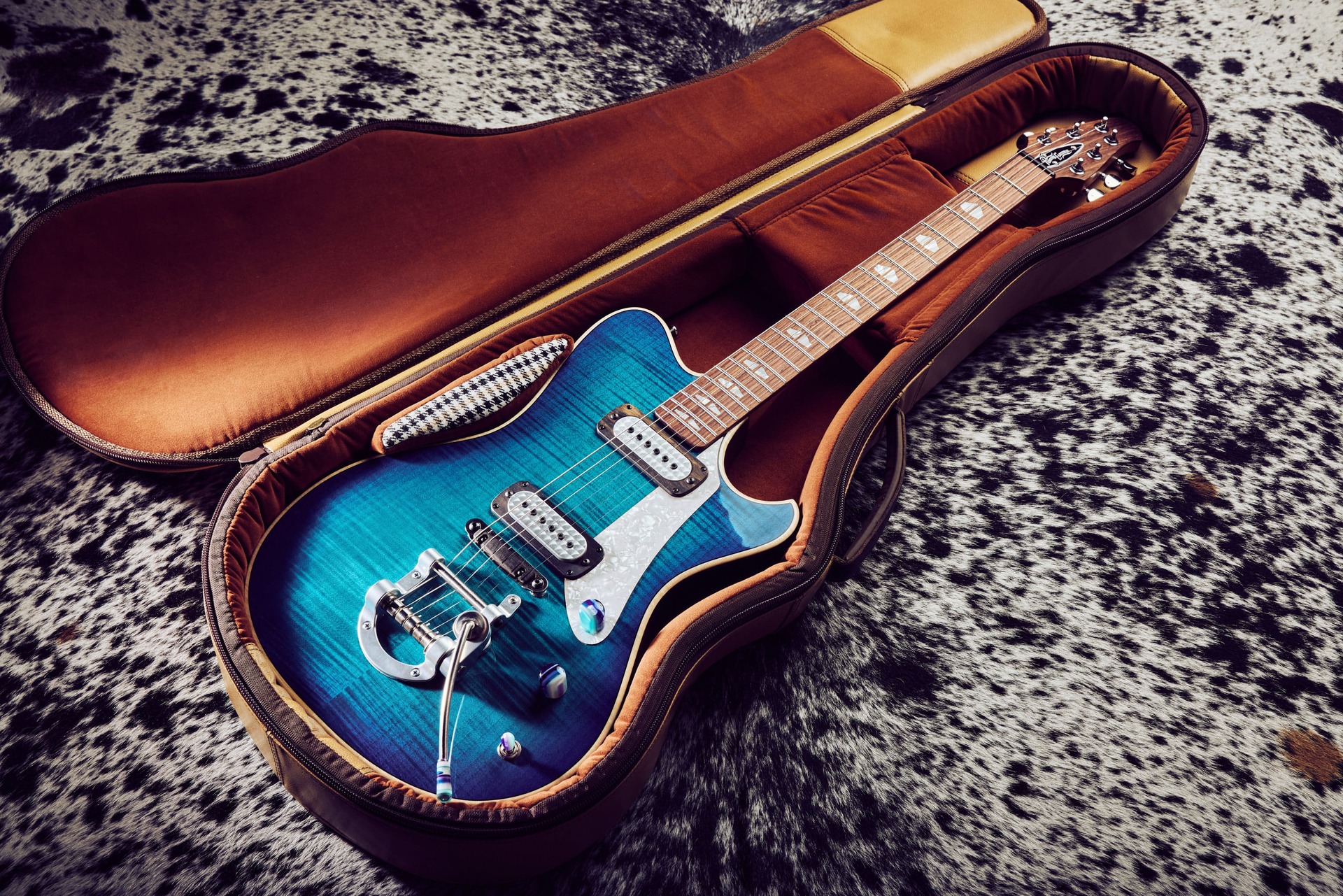 After months of beta testing with some of the music industry's top players, including showcase events in Los Angeles, New York and Nashville, the Powers Electric Guitars brand officially launched in mid-June with an initial small-batch release of about 30 guitars. It's not a guitar that will be available in significant numbers anytime soon — only Andy and a small team of craftspeople are able to build the guitars, which will be sold exclusively through a select network of eight Powers Electric dealers to start.
You'll find the full list of dealers at Powerselectricguitars.com. You can also join the Powers Electric mailing list, which will give you an inside track to all the latest developments moving forward — including each new batch of guitars as they are released.
We really think you'll like what you see and hear. We know Andy does.