The second half of 2021 might turn out to be one of the more creatively inspiring times we've seen in years—certainly in months. Public spaces are gradually reopening in many parts of the world, and people everywhere are feeling the growing desire to make music together. That means that acoustic guitars are about to have a big moment in the sun, and there's no guitar better suited to spontaneous creativity than the GS Mini.
Longtime Taylor fans know the GS Mini well: a scaled-down, solid-topped acoustic guitar with a voice that dwarfs its small frame. Borrowing the basic curves of our larger Grand Symphony body shape and sporting a take-anywhere, not-too-precious aesthetic, the GS Mini has been blowing minds and powering jam sessions for over a decade now. And still, despite being one of the best-selling acoustic guitars in the world, there's more to the GS Mini and this family of guitars than meets the eye. While the GS Mini's ubiquity as a pick-up-and-play guitar makes it both accessible and practical for virtually any kind of player, it's also sometimes thought of as just a travel guitar and not a complex system of interworking design choices, as is the case for our full-size guitars. But the Mini is just as thoughtfully designed, and the choices made have profound impacts on the final product, even when they're not immediately recognizable.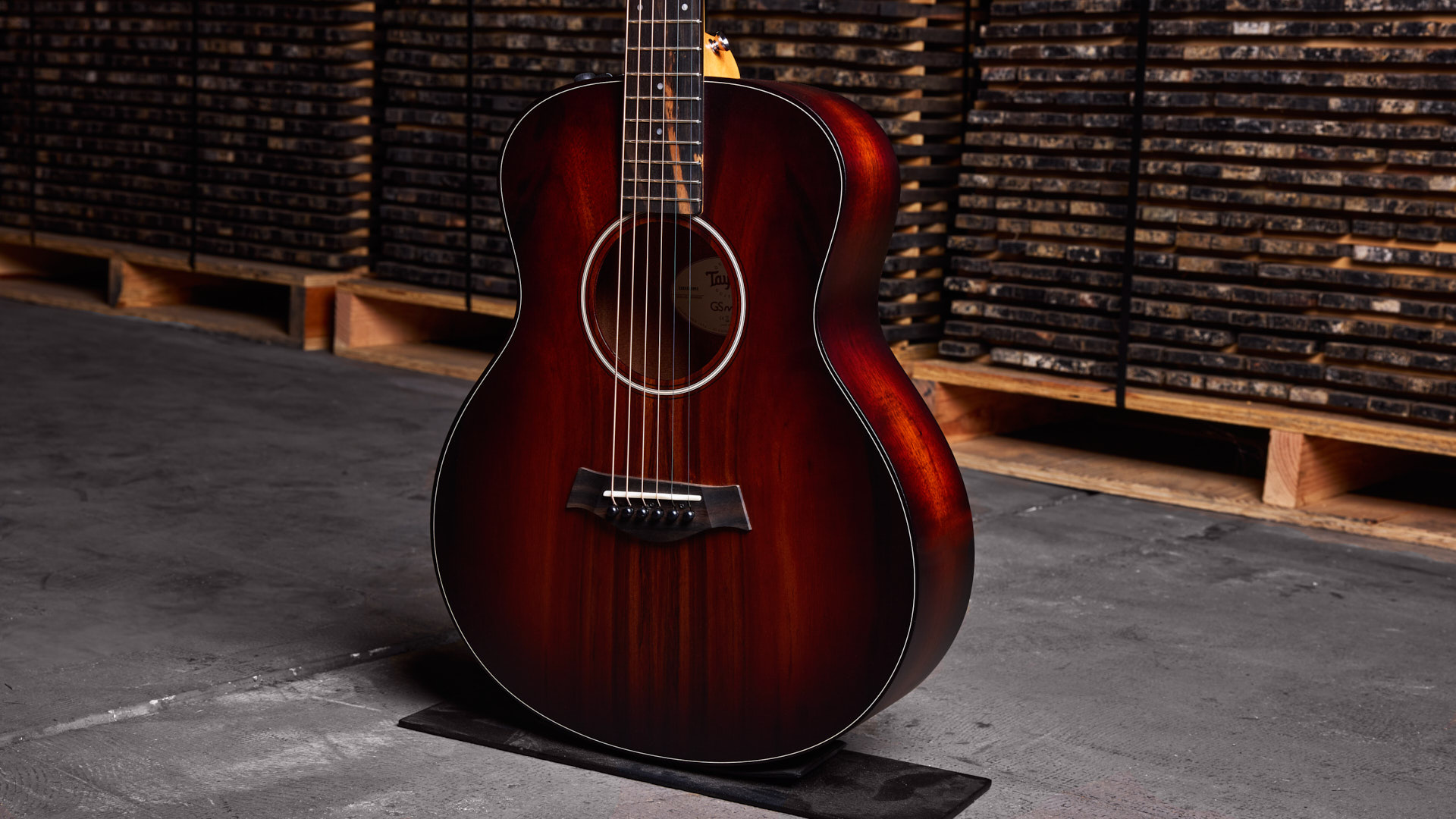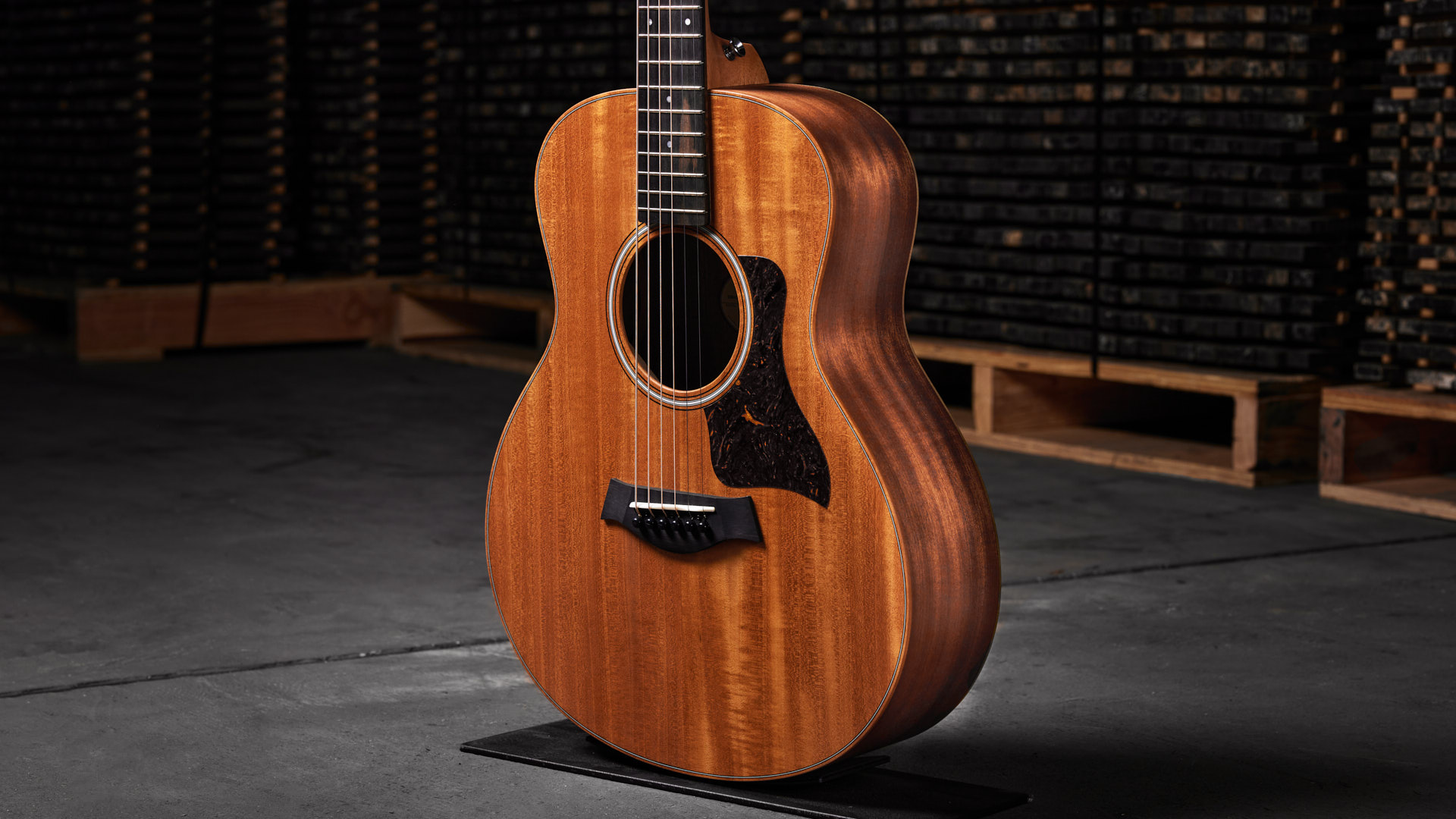 Take the back and sides of the GS Mini, which are built with layered woods—that is, two thin tonewood veneers pressed around a central layer of another wood to add durability and structural resilience. Pick up a GS Mini and you'll likely notice that the back is slightly bowed outward, or arched, toward the body of the player. Look inside the body and you'll see a back free of the bracing struts that we use in solid-wood guitars to articulate their tone and shape their musical response. This design choice, also featured in all of our guitars made with layered wood backs and sides, helps us maximize what we get out of our natural resources while making our guitars more durable.
"The 'domed' back design greatly strengthens the back, eliminating the need for additional bracing," explains Master Guitar Designer Andy Powers. "A big reason for doing this is to avoid wasting raw wood. When you saw a board into back pieces, half or more of it ends up as sawdust. When you slice the same board into thin veneers for guitars like the GS Mini, very little wood is wasted as sawdust."
Another often-unnoticed feature of the GS Mini is its soundhole, which matches the dimensions of soundholes in our full-size guitars, effectively making it oversize for the GS Mini body. This was a deliberate choice, Andy says, designed to change the way the guitar's tone propagates and generate a more immersive sound from the small instrument.
"The relatively larger soundhole in the GS Mini creates a less directional sound projection, and more of a sound that envelopes the player," Andy says. "Compared to the small soundhole of a Baby Taylor, the GS Mini will tend to give the impression of a slightly larger body when listening from the player's perspective."
Despite its unassuming presentation, the GS Mini is a marvel of acoustic design that has made a serious impact in the hands of musicians. Recently, we got in touch with a wide swath of artists to hear their thoughts on their GS Minis on the guitar's tenth anniversary in 2020. Across the spectrum of musical styles, artists responded enthusiastically—from the Zac Brown Band's Coy Bowles to Asking Alexandria's Danny Worsnop, Stephen Egerton to Daria Musk, and Daniel Donato to Columbian singer-songwriter Camilo. Everywhere in the music world, artists are using the GS Mini not just as a practice guitar but as an inspiring musical tool worthy of a spot in any player's lineup.
Of course, the GS Mini family has grown in recent years and now includes the GS Mini Bass, which has become a delightfully malleable instrument for musicians wanting to add another level of tonal complexity to their compositions. It may look small, but this thing sounds as huge as any bass guitar you've ever heard. Recently, sound engineer, composer and session bassist RAM showed off his GS Mini-e Maple Bass, which he touts as his favorite bass for recording.
You can find the entire GS Mini line, including the GS Mini Bass and the stunning GS Mini-e Koa Plus, at authorized Taylor dealers around the world and through online Taylor retailers.