Despite forcing most of us into social isolation and cutting off creatives from their typical sources of inspiration (and revenue), the coronavirus pandemic has not broken the spirit of the music industry. Among those keeping the dream alive is FINNEAS, a prolific singer-songwriter, producer and multi-instrumentalist who has emerged as a potent force in the world of pop music despite largely working out of his bedroom.
After a stint as an actor headlined by a run on the hit show Glee, FINNEAS first entered the musical limelight through his work with his sister, Billie Eilish. The sibling duo's murky, seductive flavor of pop has dominated the charts for the last couple years and set a relatable soundtrack for a world in the midst of growing uncertainty. With five GRAMMY awards already under his belt at the ripe old age of 23 (including Producer of the Year, Non-Classical, in 2020), FINNEAS has emerged as a confident artist in his own right, tallying over 640 million streams across major platforms and earning three more chances to add to his GRAMMY collection in 2021.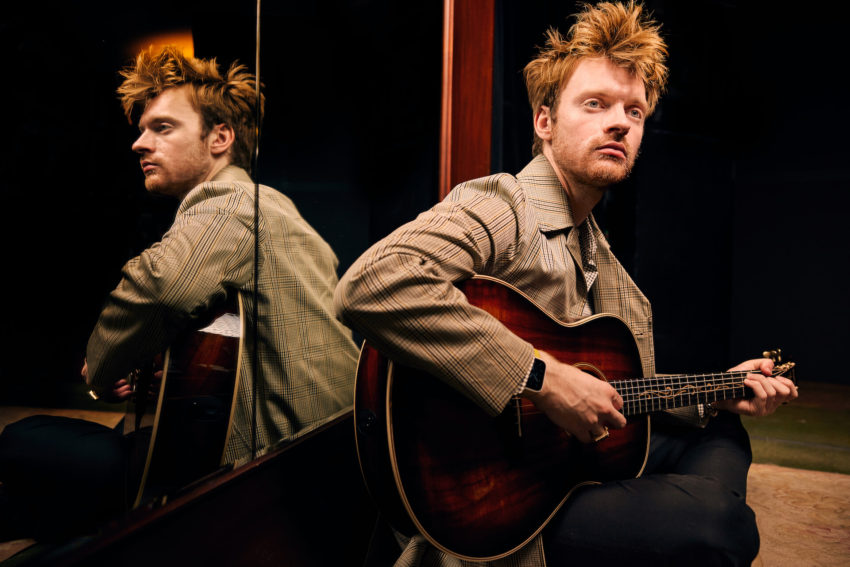 Listening to his music is like touring a hi-fi exhibit of modern musical technique: Songs ricochet from fuzzed-out acoustic guitar fingerpicking to barroom piano melodies paired with his smooth croon to bouncy club rhythms powered by booming basslines and thundering percussion. It's a vibrant, textured style that blends acoustic sounds with techno electricity and a healthy dose of R&B soul, reflecting the spirit of an experimenter who can both take another artist's work to the next level and formulate potent sonic mixtures on his own.
Having honed his skills and sound using mostly instruments within arm's reach at his home, FINNEAS has developed a fast-paced, improvisational working style that demands both performance and accessibility from his gear, especially his guitars. When an idea comes to mind, it's whatever instrument close at hand that will translate it into sound, a creative quirk that shines through in his chameleonic music. To earn its place in his studio, an instrument must be resilient enough to keep up with his busy schedule and spontaneous creative patterns while also serving up an inspiring musical character.
Recently, Taylor built FINNEAS a custom all-white Grand Pacific model for live shows and studio work. As we readied the launch of the new GT body shape, we knew he should be among the first wave of artists to test-drive it. We were thrilled to get one of the first completed GTe Urban Ash guitars into the hands of a busy working musician, and happy to hear that it had become a staple his musical toolbox.
Even in a pandemic, FINNEAS is in high demand — he's been writing furiously with his sister while hunkered down at home in the Los Angeles area, and most of his remaining time is devoted to keeping up with an array of collaborations-in-progress. In December, he pressed pause to join us for a round of rapid-fire questions about his experience creating music under quarantine and his unique approach to songwriting and producing with acoustic guitars.
FINNEAS' debut solo album, Blood Harmony, was released in 2019 and reissued in 2020 with new singles. You can hear his work on all major streaming services.
What role does guitar (acoustic guitar specifically) play in your creative process?
If a song sounds good on an acoustic guitar, I know it's going to sound good anywhere — so I always like to start writing that way.
How has your creative process changed during the pandemic?
If a song sounds good on an acoustic guitar, I know it's going to sound good anywhere — so I always like to start writing that way.
What do you need from an acoustic guitar for your style of writing and producing?
Dynamics, clarity, body.
What do you need out of a guitar for performances?
Durability — and it has to look cool.
What makes a guitar like the Taylor GT useful for a musician like you?
It's just a great guitar. It makes my job a whole lot easier.
How does playing the GT compare to playing your full-size custom white Taylor Grand Pacific?
I love the portability of it. I don't like instruments to be in the way — I like them to be as easy to bring with me anywhere as possible. And the sound on this one doesn't suffer at all because of its size.
What inspired you to start playing guitar in the first place?
The Beatles.
What do you think about the future of the guitar, especially the acoustic guitar, as a mainstream musical instrument?
Guitar has been reintegrated into essentially every genre in the last few years. That's so exciting. It's fun to see people be inventive and creative with guitars in ways that are untraditional.