For those of us at Taylor who get to usher inventive new guitar designs into the world, one of the joys of our work is responding to the needs of players — delivering inspiring musical tools that haven't been available before. Usually it's a guitar with some new combination of refined features that make it easier to play, or a fresh tonal palette to explore. Often, it's both.
Such was the case in October, when we unveiled our sporty Grand Theater — better known as the GT. As we detailed in our cover story last issue, master builder Andy Powers had observed a groundswell of interest among players for the compact proportions and nimble feel of smaller guitars, yet players didn't want to skimp on sound. They wanted a stage- and studio-worthy instrument capable of producing rich, full-bodied tone.
Andy had actually been kicking around design ideas on and off for a few years before Taylor committed to developing what became the GT last winter. From the beginning, he knew that one of the foundational design choices for this guitar, one that would help define both the feel and sound, would be the scale length of the strings (measured from the nut to the saddle). He set his sights on something shorter than the string length range of most modern acoustic guitars ("Most live in the world of somewhere around 25 inches," he notes), but longer than the typical string length of what would be considered a travel guitar — up to about 23-1/2 inches (the scale length of our GS Mini). To most people, that in-between zone might seem negligible, but for Andy, it was prime real estate to create a new category of guitar with an inviting new feel and sound. In the end, Andy arrived at a scale length of 24-1/8 inches — the equivalent of capo-ing a guitar with a 25-1/2-inch scale length at the first fret.
For the body proportions, he envisioned something larger than our popular GS Mini but slightly smaller than our Grand Concert. He borrowed the shapely curves of our biggest body style, the Grand Orchestra, but scaled them down and made the body shallower.
C-Class bracing is a different mechanism to exaggerate the low-end response out of a relatively small guitar while still delivering the enhancements of the V-Class design."
The other critical ingredient was the internal bracing architecture. The challenge was to coax a full voice from the body's compact proportions. One of the benefits of Andy's innovative V-Class architecture, introduced in 2018, is its ability to improve the tonal output and produce a uniform response across the frequency spectrum. But due to the GT's smaller proportions, he needed to resort to a bit of "acoustic alchemy," as he puts it, in order to enhance the low-end frequencies. That led to an asymmetrical variant of his V-Class design, dubbed C-Class™ bracing in honor of its cantilevered structural element.
"It's a different mechanism to exaggerate the low-end response out of a relatively small guitar," Andy says, "while still delivering the enhancements of the V-Class design, like improved volume and intonation."
When integrated together, the unique design specifications of the GT place it in a category all its own, offering a uniquely appealing blend of playing comfort and sound. The scale length, in tandem with light-gauge (.012-.053) strings, yields a light, slinky tension profile. (It's the same tension as a guitar with a scale length of 25-1/2 inches tuned down a half step.) The shorter scale length also means slightly condensed fret spacing, making more complicated chords easier to play.
"It's one of the easiest playing guitars I've ever had my hands on," wrote Guitar Player magazine gear guru Art Thompson in his review of the GTe Urban Ash for the publication's December edition, on his way to giving the guitar an Editors' Pick Award. "It's as light as a feather, yet so dynamic and expressive."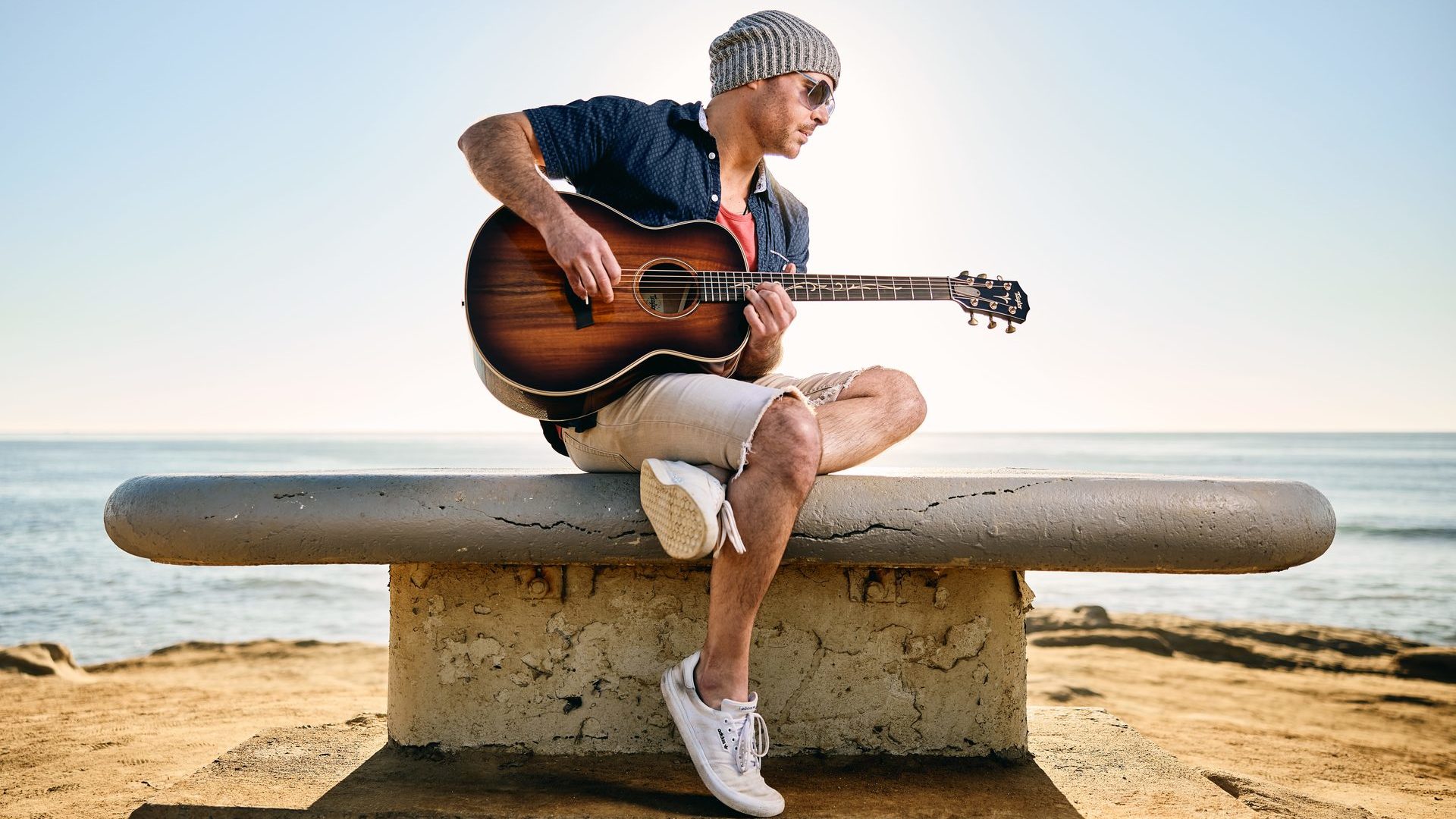 Among the other nuanced touches that contribute to the GT's hand-friendly feel are a nut width of 1-23/32 inches, which splits the difference between the 1-3/4-inch and 1-11/16-inch nut widths used on other Taylor 6-strings, plus a new neck carve profile that caters to the GT's unique scale length.
"This profile has elements of our classic Taylor neck shape and offers a subtle nod to the compound-carve design we developed for the Grand Pacific," Andy says. "Proportionally, it has a touch more depth and fullness in the player's hand than you might assume for such a nimble guitar, but the subtle profile transition as you move from the nut to the heel has an appealing, balanced feel that makes playing seem effortless."
We get a steady stream of inquiries from folks — from beginners to mature players eager to reduce the stress on their hands and prolong the lifespan of a favorite hobby — looking for model recommendations that offer the easiest playability. Given its many hand-friendly features, the GT is, without question, a great option to explore.
The Birth of Serious Fun
When we launched the GT in October — our fastest-selling US model launch ever — one message we sent with our "serious fun" tag line was the fusion of easy handling and high performance we feel the GT embodies. Historically speaking, our GS Mini became arguably the most successful guitar we've ever offered in part because we were able to blend couch-friendly size with a surprisingly robust voice. Yet we knew there was room — and a desire among players — for another level of musical sophistication from a compact guitar.
Our debut model, the GT Urban Ash, features solid Urban Ash back and sides with a solid spruce top, and comes with optional ES2 electronics. The choice of this species of ash (also known as Shamel or evergreen ash) was two-fold: We loved its mahogany-like tonal characteristics, and we saw this guitar as another exciting demonstration of our commitment to our urban wood initiative — using responsibly sourced wood from end-of-life trees slated for removal from municipal areas.
We also wanted to make our first GT model broadly accessible to players, so we gave it modest appointments and introduced it in the same price range as our American Dream Series guitars, making it among the most affordable U.S.-made, all-solid-wood guitars in the Taylor line.
So far, the guitar has been warmly embraced by reviewers and the artists who've had a chance to get their hands on it.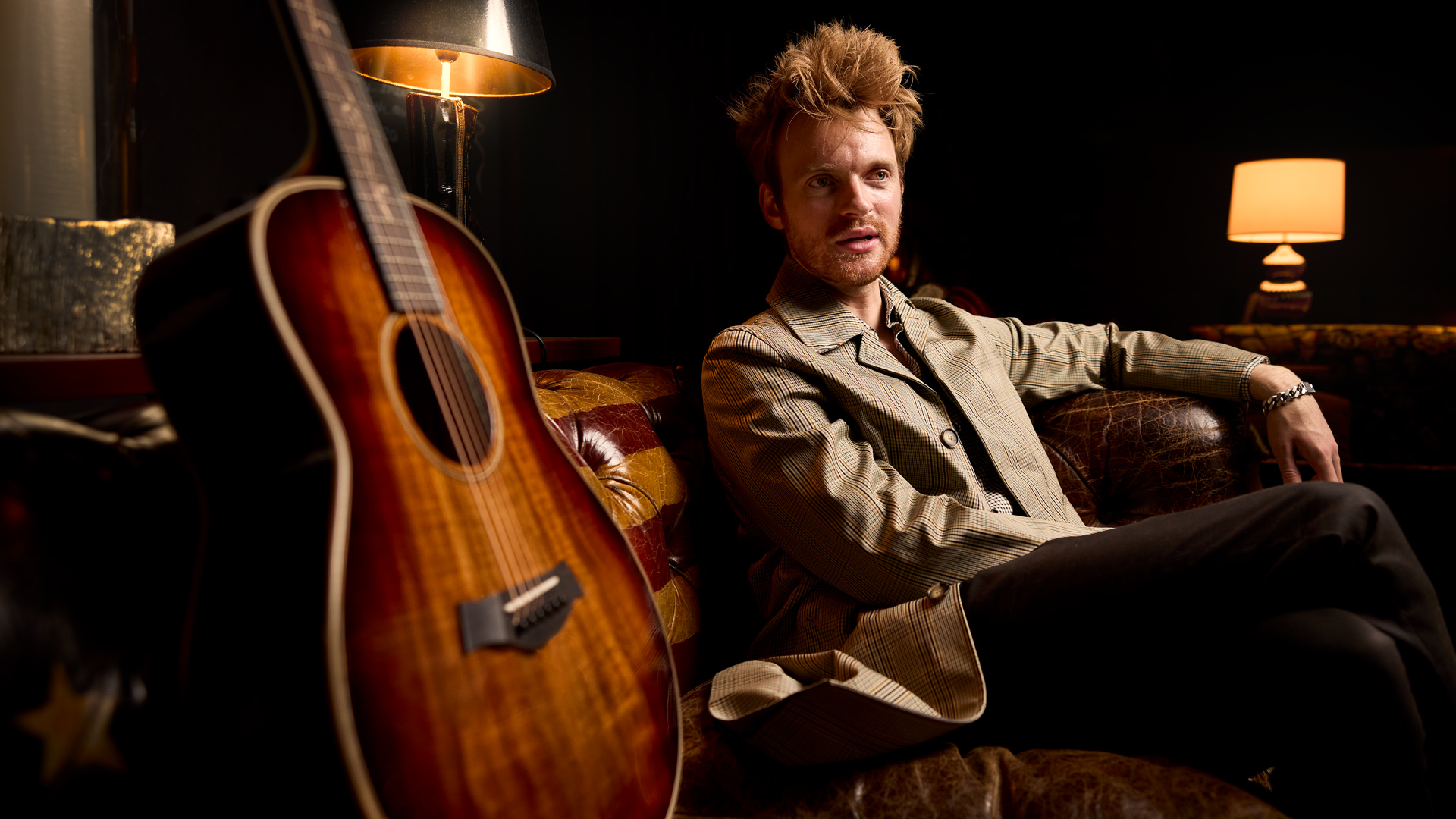 Artist Spotlight: FINNEAS
Read our Q&A with award-winning songwriter and producer FINNEAS, among the first to play the new GT K21e.
As part of his "First Look" video series, Premier Guitar gear editor John Bohlinger shared his initial impressions of the GT and liked its "bluesy mojo." He also picked up on the "serious fun" duality of the guitar.
"It seems like the kind of thing you could go disappear in the woods with for a few days and then go play a concert in an arena the next day," he said after a test drive.
For more early reactions to the GT Urban Ash guitar, see the "Review Riffs" section at the end of this story.
New GT Models
From its earliest stage of development, the GT offered great potential as another versatile framework for Andy to present other appealing tonewood voicings (and aesthetic treatments) within the Taylor line. In fact, we've officially adopted it as a member of our family of body shapes, assigning the numeral 1 to designate it within our model naming scheme when adding it to an existing Taylor series.
To kick off 2021, we're excited to expand the GT footprint with two new models: the rosewood/spruce GT 811e, which brings another rich voice to our 800 Series, and the all-koa GT K21e, which adds an enticing new musical personality to our Koa Series.
Meet the GT 811e…
Andy was eager to craft a GT guitar with the classic rosewood and Sitka spruce wood pairing.
He compares working with the woods in this context to the way different chefs or regions use staple ingredients in a fresh way to place their own culinary imprint on a familiar dish.
"With the GT 811, you'll hear that familiar spruce and rosewood flattop guitar sound, but as a result of the GT's fresh form and structure, the listening and playing experiences deliver a distinctly new dimension," Andy says. "This iteration retains the slinky, ultra-easy handling and string feel, svelte body contours, and surprisingly broad GT voice we love, but it's been shaped into a denser, harmonically saturated sound. The top responds quickly to even the most delicate articulation, and it's buoyed by the deep and supportive sound rosewood is known for."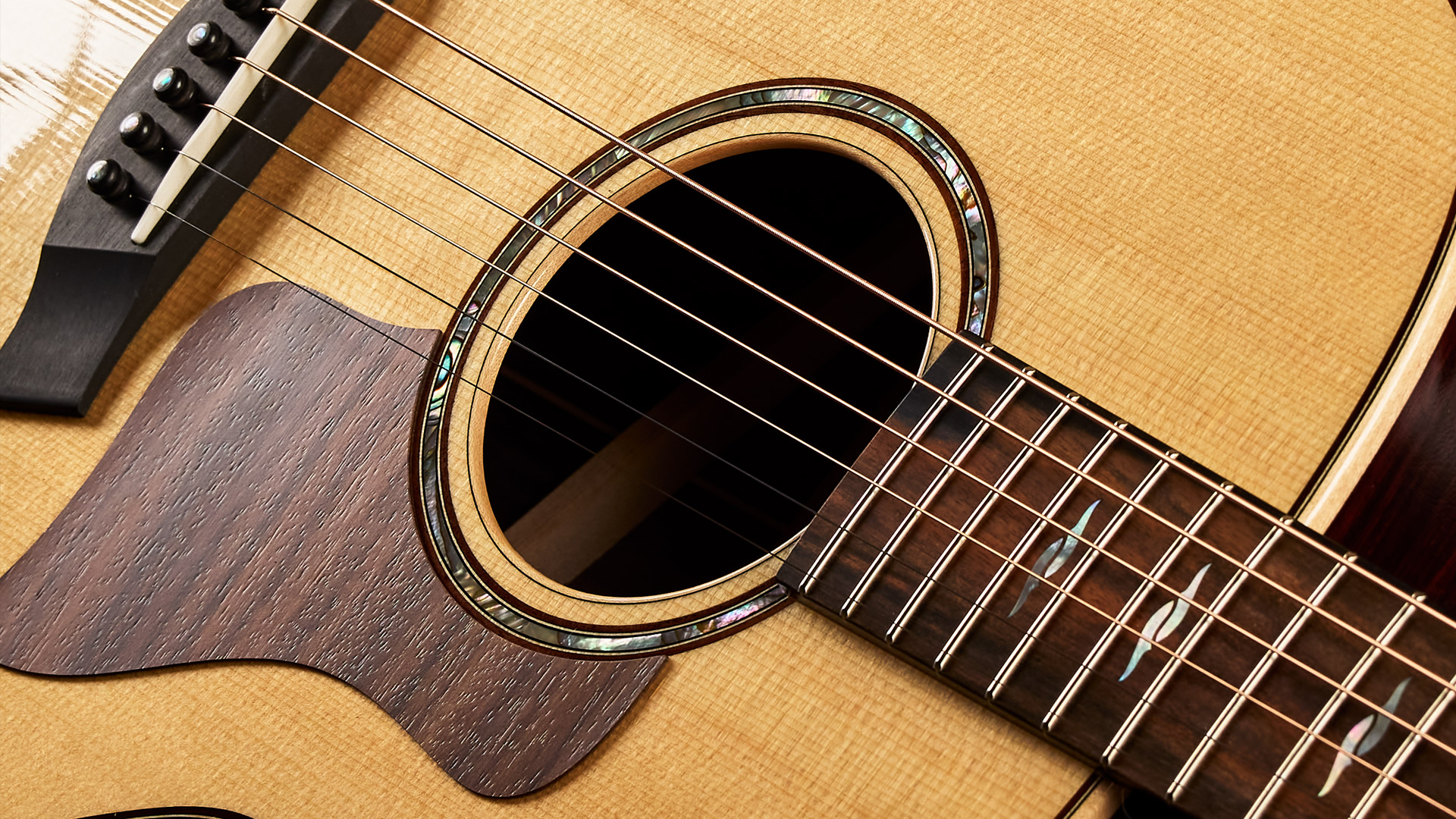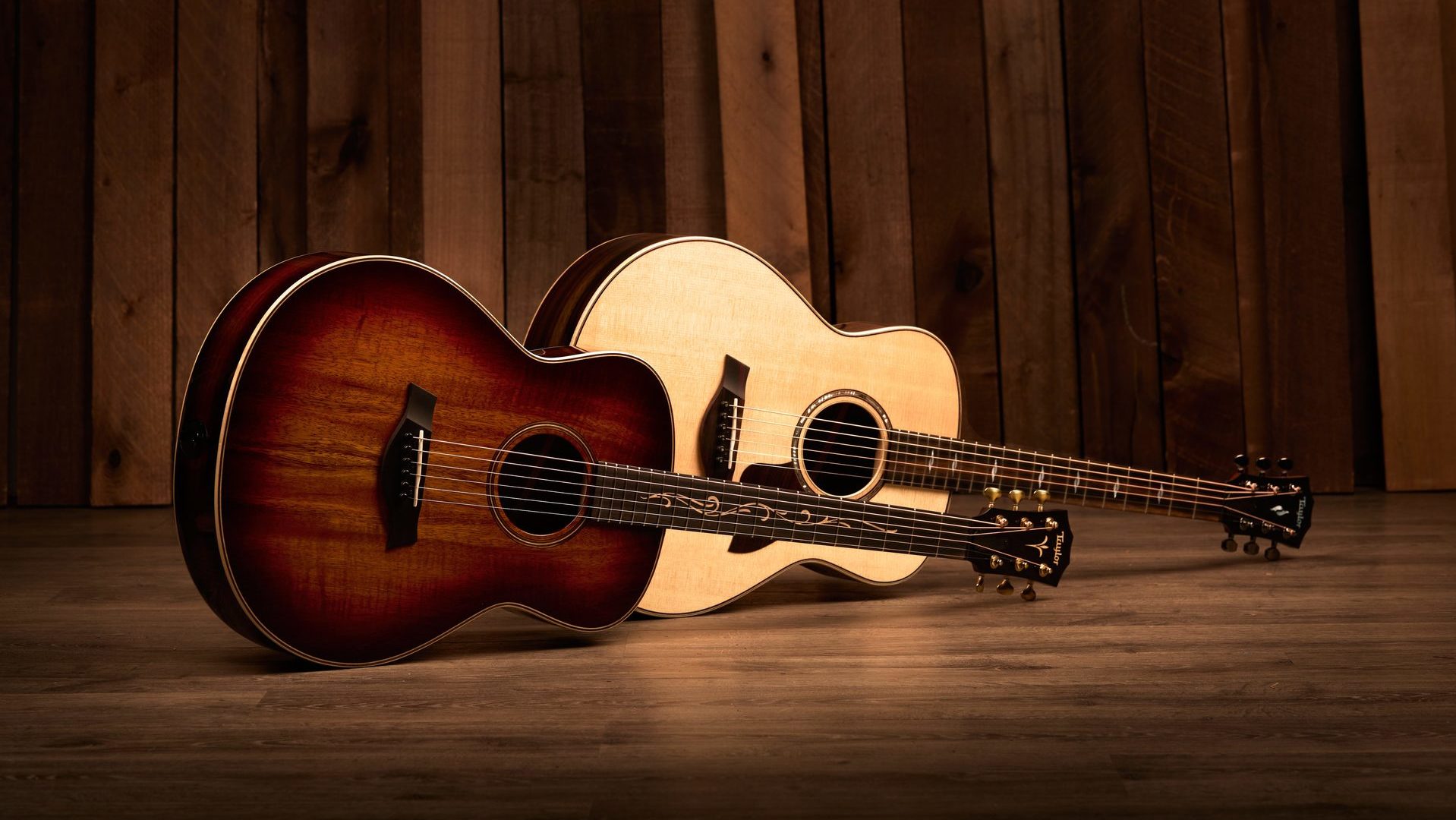 Aesthetically, the guitar shares many standard 800 Series appointments, including maple binding with rosewood top trim, an abalone rosette, our Element inlay scheme in mother-of-pearl, a rosewood pickguard, and a gloss-finish body. Distinctions include C-Class bracing, an armrest-free body (due to the GT's comfortably small form), and Taylor Mini tuners in smoked nickel (the Minis are more appropriate for the guitar's smaller proportions, and their lighter weight keeps the guitar physically balanced). The GT 811e also features onboard ES2 electronics and comes with our attractive AeroCase, which players love for its blend of lightweight yet super-sturdy attributes.
…And the GT K21e
The all-koa edition of the GT introduces a unique harmony of aesthetic beauty, playing comfort, and sonic expression.
"Tonally, this guitar is the perfect demonstration of the midrange balance and sweetness koa is known for," Andy says. "It has a vibrantly focused sound, with a smoothly rounded attack. The balanced response is broadly useful for a player who will use it as a rhythm instrument, a fingerstyle guitar, or for an electric guitar-oriented playing style."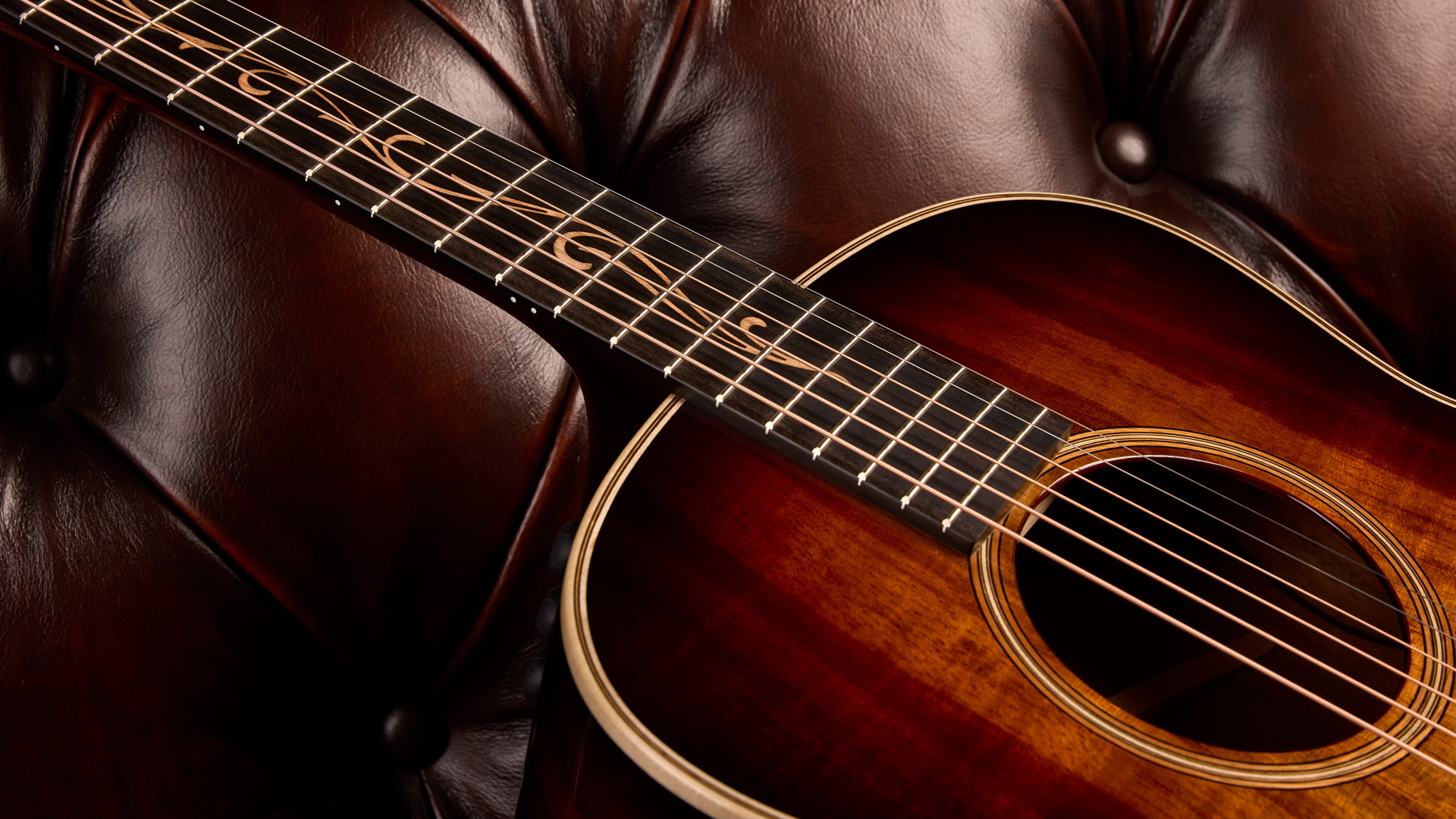 The models boast solid, figured koa top, back and sides, with a shaded edgeburst around the body and neck. Additional Koa Series appointments include maple binding and top purfling, an elegant maple Spring Vine inlay scheme, a 4.5-mil gloss-finish body, and Gotoh Mini 510 tuners in antique gold. It comes equipped with our ES2 pickup and includes Taylor's AeroCase.
One interesting tonal distinction between the new GT models and the original GT Urban Ash, beyond the different sonic flavors of the woods themselves, is the effect of the different finish treatments, as Andy explains.
"The GT Urban Ash guitars wear an ultra-thin, water-based matte finish, which has a super-low damping factor, allowing a direct and organic overtone profile from these woods," he says. "Both the 800 Series and Koa Series GT guitars are completed with our more traditional gloss Taylor finish, which subtly filters the characteristics of each piece of wood, refining the response."
Whichever GT model you find yourself gravitating toward, one thing is for certain: a great playing experience runs in the family.
For more details on all Taylor GT models, including complete specifications, photos, video demos and more, visit taylorguitars.com and our digital edition of this issue. For model availability, contact your preferred Taylor dealer.
Review Riffs
Here are some highlights from recent reviews of the GTe Urban Ash.
Guitar.com
"…the relaxed playability encourages those of us who aren't acoustic virtuosi to be a little more ambitious. The wound G, for example, is considerably easier to bend than it is on an acoustic with a more conventional scale length, so you can approach solos much as you might on an electric guitar strung with a plain G."
"Single notes in higher registers hang in the air for longer than expected, harmonic content is plentiful, and even when using deep open tunings, the intonation is superb…."
"The more time you spend with it, the more its charms reveal themselves, and for singer-songwriters, the GT's compact dimensions and intimate feel mean it's as ideally suited to the living room as it is to the stage or studio."
Chris Vinnicombe
Vintage Guitar
"Strum a chord and listen to that clear-as-a-bell tone. You won't find the boom of a dreadnought, but this Taylor does produce a surprisingly nuanced tone to a portable instrument. The treble end is also sweet — not the thin, wimpy tone of some acoustics, but delivering genuine sonic meat…."
"Think of it as the pro's small acoustic…The GTe is ready for live gigs just as much as songwriting on-the-go…. This Taylor is not another parlor guitar — the GTe Urban Ash is really its own class of small-body acoustic."
Pete Prown
Guitar Player
"The GT is very responsive to the player's touch, easily steering through softer and louder passages while maintaining consistently sweet and focused tone."
"[It] has a big presence that belies its small size…. It's a natural for trips, but it's just as worthy as a studio and/or performance instrument thanks to its rich tone and full-bodied soundstage."
Art Thompson
American Songwriter
"Lead runs and fingerstyle lines are in the GT's favor; however, it is no slouch when asked to produce a driving flat-picked rhythm…. the GT gives off a full-bodied fundamental voice with a lively midrange as well. A very light touch provides a louder than expected response."
"In some ways, the GT's shorter scale and tighter string spacing offer a new light on the landscape of the fingerboard. I had lots of fun trying out different chords otherwise uncomfortable to reach on a standard scale guitar!"
Christian Seaman