It's safe to say that most of us were eager to turn the page on the year that was 2020, even if the new calendar year was merely a symbolic reset. The sustained turbulence of the past months has tested the resolve of many, and challenged us all to adapt to our new realities on the fly.
From our vantage point at Taylor, we especially felt for the community of musicians and others in the industry whose livelihoods suffered as a result, along with fans who were unable to enjoy the shared pleasures of experiencing live performances together as a group.
Yet we also were reminded of the essential role music plays in helping us get through tough times, and that we will always find ways to make and share it. Even with gigs cancelled, artists have devoted time to writing and recording music at home, they've collaborated remotely with bandmates, and they've found new ways to engage with fans through streaming video platforms. Meanwhile, many of us discovered, or re-discovered, the joy, the comfort, the cathartic release of picking up an instrument and making music ourselves at home, in some cases together with our families.
Here at Taylor, we had other challenges to contend with as a business that had been forced to press pause on our guitar production in March of last year. We knew that making guitars would be the way forward for us. But times had changed, and we knew we had to respond by making guitars that were right for the moment.
Those circumstances gave birth to our American Dream Series, conceived by master builder Andy Powers and Bob Taylor, and named for the shop where Bob and Taylor co-founder Kurt Listug met and launched their own guitar company. The American Dream name was more than a historical footnote or marketing moniker. It was an apt affirmation of Taylor's resilient, problem-solving spirit, which has become a defining aspect of our culture. 
Given the unique circumstances of operating during the pandemic, developing and launching the American Dream guitars required a level of creative synergy unlike anything we'd encountered throughout our nearly five decades of guitar-making. It also happened within a compressed timeframe, notes Taylor VP of Sales Monte Montefusco, who was in the thick of it.
"The speed at which this project came together was like nothing we've experienced before," Montefusco says. "We knew we had to act fast, but we had no idea how fast we could act in these circumstances. It was an incredible team effort that resulted in remarkable success during unprecedented times."
The American Dream design was informed by a streamlined, "everything you need, nothing you don't" ethos, with workmanlike features that were distilled into the ideal blend of pro-level performance, utility and affordability. We knew we wanted these to be all-solid-wood guitars that we could make in our El Cajon, California, factory. We needed to work with the wood inventory we already had in-house, and limit the additional tooling time that might be required to make the guitars production-ready. We also wanted to make these guitars more affordable than any U.S.-made, all-solid-wood guitars we were currently offering.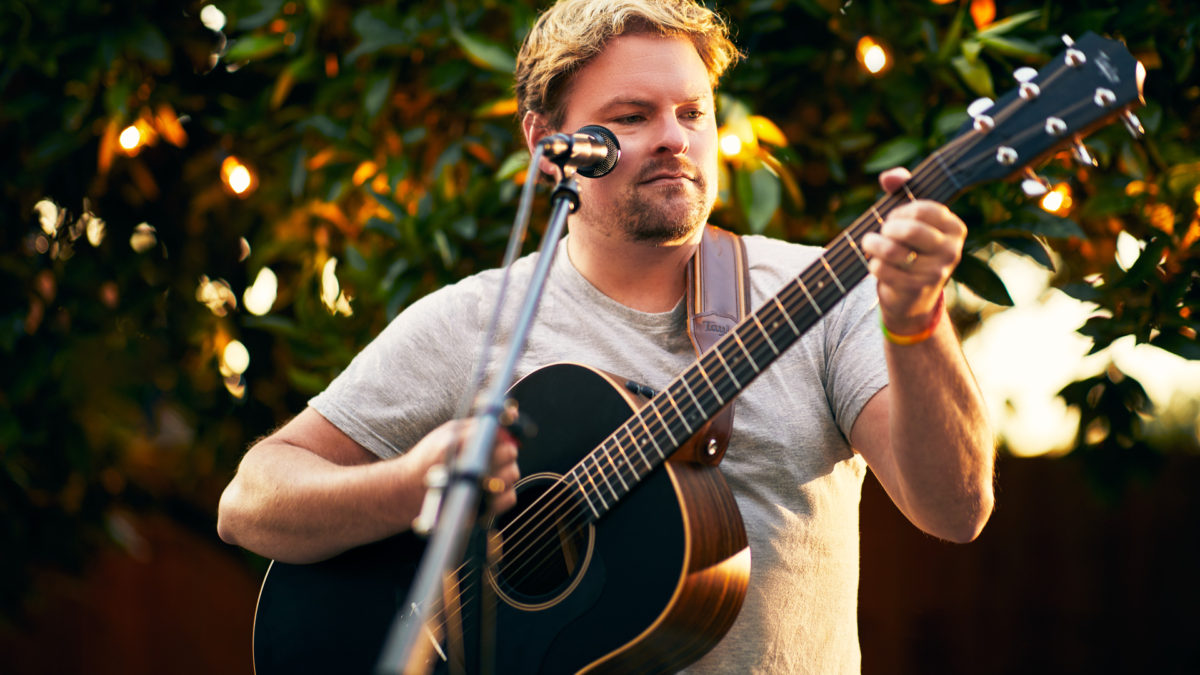 We launched the series last June with a trio of versatile Grand Pacific models: two featuring ovangkol backs and sides paired with a spruce top — one natural, the other a blacktop edition — and another with sapele back and sides and a mahogany top. In the ensuing months, dealers, artists, reviewers and recreational players have gotten their hands on these guitars and had a chance to form their impressions.
Though each player can claim their own distinct experience with the guitars, the response has been consistent: that these guitars are the real deal, impressing players with their tonal warmth, playability and accessibility.
Review Highlights
For the ovangkol/spruce AD17 and the AD17 Blacktop, reviewers such as American Songwriter's Andy McDonough praised the guitar's quick response and power.
"The AD17 has a big sound, rich tone and pleasant definition that requires little effort to play," he writes, "but it's also very responsive up the neck and articulates well for both picking and finger-style playing. The warm low end can fill the room with strumming sounds…. The guitar has great volume and dynamic characteristics, and a long, beautiful sustain."
The American Dream Series owes much of its superior resonance and sensitivity to the tone-enhancing framework of V-Class bracing, which adds considerable power and helps notes ring out longer before decaying. The result, notes Guitar.com's Michael Watts in his Big Review, is a sound with impressive sonic texture and complexity.
There's a beautiful dry shimmer to the top end and impressive sustain attributable in no small part to the V-Class bracing.

Michael Watts, Guitar.com
Other reviewers responded to the woody, unprocessed look and sound of the guitars. These models owe their naturalistic character in part to the super-thin 2-mil matte finish, which preserves the original porous texture of the tonewoods, and in part to their unbound edges and spartan appointments. In their exploration of the American Dream Series for their Tone-Lounge Sessions videos, reviewers Neville Marten and Richard Barrett commented on the aesthetic sensibility that connects these guitars' visual cues to their musical capabilities.
"The chamfered edges make [these guitars] feel really organic," Marten says, "and they sound organic too….It's a very focused sound with rich mids, perfectly voiced for miking up. They don't sound 'produced'."
That sonic character is right in line with how Andy Powers designed the Grand Pacific body shape, which lends each of the American Dream models the traditional visual appeal of the round-shoulder dreadnought style. Reviewers continue to appreciate the Grand Pacific's seasoned tonal output, including Peghead Nation's Teja Gerken, who commented on how the mahogany-top AD27e's musical profile bears out that vintage-hued sound while maintaining balance that should make it appealing to all sorts of players.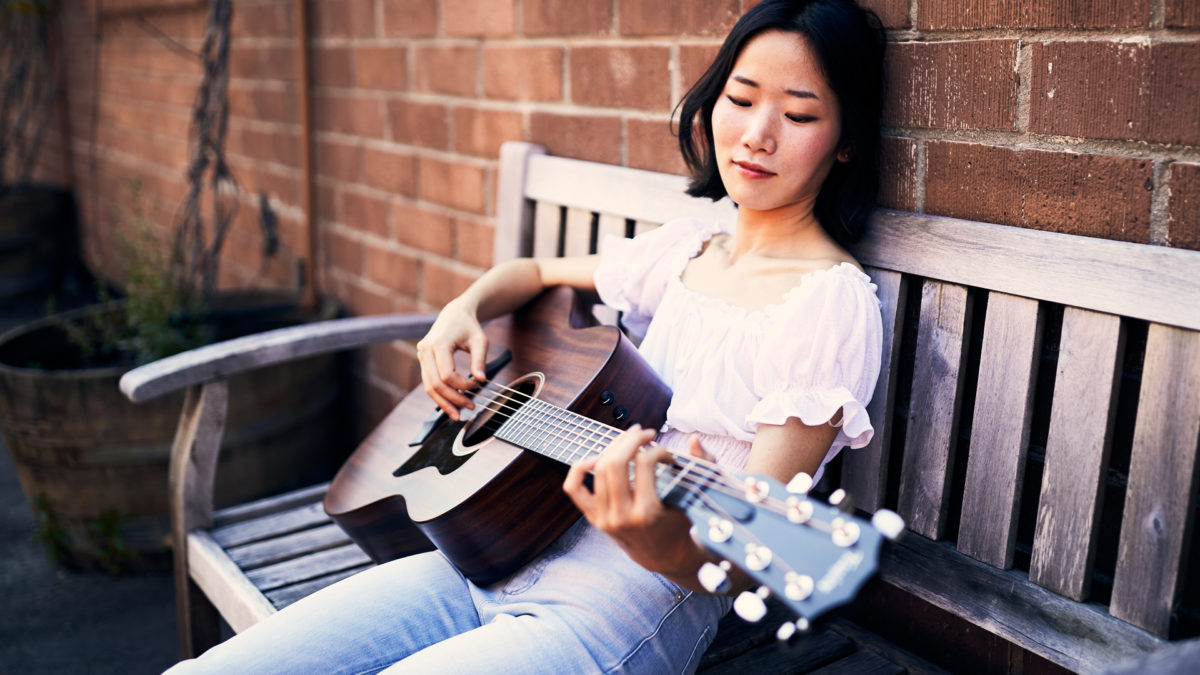 "The AD27e had a great overall tonal 'roundness,' with a lovely warmth in the bass, and the slightly compressed dynamic range that hardwood-top guitars are known for," Gerken says. "These qualities made the guitar an excellent strummer, but it also had a lovely balance for playing fingerstyle. The instrument's relatively large body produced respectable volume, and I wouldn't hesitate to recommend the guitar to players looking for a single guitar to cover many styles."
Gerken also describes how the optional Expression System 2 pickup and preamp translates that warm, round tone during plugged-in playing sessions.
"Plugging into a Fishman Loudbox Mini continued the impression that the AD27e offers fully developed Taylor character," he says. "In fact, in an amplified setting, it might be hard to hear any difference between the American Dream and higher-end Taylors, which use the same pickup and electronics package."
In faithful Taylor style, playability and feel are just as central to the American Dream experience as tonal quality. With chamfered edges in place of traditional binding, each American Dream guitar feels accommodating, whether you're a new player or a seasoned pro. In his detailed review of the Series for Guitar Player, Art Thompson pointed out how each element of these guitars is crafted to deliver a rich playing experience.
"The C-shape neck feels great with its medium depth and a width of 1-3/4 inches at the nut," Thompson says. "The string spacing is easy to navigate, whether soloing or fingering complex chords, and the factory setup was well dialed-in on arrival, providing low and buzz-free string action and rock-solid intonation all along the neck."
Thompson also lauded the intimate, inspiring feel of these instruments.
"The way this lightweight guitar transfers string vibrations through the body and neck is unreal," Thompson writes. "It's resonant and dynamic, and the touch responsiveness is something fingerstyle players will appreciate."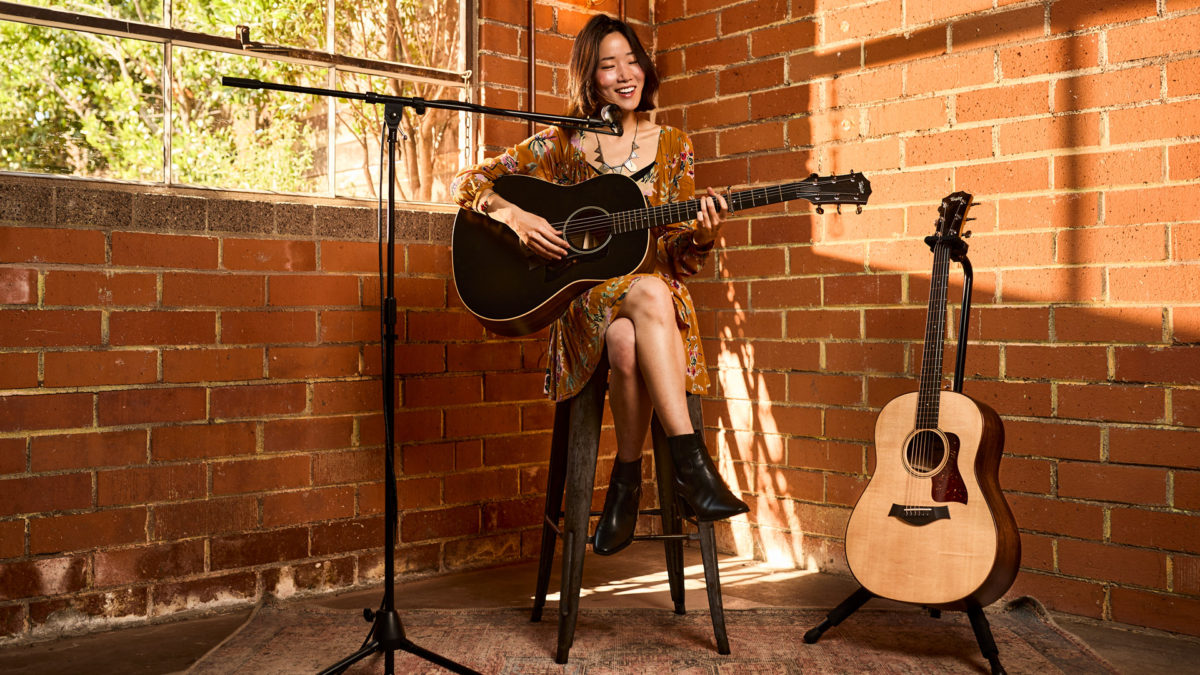 Guitar World's Chris Gill, who reviewed the AD17e Blacktop, also loved the handfeel.
"Playability is simply superb, with the neck providing a smooth slinky feel that lives up to the 'dream' designation of the series name," he writes.
Gill also keyed in on the unique tonal character compared to other traditional dreadnought guitars.
"Befitting its large, dreadnought-style dimensions, the AD17 delivers powerful volume projection but, unlike the typical scooped mids of a dreadnought, its midrange is impressively boosted, providing a rich, sweet, well-balanced voice that is ideal for fingerstyle as well as punchy rhythm playing," he says. In the end, Gill gave the guitar the magazine's Gold Award for Performance.
Artist Reactions
Of course, we were eager to get the American Dream Series into the hands of artists. A testament to the broad appeal of the Taylor design philosophy, our artist roster includes songwriters, producers, engineers and performers of all stripes, from longtime industry vets to emerging artists refining their musical skills and style.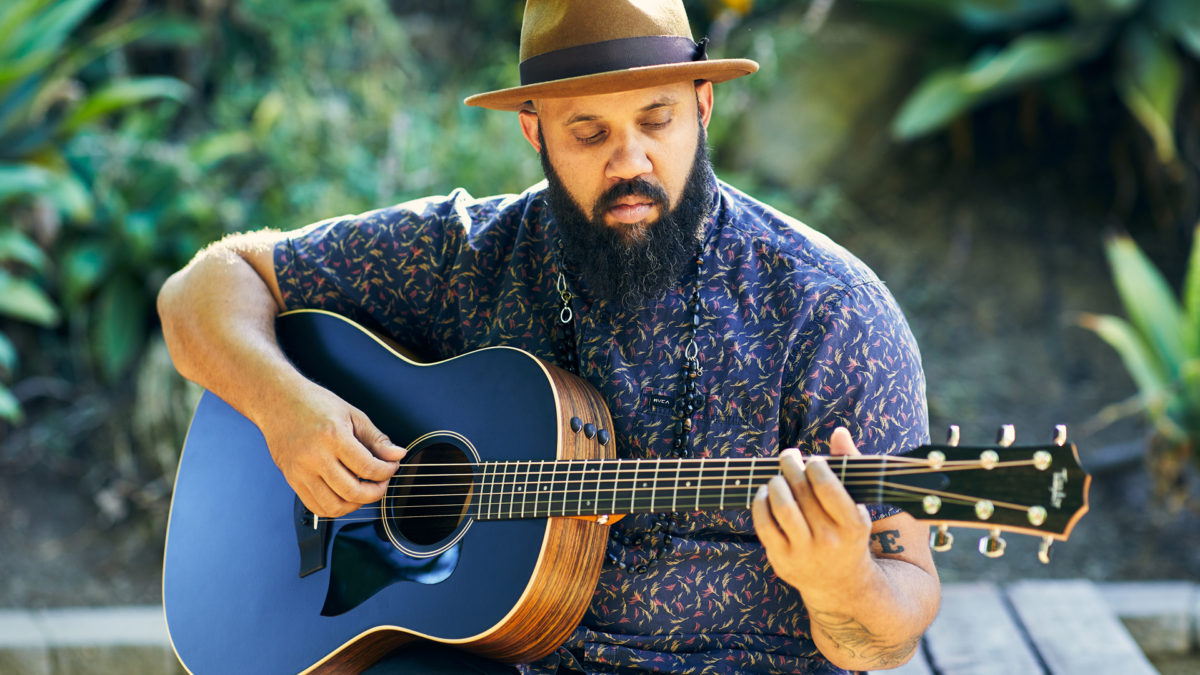 UK singer-songwriter Cat Burns loved how approachable the American Dream Series feels for a musician like her, who has developed a distinctive musical voice and is just beginning to introduce acoustic sounds to her music. After watching Cat play her AD17 Blacktop on her Instagram feed, we reached out to get her thoughts on the guitar.
"I'm loving the American Dream so much!" she said. "As someone who's currently learning the ins and outs of the guitar, this is the best one to have. It's so easy to play and it feels fantastic."
Matt Beckley, who has written, produced and recorded songs with artists including Switchfoot, Justin Bieber, Camila Cabello, Avril Lavigne and Jewel (among many others), provided the unique perspective of a player who often hears things from behind the control panel. Beckley loved the aesthetic of the AD17 Blacktop, among other things.
"I originally picked it because it was black," Beckley says. "I kept it because I have eight acoustics, and this one quickly became my favorite to play and record with. It's got the classic slope-shoulder vibe, but with Taylor's legendary consistency. That's a win/win. Plus, it's black.
"I love everything about it," Beckley added.
It sounds right. It plays right. It's not flashy — everything you need, nothing you don't. It felt like an old friend almost immediately.

Matt Beckley
Across the board, players and reviewers alike echoed Beckley's reaction, responding to the distilled, honest, straightforward appeal that comes with the pared-back design and music-forward nature of the American Dream Series.
Above all, our goal with the American Dream Series was to meet the needs of the everyday guitar player with a new line of instruments that could fuel creativity during a time when we all need music more than ever. We hope that guitarists everywhere can enjoy the American Dream Series and continue to lean on music as a source of healing and togetherness.
You'll find our American Dream guitars at authorized Taylor dealers everywhere. For additional content including demo videos and more, visit taylorguitars.com.