Question: After more than a year of research and guitar store visits, I recently bought a 414ce LTD featuring black limba. (Thanks to Instrumental Music in Thousand Oaks for their great staff and wonderfully large collection of Taylor guitars.) My friend calls it a "gorgeous beast," and I, too, love its unique look but would not have bought it had it not had a beautiful and rich sound as well. How do you determine that this and other less traditional woods will work well for building guitars?
Kent Brinkmeyer
Oxnard, California
Ed. Note: You can see a custom guitar we built with black limba here.
Answer: Thank you, Kent, I'm pleased you love your guitar. Even better when your friends love it too! There's not a huge trick to choosing woods, and it doesn't take a genius on our end. The truth is that so many different woods can make a fine-sounding guitar. The other truth is that the word "gorgeous" your friend uses is really key when we pick woods, especially those that might be new to acoustic guitars. When those two cross it pleases the ear and eye. But to your specific question, wood must fall within a range of weight and stiffness. Too soft and light doesn't work great. Too heavy and dense, not good. But some are exceptions. Spruce is soft and light, but incredibly strong, springy and vibrant. Some hard rosewoods are heavy and stiff but ring like a bell, while others thud. My super-scientific answer, since everyone is hollering "follow the science" these days, is we pick it up and feel the weight, we hold it by our ear and knock on it, and we dry and cut it to see if it behaves. If it's pretty, we give it a go. And after that, we see if we can actually obtain some while following all our environmental considerations. I should mention that while humble in its appearance, mahogany has always been a pleaser, and now we've found the same in our Urban Ash, which comes from city rather than a forest. We like to call this wood the golden retriever of woods — it just loves to please. In every way, it's a perfect wood.
Q: Believe me when I say I realize how important it is to make sure your guitar is properly humidified. Years ago, I bought a high-end dreadnought. It was so beautiful that I hung it on a rack in my music room so I could look at it every day. I did that for a year, and by the second year, it had developed a small crack by the soundhole, so I learned my lesson the hard way. Now I keep all my guitars humidified in their cases when I am not playing them. I especially love my Taylor 210e-SB DLX. My question: This guitar sits out for a while when I am playing it all day, and I swear it sounds different — more treble and it rings like a bell, taking on a whole new sound that I love. Is this because it slightly dries out? I also have three other Taylors and another brand, and they also sound better when I let them sit out for a day of playing. Is this my imagination, or do I really hear that much of a difference when my guitar dries out for a short period of time? I make sure I don't let it stay out too long — I love my guitars too much to make that mistake again.
Steve Kane
Branchburg, New Jersey
A: No, you're not hearing things, Steve. Dry guitars sound better, especially the tops. That said, you may be over-humidifying them. If you're using a sponge-type humidifier that you dunk in water, please heed my 24-hour rule, which goes like this: Put your guitar in a case with the moistened humidifier, close it up, and check it in 24 hours. If the sponge or puck is bone dry, repeat the process. If the sponge is moist at all, even a little, stop the process, because you don't need any more humidity. Wait a week, wait two weeks, and put a moistened sponge in. If in 24 hours it's dry, then wet it and repeat, but the first time you find it moist at all after 24 hours, remove it. Your case is a great protector. If you're using the Planet Waves Humidipak system, then it's set to a humidity level and won't over humidify. Your guitar was made with the wood equalized at 50 percent relative humidity. So even if it's living in a climate with 40 percent humidity, it won't crack and will sound drier. So, as Mary Poppins said, "Enough is as good as a feast," and you don't have to feed it more moisture than it needs.
Q: In my pursuit of a guitar for my 50th birthday, I recently settled on a V-Class 514ce with a Lutz spruce top. It's funny how many times I played all the guitars at your El Cajon factory and never came across this one. However, the local San Diego Guitar Center had one that sang to me. Might we see the use of Lutz spruce in more models outside the 700 Series?
Steve Harber
San Diego, California
A: Definitely, Steve. We also currently use it on a couple of our Builder's Edition models (912ce and 816ce) and some others here and there.
We'll use more of it as time passes, because it's available and makes great-sounding guitars.

Q: Bob, the 714ce has been a guitar I've admired for some time, not only for the full and resonant tone but also the aesthetic appeal of its wood-rich appointments. However, I thought the 714ce would be out of my reach until an opportunity arose after a recent visit to my local friendly Taylor agent, Guitar Mania in Poole. I now very much enjoy playing my 714ce with the added bonus, having waited, of V-Class bracing. I found myself looking closely at the rosette, eventually through a magnifying glass (if anyone hasn't looked that closely, they are missing out!). The rosette detail is even more amazing than first meets the eye. This led me to wonder how the Douglas fir top trim, being bias-cut, follows the contours of the GA body top without splitting. Is it steam-treated first? (I imagine this could cause other problems by introducing moisture). Without some sort of softening, would there be a tendency for the wood to split around the tight curve of the Venetian cutaway?
Frederick
Weymouth, United Kingdom
A: Thank you, Frederick, I'm glad you noticed that detail. Here we like to call it "firring bone," being made from fir and having a sort of herringbone look.
We make it ourselves from a batch of tight-grained timber with the end grain at 45 degrees. We chop, glue, slice, slit and eventually come up with the strips.
It's pretty flexible, but we do have to employ some side-bending type tricks to bend the tight curves. We love the naturally grown pattern it yields. A little work, yes, but we love it.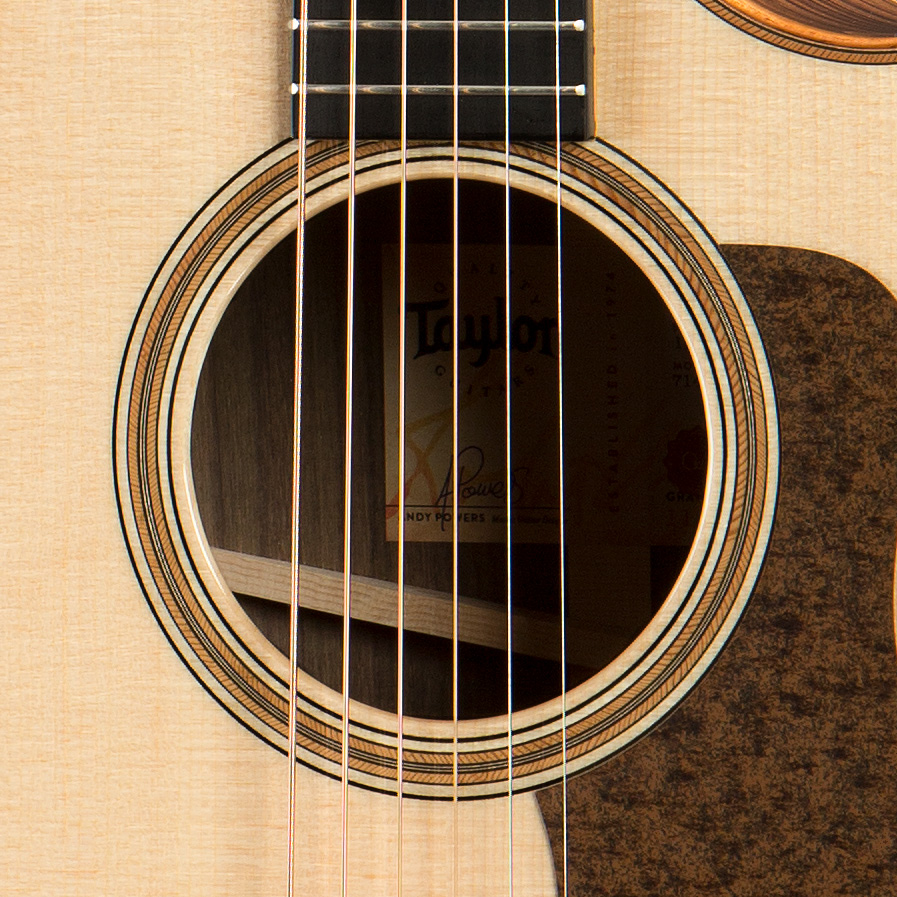 Q: I have a 24-year-old 615. It's my dream guitar, except for one thing. Those very discrete little fret marker dots on the binding of the fretboard are very difficult to see during a gig with low lighting, or a venue with lights in my eyes. I realize that "real" guitar players can just feel where to go, but when I get above the fifth fret, I need some visual clues, so I asked my local luthier to make the dots larger. He drilled them out and filled the new larger holes with black epoxy. Wow, what a difference! Maybe you could consider making larger dots an option for us senior citizens.
Paul Ambrose
Brookings, Oregon
A: Paul, you and me both, man! I'm 65 now and my body parts don't work like they did a while back, so I hear you. Your luthier probably did it more efficiently than we could as a standard option, because we don't know who actually wants this when we make the guitar. But I'll keep your comments in mind (until I start forgetting things in my 70s) as we balance the form and function of the guitars we make.
Ed. Note: For other players in this situation, a less permanent solution is to purchase fret dot stickers to apply to the side of your fretboard. They're available in different sizes (some even glow in the dark) and give you an easy way see if a modification like this will help.
Q: Among several other Taylors, I'm the proud owner of a Liberty Tree guitar (#10). I don't just love the guitar, but the whole history behind it. Sometimes I just hold the guitar and try to feel the events that took place under that tree! It's not just a guitar, I guess, but a piece of our country. As someone who grew up under a military dictatorship, I think I may appreciate it a little more than most! I understand that the wood was used for the 400 guitars made and later for some [Baby Taylors]. I was wondering if any of that wood (even small pieces) is stashed away somewhere, and if you plan to do something with it. Even a book marker would be a great conversation piece. I still have the little laser-carved tree that came with the guitar!
Elisabet Hiatt
Santa Cruz, California
A: Thank you, Elisabet, I appreciate your comments about the guitar as well as our country. And I agree. Yes, we used all the wood we had, and eventually got rid of the little scraps.
But I know that an organization called the Providence Forum has a respectable amount of the wood, and I believe they are making small items from it for sale.
Q: I have amassed a modest collection of electric and acoustic guitars over the years, which has been difficult due to the fact that I am a left-handed player. Finding a left-handed axe that can be played before buying it is difficult. Most shops carry one, maybe two left-handed guitars, while having hundreds of right-handers in the same inventory. Given that 10-15 percent of the population is left-handed, I am baffled why stores don't carry more left-handed models, let alone a couple high-end lefty models. Telling me I can order a lefty model is not reassuring, since the expectation is that I am going to buy it when it arrives, and it is always possible I won't like it. After getting some insurance money for the loss of a Martin that was stolen on a camping trip, I picked up a Taylor 114ce.
It has such great sound and is so playable that I am literally wearing the top off where there isn't a pickguard. I would like to get another high-end guitar, and am interested something like the 800 Series or Builder's Edition. I have never seen any guitar of that quality in any music store.
Do you know why guitar stores are so disinclined to keep left-handed guitars in their inventory? I see high-end right-handed guitars stay in show rooms for what seems like an eternity, so I have trouble accepting that it is a function of sales. I thought about attending one of the Taylor Road Show events, but I expect it would be the same. Am I wrong? What gives in the neglect of 10-15 percent of the guitar market?
Steven C Burke
A: Steven, I feel your pain. I'm going to turn this question over to Zach Arntz, who's worked at Taylor for more than 20 years in both customer service and sales. He's spent a lot more time in stores than I have in recent years, and I think will give you a good perspective, both from the eyes of customers and our dealers. He also really likes helping people. And he's good at it. Zach, over to you…
Steven, I understand how you feel. You're right, most stores only stock a few left-handed models. Rarely are there lots of high-end models to choose from. Naturally, you might be reluctant to special-order a guitar sight unseen.
When it comes to stocking left-handed guitars, the conundrum for most dealers is, what to stock? While most stores will stock higher-end right-handed models, when it comes to left-handed models, they're often concerned the guitars might sit in the store for a longer time. The reality is that, generally speaking, higher-end guitars don't sell as fast as lower-priced ones, so from a store's perspective, there is less financial risk for them to stock left-handed models at lower price points. Some stores I've worked with in the past have told me, "I try to stock left-handed models, but I always feel that no matter how many I stock, the customer always wants a model I don't have."
Southpaw Guitars in Houston, Texas, is a specialty store that only sells left-handed guitars. The store usually stocks anywhere from 65 to 75 unique Taylor left-handed models at all times. Their qualified staff can assist you in finding your next dream guitar.
There are also a number of online retailers that showcase a greater selection of higher-end left-handed models and offer the ability to pick from a selection of a given model. For example, instead of just carrying one 814ce Deluxe model, they may stock up to three, and you can compare the guitars on the same page. Our premier online dealers, such as Sweetwater, Musician's Friend, and American Musical Supply (among others), stock a wide selection of left-handed models. The next time a Taylor Road Show is scheduled to come to your area, reach out to the store in advance and have them ask their Taylor sales manager which left-handed models might be in stock and available to bring to the event.
Finally, if you're ever in the San Diego area and want to take our factory tour, keep in mind that we display a healthy selection of left-handed models across various series, including higher-end models. If you plan to pay us a visit and want to test-drive a certain model, please reach out to Mark Vargas in our Visitor Center in advance (you can email support@taylorguitars.com), and we'll see what we can do to assist you.
I will say that, currently, our Builder's Edition guitars with cutaways are not yet available in left-handed versions due to the amount of additional tooling required to make them. Non-cutaway versions like the Builder's Edition 517e and 717e can be made in a left-handed version.
Q: Bob, back in September of 1974, you custom-built a 6-string maple jumbo for me with a sun inlay on the headstock and seagulls for fret markers. I was in the band Reef Cody, and you also built a sister guitar for our lead singer John. I believe you started the company that became Taylor Guitars the month after we took delivery of our custom guitars.
A song I wrote was included on Homegrown II, and I went on to work for years at KGB-FM and graduated from USD law school specializing in law related to music. A few years back, when I spoke to you at your book signing in La Jolla, you suggested bringing my guitar to your factory for you to take archival pictures. I'd still like to do that if we can set it up. Please let me know if you're still interested. I've included a picture of my guitar to refresh your memory. It's been a great guitar all these years. It could probably use a good tune-up! I'm also thinking about ordering another Taylor custom guitar.
Bruce Tucker
A: Bruce! Bruce Tucker! I remember the day you and John Alexander came in, having driven down from Lake Tahoe, California, where you guys were playing the steakhouse/upscale bar circuit. You guys wanted matching guitars, so we did 'em up fine. I barely had made any guitars by then. What a wonderful day that was for me, being entrusted to make a pair of guitars from such rock stars as you two! You guys had just read Richard Henry Dana's book "Two Years Before the Mast," which is one of the coolest books ever. A true account and a look at the California coast in 1835. Your song of the same name, along with the Lemon Grove song by Allen Lintvedt, were my favorites on that album. Anyone reading can find them on YouTube. It's a piece of early Taylor history, with Allen being a friend of ours then, too. In fact, I texted with him this week. So great to hear from you. To let readers in on it, since the time you wrote this, we have indeed gotten together, had a good chat and look at the guitar. What a life we've both had, and I'm so proud you kept that guitar. It was an important part of our success.
Ed. Note: See some of the photos we took of the guitar at the Taylor factory here.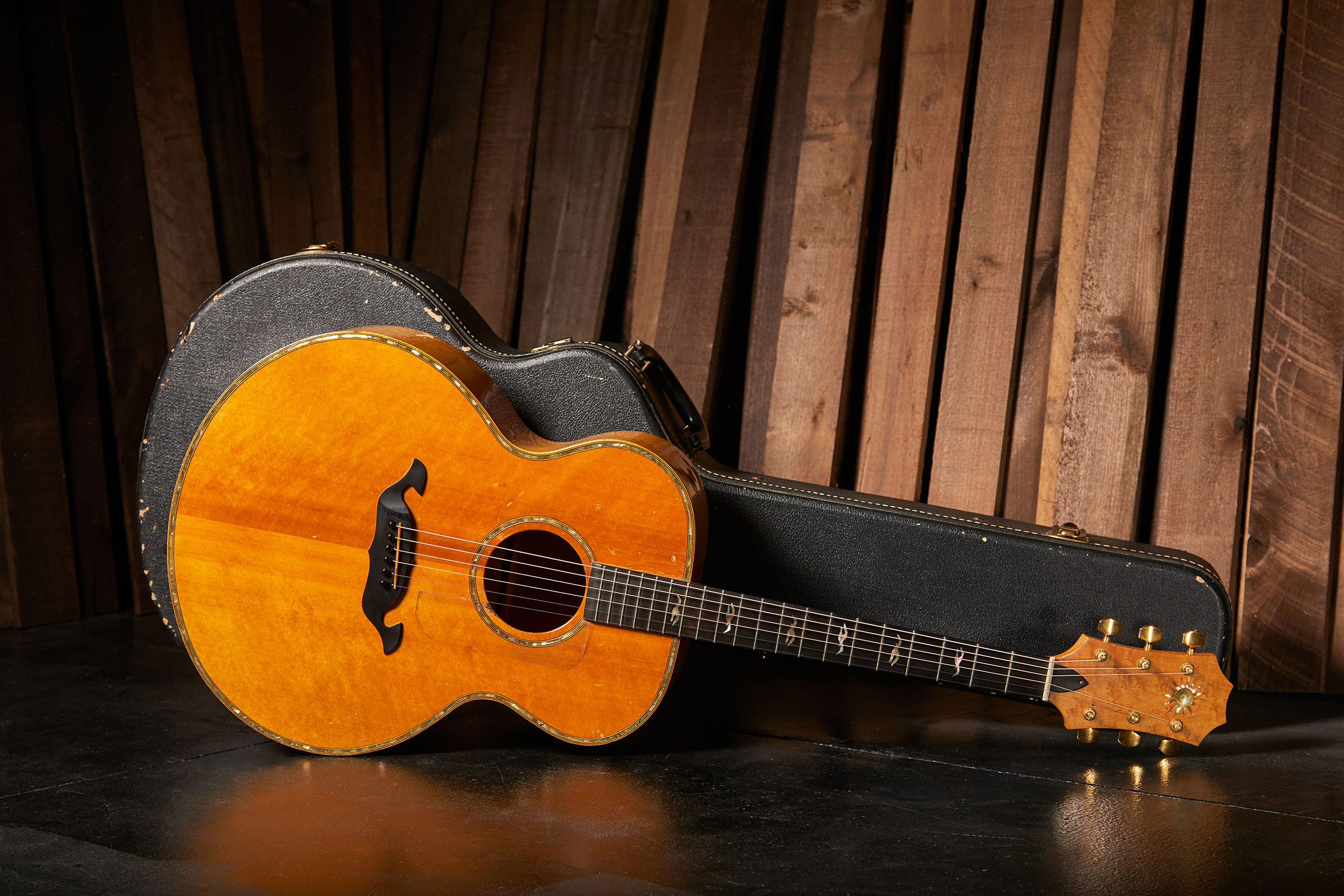 "It's been a great guitar all these years. It could probably use a good tune-up! I'm also thinking about ordering another Taylor custom guitar." 
– Bruce Tucker
"It's been a great guitar all these years. It could probably use a good tune-up! I'm also thinking about ordering another Taylor custom guitar." 
– Bruce Tucker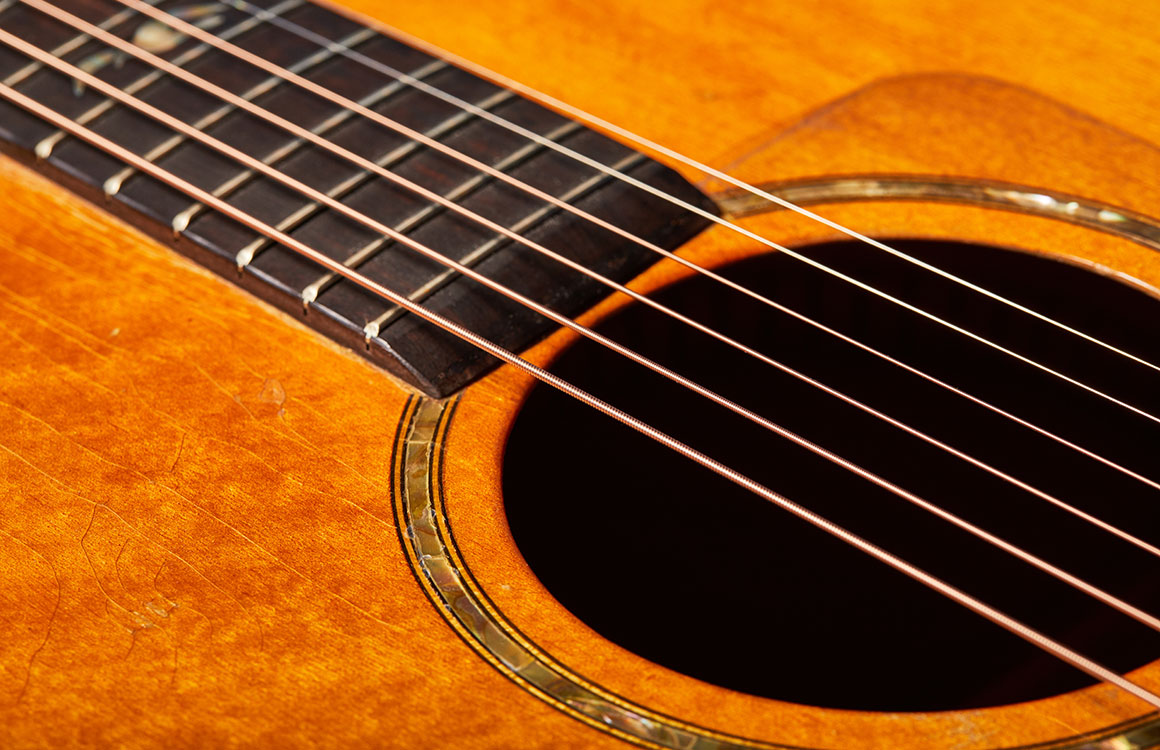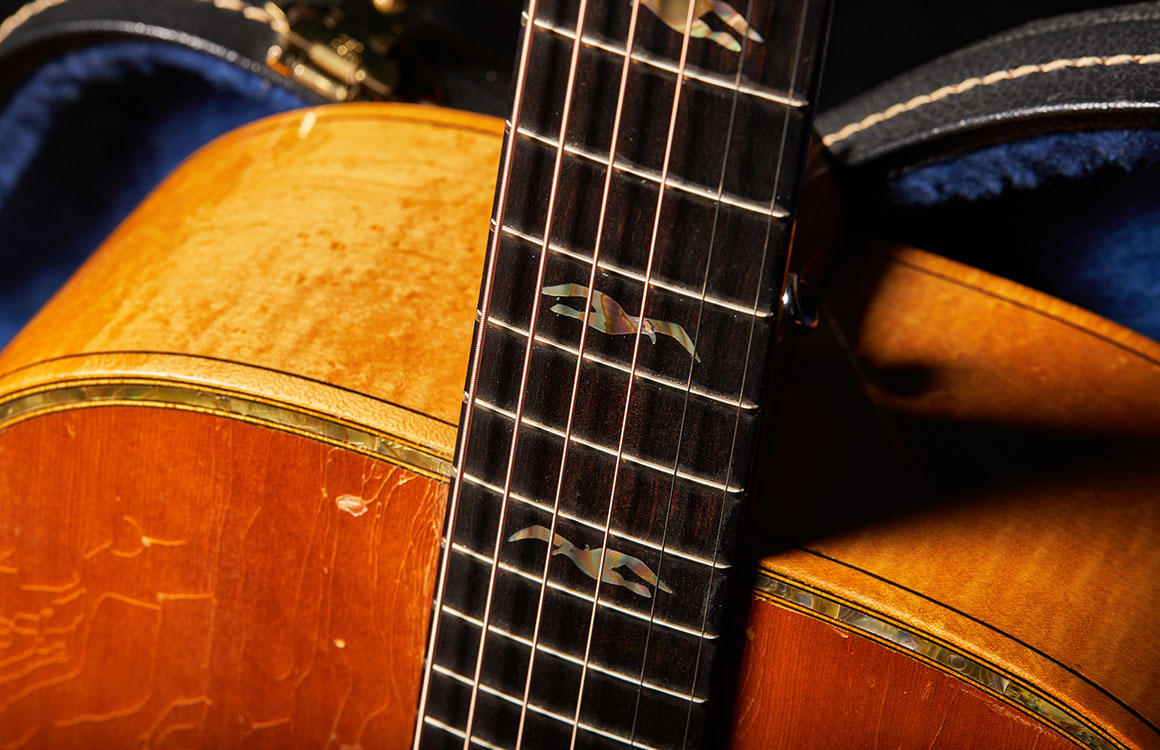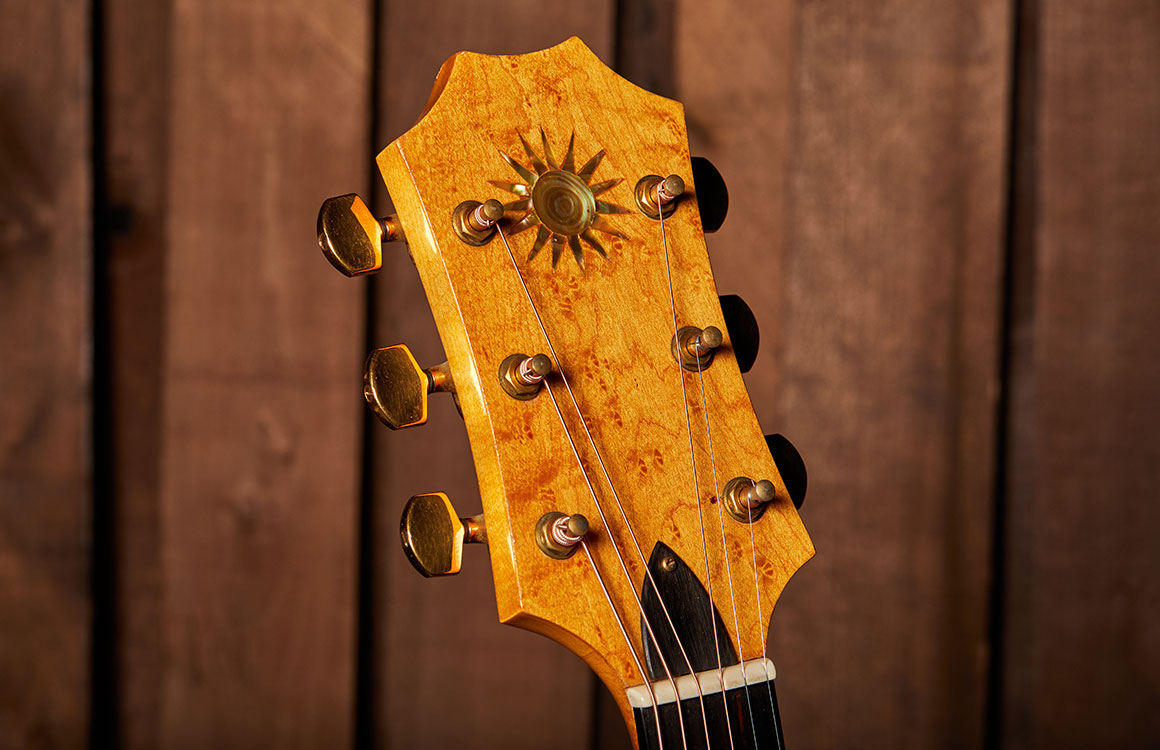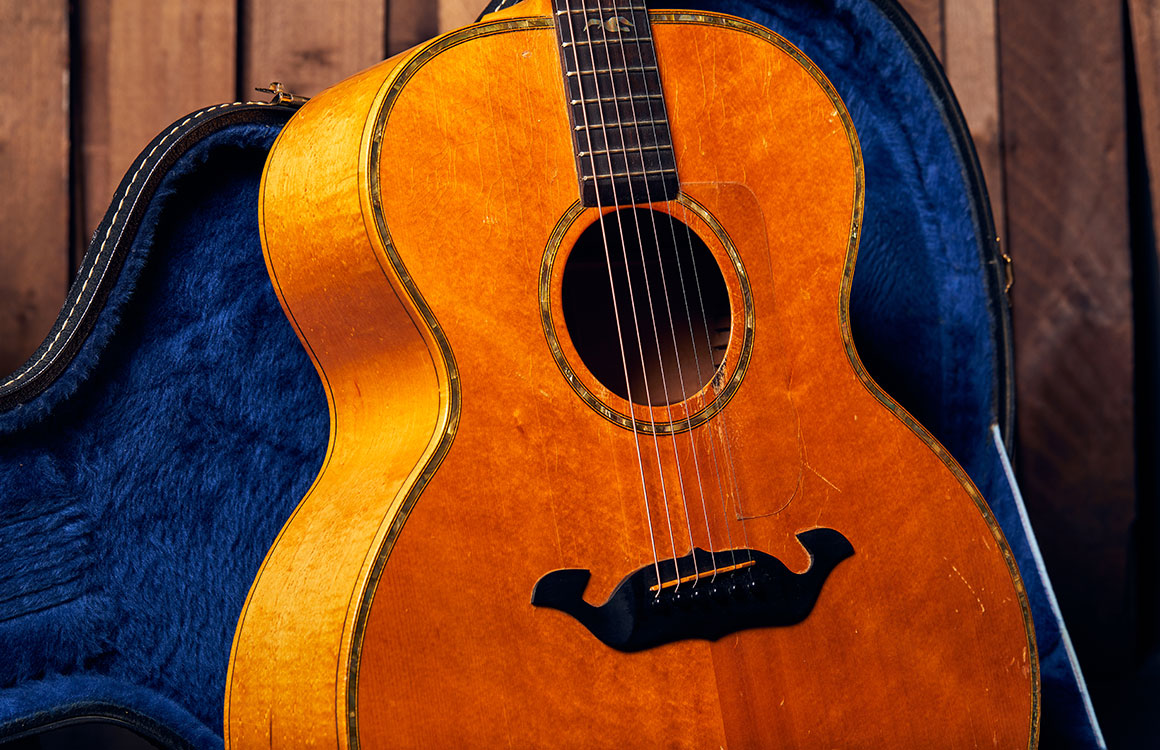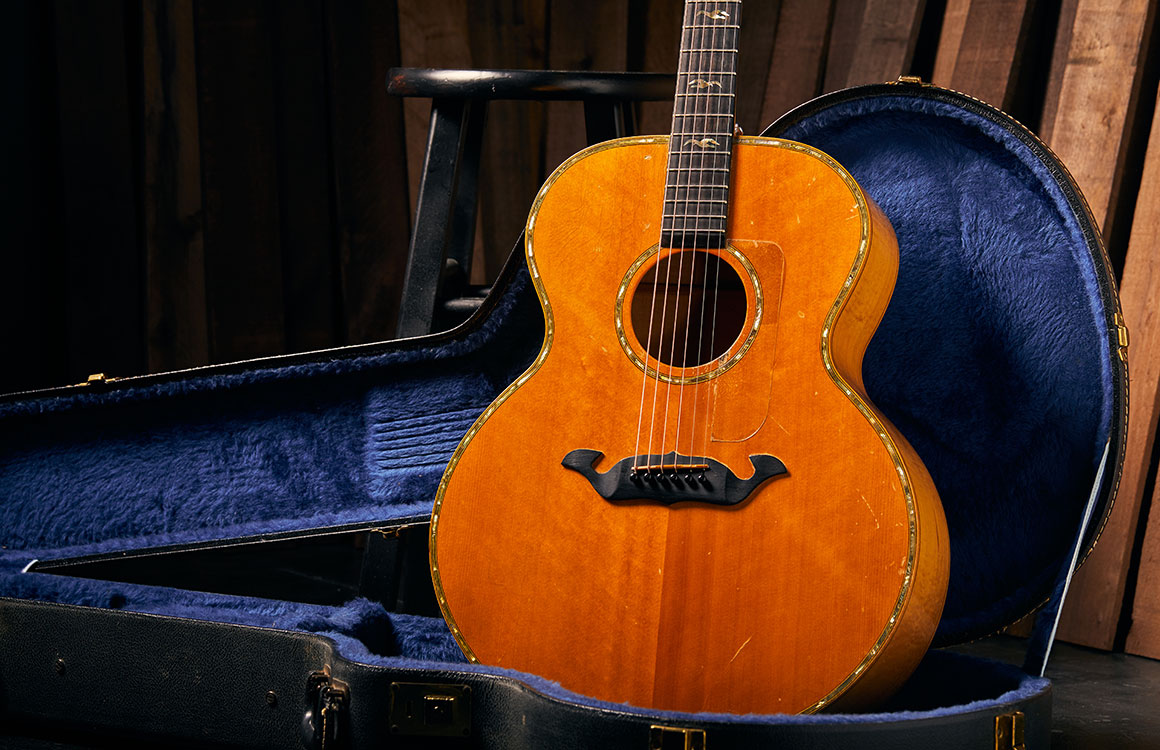 Got a question for Bob Taylor?
Shoot him an email: askbob@taylorguitars.com
If you have a specific repair or service concern, please call our Customer Service department at (800) 943-6782, and we'll take care of you.