Super Women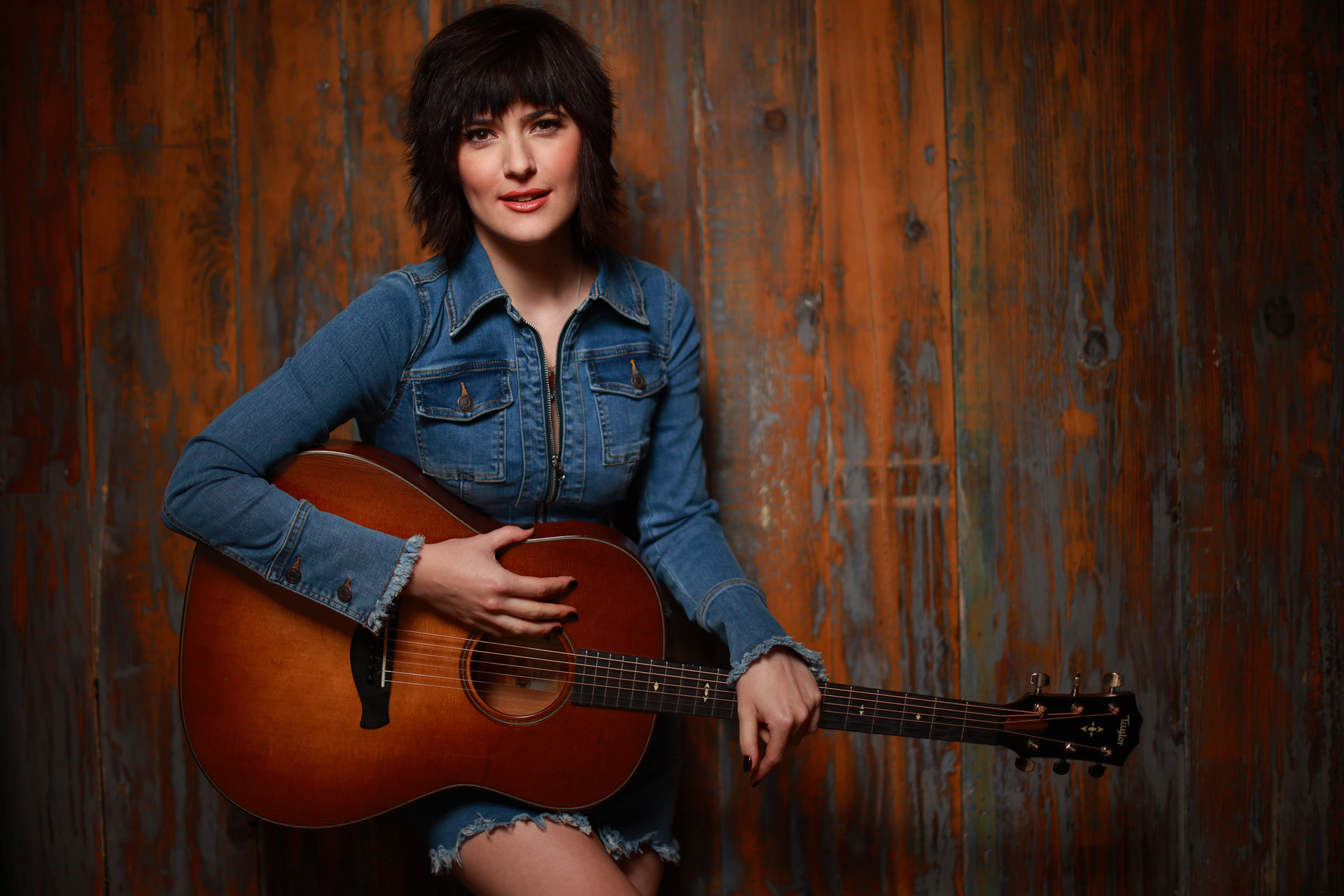 We still remember the soulful acoustic set Sara Niemietz (Builder's Edition 517e WHB) served up (with guitar ace Snuffy Walden) on the Taylor NAMM stage back in 2019. So when the Los Angeles-based singer-songwriter and actress dropped us a line to share a preview of her new record, Superman, we were all ears.
A multifaceted performer who has worked in theater, TV and film (and is an active live-streamer), Niemietz is equally diversified in her musical tastes and stylistic repertoire. Her expressive vocal range allows her to explore an array of genres, including rock, jazz-pop, blues, R&B and neo-soul. And she runs the gamut with her boldly vulnerable 14-song collection on Superman.
The record evolved out of a COVID-period collaboration between Niemietz and guitarist/composer/producer Linda Taylor, whose credits include extensive session and stage work (Art Garfunkel, Edwin McCain, Don Was) and more than 20 years of TV house band experience on shows like Whose Line Is It Anyway?
The two met at what would turn out to be Niemietz's last live show of 2020 due to the COVID shutdown, but their instant musical chemistry sparked an exchange of ideas that became a torrent of back-and-forth demo file-sharing. Ideas were shaped into songs, with Niemietz handling vocal production and Taylor laying down guitar and other instrument parts and mixing the recordings.
Before long, the two had a half-dozen fully baked songs they felt good about, so they kept going, completing an album's worth of demos. They eventually recorded and co-produced the record with session artists Daniel Pearson (bass), Ed Roth (keyboards) and Léo Costa (drums) at former Doors guitarist Robby Kreiger's Horse Latitude Studios in Burbank, California.
Among the musical touchstones for their songs, Niemietz says, were Sister Rosetta Tharpe, Janis Joplin, Brittany Howard, early Kings of Leon and D'Angelo. The trick was to give themselves the freedom to follow their eclectic tastes, yet shape their songs into a listening experience that would hold together as an album.
"It occurred to me as long as we're telling the same story, the songs can be the chapters in the book," Niemietz says. The themes that permeate the album, she adds, are the ideas of "speaking your piece, shaking off the past, and finding the superhero inside."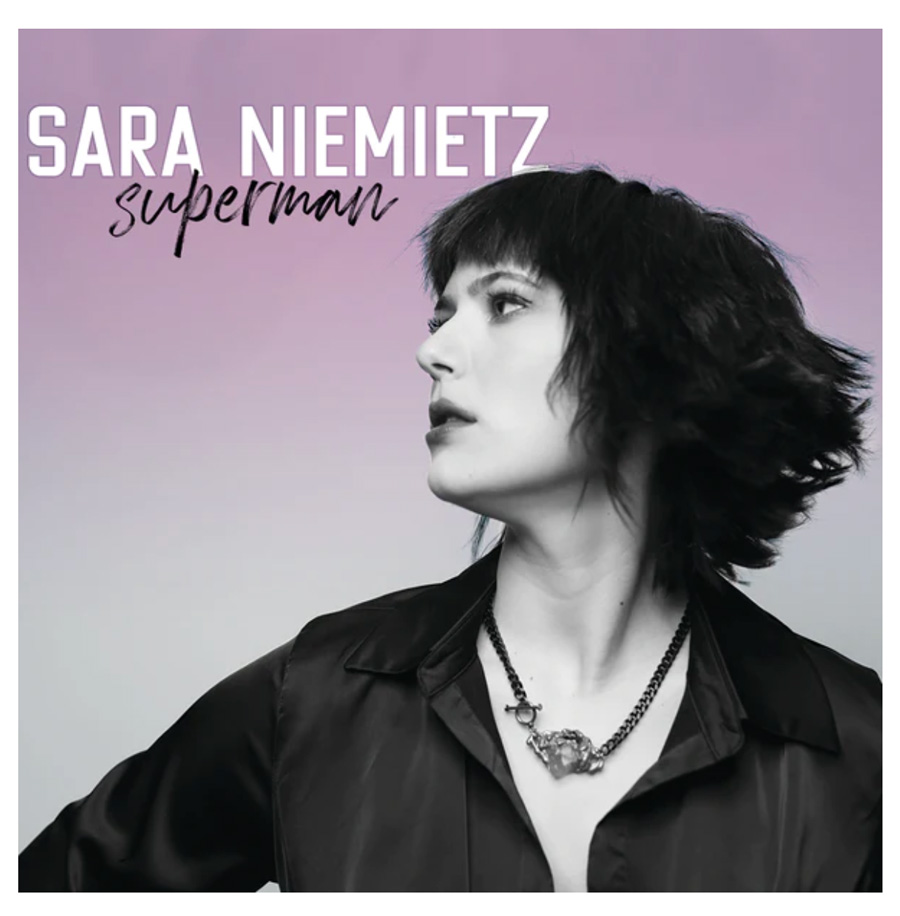 The buoyant blues-pop opener, "Locks," sets a tone of resilient rebirth, of emerging from adversity a little wiser and eager to embrace the path ahead. Niemietz takes a deep, cleansing breath leading into her vocal over a head-bobbing groove, later singing: So long since I / Since I felt this way / So long to the shadows of yesterday….
The rest of the record unfolds with soulful continuity, even as they stir together different musical flavors. The album's tasteful arrangements leave room for Niemietz's emotive vocal nuances and Taylor's vivid guitar work to play off each other in dynamic ways.
"I Want You" is a smoldering rocker powered by Niemietz's raw, impassioned vocals (and a great scream at the end). The plaintive ballad "Lovely Lies" offers a vulnerable relationship reckoning as Niemietz's sultry vocals float above Taylor's delicately picked Spanish rhythm on nylon-string guitar. The smooth R&B vibe of "Come to Me" calls to mind Allen Stone, colored with Taylor's wah-wah and blues licks, followed by more wah-wah flavoring on the late-night funk-rock of "Names." The more experimental "Words" ventures from acoustic fingerpicking into atmospheric indie-rock terrain as Niemietz's powerful wail over distorted power chords evokes a blend of vintage Grace Slick meets Florence + the Machine. The sweet closing track, "The Dimming," delivers a smooth neo-soul landing that segues into a jammy coda.
As a listener, you can hear the undeniable musical chemistry between Niemietz and Taylor. Their phrasing is beautifully complementary and gives each song a vivid personality. Niemietz's lyrical honesty channels a range of emotions that help bond the songs together as related "chapters" in her songbook, while Taylor's (and the band's) versatile musicianship navigates through different genres with ease.
Whether this music would ever have been made if not for the pandemic pause, we'll never know. But based on the results, let's hope they work together again.
Artist News
Our artist relations team has been busy developing exclusive video content showcasing Taylor artists from across the genre spectrum. Be sure to browse Soundings in the digital edition of Wood&Steel to watch performances and interviews. Here are a few of the latest and greatest hits.
Latin Alternative Music Conference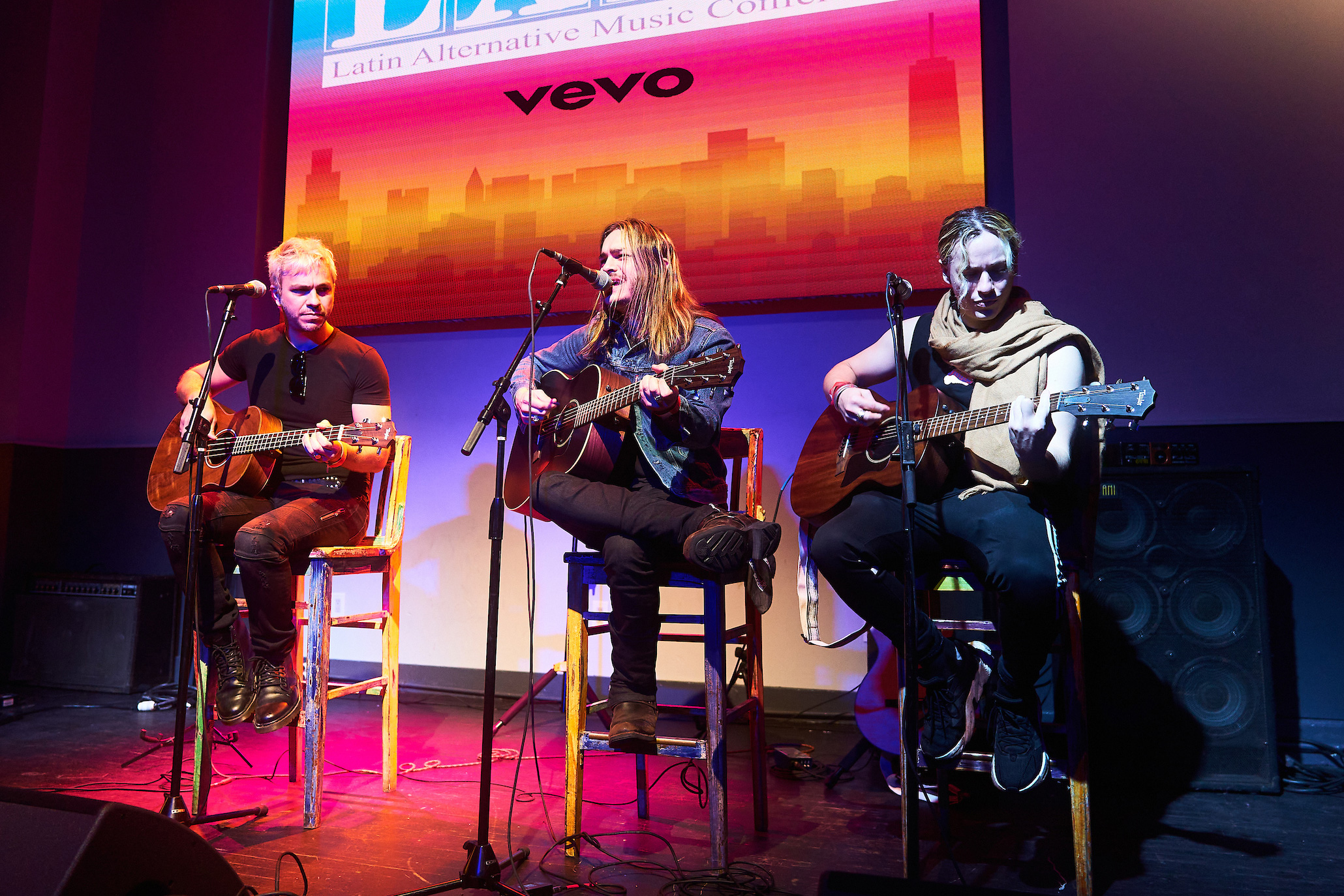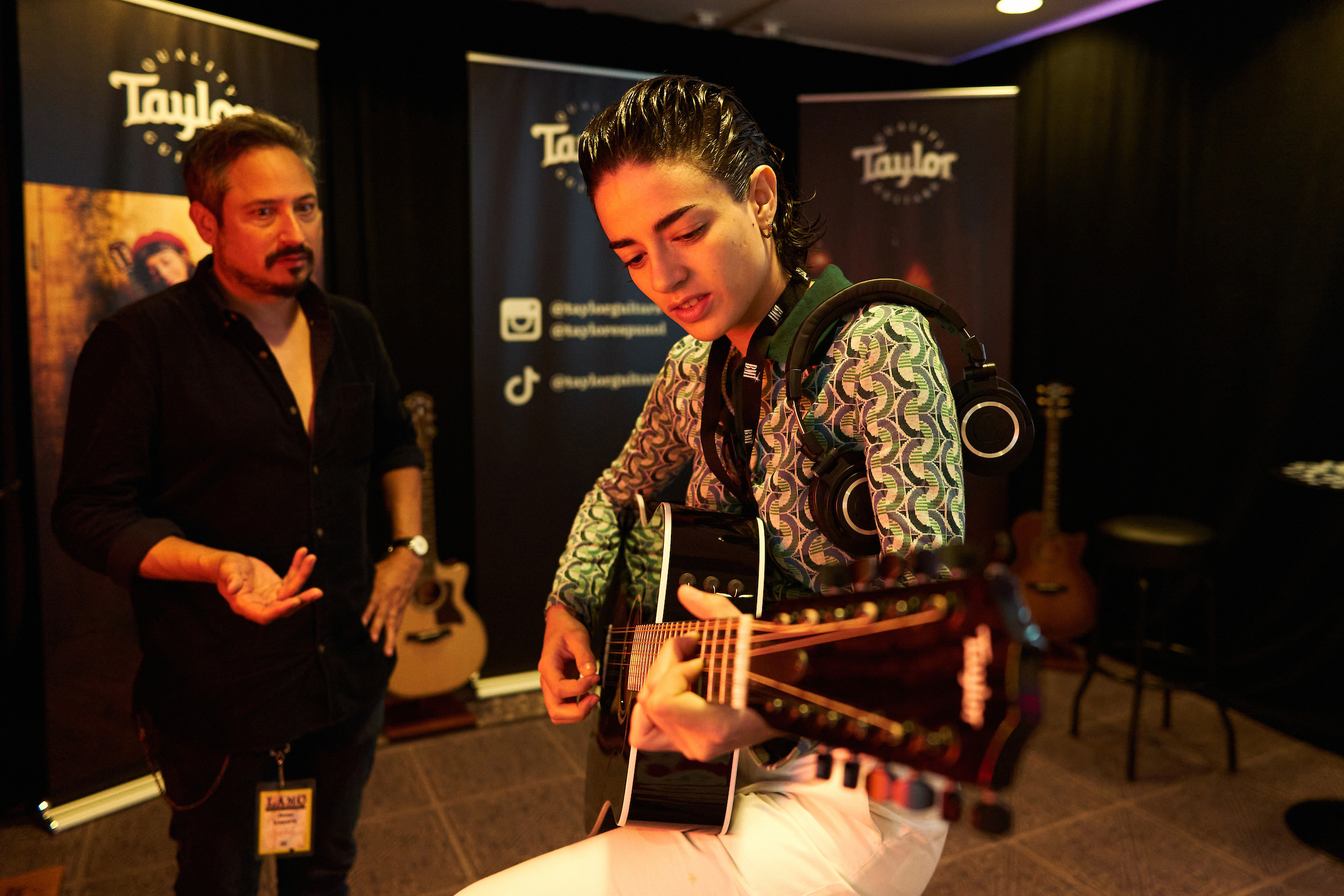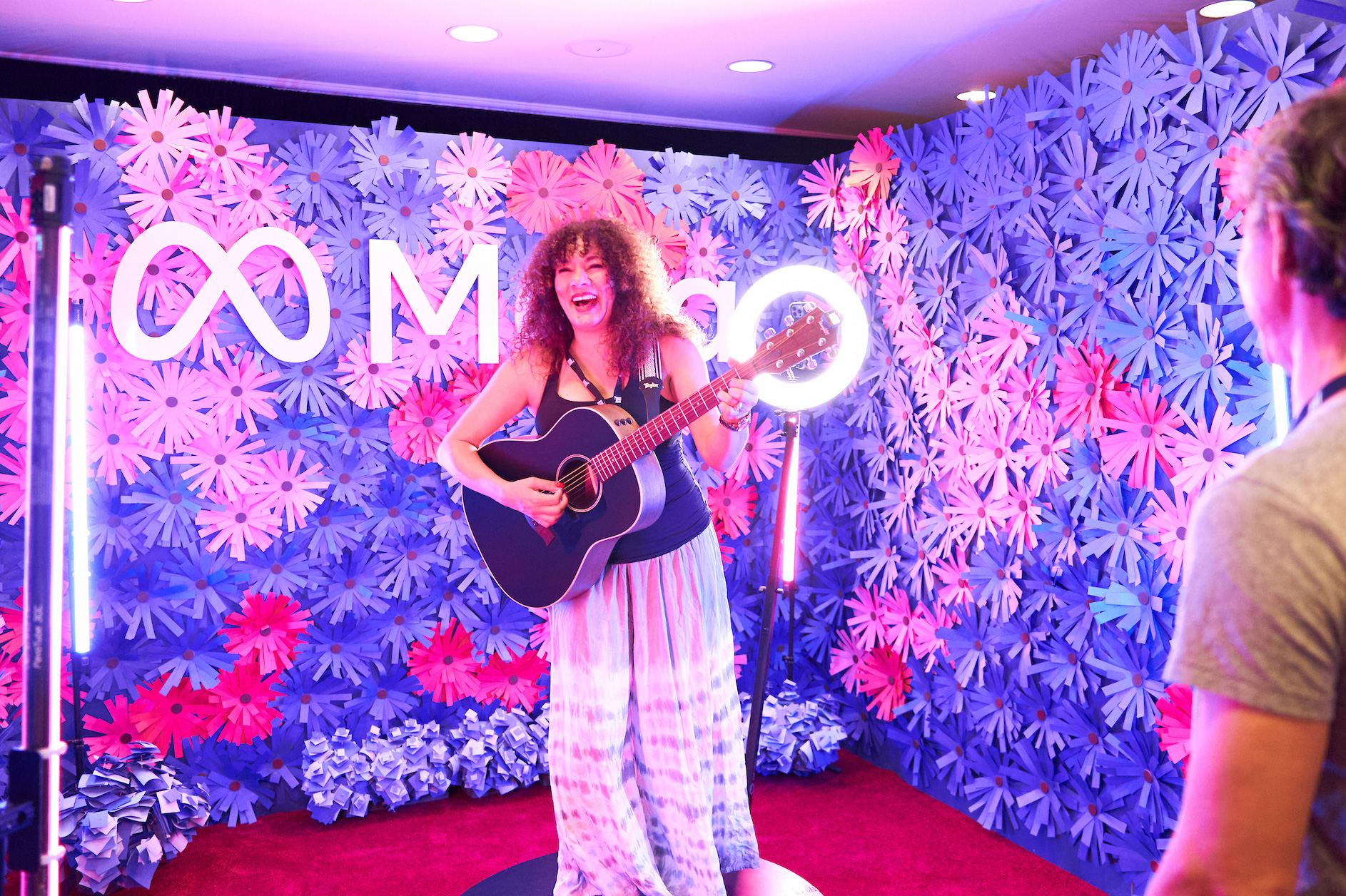 From July 6-9, Taylor attended the Latin Alternative Music Conference in New York City. Colloquially known as the "SXSW Conference for Latin Americans," the LAMC plays host to key musicians, fans, content platforms and MI brands such as Billboard, Warner Music, Amazon Music and Meta. Content created from the event reaches more then 25 million people worldwide.
For our part, we created a video lounge where musicians could try guitars, record performances and shoot photos. Our lounge was adjacent to Meta, whose team was shooting social reels for artists. We supplied them with a variety of our guitars, which were then seen across Meta's Facebook and Instagram platforms. We also participated in key LAMC Showcases, master classes and off-site events. Watch performances from artists Zoe Gotusso, Pehuenche and Gale.
Taylor Soundcheck
Session guitarist and indie artist Liv Slingerland (Olivia Rodrigo, Halsey) joined us in June to film an episode of Taylor Soundcheck, appearing with her performance partner, Caroline Kingsbury. Liv played her original songs "It Might Be Time" and "Temporary Letdown" and talked about her influences and inspiration for her music. Liv plays a 514ce and a GT 811e in the performances.
R&B guitarist Will Gittens and Emmy-award-winning actor Rome Flynn sat down in August to cover the classic hit "I Wanna Know," originally written and recorded by R&B singer Joe in 1999. Will plays his rosewood/spruce 714ce in the video, which has already racked up some 185 million views on YouTube.
Manchester Orchestra singer/guitarist Andy Hull took a break from his solo acoustic tour to play an exclusive set on Austin City Limits Radio with his newest Taylor, the GT 811e. Andy has been loving his new guitar, telling us that it's "probably the most comfortable I've ever felt playing the guitar for 90 minutes in a room of silence." His intimate set includes the tunes "Angel Of Death," "Telepath," "The Gold" and "Bed Head."
Introducing Vinyl Confessions
We recently launched a new video series in partnership with Denon called Vinyl Confessions, where Taylor artists talk about a song that inspired their pursuit of music and then perform that song. Our first segment features Nashville-based country singer-songwriter Maggie Baugh, who remembers the impact of the Sara Evans song "Suds in a Bucket."
Back in Black
Scottish singer-songwriter KT Tunstall has been enjoying her newest custom Taylor, an all-black rosewood/spruce Grand Pacific (a variation on our Builder's Edition 717e) with a custom pickguard design based on her creative input. The ivoroid pickguard wraps around both the bass and treble sides of the soundhole and incorporates a lightning bolt design in relief. She loves how it turned out and played it on tour dates over the summer. You can see it in the official music video for her new song "Private Eyes" from her forthcoming album Nut.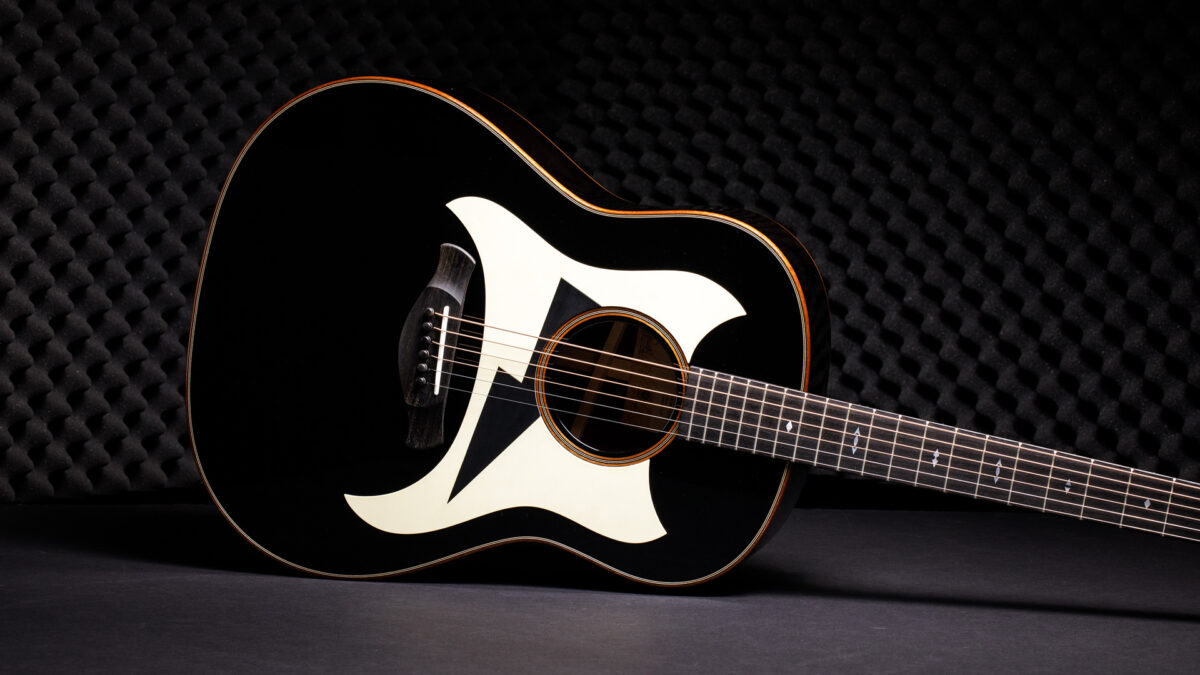 Taylor Artists in Nashville…
We love supporting the music community in Music City. Taylor recently co-hosted a special event at the new offices of American Songwriter magazine, where Taylor artist Ian Flanigan performed for guests…. Emerging folk/Americana artist Autumn Nicholas met us in Nashville to test-drive new guitars for her upcoming tour, where she'll be opening for Amanda Shires. She fell in love with the Grand Concert 322ce…. Amanda Sudano from the duo Johnnyswim has recently been playing a 314ce-N, which she uses in a video of her song "Beautiful Dream" that she shared to Instagram…. Singer-songwriter John Oates has always loved the sound and feel of the GS Mini, so it's no surprise that he's currently playing the GT 811e…. Ryan Straw, guitarist for country artist Kelsea Ballerini, has been playing a 562ce for the promotion of Ballerini's new single, "Heart First."
… and Around the Globe
In Japan, Taylor artist Suzune recently released a music video for his song "Life"…. In Colombia, Santiago Cruz released a video for his song "Porque Yo Te Quise," which has already racked up nearly a million views…. In Mexico, Carla Morrison launched another leg of her El Renacimiento tour, where she's playing her favorite guitar: the GT 611e LTD…. Puerto Rican artist Yett signed a three-year contract with Warner Music and will soon be touring the U.S. with his GS Mini-e Koa Plus.
In the United Kingdom, Taylor artist Tom Gledhill has been playing his AD17e Blacktop alongside artists Zak Abel, Paloma Faith and Rag'n'Bone Man…. Solo singer-songwriter Cat Burns will be supporting Ed Sheeran on an upcoming tour as well as headlining her own tour this year. She recently appeared on Later…with Jools Holland to play her song "Go" on her T5z. Session guitarist Aaron Forbes, fast becoming an in-demand player in the U.K., is heading out on tour with Calum Scott after wrapping up a stint with Ellie Goulding…. Matt Thomson's indie rock band,The Amazons, is touring Europe, with Matt playing a Builder's Edition 517e and guitarist Chris Alderton playing a GT Urban Ash.
In Sweden, Smith & Thell are touring with their Builder's Edition 517e and 322ce 12-Fret…. Italian guitarist Daniele Mamarella is currently touring with his GT 811e after having been ranked as one of the top three acoustic guitarists by Music Radar and UK Guitarist magazine.
Browse the 2022 Taylor Holiday Gift Guide
With the winter holidays on the horizon, it's time for those of us with musically inclined friends and family to start thinking about the perfect gift. Taylor's online holiday gift guide is the perfect tool for making sure this year's holiday is a memorable one for the musicians in your life. You'll find a range of guitars from across the Taylor line segmented by price level, making it easy to home in on a new guitar for that friend or loved one in need of fresh acoustic inspiration. We've also curated some key accessories, such as comfortable guitar straps, pick tins, digital tuners, guitar care tools, stylish Taylor apparel and more.
Head to taylorguitars.com/holiday-gift-guide to explore the guide. Remember, we're always here to help with your gift selections, so feel free to reach out to our customer service team if you have questions.
Take a Listen to the Most Recent Playlist