Though the COVID pandemic may have temporarily emptied music venues, it's hardly kept musicians quiet. During the isolation, the digital world exploded with creativity as artists adopted an array of tools that allowed them to stay connected with fans, make new music across distances, and collaborate with other musicians they never would have met otherwise. Some focused on keeping live music available for fans, staging livestreamed performances that ranged from elaborate, professionally filmed productions to simple bedroom jam sessions. Others focused on craft, exploring new musical territory and writing songs that reflected the pressures of the moment. Still others found the pandemic a time for personal reflection, an opportunity to reexamine life and grow a stronger sense of personal and musical identity.
Photo credit above: Ivan Pierre Aguirre
In places where public life is reopening and live music is returning, artists have begun to resume the pursuit of their musical calling. But to those preparing to hit the road again, it's clear that things have changed — the world of music feels different, as do performing and writing. And as musicians find stages and begin filling seats with fans, many are doing so with new ideas about what makes a good show, a great song and a strong connection with an audience, along with a new appreciation for what they do and a fresh gratitude for the spaces in our culture that foster music as a force of community.
Digital Natives Meet the Real World
Of all the consequences the music world experienced due to the pandemic, one of the most lasting is how it threw a spotlight on underexposed musical spaces as brick-and-mortar venues put business on hold. In our story on the livestreaming boom from the previous issue of Wood&Steel, artists told us about the newfound power of digital tools that connect musicians to audiences across physical distance and restrictions on public life. Livestreaming helped keep artists in the swing of performing, even if that meant sitting in front of an iPhone camera with just an acoustic guitar as fans tapped out their digital reactions in the form of smile emojis and hearts. That development has largely been a positive one for all sorts of musicians, and those with a strong foundation in social media had an even greater advantage as fans looked online for their live music fix.
It hasn't always been this way. Major touring acts and established musicians have long held sway on the attention of the music-listening public, even as tools like YouTube, SoundCloud and BandCamp grew in popularity with artists who had yet to break into the industry. In the pre-COVID world, artists who made their bona fides in the "real world" carried an air of authenticity and quality that "online" artists simply couldn't match. In a way, the tools that were supposed to democratize music-making ended up pigeonholing young, creative and diverse musicians into an online arena populated by relatively small numbers of dedicated fans. The passion was there, but the exposure was not.
The pandemic changed all of that. With major artists and up-and-comers alike forced off physical stages and onto the Internet, the music of the digital world found itself on a level playing field for the first time. What resulted was an explosion of bands, songwriters and solo musicians into the public eye, many of them from backgrounds rarely showcased in the musical mainstream.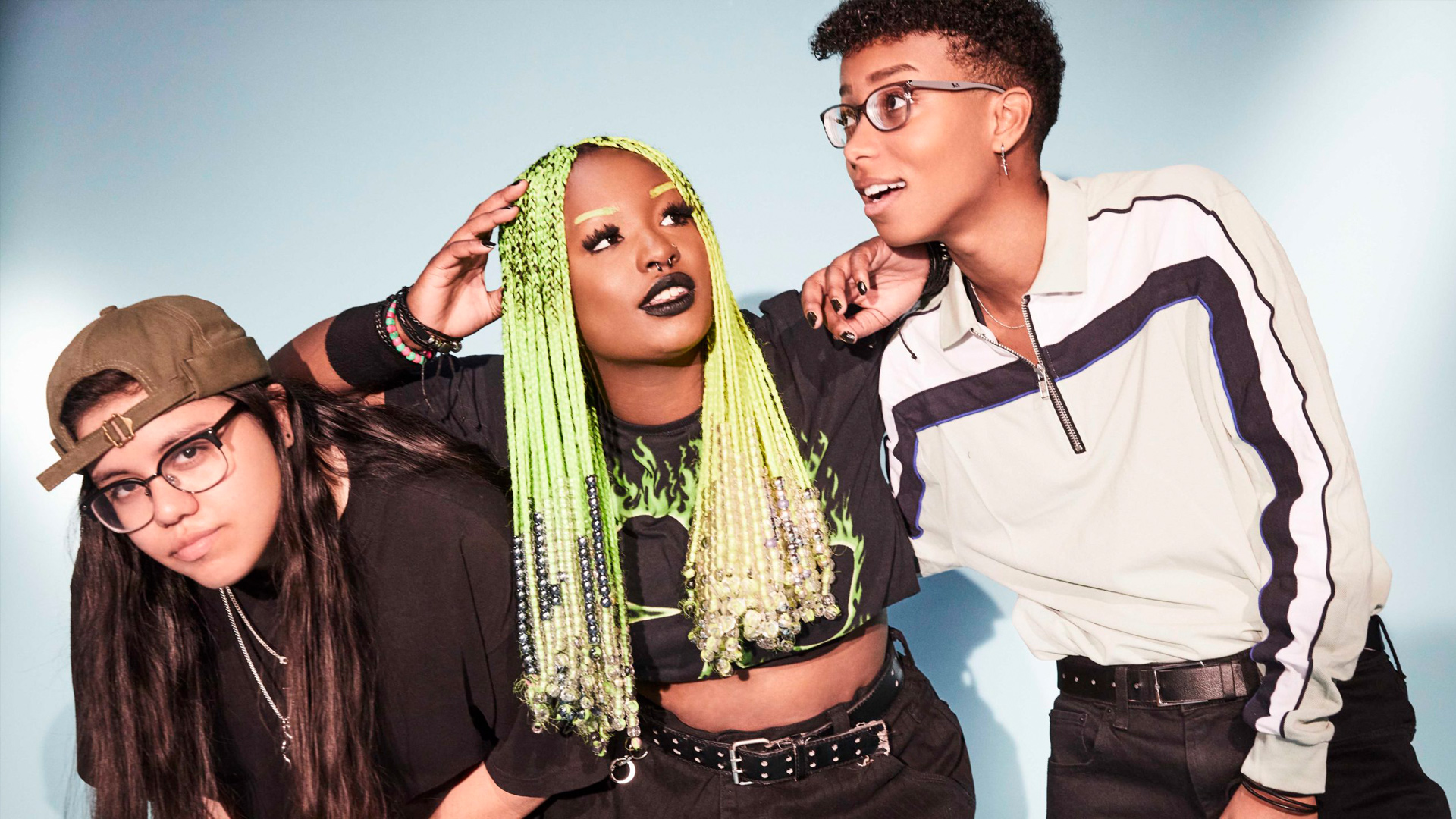 Meet Me in the Living Room
Of the many artists that managed to capitalize on the conditions of the pandemic months, pop-punk newcomers Meet Me @ The Altar have blazed a particularly exciting trail. The trio of Téa Campbell (guitar, bass, 224ce-K DLX), Ada Juarez (drums) and Edith Johnson (lead vocals) have been making music together since 2017, but perhaps not in the sense you might expect. Until this year, the three musicians wrote and produced their songs over distances, sending ideas, lyrics and instrument parts back and forth over the Internet until they arrived at a finished product. Suddenly, their way of writing music became the norm, and as musicians everywhere adjusted to this siloed style of creation, Meet Me @ The Altar found themselves with an enormous head start.
"We were an Internet band for like five years," Téa says. "I lived in Florida, Edith lived in Atlanta, and Ada lived in New Jersey, so we had never really written songs in the same room before."
Though they moved into a house together during the pandemic, the members of Meet Me @ the Altar say their writing process barely changed as a result of their proximity.
"Even though we moved in together," Ada says, "this way worked before, so why would we try to change something that was working? So we still write in our separate rooms and then come together. We write lyrics in the same room now, but otherwise it's the same as before."
The "Internet band" effect made an impact beyond the songwriting process, too. With plenty of experience navigating the digital realm and engaging with fans over the web, COVID helped set the conditions for the band's dramatic spike in recognition. The trio had planned to start touring in 2020 and 2021 — instead, they wound up at home, where writing songs was essentially the only creative outlet. Stripping away the "traditional" elements of the music industry had a way of making artists refocus on the essence of their craft. For these three, the pandemic was a pressure cooker that helped them grow in both skill and confidence.
"Quarantine changed a lot for us," Téa recalls. "If it weren't for quarantine, we wouldn't really have had time to sit and think about the direction we want to go and how we want to evolve as a band."
Instead of touring, Meet Me @ The Altar doubled down on songwriting. Instead of livestreaming, as so many artists did during isolation, they wrote. Save for a streamed show in partnership with Wendy's restaurants, Meet Me @ The Altar looked to each other, focusing on shaping their voice and developing an identity as musicians.
"The more you write, the more comfortable you feel," Edith says. "Quarantine was a blessing in disguise. It helped us come together, and we matured through our songwriting. Now, everything we write tops what we did before."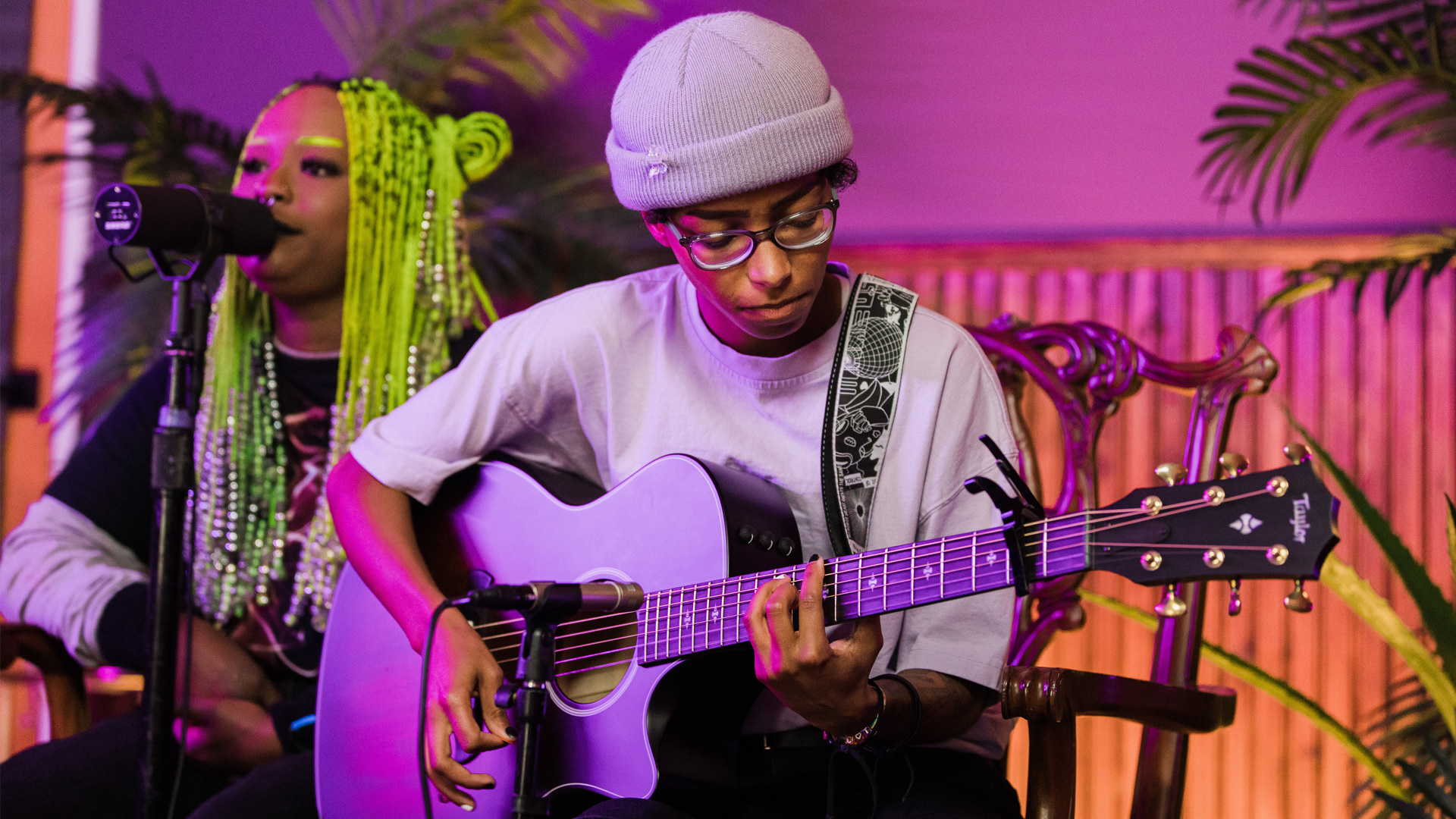 The work paid off. The band says they blew up during the pandemic, going from 3,000 followers to over 50,000. Though it's a bit strange not being able to actually see that growth in the form of bigger audiences at shows, their connections with fans online has helped them get a better sense of where they fit into pop culture in general. They credit some of their growth to a changing society and evolving attitudes that increasingly demand greater inclusion of women musicians and artists of color. As a trio of women of color, Meet Me @ The Altar found their moment.
"A lot of things were happening during quarantine — social issues, Black Lives Matter, George Floyd's death," Edith says. "But since people really couldn't do much, they really had time to think about the world. People started thinking about Black life and Black art. We were right there, and since our music is actually good, people stayed."
By zigging where others zagged during the pandemic, Meet Me @ The Altar found a perfect opportunity to build on their success and follow their explosion of popularity with improved songwriting and a better sense of identity as a band. But not all of today's musicians were born into the digital ecosystem. For those who have put decades into a more traditional approach, the pandemic represented a different challenge: How do you adapt to the times without losing yourself?
Turning Music into Community
Closed venues and cancelled shows were the most obvious signs of trouble within the music industry during the pandemic, but another challenge had a quieter, but no less significant effect: mental health. Isolation, unprecedented economic pressure and ongoing social change put a strain on many over the past 18 months, including artists whose primary source of emotional, social and creative catharsis — not to mention financial stability — was dramatically cut off without warning. For former At the Drive-In co-founder, current Sparta guitarist and longtime solo songwriter Jim Ward, holding on to music through the pandemic was about more than maintaining a public profile and keeping fans engaged online: It was about survival.
Ward (Builder's Edition 517, GT Urban Ash) is a fixture in his home town of El Paso, Texas. He's deeply connected to the city, its music scene and even its food culture — Ward owns a restaurant in El Paso that was forced to close during the pandemic. As a person naturally drawn to community, Ward says that the events of the early pandemic were devastating, both for him and the people around him.
"We immediately had to lay people off," Ward explains, "which is hard emotionally and mentally. My band, Sparta, had a record that came out in April [of 2020], and I like to say it came out to crickets. We canceled tours and had to furlough crew like everyone else."
Without the natural outlet that creative work provides, Ward says, he struggled through the early days of the pandemic.
"Lockdown is hard on you as a human being," Ward says, "especially if you're a social human being. It was hard to stay good in the head."
Despite the restrictions on public spaces, Ward knew that keeping his head right meant keeping up with music. Turning to songwriting, Ward distracted himself with a new set of songs that would become Daggers, his latest solo album. Writing and creating the album was a kind of therapy, he says, one that both helped him manage his mental state and expand his creative abilities.
"I've definitely grown as an engineer, because I was forced to engineer and produce the album myself, where normally I would have relied on other people," he says. "When the tools that make your job easier disappear, you're forced to learn new things. I came out of it with a renewed DIY ethos in my life."
But self-reliance only goes so far. Learning new musical skills is one thing, but it's not a substitute for human interaction and connection, especially for someone as involved in the community as Jim Ward. In the absence of chances to meet and greet fans at shows, Ward found himself forging relationships with fans online, often fans he would never have had a chance to meet otherwise. And it didn't stop with Instagram conversations with fans as scattered as Australia and Moscow. Soon, the drive to preserve some sense of togetherness led Ward to start a new tradition: Friday Beers, a series of live, unrehearsed, unedited conversations hosted on Instagram between Ward and another musical guest. So far, Friday Beers has included talks with Rhett Miller, Nina Diaz, the Black Keys' Patrick Carney and Josh Homme from Queens of the Stone Age.
These aren't your run-of-the-mill artist interviews focused on new albums, upcoming shows and songwriting inspiration — they're thoughtful, often profound discussions that see Ward and his guests opening up for audiences on a personal level in a way that isn't possible with the few minutes of face time artists are able to give fans at gigs. Ward says that these conversations have been revelatory, not just for how they helped him get through isolation, but for how they helped audiences as well.
"Josh Homme is like an older brother to me, and we had this really deep, personal conversation in front of all these people," Ward recalls, "and I got all these really beautiful messages from people saying things like, 'This is how male relationships should be.' The truth is, a lot of us make music because we're trying to figure out how to feel better. And when you start having those conversations, people can say, 'If that guy feels like this, it must be OK that I feel like that, too.'"
Ward sees this as a feature of the pandemic that should stick around as life returns to something like normalcy. In a world that has grown far too used to seeing its young artists spiral out of control, there's something special about creating spaces that encourage honesty and authenticity. On that subject, Ward speaks from personal experience.
"I honestly believe the early part of my career would have benefited from someone saying, 'It's OK to not feel good right now,'" he says. "Instead of just handing you a bottle of vodka. We could do better at taking care of our young artists that way."
No Right Way to Make Music
The landscape of today's music world is ever-evolving, fueled in equal parts by changing social attitudes, the growing accessibility of new music outside the traditional record label pipeline, and the tangible consequences of a global health crisis. Seasoned insiders and emerging artists alike are finding that in these times, building or maintaining a career in music means being willing to look inward — to focus on craft, to dig deep and explore uncharted creative territory. Though today's digital tools make it easy to connect with audiences and individual fans, they cannot replace the hard work of transforming ideas into actual music, of offering a message that is both authentic to oneself and universal enough to inspire listeners around the world. Fortunately, if the pandemic has revealed anything about contemporary music and the people who make it, it's that the drive to create persists regardless of circumstance.