Back in 2017, we launched the 800 Deluxe Series, conceived as something of a love child between our rosewood/spruce 800 and uber-premium 900 Series. Taylor's sales team had seen a steady stream of orders from Taylor dealers for 800 Series models upgraded to include our premium Player's Package, which at the time included Adirondack spruce bracing to supercharge the sound, along with Gotoh tuners. Around the same time, master builder Andy Powers had been developing his new radius-style armrest design. So we decided to combine those elements into a distinctive deluxe-edition series that would be readily available within the Taylor line.
Since then, we've introduced V-Class bracing across the Taylor line, and the shared benefits of those tone-enhancing properties essentially put the standard 800 and 800 Deluxe models sonically on a more level plane. With rosewood well-represented across the Taylor line (also featured in the 400, 700 and 900 Series), it felt like the right time to consolidate the two-tiered 800s into a single 800 Series.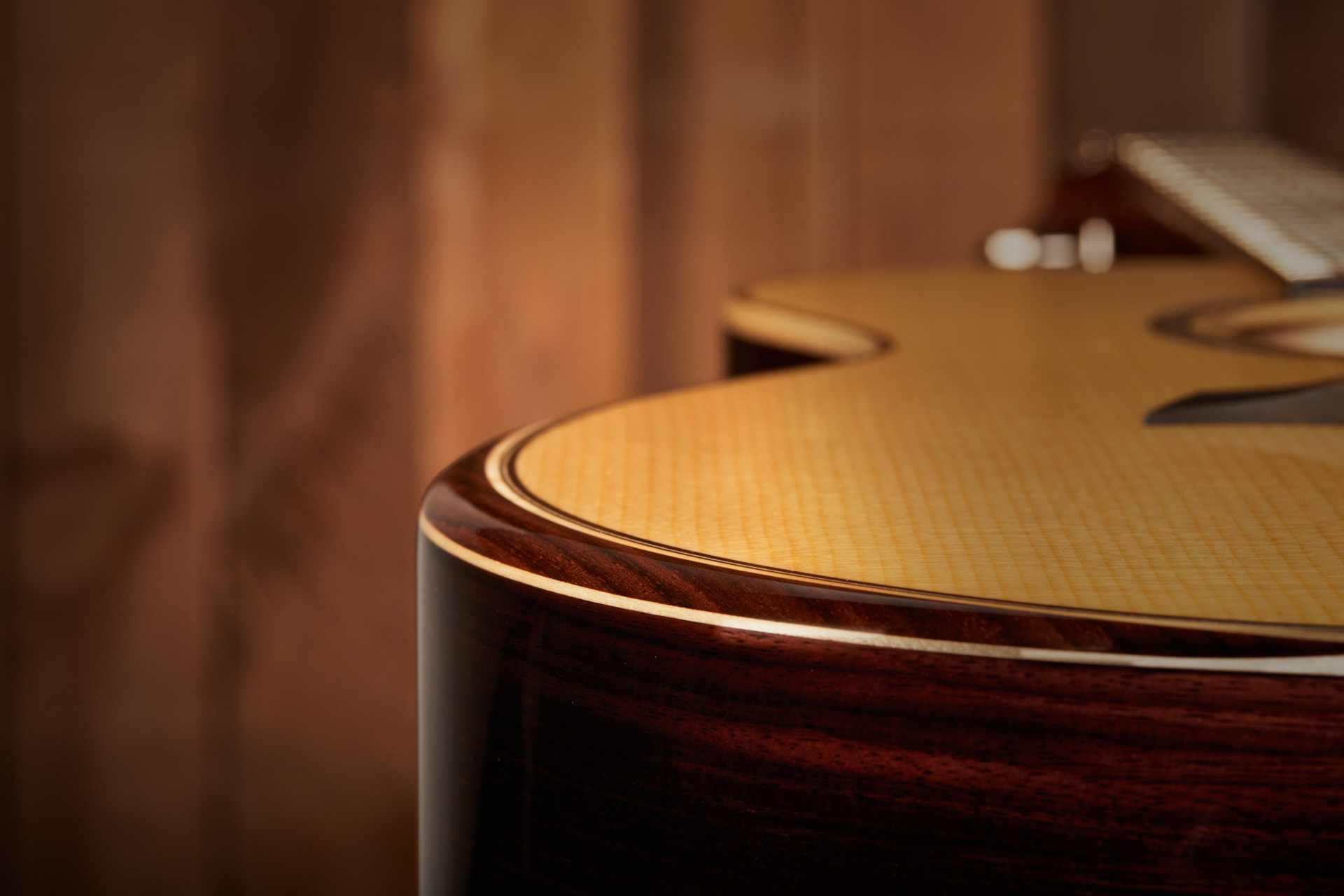 The most notable migration is the addition of our radius armrest to popular models such as 814ce, 812ce and 812ce 12-Fret. Sculpted into the bass side of the guitar's lower bout, the rounded armrest helps ease some of the pressure off your strumming or picking hand, elevating the comfort and enabling players to pick or strum in a more relaxed way.
Producing our radius armrest requires careful attention from our most skilled craftspeople. In the 800 Series, the armrest will be made from East Indian rosewood to match each guitar's back and sides, complemented by contrasting maple binding. The 814ce and 812ce feature Taylor smoked nickel tuners, while the 12-fret has slot-head nickel tuners with ebony buttons.
Some guitars within the 800 Series, such as the nylon-string 812ce-N, will remain unchanged by this year's update. Others, specifically the new Grand Symphony Builder's Edition 816ce and Grand Orchestra 818e, feature distinctive identities of their own within the 800 Series, and will retain their current specifications. Look for revamped 800 Series guitars at authorized Taylor dealers in-store or online this fall.