Click a topic to jump down to that section.
Beatie Wolfe / Taylor in Primetime / Original Grain / GT Love / Universal Vibrations / Folk Alliance / Manchester Orchestra
Beatie Wolfe: From Green to Red to the Nobel Prize Summit
British singer-songwriter and musical innovator Beatie Wolfe (324ce, 110e) has devoted her career to changing how people engage with art and music. Her passion for creating immersive new formats for making and experiencing music lies not just in songwriting and recording, but in using those inventive musical forms to explore important issues and preserve our sense of humanity. In the past, she's performed from inside an anechoic chamber (a room designed to absorb all sound waves), beamed her music into deep space, and designed the first 360-degree augmented reality experience to visualize her album Raw Space.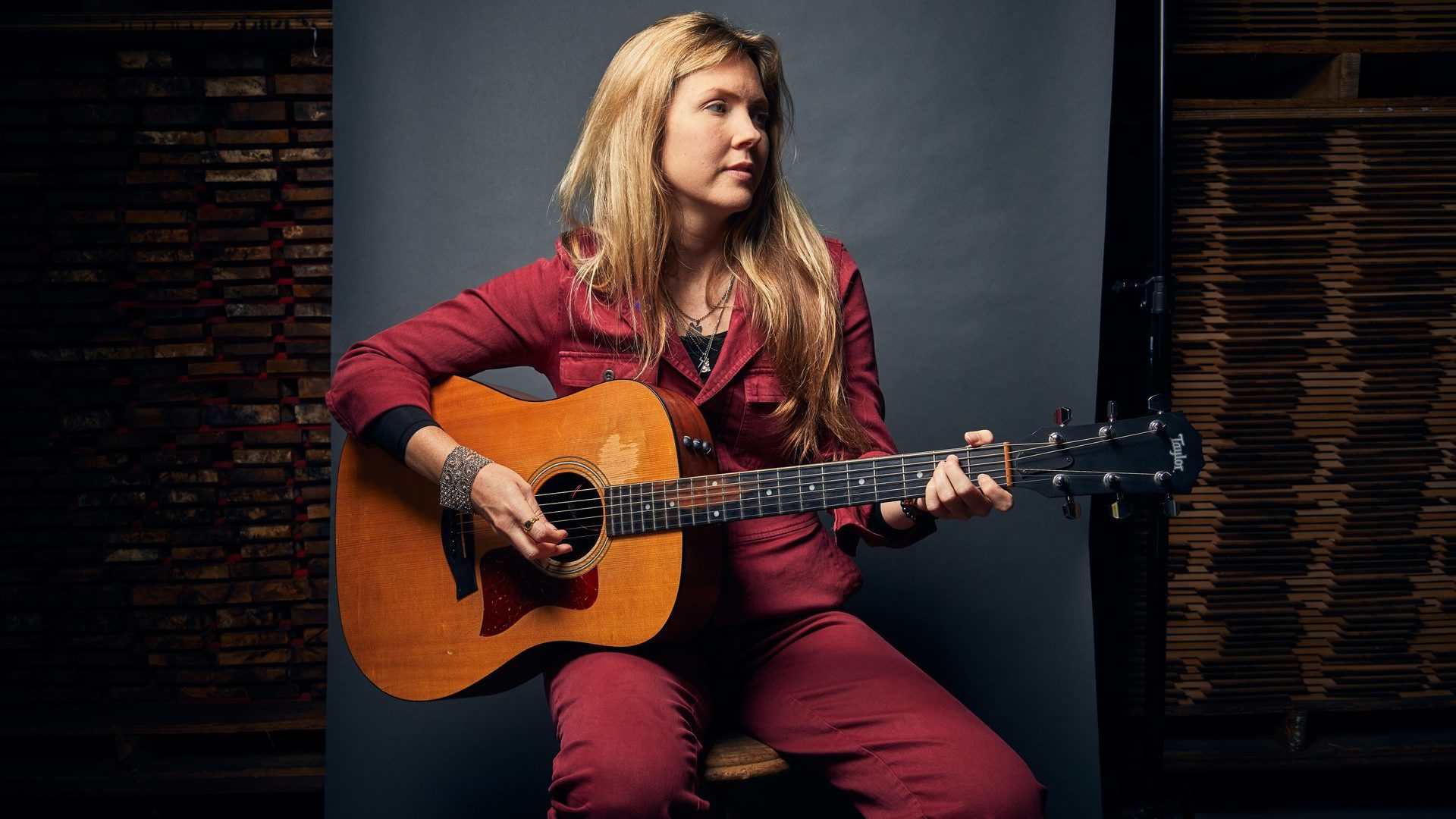 Recently, Wolfe was invited to appear at the inaugural Nobel Prize Summit, held as a virtual event April 26-28, 2021. The event, themed "Our Planet, Our Future," assembled thinkers, artists and leaders from around the world to innovate solutions to the problem of global climate change as they explored the question, "What can be achieved in this decade to put the world on a path to a more sustainable, more prosperous future for all of humanity?"
The event tackled environmental issues along with challenges such as inequality and the role of technology—two questions intricately entwined with the larger crisis of the changing climate. Wolfe was invited to perform and speak on a panel related to urban wood and the declining canopy in cities around the world. (Not surprisingly, she is an outspoken proponent of Taylor's urban wood initiative.) Her appearance culminated in a musical performance accompanied by a data visualization that illustrates the rapid acceleration of greenhouse gas emissions in recent decades. Powered by data from NASA, the animation visually presents a planetary timeline that tracks the last 800,000 years, creating a more accessible context to relate to a deeply complex problem.
Wolfe and her musical art piece, titled "From Green to Red," were introduced by Nobel Prize laureate and decorated physicist Robert Woodrow Wilson, who had previously helped Wolfe beam her album into space from the Holmdel Horn Antenna in New Jersey—the same antenna where Wilson and Arno Penzias discovered cosmic microwave background radiation for the first time.
Wolfe called her work an "environmental protest piece," designed to give the audience a deeper understanding of the impact of human behavior on the planet.
Taylor Thrives in Primetime
Those who have been following Taylor for the past year or so are probably aware of Taylor Primetime, our weekly series of live interviews broadcast over YouTube. Primetime has been a source of inspiration and entertainment, and with the second season of the show well underway, we've talked with Brian Collins about making it as an indie musician, our own Bob Taylor about how robots can help us build guitars, and "Invisible Guitarist" Paul Pesco about his career as a session musician.

In April, we hosted Mark Moore, a supervisor in our milling department, to get the details on what happens with our tonewoods in that part of the factory. Earlier, we talked with factory expert Mike Venezia about how players can explore new sounds and tonal flavors with their acoustic guitars and discover a distinctive individual style.
Each week, Taylor hosts Jay Parkin, Lindsay Love-Bivens and Andy Lund bring you fresh interviews, rapid-fire audience Q&As, and more, so be sure to stop by our YouTube channel every Tuesday evening at 6:00 pm Pacific time and get in on the fun.
Going with the Grain
Earlier this year, we launched a partnership with local San Diego watchmaker Original Grain to design and produce a limited-edition run of Taylor-branded timepieces incorporating our Crelicam ebony and Urban Ash tonewoods. Original Grain specializes in watches that feature real wood in the face, bezel and other elements, and each design is crafted using wood and other materials with an interesting backstory. The Taylor watches they created—featuring ebony's dark hue and the chocolatey brown of Urban Ash set off by abalone dial faces and the Taylor peghead silhouette—exceeded all expectations in both craftsmanship and consumer demand.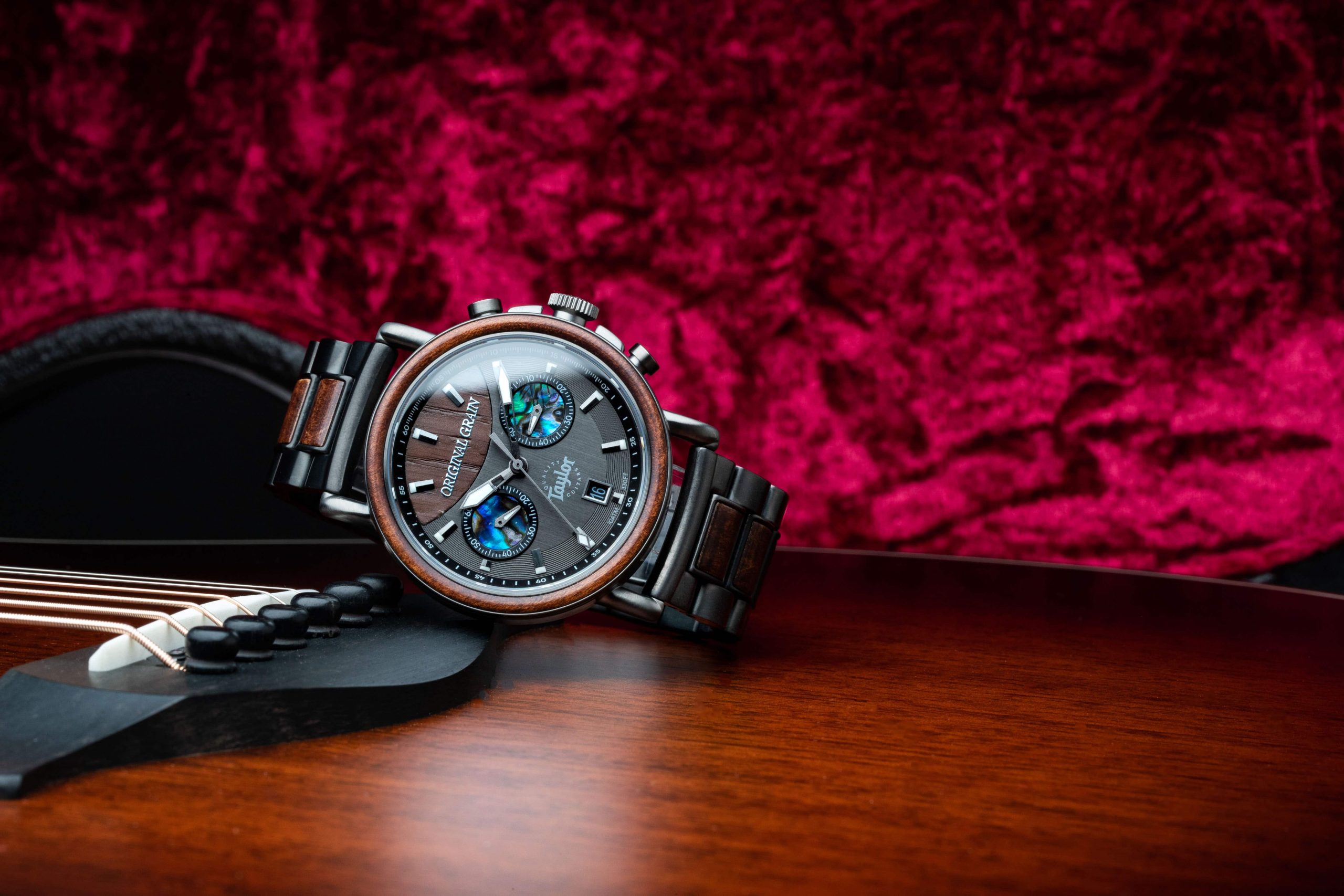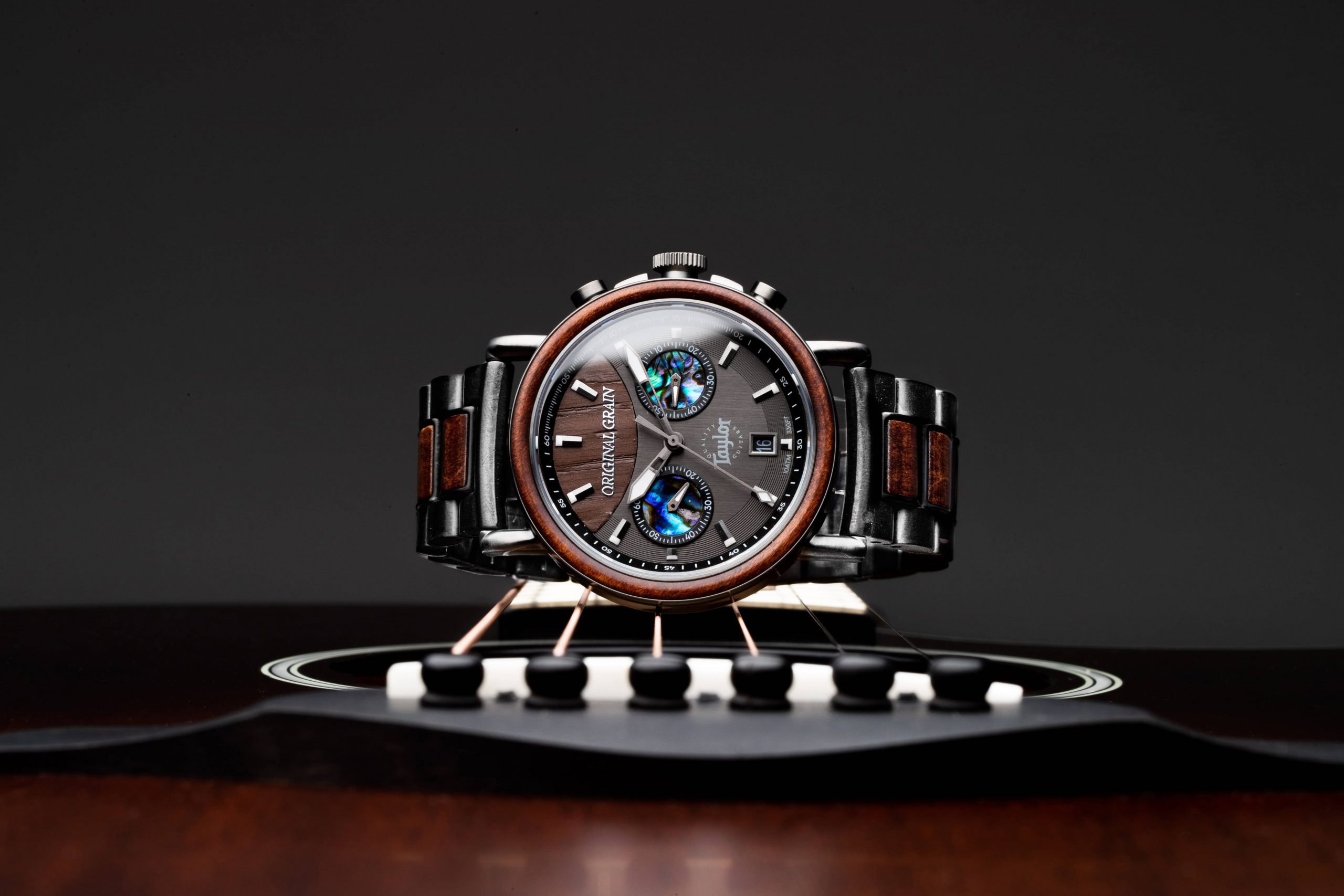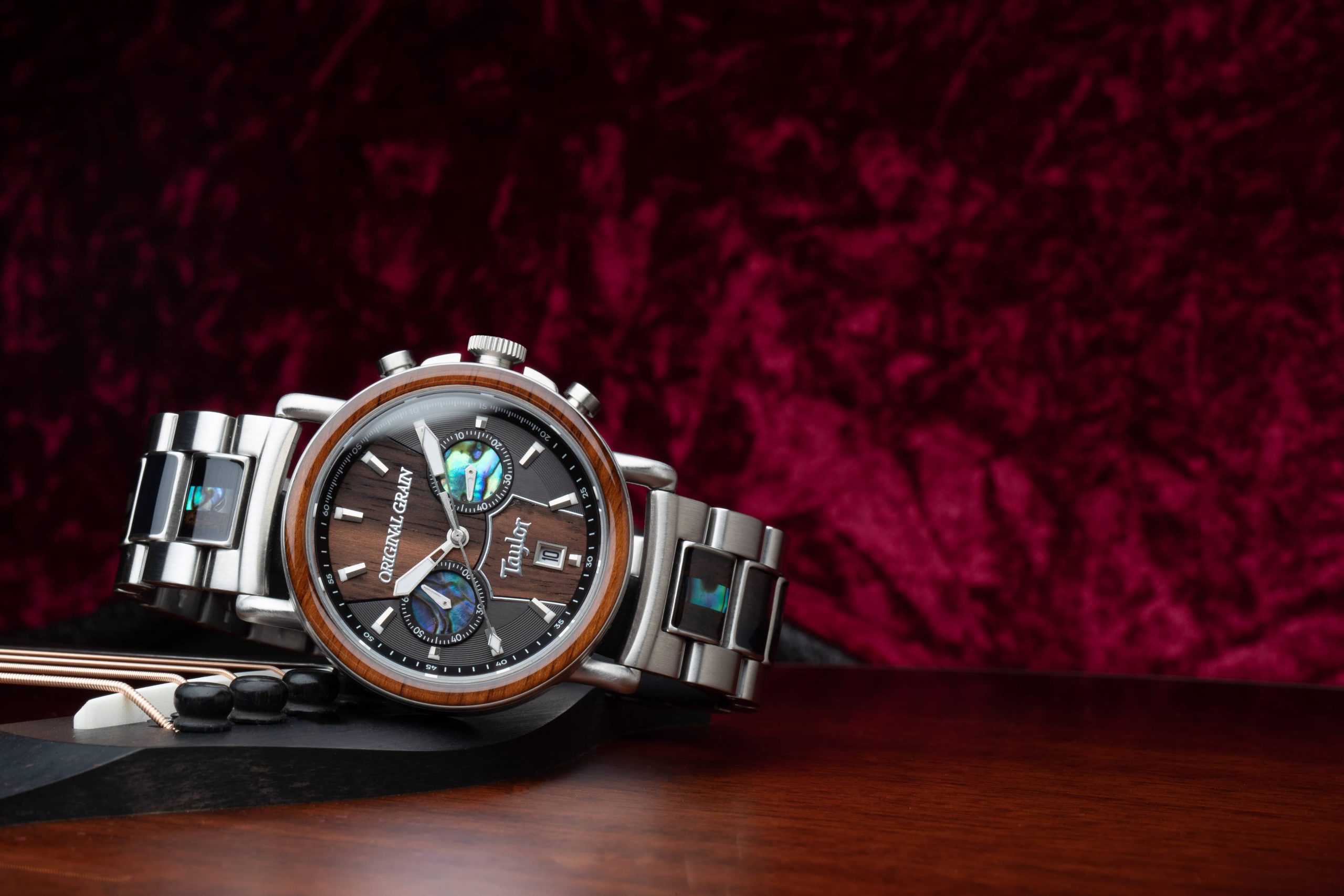 The first run of 300 watches sold out quickly in February, prompting us to renew the partnership with a second order triple the size of the first. The project even got some buzz on local TV news when Scott Paul (our Director of Natural Resource Sustainability) and Original Grain co-founder Ryan Beltran were interviewed by KUSI San Diego.
The best part? Proceeds from the timepieces go in part to two organizations working toward admirable causes: Guitars4Vets, which distributes guitars and provides lessons for military veterans coping with PTSD and other mental health issues, as well as Tree San Diego, which works to restore, grow and protect the urban tree canopy of San Diego County. The first phase of the project garnered over $12,000 for the two organizations.
In June, Guitars4Vets will be hosting a graduation ceremony for eight local veterans, where they'll be presented with their own Taylor guitars aboard the USS Midway at downtown San Diego's Embarcadero. If you're interested in learning more about the watches and maybe purchasing your own, head to OriginalGrain.com.
More Love for the Taylor GT
After the release of the latest branches of the growing GT family—the rosewood/spruce GT 811e and the all-koa GT K21e—reviewers were anxious to get their hands on them and test out these new versions of our reduced-scale, all-solid-wood acoustic guitar. The pair shares the new, compact body style with the original GTe Urban Ash, this time with new tonewood combinations in keeping with the established 800 and Koa Series from our standard line.
Writing about the GT 811e for UK's Guitarist magazine, David Mead called the GT 811e a "revelation," one that adds "an extra gear or two" to the tonal possibilities offered by the GTe Urban Ash.
"We weren't prepared for how much fun it is to play and how adaptable it is to various styles of music," Mead writes. "We tried some fingerpicked blues, strummed chords, fingerstyle acoustic and the 811e batted everything back to us with multilingual dexterity."
He likewise commented on the relaxed feel common to all GT models, thanks to their shorter-than-standard scale length and compact body, which help bring the player's hands closer together for a more intimate, accommodating feel.
"The reduced scale length…produces the slinkier feel of a drop-tuned instrument," he says, "while enhancing the playing experience overall."
In other parts of the web, Peghead Nation got a chance to review the GT K21e after playing the GT 811e earlier in the year. Having heard both guitars, reviewer Teja Gerken drew a useful comparison, noting the sonic richness and texture of the koa version.
"I found that it had an extra dose of warmth and tonal complexity," he says. "Though I tend to favor spruce tops over hardwood tops like koa or mahogany, I had to admit that in this case, the koa top yielded a more sophisticated tonality."
Gerken also took time to play the GT K21e through an acoustic amplifier, giving the onboard ES2 electronics a chance to shine in the context of the new, smaller body shape.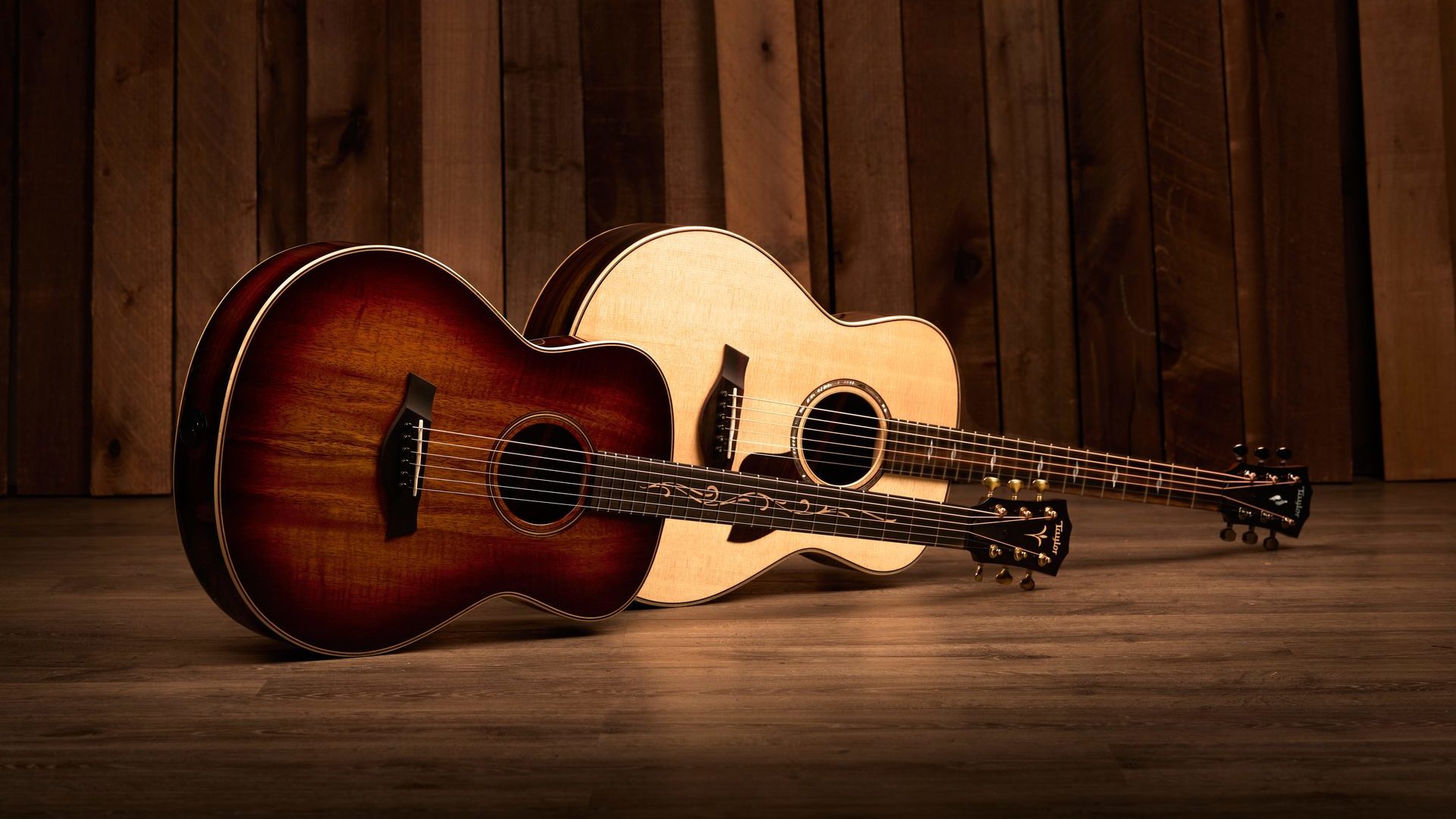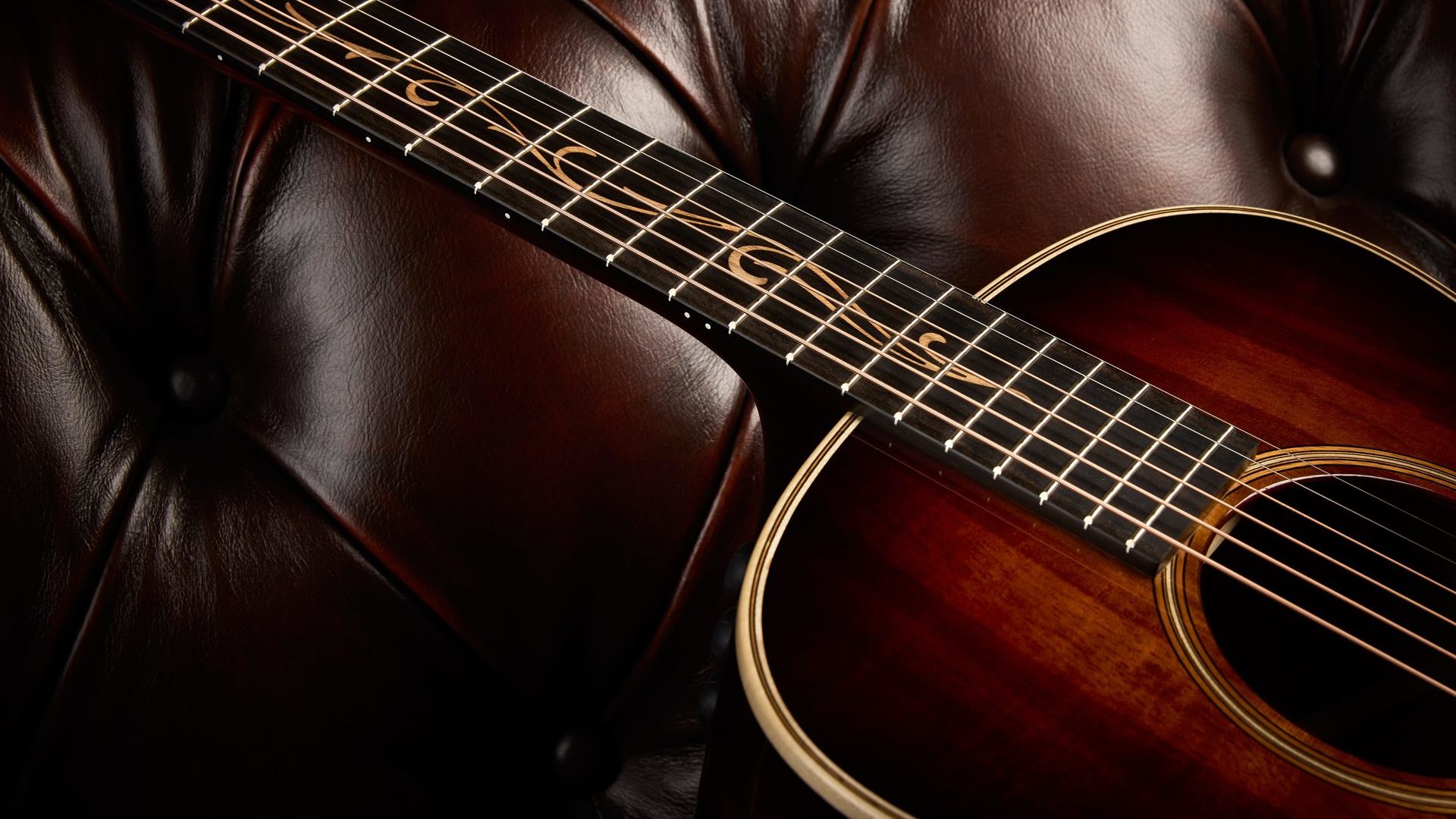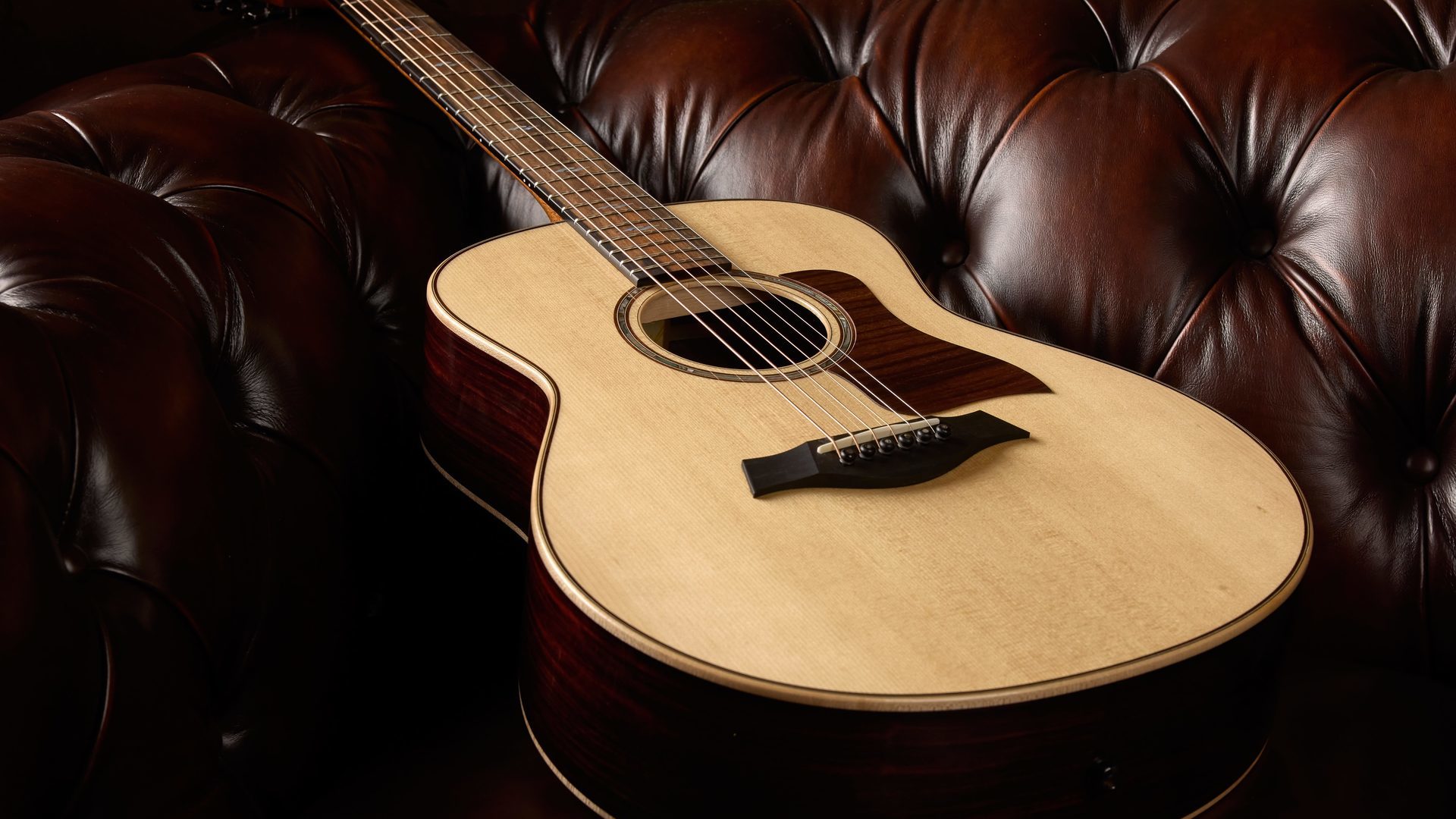 "Plugging the guitar into a Fishman amp yielded an excellent amplified voice that is likely to be indistinguishable from full-size Taylors with the same electronics," Gerken writes.
After more plaudits about the GT's playability and feel, Gerken wrapped his review with a lovely summation of the GT K21e, calling it a perfect option for discerning players.
"Players looking for a beautiful guitar with a sophisticated character and contemporary tonality while being incredibly easy to play won't need to look any further," he concludes, "as this latest Grand Theater checks off all the boxes!"
Guitar Girl Magazine also got in on the GT love, running an interview in mid-April with Lindsay Love-Bivens, Taylor's Artist & Community Relations Manager. Lindsay shared her experiences with the GT guitars, noting their unique blend of portability and playability with high-end craftsmanship.
"You're seeing a lot of professional players and nonprofessional players alike that want smaller guitars," Lindsay said. "And yet, they don't want to compromise the tone or the full-body experience that you get with these bigger-body guitars. And so someone that's looking for a really high-end smaller body guitar—this is it."
Universal Vibrations
Ed. Note: Earlier this year, Taylor owner and recent college grad Tate Ward reached out to us to share what his Big Baby guitar meant to him. A couple of email exchanges later, we agreed that it would be fun for him to interview the person who gave him the guitar — Ed Roland, the lead singer and rhythm guitarist for the band Collective Soul — and discuss how Roland became passionate about guitars and sharing the gift of music with others.
I met singer, songwriter and guitarist Ed Roland from the band Collective Soul when I was a kid. His son Lindsey and I consider ourselves cousins (it's a long story). Ed is family first, both in and out of music. For him, the band is a family. Throughout his life, music — and guitars — have been a gift that he both received and has been happy to share with others. I would know; Ed saw my interest in guitar when I was a kid, and then one day, a package arrived at my front door. Inside was the coolest gift I've ever received: a Taylor Big Baby guitar. 
During the extended downtime of the pandemic, I had a chance to talk with Ed about gifts, family, guitar culture and the vibrations that make up the universe. 
You gave me a Taylor guitar when I was a kid. What prompted you to do that? 
It'll stay with you the rest of your life… I grew up in a musical family. My mom played the piano; my dad was operatically trained. Bono said, "Learn three chords, take over the world." I say learn three chords and enjoy life. 
How did you get your first guitar? 
A friend of mine, Terry Hamilton, gave it to me. I told him one day I wanted to learn to play, and he came in the next day and gave me a guitar. The next summer I worked painting fences to earn enough money to buy an electric, and once I had enough money, my parents saw I was serious about it and paid for it. So, my first acoustic was from my friend, and my first electric was from my parents.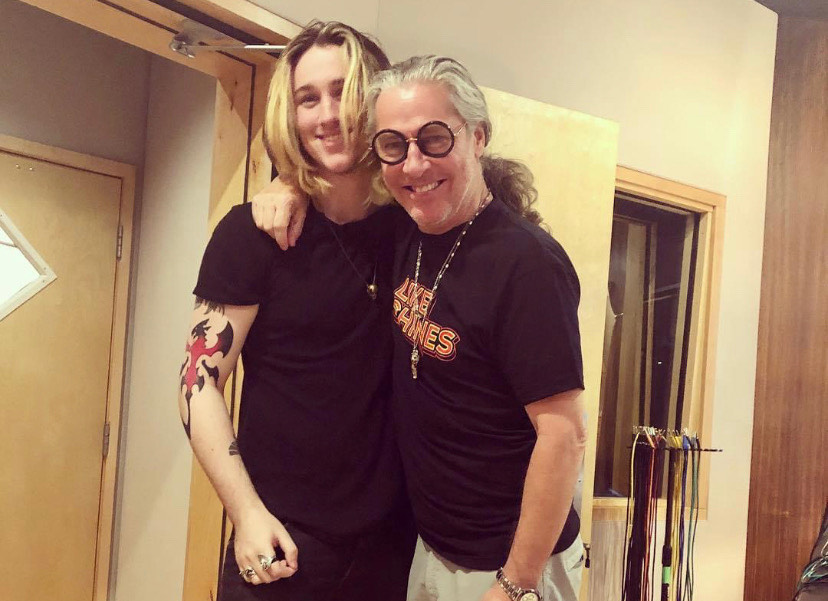 How did you learn to play? 
[Terry] gave me a song book of Elvis songs. They showed you how to finger the chords…it was trial and error for two or three months. It took off from there. 
It sounds like your parents were supportive of you playing guitar. 
Very supportive. I was allowed to stay up as late as I wanted to practice guitar as long as I didn't complain when I got up in the morning. 
What made you want to play? 
I played clarinet, [but] I wanted something a little louder…I remember seeing a picture of Paul McCartney with a guitar when he was in the band Wings and thinking, man that looks cool, that's what I'll do, I'll take up the guitar. 
What's it been like being in a band with your brother? 
I couldn't imagine being in a band without him…. It makes it easier to have your family and friends out on the road with you. You don't get as homesick. You actually get homesick when you're at home because you miss your pals.  
I know your son Lindsey is involved in music. Is keeping music in the family something that's important to you? 
What's important for me is for my children to be happy… if they wanna do music, great, but this is their gig now. Whatever they want to do, I'll support them however much they'll let me. 
Do you think music can give a connection to people that you couldn't get otherwise? 
One hundred percent. It has a language of its own. We've played places where we didn't understand their language and they didn't understand ours, but we played music and, you know, it becomes vibrations. That's what we're made up of, the whole galaxy is made up of vibrations. 
I'm from Kentucky, and the guitar is an important part of Kentucky culture. Would you say the same is true for Georgia? 
Georgia has a very diverse culture…there are a lot of great guitar stores here, so I'd like to think so! If I was to say what resonates with the state of Georgia, it would be more football. I'd like to think guitar was up there, but I don't think anything would beat football. 
How has the coronavirus impacted the band? 
Well, I mean, we've been shut down for a year. We've done a couple of shows, and we had to be very careful. It's like everyone else — we're trying to be responsible and respectful. We're kinda stuck, but we've made good use of the time. I mean, we've actually made two records during the year. Just to stay ahead of the game — it keeps us busy, gives us something to do and we get to see each other. We just try to make good use of the time. 
How has the pandemic affected smaller bands? Gigs haven't been happening as much. 
Yeah, as far as the business side of it, it would be a terrible time to start a band. You could write, rehearse, get all that ready, but you still gotta wait for all this to be lifted and to play in front of people. I still feel that's literally the most important part. The younger generation still wants to get out and hear live music. 
I know you've done charity performances in the past. With the pandemic going on, are those events still happening? 
No, I usually do one at a place here called Eddie's Attic in Atlanta. Didn't do it this year. I did go to South Carolina, where they had lifted the restrictions, and we did two shows in one night — raised a lot of money for kids for Christmas.  
Giving back through music is clearly important to you. Can you tell me more about that? 
I love to travel with my guitars, and Baby Taylors are great for that. It gives me a way to express myself, and it's just fun…I want everyone to feel what I feel when I get to play; I want everybody to be happy.  
I have around 300 guitars, and my dream is one day to give them to a school or a college and have it like a library where kids can check out a guitar and start a band…. I think music is such an important part of everybody's life, and they don't even realize it. When they get in the car to take the kids to school, they turn the radio on…music is in our lives way more than we ever think. So, I just think it's a wonderful way to live life, and I just love to share it in that manner. 
You say you want to give the guitars to a school. Do you think that giving me a Taylor guitar was a microcosm of that? 
Yeah, the only difference is they're checking it out; you got to keep yours! That's what I'm saying, I love the guitar so much and it's nice to share things like that.  
Folk From Afar
Taylor has maintained a long-standing relationship with Folk Alliance International, an organization devoted to promoting, sharing and preserving the unique cultural power of folk music in its many forms. Its big-tent "music-of-the-people" inclusiveness spans a range of sub-genres, from Americana to hip-hop to global roots. Like so many other organizations, FAI was forced to transition its annual gathering to the digital space this year, keeping the music alive with a four-day virtual experience in February that included an artist showcase hosted by singer-songwriter Dan Navarro. Presented in partnership with Taylor Guitars, the showcase featured a roll-call of Taylor artists from various parts of the expansive folk music universe, including performances by Jade Bird, Katie Pruitt, Jackie Venson, Glen Phillips, Deborah Holland, Sara Niemietz and Snuffy Walden, Hannah Bethel, Steve Poltz, and Navarro himself.
Packed with intimate acoustic renditions of both classic folk tunes and original songs, the event delivered many musical highlights, including Steve Poltz's "Pandemic Blues," a brilliant and hilarious parody on coping with life over the past year. Poltz's musical take on pandemic life made the rounds via social media after the video was released in February. You have to watch the video for yourself below. "Pandemic Blues" kicks in around 42:15. And be sure to catch some of the other great performances, too.
Good Morning from Manchester Orchestra
Hailing from Atlanta, indie rockers Manchester Orchestra have been garnering critical acclaim since debuting in 2004. Lately, frontman and lead guitarist Andy Hull has found himself gravitating toward Taylor acoustic guitars, so much so that he opted to record parts of his band's new album, The Million Masks of God, with his new Taylors. Since jumping on the Taylor bandwagon, Andy has been playing a Builder's Edition 717e, a GTe Urban Ash and a Builder's Edition 816ce, the last of which he played during a recent appearance on the "Saturday Sessions" segment on CBS This Morning. Manchester Orchestra played two tracks from their upcoming album on the morning show in a stripped-back, unplugged setting, striking a contrast from the more electric sound of their studio recordings.
You can listen to The Million Masks of God on streaming services everywhere, or grab a physical copy here.