In the wake of their launch earlier this year, our newest Taylor models have been making the rounds among discerning guitar reviewers. The brightest spotlight was centered on the all-maple AD27e Flametop, our marquee release to kick off 2022 and without question the most unique musical personality among our crop of new guitars. Here are some highlights from the color commentary dispatched on that and our other new models so far.
Most reviewers were quick to affirm our contention that the Flametop was the "least Taylor-sounding guitar you've heard to date," a point that was visually signaled with the guitar's figured maple top — not a typical tonewood associated with an acoustic soundboard.
"Taylor continues to push boundaries with their American Dream Series and this model fits right in," wrote Eric Dahl from American Songwriter. "The AD27e doesn't have the typical Taylor mid frequencies that you expect from their guitars. The tones are more subdued and softer, really lending themselves to singer/songwriters looking for a unique sound."
Dahl picked up on the use of D'Addario nickel bronze strings to voice the guitar and give it a mellower, more played-in sound.
"Unplugged I felt that our review guitar had a rawer sound when I strummed it, which I liked," he says. "Plugged in, the ES2 electronics allow you to tweak the sound to your personal preference, but the AD27e sounds most at home when it is a bit more rugged and on the edge."
Over at Guitar World, Chris Gill also picked up on the sonic flavoring the strings provide, describing the overall tone as "a big, masculine voice with exceptionally dynamic response."
"Its tone is truly unique thanks in part to the nickel bronze strings, which enhance the softer, mellower textures when played with a light touch and make the guitar sound brighter, bigger and bolder when played with heavier force," he says. "This guitar covers an impressive range of tones just through playing dynamics, but with a consistent roundness and woodiness throughout, even when amplified via the Expression System 2 electronics."
David Mead (Guitarist/Guitar World) acknowledged the inviting playability and the evenness of response across the entire frequency range of the fretboard as he and his colleagues put the guitar through its paces.
"There's a delightful dryness to the sound," he writes. "It's woody and earthy and we very quickly found ourselves running through all our acoustic blues licks and favourite singer-songwriter chord progressions."
Premier Guitar's Charley Saufley appreciated Taylor's envelope-pushing design efforts with the guitar, which he says "prove that acoustic guitar design still has room for imaginative deviations from the norm."
"You won't find the thumping grand-piano-like low-end resonance of a D-28 in the AD27e, yet it projects volume as a dreadnought should and gets loud without sounding brash or overdriven — probably because there is less low-end woof to obscure the pretty midrange and clear, chiming top end," he says. "Unlike a lot of dreadnoughts, the AD27e also responds dynamically to a gentle touch."
Saufley also felt the Flametop would be a "recording superstar."
"It rings sweetly without overpowering a mix and provides beautiful counterpoint in arrangements and mixes where the low-end is occupied by other instruments — no small consideration in modern effects-laden mix styles," he says. "But while its voice is focused, the AD27e can still sound big, and it most certainly sounds sweet. Any curious flattop aficionado should check out the AD27e to hear what it does differently."
Jimmy Leslie from Guitar Player bought into what Taylor master builder Andy Powers was aiming to do with this "outlier" of our guitar line, calling out its "hearty, earthy tone" and colorfully likening it to "feeling like some new version of a pawnshop prize."
"The Flametop takes another giant step away from traditional Taylor turf, venturing further to a place that's downright funky and down home on the back porch," he writes. "[…It] begs to be strummed aggressively with a thick pick, cowboy-style. It's a no-frills, broken-in and practically road-worn tone that lends authenticity to blues."
Leslie closes with an anecdote of putting the guitar in the hands of an owner of a recording studio who typically shuns Taylors because he finds them too bright.
"He took one solid strum of the Flametop and proclaimed, 'That's my favorite Taylor ever.'"
Another American Dream model from our "new for '22" collection, the Grand Concert AD22e, which sports solid sapele back and sides and a solid maple top, scored high marks from Chris Gill at Guitar World. Gill assessed the guitar as part of a double review with our Flametop — in which Gill gave both a Gold Award for performance. Both guitars, he says, arrived with a "perfect" factory setup, with signature Taylor playability.
"The necks have Taylor's characteristic slim, fast feel, and the chamfered body edges truly do provide a comfortable feel," he writes.
With the AD22e, Gill keyed in on the unique virtues of the smaller body.
"The AD22e should prove irresistible for fingerstyle players whether they specialize in folk, Celtic, blues or even jazz styles," he says. "Like the AD27e Flametop, it too supplies a compellingly rich and woody tone, although its overall range is more midrange focused, with less bass thump and slightly more sparkling treble. Still, it sounds much bigger than its body size, making it ideal for players who prefer the comfort of a smaller body without sacrificing too much range."
GT Three: GT 611e LTD, GTe Mahogany, GTe Blacktop
Peghead Nation's Teja Gerken is as knowledgeable as anyone about the nuances of Taylor designs throughout our history (case in point: he wrote "The Taylor Guitar Book: 40 Years of Great American Flattops"), and his combo written/video reviews are always insightful. Over the last several months, Gerken explored three models featuring our newest body style, the Grand Theater, assembling separate reviews of the GT 611e LTD, GTe Mahogany and GTe Blacktop.
Kicking things off with the maple/spruce GT 611e LTD, Gerken leads by noting the appeal of the GT design framework.
"Featuring compact dimensions and virtually unbeatable playability, but with a surprisingly full tonality, the instruments have been popular with players looking for something akin to a modern parlor guitar," he writes.
Like the other GT models Gerken has played, he found the 611 seductive on his hands.
"Difficult fingerings become doable; the lower string tension is easy on the fingers; and, of course, its compact dimensions are a boon for overall comfort," he says.
As for the guitar's tonal personality: "Having played other GTs, I was prepared for the GT 611e LTD's rich, full-size guitar sounds, but I was delighted that it did so in the way I would hope for a maple instrument. The guitar has great clarity, a nice percussive quality when strummed, and a controlled, yet full bass response."
He also loved the guitar's amplified voice.
"As with other GTs, plugging the guitar's stock ES pickup into a Fishman Loudbox amp removed any remaining illusion that this is a sonically small guitar. In an amplified situation, the GT 611e LTD sounds just as big as any ES-equipped Taylor, making the guitar a fantastic choice for anyone looking for a compact stage guitar."
In March, he sampled the all-mahogany GTe Mahogany and called it "a fabulously fun guitar to play!"
Of its unique tonal character he says: "…the result is a rich, warm sound that has the slightly compressed character typically associated with hardwood tops. The guitar has a lovely strumming voice and great balance when played fingerstyle."
Like the 611, Gerken loved its amplified sound. And he once again praised the GT's player-friendly dimensions.
"It's a great choice for smaller players who struggle with larger guitars," he writes. "But it's also a wonderful 'couch guitar' to keep within easy reach when inspiration strikes. And beginning and developing players will find that the effortless playability of all the GTs will facilitate learning new techniques."
Last up was the GTe Blacktop, which pairs solid walnut back and sides with a solid spruce top. Gerken was pleased to see a walnut model in the mix.
"Taylor has used the wood frequently in the past, and it's great to see this tradition revived," he says. "Sometimes described as having tonal qualities that reside between those of mahogany and rosewood, this choice ensures that the GTe Blacktop offers an original voice in addition to sporting a unique appearance… The spruce top helps give the guitar a large dynamic range, and the walnut back and sides seemed to contribute to a balanced overall sound that doesn't favor any particular playing style."
Taylor Best of 2022 Models
Guitar World recently posted a series of online Buyer's Guides for 2022, which were broken into different acoustic guitar categories (e.g., acoustic-electric, high-end, high-end classical/nylon, three-quarter-size), with best-in-class model recommendations for each. Taylor was well represented across the board. Here's a quick rundown of the Taylor models that made the grade…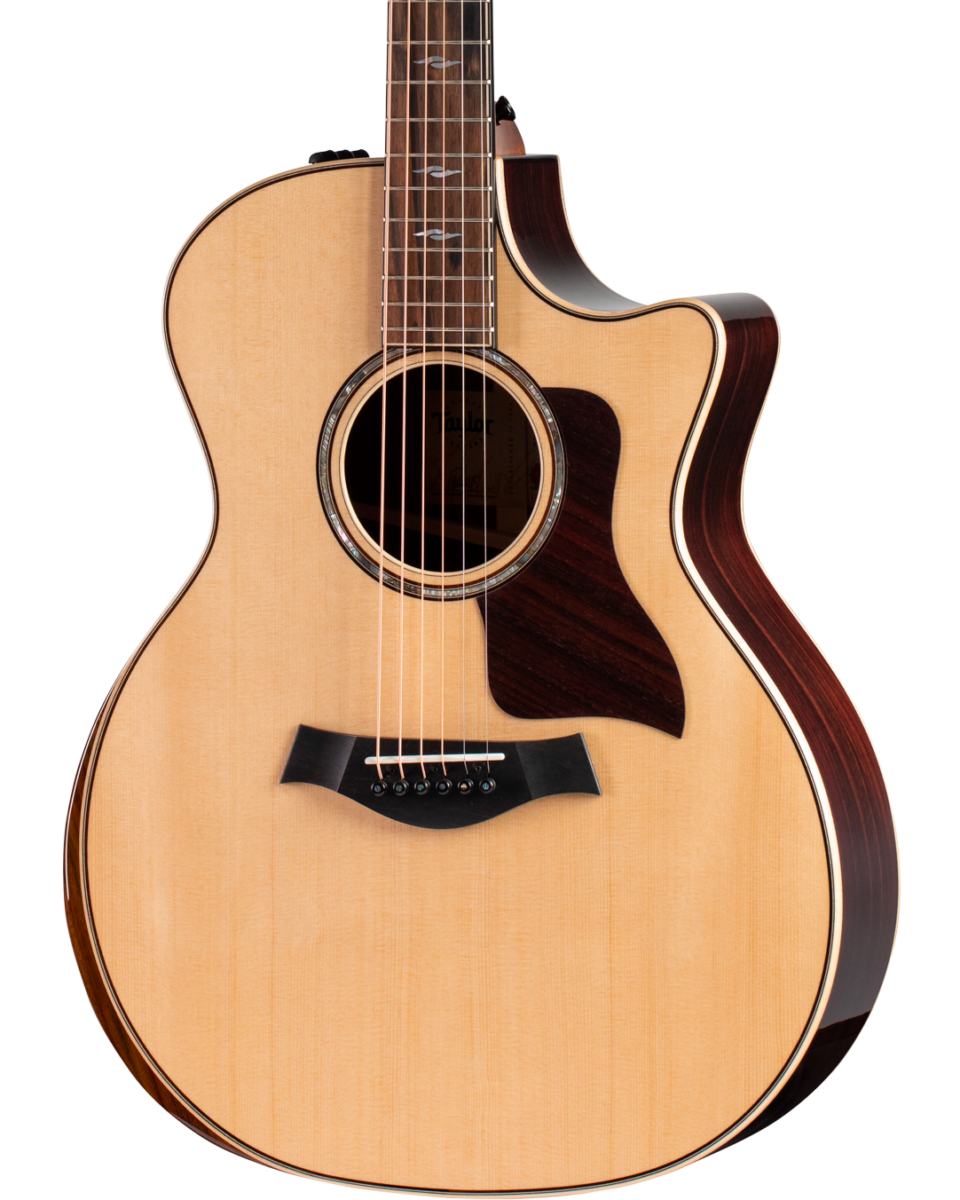 Best High-End Acoustics: Our flagship rosewood/spruce Grand Auditorium 814ce nabbed the no. 1 spot on the list as a "desert-island guitar." Playing comfort and musical versatility were among the guitar's appealing attributes: "Aided no doubt by Taylor's V-Class bracing, it's got a voice that's easily deep and powerful enough to handle strong flatpicking and aggressive strumming duties," writes Simon Fellows. "At the same time, its sweet, balanced, well-defined midrange makes it eminently suitable for more delicate fingerstyle."
Best High-End Classical and Nylon-String: The 814ce's nylon-string counterpart, the 814ce-N, scored high marks as the "perfect crossover guitar" for steel-string players looking to explore the sonic palette of the nylon sound. Like its steel-string sibling, the 814ce-N was praised for its premium-quality materials and impeccable workmanship, along with the "characterful yet superbly balanced" tonal character of the rosewood/spruce tonewood combination.
"If you're a Taylor fan looking for a nylon-string guitar on which to play jazz, bossa nova or country, then this is a no-brainer," writes Simon Fellows.
Best Acoustic-Electric Guitars: Players on a budget might gravitate toward the two Taylor models that made this list: the AD17e Blacktop, one of our most accessibly price all-solid-wood, U.S.-made guitars, and the Academy 12e.
With the Blacktop model, our V-Class bracing won over the Guitar World review crew: "Offering stunning intonation and resonance across the fretboard, you'll find yourself visiting the dusty end more than you'd imagine," says Rob Laing. "This Grand Pacific slope shouldered dreadnought is a pro-level guitar for life, offering tonal balance and wide frequency response that makes it a great example of dreadnought class."
Laing also dug the "Johnny Cash and Everly Brothers vibe" of the matte-black spruce top.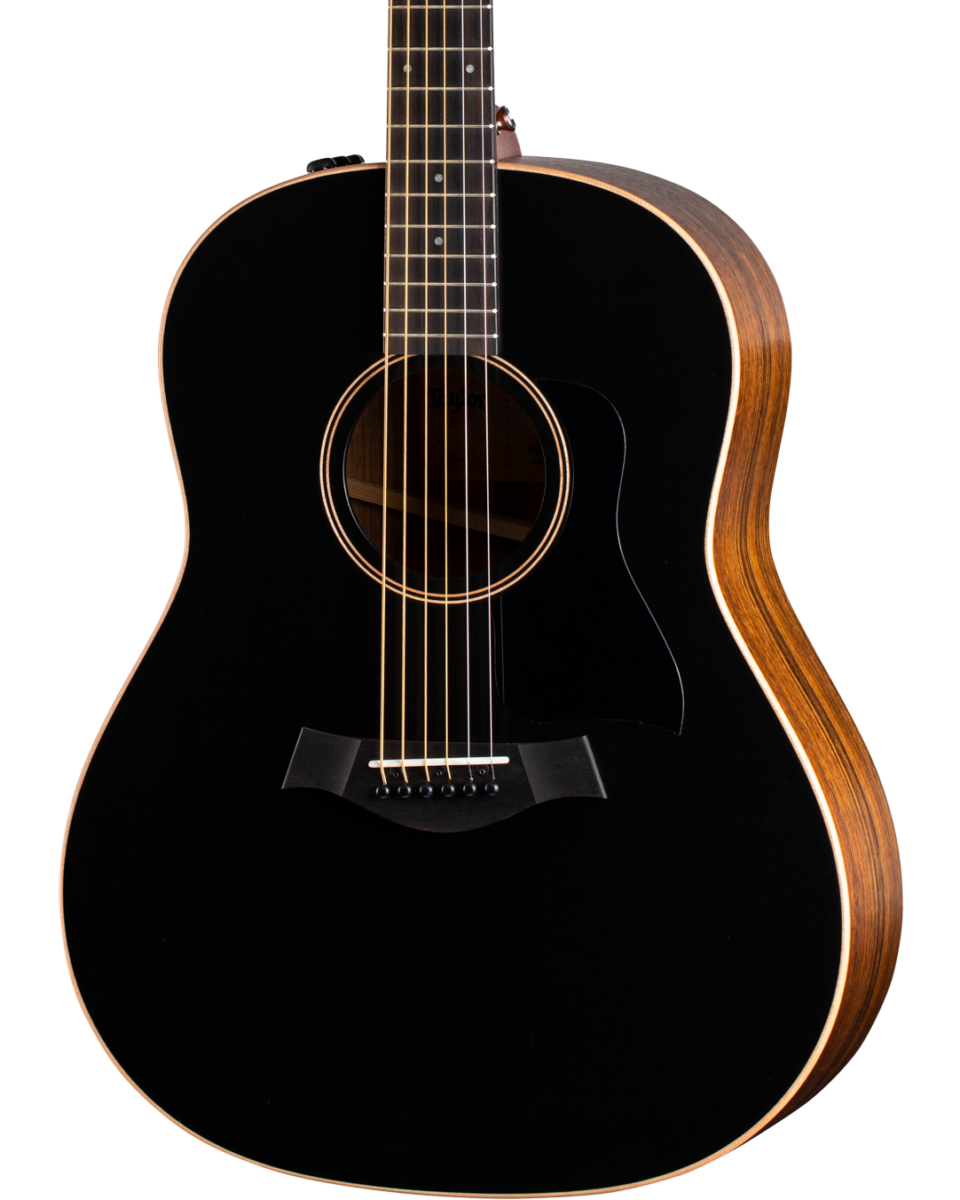 Meanwhile, the compact Grand Concert Academy 12e earned plaudits as a great guitar to accelerate the progress of a beginner or developing player on the strength of its slim-profile neck, shorter scale length, low action and an armrest: "We believe for playability, comfort and performance it is the best, and a guitar that will go the distance with any guitar player."
Best Three-Quarter-Size Acoustic Guitars: Not surprisingly, both the GS Mini and Baby Taylor share positions on this list. As a true three-quarter-size guitar, the spruce-top Baby (BT1) led the pack as the best all-around choice.
"Make no mistake, this is a proper Taylor guitar," writes Guitar World's Matt McCracken. "A tight low end with clear mids and crispness in the highs is matched with great projection, making for one of the best ¾-sized acoustic guitars money can buy."
As for the GS Mini, McCracken called the popular series a "modern classic" and picked the GS Mini Rosewood model (layered rosewood back/sides, solid spruce top), highlighting the "effortless playability," "bright and articulate sound" and "silky high end."