Hailey Knox Gets in the Loop
Singer-songwriter and Taylor player Hailey Knox joined the Taylor artist family this spring, and we couldn't be more excited to have her on board. Knox is a veritable one-woman band, using her looping station to spin up rich sonic textures and complex rhythms with her Taylor 514ce, a keyboard, and her silky, ethereal voice. A champion of the DIY philosophy, Knox has bypassed typical industry pathways by forging a dedicated audience primarily through social media — she boasts over a million followers on TikTok, where she regularly shares full song performances as well as snippets of new pieces in development. Earlier this year, Knox released a live performance of a recent single, "Available For Me." She followed it up with an appearance on Taylor's Vinyl Confessions series, where she shared insight into her musical influences and performed Summer Walker's "Session 32," playing a Taylor AD11e-SB.
You can find Hailey Knox on TikTok, Instagram, and YouTube, and her music is available for streaming on all major platforms.
New Found Purpose
Early in 2022, Taylor artists and pop-punk legends New Found Glory received some terrible news: Chad Gilbert, the band's primary songwriter, guitarist and backup vocalist, was diagnosed pheochromocytoma, a rare form of cancer that affects the adrenal glands and can cause serious health problems if left untreated. Obviously, the news came as a shock to Gilbert, who only knew one way to process it: write.
Alongside the rest of the band, Gilbert wrote an entire album about his journey. Make the Most of It was released in January of 2023 and marks a first for the band as their only all-acoustic album, recorded entirely with Taylor guitars. While planning a tour for the album, New Found Glory asked Taylor to join them in a partnership that would build awareness of this rare form of disease. We were more than happy to help and got to work, outfitting a batch of GS Mini Mahogany guitars with custom New Found Glory pickguards.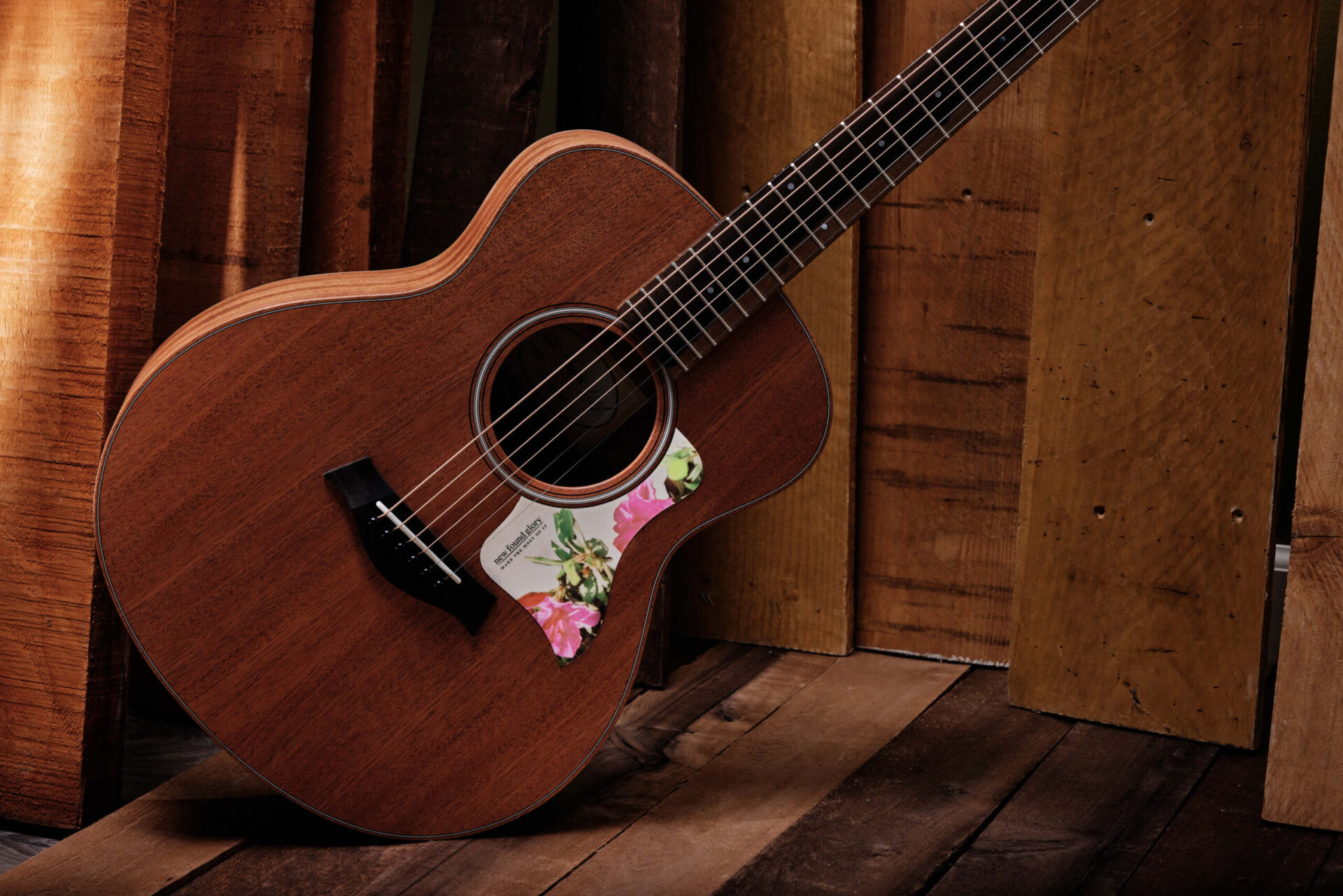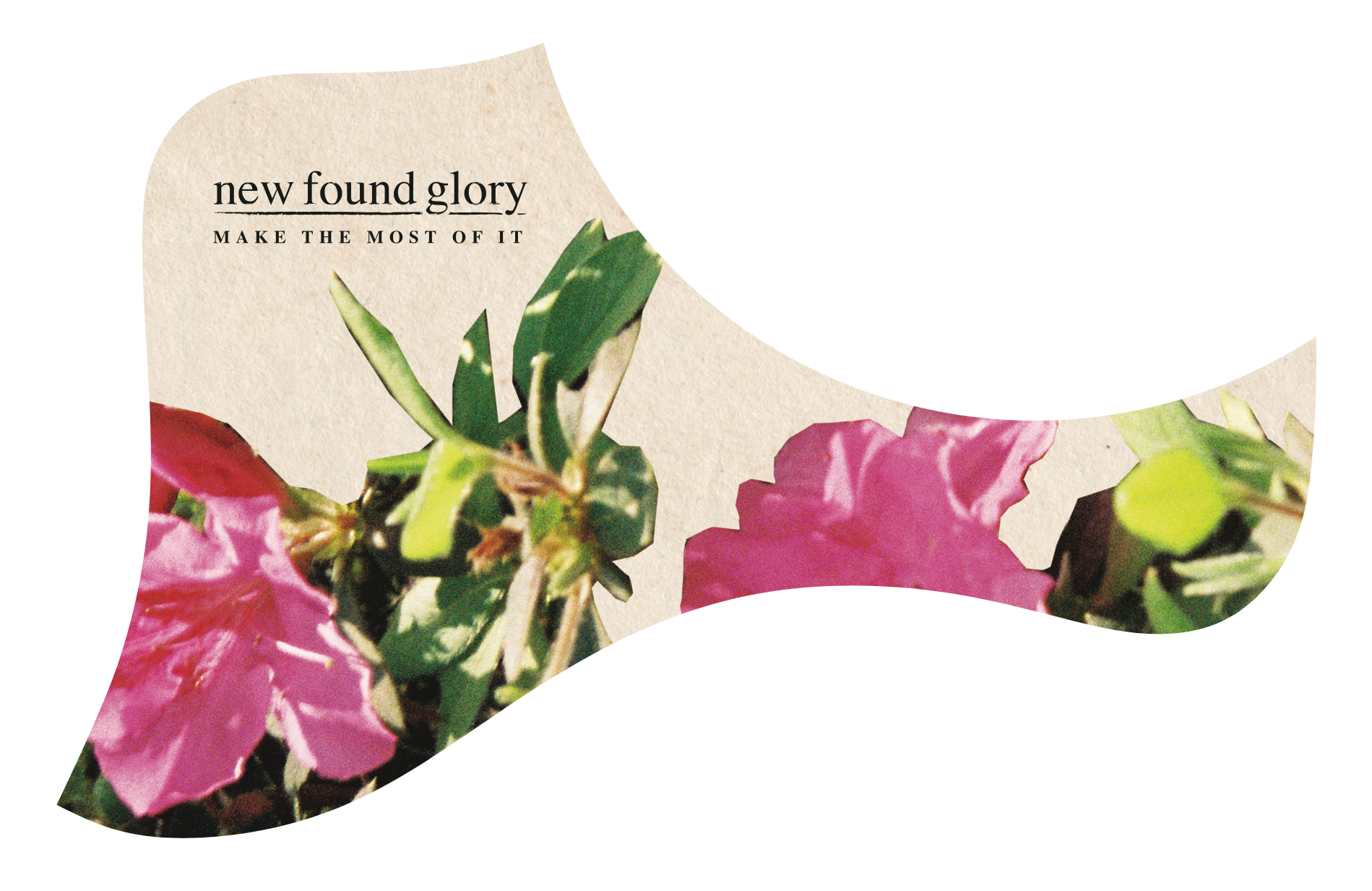 Throughout their extensive U.S. tour this year, New Found Glory raffled off one of the GS Mini guitars at each show. The campaign raised more than $25,000 to support the Pheo Para Alliance, a nonprofit organization that raises awareness and empowers patients suffering from pheochromocytoma and paraganglioma, rare neuroendocrine cancers that can affect people at any stage of life.
More Artist News
Taylor player Babyface appeared on The Kelly Clarkson Show to perform a duet version of his hit "When Can I See You" with Clarkson. He played a custom Taylor guitar that was designed for his appearance at Super Bowl LVII, where he sang "America the Beautiful" before the game….In the same episode of The Kelly Clarkson Show, pop singer P!NK performed "All I Know So Far" alongside Clarkson and P!NK's guitarist, Justin Derrico, who accompanies with his Taylor….New Taylor artist and country singer-songwriter Griffen Palmer recently signed with Big Loud Records, releasing his debut album, Unlearn, on April 28. Palmer had previously written songs with Florida Georgia Line, Keith Urban, and other artists before launching his solo career….As pop superstar Beyoncé launches her 2023 world tour, her new guitarist, Agape Jerry, will join her with a pair of 314ce guitars featuring a custom chrome wrap….Dave Stewart, best known for his work with Rock 'n' Roll Hall of Famers Eurythmics, appeared on American Idol, accompanying his daughter, Kaya, for her audition with his Taylor Jumbo 12-string….Rob Gueringer has been keeping busy this year, backing Rihanna for her Oscars performance and then Chloe Bailey for her appearance on Jimmy Kimmel Live with his AD17e Blacktop…Taylor artist Andy Allo performed her song "Back to Africa" in Cameroon during a trip with Bob Taylor and sustainability guru Scott Paul.
Taylor player and social media creator Joshua Lepulu has been showing off his Taylor Builder's Edition 816ce on his TikTok account, where he has garnered 1.4 million followers…Kelsea Ballerini performed at the 2023 CMT Awards in Nashville with her pink-wrapped 714ce, and continues to play her 322 and AD17 guitars on the road….Rising star and Taylor player Marco Mares is hitting his stride as one of Mexico's hottest up-and-coming hitmakers. The video for his latest song, "tiempo," premiered in March, and features Mares playing his GS Mini-e Koa….Italian glam rockers Måneskin recently joined the Taylor fold, with guitarist Thomas Raggi currently playing a 514ce on a summer world tour….
Last but certainly not least, Taylor Swift recently hit the road with two custom all-koa Taylor guitars for her stadium-packing Eras Tour. The guitars feature custom fretboard inlays and other decorative elements such as a distinctive koi fish rosette.
A New Life for High School Wood Shop Classes
by Lindsay Love-Bivens
How many of us would have taken wood shop in high school if we knew we could have built a guitar and kept it?
"Keep Wood Shop Alive" is a program Bob Taylor launched over 20 years ago with schools in San Diego's East County, intending to preserve wood shop classes and find ways to make them more exciting for students. Bob enlisted Taylor Training Specialist Gerry Kowalski to develop the curriculum, create guitar-building kits that could be distributed to classes, and train teachers at East County high schools who were interested in offering the program to students. Teachers Joe Cota (El Capitan High) and Gary Mowrey (Valhalla High) were especially instrumental in getting the program off the ground more than two decades ago. And though Cota plans to retire next year and Mowrey hung up his apron in 2022, the program is still going strong.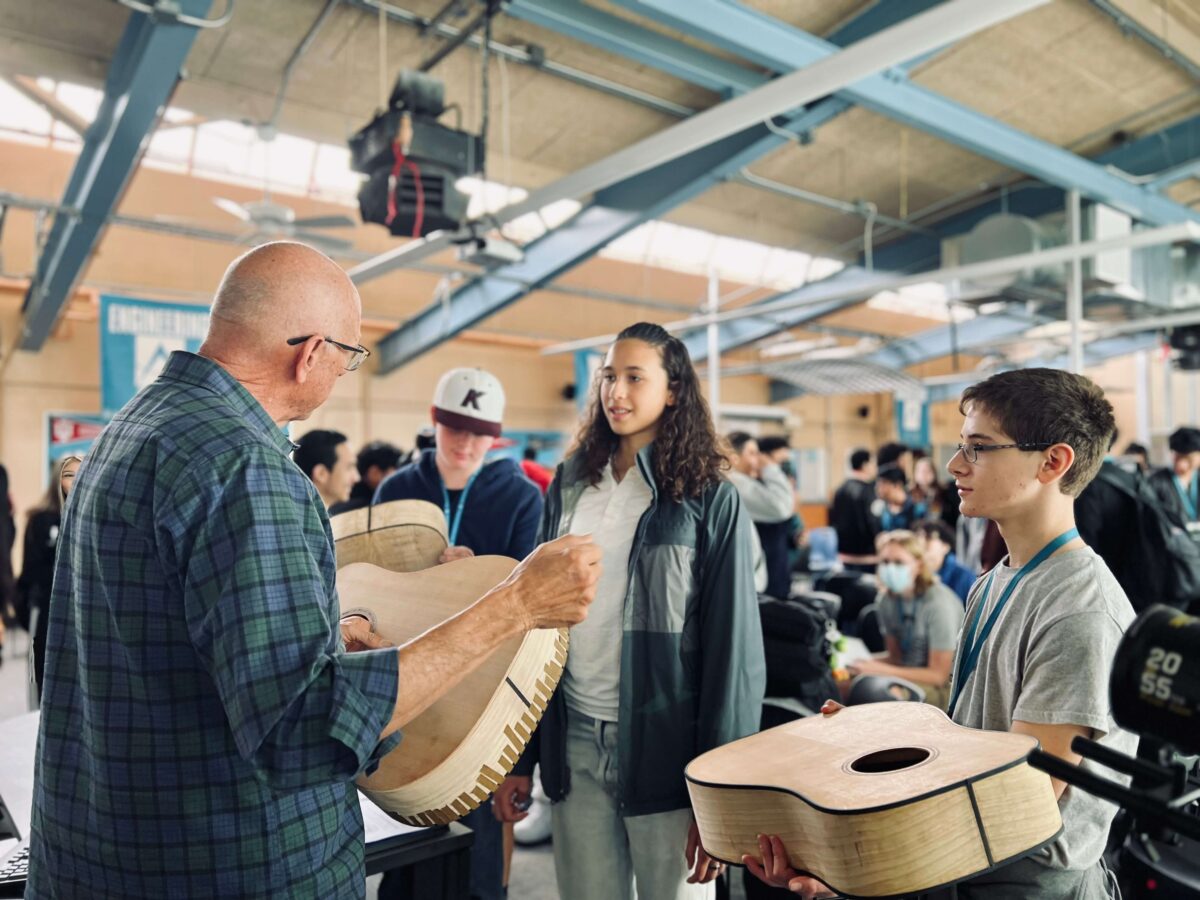 Near the end of 2020, Taylor Artist and Community Relations Manager Lindsay Love-Bivens approached Taylor VP of Human Resources Shaun Paluczak and Director of Training and Development Jo Ann Peterson about engaging more schools in San Diego proper, particularly at inner-city institutions that have historically been underserved and under-resourced. Those conversations led to a partnership with the San Diego County Office of Education, which leads College, Career and Technical Education (CCTE) programs for all San Diego County schools. That relationship resulted in two new schools incorporating the guitar-building program into their course offerings. The schools, Hoover High School and Kearny High School, have enrollments composed of greater than 90 percent BIPOC (Black, Indigenous, People of Color) students.
"It's been an incredible year building relationships with the school staff and students," says Love-Bivens."
In January, Bob Taylor visited Kearny High and spoke to students in the guitar-building class, inspiring students to imagine a bright future for themselves — perhaps even as luthiers. Love-Bivens says the students were visibly inspired and excited to meet Bob.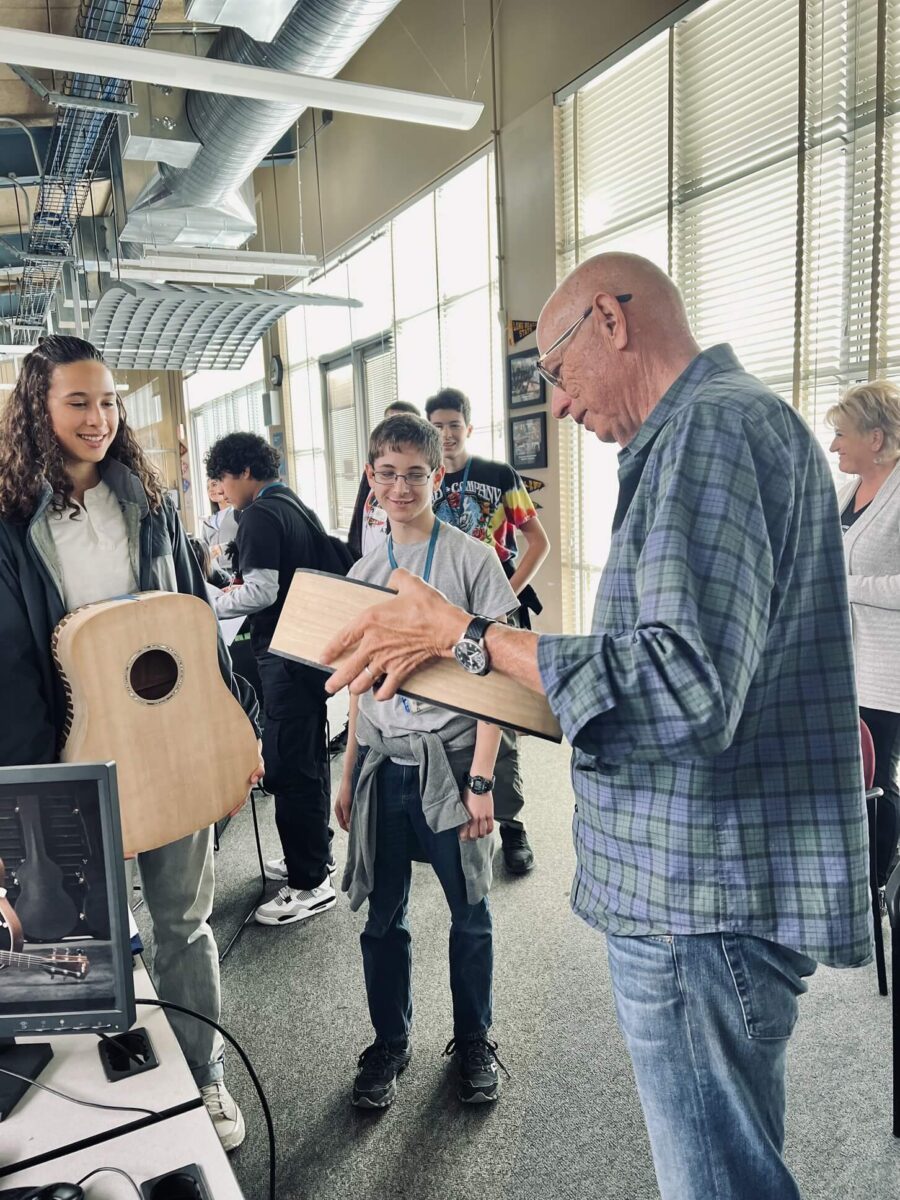 "I have no doubt this day will leave a lasting impression on their lives," she added.
Bob says he thoroughly enjoyed the experience as well.
"The students were fantastic," he says. "So engaged. The program is really well developed at the school, and their machine shop is tip-top."
Bob also thanked Taylor's training department for keeping the program going, including Gerry Kowalski, who has been with Taylor for 31 years and will be retiring this year.
"A special shout-out to Gerry, who for years put his time into our East County programs helping with training and curriculum. Especially during the early years when I had an idea and he did the work."
Listen: The Wood&Steel Playlist, Summer 2023